If you purchase through links on this site, I may earn a commission at no extra cost to you. As an Amazon Associate I earn from qualifying purchases.
As the end of the year approaches, the anticipation for Europe's renowned Christmas markets begins to grow.
Particularly prominent in Central Europe, these markets offer a chance to indulge in traditional treats, shop for festive decorations and gifts, or simply enjoy the unique atmosphere with friends over a glass of mulled wine.
In this guide, I present the best European Christmas markets, detailing their confirmed 2023 dates and locations to help you plan your trip.
Best European Christmas Markets 2023
If you're looking to visit the biggest and most well-known Christmas markets or maybe a cosier, more intimate setting, this guide has got you covered. Read on for my top 18 Christmas destinations.
1. Dresden, Germany
I'll start with my favourite Christmas market; Dresden. The skyline and Old Town are so beautiful it's hard to resist at any time of the year, let alone at Christmas when the whole city is lit up each evening.
You can find all the usual Christmassy trinkets, a children's playground, mulled wine, hot cider and some of the best Christmas food of any market.
Striezelmarkt stands out for its culinary diversity, offering global treats such as Hungarian lángos, Spanish paella, Dutch poffertjes and Turkish fladenbrot, alongside Dresden's traditional specialties.
Along with the main market, there are a number of smaller markets set up in the city's squares, both in the Altstadt and the Neustadt.
The medieval market in front of the Frauenkirche is a quieter and more unique Christmas market.
Dresden Christmas Market dates: 29th November to 24th December 2023.
Location: Striezelmarkt is located at Altmarkt, but there are 11 Christmas markets in Dresden.
Opening times: 10am to 9pm.
Reason to visit: Dresden's Strietzelmarkt is the oldest Christmas market in Germany, and the city is one of the most affordable destinations in Germany.
Specialities: Dresden rahmklecks, fladenbrot and baked apples.
Tips: As one of Europe's most popular Christmas markets, avoid the weekends when the streets are packed and the city is fully booked with tourists.
Where to Stay: Hotel Indigo
Get all the details on the Dresden Christmas markets.

Book your stay with my guide on the best boutique hotels in Dresden.
2. Nuremberg, Germany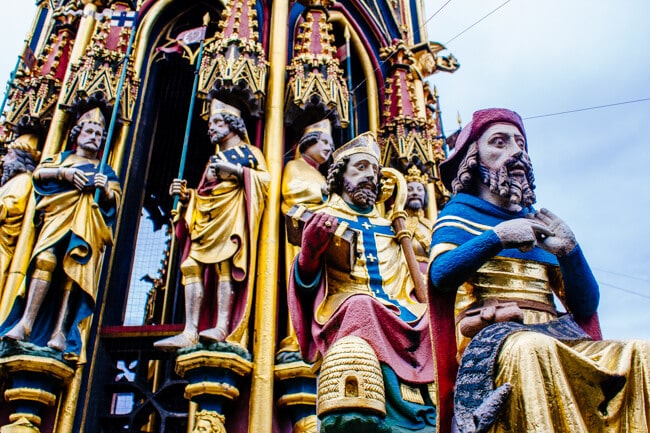 Dresden's biggest Christmas rival is Nuremberg. They've fought hard for the title of biggest/best/oldest Christmas market, and while some things are debatable, Nuremberg's market definitely takes the biggest Christmas market prize.
While the main market is so large it could be a little overwhelming at times, it's worth it for the quality and diversity of what you'll find there.
The locals love their market; it's not just for tourists; they even have a Christmas market angel, Christkind, making the occasional appearance.
Nuremberg has strict regulations related to the market, which means there are only traditional wooden stalls, locally made handicrafts and, of course, delicious glühwein. Even the famous Nuremberg sausages are protected under German law.
There is a separate children's market and an international market with food and handicrafts from around the world.
Nuremberg Christmas Market dates: 1st to 24th December 2023.
Location: Hauptmarkt (Town Square).
Opening times: 10am to 9pm (closes at 2pm on Christmas Eve).
Reason to visit: It's the largest Christmas market in Europe and the most famous.
Specialities: Nuremberg sausage, gingerbread and the prune people.
Tips: Be prepared to sip your mulled wine with thousands of other people, but if you love traditional Christmas markets, this is probably the one to choose.
Where to Stay: Karl August near Hauptmarkt.
Plan your visit with this Nuremberg Christmas Market guide.

Plus this list of the best hotels near Nuremberg Christmas Market.
3. Budapest, Hungary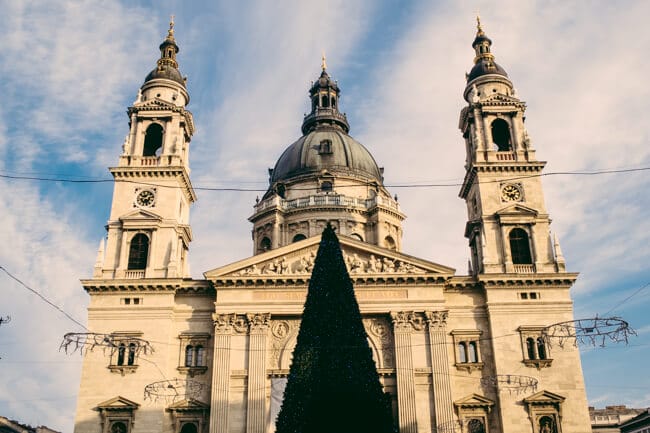 Vorosmarty Square hosts Budapest's main Christmas market, but there are many others dotted around the city.
A medieval-style market is located in front of St Stephen's Basilica, and the Vajdahunyad Castle Christmas market at City Park has a huge ice rink.
Budapest at Christmas is all about the stunning locations, amazing Hungarian and international cuisine, quality, authentic wooden handcrafts and forró bor, Hungary's version of mulled wine.
Budapest Christmas Market dates: Likely dates: 17th November to 31st December 2023.
Location: Varosmarty Square and St Stephen's Basilica.
Opening hours: Sunday to Thursday: 11am to 9pm. Friday and Saturday: 11am to 10pm.
Reason to visit: It's one of the most beautiful cities in all of Central Europe.
Specialities: Kürtöskalács (kurtosh kalach – chimney cake), langos with sour cream and cheese, hot palinka (Hungarian brandy), hot chocolate punch, goulash soup in bread.
Tips: Visit the after-Christmas markets to avoid the crowds and experience the New Year celebrations.
Where to Stay: Hotel Rum
Stay within your budget with these ideas on free things to do in Budapest.

I used to live in Budapest so I have a great understanding of where to stay in Budapest to be near all the action.
4. Krakow, Poland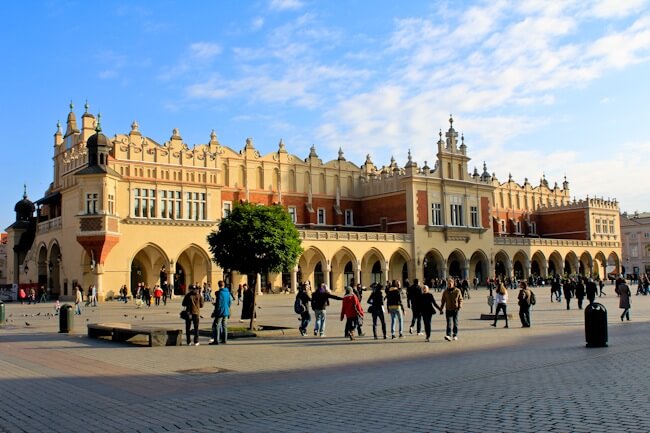 I always think of Germany when I think of Christmas markets, but Poland shouldn't be overlooked.
Krakow has always been a popular summer destination but is becoming more well-known as a great weekend destination during Christmas and New Year.
Krakow's Christmas market has been running for centuries and has a traditional but fun atmosphere.
The main market takes place in the central square, Rynek Glowny, right alongside the famous Cloth Hall.
It's a fun, young city with so much history, great nightlife and a laid-back cafe culture. The city also has excellent grzane wino; Polish mulled wine.
Krakow Christmas Market dates: 24th November 2023 to 1st January 2024 (the smaller Epiphany Festival runs after Christmas Day).
Location: Rynek Glowny.
Reason to visit: It's a cool city with a younger crowd than in Germany and Austria, it's more affordable, there's a good chance of a white Christmas and… vodka.
Specialities: Oscypek smoked cheese from Zakopane served with cranberry preserves. Pretty crystal baubles. Sweet vodka-based hot drinks.
Tips: If you have time, take a day trip to the Wieliczka Salt Mine, Auschwitz or head to the snowy mountains at Zakopane.
Where to Stay: Puro Krakow.
Here are more details on the wonderful Christmas markets in Poland.

Plus some photos from my last time in Krakow in winter.
5. Vienna, Austria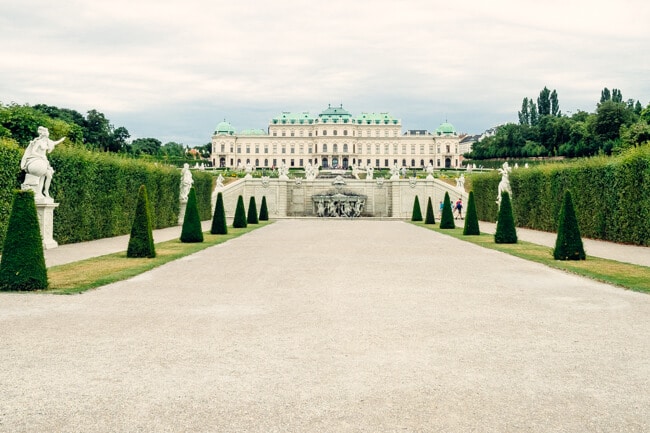 No one can dispute that Vienna has some of the best European Christmas markets.
This is a great destination if you're a first-time Christmas market visitor and want to see a bit of everything.
Vienna has a mix of popular, historic, traditional markets and smaller, local, more intimate markets.
The hugely popular Vienna Town Hall market (at Rathausplatz) has everything you could want, including an old-style carousel and ice skating rink.
There are stunning market locations at Schoenbrunn Palace and Belvedere Palace.
Am Hof and Karlskirche markets are also popular but smaller or visit the old Viennese market on Freyung for the most traditional of markets.
Vienna's markets have all the classics like mulled wine, gingerbread and roasted chestnuts, fairy floss, pony rides, and culinary gifts. It's one of the great places to spend Christmas in Europe.
Vienna Christmas Market dates: 11th November to 26th December 2023.
Location: Rathausplatz – Town Hall.
Opening times: 10am to 9:30pm. Closes at 6:30pm on 24th to 26th December.
Reason to visit: Visit Vienna for the great variety of markets and the incredible Schoenbrunn Palace Christmas market.
Specialities: Mulled wine, gingerbread and carousel rides.
Tips: Try to stay somewhere central so you can easily head out for a quick late-night mulled wine.
Where to Stay: 25hours Hotel Museum Quarter near the Town Hall.
For delicious food and boutique shopping, head to Vienna's hipster district, which is conveniently not far from the Rathausplatz Christmas market.

If coffee plays a meaningful role in your life, this Vienna coffee guide will take your visit to the next level.
6. Prague, Czechia
Prague is definitely not underrated as a winter destination. It's one of the most popular destinations for Christmas and New Year.
It's stunningly beautiful in winter, and I can't recommend it highly enough.
If you haven't been to Prague, think of rows of historic bridges crossing a wide, winding river, with colourful baroque buildings, gothic churches and the biggest castle district in the world.
Christmas in Prague means plenty of Czech specialities like Bohemian crystal, glasswork, blacksmith's wares and a surprising number of scented candles.
Food is high on the agenda with all the usual Christmas market suspects, local sausages, gingerbread, grog (hot rum), and trdelnik (chimney cakes like those in Hungary and Transylvania).
Prague has two main markets, the largest is in Old Town Square, and the other occupies Wenceslas Square.
The biggest problem is getting from one to the other, which usually means crossing the always-packed but beautiful Charles Bridge. Both markets are absolutely worth visiting.
Prague Christmas Market dates: 2nd December 2023 to 6th January 2024.
Location: Old Town Square.
Opening times: 10am to 10pm.
Reason to visit: The romantic market square location and because… Prague.
Specialities: Bohemian crystal, grog and trdelnik topped with sugar and cinnamon.
Tips: Take the side streets when going between the two markets to avoid the tourist crowds on the main thoroughfare.
Where to Stay: Julius Prague.
You might like to take a Prague food tour to get a taste of delicious Czech food.
7. Munich, Germany
Munich is one of the most festive destinations in Europe. Almost every neighbourhood has a Christmas market in almost every square.
Of course, the most popular and largest is at Marienplatz, the city's main square. Located in front of the stunning Town Hall, it's a gorgeous setting, albeit ridiculously overcrowded at times.
Try the medieval market at Wittelsbacherplatz or the cosy market at Odeonsplatz for a break from the crowds.
For an alternative take on a winter market, visit the Tollwood Winter Festival at Theresienwiese or experience a Pink Christmas at Stephansplatz.
Munich Christmas Market dates: 27th November to 24th December 2023.
Location: Marienplatz.
Opening times: Monday to Saturday: 10am to 9pm. Sunday: 10am to 8pm.
Reason to visit: For the sheer number of Christmas markets plus the Tollwood Winter Festival.
Specialities: You can find pretty much everything in Munich!
Tips: Each market is unique; try to visit as many as possible.
Where to Stay: DO & CO Hotel is right near the markets.
Keep in mind there are plenty of things to do in Munich in winter.

This list of boutique hotels in Munich gives you some options on where to stay as well as information on different neighbourhoods.
8. Zurich, Switzerland
To be fair, it's been a while since I've been to Christmas in Zurich, but what I remember most are the high-end shops, famous chocolatiers and the stunning lakeside location.
Those reasons alone are enough to visit, but with the addition of the pretty Christmas lights and snow-capped mountains in the distance, it's hard to resist.
Of course, Switzerland being Switzerland, it's on the pricey side.
Zurich Christmas Market dates: 23rd November to 23rd December 2023.
Location: Between Mühlegasse and Grossmünster in the Niederdorf District. There are 5 other locations too.
Opening times: Sunday to Thursday: 11am to 9pm. Friday and Saturday: 11am to 10pm.
Reason to visit: There's a great chance of a white Christmas and… chocolate.
Specialities: Um… chocolate
Tips: Eat all the chocolate.
Where to Stay: 25hours Hotel Langstrasse.
Find where to stay in Zurich for all budgets this winter.

Some thoughts on visiting Zurich and where to eat out.
9. Salzburg, Austria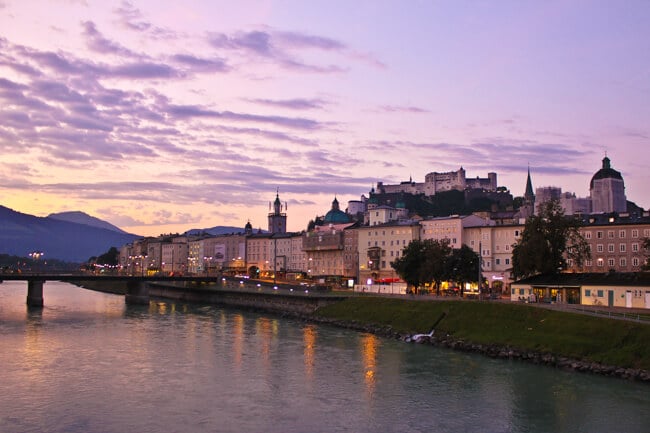 Another classic traditional Christmas market is Salzburg's Christkindlmarkt, which occurs at Cathedral Square with Hohensalzburg Fortress looming above.
It's one of the more charming Christmas destinations, more intimate than Vienna's main market yet equally popular.
You can hear Mozart in the streets and be pulled into the cute Christmas huts by the scent of spicy mulled wine.
Not to be too cheesy, but I'd suggest Salzburg as a romantic Christmas holiday destination!
Salzburg Christmas Market dates: 23rd November 2023 to 1st January 2024.
Location: Domplatz (Cathedral Square) and Residenzplatz.
Reason to visit: The atmospheric location, Mozart, and it's the home of the Christmas song 'Silent Night'.
Specialities: Salzburg pastries, sacher torte, spicy hot punch and gingerbread.
Tips: See a classical music concert followed by mulled wine at the Christmas market huts. Don't skip the smaller market in front of Mirabell Palace.
Where to Stay: Hotel Wolf.
Don't miss the sunset and soufflé in Salzburg.
10. Ljubljana, Slovenia
Ljubljana's Christmas market might be small, but it's one of Europe's prettiest and most sustainable.
Eat and drink at the main market in Preseren Square and shop at the stalls that line the Ljubljanica River.
The centre of the old town is completely lit up in the weeks leading up to Christmas, from Ljubljana Castle on top of the hill down to the famous Triple Bridge and city squares.
Ljubljana Christmas Market dates: Likely dates: 1st December 2023 to 2nd January 2024.
Location: Prešeren Square and along the Ljubljanica River.
Reason to visit: A pretty riverside location, laid-back vibe, fewer crowds, eco-friendly gifts.
Specialities: Honey and schnapps.
Tips: If it's snowing, get out of Ljubljana and visit Lake Bled, one of Central Europe's most naturally beautiful locations.
Where to Stay: Hotel Cubo.
Get an idea of the Christmas lights in Ljubljana.
11. Wroclaw, Poland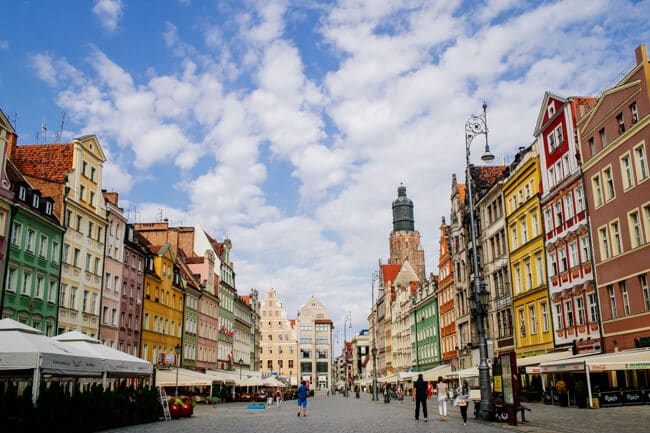 Wroclaw is such a wonderful location and so underrated as a destination, both at Christmas time and otherwise. The Old Town is so incredibly beautiful.
The Christmas Fair is not small but far less crowded than other Polish cities like Krakow and Warsaw.
The atmosphere is considerably more intimate than the oftentimes overwhelming German markets in Nuremberg and Munich.
You'll also find some of the friendliest people at the Polish markets and delicious international cuisine.
Wroclaw Christmas Market dates: 24th November to 31st December 2023.
Location: Market Square and Plac Solny.
Opening times: 10am to 9pm.
Reason to visit: The Wroclaw market is held in its stunning centre square, one of the most beautiful in Europe.
Specialities: International specialities like Transylvanian Kürtöskalács, Lithuanian sausages, Swiss chocolate workshop (tools made of chocolate) and Dutch waffles.
Tips: You could create a mini Christmas market tour, including nearby Prague and Dresden.
Where to Stay: Puro Hotel Wroclaw.
I love this city! Read my guide on things to do in Wroclaw.

If you're planning a visit, select one of these boutique hotels in Wroclaw for your stay. The city has many excellent value hotels.
12. Colmar, France
You won't find a prettier Christmas destination than Colmar in the Alsace region of France.
It's one of the most popular destinations, so beware of the crowds, but it's well worth it.
Colmar Christmas Market dates: 23rd November to 29th December 2023.
Reason to visit: A Christmas market in the ultimate fairytale town.
Specialities: Gourmet Alsatian cuisine.
Tips: Visit on a day trip from Strasbourg or spend the night to avoid the crowds.
Where to Stay: James Boutique Hotel.
Take a look at these photos of Colmar to know what I mean when I say how pretty it is.
13. Bratislava, Slovakia
Bratislava is a small and often overlooked capital, especially now that fewer low-cost airlines are flying there from London.
But the city is compact and cute. It has character, delicious food and plenty of cool cafes.
The historic centre is lit with Christmas lights, and the markets feature regional Slovak food, producers, and traditional Christmas music.
I've been here several times in winter and love it. It's a good choice if you want a more relaxed Christmas break.
Bratislava Christmas Market dates: Likely dates: 21st November to 21st December 2023.
Location: Hlavné Námestie (Main Square), Hviezdoslav Square and Františkánske Square.
Opening times: 11am to 7pm.
Reason to visit: Bratislava is an easy day trip from Vienna or a stop on the way from Prague to Budapest.
Specialities: Pancakes, Slovakian mulled wine.
Tips: The pedestrian street in front of the Slovak National Theatre holds one of the longest Christmas markets.
Where to Stay: Arcadia Hotel.
If you're travelling from Austria, here's how you can take a Bratislava day trip from Vienna.
14. Szeged, Hungary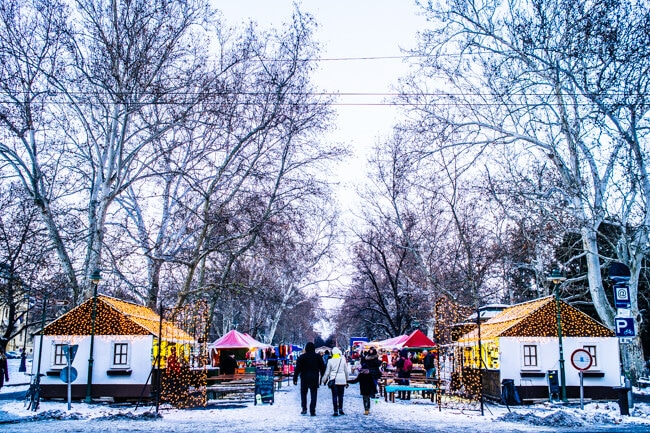 Easily the most 'off the beaten path' of all the Christmas markets mentioned here. I mention it because Szeged is an amazingly beautiful city for lovers of architecture, specifically Art Nouveau architecture.
There is a huge Christmas market in front of the cathedral and a small tree-lined market in Szechenyi Square.
Szeged Christmas Market dates: Likely dates: 23rd November to 24th December 2023.
Location: Szechenyi Square.
Reason to visit: It's a completely different destination for most people but a gorgeous location with lovely people.
Specialities: Langos, Kürtöskalács, goulash and all kinds of paprika.
Tips: Take a walk along the (most likely) snow-covered banks of the Tisza River.
Where to Stay: Noir Hotel.
Szeged is a stunning city. Check out the Art Nouveau architecture in Szeged.
15. Ghent, Belgium
Belgium has many amazing Christmas markets, and you'll likely love any that you choose to visit.
But my Belgium pick is the Flemish city of Ghent, a wonderfully beautiful, historic city with incredible food and markets.
Ghent Christmas Market dates: Likely dates: 7th to 31st December 2023.
Location: Sint-Baafsplein.
Opening times: 12pm to 11pm.
Reason to visit: The food!
Specialities: Belgian chocolate.
Where to Stay: 1898 The Post.
If you'd prefer to go elsewhere in Belgium, read my guide to the best day trips from Brussels.
16. Strasbourg, France
Often cited as the best Christmas market in Europe and most definitely in France, Strasbourg is the highlight of Alsace.
With the historic squares, stunning half-timbered architecture, romantic setting and wonderful food, you can't go wrong with Strasbourg in winter.
Strasbourg Christmas Market dates: 24th November to 24th December 2023.
Location: Place Kléber.
Opening times: 11am to 8pm.
Reason to visit: The most beautiful Christmas destination in Europe.
Specialities: Everything Alsatian.
Tips: Take a day trip to Colmar to extend your Christmas in Alsace.
Where to Stay: Hannong Hotel.
17. Hallstatt, Austria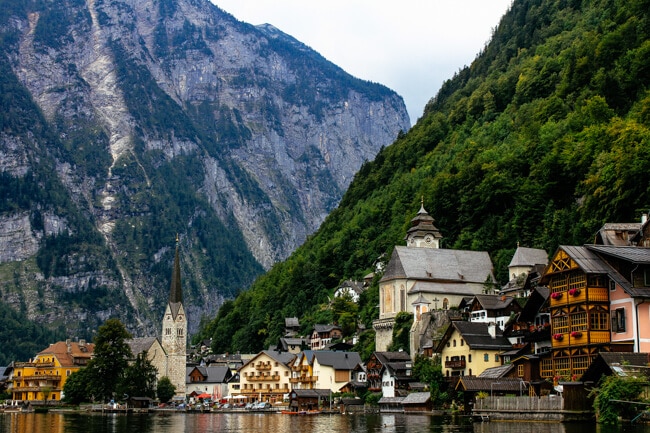 Hallstatt is unique as their Christmas market only runs for one day, on the 8th of December each year.
It's a day of celebration and entertainment, plus a chance to try local specialties, including Austrian Christmas cookies and spicy smoked lake fish.
If you're lucky, you'll get to see Hallstatt under a blanket of snow and at its most beautiful.
Hallstatt Christmas Market dates: 8th December 2023.
Location: Marktplatz.
Opening times: 10am to 6:30pm.
Reason to visit: The Christmas market is set in a UNESCO-listed heritage site.
Specialities: Christmas cookies and smoked Hallstatt Lake fish.
Tips: Book well in advance as there is limited accommodation in Hallstatt. The Christmas market only runs for one day, but you might want to stay longer to appreciate the town with fewer tourists around.
Where to Stay: Seewirt Zauner.
Some tips on taking a Hallstatt day trip.
18. Heidelberg, Germany
Heidelberg is the classic German fairytale city. It has a riverside location, a historic bridge, city gates and a hilltop castle.
At Christmas, the old town squares fill up with people drinking mulled wine and hot chocolate or snacking on bratwurst and Christmas cake.
There's a lot going on for a small city with much of its lively atmosphere thanks to its large student population and international visitors.
Heidelberg Christmas Market dates: 27th November to 22nd December 2023.
Location: Marktplatz.
Opening times: Sunday to Friday: 11am to 9pm. Saturday: 11am to 10pm.
Reason to visit: The Heidelberg market is more intimate than Germany's big Christmas markets.
Specialities: Roasted nuts sold at traditional wooden stalls.
Tips: Go skating at Heidelberg's famous open-air ice skating rink.
Where to Stay: Hotel Goldener Falke.
Read my travel guide with things to do in Heidelberg in a one-day itinerary.
Those are my top recommendations for visiting Central European Christmas markets this winter, including some lesser-known options.
For more winter holiday ideas check out my Christmas road trip ideas.

Or this post on the best places to visit in Europe.
Responsible European Travel
Here are a few suggestions on how to tread lightly while enjoying Europe's Christmas markets this festive season:
Eco-friendly Places to Stay: Opt for green hotels committed to sustainability when booking your stay. Many places in Europe are now powered by renewable energy sources, ensuring a reduced carbon footprint during your visit. Such choices not only benefit the environment but also promote the businesses that are making a positive difference.
Mindful Eating at Markets: European Christmas markets are renowned for their sumptuous foods and treats. While trying everything is tempting, be conscious of over-ordering to prevent food waste. Enjoy the rich flavours and diverse offerings, but try to order portions you can finish, and consider sharing dishes to sample a variety without wastage.
Ethical Purchasing Decisions: As you wander through the twinkling stalls, you'll come across many unique crafts, decorations, and gifts. While getting carried away is easy, focus on purchasing items you genuinely need or will use. By doing so, you not only minimise potential waste but also support artisans who've put their heart into their crafts.
Sustainable Diets: Europe's Christmas markets are a feast for the senses, with a range of traditional delicacies available. While savouring these treats, consider opting for plant-based or locally sourced options when available. Such choices reduce your meals' environmental impact and support local producers.
Embrace Sustainable Transport: Many European cities have efficient public transport systems, and during the festive season, special services often cater to Christmas market visitors. Utilise trams, buses, and trains to navigate the cities. For a more scenic experience, consider walking or renting a bicycle, allowing you to absorb the festive atmosphere while reducing your carbon footprint.
—
Recommendations are independently chosen based on personal travel experiences and extensive research.