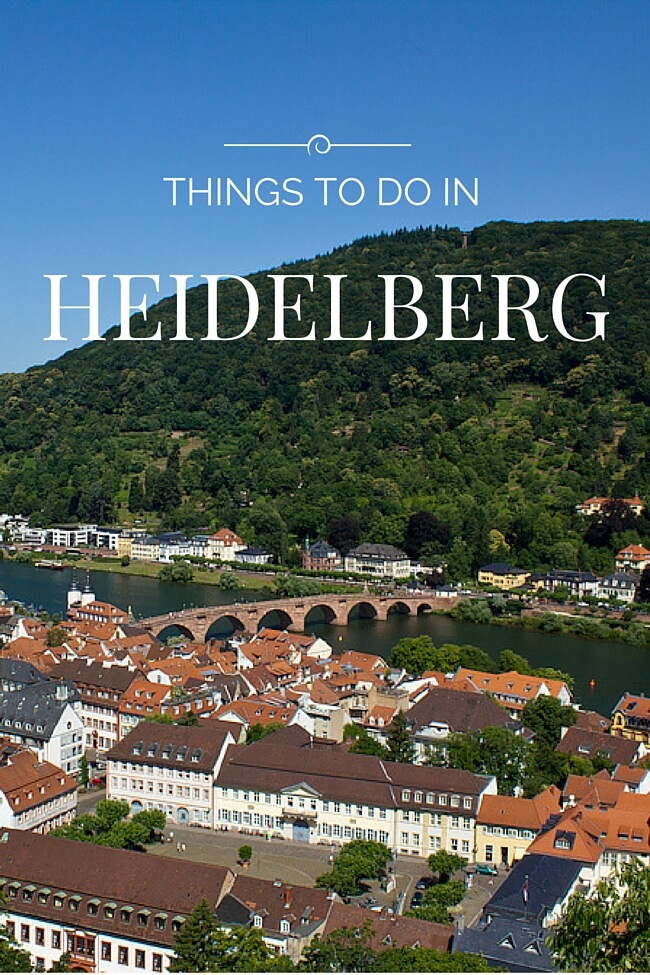 Knowing Heidelberg is one of the most popular tourist destinations in Germany, my original idea was to try and find some off the beaten path things to see and do while I was there.
But it seems the best things to do in Heidelberg are in fact the touristy things so I'm going to throw my initial idea out the window and instead share the top 4 points of interest and must see sights and tourist attractions in Heidelberg.
If you prefer you can take a tour from Frankfurt which takes you through the Rhine Valley as well as places to visit near Heidelberg. I recommend this tour:
Otherwise, head out on your own to do some sightseeing.
Heidelberg Castle
Heidelberg's main attraction is the sandstone castle which overlooks the old town (altstadt). It is featured in just about every photo you see of the city and my favourite view is from the banks of the Neckar River.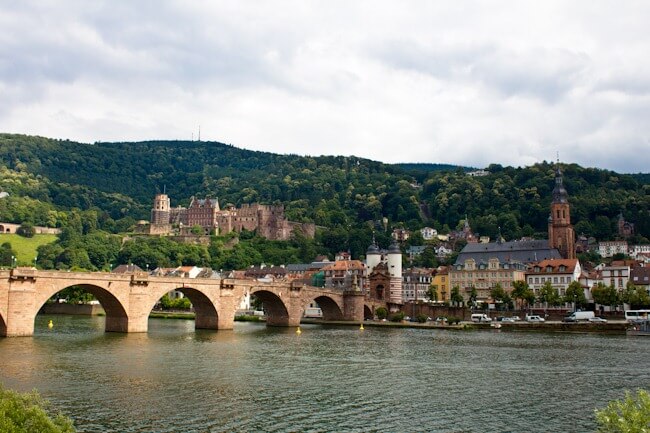 Of course it's worth going up to have a closer look and the easiest way to get there is to take the two minute funicular ride half way up the hill. There is a second funicular dating from 1907 which will take you further up the hillside but unfortunately that isn't included in regular castle/funicular ticket.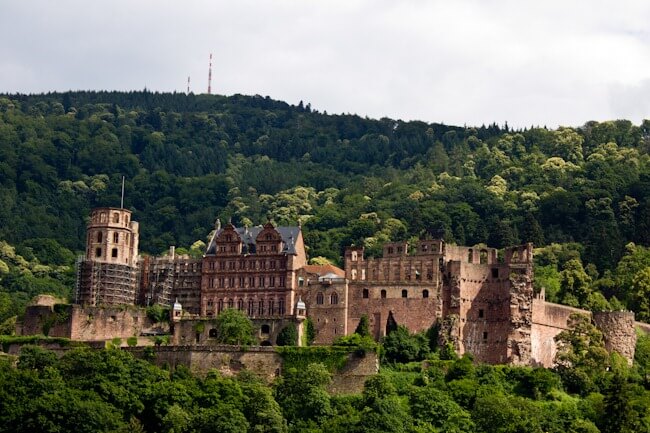 Once there you can explore the Gothic-Renaissance courtyard or check out the pharmacy museum. I skipped that and went straight for the terrace to see the views over Heidelberg and the river.
Old Town Squares
Back down in the altstadt, there are plenty of cute streets and squares to explore. Most are packed with shops, cafes and tourists but there are still plenty of quiet places to relax. The main square Marktplatz is not particularly quiet but it's a fun place to sit for a drink and to people watch. For a small fee you can climb the church spire in the Gothic church on the square for more views of the city.
If you walk back down to the old town after having visited the castle you'll walk straight into Kornmarkt. It's much quieter than Marktplatz and Heidelberg's other main square Karlsplatz as there aren't any cafes to sit in but there are plenty of benches where you can sit and enjoy the view.
River Neckar
Taking a stroll along the River Neckar is a great idea if you want to get away from the crowds at Heidelberg Castle. If the weather is good head to the riverside park on the northern side of the river near the Theodor Heuss Bridge for a picnic. This is where the locals like to hang out when the sun makes an occasional appearance. Just watch out for the hundreds of ducks who also like to hang out there.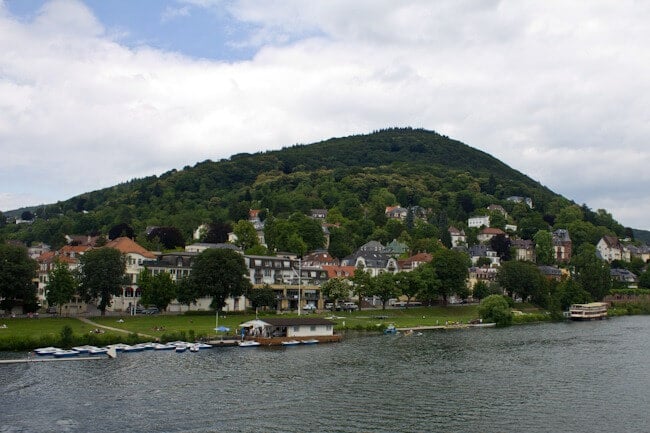 Alte Brucke
The Old Bridge (Alte Brucke) is Heidelberg's most visited bridge which you can get a close up look of as you walk along the Neckar.
The stone bridge dates from the 18th century and there's a pretty medieval bridge gate on the old town side of the bridge.
Plus One Quirky Thing
I did come across one unusual sight while in Heidelberg, the Bridge Monkey.
He's holding up a mirror which is supposed to bring you wealth if you touch it. Of course I didn't discover that until later so it looks like I will remain poor. If you touch the monkey's fingers you will return to Heidelberg one day and if you touch the mice you'll have lots of kids. Luckily I didn't even see the mice!
---
RELATED: The Best of Germany's Awesome Big Cities
---
Those are my recommendations for things to do in Heidelberg, Germany. Which sights and attractions do you suggest seeing?
Where to Stay in Heidelberg
I stayed at the Hip Hotel in Heidelberg which is a cute little boutique hotel right in the old town. It's on the main pedestrian shopping street but you can drive down there to drop off your bags (at least I did!). I particularly loved the champagne breakfast they put on. Who doesn't love champagne for breakfast??
When to Visit
Heidelberg is popular tourist destination all year round. You might want to avoid visiting in July and August as these are peak tourist times but any other time of the year should be relatively fine. Heidelberg also has a lovely Christmas market. If you're staying for a few days and plan on visiting a number of attractions then you might want to pick up the Heidelberg Card from the tourist office. That gives you free use of public transport, use of the funicular and entrance to Heidelberg Castle as well as discounts at a number of museums. But if you're only going to be in Heidelberg for a day or you just want to visit the castle then it wouldn't be worthwhile.
Heidelberg is located in one of the most beautiful regions in Germany. While in the area you could also visit Wiesbaden, the very cute Bacharach or Schwäbisch Hall.
Visiting Heidelberg in 2018 – Summary
Heidelberg is a great weekend destination or an easy day trip from Frankfurt.
Heidelberg Castle is the highlight of a visit to the city.
The main sights are all within walking distance in the old town.
Take advantage of the afternoon coffee and cake culture.
Visit in December to enjoy the Christmas markets.
There are a number of popular hiking trails close by.
Pick a hotel in the old town to have restaurants and the sights at your door.
Stay in Frankfurt if you'd prefer to visit on a day trip.
List of the top restaurants in Heidelberg.
Heidelberg is easily reached by plane (via Frankfurt), train or car.
Book a tour if you don't want to organise your own visit.
---
READ NEXT: A Winter Drive Across Northern Germany
---
Pin It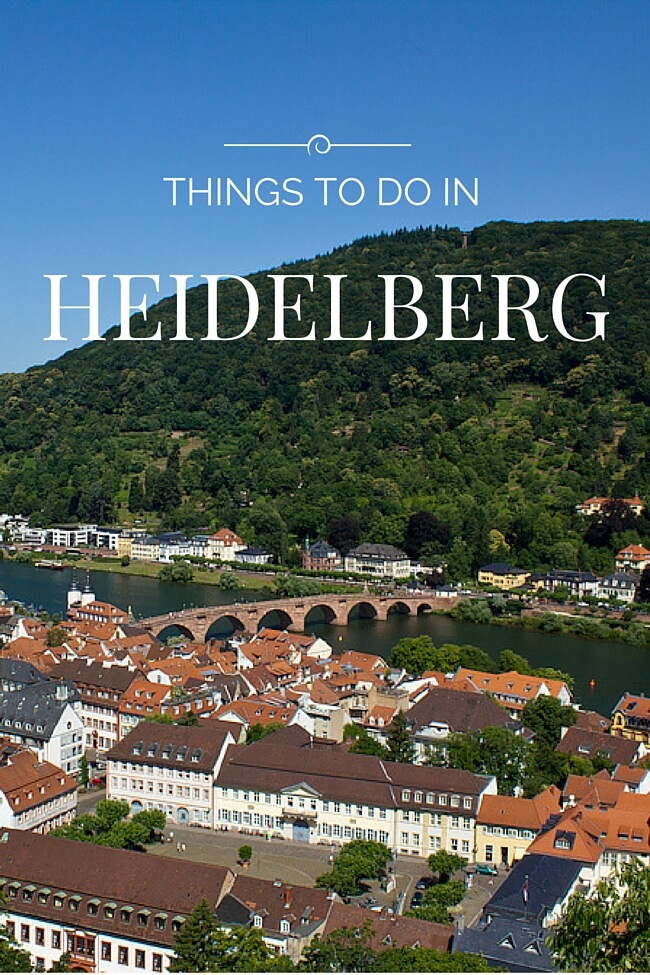 12