If you purchase through links on this site, I may earn a commission at no extra cost to you. As an Amazon Associate I earn from qualifying purchases.
Knowing Heidelberg is one of the most popular tourist destinations in Germany, my original idea was to try and find some off the beaten path things to see and do while I was there.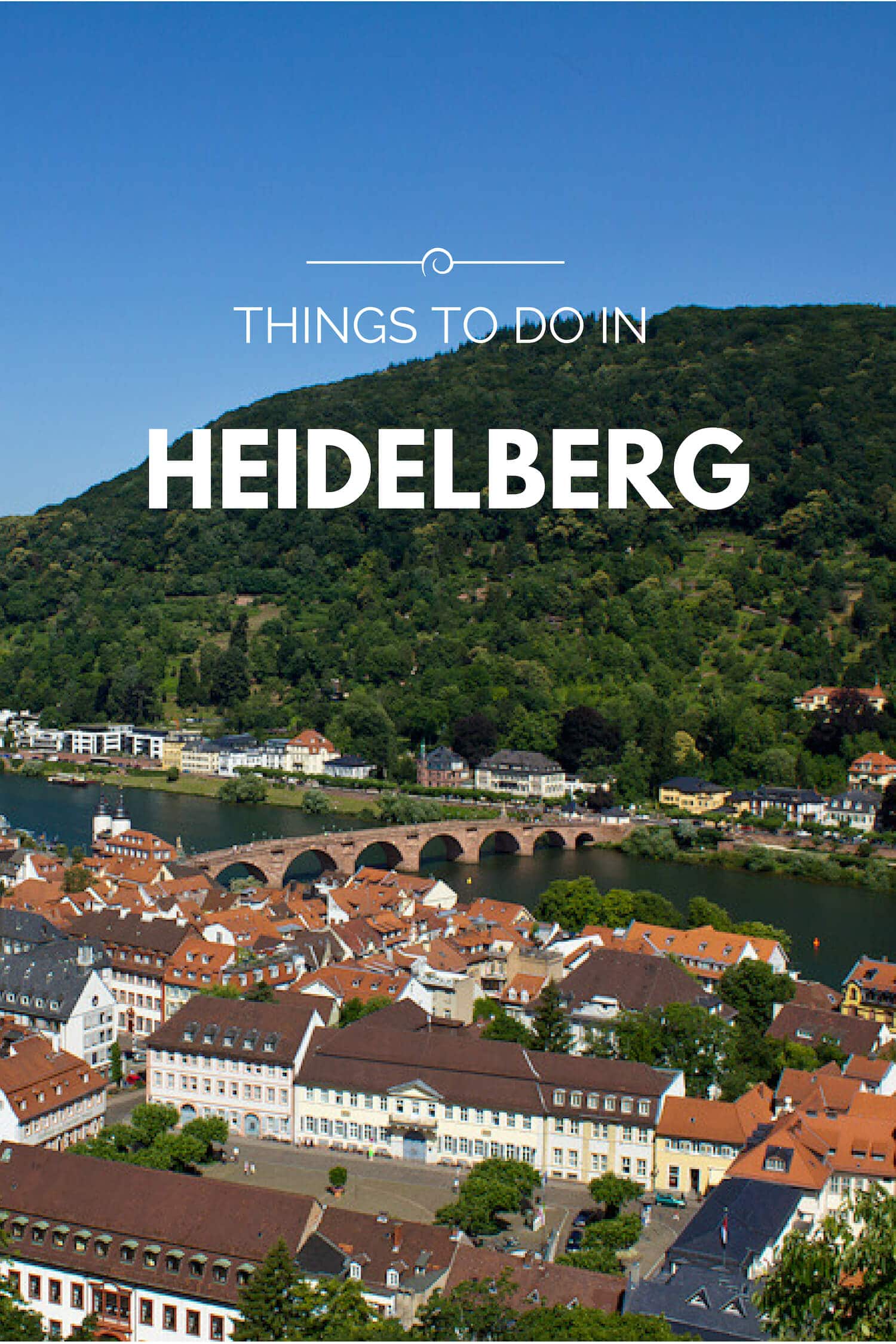 Things to Do in Heidelberg
But after visiting, it seems the best things to do in Heidelberg are in fact the touristy things. It's not surprising really as Heidelberg is a small city and most people are visiting for the same reason, to visit Heidelberg Castle and the Altstadt.
So while I will share some offbeat things to do, I'll start with the most popular points of interest and Heidelberg attractions.
One Day Itinerary
Heidelberg is a young, lively city as it's a university city. The most popular things to do are visit Heidelberg Castle, the historic old town including the famous Old Bridge and the sights along the Neckar River.
For a one day itinerary, I suggest hiking and climbing the hills and castle in the morning and exploring the old town sights in the afternoon and evening. Create your own itinerary from the following and read my thoughts on what to do while you're there.
Heidelberg Castle
Heidelberg's main attraction is the sandstone castle which overlooks the old town (Altstadt). It is featured in just about every photo you see of the city and my favourite view is from the banks of the Neckar River.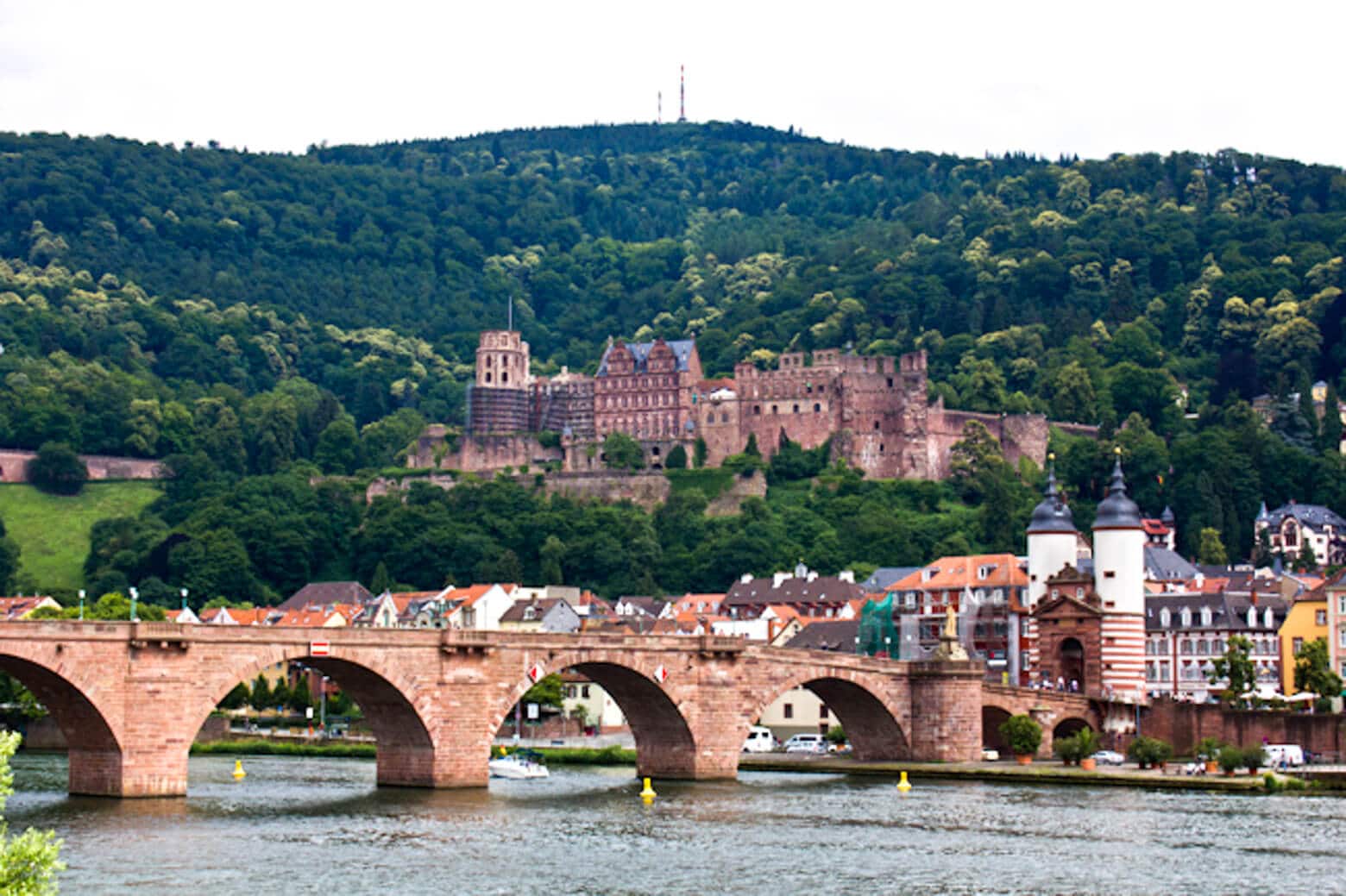 Of course, it's worth going up to have a closer look and the easiest way to get there is to take the two-minute funicular ride halfway up the hill.
There is a second funicular dating from 1907 which will take you further up the hillside but unfortunately, that isn't included in the regular castle/funicular ticket. You might want to take it anyway though.
Once there you can explore the Gothic-Renaissance courtyard or check out the pharmacy museum. I was a bit rushed so skipped that and went straight for the terrace to see the views over Heidelberg and the river. This is likely the most popular view overlooking Heidelberg.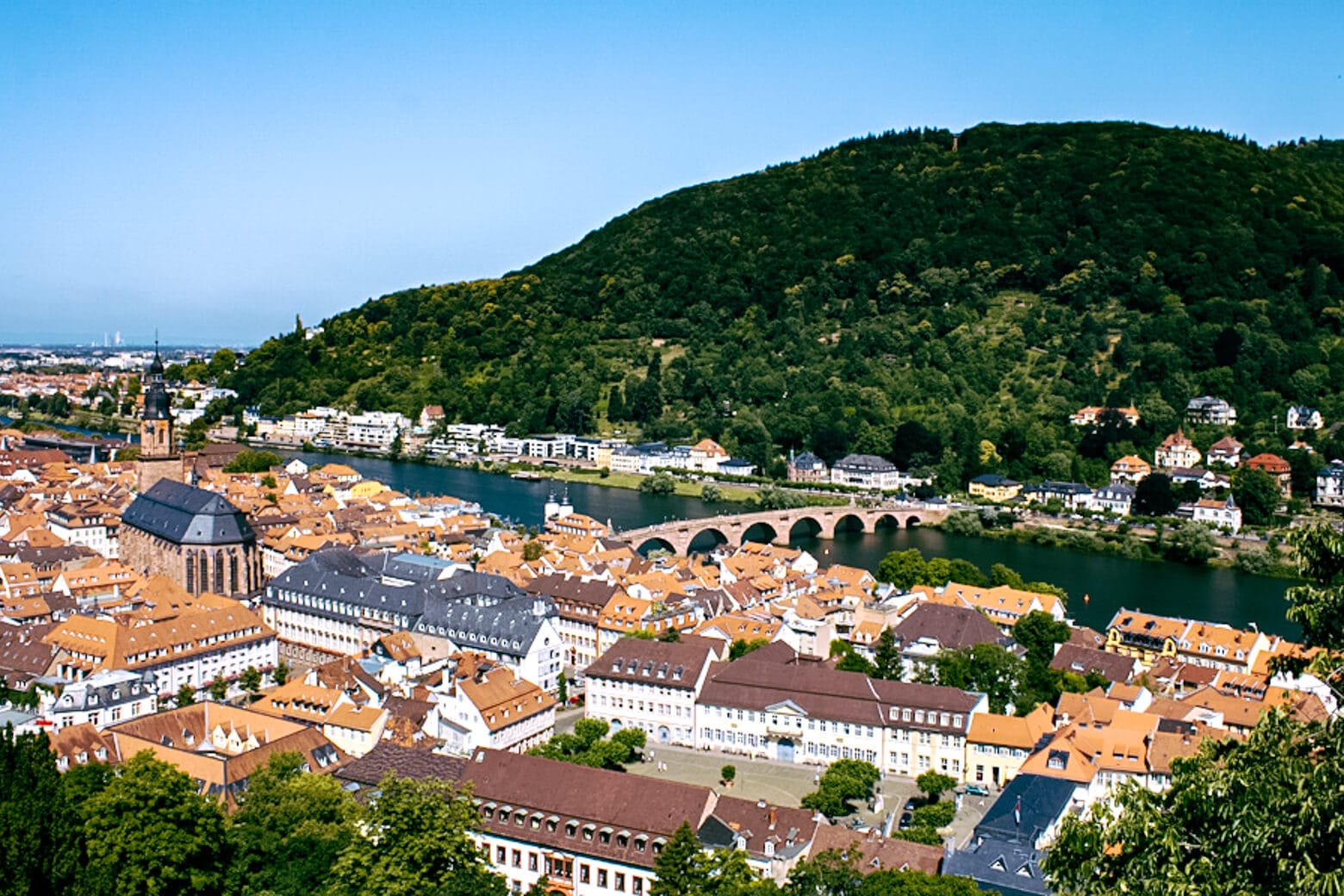 Old Town Squares
Back down in the Altstadt, there are plenty of cute streets and squares to explore. Most are packed with shops, cafes and tourists but there are still plenty of quiet places to relax.
The main square Marktplatz is not particularly quiet but it's a fun place to sit for a drink and to people watch.
For a small fee, you can climb the church spire in the Gothic church on the square for more views of the city.
If you walk back down to the old town after having visited the castle you'll walk straight into Kornmarkt. It's much quieter than Marktplatz and Heidelberg's other main square Karlsplatz as there aren't any cafes to sit in but there are plenty of benches where you can sit and enjoy the view.
Neckar River
Taking a stroll along the Neckar River is a great idea if you want to get away from the crowds at Heidelberg Castle.
If the weather is good, head to the riverside park on the northern side of the river near the Theodor Heuss Bridge for a picnic. This is where the locals like to hang out when the sun makes an occasional appearance. It's also a popular spot for ducks so take care when choosing somewhere to sit.
Karl Theodor Bridge – Alte Brucke
The Karl Theodor Bridge or Alte Brucke (Old Bridge) is Heidelberg's and possibly Germany's most visited bridge. You can get a close-up view from the Neckar riverside from the footpath or the grassed area known as the Neckarwiese.
The stone bridge dates from the 18th century and there's a pretty medieval bridge gate on the old town side of the bridge.
Other Places to Visit
For longer stays, for example, a two or three-day trip, these could be worth adding to your itinerary:
The Philosophers' Way – A two-kilometre scenic walk at the top of the hill along the Neckar River.
Heiligenberg Hill – Part of the Philosophers Way and a scenic hike from the Old Bridge.
Pharmacy Museum – Located at Heidelberg Castle and featuring exhibits of medical science in Germany.
Neckarwiese – The green open space along the right bank of the Neckar River.
Offbeat and Unusual Attractions
I did come across one offbeat sight while in Heidelberg, the Bridge Monkey.
He's holding up a mirror which is supposed to bring you wealth if you touch it. Of course, I didn't discover that until later so it looks like I will remain poor. If you touch the monkey's fingers you will return to Heidelberg one day and if you touch the mice you'll have lots of kids. Luckily I didn't even see the mice!
Unusual points of interest in Heidelberg:
The Bridge Monkey – Located at the base of the Karl Theodor Bridge on the Altstadt side of the Neckar.
Heidelberg Thingstatte – At the top of the cliff opposite Heidelberg Castle is the Nazi-era amphitheatre built for propaganda plays and events. It's a bit of a hike but worth it to see something different.
The Prinzhorn Collection – A museum featuring unusual 19th and 20th-century artwork by inmates at psychiatric institutions.
Heidelberg Tun – The largest wine barrel in the world.
Studentenkarzer – Prison cells designed to punish students at Heidelberg University (not now, in the past).
Those are my thoughts on what to do in Heidelberg, Germany. Which sights and attractions do you suggest seeing? Any Heidelberg secrets to share or romantic locations?
Frankfurt to Heidelberg Day Trip
Many tourists arrive in Heidelberg on a day trip from Frankfurt. Frankfurt is the main hub for German airline Lufthansa and as one of Europe's largest airports, you'll find almost every major airline flies there.
If you're travelling from within Europe, the most sustainable way to travel to Heidelberg is via public transport with the train being the best option. Although an increasing number of visitors are arriving by bike!
Frankfurt to Heidelberg via Intercity train takes around 50 minutes. You can also take the S-Bahn which is cheaper but considerably slower. You can purchase tickets online at Deutsche Bahn or at the station before you go.
Trains depart fairly regularly so there isn't much need to book in advance except to save time on the day.
If you prefer you can take a tour from Frankfurt which takes you through the Rhine Valley as well as places to visit near Heidelberg.
I recommend this day trip tour from Frankfurt:
Otherwise, head there on your own for some Heidelberg sightseeing and support the local community with a longer stay.
Stuttgart to Heidelberg Day Trip
Stuttgart is the closest big city to Heidelberg and it's a popular access point for visitors heading to Heidelberg.
Trains from Stuttgart Central Station to Heidelberg take 45 minutes to an hour and depart regularly. It's also an easy drive if you have your own car.
Places to Visit near Heidelberg
If you're arriving by car, it's easy to get around to visit places near Heidelberg. It's not quite so easy to get out into the countryside if you're on public transport, but you can easily get the train to almost any nearby town.
There are excellent opportunities for safe cycling and hiking around Heidelberg. You might find this to be a sustainable way to get around if you're able to.
Places to visit near Heidelberg:
Stuttgart – The beautiful city south of Heidelberg is worth visiting for a couple of days.
Frankfurt – Germany's financial centre has a pretty old town and plenty of shopping.
Bad Wimpfen – A medieval spa town with half-timbered houses, well preserved and undamaged by both wars.
Rothenburg ob der Tauber – A gorgeous medieval town in Bavaria, easily reachable by car from Heidelberg.
Wiesbaden – A popular small town near Frankfurt.
Tuebingen – Another stunning small town, less than a 2-hour drive away.
Schwetzingen Castle – 17th-century palace near Heidelberg.
Mannheim Palace – Sprawling 18th-century baroque palace, 20 km from Heidelberg.
Castle Route – There are many small castles along the Neckar River including Burgfeste Dilsberg, Burg Hirschhorn and Schloss Zwingenberg.
Where to Stay in Heidelberg, Germany
I stayed at the Hip Hotel in Heidelberg which is a cute little boutique hotel right in the centre of the old town. It's on the main pedestrian shopping street but it's accessible by car if you're driving.
It's been a while since I stayed there and even though the location is perfect, it does seem to have dropped in quality based on the reviews.
I think in future I would stay at the Rafaela Hotel as it has much better reviews and has an excellent sustainability rating with 100% of the electricity coming from renewable sources.
When to Visit Heidelberg
Heidelberg is a popular tourist destination all year round. You might want to avoid visiting in July and August as these are peak tourist times but any other time of the year should be fine.
Heidelberg also has a lovely Christmas market if you're visiting in late November or December.
Heidelberg in December
Germany has many amazing Christmas markets including those in Heidelberg. Winter in Heidelberg sees the opening of the main Christmas market in the Old Town square plus the 'Winter Woods' market at Kornmarkt.
There is also the open-air ice skating rink at Karlsplatz which is open all winter from November to January (excluding Christmas day).
2022 Christmas Market Dates: 25 November – 31 December 2022.
The Heidelberg Card
If you're staying for a few days and plan on visiting a number of attractions then you might want to pick up the Heidelberg Card online before you go.
The card gives you free use of public transport, use of the funicular and entrance to Heidelberg Castle as well as discounts at a number of museums.
But if you're only going to be in Heidelberg for a day or you just want to visit the castle and old town then it wouldn't be worthwhile.
You might find taking a short walking tour of Heidelberg to be of better value.
This walking tour is the most popular.
Heidelberg is located in one of the most beautiful regions in Germany. While in the area you could also visit Wiesbaden, the Bacharach on the Rhine or Schwäbisch Hall.
—
This post includes affiliate links to tours and accommodation.