If you purchase through links on this site, I may earn a commission at no extra cost to you. As an Amazon Associate I earn from qualifying purchases.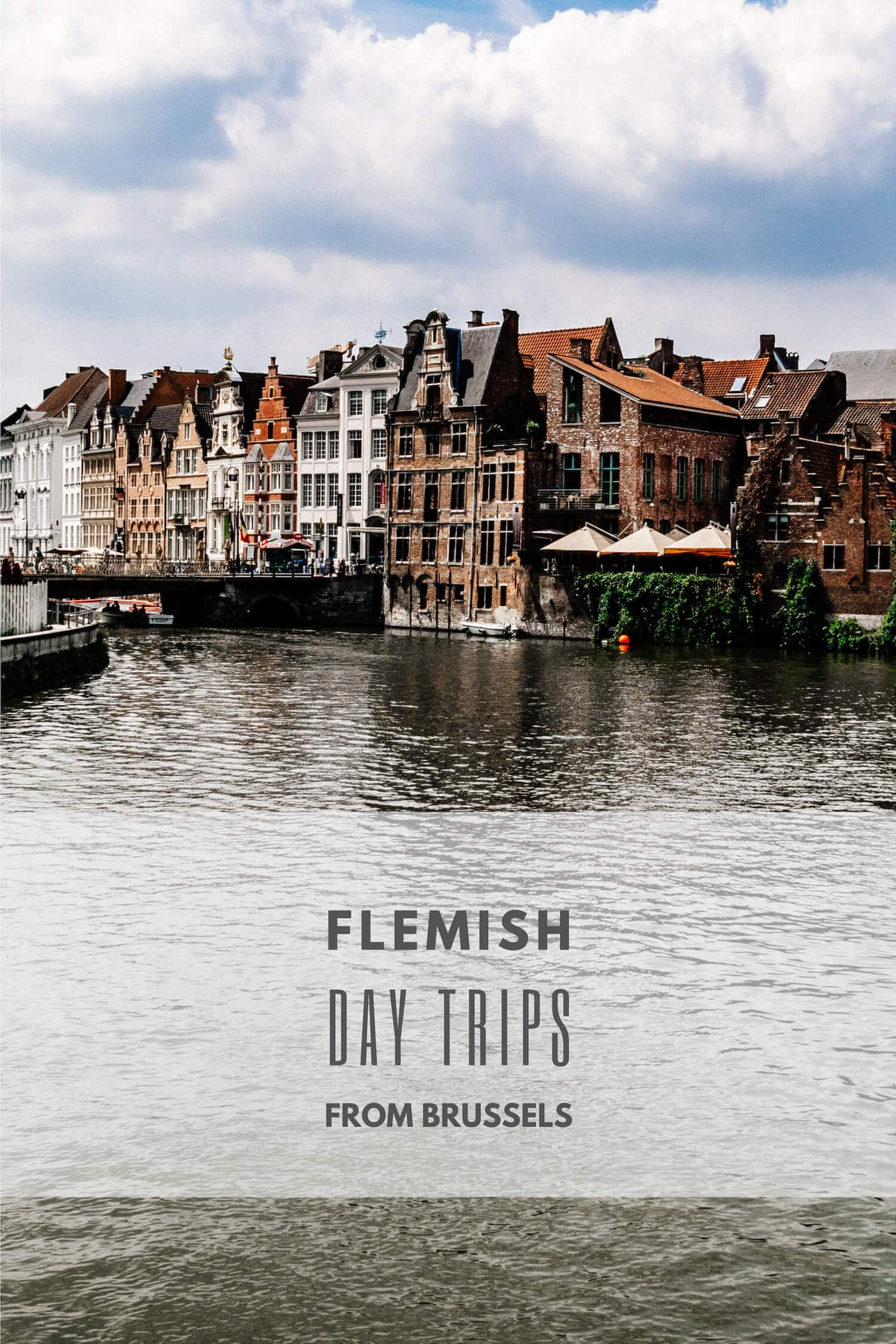 Brussels has one of the worst reputations in Europe. Not for being dangerous or unattractive or lacking in culture but for an even worse offence. It's considered boring. Poor Brussels. It's mostly undeserving of that label. Mostly.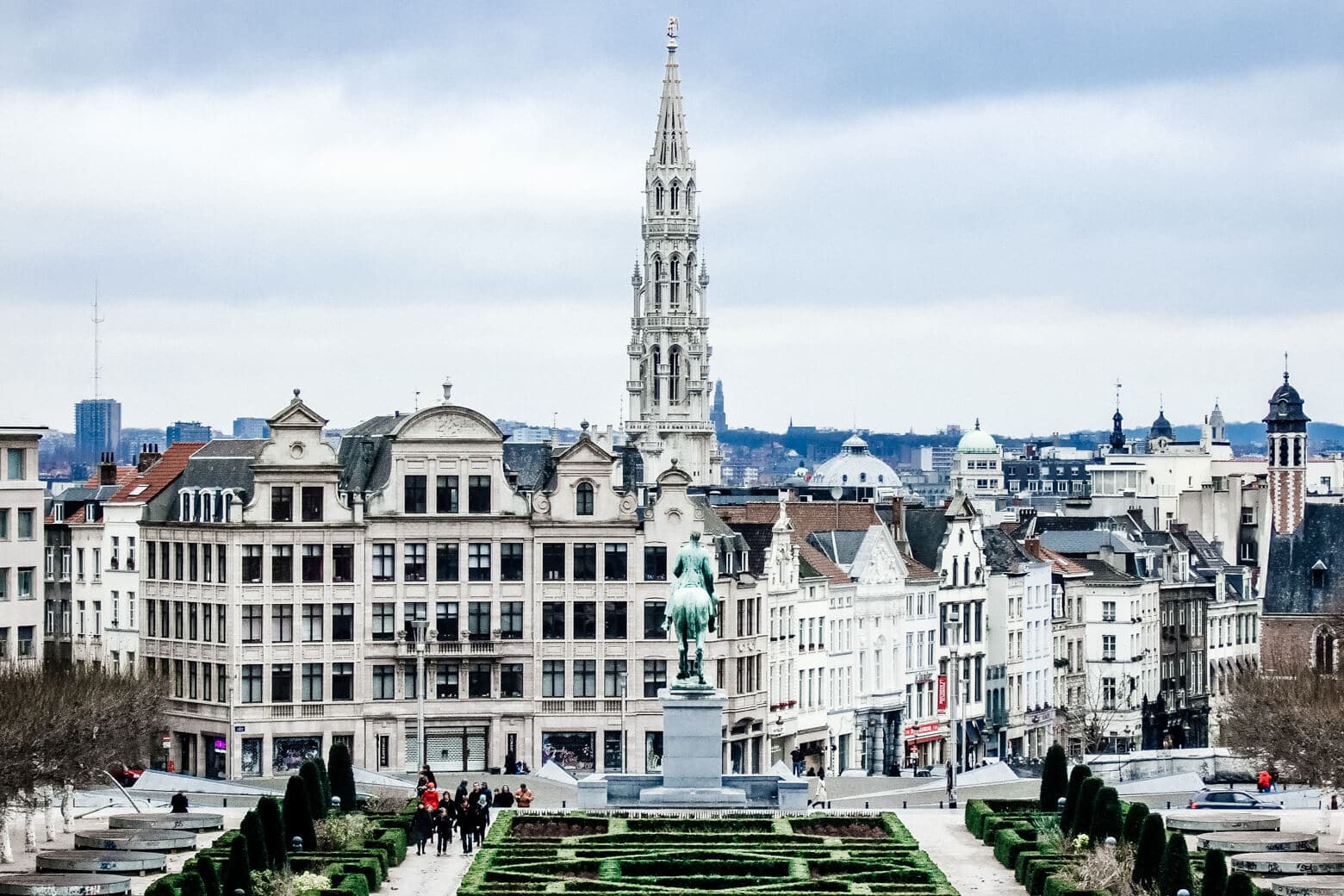 I actually quite like Brussels. I vividly remember walking into La Grand Place many years ago, on my first trip to Europe. I was completely gobsmacked by the sheer beauty of the massive square lined with opulent gold-trimmed architecture and the Gothic Town Hall. I'm much more jaded these days but it's still an impressive sight.
Aside from that I remember debating which waffles were best; Brussels or Liege waffles (Brussels all the way). The days were spent sampling as much chocolate as possible and searching for the best chip shop in Brussels.
For me, Brussels, and Belgium in general, is all about the food. There are so many delicious specialties worth trying. If you have time, I recommend taking a day trip from Brussels to visit Belgium's other foodie cities (and to see the sights and attractions of course).
Update: I recently published a self-guided Brussels food tour to help you get a deeper understanding of Belgium's food culture.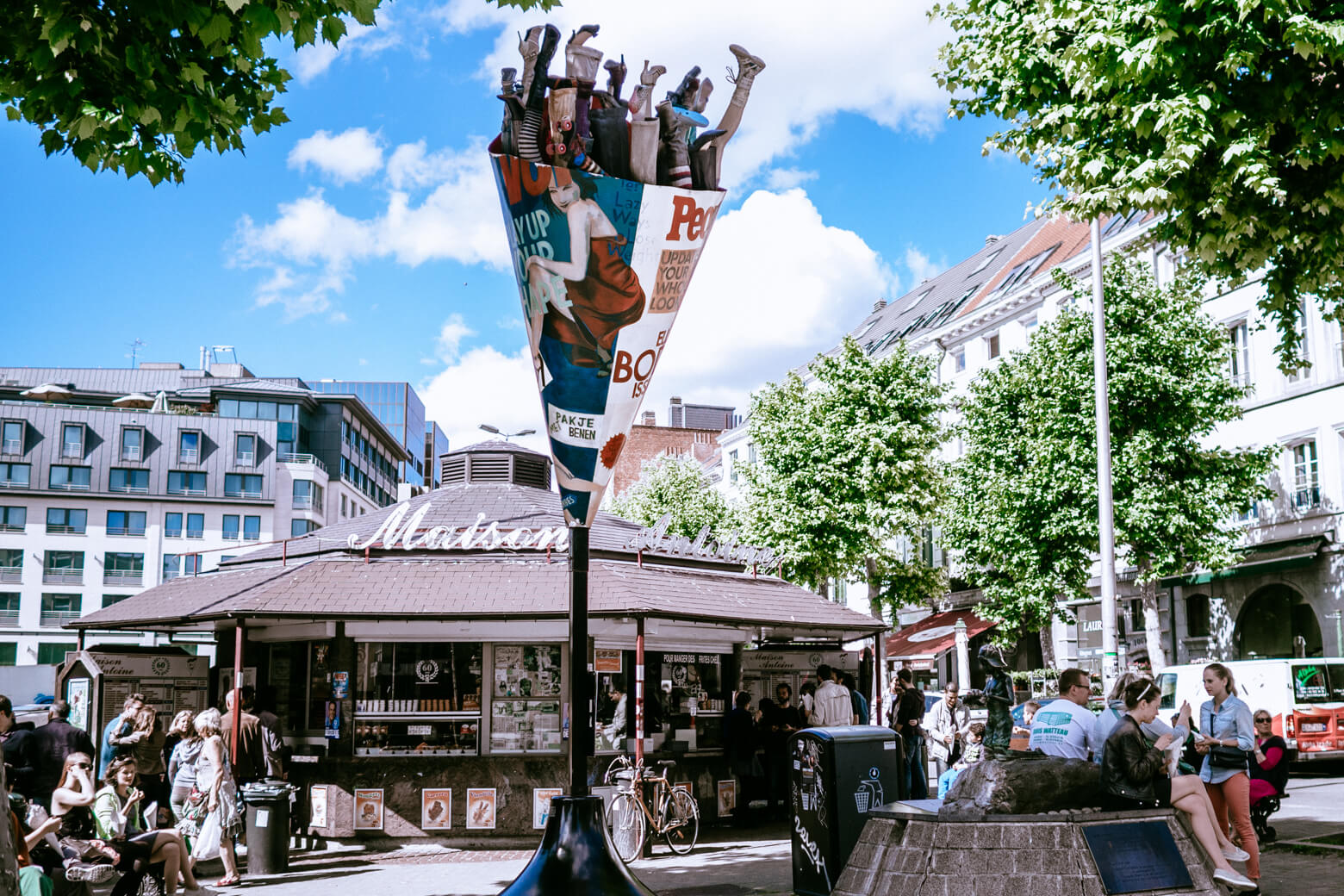 Day Trips from Brussels
Once you've finished stuffing yourself (which could take a while) and seeing the main sights (which could take a day or three) you can get out of the city and day trip your way around Belgium.
There are countless day trips from Brussels so I'm only mentioning the best here, 4 amazing day trips within Belgium and one of my favourite trips across the border.
If you would prefer to take a day tour I recommend this one:
Or travel independently as I always do.
1. Ghent
Bruges may be the most popular day trip destination in Belgium but I much prefer Ghent and most of the people I've spoken to prefer Ghent too. Ghent has everything Bruges has but better. The city is absolutely gorgeous. There are typical narrow Flemish houses that line the canals and grand squares with even more beautiful architecture. Flower-lined bridges cross the canals, many of them pedestrian only which means you can walk everywhere avoiding cars.
I think it's worth spending a couple of days in Ghent. Taking a weekend trip would be ideal so you can explore the whole city with a full itinerary.
There are a few museums that might take your interest like the Design Museum or Museum of Psychiatry (here's a full list) or stick to meandering and enjoy the boutique shops, cafes and artisanal chocolate.
If you're into food, Ghent is a great choice, although to be fair, everywhere in Belgium has incredible food. One of the best foodie destinations is Hal 16. It's a brewery and food hall in one with an organic bakery, gourmet toasted sandwiches and craft beer. The Holy Food Market is an incredibly beautiful food hall located in a 16th-century former chapel or stop by BE O Versbar for organic vegetarian and vegan dishes.
One of the most popular ways to see Ghent is with a canal river cruise. It's inexpensive and takes 40 minutes which is perfect if you're only in Ghent for the day. Save time by buying your ticket online in advance. This is the tour I recommend; Boat tour of Ghent city centre.
Getting to Ghent from Brussels
Ghent is 35-40 minutes from Bruxelles Central, the main train station in Brussels. There's no need to book in advance, you can buy your train ticket when you get to the station. Trains run every half hour or so. This is what makes travelling in Belgium so great, everything is close and perfect for day trips.
Day Tour of Ghent
Even though it's easy to get to Ghent on your own, if you'd like to do a tour they are daily tours from Brussels. This includes the bus trip to and from Brussels, a guided tour once you arrive and some tips and discounts for what to see. You get 4 hours on your own so this tour still gives you time to do your own thing while in Ghent. Book this tour here; Full Ghent day tour from Brussels.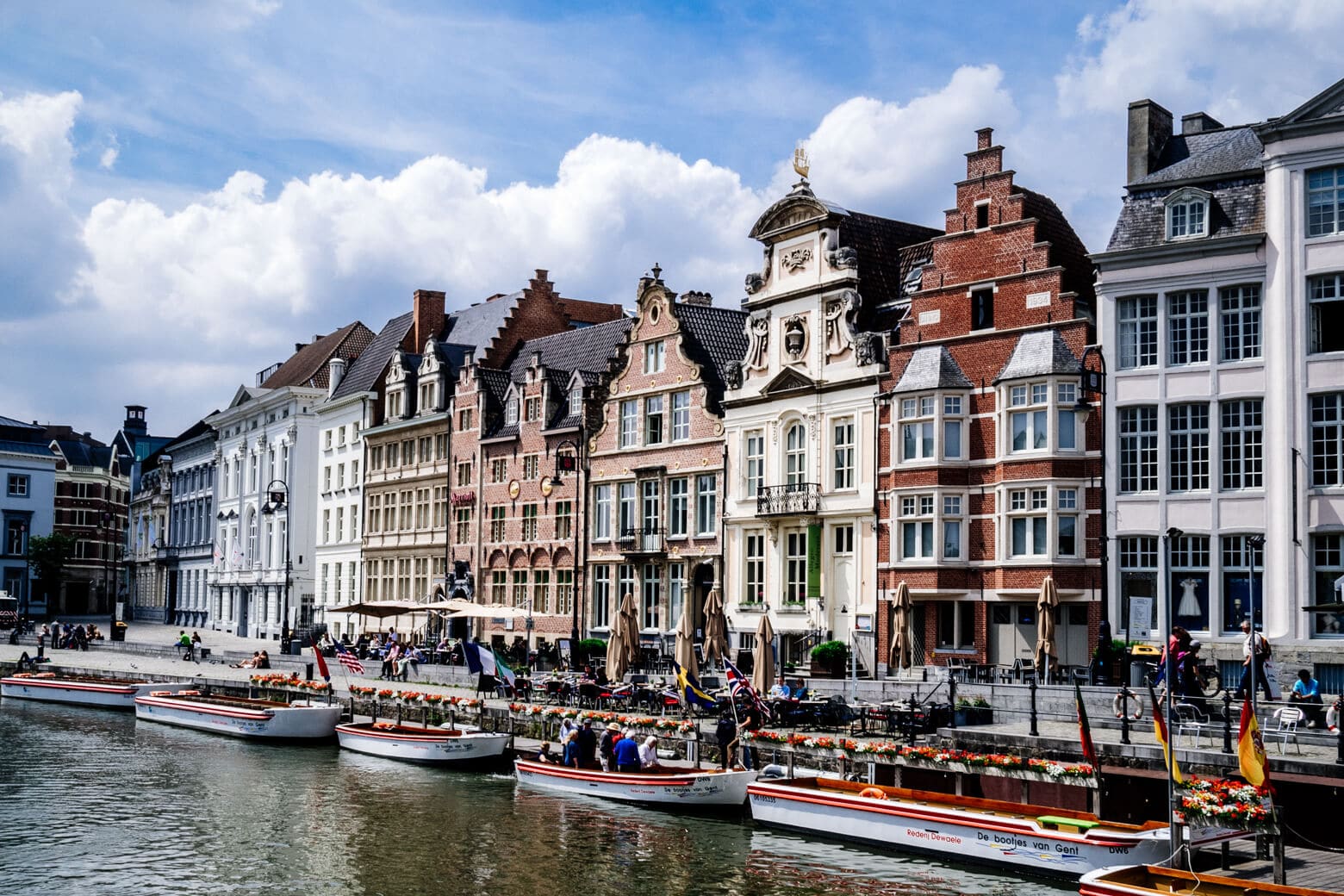 2. Bruges
The entire centre of Bruges is Heritage listed, historic, photogenic and teeming with some of the best restaurants in Belgium. But you won't exactly starve in Ghent either. Ghent being far less touristy and more compact is what gives it the edge over Bruges in my opinion, but that's not to say you shouldn't visit Bruges, it's popular for a reason.
Honestly, they are both incredible cities with amazing food, history, culture and architecture, you won't be disappointed whichever you choose. Bruges is bigger with more to see while Ghent is just as beautiful but possibly more relaxing.
A great starting point for Bruges is Rozenhoedkaai. This is classic Bruges with beautiful Flemish architecture on the canal, flowers everywhere and people riding by on their bikes, eating, drinking or hopping on a boat.
In Bruges, you'll most likely spend your time walking around the old town squares, the Hansa Quarter, along the canals and maybe a stop at the famous convent gardens. There's plenty to see on a day trip and even for a weekend trip if you have a longer itinerary.
As with Ghent, one of the big draws to Bruges is the food. There are world-renowned restaurants, Estaminet pub food, classic Belgian fries and every kind of chocolate you could imagine. It's crazy how much good food there is in this city.
Getting to Bruges from Brussels
Bruges is slightly further away from Brussels than Ghent. In fact, the same train takes you to both stops. Trains run every 30 minutes from Bruxelles Central train station and take an hour. This is an easy day trip from Brussels even though it's a little further away. Buy your train ticket from one of the ticket machines when you arrive at the station.
Day Tour of Bruges
As I mentioned above, you can visit Ghent and Bruges on the same day tour. If you feel like that's a little much for one day, there are tours from Brussels that only go to Bruges. Both cities are definitely worth visiting but you might prefer to take your time in one city rather than rushing to see both. I personally would only visit one city in one day but do what you feel is best.
If you want to do a day trip to Bruges from Brussels, this is the one I recommend as it includes a boat tour along the canals; Bruges Full Day Discovery Tour (note this is a walking tour when you get to Bruges).
As the food capital of Belgium, it's not surprising there is a fantastic food tour you can do in Bruges which includes 10 tastings. You'll get to try many Belgian specialties like Belgian fries, chocolate and truffles. This is a private tour and great value for money: Bruges Private Food Tour.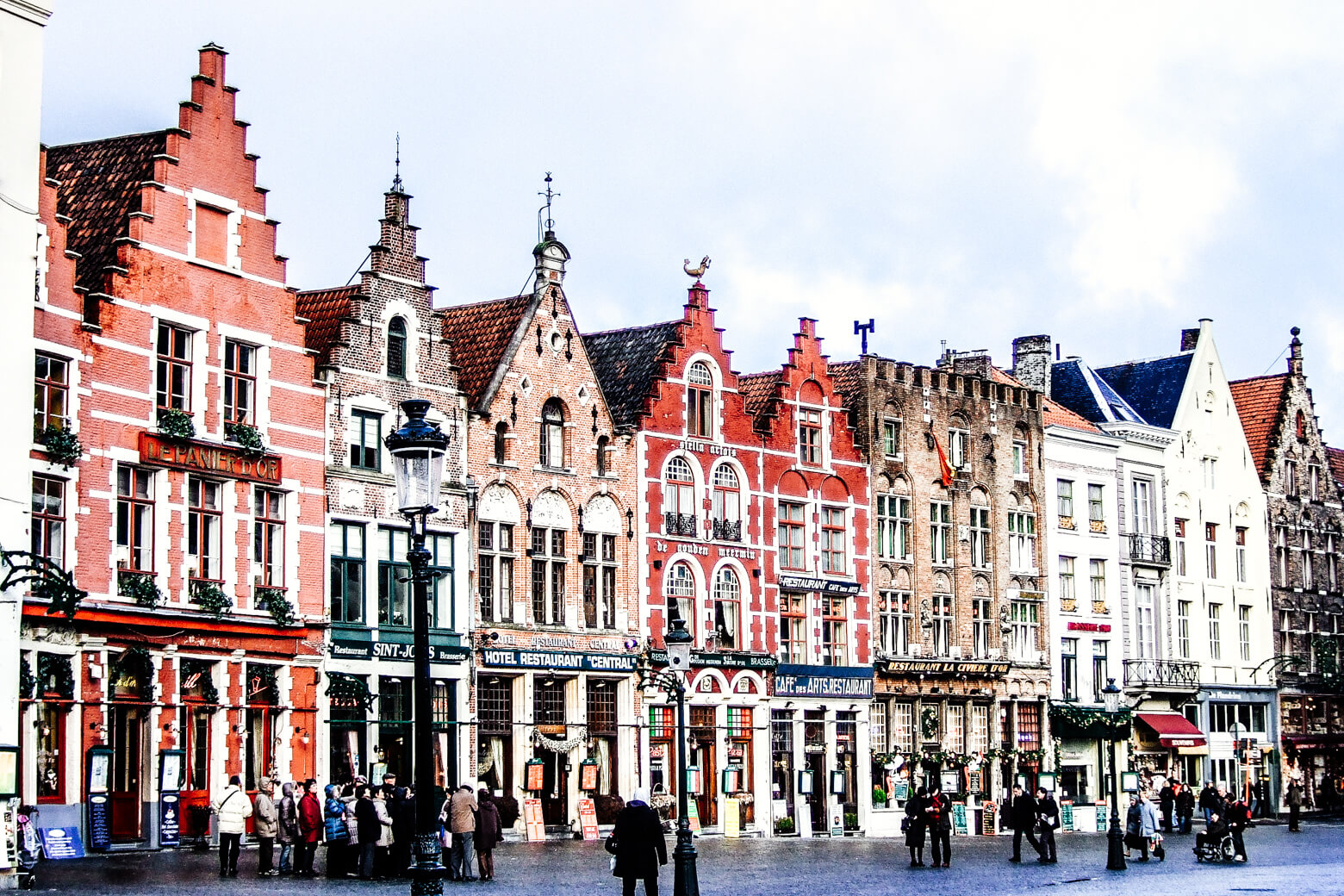 3. Leuven
Ghent and Bruges are definitely the best day trips from Brussels, I highly recommend visiting at least one of those cities if you're going to Belgium. But if you've already been and want to go somewhere different or if you only have a half day to spare, Leuven might be a good option for you.
If you only have half a day to get away from Brussels, pretty Leuven is just down the road. Most of the action is on Grote Markt and nearby Oude Markt is the place for eating and drinking. If visiting at the weekend you have a good chance of being able to take part in one of the many festivals in Leuven.
Leuven is a small city with a large student population. It has a long history of tertiary education and is home to KU Leuven, the largest university in Belgium. This is the reason for the young vibe of the city and the many bars, cafes and events.
Some of the highlights of Leuven include a visit to the beautiful gothic Town Hall (at 3pm), the Oude Markt (the longest bar in Europe) and the modernised industrial neighbourhood of Vaartkom. If the weather is good, hire a bike in Leuven to get around the different neighbourhoods and park areas. Stop by Leuven's tourist office when you arrive to organise a bike or grab a map.
Getting to Leuven from Brussels
Leuven is extremely easy to get to. Hop on the train from the centre of Brussels and you'll be in the centre of Leuven in 25 minutes. Leuven is a small city, so you can see everything in a few hours and be back in Brussels for dinner.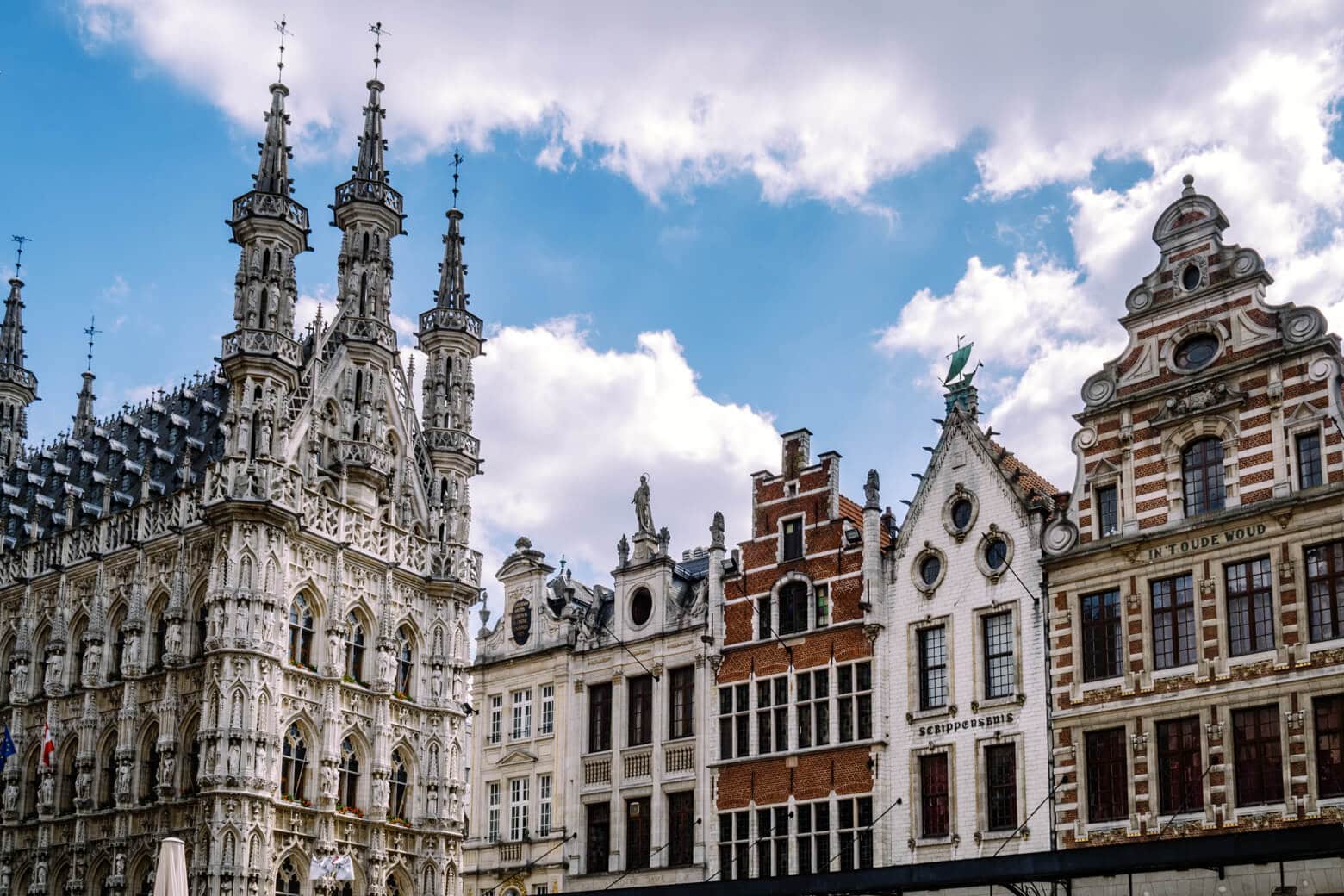 4. Antwerp
An hour north of Brussels is Antwerp, the less visited of the Flemish cities. It's the second largest city in Belgium and has a huge main square not dissimilar from the ones in every other Belgian city.
I planned to visit Antwerp for the "smoskes" but further investigation revealed they're just baguette-style sandwiches and not exactly the culinary specialty I had imagined.
The city is however known for a different food specialty, Antwerpse Handjes, a cute little hand-shaped biscuit that everyone loves. But unfortunately, I never did make the day trip to Antwerp so this remains on my bucket list.
Seeing as I haven't been to Antwerp, I can't tell you too much about the sights and what to do there.
What I can tell you is one of the most popular ways to get around and see the city is by bike. You can visit the main attractions including the city centre and the port on this 2-hour guided bike tour; Antwerp Highlights.
It wouldn't be Belgium without a food tour and Antwerp is no exception. Antwerp food tours include classic Belgian dishes and snacks like waffles, Belgian fries (with handmade sauces), bakeries, and main courses. This highly rated food tour includes a city tour so it's a good option for your first time in Antwerp; Historic Old Town Food Tour.
5. Lille Day Trip to France
Brussels to Lille is not too far if driving (90 minutes) but it's only 45 minutes on the fast TGV train and while it's not in Belgium, it is a Flemish city. There's no border control between France and Belgium so you can see it as visiting another nearby city, rather than visiting another country.
On this day trip, you could arrive in Lille in the morning and have all day to eat your way around one of France's best foodie and cultural cities. Most people would never think to visit Lille on a day trip from Belgium but it's definitely possible and worthwhile.
Alternatively, a Lille weekend break might be a better option.
I'm a huge fan of Lille, it's an underrated city but it's beautiful, easy to get around, there are world-renowned museums and the food is outstanding.
Tip: If you're interested in architecture, you might know Brussels is famous for Art Nouveau architecture. If you're into that, it's worth noting Lille is home to an incredible house by one of the movement's most famous architects, Hector Guimard. Maison Coilliot is located down the road from the Lille Belfry and it's well worth visiting this special, almost forgotten masterpiece (although it's not open to the public).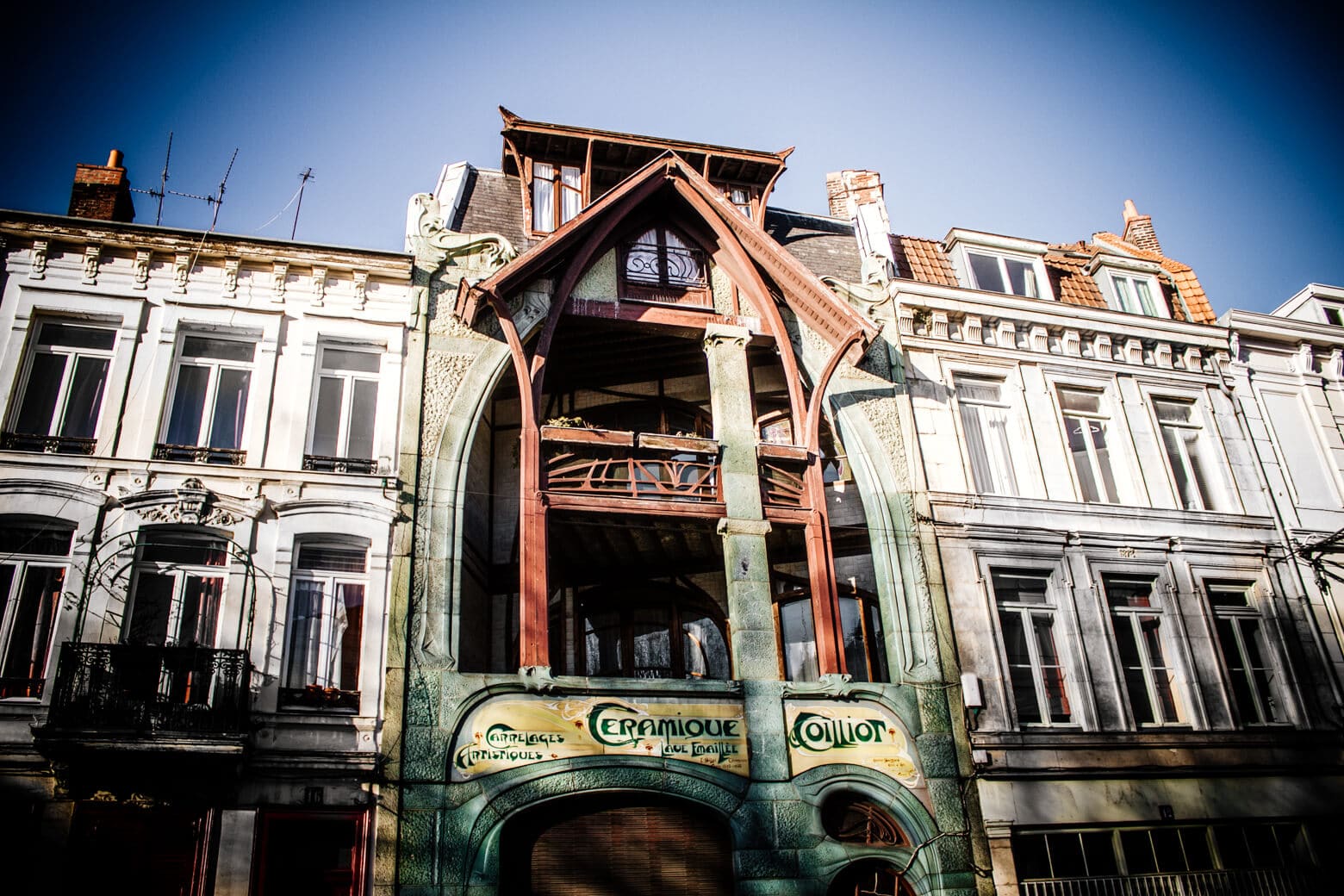 Getting to Lille from Brussels
If you have a car, Brussels to Lille should take you 90 minutes. Traffic in Brussels is notoriously bad but the advantage of driving is you can do some shopping while you're in Lille or you could stop by Ghent on the way. Then you would get to see two amazing cities in one day trip.
The trip would undoubtedly be quicker by train. Just be aware that to arrive in Lille in 45 minutes you need to get the TGV train, not the slow intercity train. Unless you want to save money, then you could get the TER intercity and still be in France in 1 hour 45 minutes. It's not too bad either way but it makes for a long day if you get the slow train or drive.
Seeing the Sights in Lille
Lille is considerably larger than Belgium's Flemish cities so it might pay to take a day tour to get in all the sights. The easiest and most conventional tour is the hop-on hop-off bus. If you've taken one of these tours before, you'll know it's a great way to get an introduction and general overview of a city. They are quick and easy and hit all the main sights. If you want to do this tour, book online before you go; Lille City Tour.
For an unconventional tour, Lille offers a vintage Citroen convertible driving tour with a guide. You get to see all the monuments of the city in one of France's all-time classic cars; Lille Citreon Driving Tour.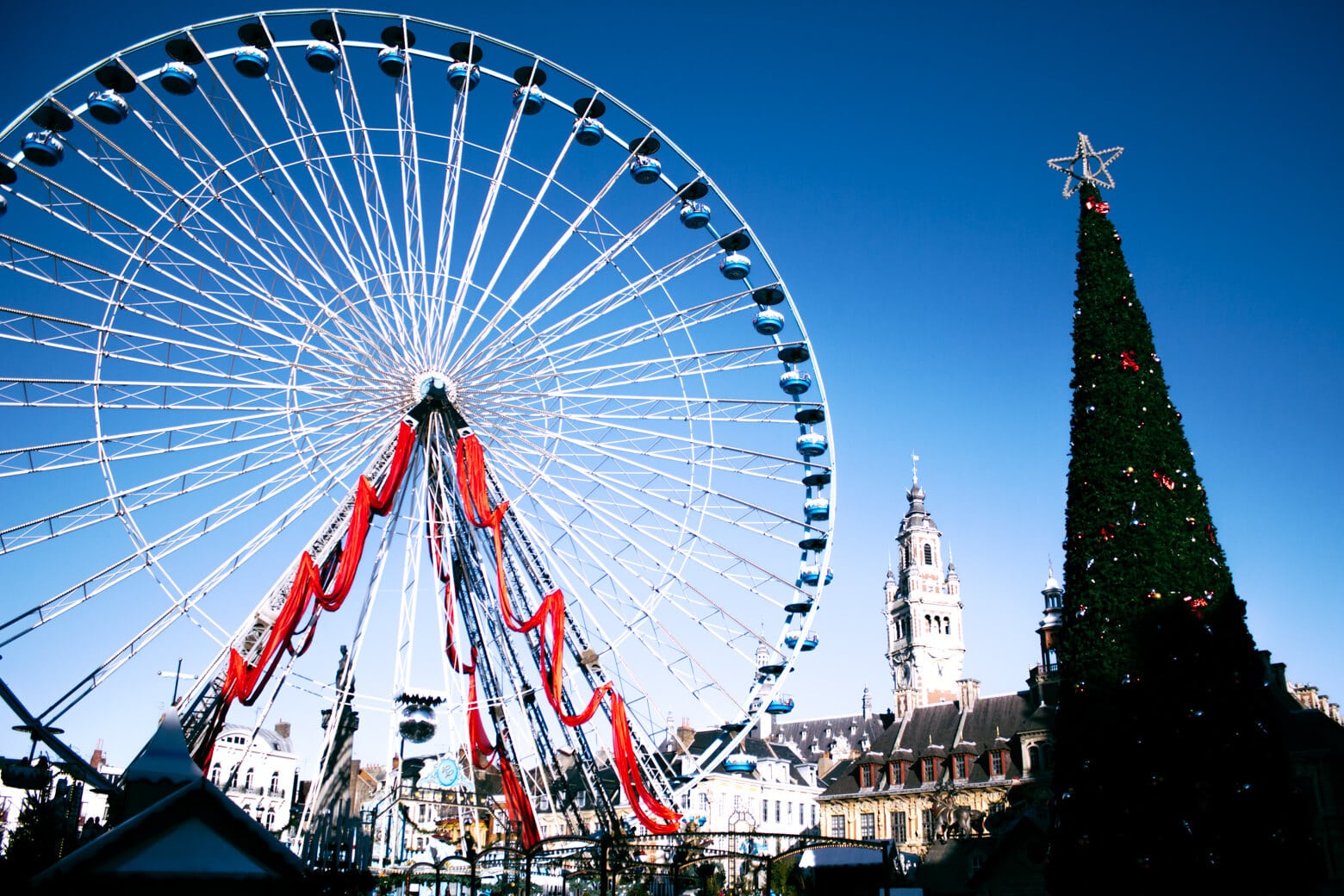 More Day Trips from Brussels
There are many other day trips from Brussels which I haven't mentioned. You can see castles, World War II historical sites, or visit one of the country's many green spaces.
If you're interested in more day trips from Brussels, consider Liege in the French-speaking Wallonia region of Belgium, Maastricht across the border in the Netherlands, the port city of Ostend or the beautiful riverside town of Dinant.
Brussels Food Tour
Don't forget to try my self-guided Brussels food tour, a free tour of the city with info on where to find the best chocolate, waffles and beer, as well as other delicious Belgian specialties.
Final Thoughts
If you could only take two day trips from Brussels then I suggest Ghent for its beautiful architecture and waterways followed by Lille or Bruges for the memorable food.
This post includes affiliate links to GetYourGuide.