If you purchase through links on this site, I may earn a commission at no extra cost to you. As an Amazon Associate I earn from qualifying purchases.
Bratislava deserves more than a quick day trip visit but if time is limited you can easily do it from Vienna. It's only a one-hour drive if you have a car but the more sustainable option is to take the train.
From Vienna's Sudbahnhof station, you can purchase a special day trip ticket that includes the train to and from Bratislava and public transport while in Bratislava.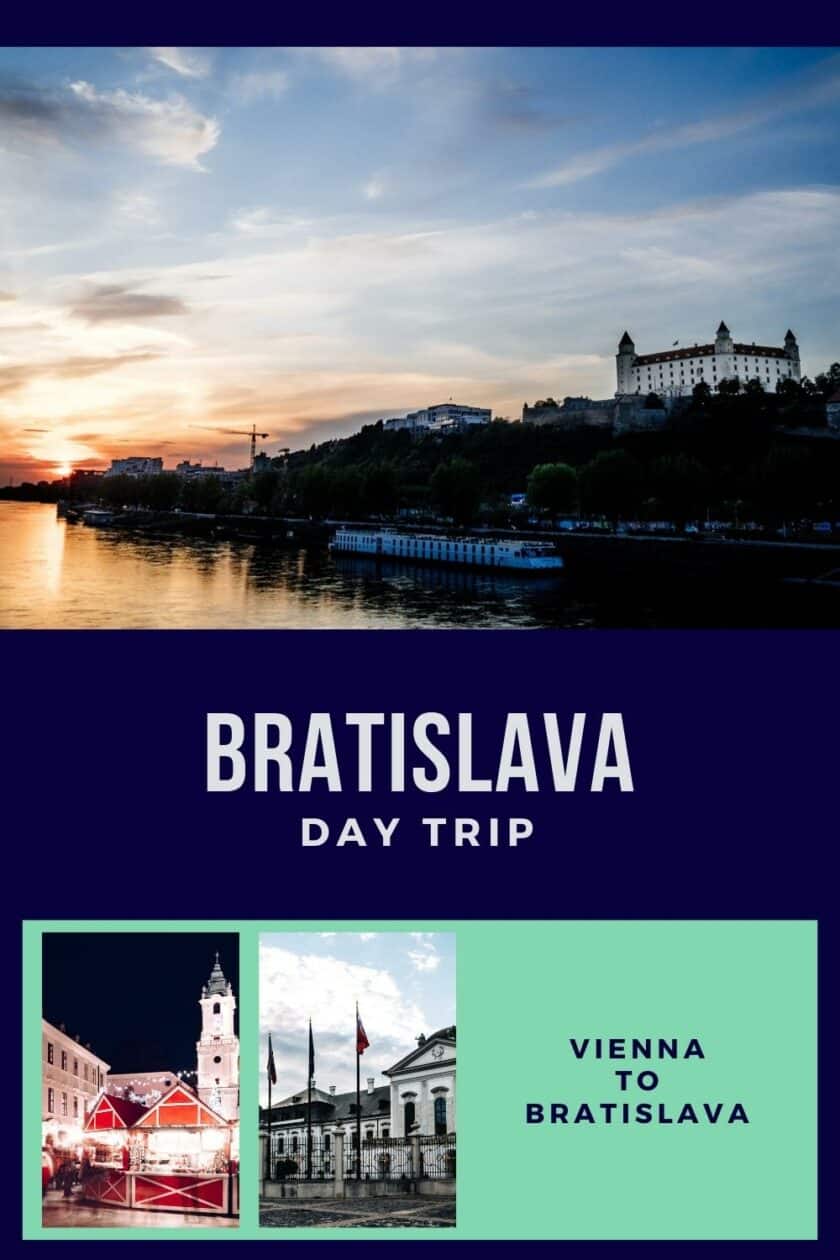 If you prefer a more scenic route you could take one of the high-speed boats along the Danube but it's more expensive than the train or driving and less environmentally friendly.
Bratislava Day Trip from Vienna
Most of Bratislava's sights are within easy walking distance of the main square Hlavné námestie. This square with its pretty architecture and quirky market stalls is one of the main meeting points for locals and tourists alike.
Main Square
The Main Square is also the location of the small Bratislava Christmas market, a great alternative to overcrowded Christmas markets in nearby Vienna and Prague. Having visited the Christmas market on several occasions, it's worth visiting if your trip is planned for late November or December.
Old Town Hall
The Old Town Hall is one of the main attractions on the square and is where you'll find the Bratislava City Museum with its torture instruments and the old town dungeons.
Primate's Palace
Around the corner from the Old Town Hall is the Primate's Palace. The Primate's Palace is home to the mayor of Bratislava but the building is open to the public if you'd like to see it inside. The palace is a beautiful pastel pink-coloured building.
Medieval Streets
From there the best thing to do is wander and explore the medieval streets, cute shops and countless cafes.
It's almost impossible to get lost in the compact city centre, especially when you have Bratislava Castle up on the hill in the distance as a landmark.
Bratislava National Theatre
One of the prettiest areas is around the Bratislava National Theatre with its tree-lined pedestrian street and cool fountains.
Don't forget to try some Slovak beer and food while in Bratislava for the day. The pedestrian area near the theatre is a great place to stop and eat with many pubs and cafes serving cheap, filling meals and dark Slovak beer.
Architecture
Bratislava isn't all pretty baroque and neoclassical architecture. It has its fair share of communist-era buildings and squares including Freedom Square (Námestie Slobody) with its permanently out-of-order Fountain of Union and the Post Office Palace, the largest post office in the world.
Not to mention the rows and rows of block apartment buildings just outside of the historic city centre in Petržalka. This is the old workers' neighbourhood which continues to be home to much of the population. It might not look like it from a distance but this district is green and the apartments colourful and homely.
UFO Observation Deck
The high-rise building at the end of the bridge is known as the UFO and you can visit the observation deck for a fee or enjoy the views for free if you eat at the restaurant or have a drink at the bar.
Historic Statues
The lighter side of Bratislava can be seen in the quirky statues found around the city. I'm not sure of the history behind the life-sized statues but tourists love to pose with them.
Bratislava Castle
Not to be missed is a hike up to the perfectly restored Bratislava Castle. You can visit the castle and the grounds for free or just enjoy the views.
Traditional Coffee House
Vienna is known for its coffee houses but Bratislava has a very famous one of its own and I'd recommend stopping at Cafe Mayer (on the main square) before heading back to Vienna. This is a traditional place that is ideal for afternoon coffee and cake but the city has a diverse range of cafes and restaurants if you'd prefer something else.
Is Bratislava Worth Visiting?
Given that I have visited Bratislava several times and will continue to do so, yes, Bratislava is worth visiting.
There are many other things to do on a day trip to Bratislava and it's probably worth spending more than a day there if you can.
There are plenty of museums and palaces to keep you busy and popular beer gardens to sample the local Slovak food, beer and wine.
Bratislava is almost like a smaller, less touristy version of Prague and it's one of my favourite day trips from Vienna. I also visited several times when I lived in Budapest as it's only 2 hours away by train.
The only time I would say it's not worth visiting is if you're very short on time. If you only have 3 days in Vienna, for example, I wouldn't use one of those days on a trip to Bratislava.
I always suggest travelling slowly to get the most out of each place you visit. A more in-depth experience is often more rewarding than several shallow experiences.
Having said that, I do think day trips have a place but it's worth thinking about what else you could be doing instead of spending on half a day on the train to somewhere new.
If you're interested in more destinations in Slovakia, consider exploring the quirky neighbourhoods of Kosice in the east or Esztergom Basilica on the Slovak / Hungarian border.
Bratislava Ticket
The Bratislava Ticket is a special train ticket available in Austria that allows travel from Vienna to Bratislava and back in one day.
The ticket is only €16 and this includes local public transport while in Bratislava. This is useful as the main train station is a 30-minute walk to Bratislava's Old Town which might be too far for some people.
The Bratislava Ticket also allows you to take your bike from Vienna if you have one. Cycling is a great, sustainable way to get around the capital and it's a very safe form of travel.
The easiest way to get the ticket is to purchase it online from OEBB, the state train operator in Austria. Otherwise, you can get your ticket from the machines at the station.
Driving Tips
A road toll is payable via a vignette (sticker) when driving on the motorways in both Austria and Slovakia. Vignettes can be purchased at the border or from most petrol stations in either country. It's quite difficult to avoid the motorways on this journey so consider this when calculating the cost of your trip.
However, the train is a much more convenient and sustainable form of transport and with the Bratislava Ticket, there is really no need to drive from Vienna.
I would only recommend driving to Bratislava if it's part of a longer road trip in the region. In this case, the driving distance from Vienna to Bratislava is around 80km, depending on the route you take. This would typically take about an hour
Responsible Travel
As mentioned, taking the train from Vienna to Bratislava and back is the most responsible way to travel on this itinerary. Taking public transport is an easy way of reducing your environmental impact if you're interested in travelling more responsibly.
Another consideration is if you really want to take a day trip at all. Staying overnight benefits local communities from an economic perspective.
Shopping at small businesses, staying at an independent hotel, eating locally, taking a tour with a guide or attending an event are great way to support destinations when you travel.
By staying overnight, you have more opportunities to do this, for example, you might attend a late night music event or stop by a bakery for a coffee and pastry first thing in the morning. Things you couldn't do when when only visiting for the day.
—
Recommendations are independently chosen based on personal travel experiences and extensive research.