If you purchase through links on this site, I may earn a commission at no extra cost to you. As an Amazon Associate I earn from qualifying purchases.
The French Riviera, that clear stretch of coastline in the South of France, dotted with ritzy holiday destinations, historic hilltop towns, twisting mountain roads and white pebble beaches leading into the azure water.
It's a classically gorgeous part of Europe and a scenic French Riviera road trip is the perfect way to explore it.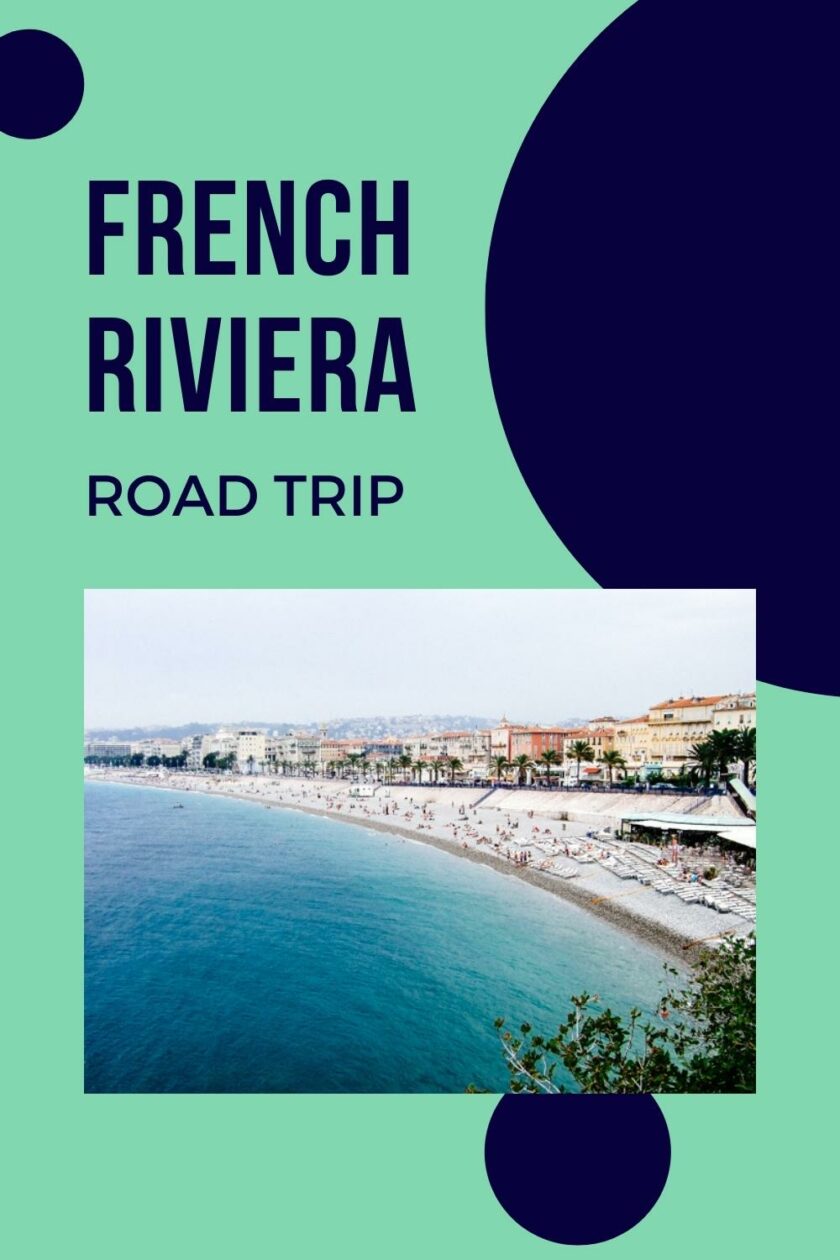 French Riviera Road Trip
The French Riviera is a fairly short section of the coast so although a road trip gives you a lot of freedom, you might prefer to pick a base and do day trips. This also means you don't need to be checking into a new hotel every day although it's less beneficial for local communities.
However, I personally think it's nice to stay overnight in different cities as it's usually in the evening and first thing in the morning when you see places at their best. Spending more time in smaller cities, in particular, is a more socially sustainable way to travel as you get to spread your tourist euros around so to speak.
To give you an idea of distances, Monte Carlo to St Tropez (which covers most of the French Riviera) is only 120 km and a 3-hour drive, even when taking the winding coastal road. So, in theory, you could comfortably see the best of the French Riviera over a 3-day long weekend.
3 Day Itinerary
If you do only have a long weekend, here's my recommended short itinerary using Nice as your base for 3 nights.
Day 1:
Explore Nice's Old Town then take the short drive to Saint-Jean-Cap-Ferrat for a quick swim or hike and to watch the sunset over Nice.
Day 2:
Drive inland to hilltop town Saint-Paul-de-Vence for an early lunch. Continue on to Cannes with an optional pit stop in Grasse, another hilltop town. In Cannes, stop for a drink on La Croisette, the famous boulevard lined with luxury boutiques on one side and white sandy beaches on the other. Stick around for a glitzy dinner or continue on to Antibes for a more relaxed affair.
Day 3:
Take the coastal road up to micro-nation Monaco to see how the other half lives in Monte Carlo. Be sure to check out the small historic quarter (Monaco-Ville) with the Prince's Palace, not just the casino and fancy yachts. Once you've had enough of the ostentatious wealth return to Nice via the inland road, making stops at La Turbie and Eze for spectacular views over the bay.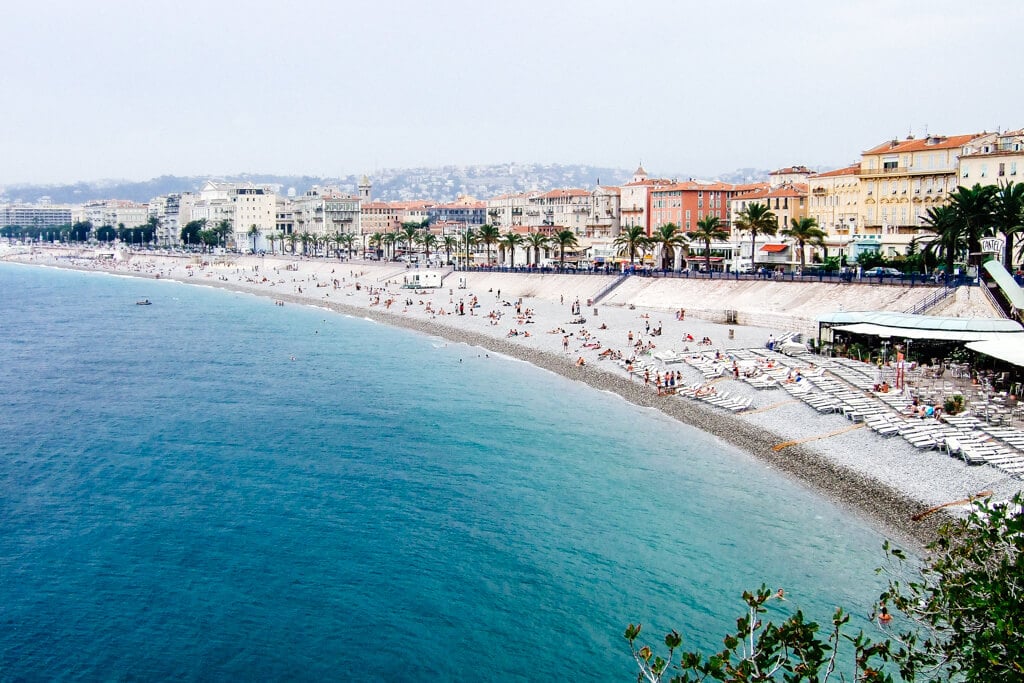 Day 4:
Spend the morning relaxing in Nice either sunbathing on the pebble beach, sampling local food at the farmers market (at Cours Selaya, between Place Massena and Vieux Nice) or taking a stroll along the Promenade des Anglais before heading home.
Option: Swap Menton for Monte Carlo for a more down to earth day trip or cross the border for a French/Italian road trip.
7 Day Itinerary
For a more relaxed road trip with plenty of beach or hiking time, I suggest this 7 day itinerary or preferably a 10 day itinerary if you have time.
For this road trip itinerary, follow the above 3 day itinerary plus:
Day 4:
Make the half-hour drive from Nice to Antibes (stay 2 nights). Go for a leisurely lunch in a little restaurant or creperie in the compact old town. Burn off all that good food with a walk through the pedestrianised streets then around the pretty waterfront. Stop by for a look at the Picasso Museum, housed in a former chateau built upon the ancient Greek city of Antipolis.
Read our guide on where to stay in Antibes and what to look for when booking a hotel.
Day 5:
Drive to Garoupe Beach to hike the coastal path around the Cap d'Antibes. It's an easy walk that should take a couple of hours, returning via the inland path. Swim in the calm waters at Juan Les Pins and stick around for the sunset if you can.
Day 6:
Leave early for Cannes, not for more fancy dinners but to catch the ferry to Ile Sainte-Marguerite. Spend the day exploring the unspoilt island via the pine and eucalyptus lined trails. Stop at the Museum of the Sea to visit the prison cell of the Man in the Iron Mask. Return to Cannes for the night.
Day 7:
If you want a little more glitz and glamour, spend the day in Saint-Tropez but a more interesting final destination is the large port city Marseille. Stop in Saint-Tropez for sure and maybe even hilltop town Hyeres but I recommend staying overnight in Marseille followed by a day trip to Cassis and the Massif des Calanques. This is an incredibly beautiful part of France and highly underrated by foreign tourists.
To extend to a 10-day road trip, I suggest spending more time in each place, travelling slowly and visiting each place in more depth, rather than visiting more places.
South of France Road Trip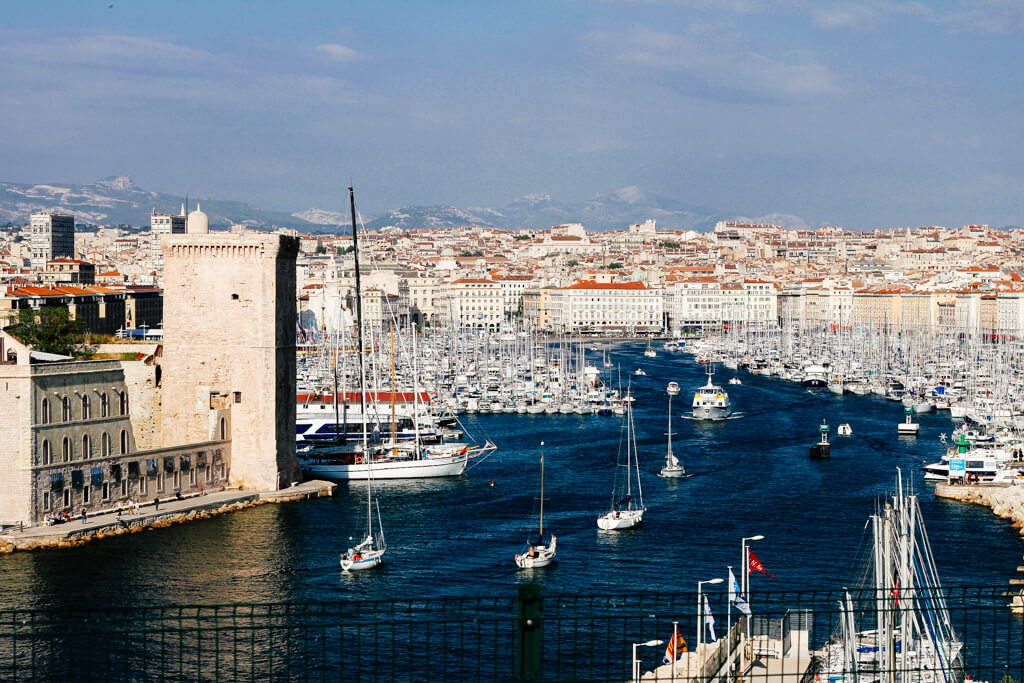 For the ultimate South of France road trip, you could extend your trip further along the French coast to include Marseille and then inland to the famous Provencal towns Aix-en-Provence, Avignon and Arles. You could even travel further along to visit Montpellier and the stunning nature at the Camargue.
Day 8:
Marseille is so often overlooked by tourists due to its undeserved seedy reputation. Well maybe not completely undeserved, it is a port city after all, but for a tourist staying in the touristy areas you have little to worry about except surviving the steep climb up to Notre Dame de la Garde and finding the freshest seafood.
Marseille City Pass: Great value if you plan to see a lot in Marseille. Order here.
Day 9:
Marseille has some rocky beaches but the more interesting water excursion would be a cruise along the Calanques National Park coastline and archipelago.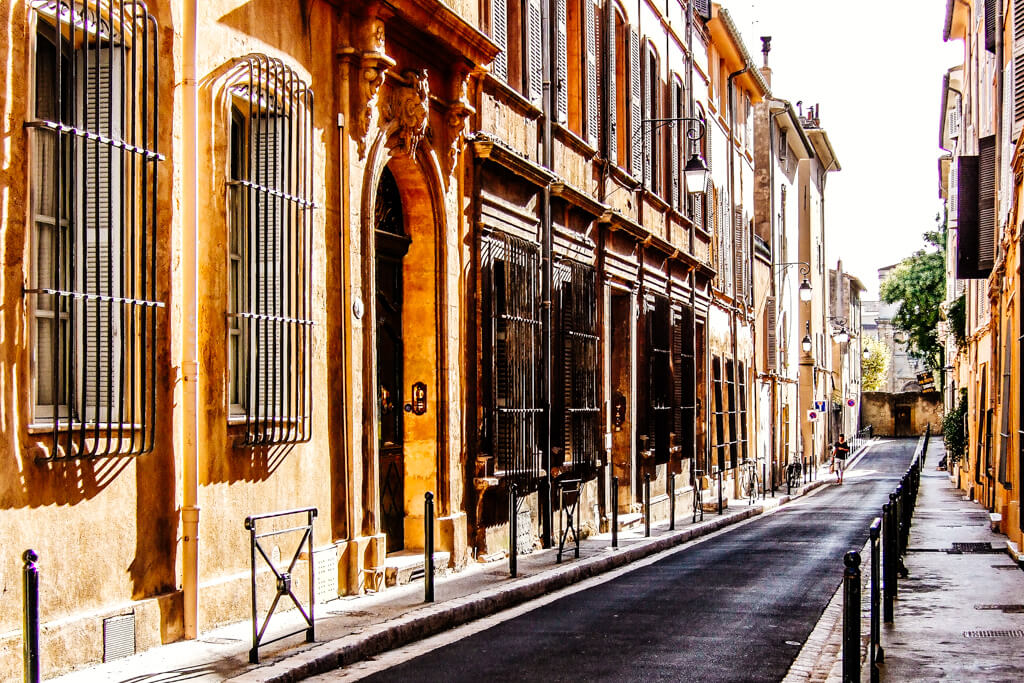 Day 10:
A short drive north and you'll be in the most cliche Provencal town Aix-en-Provence. Wooden shutters block the light from the pale terrace homes, gigantic plane trees shade the main streets which lead to cafe filled squares as lavender fills the air. No really, it's just like that. It's cliche pretty but a nice spot to relax for a couple of days while day-tripping around the countryside.
Day 11:
On your final full day in Provence, take your time exploring the smaller towns around Aix. Avignon is the most popular day trip for the incredible Palais des Papes. But don't miss a quick trip to Arles to see its huge Roman amphitheatre. There is a lot to see in this region but take your time and calmly enjoy the experience.
Day 12:
Before leaving Aix, get up early to experience one of France's most delicious gourmet markets, held most mornings in the old town. Local markets are ideal for picking up picnic supplies that you can enjoy at any location during the day.
Plan Your Itinerary: 19 Destinations in the South of France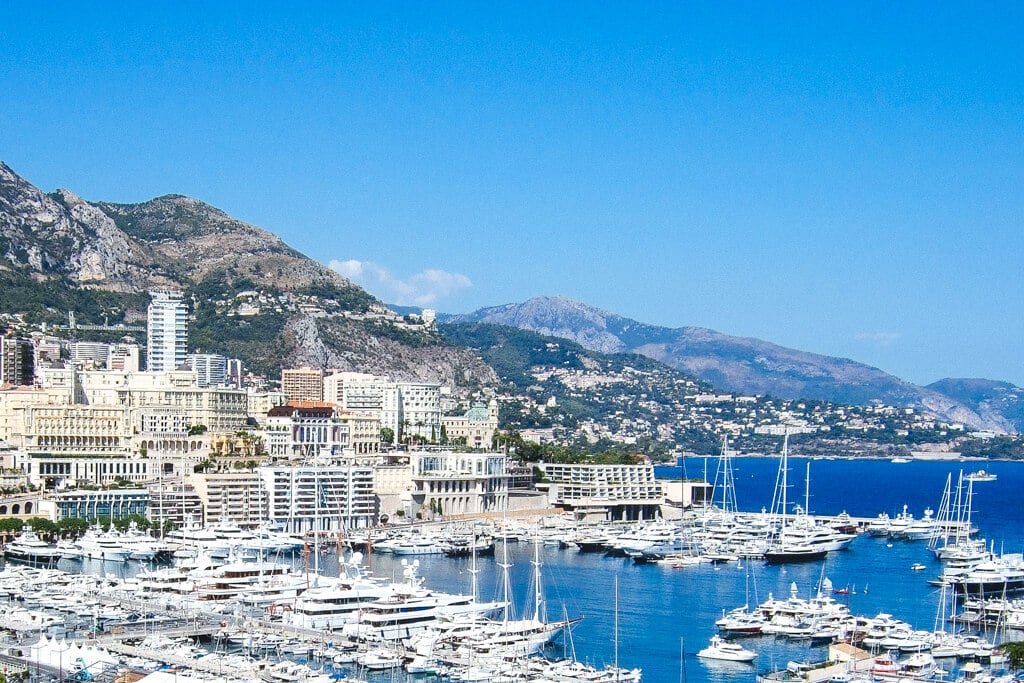 Cities on the French Riviera
Nice – The biggest city on the French Riviera / Cote d'Azur. You'll find pebble beaches, an historic old town, a wide range of restaurants, excellent markets and beautiful scenery.
Antibes – More down to earth and affordable than the most of the coastal towns, pretty sandy beaches, plenty of opportunities for outdoor activities like hiking and kayaking.
Cannes – Glitzy yet pretty, can be relatively quiet outside of festival season and big events. Similar atmosphere to St Tropez but with more things to do.
St Tropez – All the glitz and glamour is in St Tropez. If you're not interested in fancy restaurants, nightlife and high-end shopping this might not be the place for you.
Monte Carlo, Monaco – An interesting stop with palaces, luxury yachts, the famous casino and and over-the-top wealth on display.
Menton – I only have fleeting knowledge of Menton but my friends and Menton residents Easy Hiker have plenty to share on their blog.
Hilltop Towns
Eze – One of the most well known and visited hilltop towns, especially popular for its coastal views and proximity to Nice.
Saint-Paul-De-Vence – Ancient ramparts and a stunning hilltop position. One of the highlights of the South of France.
Grasse – Relatively unspoilt by tourism, Grasse offers fantastic views towards both Antibes and Cannes.
La Turbie – Up the hill from Monaco, La Turbie borders the principality and lies on the Grande Corniche scenic road between Monte Carlo and Nice.
Small Coastal Towns
Saint-Jean-Cap-Ferret – Some incredible luxury hotels and residences in this area, thankfully the scenic walk around the headland and swimming in the clear water is free.
Villefranche – A small beach resort town with nicer beaches than Nice but watch out for cruise ship tourists on day trips. Traffic and parking is a problem, you might want to get the train here.
Cassis – A good spot to base yourself while exploring the Massif des Calanques and Cap Canaille.
Massif des Calanques – Not a town but a magnificent fjord-like coastline between Cassis and Marseille. Highly recommended for nature lovers.
Other Cities in the South of France
Marseille – A huge port city with the best seafood in France, incredible food, markets and restaurants for all budgets and a surprisingly pretty old town.
Aix-en-Provence – The jewel of Provence. A hugely popular destination and deservedly so. Best visited off-season if you're not a fan of crowds.
Avignon – Another beautiful town with a rich culture and history and also overrun with tourists in summer.
Arles – Worth visiting for the Roman amphitheatre dating from the second century BC. Much quieter than Aix and Avignon but there's less to see.
Montpellier – A bit further away for the city has an interesting history that includes beautiful architecture, museums, parks and Montpellier beach neighbourhoods. You'll also find the wonderful Camargue, a nature reserve home to a diverse range of wildlife including flamingos.
Road Trip Tips & Ideas
You have the choice between three main scenic roads for your road trip:
Basse Corniche – Low Coast Road which takes you along the sea.
Moyenne Corniche – Middle Coast Road which you'll take if visiting Eze.
Grande Corniche – Great Coast Road is the higher road which winds past La Turbie and the Col d'Eze (Eze Pass). This is the most spectacular of the drives.
These different routes are suitable for more than just road trips. You can travel by car, bike or by hiking plus there are a couple of tourist trains with spectacular scenery.
When to Visit
Winter is the ideal time to visit if you're looking for sunshine, fewer crowds and lower prices. But if you want to go swimming, which you probably do, visit in September or early October when the water is still warm yet the mad summer crush will be over.
It's not that summer is a bad time to visit, it's the perfect season if you want to visit the region at its liveliest, with the most events taking place and the best weather. But be prepared for crowds and traffic along the coast.
What to Eat and Drink
Provence is famous for its cuisine but each town has its own specialties too. Look out for local markets where you can pick up fresh picnic supplies and enjoy the local food when you can. Here are a few specialties to look out for in Provence and along the French Riviera.
Pissaladière
Soupe au pistou
Salada niçoise
Socca
Farcis
Ratatouille
Bouillabaisse
Pan bagnat
Red rice from the Camargue
Fougasse
Pastis de Marseille
Rosé wine
Where to Stay
If you visit in the off-season you should be able to book places when you arrive at your destination. But if you're planning your road trip for the spring/summer or during a festival you'll need to book well in advance to get decent accommodation.
Note that parking is outrageously expensive in most places, usually setting you back at least €20 per night. Check before booking. This is one of the reasons you might prefer to travel by train instead of taking a road trip. Of course, the same itinerary applies no matter your preferred form of transport.
A few hotel recommendations for you:
Nice – Ibis Styles Centre Gare or the eco-friendly Hotel de France.
Saint-Paul-de-Vence – La Vague de Saint Paul
Juan-les-Pins (near Antibes) – Hotel Juana
Cannes – Five Seas Hotel
Marseille – The quirky Mama Shelter Marseille or the more traditional Sofitel Hotel.
How to Get There
Train: The TGV fast train is available to most destinations along in the South of France. There are cheap local trains that stop everywhere along the French Riviera and elsewhere in the South of France. This is often the best value for money form of transport in France and the most sustainable way of travelling.
Car: If you don't have your own car and would like to take a road trip, I recommend booking via Rental Cars Connect. This is an aggregator site that provides quotes for a range of different car rental companies, allowing you to find the best price quickly and easily. Where possible, we recommend hiring an electric vehicle to travel more sustainably. There are electric vehicle charging stations throughout France.
Flights: Nice and Marseille are major airports serviced by both full service and low-cost airlines. However, given the prevalence of high-speed trains on one of the top train networks in the world, I highly recommend taking the train instead. Reducing non-essential flights is crucial for mitigating climate change and travelling more sustainably.
Conclusion
If you're trying to plan your itinerary you have a few options:
If you're passing through, in one direction, drive along the Basse Corniche coastal road with a couple of inland stops.
If you're making a round trip, drive along the coast and then back through the winding mountain roads (Grande Corniche) and hill towns.
Select a base and take day trips.
Travel slowly and explore the great South of France region.
For more information on driving holidays in Europe, read our Europe road trip guide with itineraries across the continent.
French Riviera Road Trip Map
This map shows two road trip itineraries for the South of France, one along the French Riviera and the other I'd call more of a South of France road trip.
Recommendations are independently chosen based on personal travel experiences and extensive research. This post contains affiliate links to hotels and tours in France. This means we get a small commission from any bookings at no extra cost to you.