If you purchase through links on this site, I may earn a commission at no extra cost to you. As an Amazon Associate I earn from qualifying purchases.
The last time I was in North Macedonia, it wasn't called North Macedonia. I was hiking the Via Egnatia, an ancient Roman road that travels from Durres in Albania to Istanbul in Turkey, cutting right through North Macedonia.
Injury brought the hike to an abrupt end in Ohrid, the most peaceful destination in North Macedonia and the perfect place to recuperate from 10 days of mountainous hiking.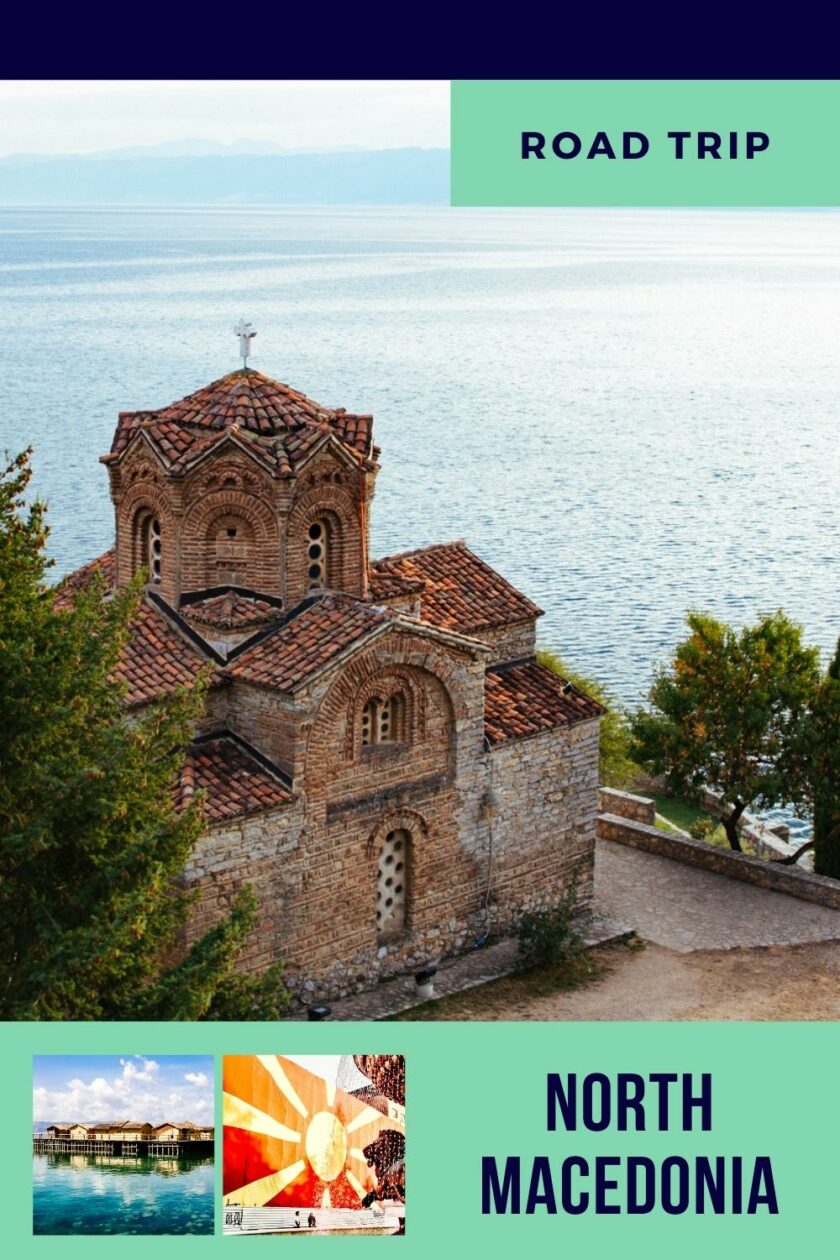 But that wasn't my first time in the former Yugoslav Republic of Macedonia, now (thankfully) known as North Macedonia. I passed through one time while heading to Albania from Bulgaria, making a few interesting stops along the way.
If you like to travel off the beaten path, a North Macedonian road trip will take you past many places few outsiders have heard of, let alone visited.
North Macedonia Road Trip
Unless you're taking a longer road trip through the Balkans, you'll most likely find yourself in the capital Skopje via a short flight on a low-cost airline. Destroyed by a violent earthquake in 1963, Skopje was rebuilt at a time when functionality was a priority rather than design.
More recent governments tried to counter this with some questionable construction, but nonetheless, it's an interesting city and there are enough things to do in Skopje to keep you busy for a few days.
Give yourself a couple of days to enjoy the weird and wonderful capital city of Skopje then organise a car and start planning your road trip.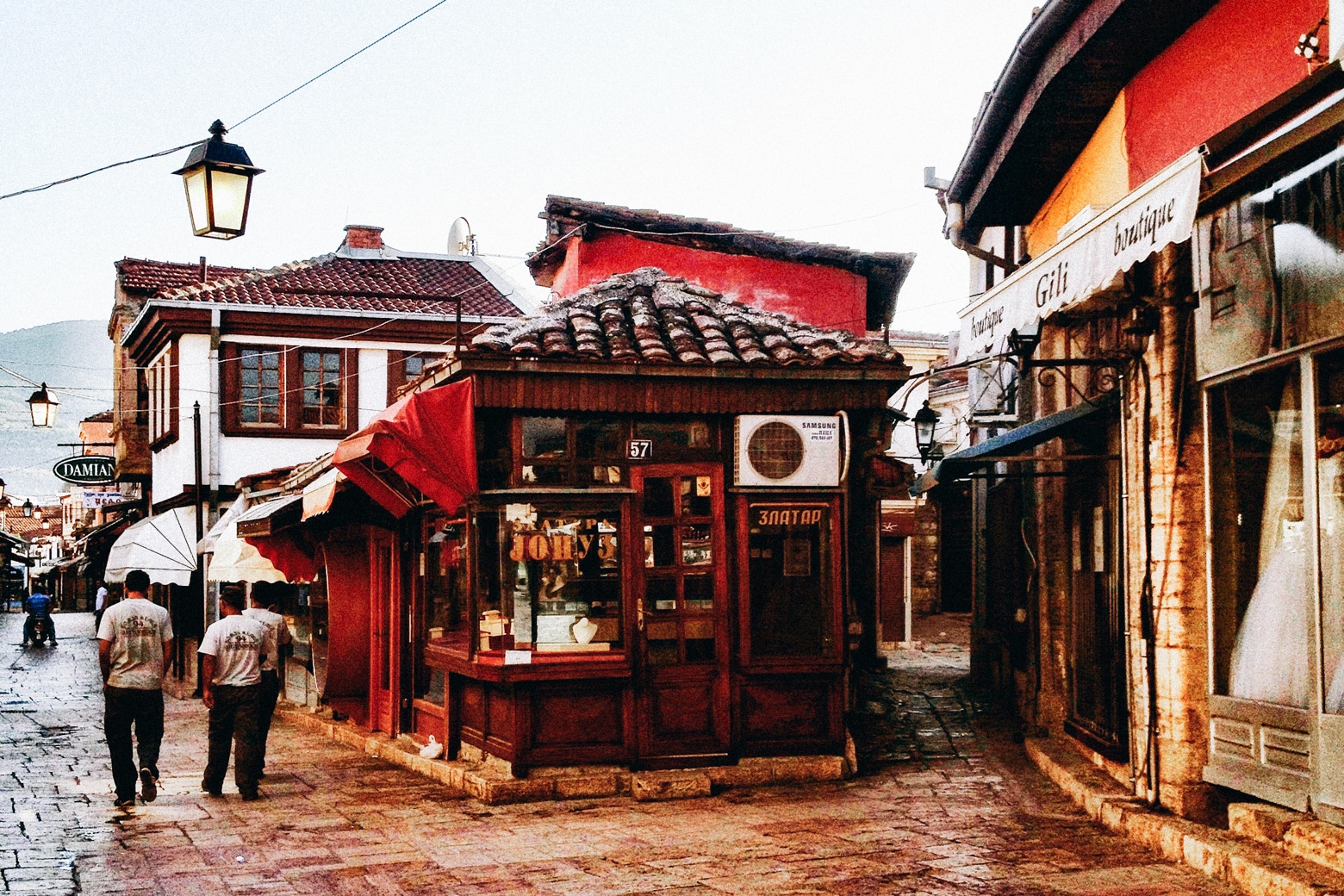 Spanning 800 km, this would be a slightly rushed one-week itinerary or a leisurely two-week itinerary. If you want to drive less but see more, I suggest being selective and maybe only visiting half of these places.
If you only have time for say a 5-day road trip, then maybe stick to visiting the western side of the country if you're interested in the lakes and national parks, or take the eastern route if you're interested in rarely touristed towns, monuments and archaeological sites.
Skopje to Kratovo
If you're taking the full round trip itinerary, start your trip by heading east to the town of Kratovo. It's a medieval town built on the crater of an extinct volcano. It's very beautiful with its red-roof houses nestled within the hill slopes. Take a guided tour when you visit as there is a lot of interesting history, especially considering it's such a small place.
Veles
Head 100 km south-east to the city of Veles to visit the Kosturnica Memorial. It houses a museum along with the remains of communist guerrillas killed during WWII. I'd make this a quick stop on the way to the next destination.
Stobi
Stobi is home to one of North Macedonia's most important archaeological sites and is an important side branch of the historic Via Egnatia. Stobi is a very popular tourist destination on the way from Skopje to Bitola. It's situated just off the highway and worth a quick visit.
Kruševo
After quick stops in Veles and Stobi, I'd recommend spending the night in Kruševo. It's a little less polished than the more popular destinations around here but if you want to get off the beaten path, this is it. While an interesting town to wander around for a few hours, Kruševo is also home to Makedonium, the Ilinden Monument, a famous spomenik in the same vein as the Kosturnica Memorial. You can find a detailed guide to Krusevo here.
Bitola
Bitola is one of the most vibrant cities in North Macedonia and a major destination of this road trip. You could spend a few days here to see the city but also take a couple of day trips to the surrounding areas.
The city is surrounded by imposing mountains, a fairly common scenario in the Balkans. The scenery is stunning and the city is famous for its cafe culture, museums, mosques and pretty buildings.
While in Bitola, try to visit the ruins of Heraclea Lyncestis, an ancient city founded by the father of Alexander the Great. Also, take a day trip to Pelister National Park and Baba Mountain for great views and mountain air.
Lake Prespa
From Bitola, you could head straight to North Macedonia's most famous holiday destination, Ohrid, or take an alternative route to Prespa. Lake Prespa is just as beautiful as Lake Ohrid but it's far less developed and less touristy, especially when it comes to foreign tourists.
Prespa is unusual in that it's shared between three separate countries, North Macedonia, Albania and Greece. Depending on availability, on the North Macedonia side, you could stay in Resen, a small town which is the regional centre, or you can stay directly on the lake either in the village of Oteševo or further south on Stenje Beach.
Ohrid
There are a couple of options for driving from Lake Prespa to Lake Ohrid. I would ask a local or someone at your hotel before you head off. Road conditions aren't always great in this part of the world and you might find it's faster and safer to take the long route. But conditions change all the time so ask before you leave.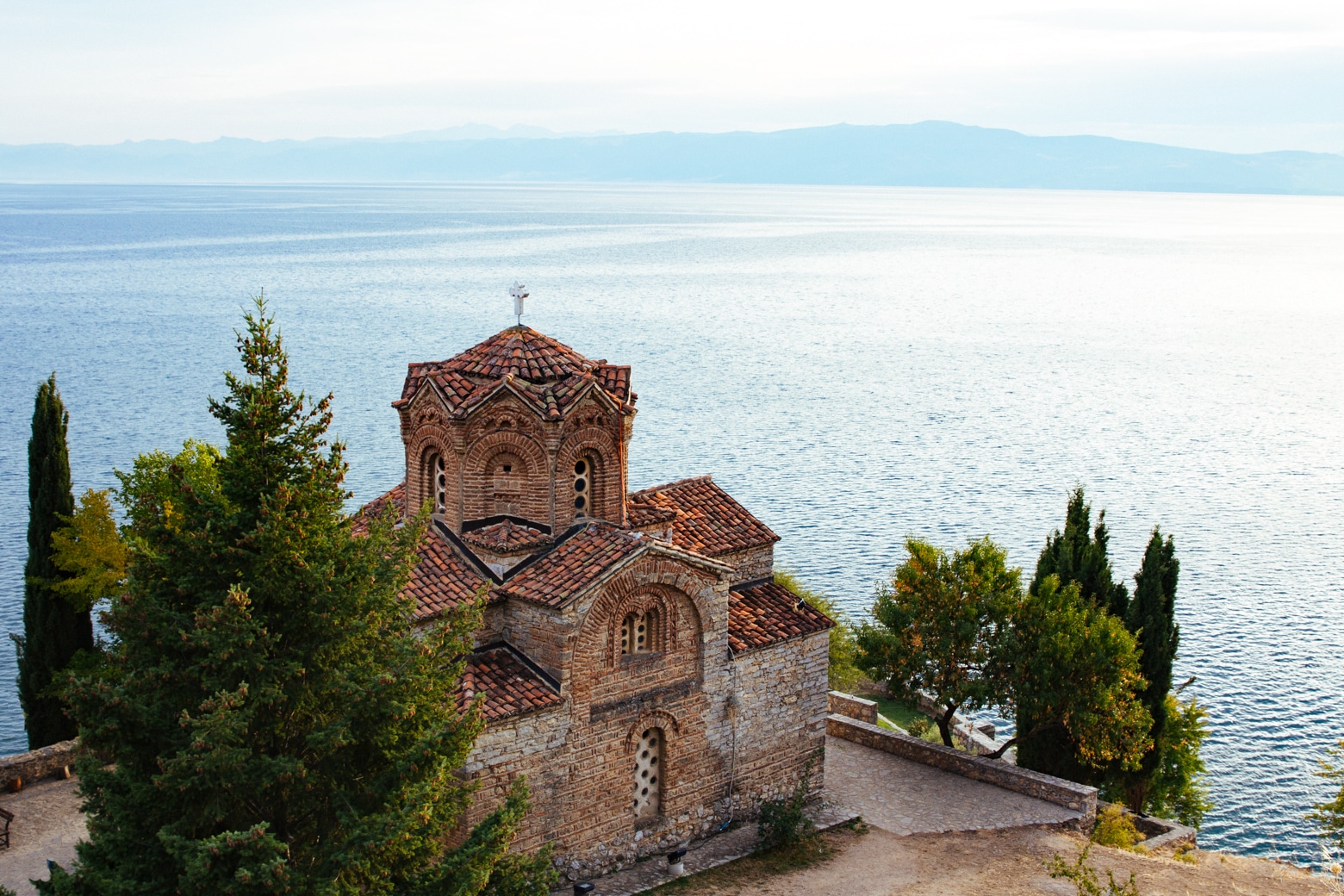 Once you arrive in Ohrid, it's time to relax. If you're visiting in the off-season, you'll find Ohrid to be one of the most peaceful destinations in the Balkans. Lake Ohrid and the old town are absolutely beautiful.
There is so much to see around the lake like the bizarre Bay of Bones, a reproduction of pile-dwelling settlement, and the pretty Monastery of Saint Naum near the Albanian border.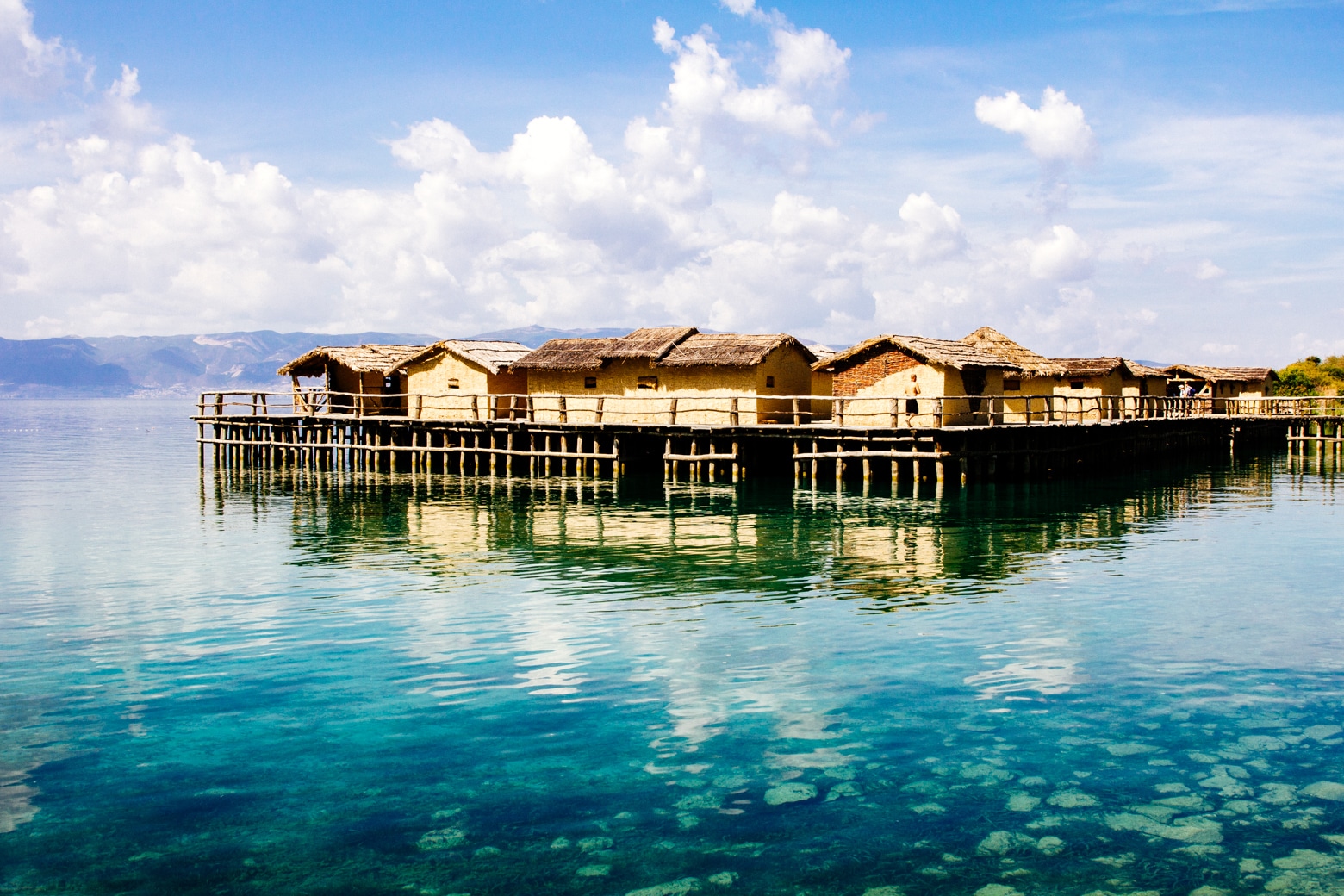 If you're visiting Lake Ohrid in the summer, you'll be welcomed to a party city where tourists from all over the region flock to eat, drink and party. It's lively and you won't be bored. If you're looking for something a little quieter, you can still enjoy Lake Ohrid by staying in one of the villages away from Ohrid town.
Find a peaceful stay and recommended hotels in Ohrid. Stay in Ohrid's old town, in one of the lakeside villages or across the border in the Albanian city of Pogradec.
If you're still not sure, these photos of Ohrid might tempt you further.
Tushemisht and Pogradec in Albania
If your hire car contract allows you to cross the border into Albania (it probably doesn't, don't risk it if you aren't sure), cross the border from Saint Naum for a quick visit to the Albanian side of Lake Ohrid. Pogradec is the main city here and you'll find it's quite different in comparison to Ohrid. It's considerably less developed, less touristy and less expensive. For a change of scenery and a different cultural experience, it's definitely worth visiting.
If you do make it to this side of the border, consider a quick visit to the village of Tushemisht. You could actually leave your car at the Macedonian border and walk across if you can't take your car. It's only a 20-minute walk and you might even find someone to give you a lift, it's pretty easy to hitchhike in Albania. I walked from the border one time and it wasn't far at all. It's a straightforward level walk along the lake. It's actually a nice walk and you'll see some of Albania's infamous bunkers along the way.
Once in Tushemisht, ask a local about the canals. The natural spring water winds its way through the village streets and even through people's homes. It's an unusual sight and if you're lucky you might find someone willing to give you a quick guide and explanation of how this came to be. Albanian's are very welcoming of foreigners but a small tip wouldn't go astray if someone helps you out, especially in poverty-stricken areas (although you might find this gesture rebuffed).
Mavrovo National Park
Heading north from Ohrid, back towards Skopje, a visit to Mavrovo National Park is ideal for outdoor enthusiasts. I haven't been myself but have seen the Great Korab Mountain in the distance as its the highest peak in the region. Mavrovo is most popular as a ski resort but it's still worth a visit in summer when you can spend time at the artificial lake or hiking in the forest.
Tetovo
I had an Albanian friend who went to the University of Tetovo, except I found out later she only visited the city once during her entire degree. I was curious how this came to be and discovered it was one of these not uncommon situations which occur in certain regions of the Balkans (ie Albania) where you can study 'via correspondence', also known as purchasing your degree. A quick bribe and voila, you're a university graduate. I actually tried to do this one time when I was in Albania. I had a friend of a friend enquire but it seems they only 'issue' diplomas at certain times of the year. It's a shame as I would love to have a degree from the University of Tirana.
That is my only experience with Tetovo or Tetova as it's called by the majority Albanian population. Something like 70% of Tetovars are ethnic Albanian so a visit to the city is a bit like visiting Albania. You can likely visit most of the city's sights in one day with the most famous attraction being the painted Sarena Mosque. Visit Kami's blog for a full rundown of things to do in Tetovo.
Matka Canyon
Before driving back to Skopje, stop and enjoy the stunning beauty at Matka Canyon. Surprisingly, Matka Lake is an artificial lake formed by damming one of the local rivers. Not that it matters, the scenery here is well worth it, either on a stop on your Macedonian road trip or on a day trip from Skopje. There are plenty of outdoor activities allowed in Matka including hiking, fishing or you can take a boat tour of the canyon.
Skopje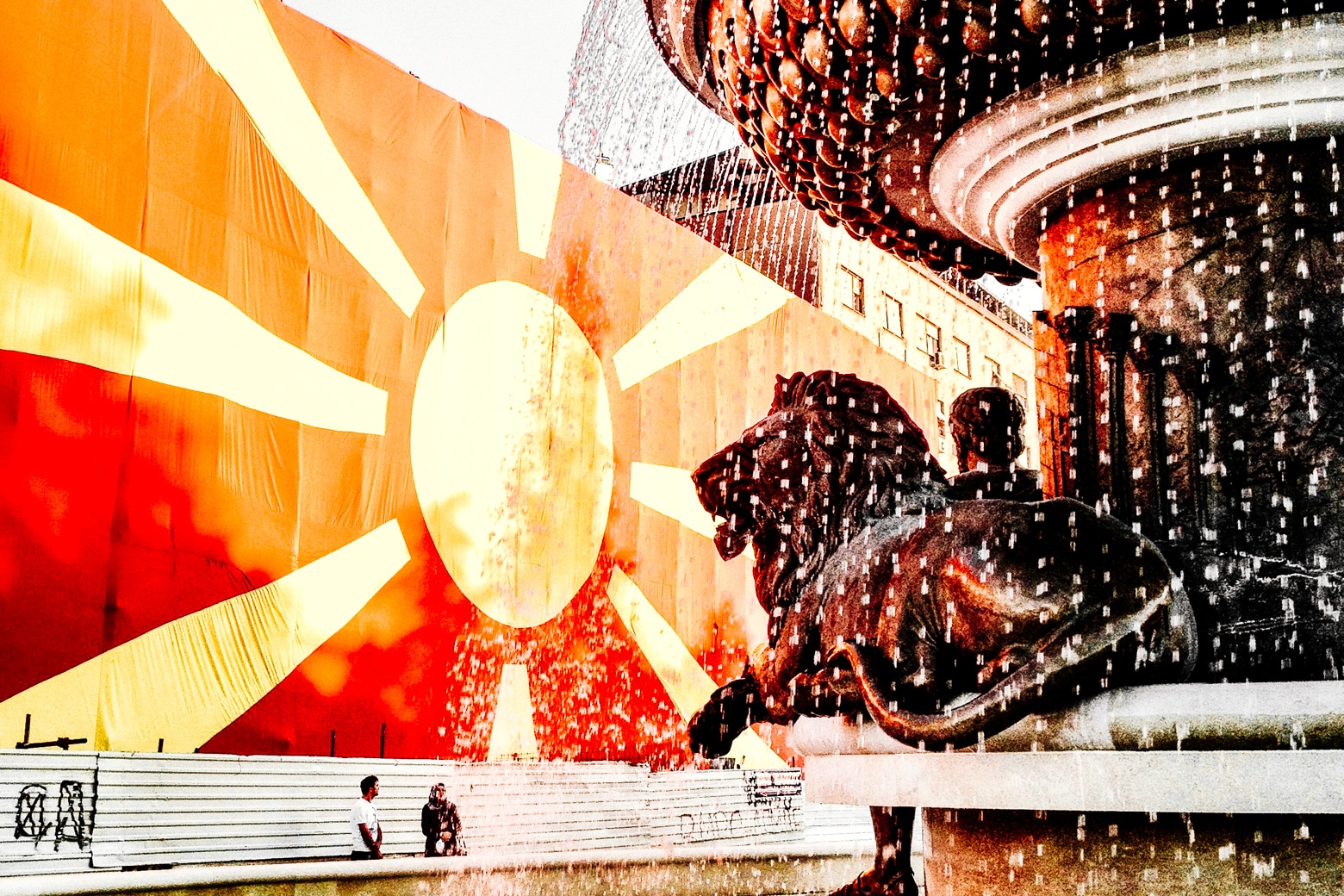 Finish your road trip back in Skopje, a city like no other in the world. You can experience the old bazaar, an area great for exploring and eating out. But the least most interesting are the countless monuments of Skopje, a truly unique experience.
Q&A: Popular Questions Answered
How many days do you need in North Macedonia?
This of course depends on many factors but it's mostly a question of time and money. I think 3 days in Skopje is enough given that it's a fairly small city. You could easily spend longer than this at Lake Ohrid if you're looking for a relaxing holiday. To drive around the entire country taking in the main destinations mentioned here, I think you could get a great overview of the country in 10 days or maybe a 7 day itinerary if you reduce your number of stops.
Is it safe to drive in North Macedonia?
I have driven a number of times in North Macedonia and I found it straightforward and safe. I recommend travelling by car if you can as this provides the freedom to visit the lakes and places without waiting for the bus but of course public transport is more sustainable and budget friendly. Like elsewhere in the Balkans, local drivers can be a little aggressive at times but I always just travel at my own pace and let them pass.
Is North Macedonia safe to travel alone?
While I haven't travelled alone in North Macedonia I have a number of travel blogger friends who have without any issues. The country is very safe and the locals are not only welcoming but often protective of visitors. If you take all the normal precautions you would at home, you should be fine.
Is North Macedonia expensive to visit?
If you're coming from a high or middle-income country, you'll likely find North Macedonia to be one of the most affordable destinations in not only the Balkans but throughout all of Europe. For example, in Skopje, you can find a private room in a hostel for €15 per night or a well-rated hotel for €30 per night. North Macedonia is a great budget-friendly road trip destination.