Christmas markets in Poland are not a huge traditional event like you might experience in Germany or Austria. Even though some of the markets, particularly in Krakow and Wroclaw, have taken place in some form for hundreds of years, Christmas markets as we know them are a relatively new thing.
But Christmas events are growing and with the addition of delicious Polish food, you have some great markets and festivals taking place in many of the most beautiful squares in Poland.
Not to mention Poland is so much more affordable than Germany and Austria, and in my opinion more fun, so it's definitely worth considering for Christmas 2022.
Polish Christmas Markets
Krakow has by far the most established Christmas market and Wroclaw has one of the most beautiful market square locations. If you are set on visiting the largest and most vibrant Christmas markets then I suggest picking one of these cities.
Warsaw and Gdansk are other options that have the advantage of being great city break destinations outside of the Christmas markets.
Also check out less-visited cities like Poznan, Lublin and Szczecin. At this stage, I'm not sure I'd make a special trip to these cities just for the Christmas markets but do visit them anyway, Poland is unique and amazing.
I've had a huge soft spot for Poland since living in Warsaw for a couple of months, back when I was travelling full-time. Before then I had an image of the country as grey and bleak but it's quite the opposite, the cities are colourful, fun and lively.
Polish Specialities at the Markets
The Polish markets are big on food but there's a good variety of handmade wooden toys, Christmas decorations, cleaning brushes (not sure why these always pop up at the markets) and other little gifts and trinkets.
If you're thinking Polish food would be meat and potato dominated, which they wash down with vodka, you wouldn't be entirely wrong. At least that's what you'll tend to find at the Christmas markets. I'm not saying this is a bad thing!
But for us vegetarians, you might be limited to eating pierogies and smoked cheese, which is also not a bad thing. Pierogies may or may not be vegan so you might want to check first before ordering.
Don't worry too much if you have dietary restrictions, you might not have many options at the markets but Poland's bigger cities and tourist areas are progressive when it comes to vegetarian, plant-based and gluten-free meals.
Krakow, Poland
Krakow's Christmas market is easily the best in Poland and not only is the market filled with delicious food and interesting trinkets, but the city itself is also one of the most beautiful and popular in Poland.
When you consider value for money, you can't beat Krakow.
The Christmas market takes place in the smaller section of the central square, Rynek Glowny, right alongside the famous Cloth Hall. It's compact and quaint with a focus on traditional food and some quirky things too.
Krakow Christmas Market Specialities
Krakow's market is heavy on food which is a great thing. There's so much to try!
Smoked cheese: A good option for vegetarians although it's sometimes wrapped and cooked in bacon, so watch out for that!
Pierogi stalls: Savoury stuffed dumplings with cheese, sauerkraut or various meats and sweet pierogies stuffed with berries and sweetened cheese.
Grilled meat stations: Meat lovers can choose from local sausages, roasted pork knuckle, chicken kebab and loads of other grilled meats.
Soup: There are a few vegetarian soups at the Krakow market, mushroom, tomato and cabbage are some, or you can get traditional goulash soup if you eat meat.
Mulled wine: Available from the huge barrels dotted around the market. Look out for signs saying grzane wino, hot wine in Polish.
Matryoshka dolls: These seem to be popular at the Christmas markets.
Wooden toys and kitchen gadgets.
Sightseeing in Krakow
While you're in Krakow, be sure to check out these things to do, see and eat.
Wawel Hill and Castle: Medieval royal castle and museum area.
Cloth Hall: The huge building on the main square is home to little shops.
Kazimierz: The old Jewish Quarter is filled with cool cafes and bars.
Zapiekanka: Eat a traditional Polish baguette/pizza topped with grilled mushrooms and cheese. Head to Plac Nowy in Kazimierz for the best.
Pierogies: Don't miss out on eating some of the best dumplings in Poland. Sweet or savoury, pierogies are a must-try.
Sweet vodka: Poland is famous for all kinds of vodka (obviously) but in cafes around the main square like Cafe Camelot you can try some deliciously sweet, hot vodkas, perfect for warming up in winter.
Brunch: You might want to recover from a night of vodka drinking with a delicious late breakfast at Bistro Charlotte.
Auschwitz: If you have time, take a day trip to visit the former concentration camps at Auschwitz – Birkenau. Take a tour or get the bus from central Krakow (going by train is more complicated).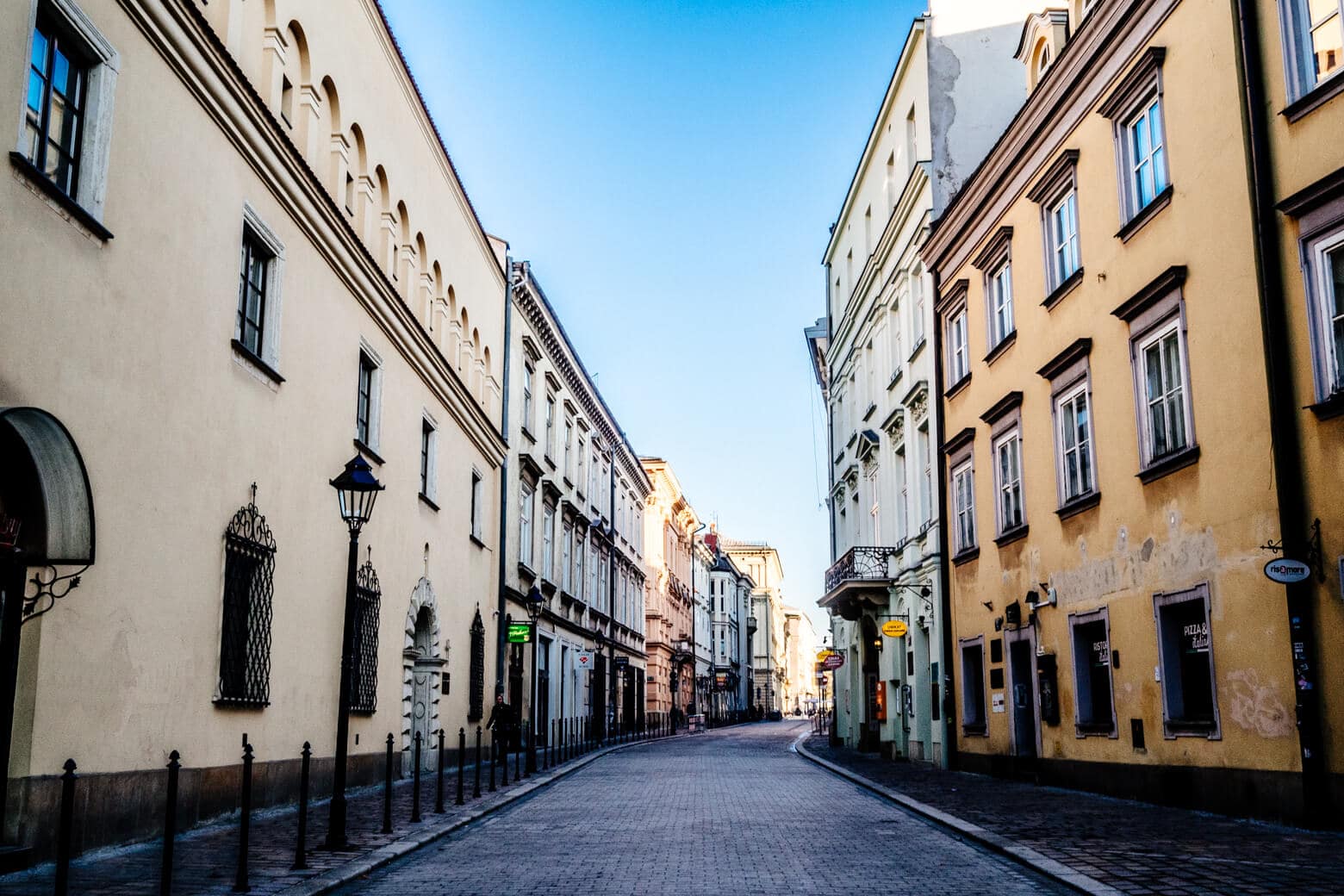 Krakow is a popular summer destination but it's becoming more well known as a great weekend destination during the Christmas and New Year period. It's a fun, young city, with so much history, great nightlife and laid-back cafe culture.
Krakow Christmas Market dates: 30th November – 26th December 2022 (subject to change).
Reason to visit: It's a cool city with a younger crowd than in Germany and Austria, it's more affordable, there's a good chance of a white Christmas and… vodka.
Specialities: Oscypek smoked cheese from Zakopane served with cranberry preserves. Pretty crystal baubles. Sweet vodka-based hot drinks.
Tips: If you have time take a day trip to the Wieliczka Salt Mine, Auschwitz or the mountains at Zakopane.
Recommended tour: Christmas Mulled Wine and Polish Food Tastings
Where to Stay: Vienna House Andel's Cracow – This is a lovely 4-star modern hotel, steps from the train station and a short walk to the main square. It's one of the most sustainable hotels in Krakow as they use renewable energy as their electricity source.
Wroclaw, Poland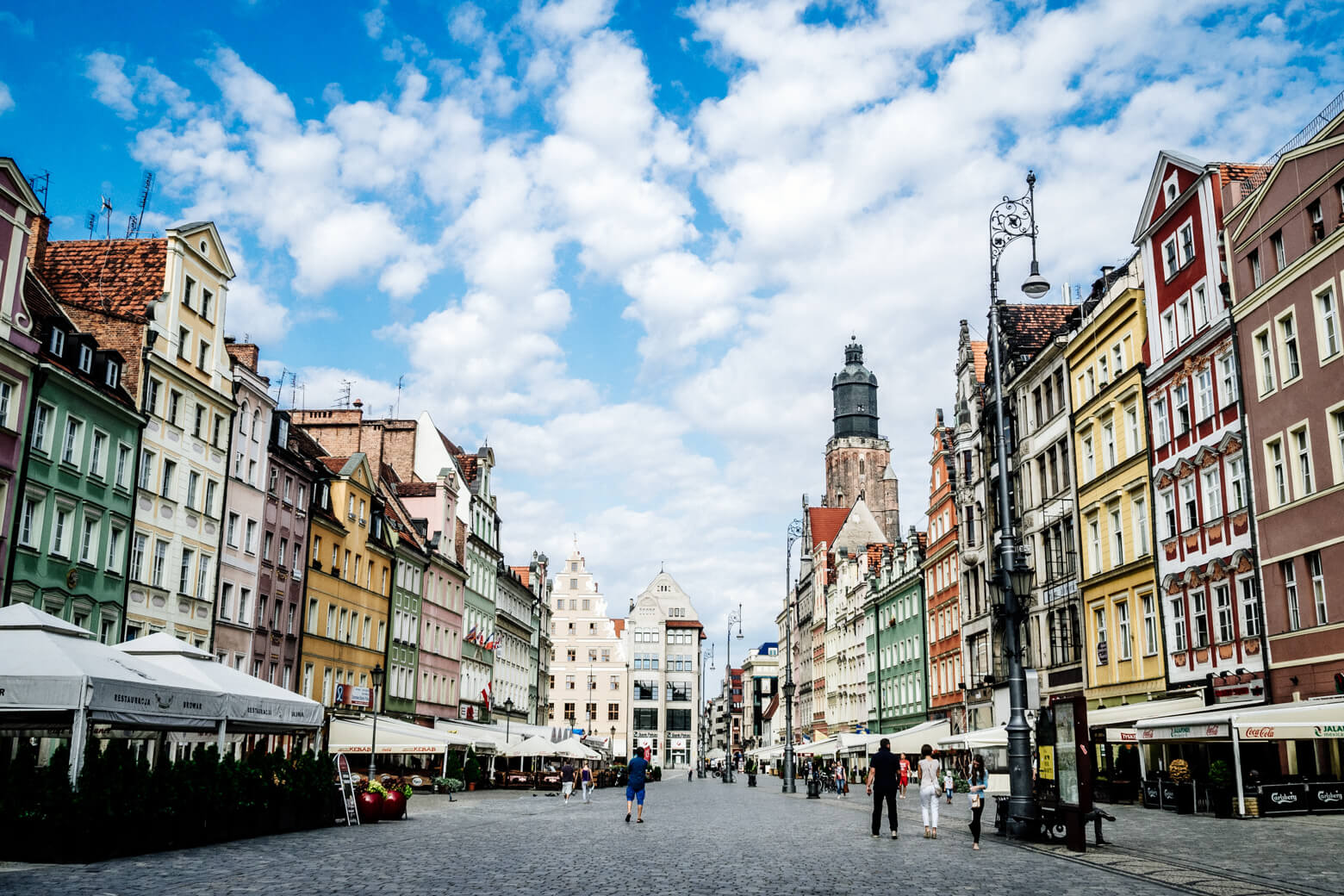 Wroclaw is such a wonderful city and underrated as a destination, both at Christmas time and otherwise.
The Christmas market is a decent size but it's far less crowded than Krakow. The atmosphere is considerably more intimate than the overwhelming German markets in Nuremberg and Munich.
You'll also find some of the friendliest people at the Polish markets and delicious international cuisine.
Wroclaw Christmas Market Specialities
Wroclaw has traditional Polish food like pierogies and smoked cheese but the market has more international stalls where you can get Hungarian langos, Dutch pancakes, paella-type dishes and many other delicious foods worth trying.
Of course, you can find mulled wine, hot apple cider and hot chocolate too.
Sightseeing in Wroclaw
Wroclaw is gorgeous, the main square is so colourful and the buildings are beautifully designed. There's plenty to see outside of the main square too.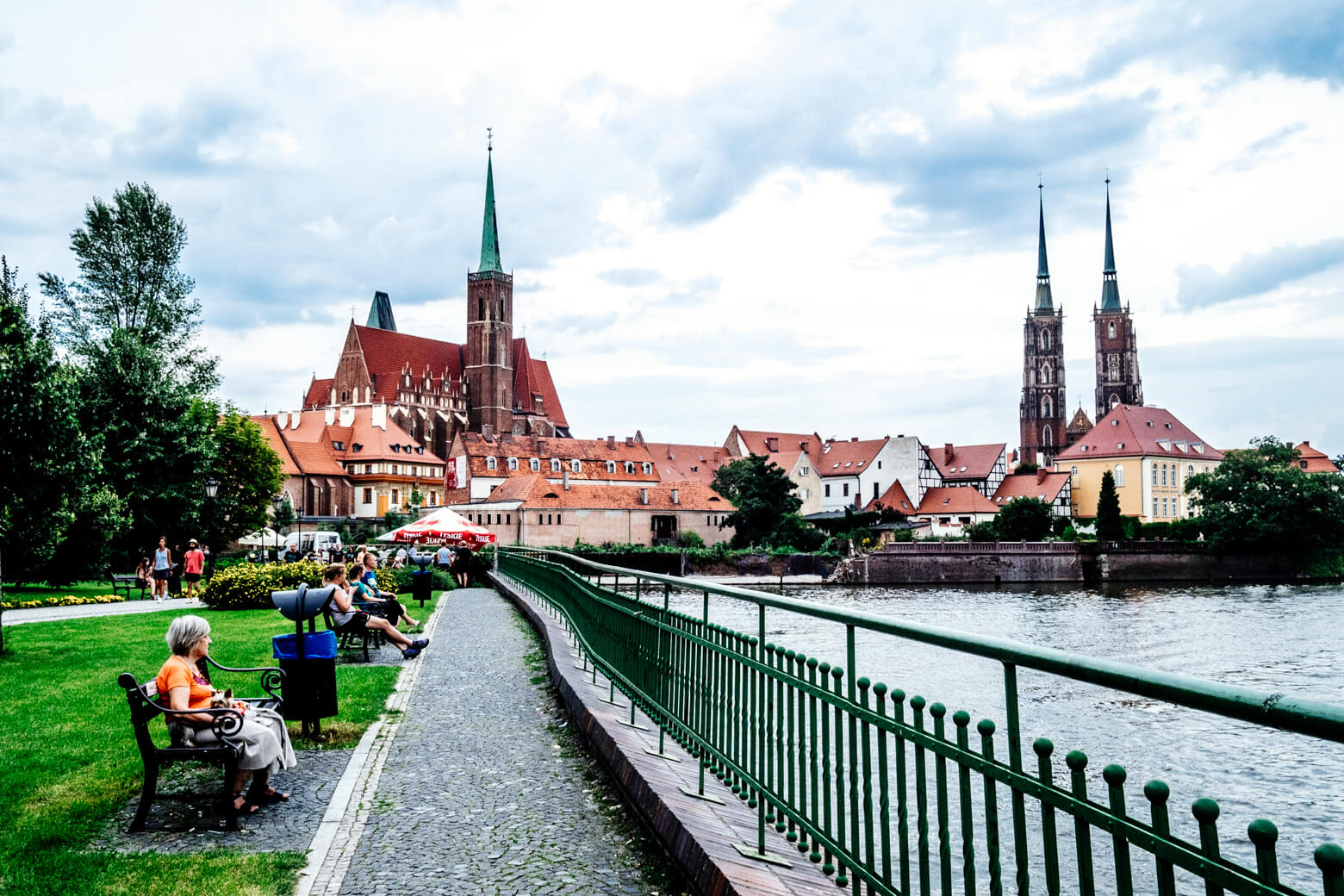 Rynek and the Gothic Town Hall: The Market Square is where you'll find most of the action. Climb one of the church towers for great views over the square. The Town Hall is a good place to start and get your bearings.
Cathedral Island: Just north of Market Square is one of the prettiest parts of the city with its huge Cathedral, parks and riverside location.
Wroclaw University: Visit the assembly hall, Aula Leopoldina, to see the incredible baroque ceiling and frescoes.
Gnomes: What began as a subversive political protest is now a fun pastime for children and tourists. Pay attention as you walk around the city and you'll discover hundreds of little gnomes.
Ksiaz Castle: Seventy kilometres from Wroclaw, the spectacular clifftop castle set deep in the forest deserves an afternoon trip.
Leubus Abbey: More amazing baroque interiors an hour from Wroclaw.
Wroclaw Christmas Market dates: 25th November – 23rd December 2022 (varies slightly from year to year).
Reason to visit: Wroclaw market is held in its stunning centre square, one of the most beautiful in Europe.
Specialities: International specialities like Transylvanian kurtosh kalach (chimney cake), Lithuanian sausages, Swiss chocolate workshop (tools made of chocolate) and Dutch waffles.
Tips: You could create a mini Christmas market tour including nearby Prague, Cesky Krumlov and Dresden.
Where to Stay: Puro Hotel Wroclaw, a boutique hotel in central Wroclaw that avoids the use of plastic and supports local community projects.
Warsaw, Poland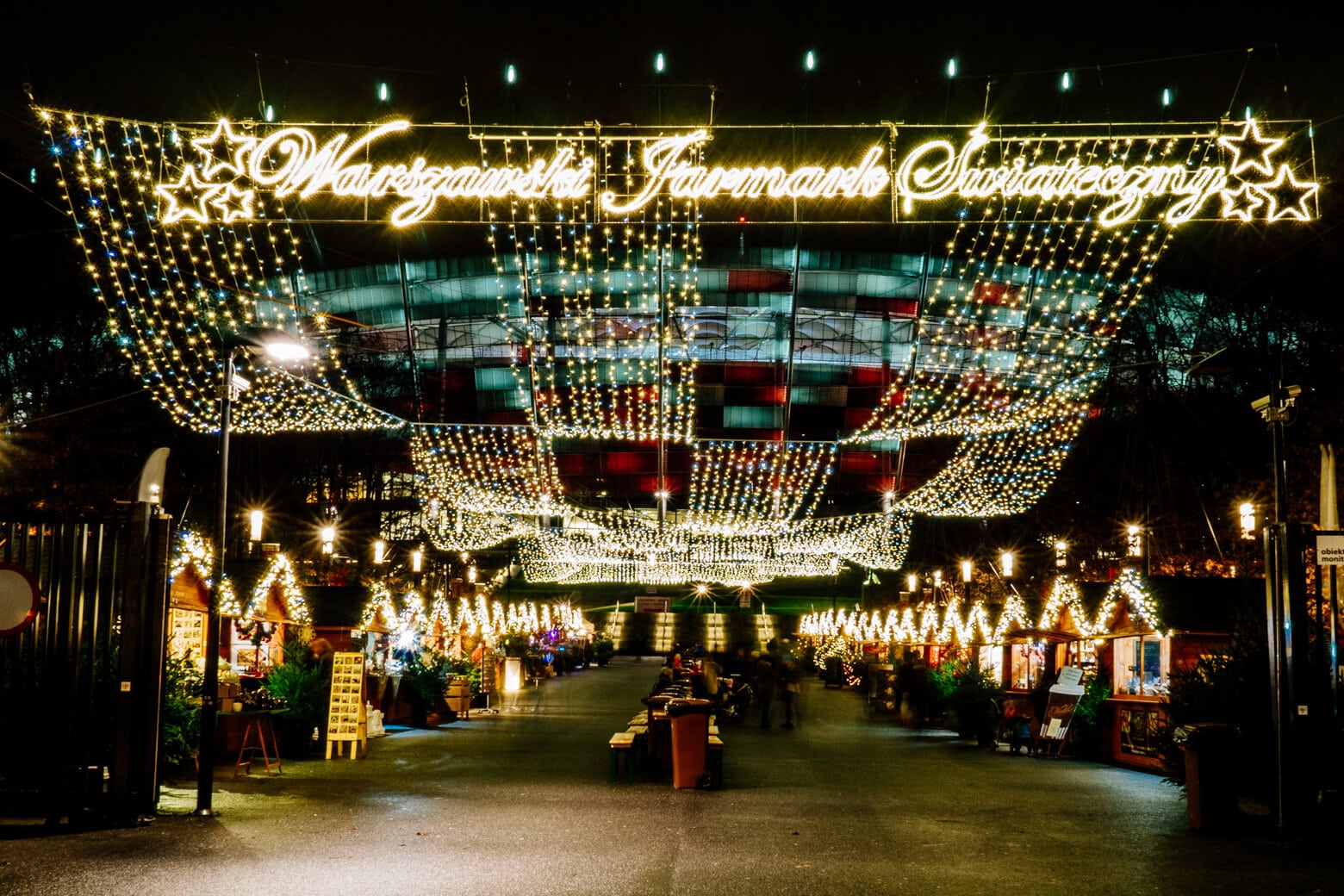 Warsaw is like a mini version of Berlin. It has the hipster lifestyle (in this sense I see it as a positive), great vodka and craft beer concentrated nightlife, a delicious foodie scene and an entrepreneurial spirit.
Warsaw's Christmas market in Market Square starts a little later than other markets around the city. It's worth waiting for that as the season starts there with a huge Christmas light show.
Warsaw Christmas Market Specialities
Warsaw's Christmas markets have a bit of everything. There's traditional Polish food like pierogies, sweets, hearty soups and grilled meat plus international food like langos, goulash, dried fruit and chocolate. You can't go wrong with a cup of hot wine or a shot of sweet fruit vodka.
Warsaw has a few markets, one in the main market square, another closer to the Royal Palace and a more modern Christmas market in the Praga district towards the east of the Vistula River, at the foot of the stadium.
Sightseeing in Warsaw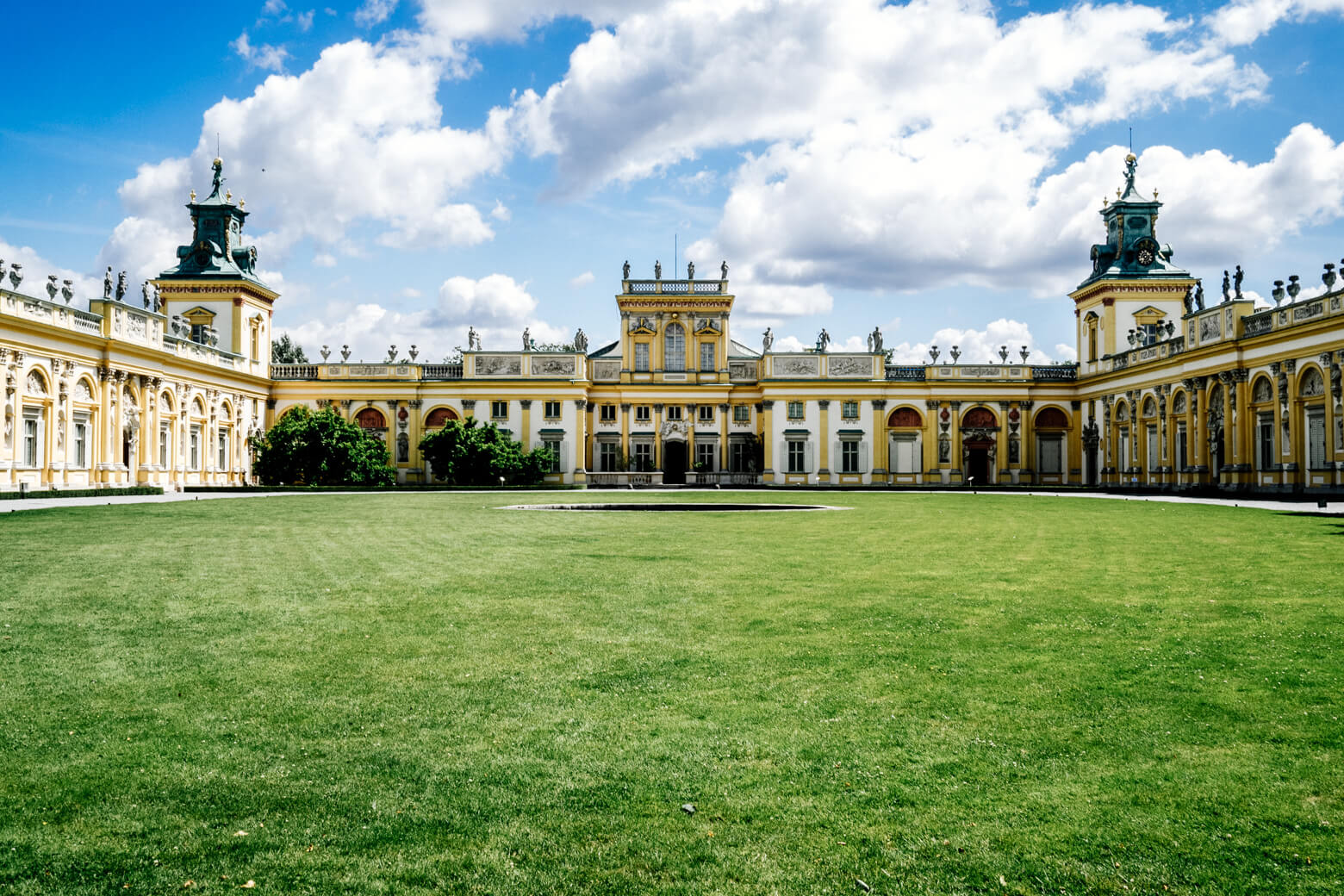 Old Town: Restored after the destruction of WWII, the Old Town and New Town (also old and rebuilt) are pretty areas to walk around and home to the Royal Castle.
St Anne's Church: Visit the viewing platform for the best views of Warsaw's historic centre.
The Soviet-era Palace of Culture and Science: An art deco-inspired skyscraper and the tallest building in Poland.
Warsaw Uprising Museum: One of the most fascinating yet sombre museums in Central Europe depicting life in the Warsaw Ghetto, the resistance, and the aftermath of the uprising in 1944.
Remains of the Jewish Ghetto walls: Honestly, there isn't much left of the walls. Only take the time to visit this if you're really, really interested in seeing it or happen to be walking that way anyway.
Lazienki Park: The largest park in Warsaw and home to Lazienki Palace on the water and the Chopin monument. The park is part of the Royal Route linking the Royal Palace and Wilanow Palace.
Tomb of the Unknown Soldier: The last remaining part of the Saxon Palace that was destroyed during WWII and never rebuilt.
Wilanow Palace: One of the few buildings in Warsaw in its original state, the renovated baroque palace is now an art gallery, museum and pretty garden.
Lublin: If you have time, take a day trip to nearby Lublin, an adorable little town with pastel-coloured buildings with pretty facades.
Warsaw Christmas Market dates: 2022 dates to be confirmed.
Reason to visit: Poland's capital is fun with great nightlife, a fantastic foodie scene and fascinating WWII and Cold War history.
Tips: The Christmas markets start late in Warsaw, book your trip for mid-December to have the most Christmassy experience.
Where to Stay: The H15 Boutique luxury apartment complex in the former Soviet Embassy is a great place to stay due to its central location and quality design.
Gdansk, Poland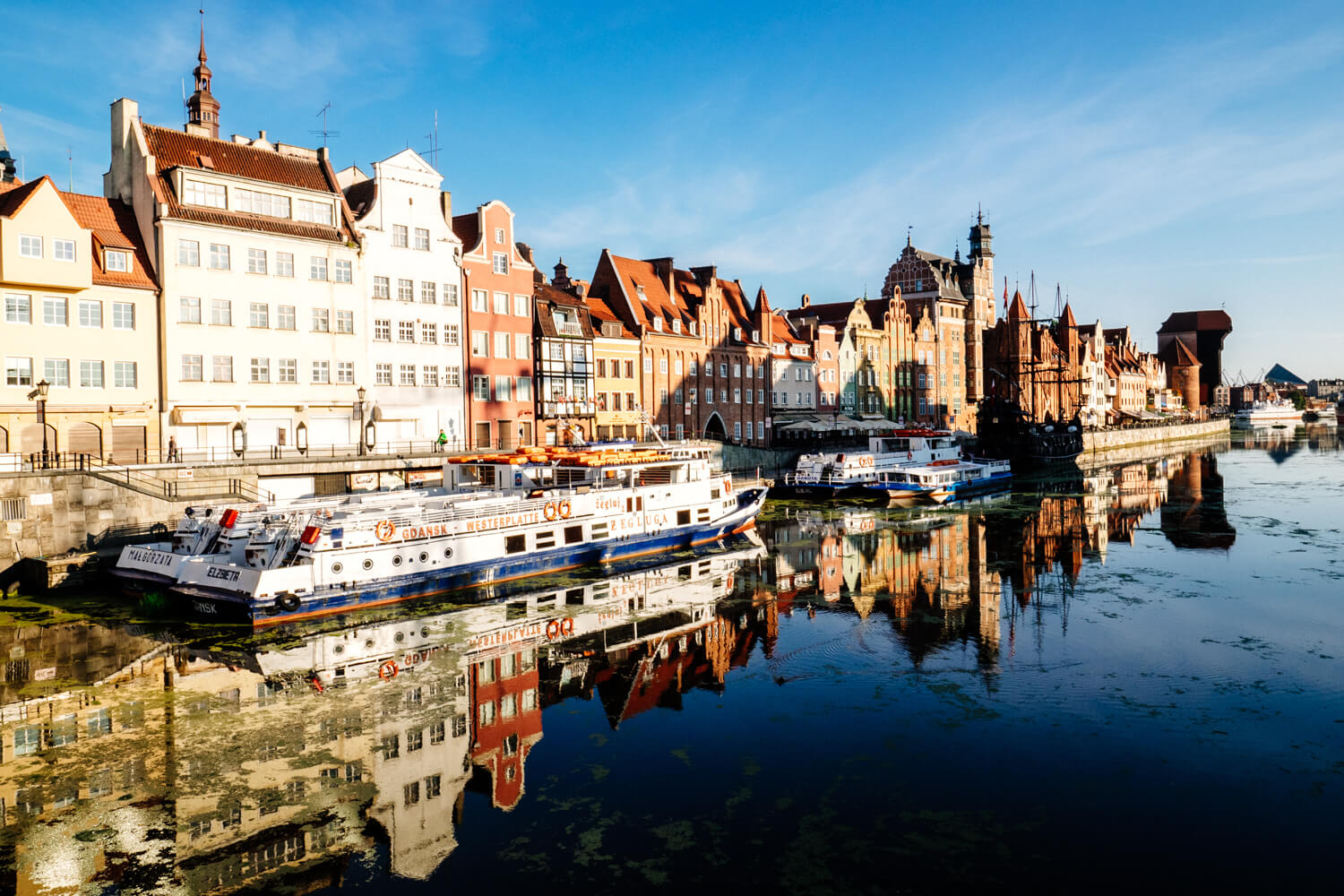 Traipsing through snow and slush as the bitterly cold arctic wind whips through the streets from the Baltic Sea. Wind, snow, ice and negative temperatures. Gdansk sounds like a fun place for a winter weekend trip. But no, really, Gdansk is lovely. I adore this city.
Seriously though, if you want to see an old Hanseatic seaport and Royal Way with a fresh cover of snow, Gdansk in December is your destination. There's a very good chance of a white Christmas and you're bound to enjoy the grzane wino (you might need a few) even more with the chilly temps.
Gdansk Christmas Market Specialities
The Christmas market isn't huge but you can expect to see a Venetian carousel, ice skating rink, Christmas trees from around the world, handmade Christmas ornaments, toys, scarves, candles and festive gourmet food.
Food to try includes Polish festive cakes, pretzels, chocolate-covered fruit, chocolate 'tools', roasted nuts, smoked cheese, grilled sausages and of course hot chocolate and spiced mulled wine.
Sightseeing in Gdansk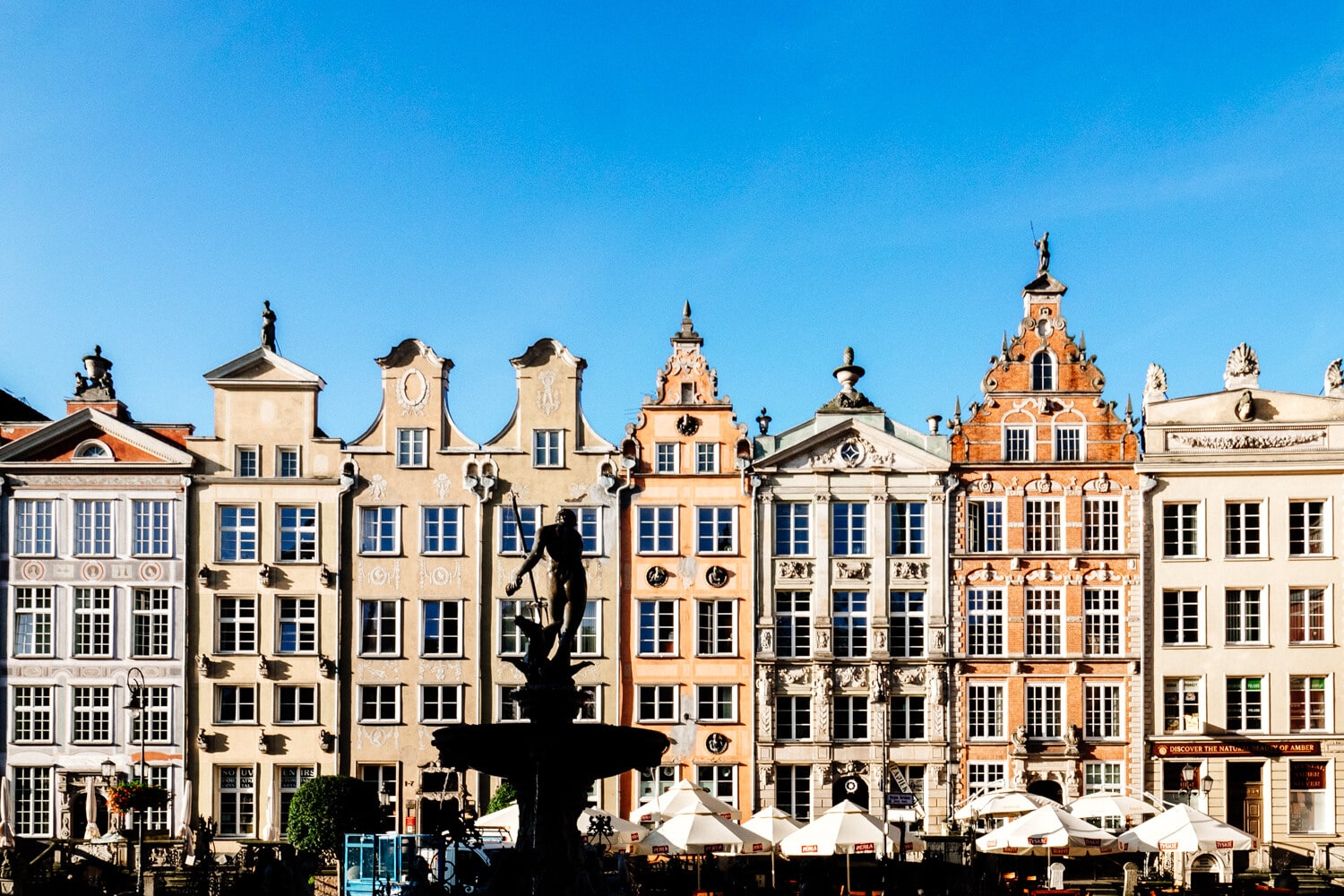 Gdansk doesn't have the longest-running market, it only runs for a couple of weeks in December, but it's such a fantastic city it's worth visiting any time of the year. Here's a quick roundup of things to see.
Long Street (the Royal Way) and the Old Town.
The medieval harbour crane.
Gorgeous Mariacka ulica (Mary's Street), is the city's most picturesque street.
City views from St Mary's Church. It's only 400 steps up. It's not too bad if you can manage it.
Snow on the beach and the Baltic dunes at Rowokol.
The European Solidarity Centre – a tribute to Poland's solidarity movement which helped put an end to communist rule in Poland.
Go for lunch in the elegant resort town of Sopot.
Visit Malbork Castle, a medieval red-bricked castle one hour south of Gdansk.
Gdansk Christmas Market dates: 1st – 23rd December 2022 (this may change).
Reason to visit: For its gorgeous Baltic Sea location and historic Hanseatic architecture. Plus it's an interesting alternative destination to the usual markets.
Specialities: Hot chocolate, Polish cakes and Christmas trees from around the world.
Tips: Stay close to the market so you don't have to do much walking in the cold weather.
Where to Stay: Read my full neighbourhood guide explaining where to stay in Gdansk and for tips on visiting.
More Christmas Markets in Poland
Each of these cities, Krakow, Wroclaw, Warsaw and Gdansk are great weekend city break destinations in winter but if you have time there are a few other Polish cities worth checking out.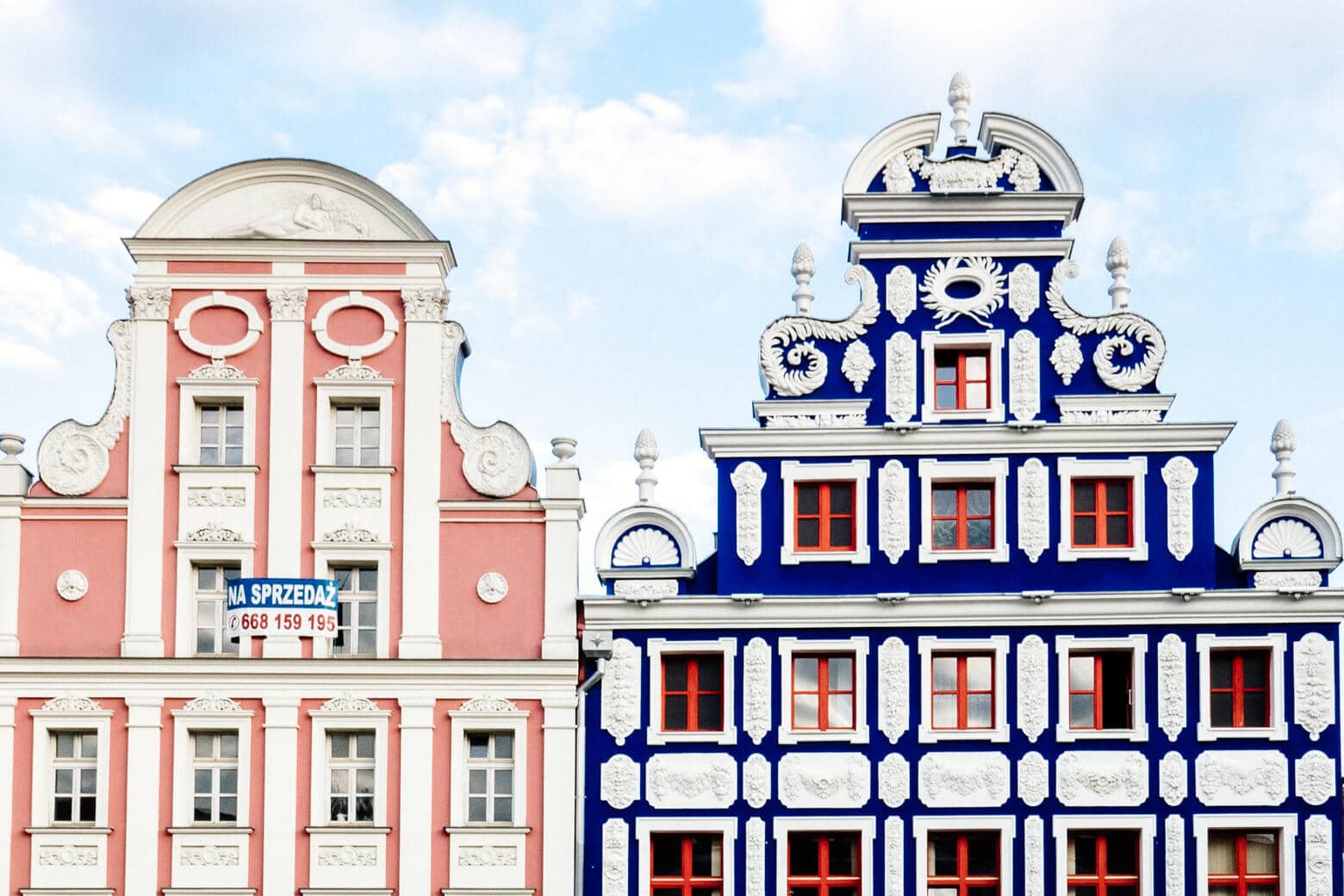 Poznan – Halfway between Berlin and Warsaw, Poznan has a beautiful, historic main square and cute little side streets packed with cafes and boutiques to keep you busy on a day trip.
Lublin – If you have time, take a day trip to Lublin from Warsaw. It has a more rustic look than the other cities mentioned here but the old town buildings have some of the most gorgeous, decorative facades you'll find in Poland.
Szczecin – There's a small Christmas fair at the Castle of Pomeranian Dukes in Szczecin which is a mid-size city on the border with Germany, not far from Berlin.
—
Recommendations are independently chosen based on personal travel experiences and extensive research. This post contains affiliate links to hotels and tours in Poland. This means I get a small commission from any bookings at no extra cost to you.