If you purchase through links on this site, I may earn a commission at no extra cost to you. As an Amazon Associate I earn from qualifying purchases.
Croatia's Plitvice Lakes National Park is as stunning as you'd imagine. The intense emerald green lakes, gushing waterfalls and colourful foliage is what make visiting the lakes an unforgettable experience. In this guide, I provide information and tips for visiting in 2022. This includes the best time to visit, which entrance and trail to take, ticket prices, where to stay and how to visit Plitvice on a day trip.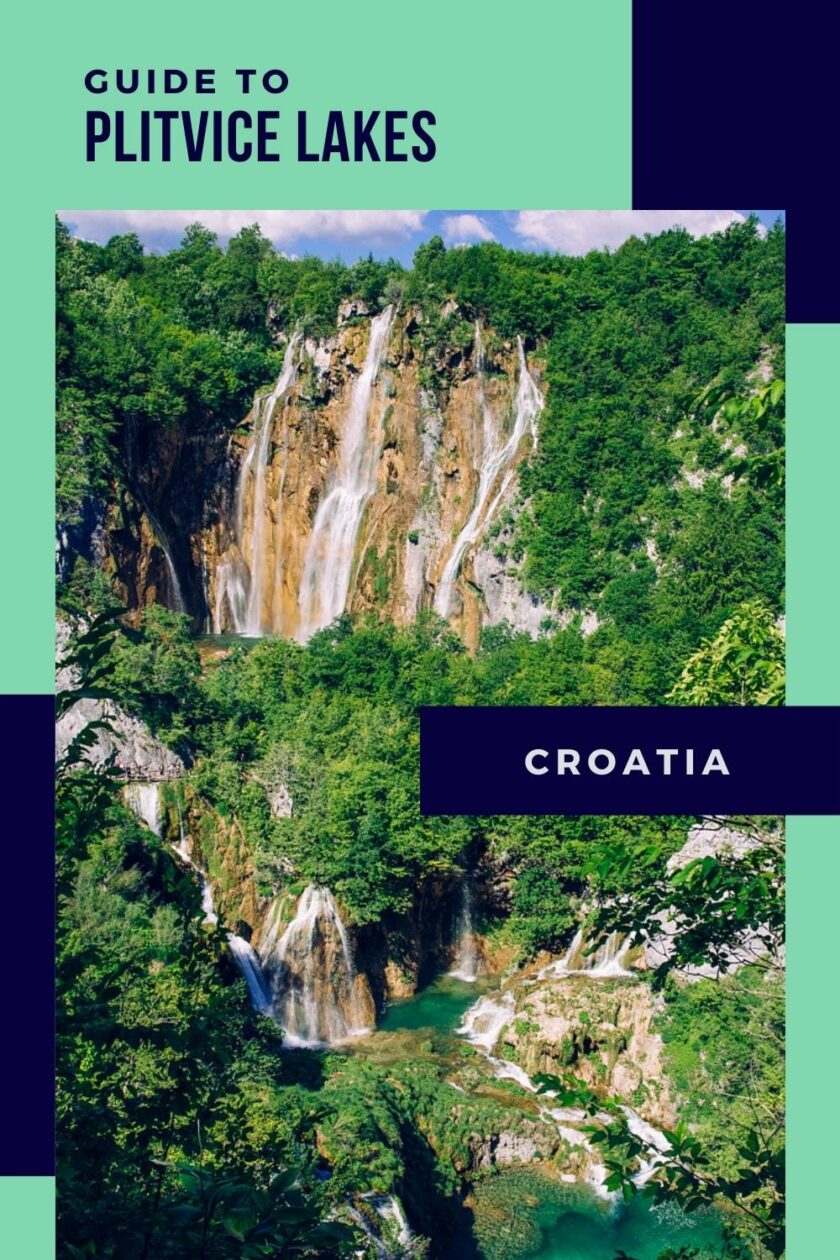 As stunning as Plitvice Lakes is and as much as I loved my visit, I definitely made some mistakes when it came to planning my visit. Visiting in summer meant that it was hot and crowded. Obviously, it's busy for a reason, it's a wonderful and unique natural park that many people dream of visiting, but knowing what I know now, I would have chosen to visit during a cooler and quieter time of the year. Of course, not everyone can choose when to visit but it's something to think about.
Plitvice Lakes National Park in 2022
Even though we arrived early, it would have been better to get there at the opening time. However, things have changed a bit since my first visit. Tickets can now be purchased online up to 1 day in advance. You chose your entrance time when booking and this is when you must enter the park. You can still purchase tickets at the gate but there are a limited number of tickets and they can sell out. Priority is given to online bookings. I suggest always booking in advance unless you are taking a tour.
It's easy to get caught up in the beauty of the park and each individual waterfall and stay all day. Personally, I chose to take a 5-hour trail but due to the crowds, I decided to move along quickly and completed the main trail in 3 hours. You might not want to do this but I found it gave us time to have a picnic and then leave before the midday sun became too much. I think this was a relaxing way to go but if you're visiting on a cooler day it would make more sense to linger.
It's easy to get distracted by the first few waterfalls but you have to remember, there's always a bigger better waterfall around the next bend. The trail sometimes seems to be neverending!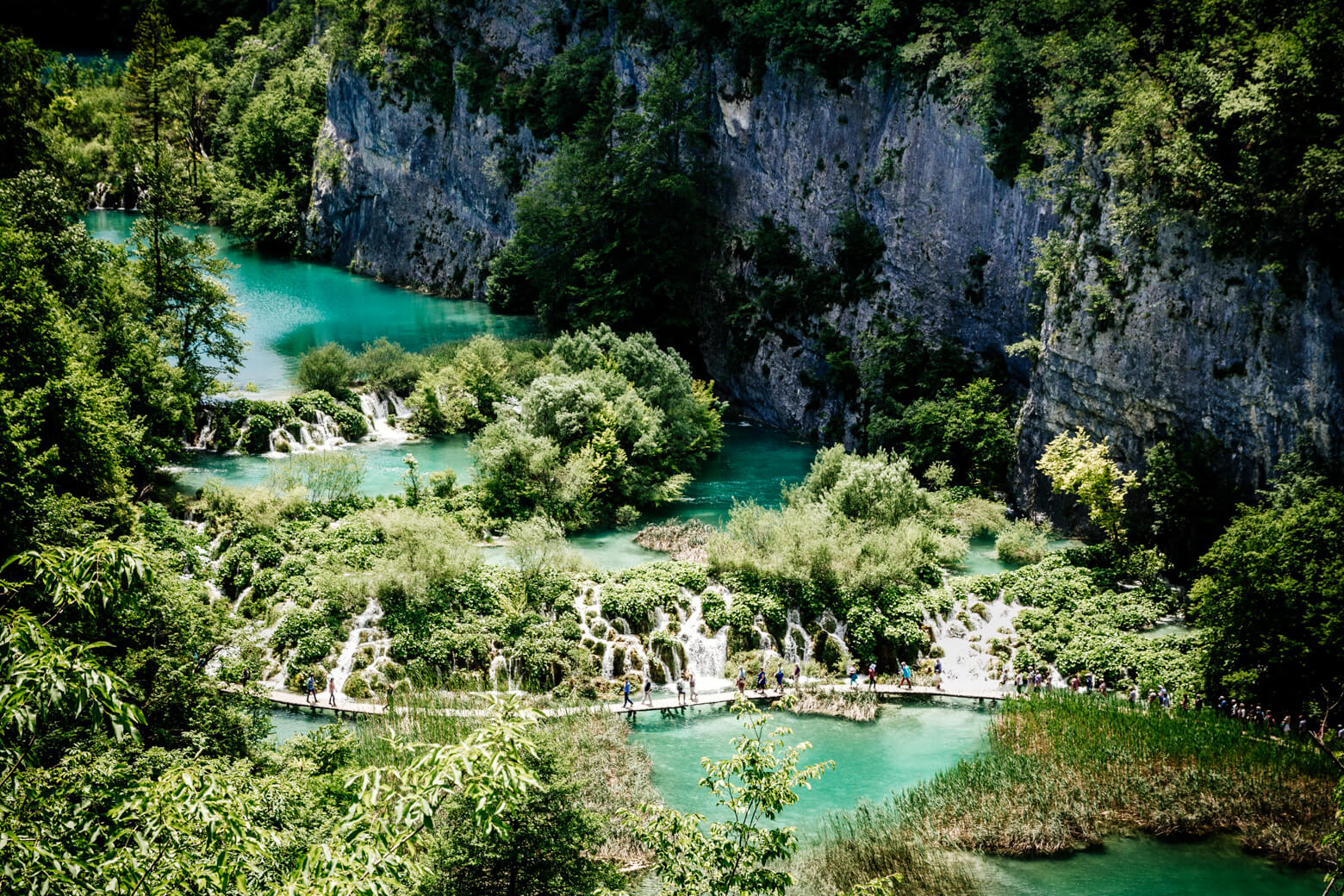 Just because I'm not a fan of spending all day on a set circuit doesn't mean I don't recommend a visit to Croatia's most important National Park. It really is an incredible experience and one of the highlights of Croatia. Experiencing the bright green lakes and countless waterfalls of all sizes is one of the most memorable moments in my travels.
Even though it doesn't often snow at Plitvice I would love to go back in winter to see it under snow or even visit in autumn to see the colourful foliage throughout the park. Basically, I think it would be worth visiting during any (and every) season.
Here is my guide and a few tips for getting the best out of a one day visit to Plitvice Lakes and a sample itinerary for the day.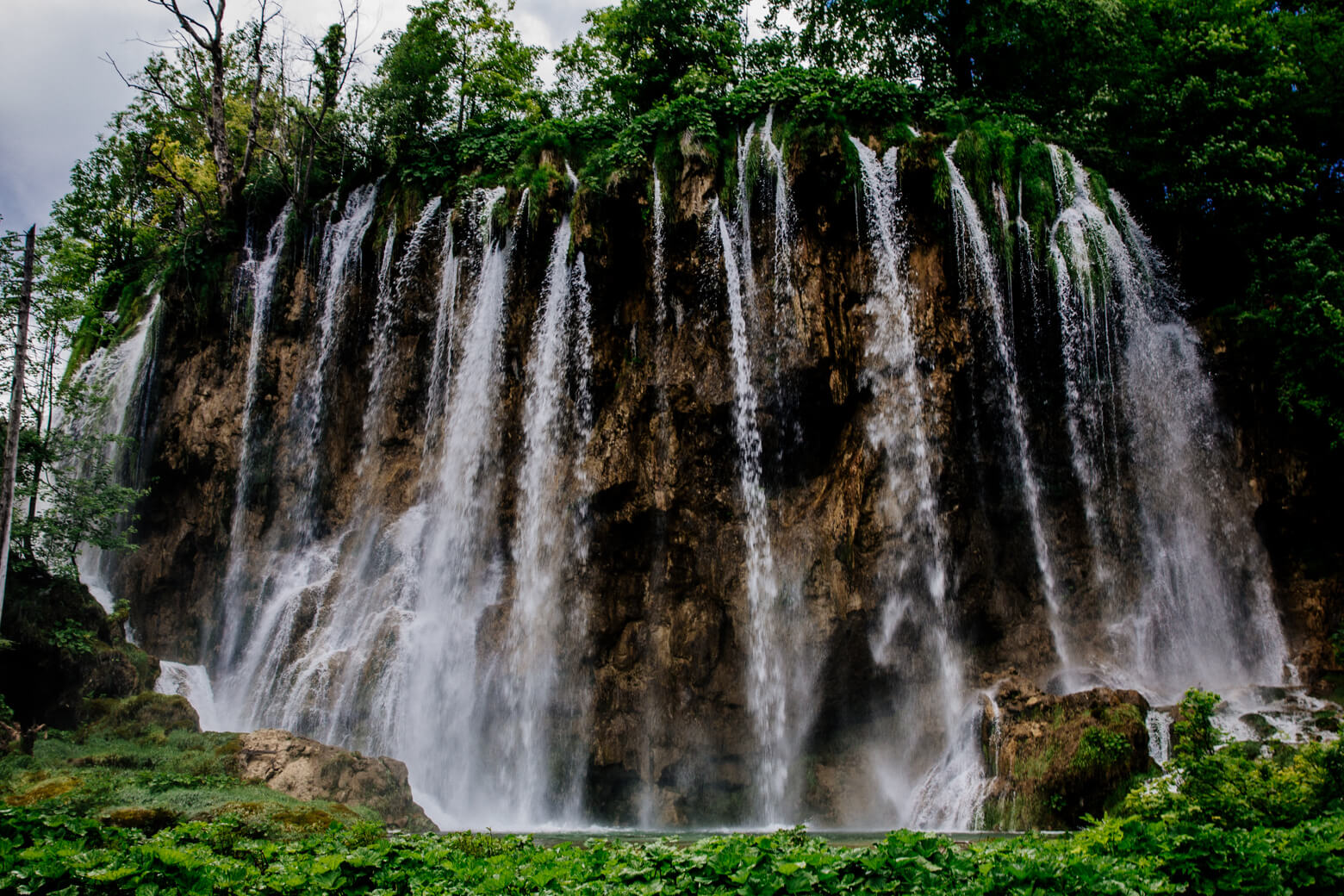 How to Get to Plitvice Lakes
Many people visit Plitvice Lakes on a day trip from either Zagreb or Zadar. I decided against this for two reasons. Firstly, by staying in Plitvice you can get to lakes before the day trip visitors arrive ie. before the masses of tourists arrive (this is less of a problem now with the automated ticket system). Secondly, I thought I might want to get a two-day pass to visit Plitvice and staying nearby is the best way to do that. Thirdly, it's a lot less stressful and a more relaxing way to visit.
For me, the best way to get to Plitvice Lakes is by car. Here is how your itinerary might look:
Purchase your ticket online well before you go (24 hours in advance at the latest).
Drive from Zagreb (or Split/Zadar) and stay overnight in the village of Seliste Dreznicko or near there.
First thing in the morning, head to Entrance 1 and park at the designated car park. Don't park on the road unless it's a designated official parking place, you will get a fine if you park illegally.
Get a map at the entrance (or download it on your phone) with the trail you wish to take (ask at the tourist office at the gate entrance if you're not sure).
Walk along the marked pathways, past the lakes and various waterfalls.
At one point you will see a boat that will take you to the other side of the lake. One boat trip is included in your ticket, be sure to use it.
Spend anywhere from an hour to all day at the park (I recommend 3 to 5 hours).
Take your lunch and snacks with you and have a picnic along the way. There are park benches and tables where you can sit.
At the end of the trail, you can hop on a tourist train to take you back to the entrance. This is also included in your ticket and it's a nice way to end your visit.
Head back to the car park and pay for your parking before you leave.
Enjoy a nice dinner at your hotel.
If you prefer you can do a day trip from Zagreb or even from Split. Book your tour here:
Plitvice Lakes Day Trip from Zagreb – This is one of the most popular day trips from Zagreb and it often sells out. It includes a visit to the village of Rastoke, the entrance fee to Plitvice Lakes and a guided tour while you're there.
Full Day Tour from Zadar – Plitvice Lakes tours are cheaper if you depart from Zadar and this tour is highly-rated and recommended.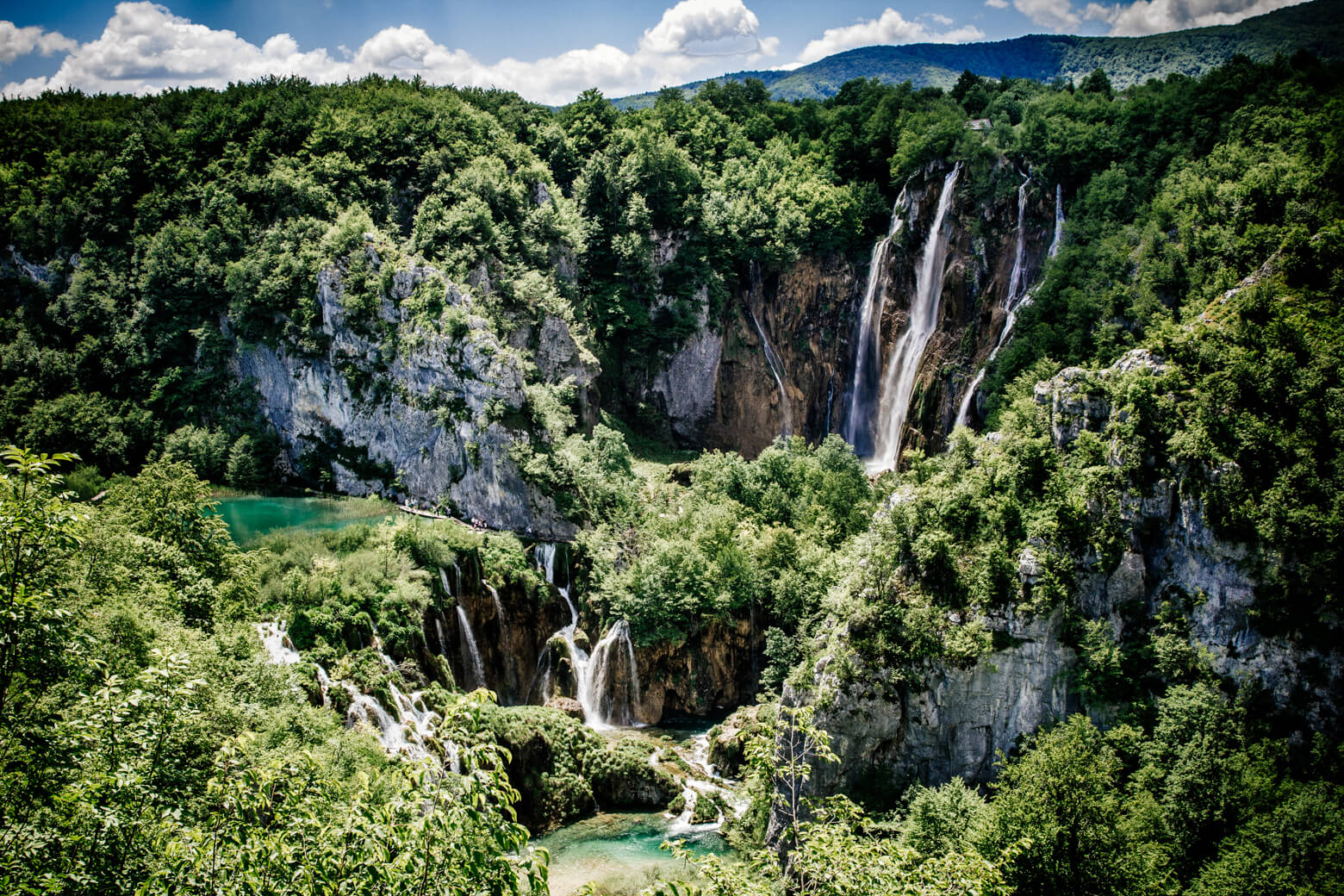 Best time to visit Plitvice Lakes
As far as the best time of the year to visit goes, I'd recommend visiting in spring or early summer when the waterfalls are at their peak or in autumn when the trees start to change colour. I visited in early June and it was a nice time to visit, not too hot (although I left at noon) and not too crowded, although it definitely wasn't quiet at that time.
In short, the best time of the year to visit is in May, early June, September and October.
When not to go
When to avoid visiting Plitvice? If you have the flexibility, I would definitely stay away in July and August, the two busiest months of the year for tourism in Croatia. Not only will it be incredibly busy but it will be hot, even when you're surrounded by trees and water.
You might not have much choice as to when you visit so if you do go during summer, be sure to arrive early and take plenty of water (of course you can buy it there too) and wear a hat and sunscreen. Remember that you can't swim at Plitvice so you won't be able to cool off in the water.
What time should you arrive?
If you don't want to share the walkways with hundreds of other tourists, have people in your photos or be walking in the heat of the day, I'd suggest booking your ticket well in advance and choosing the earliest time to enter.
Alternatively, if you're arriving without a pre-purchased ticket (I don't recommend this as they can sell out) arrive at the lakes at the opening at 7am.
When we finished our visit at 12pm the walkways were very crowded and tour groups were still arriving. I was glad to get out of there at that time!
After a quiet couple of years, Plitvice Lakes are expected to be much busier in 2022 so get there early or visit in spring or autumn.
How Many Days to Spend in Plitvice Lakes
I was tossing up between getting a one-day and two-day pass, especially seeing as it's cheaper to get the two-day pass rather than two one-day passes.
In the end, I only got the single day pass and that was definitely the best decision for me. One day at Plitvice Lakes is more than enough. I had dreamt of going to Plitvice for years and thought I would want to spend as much time there as possible but actually, 4-5 hours was plenty. I walked one of the longer trails, saw all the most popular waterfalls and had a picnic by the lake. It was the perfect amount of time to stay.
I know it's not always possible but if you want to see more I'd recommend visiting again at a different time of the year to see the lakes during a different season, in a different light.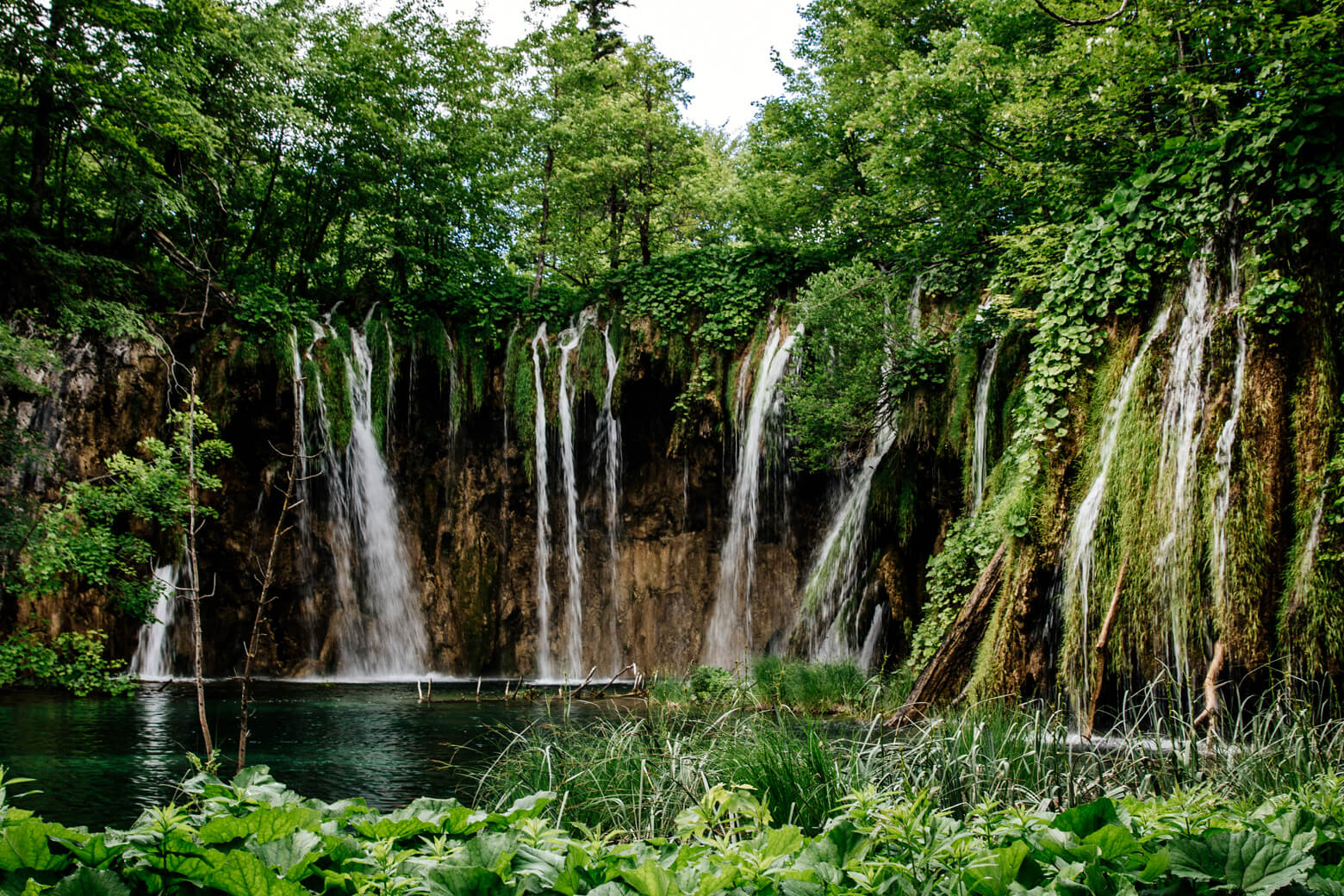 Which Walking Route to Take
It can be a bit daunting wondering which walking route to take. But once you get there, you'll see it's all very straightforward. The staff at our hotel recommended taking Trail C (C Program) from Entrance No 1. This typically takes 4 to 6 hours. I can't compare as it's the only trail I took but I feel like I saw all the most popular waterfalls.
There are 4 routes from Entrance 1 and 4 routes from Entrance 2. You're free to choose which trail you want to take when you arrive. You can read about the different routes/programs here or you can ask at the tourist office that is located at the entrance gate.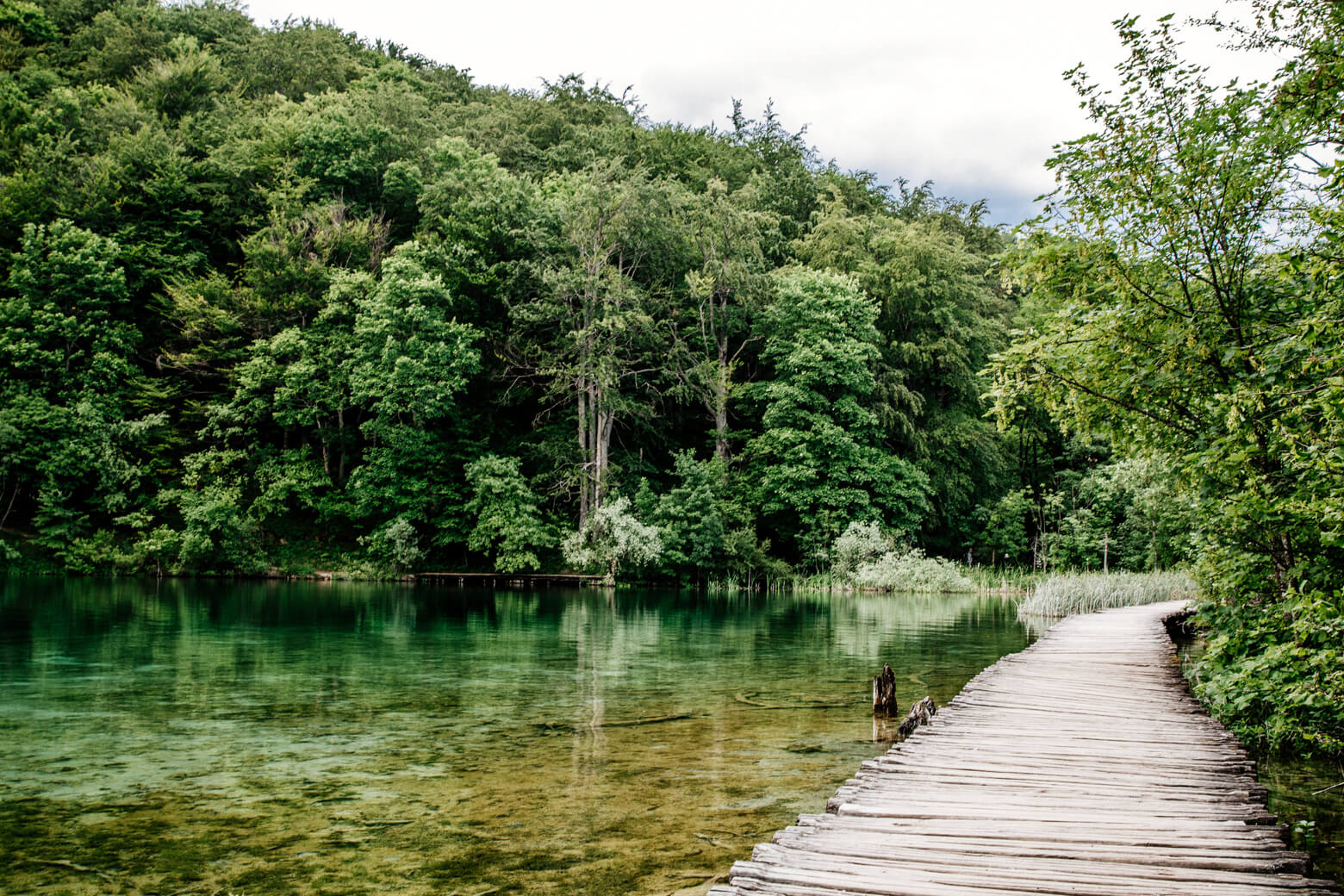 Best Plitvice Lakes Tour
Honestly, I don't think a tour is the best way to visit unless you don't have a car and don't want to take public transport (which means the bus). Once you're there the trails are very clearly marked and suited to an independent visit so you can walk at your own pace.
The tourist office at the entrance can advise you on which trail best suits your needs and you don't need much more than that. You can even get by without a map.
But if you would prefer to take a tour, these are the ones I recommend. They are offered by GetYourGuide, one of the most popular tour booking sites in Europe.
Day trip tours are available from Zagreb, Split, Trogir, Zadar and Sibenik.
Can You Swim at Plitvice Lakes
Swimming in Plitvice Lakes is forbidden as it's a protected UNESCO World Heritage Site and National Park. If you want to swim in one of Croatia's beautiful lakes, you can do so at Krka National Park near Sibenik.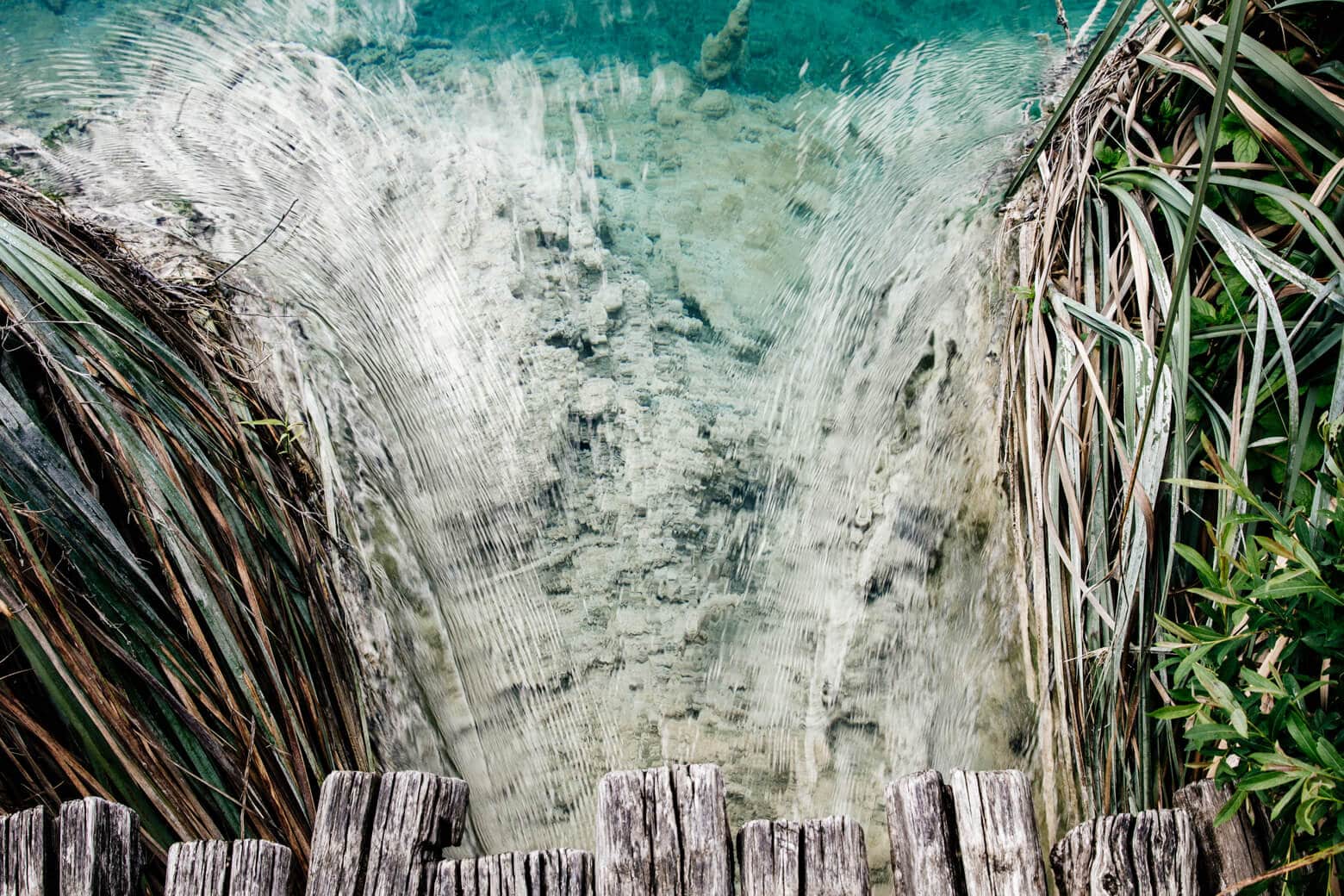 Food and Drinks
Another reason to arrive early is so you can be finished by lunchtime and avoid eating the overpriced food within the park, unless you take your own picnic. Drinks are a little pricey too so I'd recommend taking your own if you're on a budget or even if you're not. You'll need lots of water if you're hiking through the park on a hot day and the cafes/kiosks are quite a distance apart which is another reason to take your own drinks.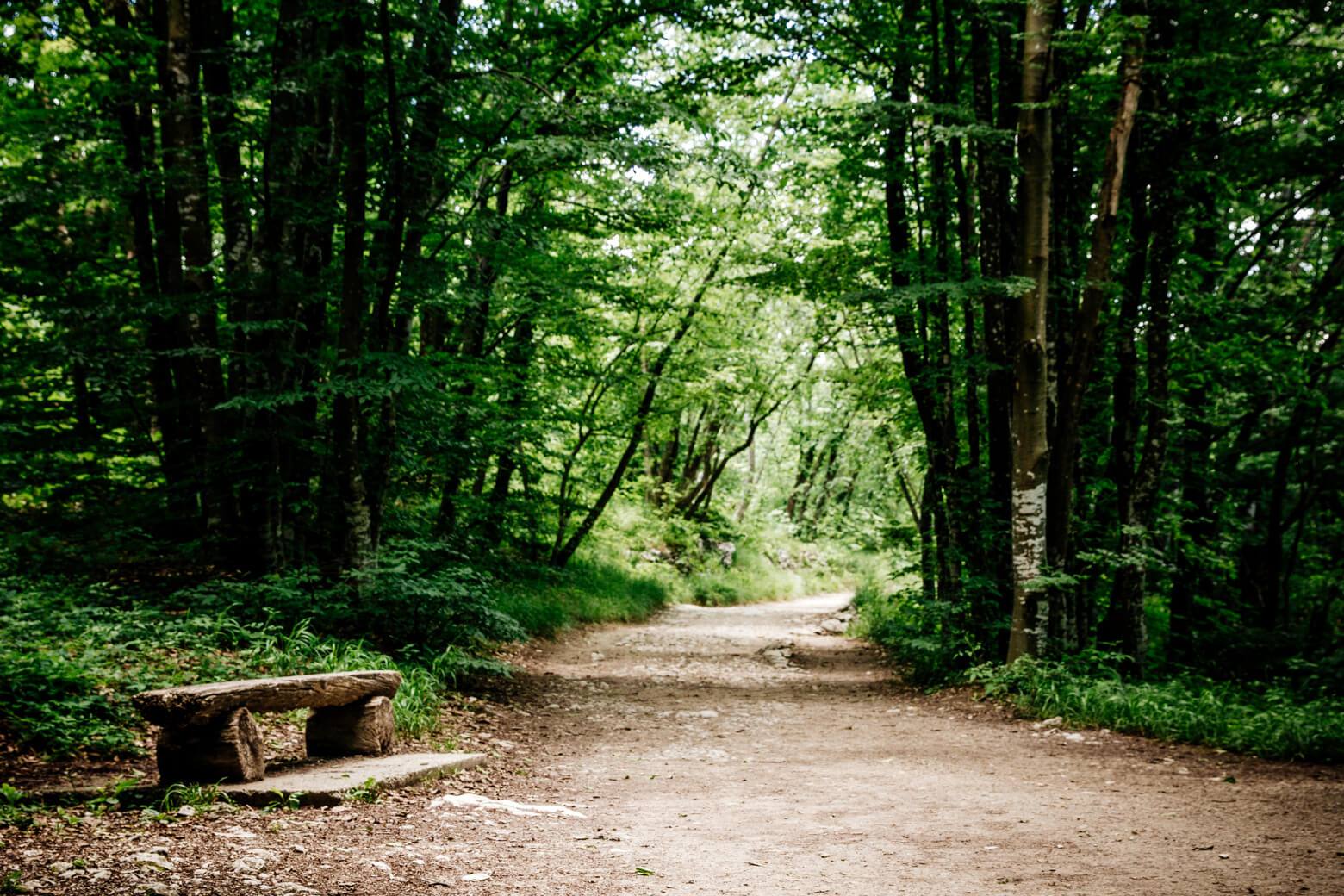 Entrance Tickets and Parking
A daily adult ticket costs between 80 and 300 kuna for one day and 120 to 450 kuna for a two-day ticket in 2022. The price varies depending on the time of the year and the time of entrance. Tickets are considerably cheaper in the off-season and they are discounted if you enter late in the day. The entrance ticket includes a boat ride on the lake and the panorama tourist train to take you back to the entrance.
As an example, prices for a one-day ticket for an adult are as follows:
June, July, August, September (summer): 300 kuna (discounted if you visit late in the day).
April, May, October (shoulder season): 180 kuna.
November, December, January, February, March (off-season): 80 kuna.
Check current prices here.
Parking costs 10,00 kuna per hour from the 1st June to 30th September and 8 kuna per hour at other times.
Opening Times
The park is open 365 days a year, from 7am to 7pm. At the gate ticket sales end at 4pm.
Map of Plitvice Lakes
You can purchase a map of Plitvice Lakes and all the walking routes at the park information offices at Entrance 1, Entrance 2, the Flora auxiliary entrance, train station 3 and at souvenir shops. The following map shows Entrance 1 and Entrance 2 and the distance from the hotel I recommend.
Where to Stay near Plitvice Lakes
You have a few options on where to stay. Seliste Dreznicko is a local village with a small supermarket, hotels and restaurants. This is where many people stay as it has enough services for an overnight stay and is 5km from the National Park entrance. There is a lot of accommodation around that isn't in town which might be limiting if you need supplies.
You can stay in Zagreb, Zadar, Split, Trogir or Sibenik if you want to be in a city and visit Plitvice on a day trip. Zagreb, Zadar and Sibenik are approximately 2 hours from Plitvice while the other cities are quite a bit further. Dubrovnik is too far away to visit on a day trip.
I stayed at Hotel Degenija, a 4-star hotel located in Seliste Dreznicko, less than 10 minutes from Entrance No 1. I did a lot of research before I booked and it's one of the nicest hotels in the area and the location is ideal. Our room was large and clean and we had a nice meal of local trout at their restaurant. If it's within your budget, I'd recommend staying there. This hotel sells out early so you might need to book well in advance, especially at busier times.
There are cheaper hotels and guest houses in the area so there are options for all budgets, there's even a camping ground not far from the entrance. Start your search here and see what suits your travel style.
Plitvice Lakes vs Krka National Park
Plitvice Lakes isn't the only national park in Croatia with beautiful lakes and waterfalls. The other is Krka National Park, a smaller park near Sibenik on the coast.
This is probably not very helpful but there is little difference between Plitvice and Krka and which you should visit really depends on where you travelling and if you want to swim or not.
Plitvice Lakes is considerably larger than the waterfalls and walk at Krka National Park. Plitvice is great if you want to spend the day walking around the lakes and countless waterfalls. There are many different trails and spots where you can stop and have a picnic but you can't swim there.
Krka on the other hand only has one path around the main waterfall and waterways. You can hike away from the main area but most people don't, so in general, I would say there is less to see at Krka. However, you can swim at Krka, next to the main waterfall, which is a bonus on a hot summer day.
Note that there is only one swimming area which is crowded and rocky so you might decide against swimming when you get there (as I did) but the water is clear and refreshing.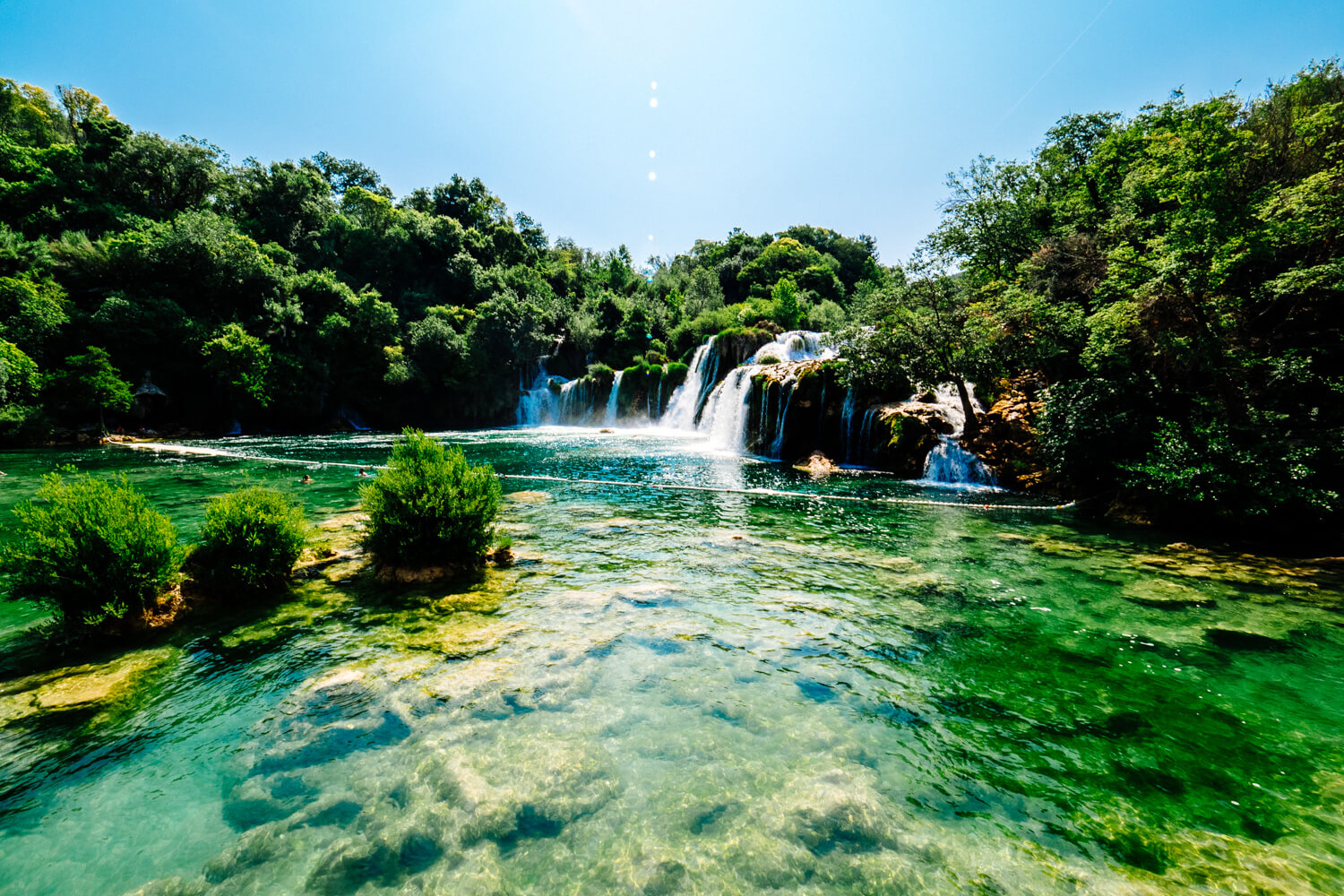 Both Plitvice and Krka are extremely touristy and busy almost all year round so expect crowds at both sights.
If I had to choose, I would say Plitvice is better as there is more to see and with the multiple trails it is possible to get away from the crowds if you arrive early. I do think Plitvice is more beautiful but I know not everyone agrees. Krka is probably better if you are spending time in nearby Sibenik or Split but you can't go wrong with visiting either place. Both Plitvice and Krka are stunning.
Read about my experience and tips for Krka National Park or visit the official Krka tourism website.
Visiting Plitvice Lakes in 2022 – Summary
Visit the lakes in late spring or early summer.
Book your ticket online, well in advance.
Book or arrive at opening times or late afternoon to avoid the crowds.
Take your own food and water.
Pick your trail before you get there to save time.
Be aware that some trails may be closed in the off-season.
Stay in the area for a more relaxed experience.
Take a day trip from Zagreb or Zadar if you have limited time.
Book a tour if you don't want to organise your own visit.
This post contains affiliate links to hotels and tours in Croatia. This means we get a small commission from any bookings at no extra cost to you