With December being a busy travel time, now seems like a good time to resurrect my 'Where to Go in Europe' travel series with a winter update. You can find links below with ideas for other months but here are some of the most popular and interesting destinations for December.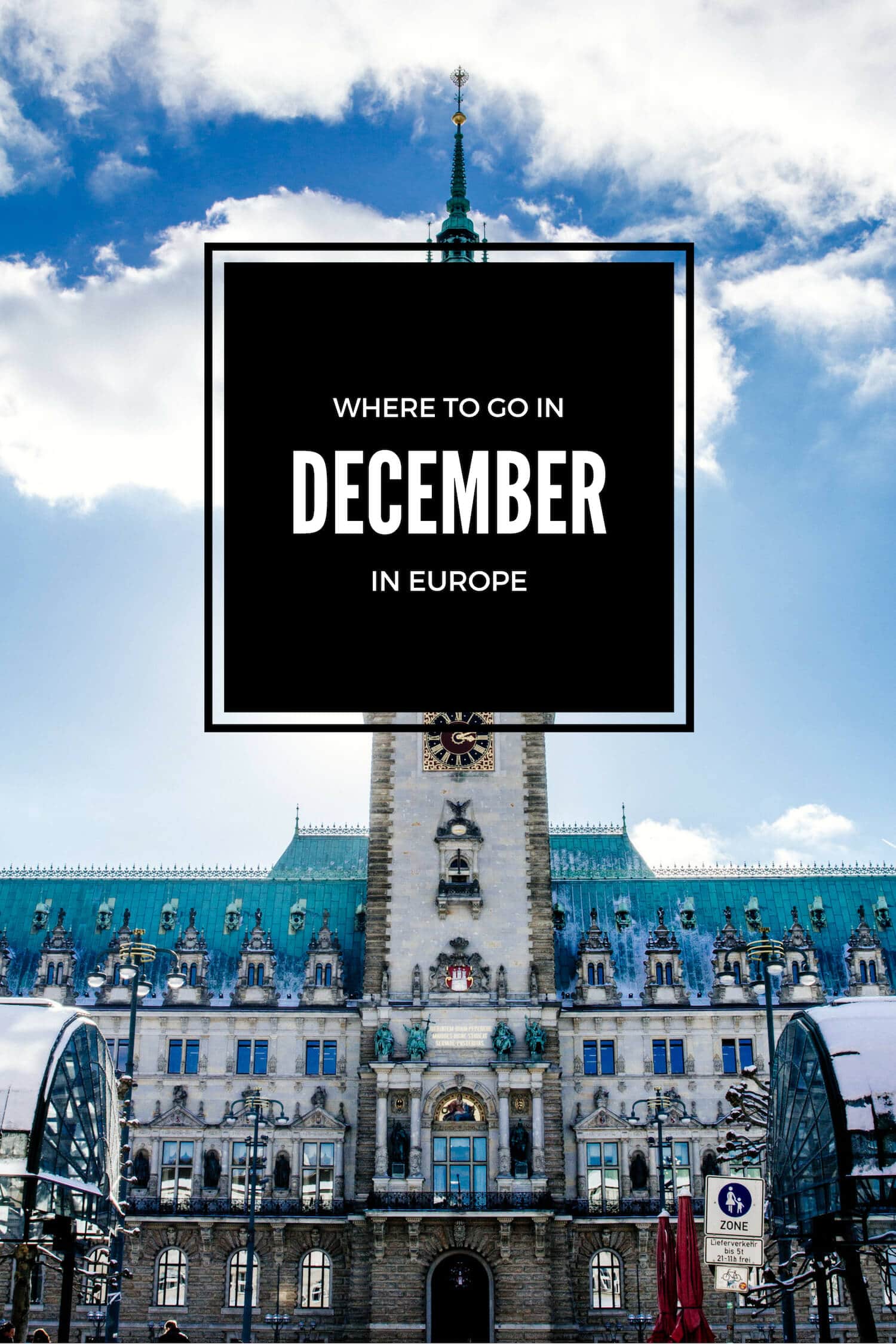 Where to Go in Europe in December
One of the most popular December travel experiences is visiting the Christmas Markets. I have two detailed guides which might help you pick where to go, Christmas Markets in Central Europe and Alternative Christmas Markets. My personal favourite markets are located in Vienna, Dresden and Ljubljana but Munich is also a great place to visit in December.
This post goes into all the best Christmas markets in Europe in 2022.
For more ideas on travelling in December, read our post on European winter city breaks or the one on winter holidays in the sun. All these can be found on my list of the best places to visit in Europe. It's a simple post designed to inspire your next European vacation.
Munich, Germany
The Bavarian capital is one of Germany's most popular travel destinations but the city has even more than usual to offer in winter. The main Christmas market is in Marienplatz, the extravagant main square, but there are many smaller markets too like the medieval market at Wittelsbacherplatz. Alternative markets like the Pink Christmas Market and Tollwood Winter Festival are other options.
When the temperature drops a little too low for comfort, head to the museum quarter to experience old, new and modern art at the Pinakotheken (Alte, Neue and Moderne). Follow that with some of the best shopping in Europe and a touristy dinner at the famous Hofbrauhaus beer hall, inclusive of live cheesy Bavarian music.
Ohrid, North Macedonia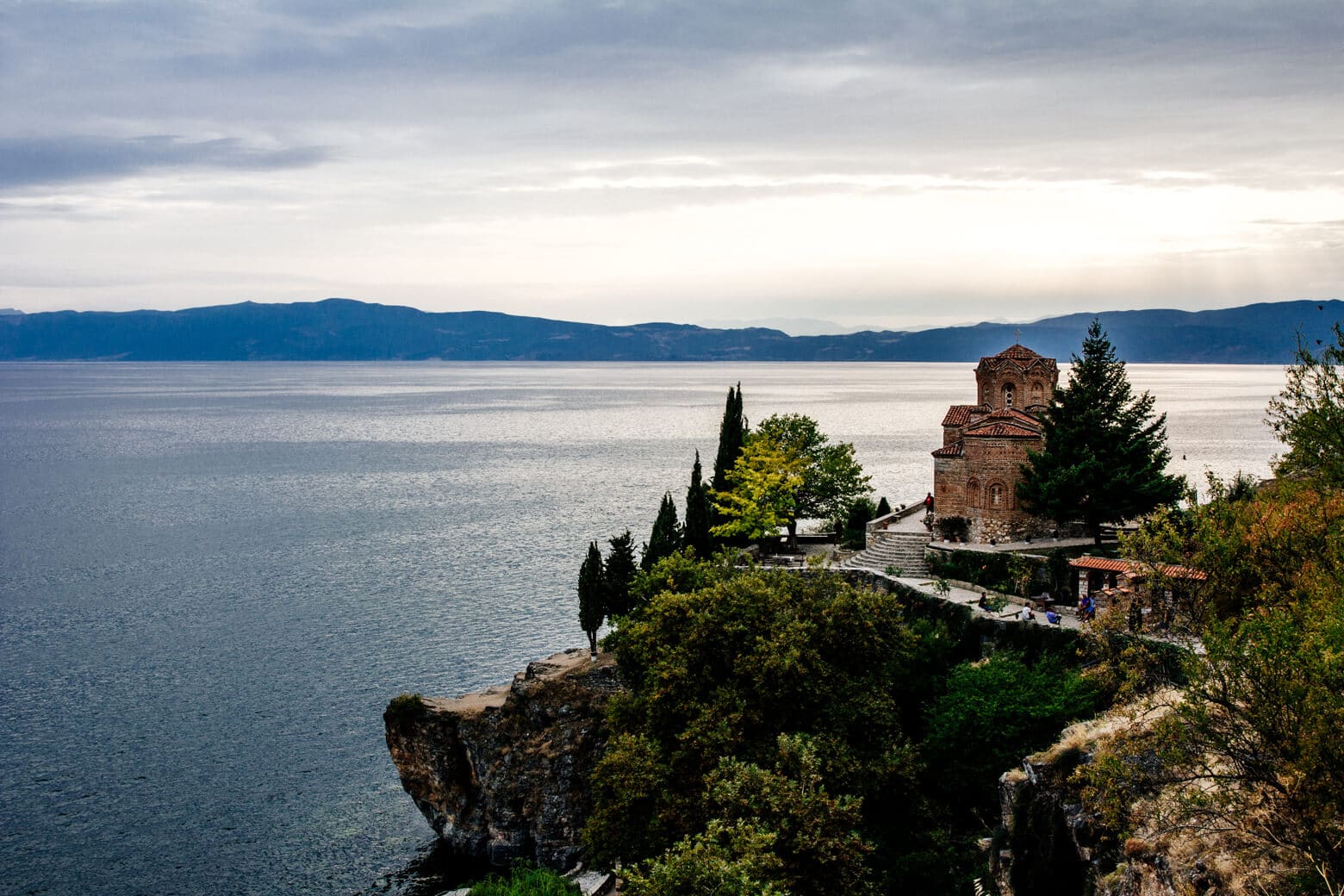 The last time I wrote about Ohrid I gushed how it was the most peaceful destination in the Balkans. At the time I honestly believed it to be true. Watching the sunset from the church, the gentle sounds of water lapping on the lake edge, a small fishing boat puttering by. It was paradise.
Then I visited in summer. Quite a different experience. Music was blaring all night long. Every single cafe was filled with smoke. Not to mention the party boats. The beautiful, peaceful lake was tarnished by drunk tourists screaming and partying on crowded boats circling the shore. I'm clearly showing my age here but honestly, that was not a great experience.
Moral of the story? Visit Ohrid in the off-season if you want peace and quiet or during the summer months if you're interested in nightlife. Ohrid in December is peaceful and wonderful.
Amsterdam, Netherlands
I was shocked and scared the first time I visited Amsterdam for New Year's Eve. Fireworks were going off in every direction on every street, over the canals and out windows. It was like being in a war zone. At least in my sheltered mind.
Individuals aren't allowed to set off fireworks in Australia and I wasn't expecting this to be a thing elsewhere. But I later learned this is how they do fireworks in Amsterdam and much of Europe. Now that I know what to expect, I'm much more chilled about the whole experience and even though I still get nervous, I can now appreciate the craziness of New Year in Amsterdam.
It's getting quite late to book for New Year's but there are still a few good deals for Amsterdam like The Hoxton and the hybrid hotel/hostel Via Amsterdam or go for somewhere offbeat like a houseboat on one of Amsterdam's famous canals.
If you can't make it to Amsterdam in December but would still like to go at some point, this guide to the best time to visit the Netherlands might help with planning your travel.
Ghent, Belgium
Sometimes you just want an easy to visit destination. Somewhere that's hassle-free to get to, the sights are within walking distance and the food is simple yet delicious. That's how I see Ghent in the Flemish region of Belgium.
Ghent in December is a stress-free, weekend destination that requires little planning and won't cost a fortune. It's a great walkable city making it easy to get from one place to the next quickly and easily without having to spend too much time out in the cold, especially as it might be snowing in December.
As a smaller city, you won't have to spend all day rushing around to see the sights, you can sleep late or take a leisurely lunch, do a little window shopping or visit a museum. Destinations like Ghent are underrated, where your visit is a rejuvenating holiday rather than a crazy visit to a bustling, dynamic big city.
Venice, Italy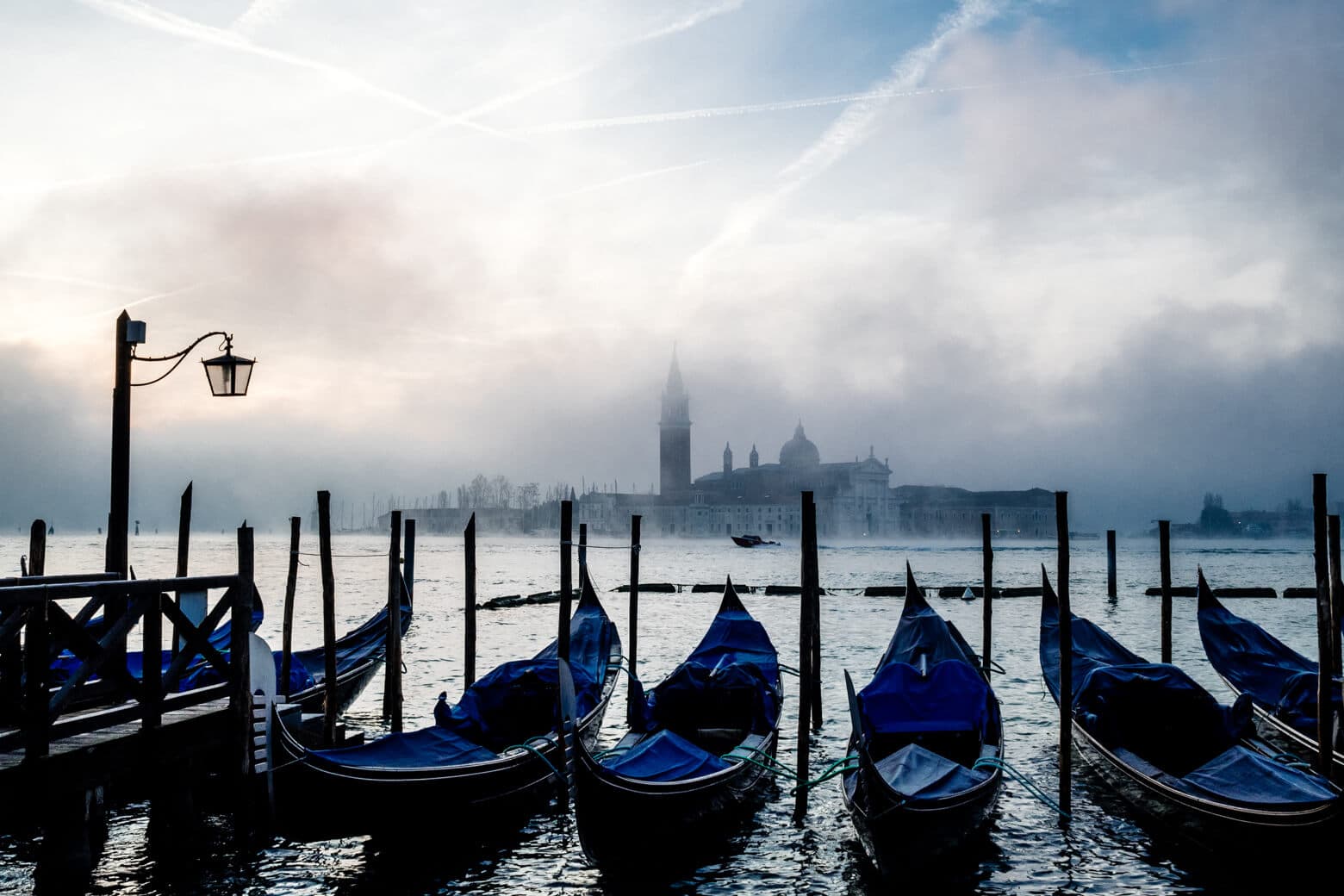 One of the most special travel experiences of my life was watching the sunrise over St Mark's Square with gondolas bopping on the lagoon in the distance. It was an experience I shared with few others even though Venice is known for being overcrowded and over-touristed. But if you can get out of your warm bed while it's still dark and minus outside, you'll be rewarded with empty squares, calm canals and tourist-free photos.
Yes, you will be cold but getting lost in the back streets before eventually stumbling into St Mark's Square (unless you really are lost) is worth the chill. As the climate warms, snow is becoming less common in Venice but it's highly likely you'll get to experience a foggy morning, a classic, eery experience in Venice.
Venice is a mind-blowing destination and, in my opinion, this is the only way to see the city and December is the best time of the year to visit. It's a destination you might want to get to before rising waters and environmental degradation do further damage to this fragile ecosystem and the historic city.
Transylvania, Romania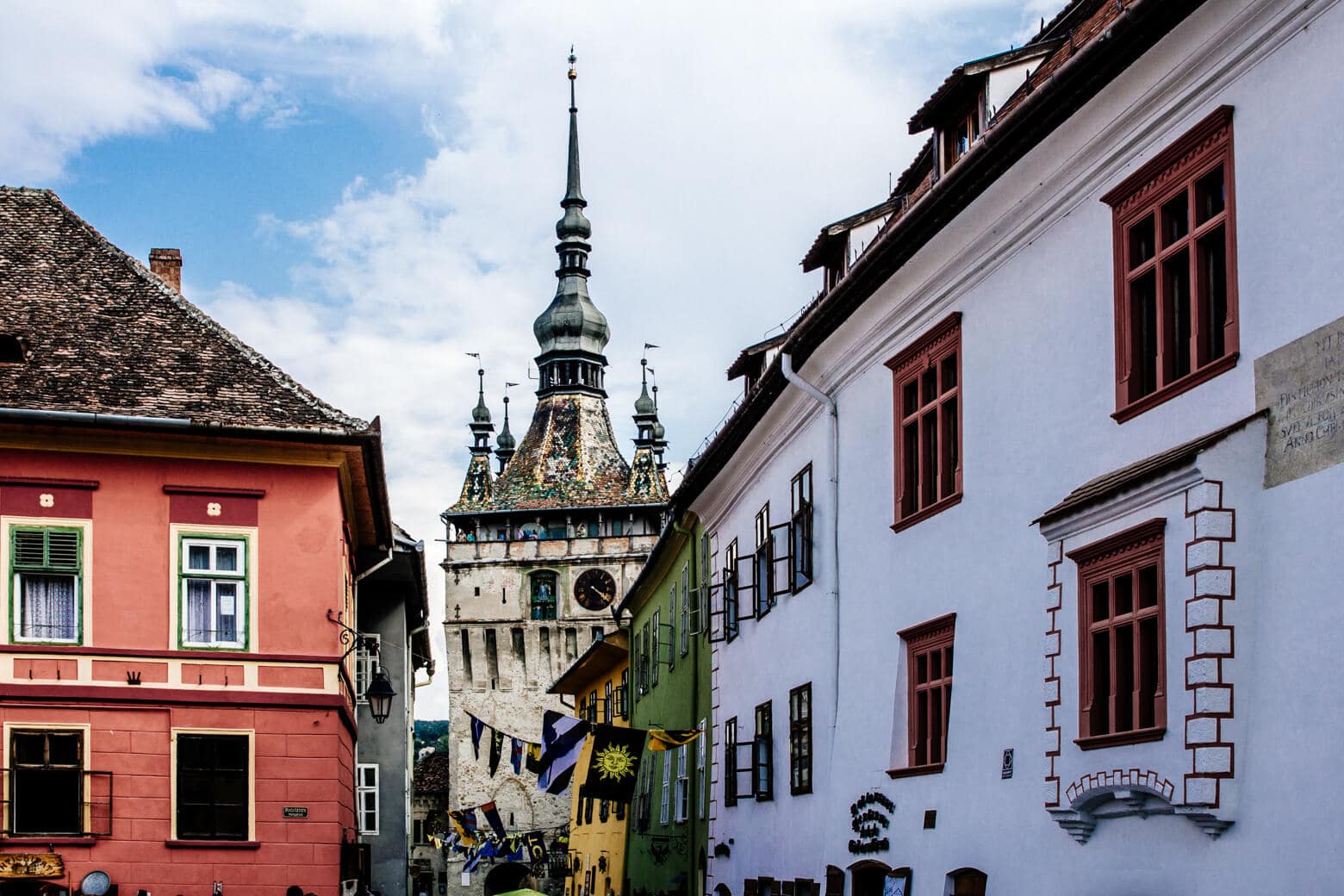 The destination of medieval kingdoms, eastern invasions and legends of violent impalement. Transylvania has a wicked history that goes far deeper than Dracula. The region has a recent mixture of Hungarian, Germanic and Romanian influences and so much more going further back.
If you're looking for a more affordable European holiday in December, Transylvania is hard to beat and it's a region filled with incredible cities. Consider Timisoara for its bold secessionist architecture, Sibiu for its Saxon history, Brasov for its access to Bran Castle (Dracula's Castle) or Sighisoara for the most beautiful medieval town in all of Romania.
Romania might not cross your mind when thinking of where to travel in Europe, particularly in December when it can snow or at least be raining but you'd be surprised how stunning it is. It looks like a cross between Hungary and Germany and the people are some of the most welcoming you'll find anywhere in Europe.
Zurich, Switzerland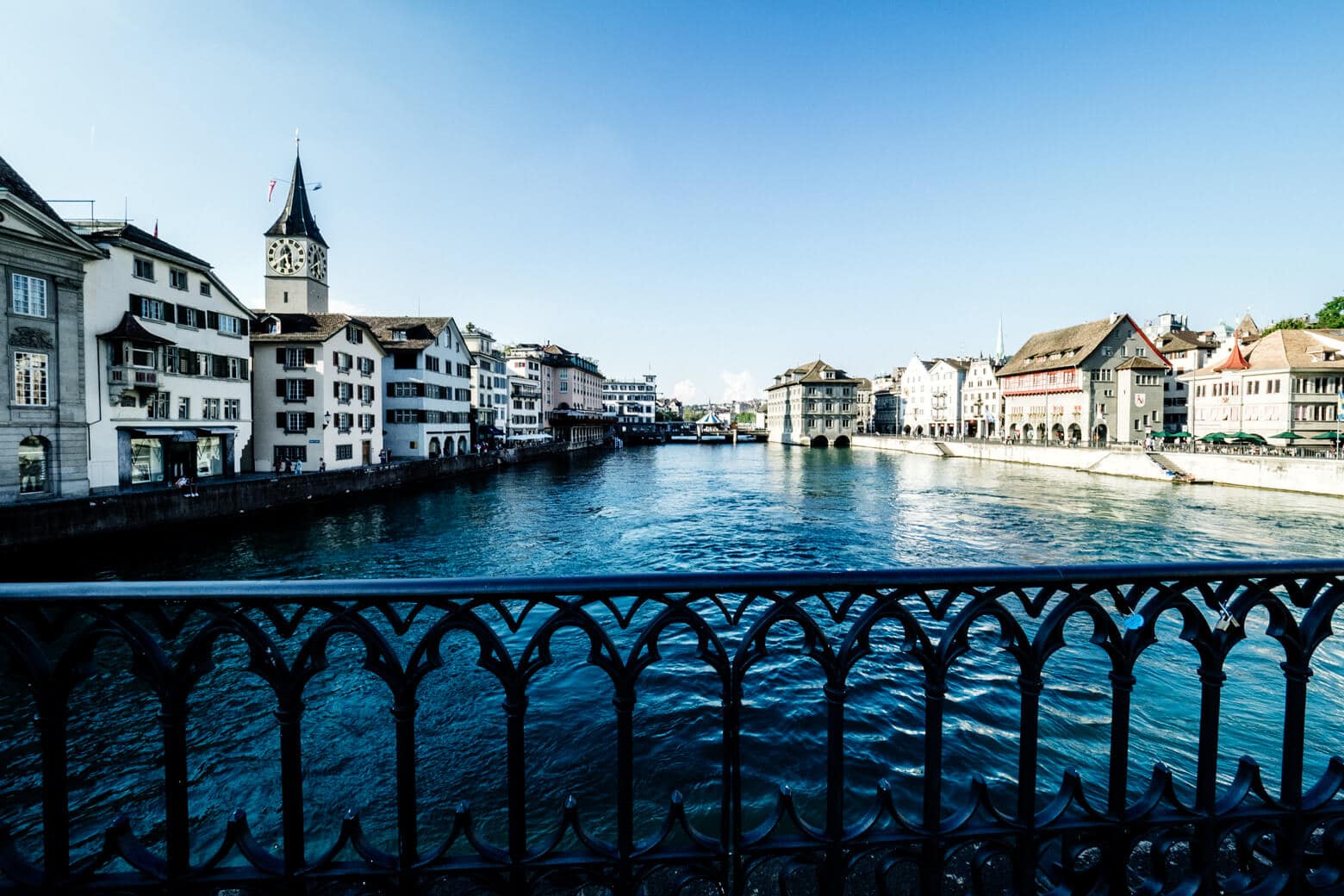 If your budget isn't much of an issue or you'd prefer a luxury destination, Zurich in December is amazing. The Old Town has a cosy feel, it's great for shopping and drinking Swiss hot chocolate or for visiting the Zurich Christmas market.
Zurich is especially great if you love to travel for food. You can get takeaway meals or picnic-style supplies at the fantastic Markthalle im Viaduct or one of many delicious bakeries and chocolate shops like John Baker and Vollenweider Chocolatier. This is why staying in an apartment in Zurich is beneficial, giving you plenty of space to prepare meals or snack on cheese or chocolate.
For eating out, there are so many options but look for classic dishes like rosti and fondue as well as modern vegetarian restaurants and hipster cafes.
But yeah, just to reiterate, Zurich is not for the budget-conscious. It is most definitely a luxury destination unless you don't mind staying in a hostel or a bit further out of the city centre, something that might not be appealing during a cold snap.
Hamburg, Germany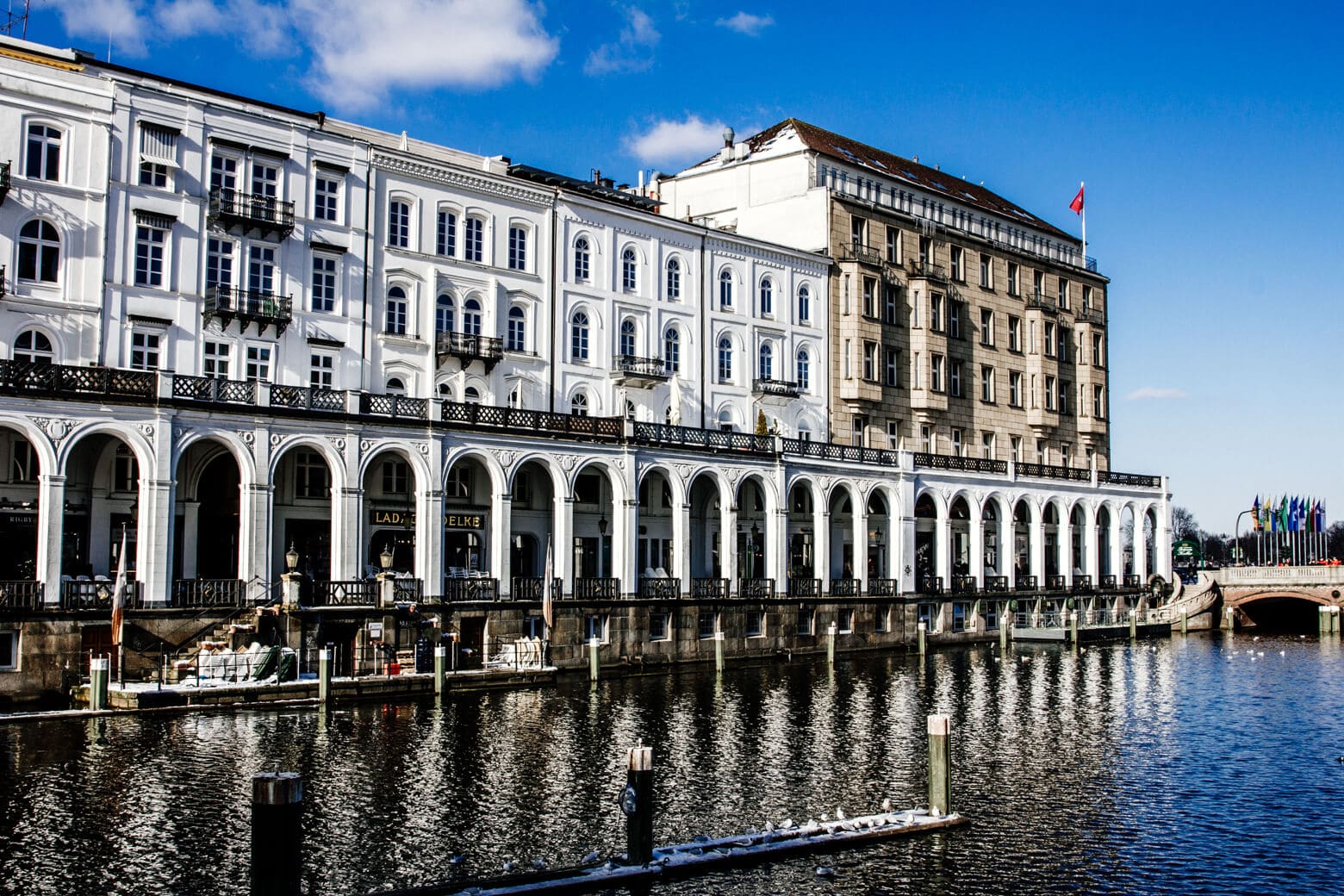 I got extremely lucky in Hamburg. The day I arrived a huge storm covered the city in powdery snow. Then the clouds parted and we had clear blue skies for the rest of the trip. The city looked so beautiful from every angle. I'm sure the locals weren't quite so happy but I love snow!
Hamburg is one of the coolest cities in all of Europe. It's full of hipster cafes, vegetarian and vegan restaurants mixed in with hamburger joints. Hamburg is obviously not as touristy as elsewhere which might explain why the locals seem friendlier and more welcoming and that's saying something as I find the German's to be some of the friendliest Europeans.
If like me you get to visit Hamburg in December and the snow is falling, take heart in the fact the city has some incredible indoor attractions including the city's famous thermal spas, the quirky Minature Wunderland, countless museums and if you feel like you can handle the cold, ice skating is a must.
Stockholm, Sweden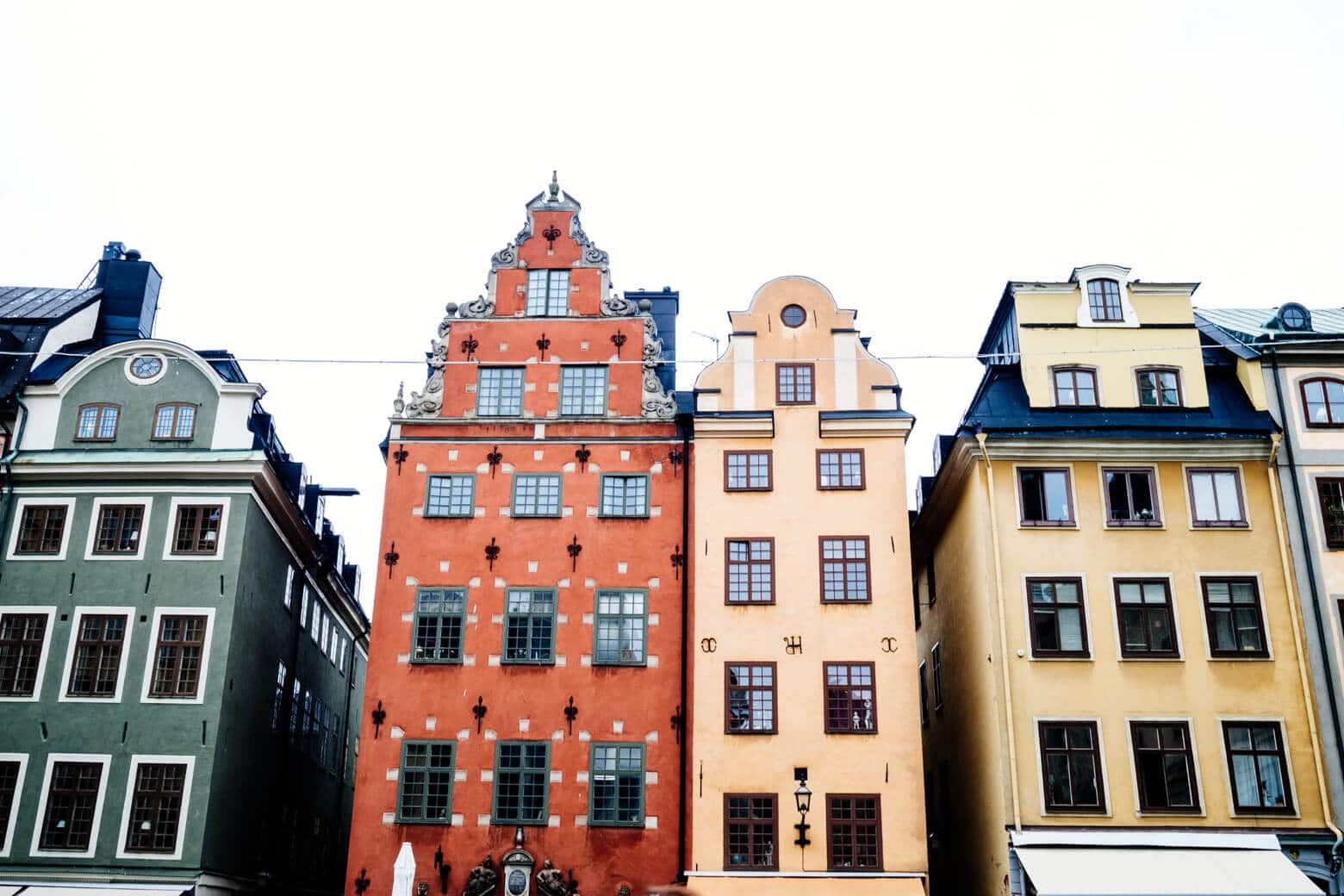 The great thing about visiting Sweden in winter, or anywhere in northern Europe for that matter, is they are totally geared up for it. It's not like other places when there's a light dusting of snow the entire city grinds to a halt (hello London!).
Stockholm is beautiful in winter, they know what they're doing, there are loads of indoor activities to keep you busy as well as outdoorsy things like ice skating, drinking mulled wine or even proper skiing. I prefer activities of the eating variety and if you're with me on that, you need to educate yourself on all things fika.
Minsk, Belarus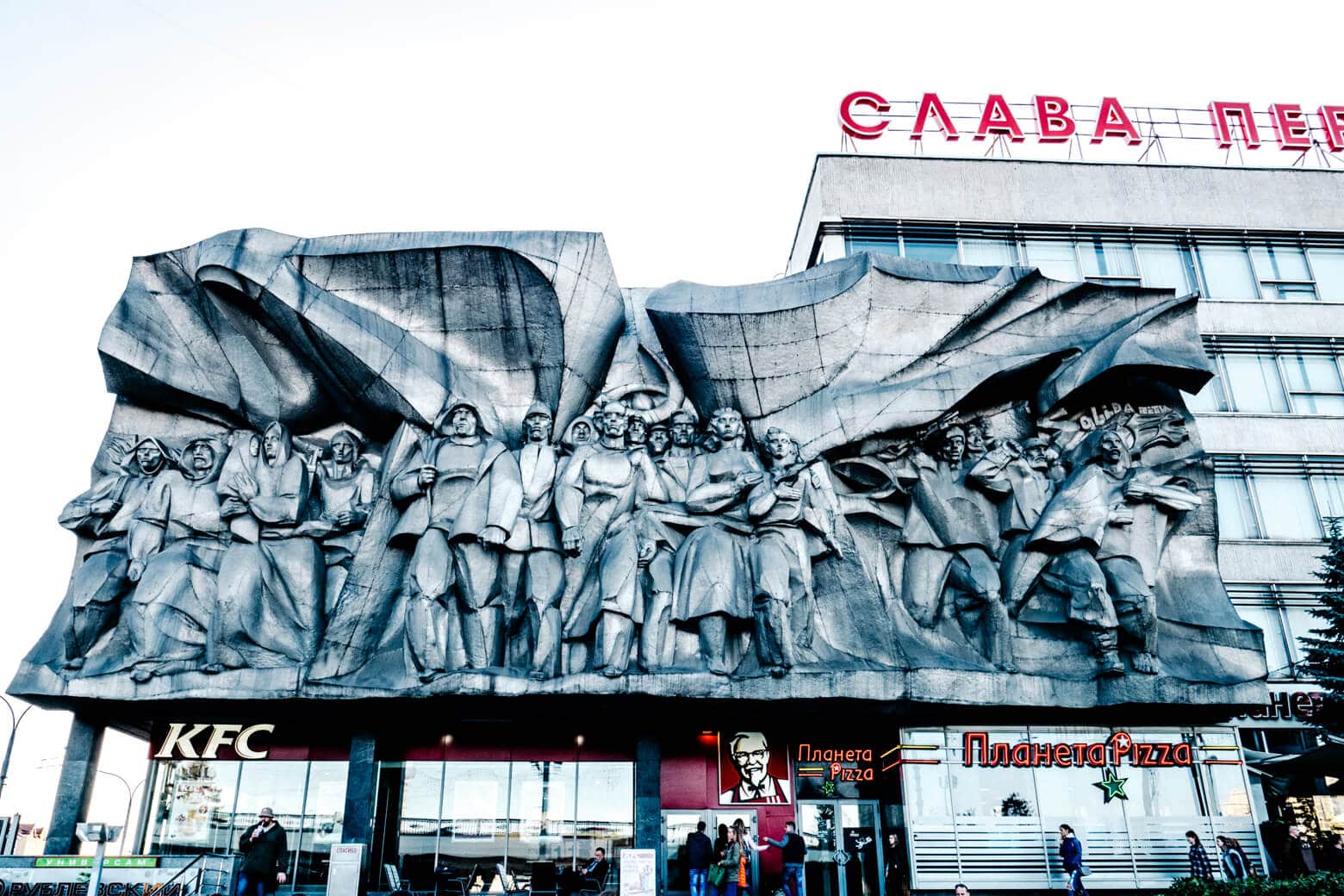 Now that Belarus has extended their visa-free stay to 30 days, you can visit for the entire month of December! Ok, you probably wouldn't want to do that (I totally would), but five days in Minsk should be enough to immerse yourself in this Soviet world.
And it will be an immersive experience. You won't meet many people who are fluent in English, if you can even get anyone to speak to you, so start working on your Russian! I'm exaggerating of course, but I honestly struggled to find anyone willing to speak to me at all. Not sure what I was doing wrong! Quick tip though, while you don't need to learn Russian, learning to read the Cyrillic alphabet is hugely beneficial. You'll be surprised what you will understand once you can read the alphabet. Quick tip number two, the coffee in Minsk is awesome!
I recently published a neighbourhood guide for where to stay in Minsk and what to do there as well as where to find the best specialty coffee shops. Minsk is a great place to travel in December and depending on when exactly you visit, watch out for winter solstice celebrations.
Tirana, Albania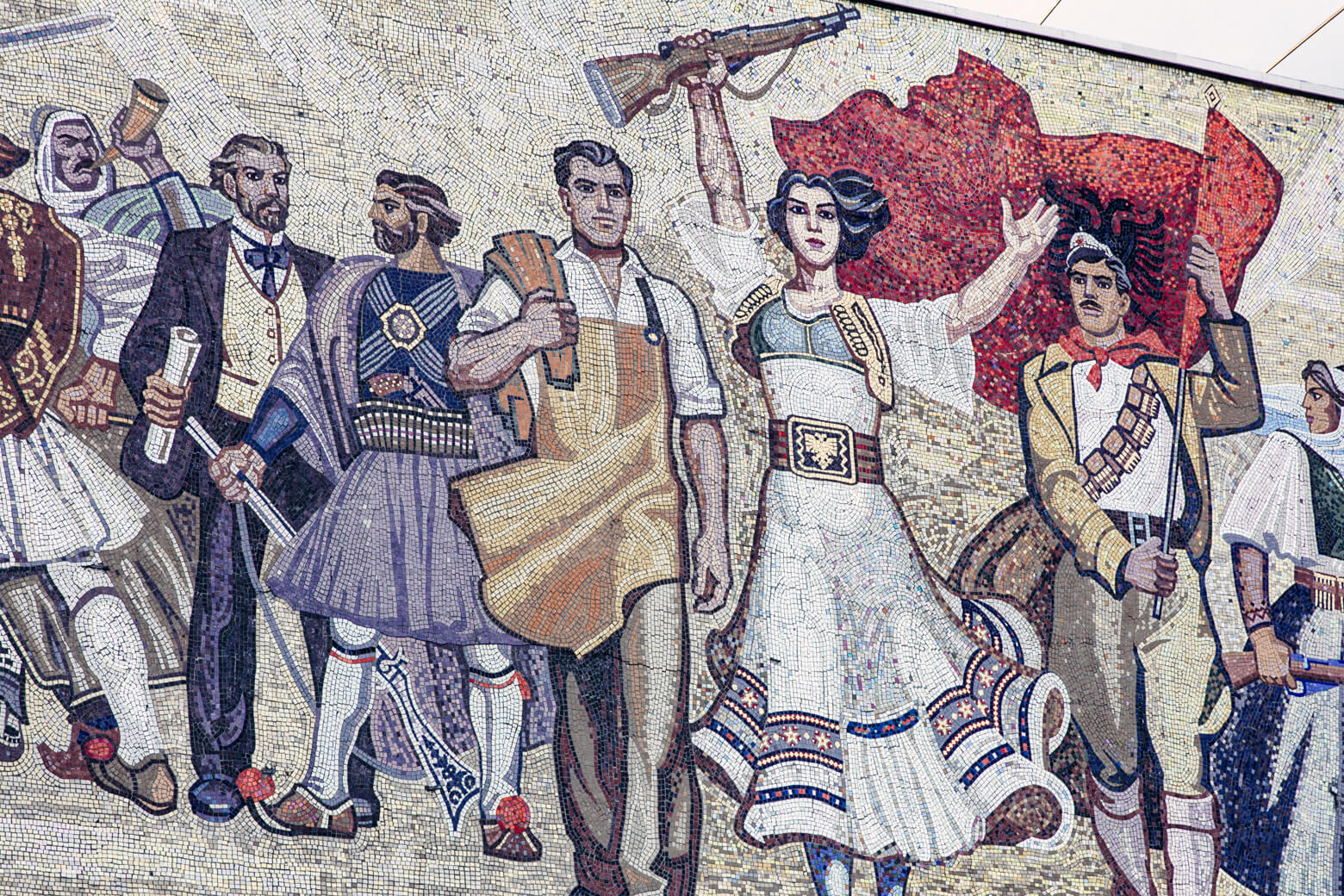 As mentioned in my recent Tirana city guide, Tirana is a city that never sleeps and is an interesting off the beaten path winter destination. Albania's most popular holiday is New Years, which means you can find fireworks all around the country and street parties in Tirana. Find out where to stay in Tirana and which neighbourhoods are worth exploring. From Tirana, the port city Durres is only a 30-minute drive away or you can visit the mountain village Kruja or take the cable car up to Mount Dajti.
This is just a sample of some of the best places to visit in December. Don't be put off by the cold weather or by places that snow, winter in Europe is a wonderful experience and fewer crowds are always a bonus.
This post contains affiliate links to my recommended places to stay.