After a couple of quiet years, this year is expected to see huge numbers return to Germany's Christmas markets. Having visited Nuremberg Christmas Market on several occasions, I know how busy it can get and how important it is to book a hotel well in advance.
Given that Nuremberg is the most visited of all of the markets across the country, you can expect to see quite a bit of competition for the best places to stay. This is especially true if you're looking for hotels near Nuremberg Christmas Market and not somewhere further out like near the train station.
Hotels Near Nuremberg Christmas Market
Nuremberg Christmas Market is located on Hauptmarkt in Altstadt (Old Town). Although there are a couple of smaller markets, like the Children's market, this is where you'll find the large main market.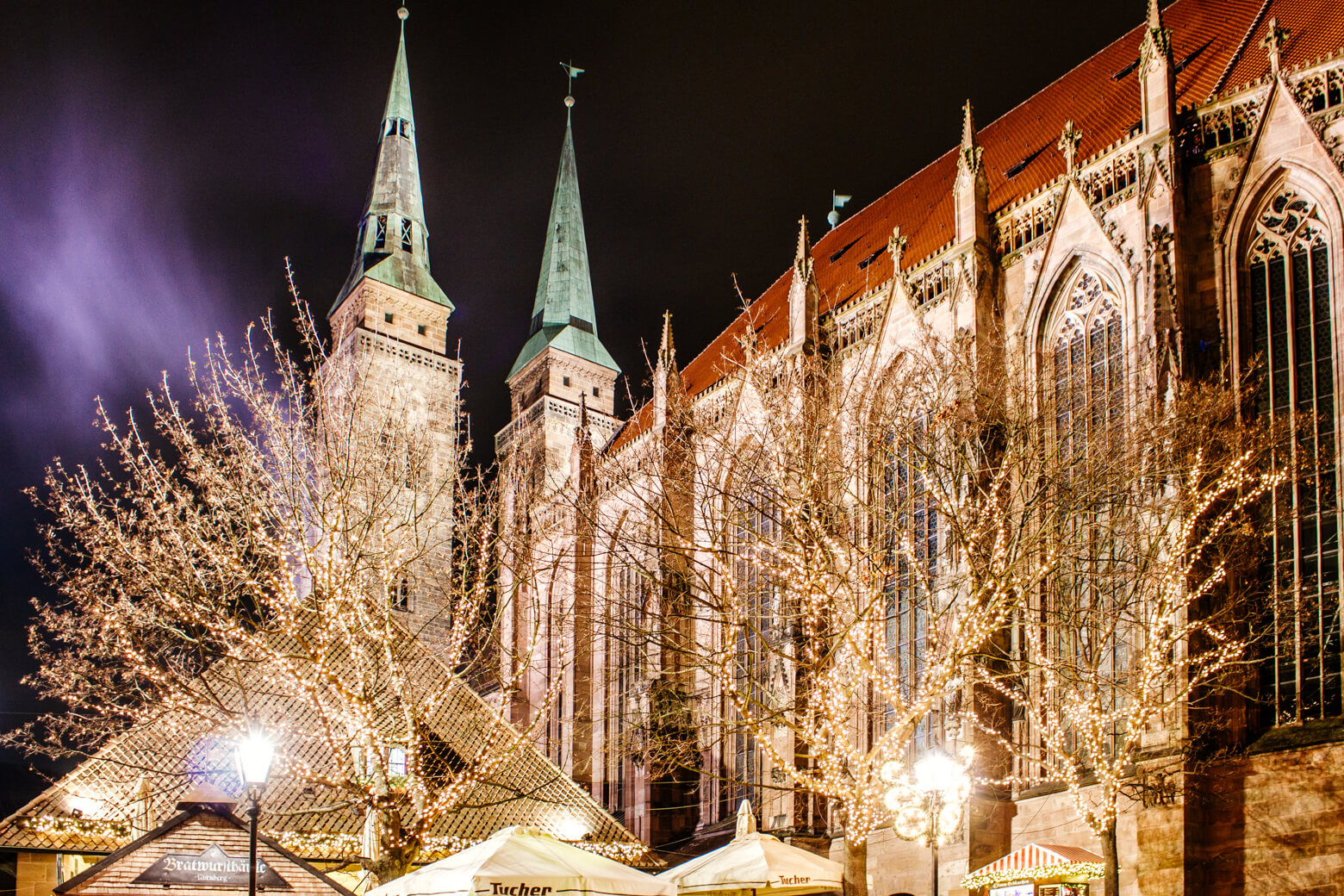 Hauptmarkt is a huge open cobblestoned square that is lined with buildings that are home to shops, cafes, restaurants and bakeries (these are amazing).
On this square, you'll also find the Frauenkirche, a Gothic church dating from the 14th century. Also worth looking out for is the Beautiful Fountain, an unusual attraction that is designed to resemble a Gothic spire. It can be difficult to spot amongst the Christmas stalls but you'll know it when you see it.
If you want to stay close to the Christmas market, then anywhere near Hauptmarkt would be ideal.
I would probably avoid staying near the train station as this is approximately a 12-minute walk away. This might be ok at other times of the year but Nuremberg can get very cold and rainy in November and December.
However, if you're arriving by train, it's not a bad area to stay in and I stayed in this area myself on one occasion. It's also very close to the Germanisches Nationalmuseum (History museum) and New Museum for works related to art and design. Both are excellent museums that I recommend visiting.
The third option is to stay near Albrecht Dürer's House. This is the original house of one of Nuremberg's most famous artists during Renaissance times. It's an interesting place to visit if you want to see what it's like inside a historic half-timbered house.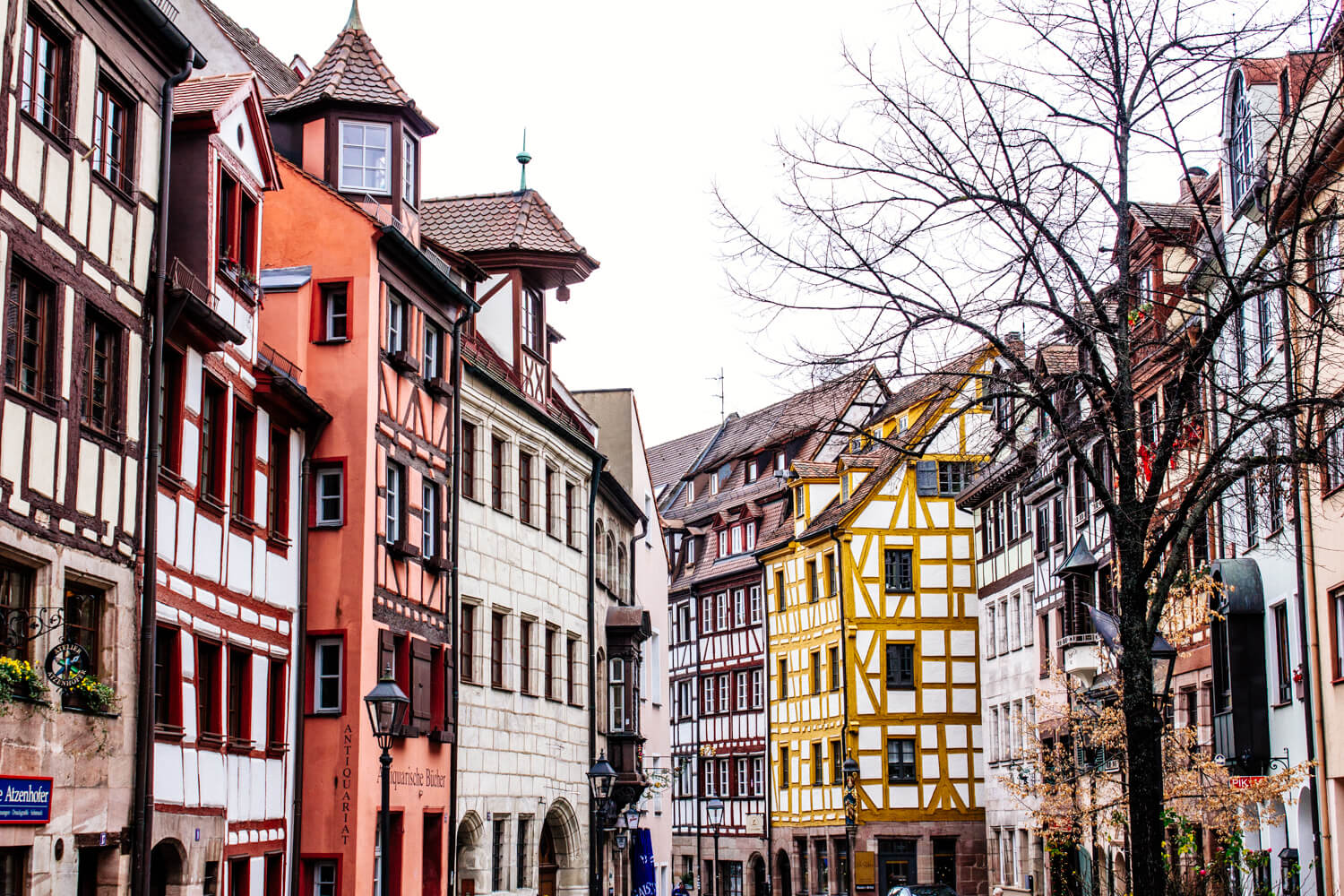 This is a great area to stay as it's located at the base of Nuremberg Castle and there are many excellent cafes in this neighbourhood too. If you stay here, it's around an 8-minute walk to the Christmas market, so not too bad if you're able. However, it's around a 20-minute walk from the train station.
Top Pick
Karl August
Address: Augustinerhof 1, Mitte, Nuremberg, Germany
Karl August is a small hotel located around 60 metres from Nuremberg Christmas Market so this is effectively a 1-minute walk away. This not only means that you can easily visit the market at any time of the day but you'll be part of the Christmas atmosphere with Christmas lights, decorations and a vibrant atmosphere at your door. The hotel has beautiful, modern design features, quality fittings, beds and pillows and plenty of natural light into the rooms.
Features:
Continental breakfast with vegetarian, vegan and gluten-free options.
Indoor heated swimming, open all year round.
Gym with a spa and sauna (great for after a day of exploring).
Soundproof rooms that are completely smoking free.
Popular restaurant on-site.
Sustainability:
No single-use plastic is used.
Energy-efficient lighting and double glazing to reduce energy use.
Most food served at the hotel is locally sourced (reduces transport emissions).
Measures for reducing food waste are in place (reduces methane emissions).
Check Availability
Next Best
Motel One Nürnberg-Hauptbahnhof
If you are arriving by train and would prefer to stay nearby, I highly recommend Motel One. This is a chain hotel but it's a great budget-friendly option. The lounge areas and rooms are modern, clean and comfortable. As a relatively new hotel in Nuremberg, you can be assured everything is in top condition. I have stayed at Motel One on several occasions but not this one in Nuremberg. But from my experience, it's an excellent choice. As for sustainability, Motel One uses 100% renewable energy for their electricity. This is extremely important for addressing climate change. I think it's worth staying here for this reason alone.
If you're still in the planning stages of your trip, I published some Christmas road trip ideas that might provide some inspiration on where to go on your end of year holiday.
Responsible Travel
When planning where to stay it's worth thinking about the social and environmental impact of your travel choices.
Staying in a sustainable hotel is an important consideration and it's especially impactful to stay in a hotel that uses renewable energy as its primarly energy source. Then you can look for hotel sustainability measures like the avoidance of single-use plastic, access to green space, contributions by the hotel to community projects and the fair treatment of workers.
It's also recommended to use active and public transport options to reduce noise and air pollution and greenhouse gas emissions. Active transport means walking and cycling and these are the most eco-friendly and healthy ways to travel.
When choosing a hotel, look for locations with good acces to public transport and protected bike lanes. This is less of an issue in Nuremberg as the city is very pedestrian and bike-friendly. Much of the Old Town is car-free and very safe to get around.
Map of Hauptmarkt
The German national travel website might also be useful for travelling sustainably in Nuremberg.
If you have any questions or would like to leave a hotel review, please do so in the comments.
—
Recommendations are independently chosen based on personal travel experiences and extensive research. This post contains affiliate links to hotels in Nuremberg, Germany. This means I get a small commission from any bookings at no extra cost to you.