"Bonjour! Je peux vous aider?"
That wasn't the greeting I was expecting as I wound* down the car window in the centre of German speaking Salzburg, Austria.
"Je cherche un hotel", I replied in my best French accent.
The lady cheerily pointed me in the direction of my hotel before cycling away on her classic blue bicycle.
It took me a couple of minutes to realise she had noticed our French plates before offering language appropriate assistance to a couple of new visitors to her city.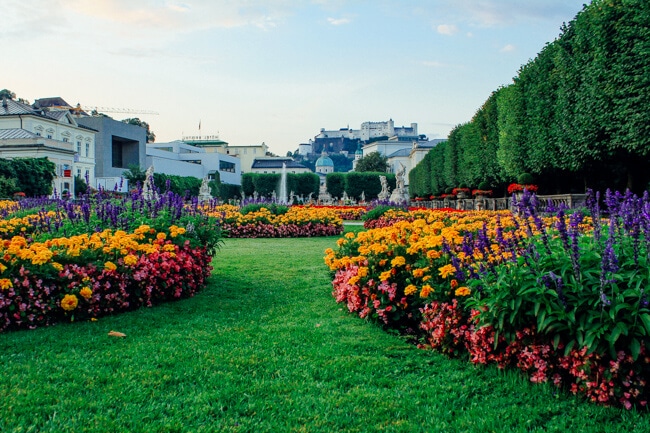 Inspired by a photography tour a few days earlier, I dismissed my night owl tendencies and dragged myself out of bed before sunrise. As difficult as it is there are obvious benefits to this. Salzburg is a compact city with all the main sights within walking distance. Once the thousands of daily visitors are out exploring, the city can become a little unbearable but aside from a few committed dog walkers, I watched the sunrise alone. There were no camera toting tourists ruining my photos of the Mirabell Gardens and the freshly washed pavement glistened in my photos.
I had hoped to be rewarded for my efforts with a stunning sunrise but the mauve hue cast over Hohensalzburg Fortress was acceptable too.
The Mirabell Palace also looked lovely basked in the morning light, especially looking past the stone men guarding the entrance to the palace gardens.
I'm still unconvinced it's worth being tired all day for a peaceful walk and a few photos but I think it probably is.
My second reward was a coffee break at Cafe Sacher, home to Austria's most famous cake, the Sachertorte. This reward was also less satisfying than expected. I've done my due diligence with this cake, trying it multiple times in multiple locations, including the cafe of its origin at Hotel Sacher. But I find it dry, bland and almost stale tasting. It's definitely not your typical chocolate cake.
An alternative and in my opinion better option is to hunt down the Salzburg Nockerl. A light, fluffy icing sugar topped soufflé usually served with raspberry sauce and baked to order. It's designed for sharing but hey, no judgement.
* Do people still say 'wound' down when referring to a car window seeing as it's all electric now?