If you purchase through links on this site, I may earn a commission at no extra cost to you. As an Amazon Associate I earn from qualifying purchases.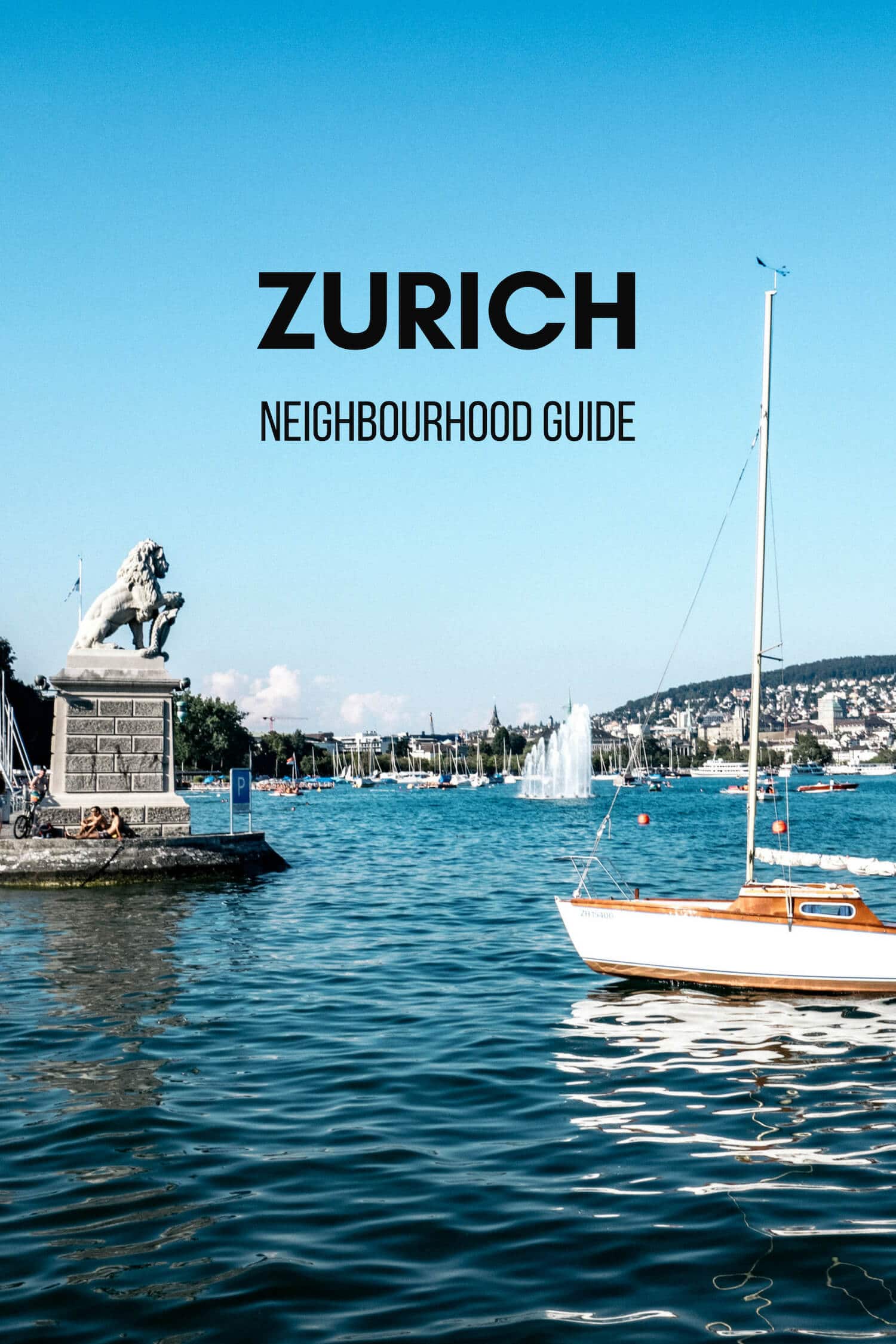 It's no secret Switzerland is expensive. I've been a handful of times since 2001, mostly passing through but a couple of times on longer stays in Zurich. I don't know why I'd expect anything different but I still get sticker shock each time I arrive.
I can barely even afford to eat in Switzerland which is why I normally make a picnic in my hotel room rather than eating out! I'm so cheap, I know. But Switzerland is a beautiful country and worth visiting, so where to stay in Zurich?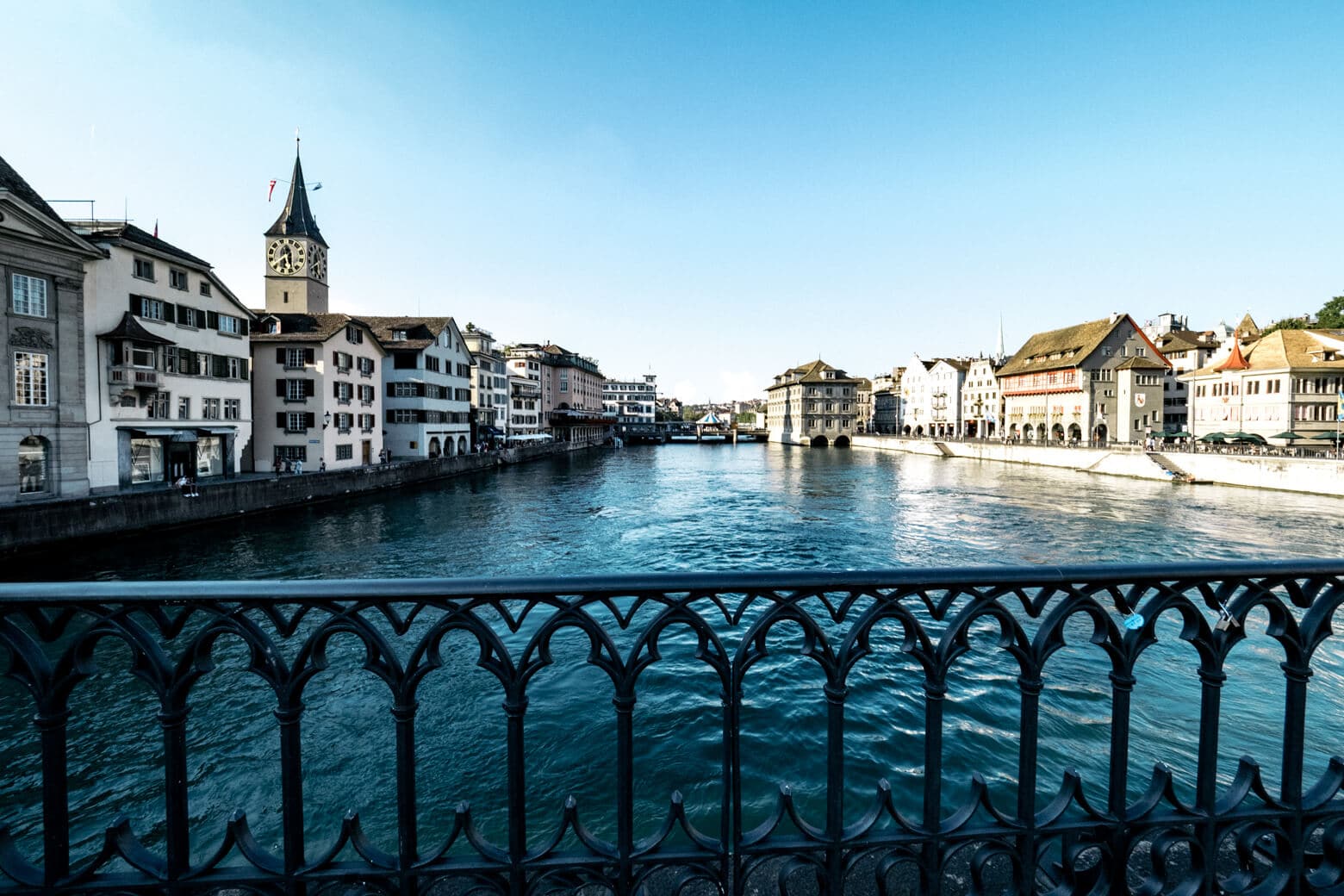 Where to Stay in Zurich
So when figuring out where to stay in Zurich it's more than finding the best area or coolest design hotel, which are my normal criteria for accommodation, but instead what fits the budget becomes the priority.
Everyone's hotel search is different but for me, I'm usually looking for a hotel which is close to the city centre or sometimes the train station if I'm arriving by train.
More important than location is a hotel that is clean, modern and preferably minimalist in design where some thought has gone into sustainability or the use of local suppliers.
That sounds like a lot to ask but I'll usually find something that fits my criteria for less than €100 per night (or way less if I'm on a longer stay).
Hotels for All Budgets
In Switzerland, you might not be able to get everything you want within your budget, but if you can be flexible on when you visit, you can still find some great deals. The last time I was in Zurich I stayed at the 25hours Hotel Zurich West and would definitely go back. I only paid around €90 per night so I was pretty happy. Honestly, this was a great deal for Zurich.
To make finding a hotel easy for you, I suggest staying at one of the following three hotels. But if you prefer, scroll down to read about Zurich's neighbourhoods and a guide to the best areas.
Boutique Hotel: 25hours Hotel Zurich West
25hours Hotels have boutique hotels in Vienna, Hamburg, Zurich and a few other cities. They are always clean, located in the city's 'hipster area' and they make an effort to use local producers, artists and designers in the fit out of their hotels. They are one of my favourite small hotel groups in Europe and I stayed at their City West hotel last time I was in Zurich.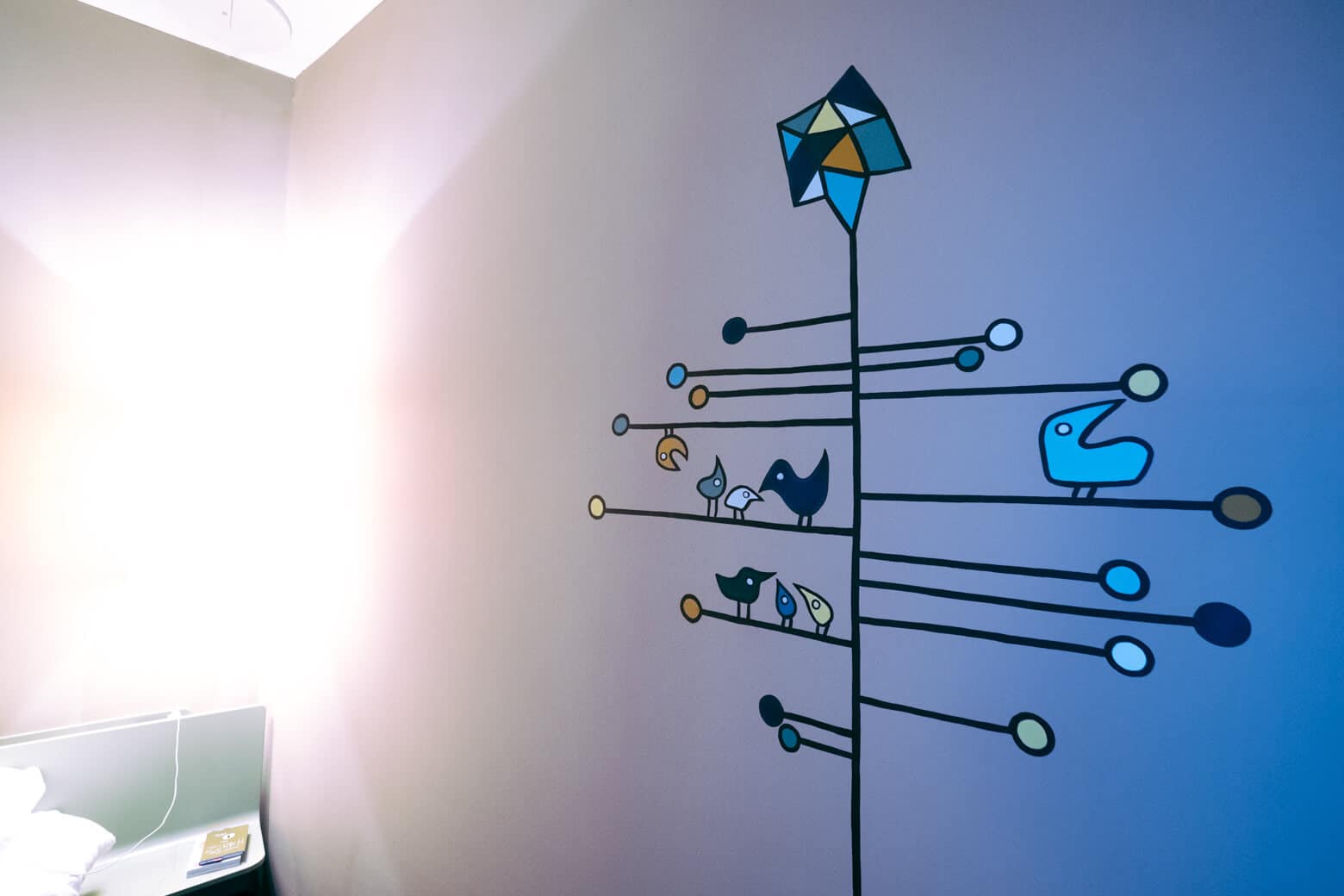 They offer free services like the use of bikes or their Mini car if you fancy a day trip out of Zurich. There is always free tea and coffee available and they do an incredible organic breakfast buffet.
They have two locations in Zurich, City West is a former industrial area now great for brunch, coffee and evening drinks. The Langstrasse location is near the train station in the heart of Zurich. 25hours Hotel in the City West neighbourhood is the cheaper hotel and in my opinion, it's in a nicer neighbourhood than the Langstrasse location although it is further from the city centre.
25hours Hotel Zurich City West – book here.
25hours Hotel Langstrasse – book here.
Budget Hotel: H+ Hotel Zurich
If you want a cheap hotel but don't mind being in a quiet neighbourhood outside of the centre, H+ Hotel in Altstetten is great value for money. It's a basic, budget hotel, similar standard to an Ibis Hotel if you've ever stayed at one of those. Even though the H+ is a little out of the centre, it's right on the tram line and will get you to the old town fairly quickly. If you're visiting Zurich on a tight budget, I honestly don't think you can do better than this without considerably dropping the standard or staying in a hostel.
H+ Hotel Zurich – check prices.
Famous Hotel: The Dolder Grand
Away from the city centre, high on the hill with views over Lake Zurich, the Dolder Grand is one of Zurich's most famous luxury hotels. It's a hotel which is an experience in itself, a place I'd only consider for a very special occasion or if I found a particularly great deal. In this price range, it's not for everyone but if you're looking for a special hotel and spa experience this is one to remember. I wouldn't expect many people to stay here, I only mention it as an example of the kind of opulent luxury you can find in Switzerland plus it's a hotel of historical significance.
The Dolder Grand – it's expensive but have a look anyway.
Zurich Neighbourhood Guide
If you would prefer to learn a bit about Zurich's neighbourhoods before you book a hotel, I've written a brief guide to help you out.
I think it's best to think about what you're going to be doing in Zurich, how much sightseeing or shopping or eating out you plan on doing and if you want to walk or are happy taking public transport or taxis.
Or you might be like me and want to stay in a more relaxed neighbourhood with specialty coffee shops, small design stores and great brunch spots.
A Summary of Zurich's Neighbourhoods
Zurich's old town (Altstadt) and most of the city's cultural sights are located in District 1, a compact car-free area between the main train station and Lake Zurich.
This is where you'll most likely want to stay in Zurich for sightseeing and shopping unless you'd prefer to be in the trendier, hipster neighbourhoods like Escher Weiss in District 5 (Zurich West) or the considerably grungier Langstrasse in District 4.
Otherwise, you might like to be right on Lake Zurich which is ideal if you want to swim or take a boat out on the lake or enjoy the many green spaces along the waterfront.
The best neighbourhoods by the lake are Seefeld, a neighbourhood that lines the lake in District 8 and Enge on the western side of the lake in District 2.
Below are my hotel recommendations for each neighbourhood. I've tried to cover budget hotels and fancier hotels too.
Neighbourhood: Zurich City Centre – Altstadt
Hotel Rossli
Located in the historic centre between the Town Hall and Opera House, Hotel Rossli is a 300m short walk to Lake Zurich. The hotel is modern, very clean, yet fairly basic and some of the rooms are small or with low ceilings. The reviews are excellent and this hotel is a great choice if a location in the city centre is important.
Motel One Zurich
Right next to the Botanical Gardens, Motel One Zurich is a fantastic budget hotel in the city centre. If you haven't heard of Motel One, they are one of the best value hotel groups in all of Europe. The hotels have beautiful design features, functional, clean rooms and are always well located. I highly recommend this chain if you're on a budget but want to stay in style.
Widder Hotel
This is not for you if you're on a budget or don't believe in spending money on hotels but I recommend the Widder Hotel for pure luxury and high-end design. This boutique hotel is in the absolute centre of Zurich and would be amazing for a special occasion. The hotel is fitted out to an extremely high standard with all the facilities and services you'd expect of a 5-star hotel in Zurich. This is an incredible hotel.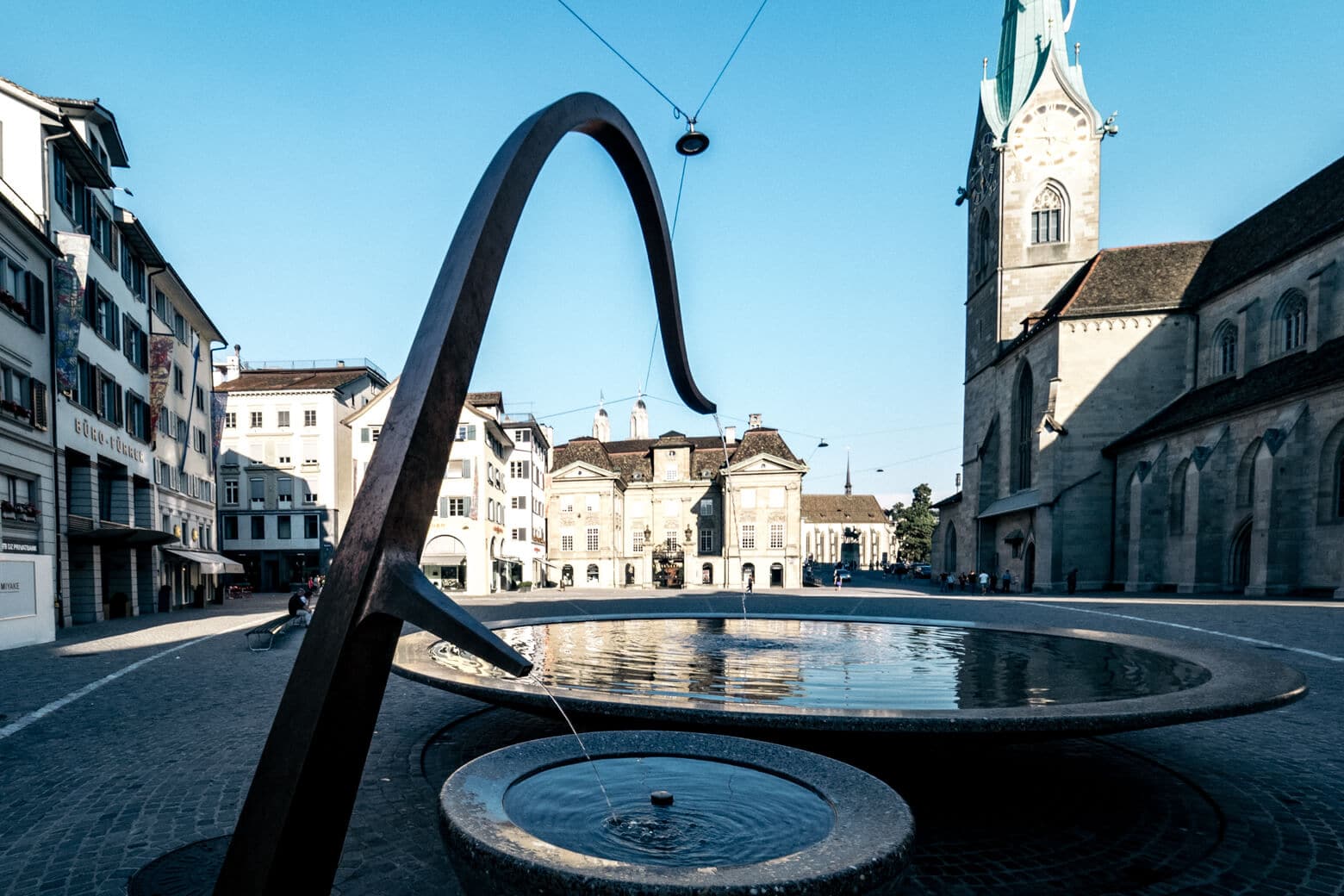 Central Neighbourhoods: Main Train Station & Langstrasse
EMA House Hotel Suites
Down the road from the main train station in Unterstrass is the EMA suite hotel. This is a very modern and beautiful apartment hotel with kitchen and laundry facilities in every room. This is a great choice if you want a light, bright room with more space than your typical Zurich hotel room as well as having an excellent breakfast included in the price.
25hours Hotel Langstrasse
Langstrasse is the former Red Light District of Zurich. I remember it well from my first trip to Zurich when I was propositioned every three minutes when walking through the area at night. I don't even know what I was doing there at night but it was dodgy, to say the least. That was a long time ago and things have changed and it's way tamer there now although still on the grungy side. The 25hours Hotel Langstrasse is right where the action used to be.
Hipster Neighbourhoods: Zurich West – Escher Weiss
Back in 2001, I spent 2 weeks at a dodgy hotel in Zurich West. I was looking for a job and somewhere to live because that seemed like a good idea at the time.
I can't imagine what I was thinking, just turning up in Zurich without a plan, but even if I had found a job, it was impossible to rent an apartment. There was a massive housing shortage at the time and I wouldn't be surprised if that's still the case.
Zurich West was a little rough around the edges and isolated back then but it's now a trendy neighbourhood with professional couples and young families enjoying the hipster cafes and Sunday brunches.
It's further out of the city than some people would be comfortable with but the tram will quickly take you into the centre and on towards the lake.
I love this part of Zurich and the 25hours Hotel City West is my recommended hotel for this neighbourhood.
Viadukt Apartments
Zurich City West includes the Escher Weiss neighbourhood and if you'd prefer to stay in an apartment in Zurich, the Viadukt Apartments are in the best area of Escher Weiss. The apartments are just down the road from the Markthalle im Viadukt, a large gourmet market, the perfect place to get supplies to prepare in the apartment.
The market is fancy and expensive but still cheaper than eating out in Zurich. This is the perfect neighbourhood if you want to be in a foodie and cultural area and a more modern district of Zurich.
Although these apartments are great value for groups of three or more, they're a bit expensive if you're on your own or in a couple.
Lakeside Neighbourhoods: Enge and Seefeld
B2 Boutique Hotel and Spa
An incredible design hotel in Zurich's Enge neighbourhood. This former brewery has been transformed into a unique hotel experience with truly beautiful rooms and an amazing spa area like no other. The rooftop pool is outstanding. Not the cheapest hotel in Zurich but you might find it's worth it for a special occasion or weekend break. The B2 is cheaper than most of Zurich's luxury hotels so definitely check to see if you can get a good deal.
Hotel Seehof
The Seefeld neighbourhood is a narrow strip of streets on the eastern side of Lake Zurich and includes the Opera House, some great cafes, bakeries and artisan chocolate shops. Hotel Seehof is an exceptionally clean and modern hotel. This is the best hotel if you want a mid-range hotel by the water.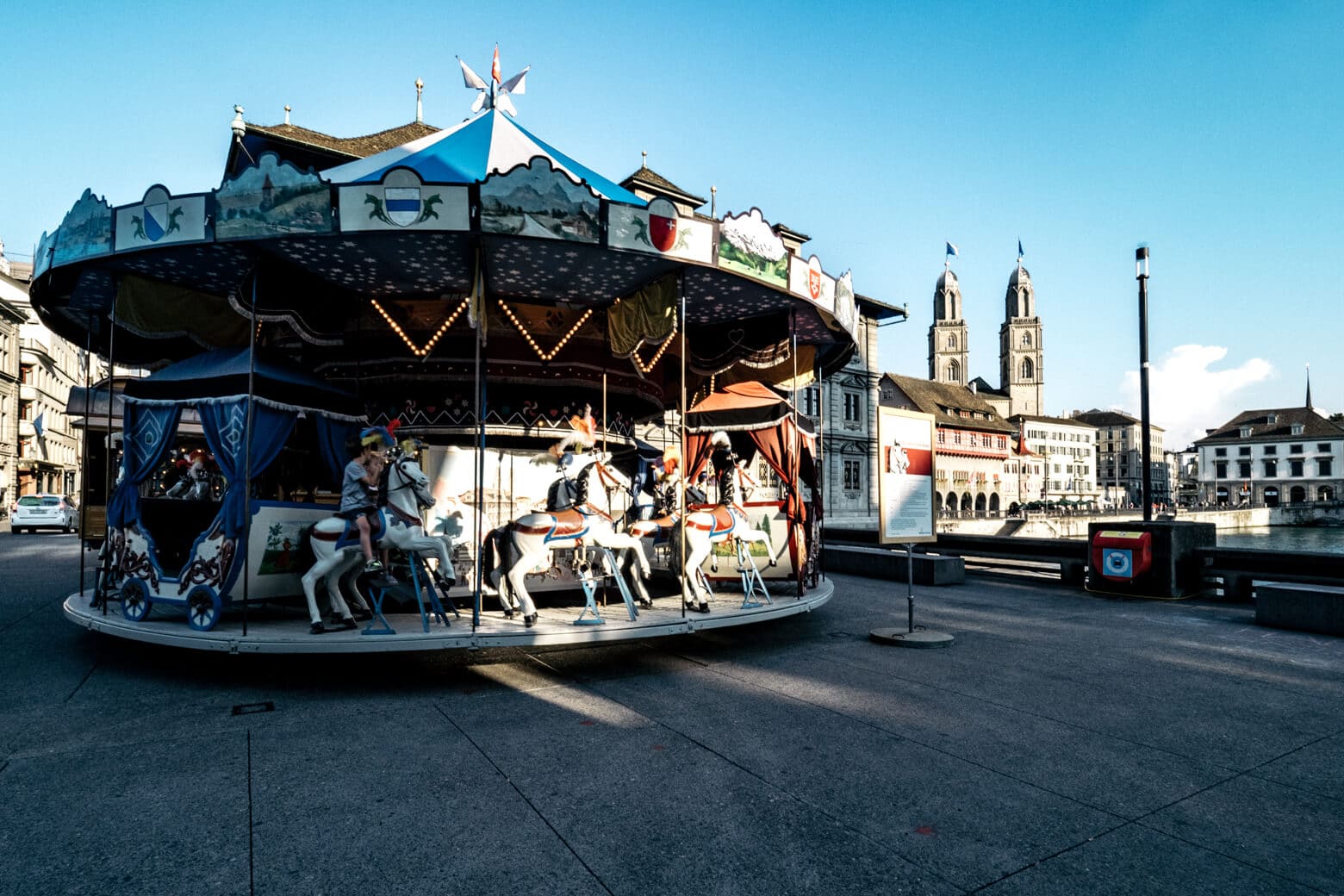 I have always found travelling in Switzerland to be difficult, especially when visiting larger cities. It's an interesting country with much to see but it's hard to book a trip there when I feel like you get better value for money across the border.
Is it even worth visiting Zurich? If it's somewhere you've always wanted to go, then yes, of course. If it's in your budget, then why not? If you want to go just for something to do or because you found a cheap flight, then it might not be worth it.
But if you do go, finding the right neighbourhood can make all the difference, especially if you want to get out of the old town and experience modern Zurich with its nightlife, lakeside beaches, hipster brunches and vegan cafes.
Map of Recommended Hotels in Zurich
To get a better idea of where to stay, I've pinned my recommendations on Google Maps.
This post contains affiliate links for the accommodation recommendations.