If you purchase through links on this site, I may earn a commission at no extra cost to you. As an Amazon Associate I earn from qualifying purchases.
To avoid the impending snow storm in Ljubljana we took to the road a few days before our hotel booking in Budapest. But the busy Christmas and New Year period meant almost everywhere was fully booked. So a last-minute decision had us heading south to Szeged, just short of the Serbian and Romanian borders.
Things to Do in Szeged
We arrived to see blue skies and crisp cool air. Perfect winter sightseeing conditions.
Dome Square and the Votive Church
As per usual I'd done no research and had no plan but quickly got a feel for what an interesting city I was about to discover. Dom Square and the dominating Votive Church were the first sights I came across and would pass through here several times, both when it was empty and holding a big event.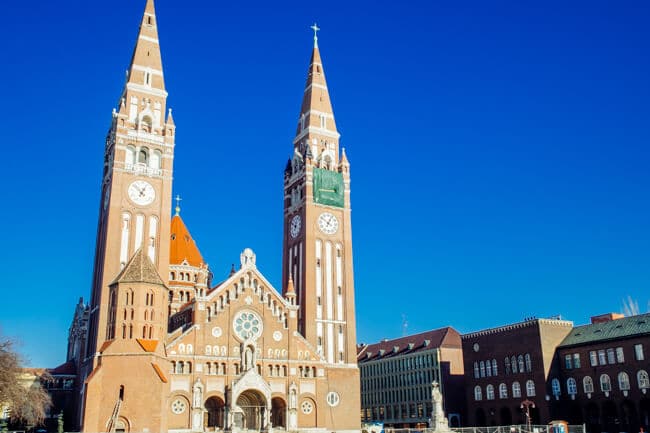 Art Nouveau
Szeged is a gorgeous city, rivalling adorable Pecs, and the highlight for me was the Art Nouveau architecture. I took a liking to this flowery style of architecture during my stint in Paris. I lived in the lower 16th district with its high concentration of Art Nouveau buildings designed by the famous architect Hector Guimard.
Comparative to Guimard's work is the Reok Palace, a stunning pastel green and white building with purple flowers. I was completely in awe as it came into sight.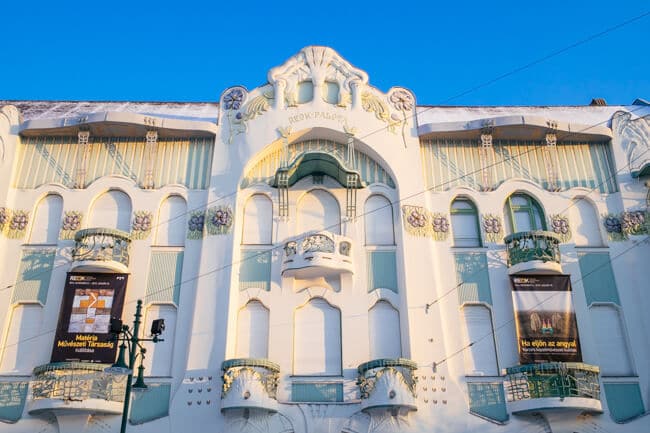 Szeged Synagogue
But there are plenty more architectural beauties to keep you interested including the unusual Art Nouveau Synagogue and the green-roofed Town Hall which wouldn't look out of place in the nearby Romanian city of Timisoara.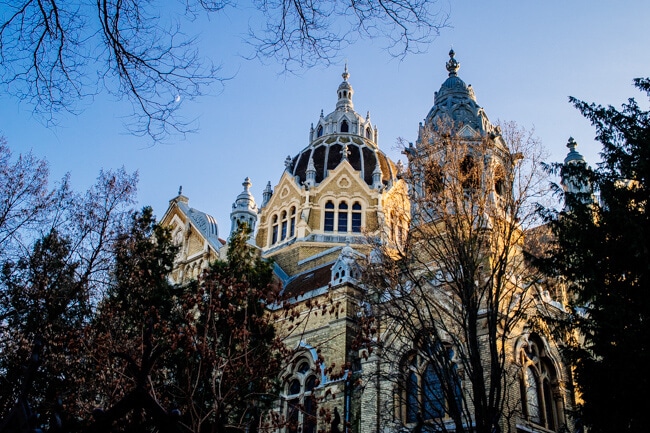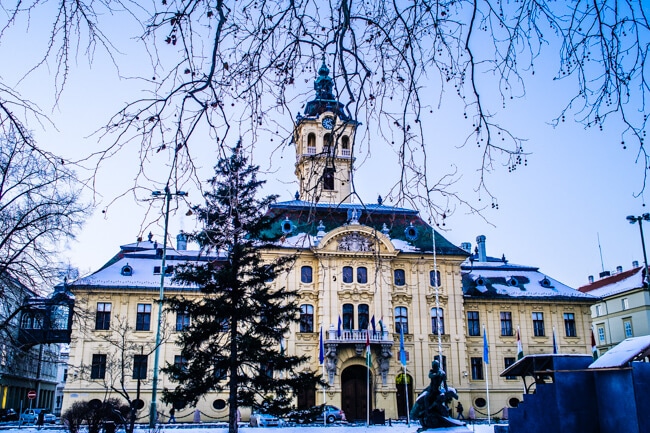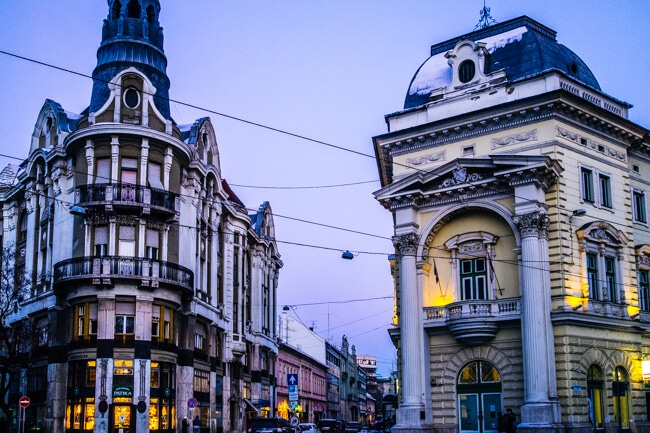 Traditional Cafes
Szeged's most famous cafe, A Capella Cafe, has the largest selection of Hungarian cakes I've ever seen. After stopping to sample the most mouthwatering, we continued along the main shopping street Karasz Utca which takes you to Szechenyi Square.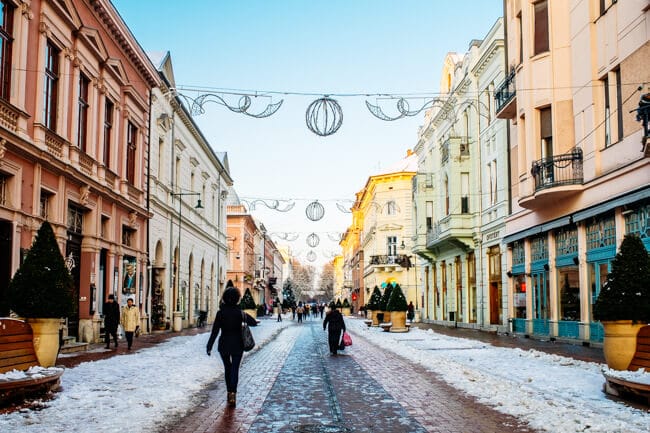 Christmas in Szeged
The Christmas markets were just finishing up in late December but there were still a few fairy lights shining. Szechenyi Square is also where you'll find many of the city's summer festivals.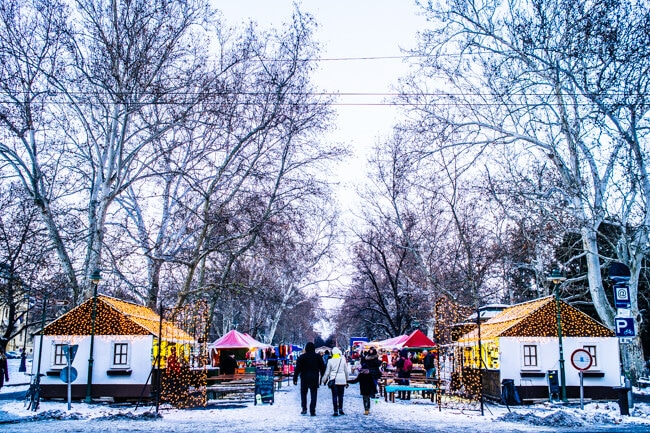 Szeged in Winter
A quick downpour of snow blanketed the city with fresh powdery snow which added to its charm and cemented the city as one of my favourites in Hungary.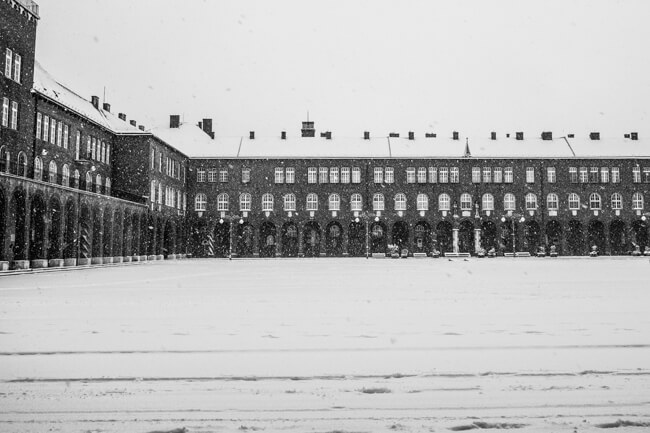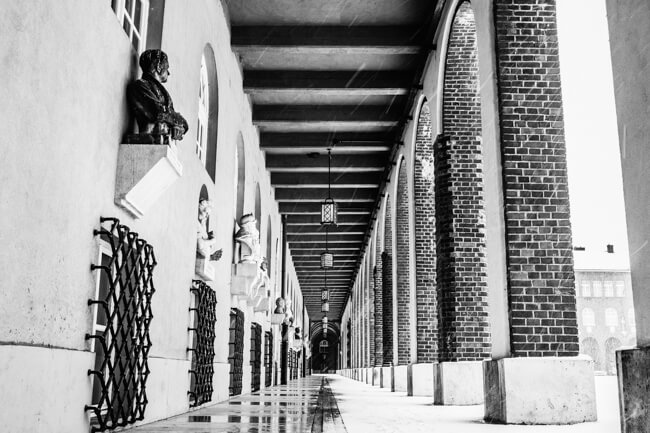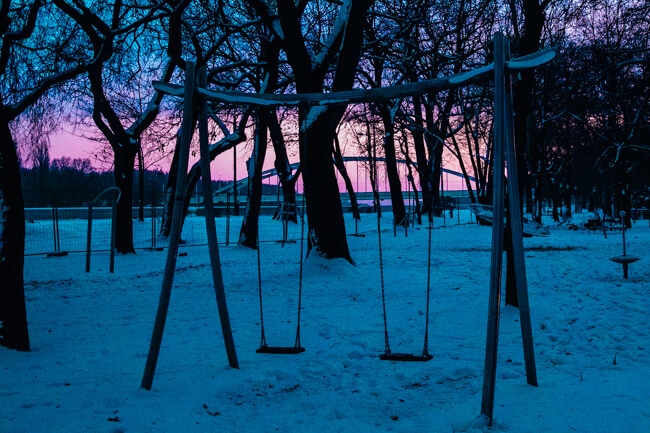 If you have time check out the newly renovated Anna Furdo thermal baths.
Szeged to Kecskemet
After reading that Kecskemet is another Hungarian city with an abundance of Art Nouveau, I hopped off the train halfway between Szeged and Budapest and spent an evening exploring.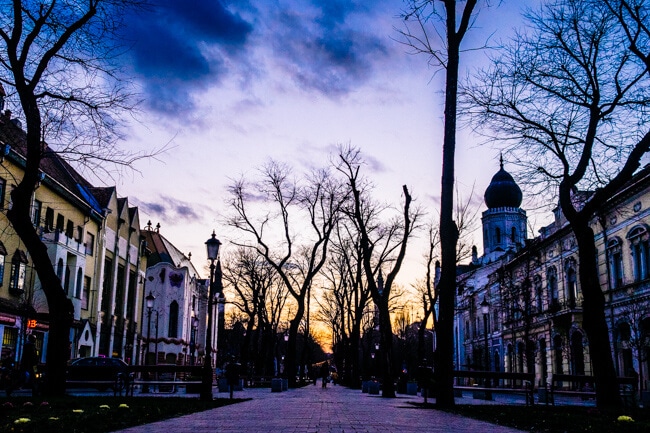 The most noticeable building in the Art Nouveau style is the Ornamental Palace (Cifra Palota) which reminded me of Antoni Gaudi's work in Barcelona.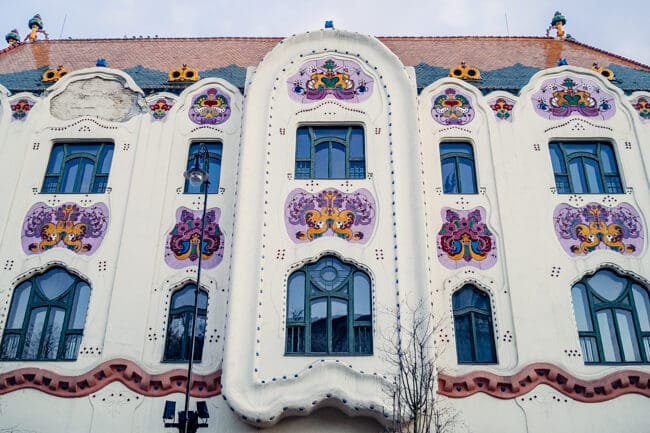 The rest of the evening was spent filling up on langos at the Christmas market and watching the sunset over the city's many churches and the Old Synagogue.
Where to Stay in Szeged
In Szeged, I stayed at the Art Hotel Szeged and the Tiszavirág Hotel. Both are modern boutique hotels, but if I had to choose, I'd stay at the Tiszavirág Hotel again as the design and toiletries are a little more unique.
I wouldn't recommend staying overnight in Kecskemet as there isn't much to see. Instead, visit on a day trip from Budapest or skip it entirely and spend more time in Szeged!
If you're looking for smaller cities to visit in Hungary, try Gyor in the west of the country or Debrecen in the east.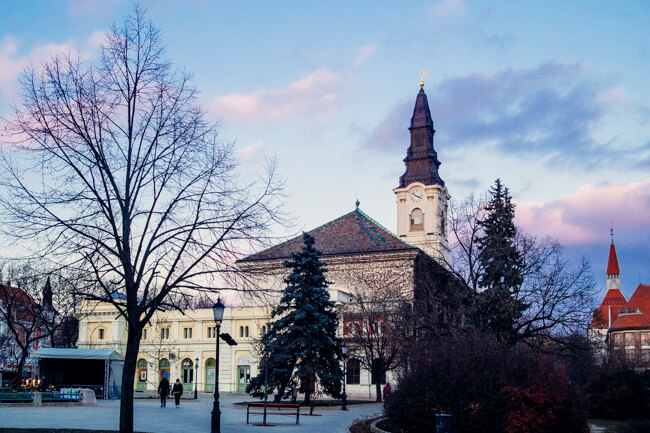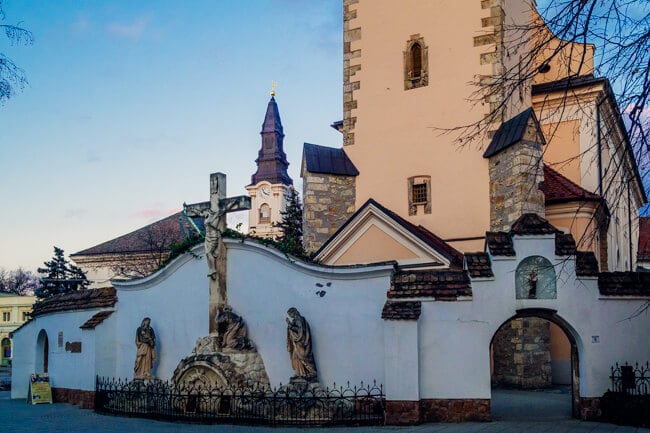 Videos from Szeged and Kecskemet
While in Szeged and Kecskemet I filmed daily vlogs which cover everything I experienced. If you're heading to Budapest while in Hungary, this list of free things to do in Budapest might be helpful, or this Budapest neighbourhood guide will guide you where to stay.
—
Recommendations are independently chosen based on personal travel experiences and extensive research. This post contains affiliate links to hotels in Szeged, Hungary. This means I get a small commission from any bookings at no extra cost to you.