If you purchase through links on this site, I may earn a commission at no extra cost to you. As an Amazon Associate I earn from qualifying purchases.
Three blissful weeks in Sardinia. That's how long it took me to painstakingly research this post, visiting all of the most popular Sardinia beaches, many of the less well known and secluded ones and even some hidden beaches which are only accessible by boat. I would like to say I have a tough job but who I am kidding, it was glorious. In this guide, I share the best beaches in Sardinia and a road trip itinerary.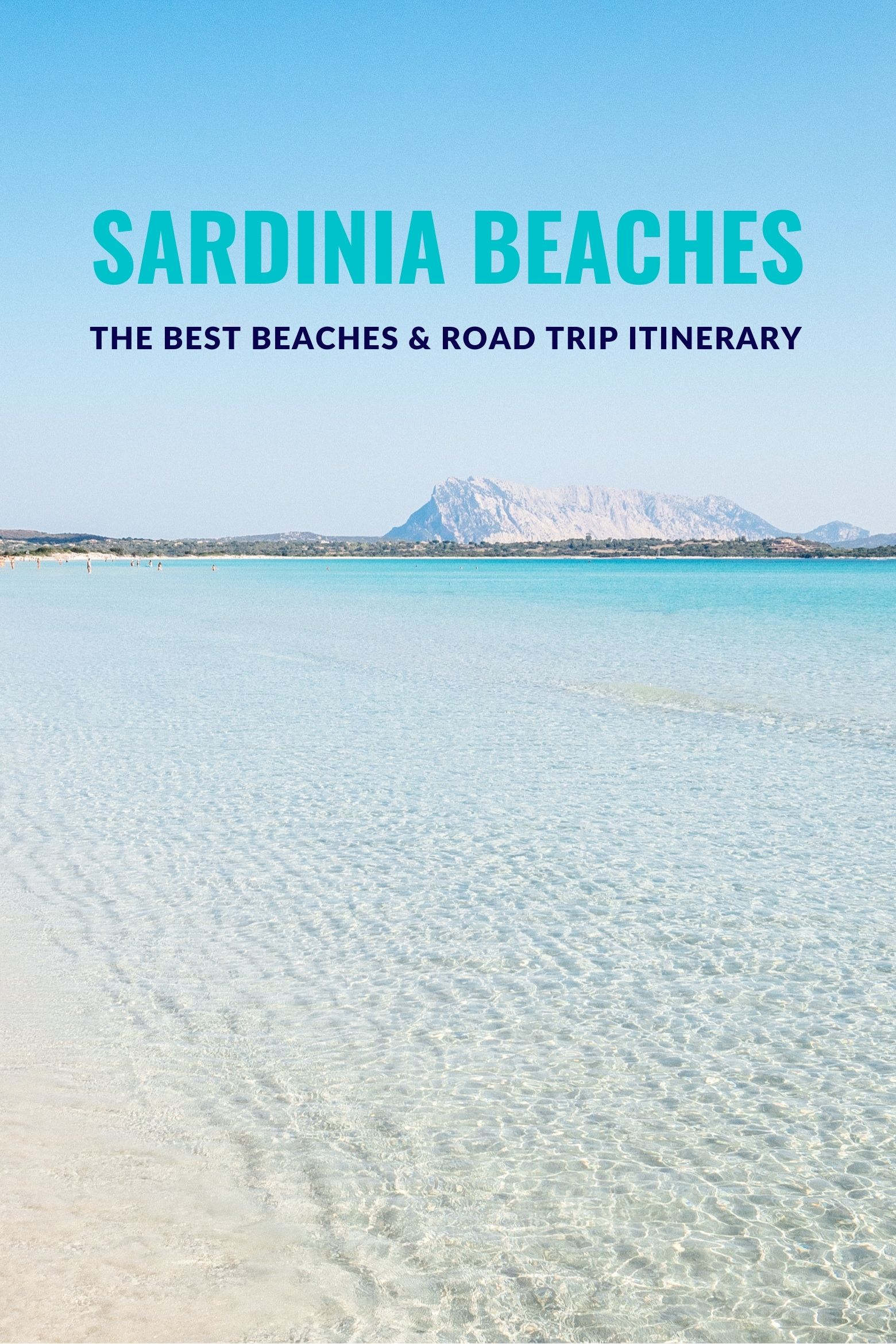 From the very beginning, it became clear the east and southern coasts have the best beaches in Sardinia with only one in the far north-west making the cut. These are sandy beaches, some with exquisite powdery white sand and all with that cliche crystal clear turquoise water everyone expects from Sardinia and the Mediterranean.
If you're looking for a lazy beach holiday or a coastal road trip in Sardinia, this guide covers everything you need to know. The focus is on where to find the absolute best beaches in Sardinia and, importantly, where to find the most intensely flavoured, mouthwatering, delicious handmade gelato on the island.
Before I get into the beaches, for those of you who don't know much about Sardinia, here's a quick rundown.
Sardinia is a large Italian island in the middle of the Mediterranean, off the west coast of mainland Italy and just south of the French island of Corsica.
The coast is a mix of jagged cliffs, rocky outcrops and sandy beaches while the inland areas are mountainous and popular with hikers.
Sardinia is one of the top locations in Europe to watch the sunrise.
Most of Sardinia's beaches are not in built-up areas, so there are no ugly high-rises spoiling the scenery.
The long summer tourist season starts in May and continues through to the end of September but you can still swim as late as November.
July and August are the busiest months for tourism and you'll need to book well ahead if you wish to visit at that time of the year. Not an ideal time to visit in my opinion.
Sardinia is a relatively expensive destination although there are many bed and breakfasts and camping options for the budget traveller.
Tourists in Sardinia are predominately Italian but the destination is also popular with Germans, French, Scandinavians, and the British.
Classic Sardinian cuisine usually includes fish or seafood. Not surprisingly.
Locally produced, artisanal Sardinian biscuits and sweets fill the supermarket shelves or you can buy them directly from the factory shop. You can't miss the outlets as you drive around the inland areas.
People from Sardinia are extremely proud of their island and culture and will tell you they are not Italian, they are Sardinian. You'll spot political signs around the island saying, Sardegna non è Italia. Sardinia is not Italy.
Best Beaches in Sardinia
Let's get started, here are the 13 best beaches in Sardinia, (not) Italy.
La Cinta – San Teodoro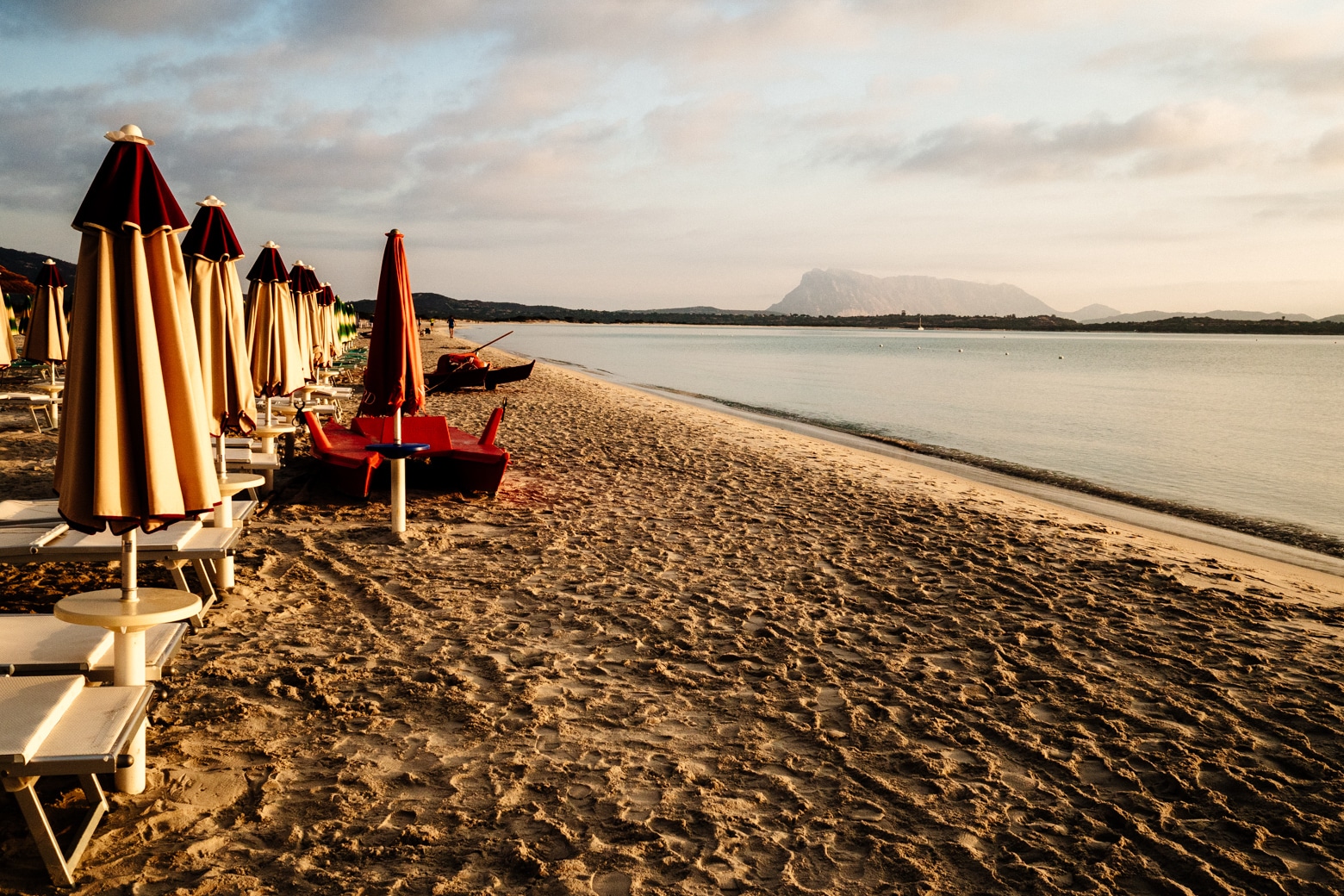 If it's powdery white sand you want, La Cinta is the beach to experience that distinctive squelchy feeling beneath your feet as you walk over the whitest white sand you'll see in all of Sardinia. This beach literally took my breath away and is easily the most beautiful beach in Sardinia and maybe even in all of Europe.
La Cinta is a long white sandy beach with shallow, clear water in shades of baby blue and the steep cliffs of Tavolara Island in the distance. To say it's awesome is an understatement.
The beach is long but narrow. It's one of the longest beaches in Sardinia, so even when it's busy you can find a spot close to the water. But as one of the most popular beaches, I do suggest arriving as early as possible to grab a lounge chair or a spot on the sand. You'll also need to arrive early to get a free parking space, I would say before 6am in peak season, but there is a paid car park too.
Activities: Horse riding, sunrise watching, stand up paddleboarding, pedal boating, kite surfing, pink flamingo watching.
Nearby beaches: Lu Impostu, Cala Brandinchi
Gelato: #1 in Sardinia – Il Gelo Viola – Piazza Emilio Lussu, San Teodoro
Hotel: Paradise Resort Sardegna
B&B: Li Muntigeddi
Villa: Villa Franca
Chia's Beaches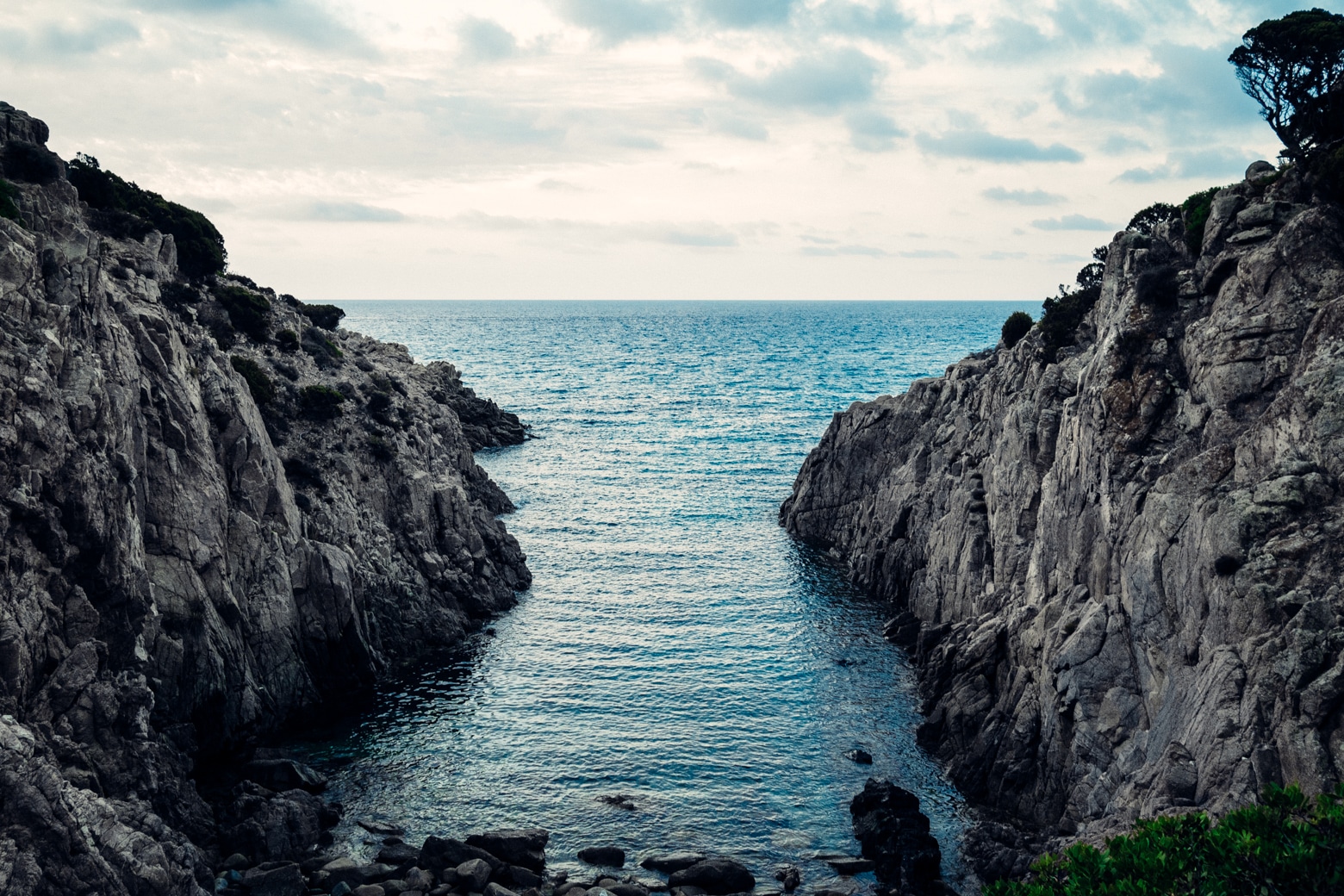 Chia is a region in the south of Sardinia and is the best place to be based if you want to visit multiple beaches, spot pink flamingos and witness extraordinary sunrises. So it's kind of the best place to be based as it has it all.
To find the perfect beach you'll want to head down Viale Chia and turn off at each beach until you discover the one you love. All of these beaches are away from the main road and built-up areas. They're peaceful and unspoilt.
The main beaches to choose from are Colonia, Giudeo, Campana, Monti Cogoni and my personal favourite, the secluded Spiaggia di Cala Cipolla.
Activities: Beach hopping, flamingo spotting, sunrise watching.
Accommodation: It's difficult to find decent accommodation right in Chia but it depends on what standard of accommodation you're looking for. There are more options in Pula and the capital Cagliari.
Cagliari: Relais Santa Croce
Pula: B&B La Villetta
Santa Maria Beach – Orosei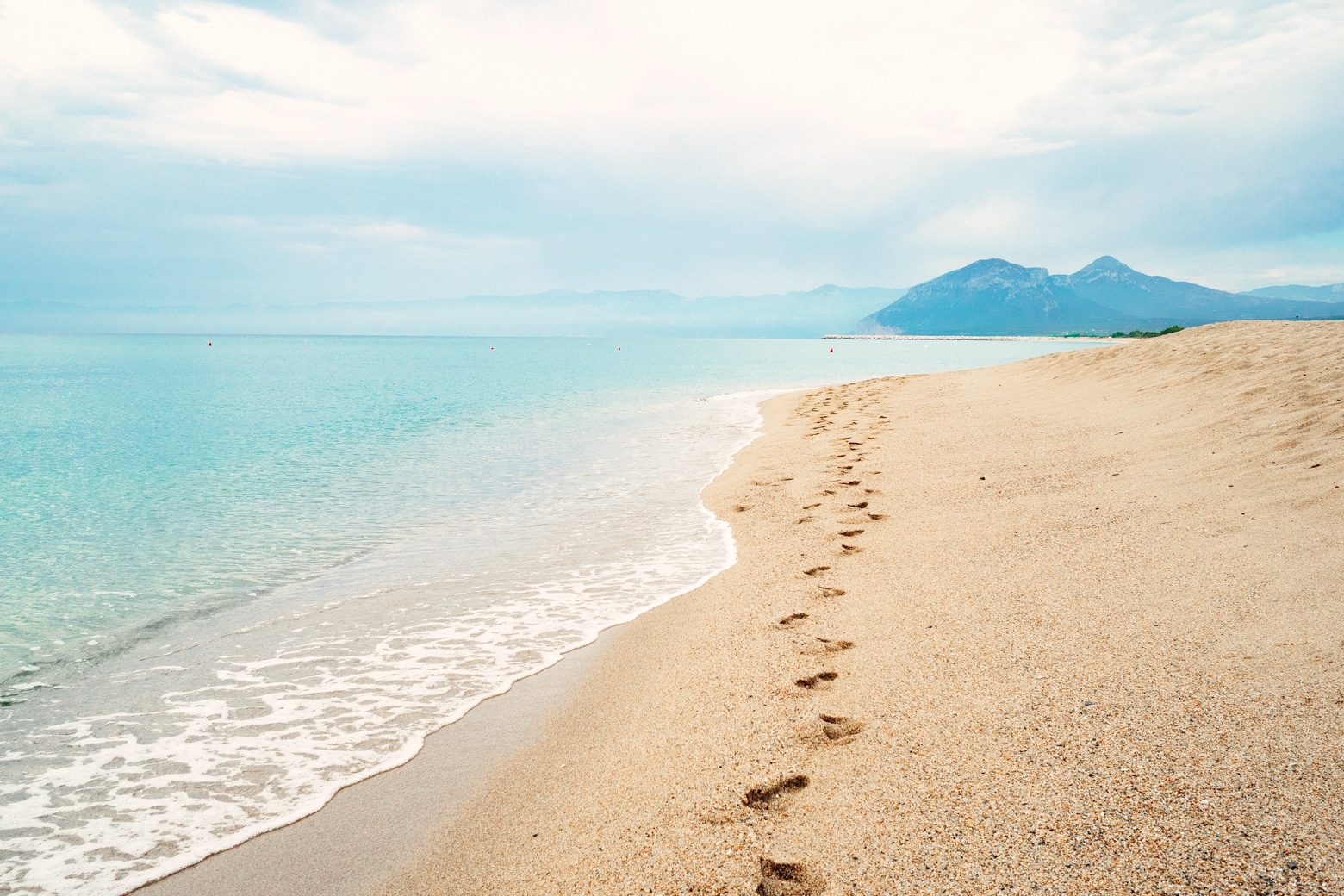 As it's right next to a massive all-inclusive resort, I can imagine Santa Maria Beach is painfully touristy in July and August. But in September it was just me and a couple of dolphins feeding and jumping in the deep, warm water. The dolphins were feeding and jumping, not me. I only watched them.
Sardinia's swimming beaches are often shallow. In some areas, you can walk 100 metres into the sea and the water is still only knee-deep. Santa Maria Beach is different. Within a few steps, you are in deep, jade green water, so deep that large boats would pull up into shore to drop off passengers before backing away and continuing on their journey.
Describing this beach as sandy is probably pushing it but the pebbles are so tiny it still feels like sand, even for my pebble and stone beach averse feet.
Maybe it was the semi-overcast, windless weather or the weirdly still water but this is one of the most serene places I've ever visited. I could not believe my luck to have this beach to myself. Orosei is absolute paradise.
All I wish for you is to experience this place as I did, to find yourself at this beach when it's deserted, to go skinny dipping in the warm water while dolphins play in the distance. A magical experience. Oh, and there were wild boars roaming around by the lagoon!
Activities: Skinny dipping, dolphin watching, sailing, whatever goes on in beach resorts.
Hotel: Albergo Diffuso Mannois
Apartment: Residenze Gli Ulivi
Cala Gonone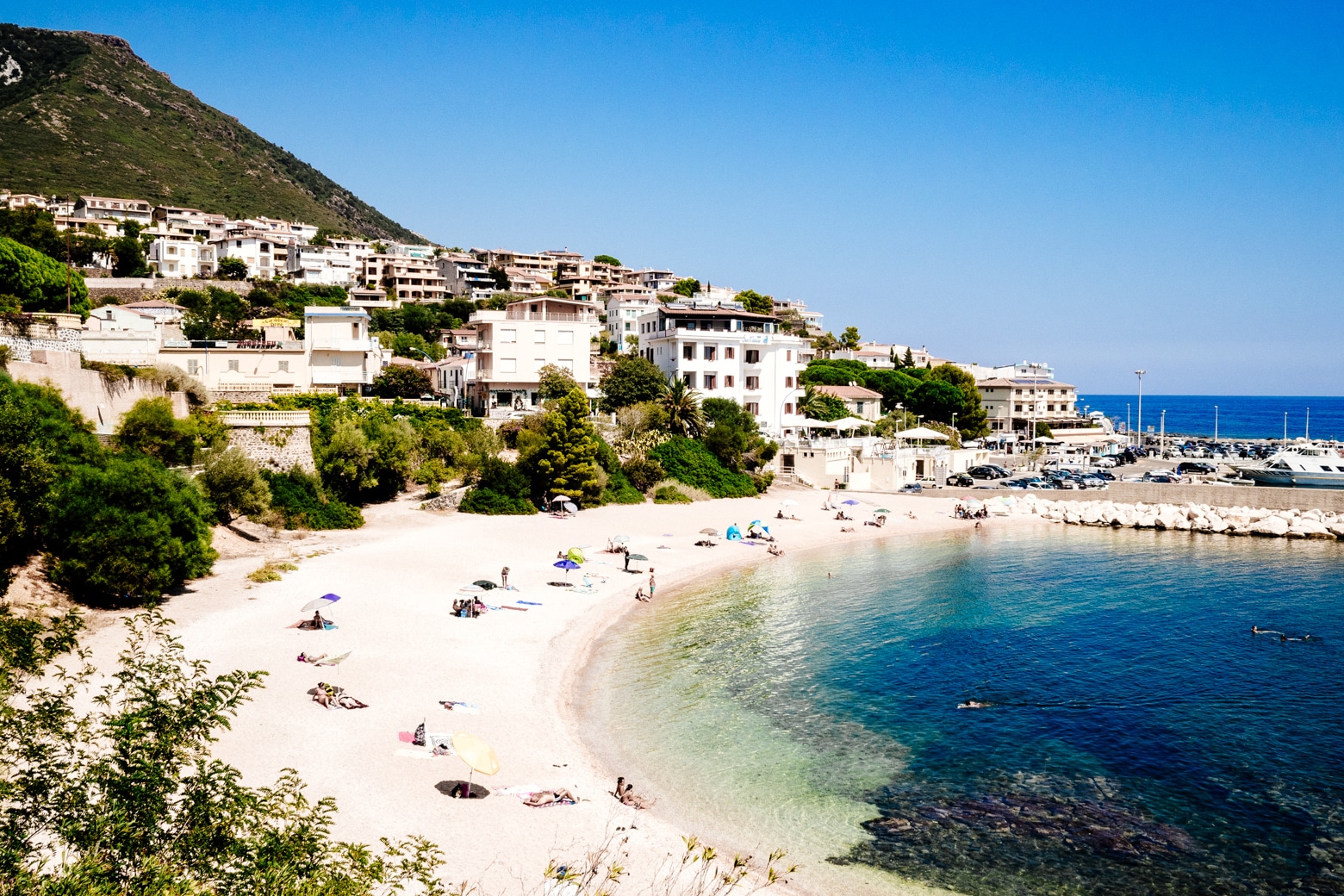 Don't feel disappointed as you pull up to Cala Gonone. The town beach is nice enough but you're not there for that. You need to jump on a boat tour or hire your own to reach the hidden, remote beaches down the coast. Cala Luna, Cala Mariolu, Cala Goloritze, and the Blue Grotto are generally only accessible by boat but it's totally worth the effort.
Activities: Unspoilt beach-going, snorkelling, mountain climbing, sailing.
Restaurant: Ristorante Da Graziano Il Pescatore
Hotels: Hotel Cala Luna or Hotel Nettuno
Tuerredda – Chia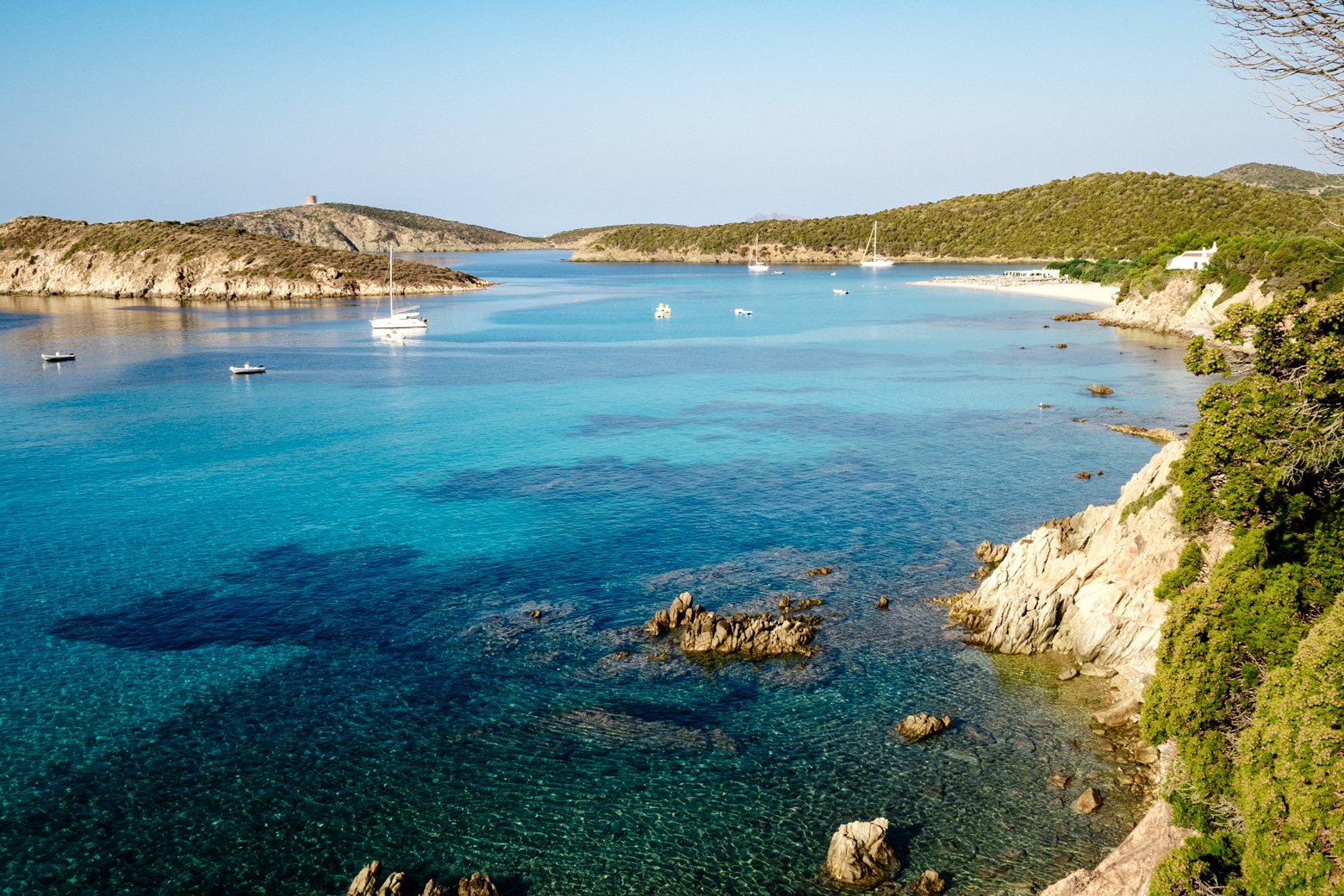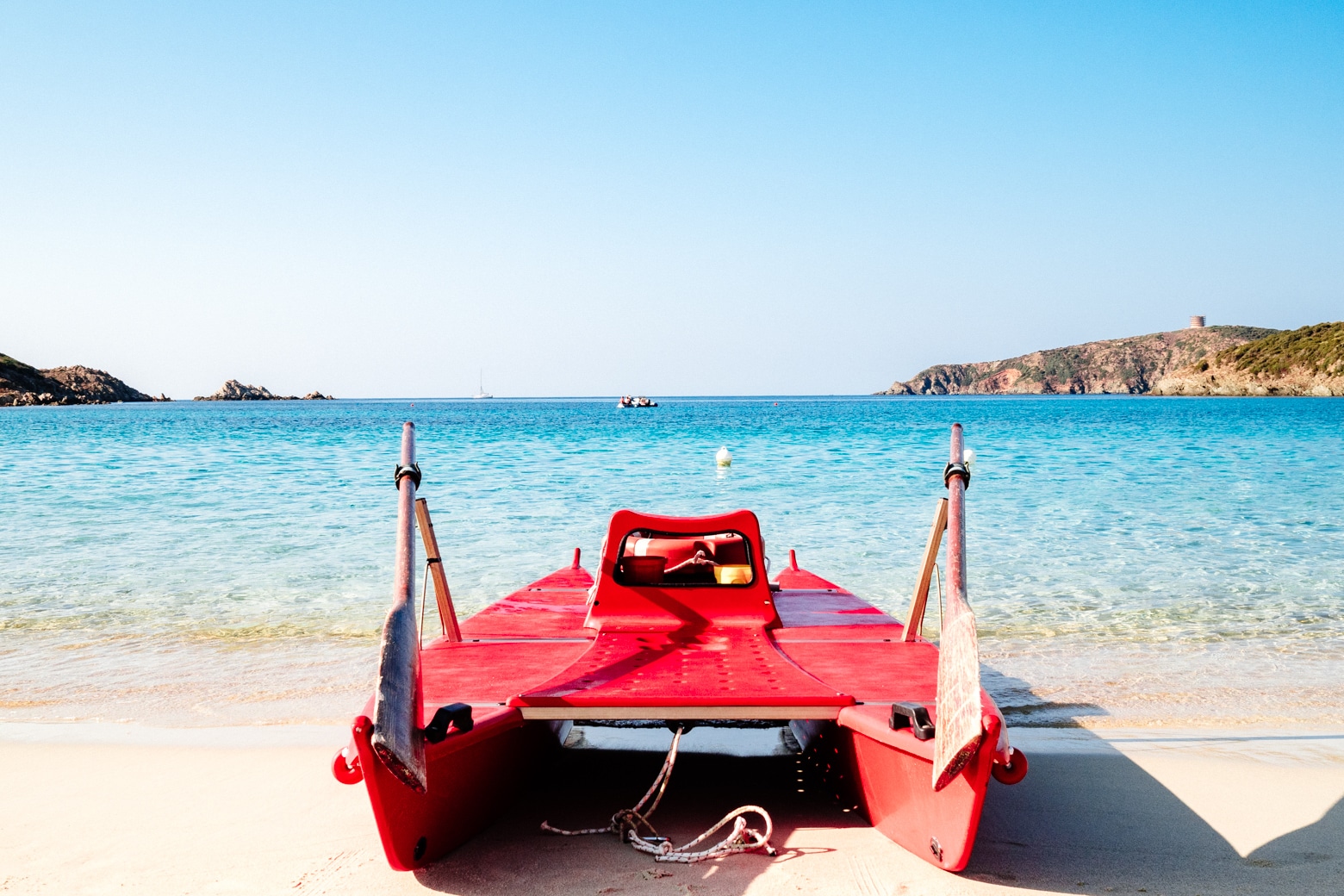 This feels like a beach for locals. Wealthy locals. Luxury yachts are docked off the coast, parking is pricey, the beach bars are high class but renting a beach chair and umbrella for the day isn't outrageously expensive. This luxury beach is accessible for all.
Turerredda is a secluded beach situated in a quiet bay. Cliffs plunge into the sea on either side of the sandy beach perfect for sipping cocktails and reading a summer novel.
Activities: Swimming, sailing, reading, drinking.
Budget B&B: S'Attobiu B&B
Spiaggia di Notteri – Villasimius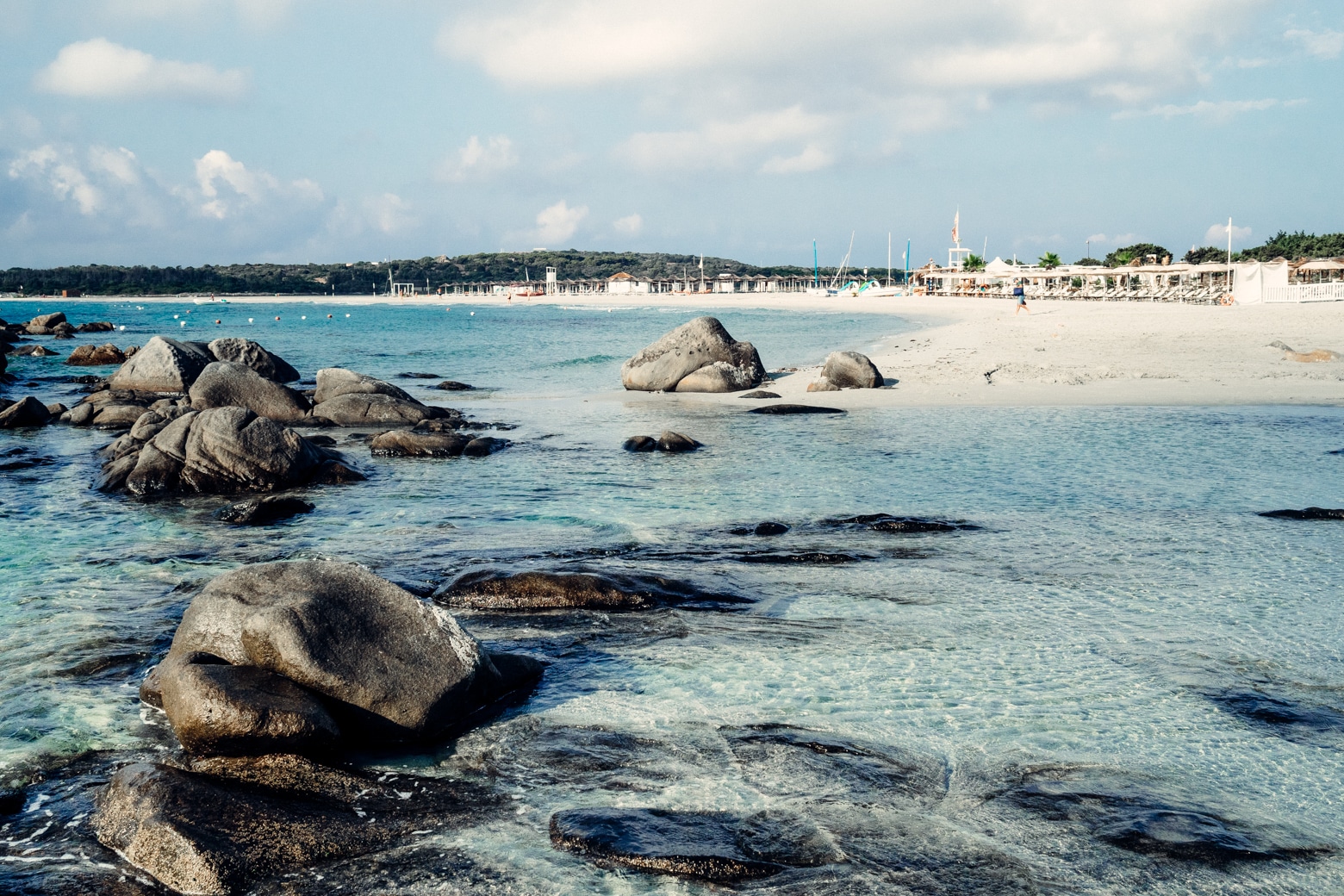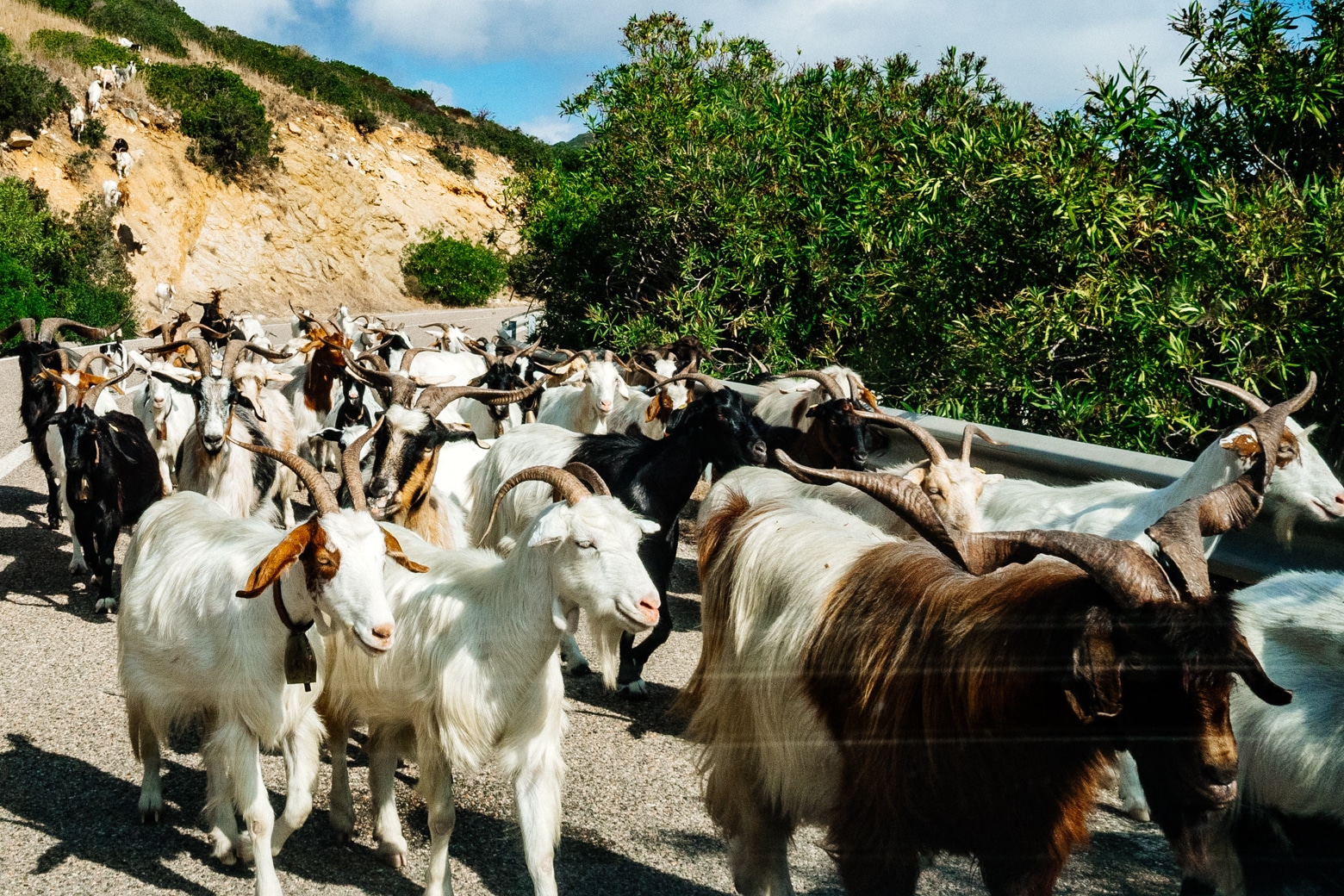 Like Orosei, Notteri beach is dominated by a beach resort. It's kind of annoying if you want to go there as an independent traveller, without having to stay at the resort, but even if affordable accommodation is scarce you are free to visit and swim at the gorgeous beach.
Aside from the typical clear blue waters and sandy beach, the defining feature at Notteri beach is the rocky outcrops and large boulders which punctuate the main beach. It's an unusual landscape and a great spot for roaming and sunbathing.
The coastal road around Villasimius and up the Costa Rei provides outstanding views of the cliffs and sea below. You'll definitely need a car to see the best of this part of Sardinia.
Activities: Swimming, sunbathing, cocktail drinking, hiking, coastal driving.
5 Star Resort Hotel: Pullman Timi Ama Sardegna
Hotel: Domu Noa Hotel
Spiaggia delle Dune – Porto Pino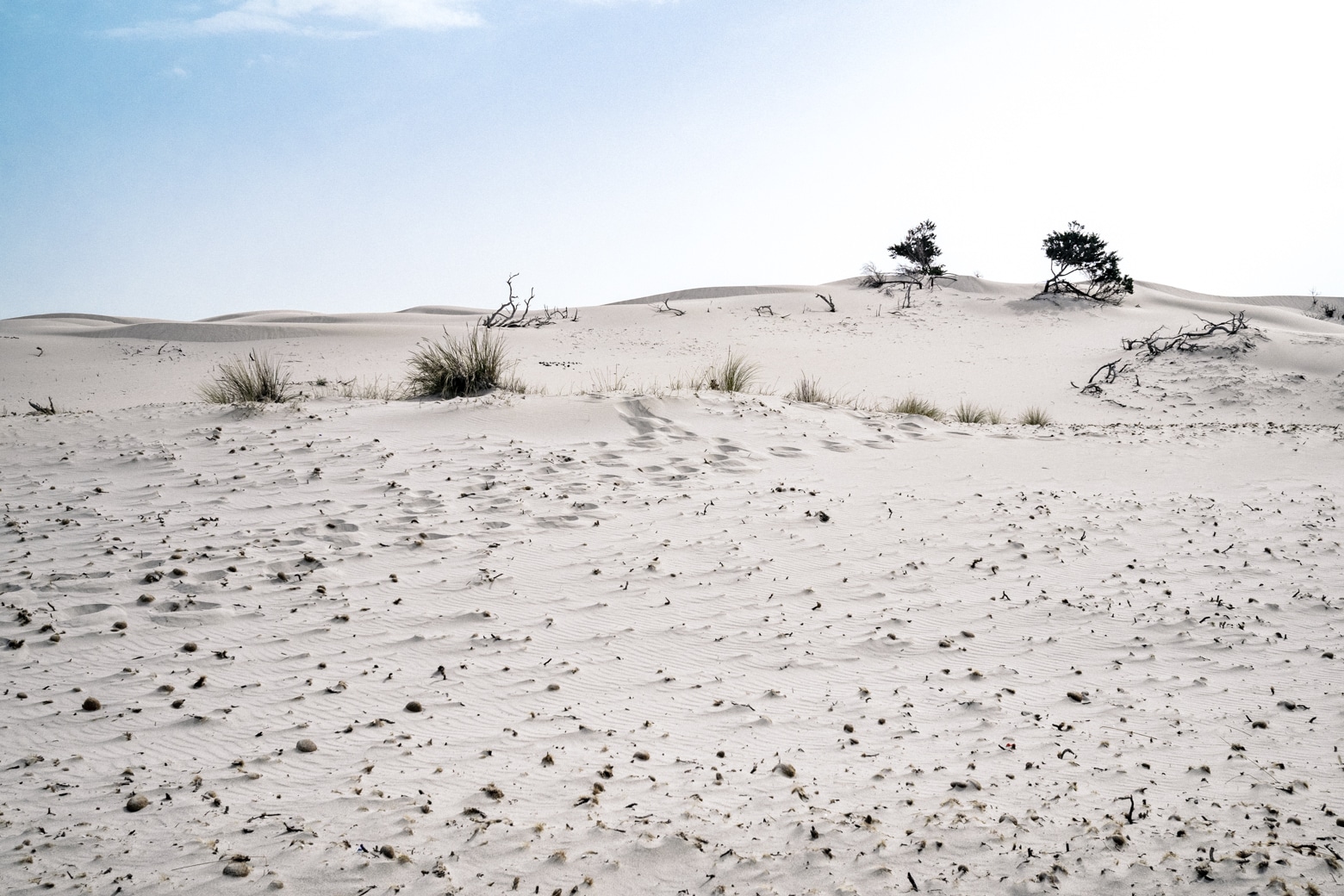 This was unexpected. Approaching Porto Pino the highway crosses a vast lagoon dotted with Sardinia's famous pink flamingos. If that wasn't enough to put a smile on my face I then spotted the enormous white sand dunes in the distance.
Pulling into Porto Pino it took me a while to realise the dunes are not at the town beach. You have to drive along the lagoon road to a remote car park and then walk the rest of the way to the beach. It's a bit of a trek but you should have a few flamingos to keep you company and the knowledge that the incredible dunes await.
I hate to repeat myself but wow, what a stunning location. I can't believe I had never heard of this place before. Towering white sandy dunes, almost still turquoise water, few tourists and complete bliss.
Activities: Admiring the awesome dunes, relaxing in paradise, pink flamingo watching.
Apartment: Casa Vacanze Bianco Mare
La Pelosa – Stintino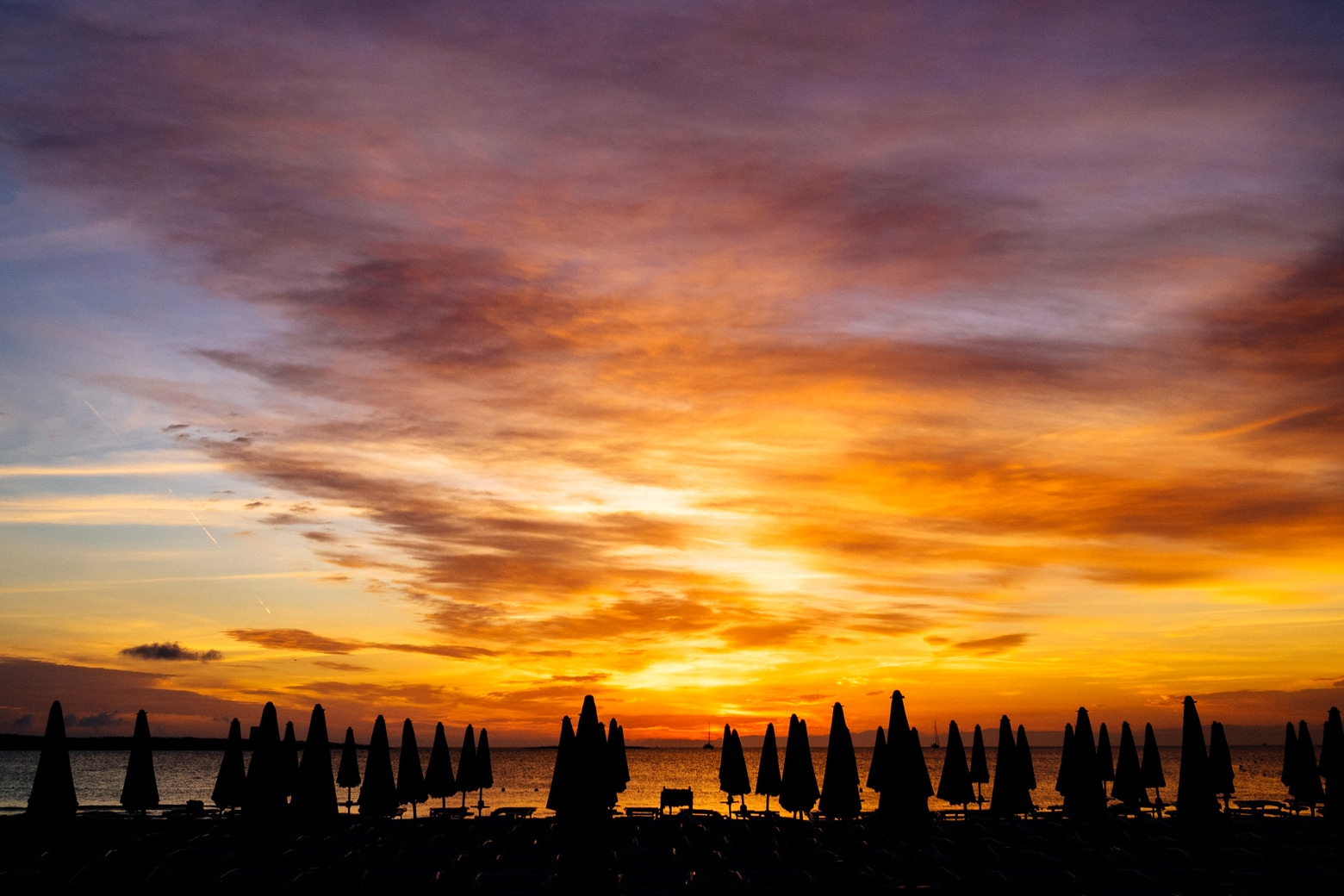 On Sardinia's northwest tip, just past the town of Stintino is La Pelosa, the only beach I recommend away from the fantastic south and east coasts.
The curved main beach is sandy but small so it gets crowded quickly, even in September. But the long expanse of clear, seaweed free water is superb for swimming while the uninhabited Isola Piana gives protection from the rough seas as well as providing a beautiful backdrop.
Activities: Diving, windsurfing, sailing.
Hotel: Hotel Silvestrino
B&B: B&B Sul Porto
Confession time. I didn't visit any of the islands in Sardinia's archipelago. I heard there are some beautiful beaches there but I can't confirm it so all the beaches mentioned in this guide are on the main island.
Where to Stay in Sardinia
Sardinia is seriously lacking in luxury and boutique hotels. If you want high-end accommodation, try a villa which rents by the week but be prepared to pay a considerable amount for it. For budget and mid-range options your best bet is to stay in a B&B or an Airbnb apartment if you prefer to have some privacy and cook your own meals.
I've listed the recommended hotels above but in summary, where to stay for the best beaches:
La Cinta – San Teodoro
Turerredda – Chia
Santa Maria Beach – Orosei
Cala Gonone
Spiaggia di Notteri – Villasimius on the Costa Rei
Spiaggia della Dune – Porto Pino
La Pelosa – Stintino
I've suggested hotels for each destination based on either where I stayed or those which get good reviews. Some places were excellent but more often than not I was disappointed with the standard or it was poor value for money. But that's Italy for you.
Getting to Sardinia and Getting Around
Flying into Sardinia and hiring a car is the most convenient way to experience the island. But if you want to take your own car or don't want to fly then the ferry is the only answer.
I took the ferry from Livorno and I can tell you it's not a particularly interesting city. The only reason to go is to catch the ferry to Sardinia or Corsica. On leaving I took a different ferry to Genoa or you could go to Marseilles in France or a couple of other cities depending on the time of the year.
Either way, it's not a fun journey and the ferries are far from luxurious. But it is what it is, take it or leave it. Most of the ferries are overnight so I suggest booking a room for four people, even if there are only two of you as the double rooms are absolutely tiny and one will have to sleep on the top of a bunk bed. If you are prone to seasickness, as I am, be sure to take motion sickness tablets before you go or ask on board if you forget.
Sardinia Beaches Map
That's it for this guide to Sardinia's beaches. To sum up:
The best beaches are on the east and south coasts.
Get up for the sunrise each morning. You won't regret it.
Take a boat tour off Cala Gonone.
Eat gelato daily.
Go horse riding on the beach.
Track down some flamingos.
Hire a car and drive around the island.
If you have any questions about visiting Sardinia, Europe road trip itineraries, the best beaches, or where to stay, join my newsletter and forum (link below) or go to the Rearview Mirror home page for more travel inspiration.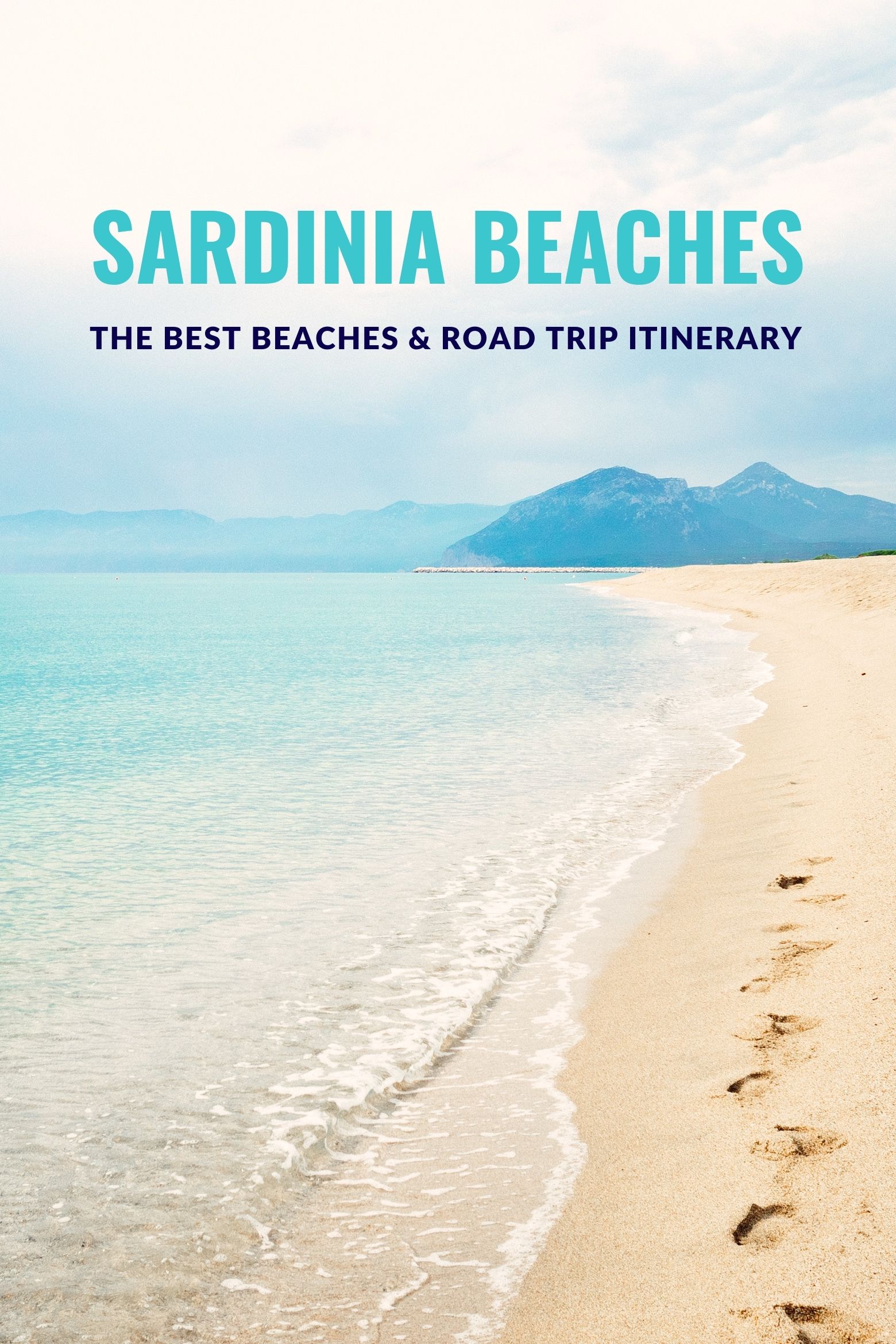 —
Recommendations are independently chosen based on personal travel experiences and extensive research. This post contains affiliate links to hotels and tours in Sardinia, Italy. This means we get a small commission from any bookings at no extra cost to you.