A few years ago I was mocked for saying this but I stand by my claim that Dresden is the most beautiful city in Germany. The city faced criticism for rebuilding in its original style, claiming it was inauthentic, but I think they did the right thing. The city is honestly spectacular and I am always in awe when I visit, especially in December when the Christmas markets brighten up the city's squares and streets.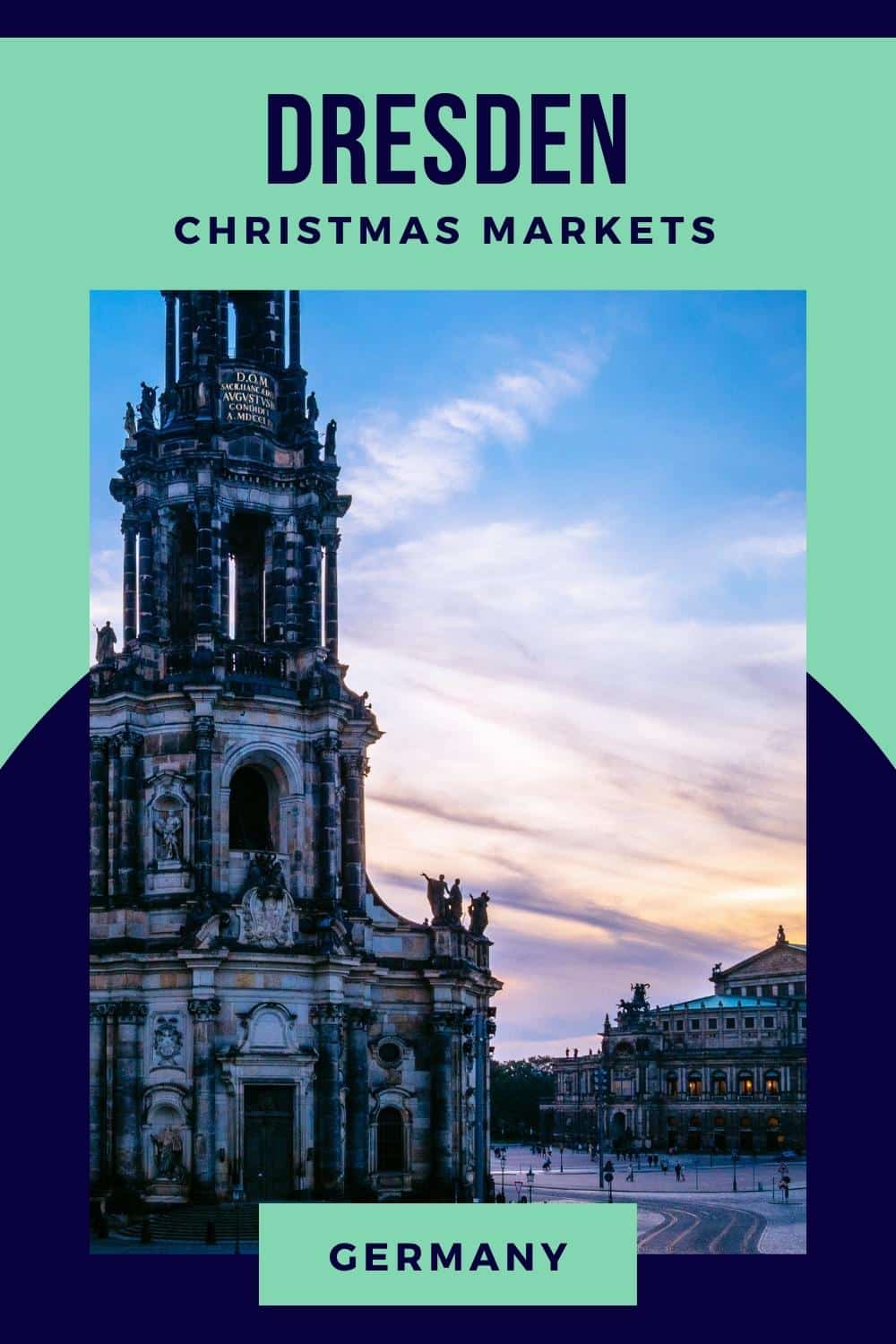 Dresden Christmas Market 2022 Dates
Dresden Christmas Market dates: 23rd November – 24th December 2022
Location: Striezelmarkt is located at Altmarkt but there are several other Advent markets in Dresden.
Where to Stay: I like Hotel Indigo as it's a central boutique hotel in the Altstadt. They have some sustainability measures in place to avoid plastic, conserve energy and support the local community.
Reason to visit: Dresden's Strietzelmarkt is the oldest Christmas market in Germany and one of the more affordable Christmas destinations in Germany.
Specialities: Dresden rahmklecks, fladenbrot, baked apples and hot cider.
Tips: As one of the most popular Christmas markets in Europe, avoid the weekends when the streets are packed and the city is fully booked with tourists.
Striezelmarkt Christmas Market
The largest of Dresden's Christmas markets is the Striezelmarkt in Altmarkt Square. The Striezelmarkt is the oldest Christmas market in Germany and is the place to go for the best Christmas market food. I have never seen as much variety at any Christmas market I've visited, including organic, vegetarian and even a few vegan options. There are so many foods I recommend trying, both international Christmas snacks and local, traditional specialties.
Christmas Markets in Dresden
The Striezelmarkt is the oldest and most popular Christmas market in Dresden but there are many smaller markets around the city.
You will likely want to visit more than one as they each have different specialties and attract different crowds.
Advent on Neumarkt
In front of the stunning Frauenkirche on Neumarkt is a historic festive market with artisans and craftspeople from traditional guilds like watchmakers, bag makers, engravers and bell founders.
This is a nice market for handmade wooden toys and locally made chocolates.
Medieval Christmas Market
This market is in the courtyard of the stunning Residenzschloss, just behind the massive porcelain mural on Augustusstrasse.
Here you'll find some of the more interesting market food and they have a public bathhouse if you don't mind getting half-naked in public.
The Medieval market runs until the 30th of December so this is a good option if you're visiting Dresden after Christmas or for New year.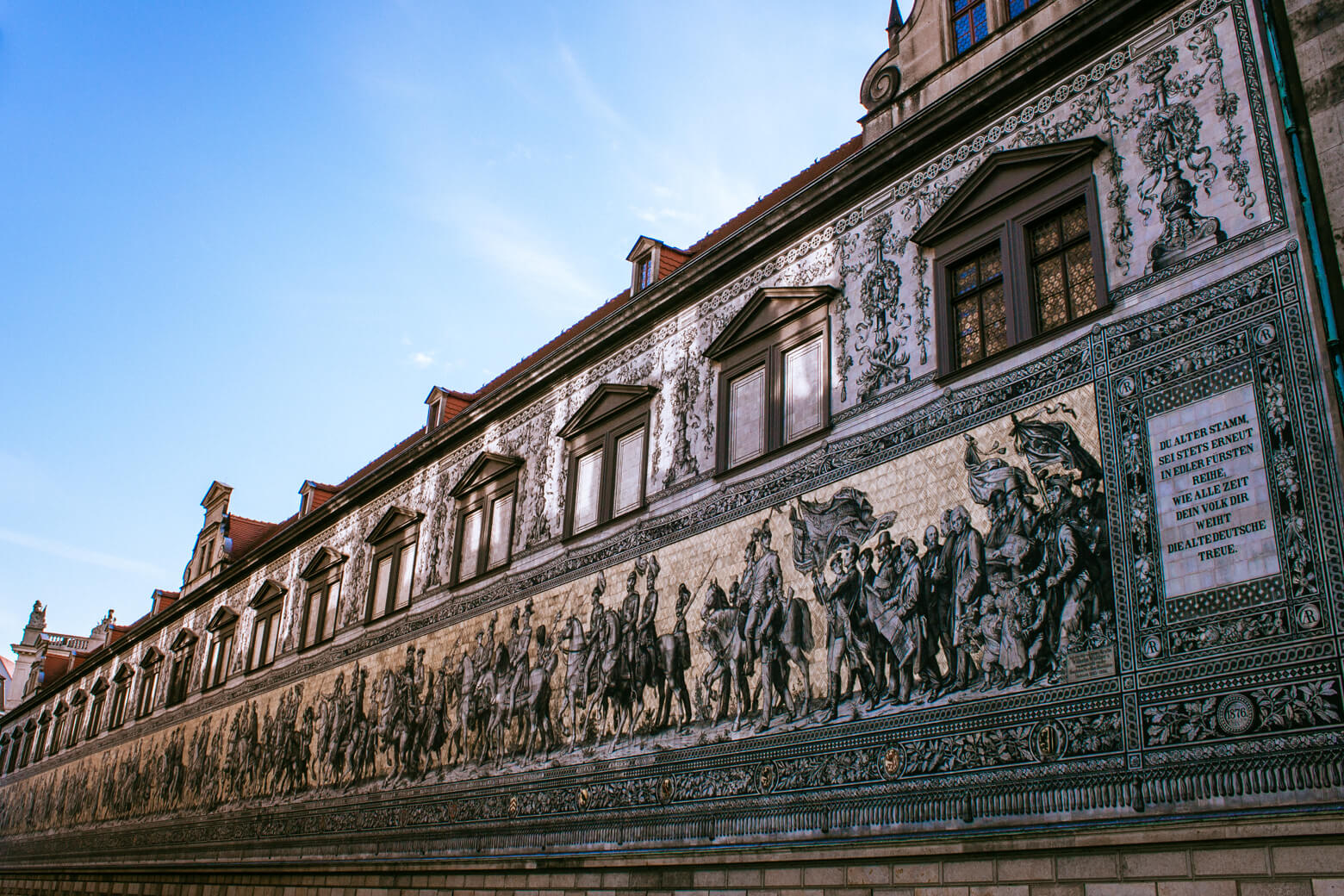 Munzgasse and Frauenkirche Market
The street that takes you from the historic Neumarkt main square down to the river and Bruehl's Terrace is lined with Christmas stalls throughout the market period until Christmas Eve.
Postplatz Huttenzauber
Postplatz is one of the more modern squares in Dresden and is the place locals go for after-work drinks and parties. There are restaurants and bakeries but the Christmas huts here are really more for groups of friends and socialising.
Elbhangfest Christmas Market
I haven't been to this market as it's out of the centre in the suburb of Loschwitz by the Blaues Wunder (Blue Wonder) bridge. It's a unique-looking small Christmas market in around half-timbered houses. The market isn't that far from the centre and would be worth the trip if you want a calmer, more local experience.
Prager Strasse Modern Christmas Market
Prager Strasse is the long shopping street just south of the Altstadt. It's probably an area most tourists would avoid, at least if you're more interested in historic Dresden. You can still get regional specialties here, there are two historic carousels, a 15 metre high Christmas tree and plenty of high-street shops.
Augustusmarkt in Neustadt
On the other side of the river in hipster Neustadt is the Augustusmarkt. This is home to Dresden's international Christmas market with specialties from Denmark, Sweden, Finland, Italy and elsewhere.
Alternative Christmas Market
Also in Neustadt but a bit further out is a new market on Alaustrasse. It has only been around for a few years and is an alternative, creative market with unusual artisan gifts and modern food.
Christmas Food in Dresden
I think Dresden is a great all-year-round destination but many people prefer to visit for the Christmas markets, understandable when it is lit up so beautifully each evening.
Dresden Rahmklecks
Rahmklecks is a Dresden specialty, a freshly cooked bread roll stuffed with ham and cheese and topped with sour cream. I'm not sure if they do vegetarian rahmklecks but that would be amazing.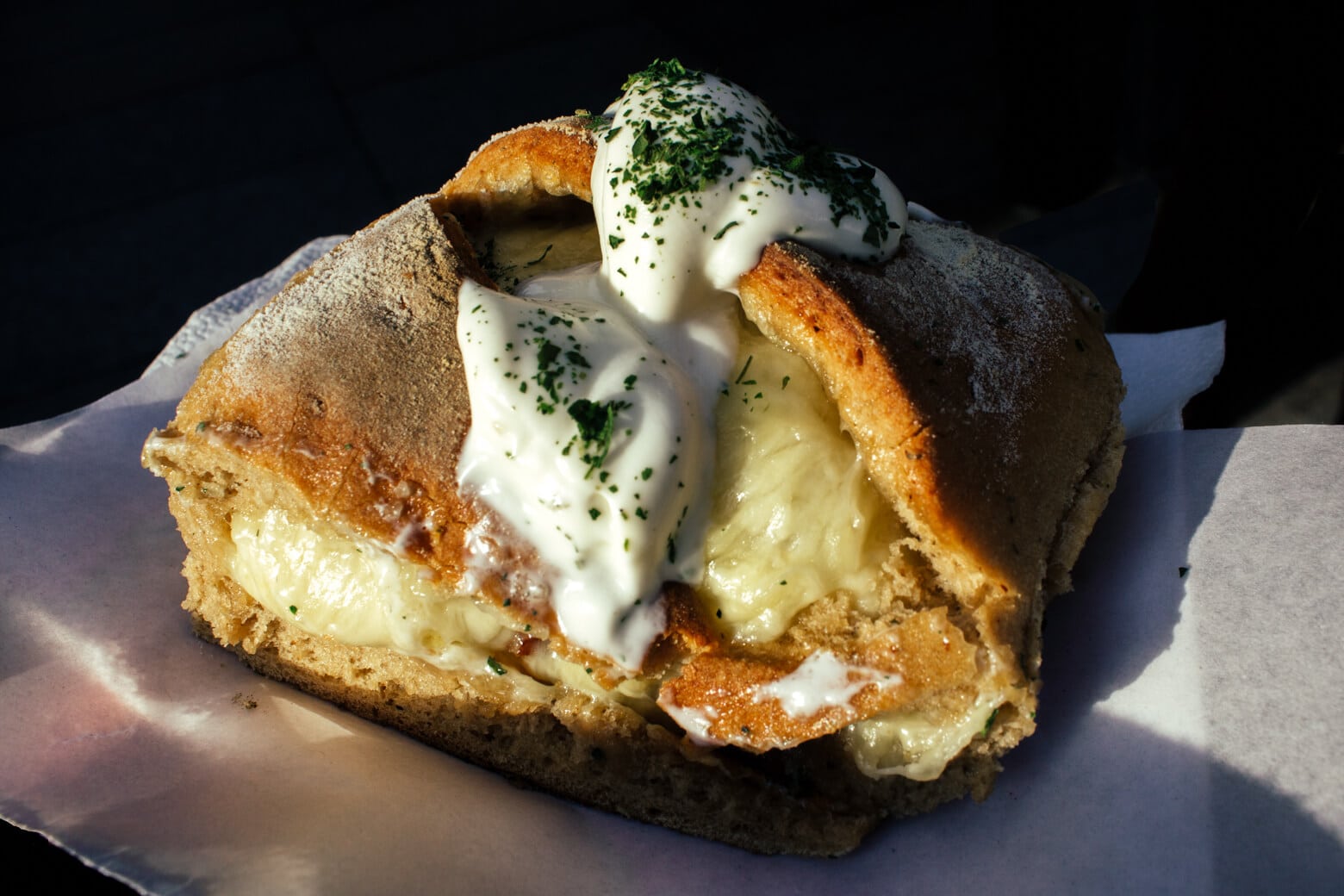 Dresdner Christstollen or Christmas Stollen
Stollen is a heavy, sweet, fruit bread with nuts, spices and dried or candied fruit, usually topped with icing sugar. You'll see it at most Christmas markets in Germany but the official stollen is only baked by certain Dresden bakeries and has been around since the 15th century.
Dresden's stollen is so famous it even has its own festival. The official Dresdner Christstollen is available at the Striezelmarkt and other Christmas markets in Dresden.
Hungarian Langos
Hungarian fast food at its finest, langos is a deep-fried flat dough brushed with garlic and typically topped with grated cheese and sour cream. You can find this in most Christmas markets in Europe. It's heavy, oily and not very healthy but it's delicious. You might want to share one of these.
Turkish Fladenbrot
Fladenbrot is a Turkish bread sandwich with a mix of tasty fillings like flavoured cream cheese, whole pickled chillies, sun-dried tomatoes and olives. Save room for a fladenbrot, they are incredible and not completely unhealthy. This is my top recommendation at the Dresden markets.
Baked Apples with Whipped Cream
I'm not sure if these would be in the traditional or modern Christmas food basket but Dresden's baked apples with custard and whipped cream are a simple, delicious snack. Look for them at the Munzgasse Christmas stalls.
Dutch Poffertjes
These mini Dutch pancakes are one of the best sweets at the markets. I would love to buy one of those pancake moulds and make my own at home. I wonder where you can buy them? Traditional poffertjes are served with butter and icing sugar but in Dresden, you can get them with apple sauce, caramel or Nutella.
Krappelchen
These little diamond-shaped pastries are really just deep-fried doughnuts topped with icing sugar. They're called krappelchen in Dresden and the rest of Saxony but go by the name schmalzgreben, schmalzkuchen or some other regional name elsewhere in Germany. They are not exactly light and fluffy doughnuts but they're very popular at the Striezelmarkt.
Christmas Nougat
I'm a fan of nougat, in theory, it always looks so tempting and the first bite is delicious. But after a couple of bites it becomes sickly sweet. Maybe you're only meant to have a tiny bit at a time? Probably but I don't have the kind of self-control to stop before it gets too much. The hazelnut nougat is one of the nicest.
Marshmallow Sandwich
I don't know what these marshmallow wafer sandwich things are called but they are light and sweet. I'm pretty sure they're not a traditional sweet but they make a nice snack to take away with you or give as a gift. They were very popular when I visited the markets.
Things to Do in Dresden in Winter
I initially avoided visiting Dresden as I had the impression it was a bit dull, with little to offer. I don't know where I get these ideas from, I had the same thoughts about Warsaw and couldn't have been more wrong.
These days, thanks to experiences like this and my often being wrong, I am a lot more open-minded in my travels.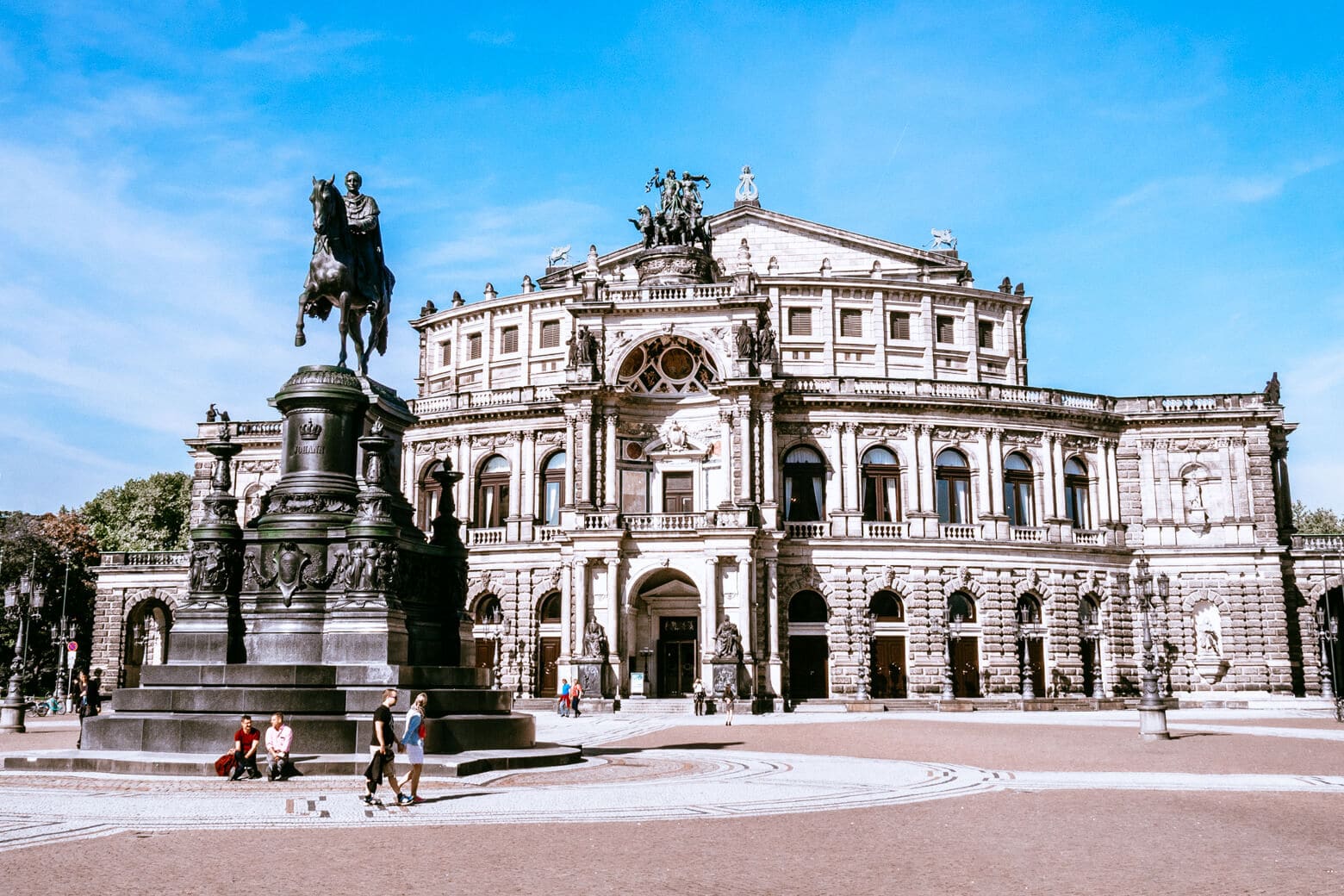 Even though Dresden was almost completely wiped out during the Allied bombings in WWII, the Old Town, in particular, the Neumarkt and surrounding streets, was rebuilt in its original baroque style.
It's a beautiful area to walk around, especially along Bruehl's Terrace on the Elbe River, which takes you past most of the grandiose architecture and points of interest.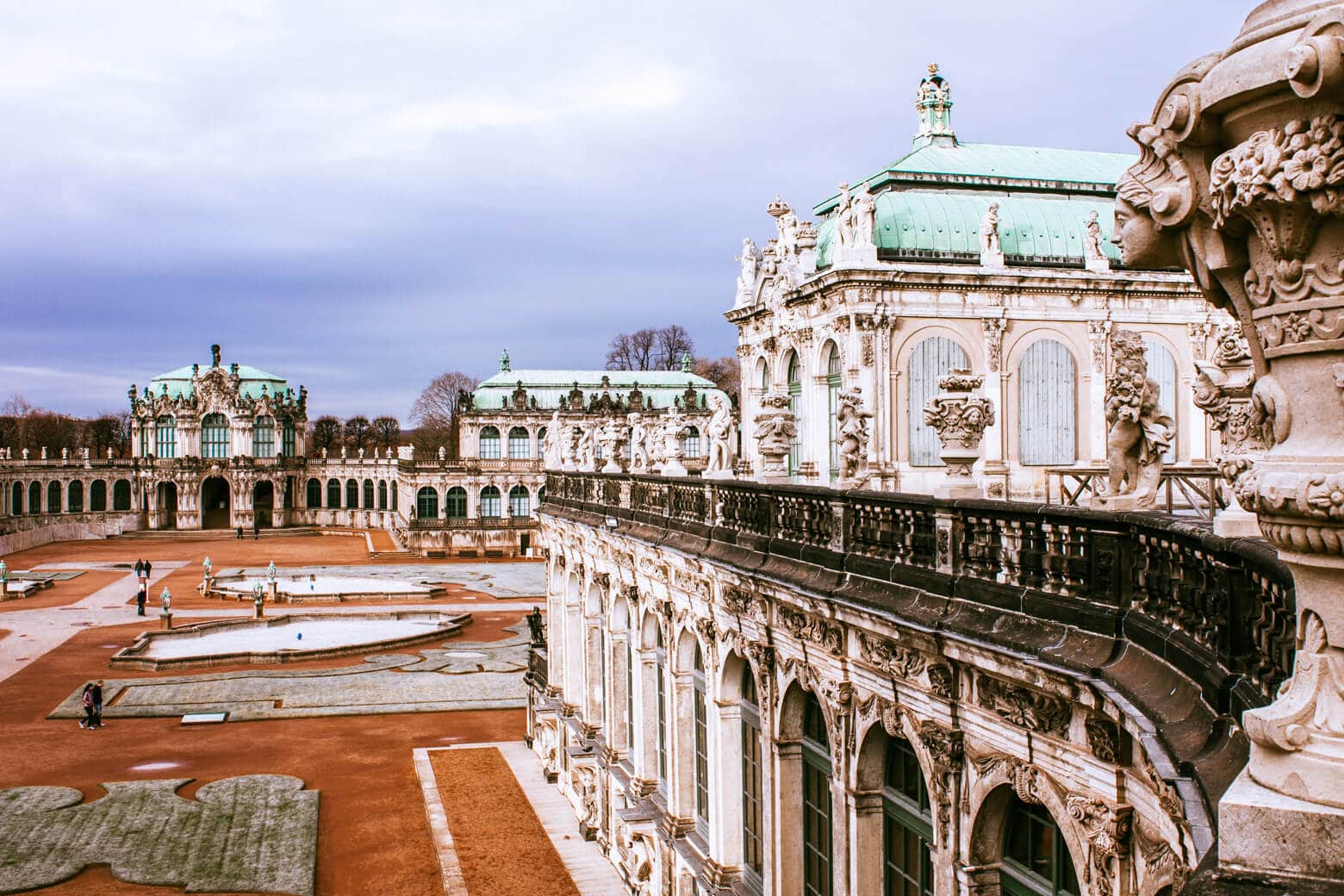 It's weird to imagine the rubble of the bombed-out Frauenkirche and other buildings laying around for more than 50 years. But that's exactly what happened.
Much of the rebuilding started after the fall of the Berlin Wall and the famous Frauenkirche for example, the focal point of the Neumarkt, wasn't completed until 2005.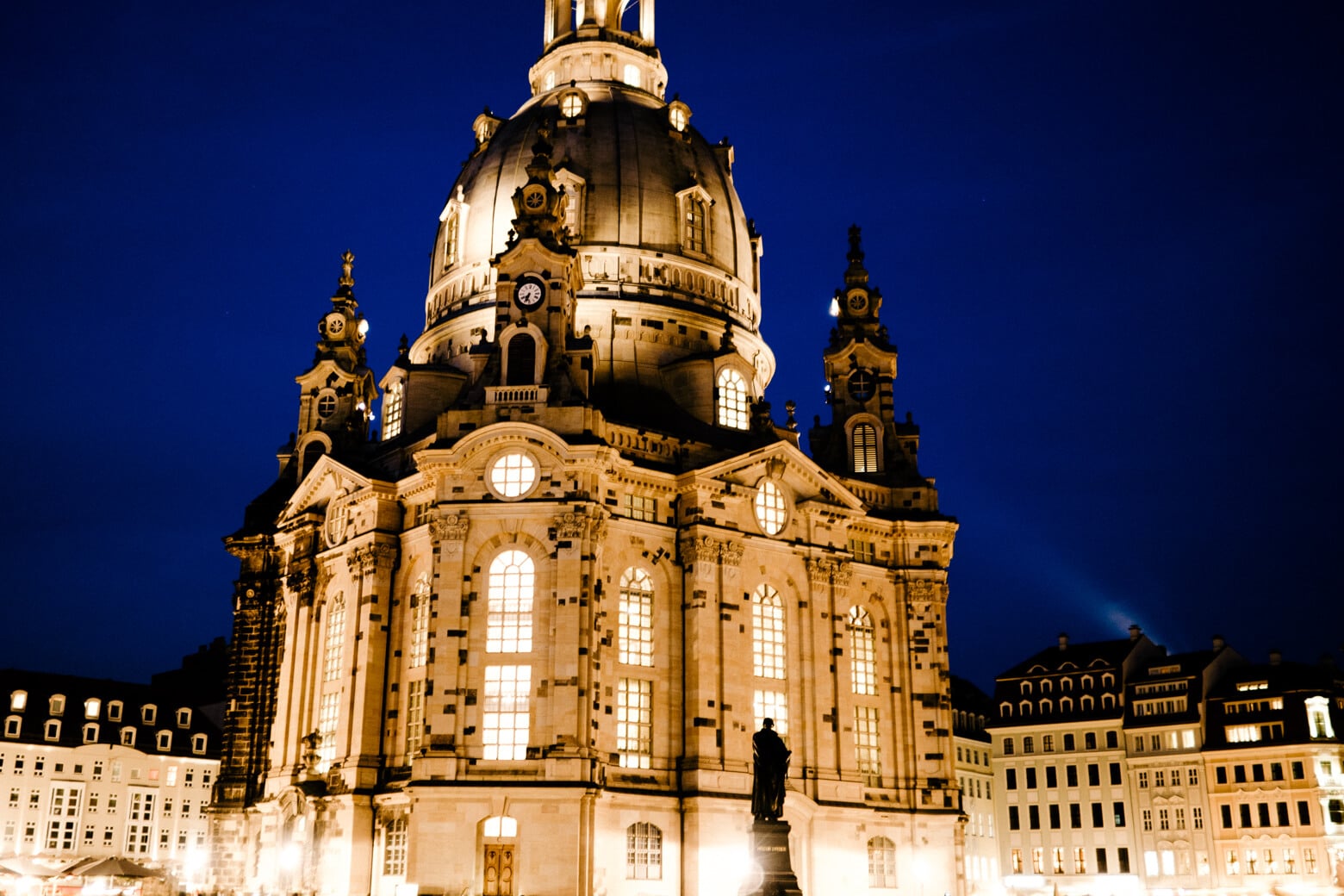 Of course, the city's East German personality still lingers but that's part of the city's charm and character.
You'll see this in the relatively traditional locals and the still popular classic German experience of afternoon coffee and cake.
For a different experience, cross the Elbe River to enter Dresden Neustadt, where there's an eclectic mix of old-time East Germany and cool hipster vibes.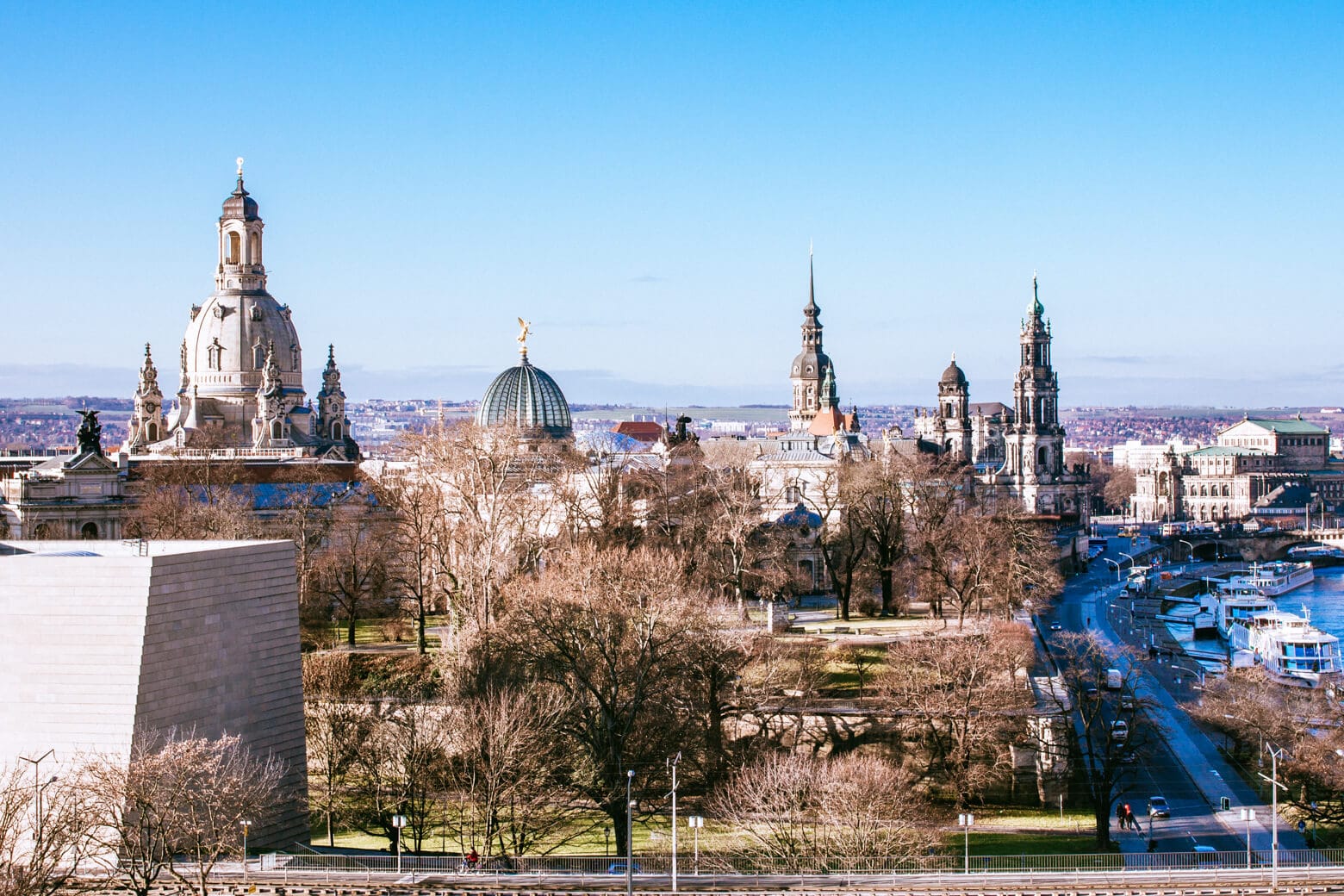 Christmas Events in Dresden
Sometimes it's nice to plan your trip around an event. In December, there are more festive events than just the Christmas markets.
There is the Christmas Garden event on the banks of the Elbe River, brunch at the ice rink, and a city tour that takes you by the best Christmas markets on both sides of the river and across the Blue Wonder bridge.
You can also visit Dresden's Christmas Circus or Russian Orthodox singing performances by the Moscow Cathedral Choir. See all events in Dresden here.
Sustainability at the Christmas Markets
These kinds of festivals and markets can and do create a lot of waste, that's probably my biggest issue with them. At least Dresden's Christmas markets use biodegradable plates, bowls and cutlery.
Weather in Dresden in December
Temperatures in Dresden in December typically range from 3-6 degrees celsius. It's probably 50/50 if you'll get a white Christmas.
This year looks to be colder than usual so there might be some snow around but you're more likely to have rain.
You'll definitely want to have a heavy coat and gloves and you can stay warmer with a mug of mulled wine (gluhwein) or hot chocolate. Which reminds me, Dresden also has delicious hot cider!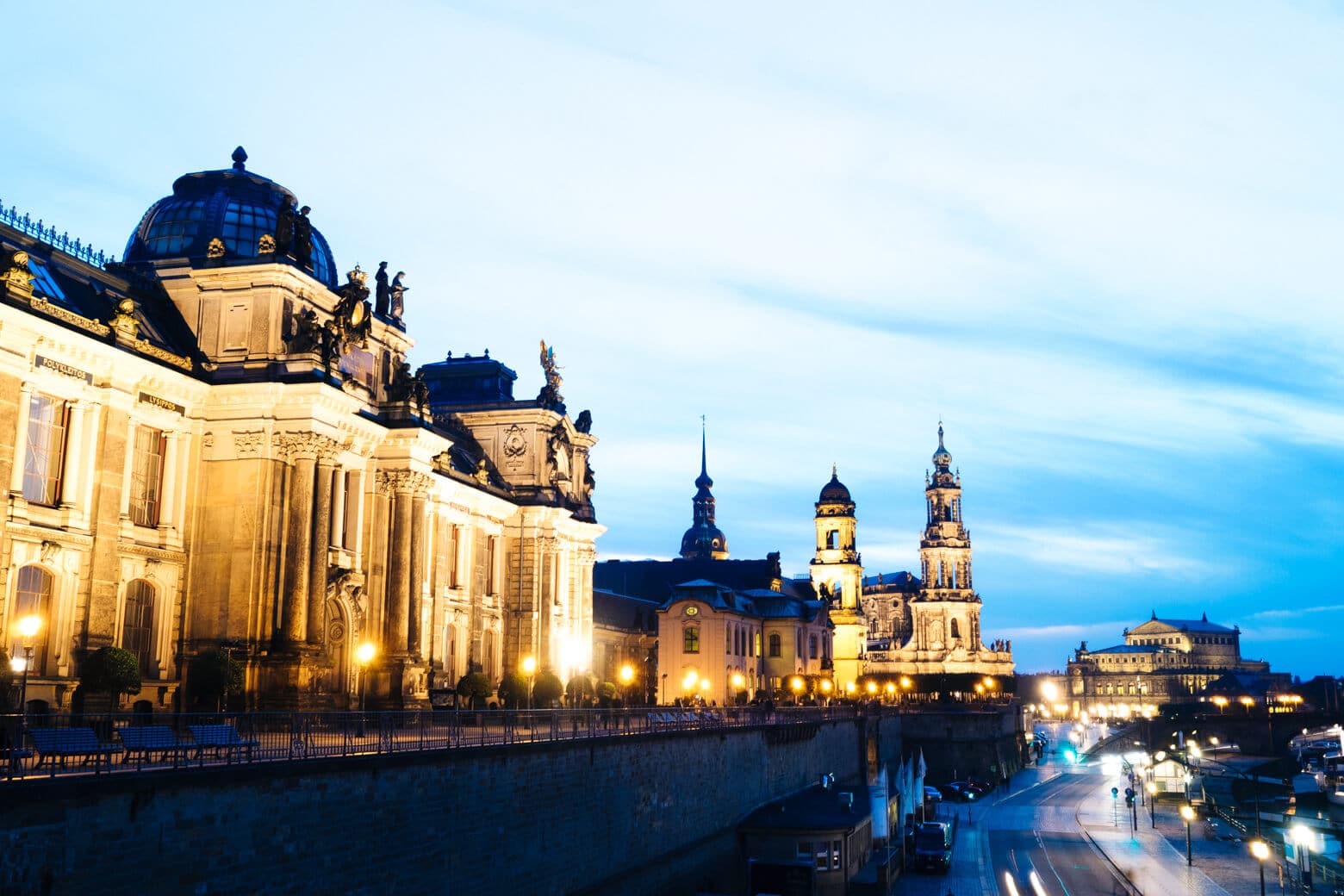 For more Christmas destinations in Europe, consider taking one of these Christmas road trips. If you plan things well you could visit three destinations in one trip. This is especially easy when in Dresden as there are so many amazing winter destinations a short drive away.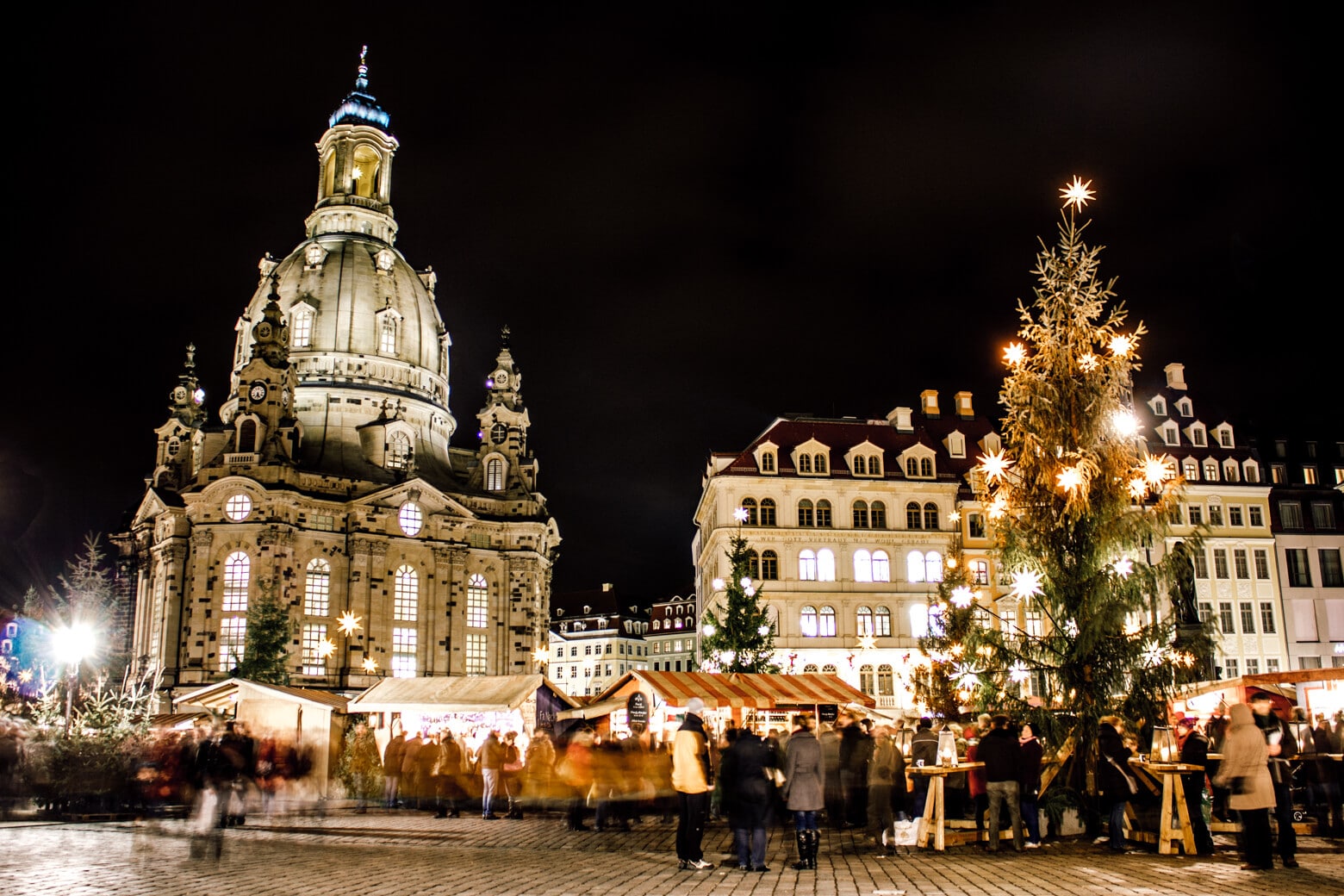 —
Recommendations are independently chosen based on personal travel experiences and extensive research. This post contains affiliate links to hotels and tours in Dresden, Germany. This means I get a small commission from any bookings at no extra cost to you.