Keukenhof Gardens 2023 is the home of the Amsterdam tulip festival in the Netherlands. It takes place each spring in the small town of Lisse, an hour south of Amsterdam. This guide to Keukenhof includes dates, opening times, how to get there, how to buy Keukenhof tickets and the best time to visit.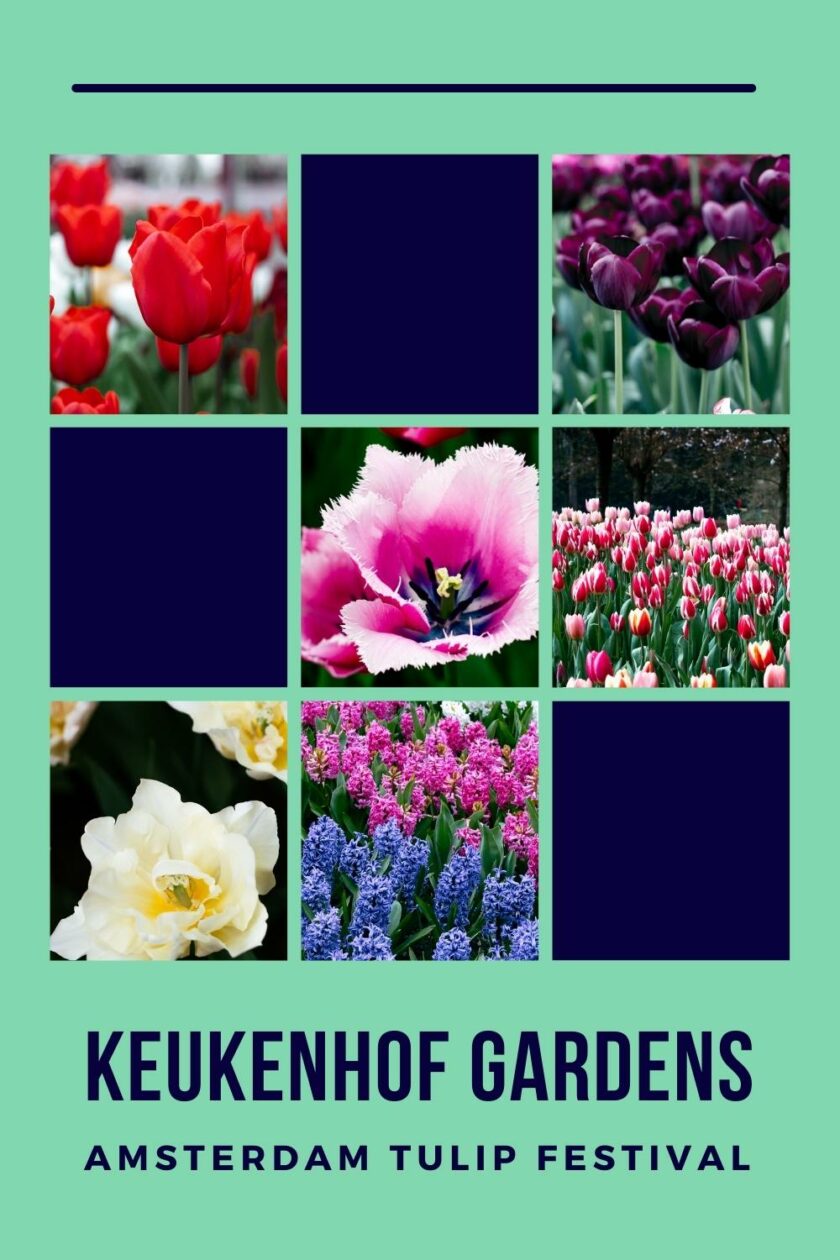 It was always a dream of mine to visit Amsterdam to see the tulips and the festival didn't disappoint. While walking around the gardens you'll see expansive flower beds of tulips, daffodils, hyacinths and so many other flowering bulbs. Special tulips and orchards are located in the indoor pavilion.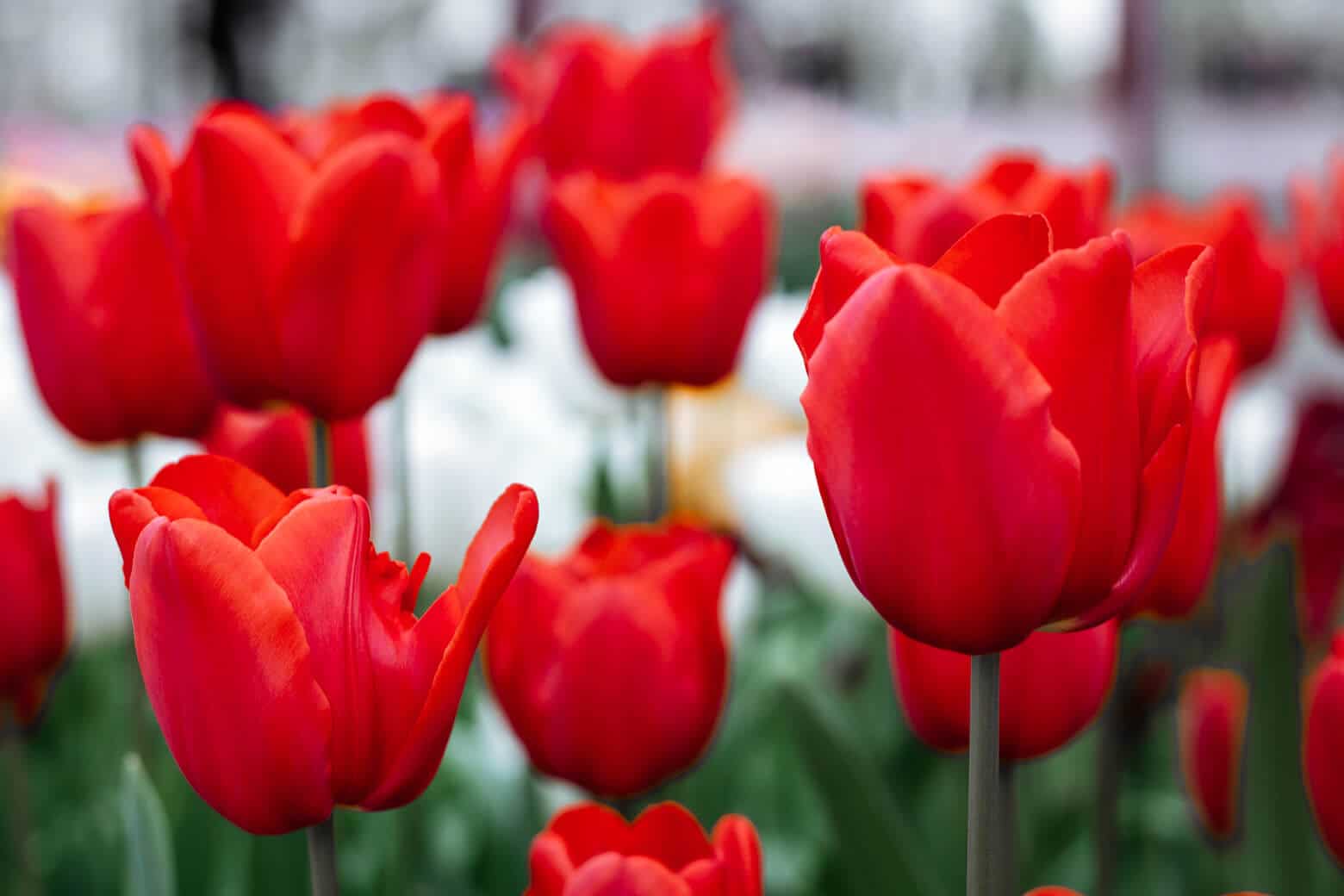 Keukenhof Tulip Gardens
Keukenhof Gardens in 2023 runs from the last week in March to mid-May.
Dates: 23rd March to 14th May 2023.
Is Keukenhof 2023 open? Yes, every day from 8am to 7:30pm.
Keukenhof Tickets
Tickets are available online. You don't need to print them out, just show your ticket on your phone when you arrive. You can either purchase the Keukenhof tickets on their own (and find your own way to the gardens) or you can book a ticket and transportation combo that includes a bus transfer from Amsterdam.
Purchase your Keukenhof tickets here.

Alternatively, get the Keukenhof ticket and transportation from Amsterdam combiticket.
Hotels near Keukenhof Gardens
Keukenhof is located in the small town of Lisse, Netherlands. Read my full guide to hotels near Keukenhof Gardens in 2023.
I recommend staying at the Boutique Suites Lisse as this is within walking distance to Keukenhof.
However, most visitors prefer to visit Keukenhof on a day trip from Amsterdam and in that case I recommend the Sir Albert Hotel due to its excellent location and helpful staff.
You might also consider staying in Leiden where there are more hotel options than in Lisse. Leiden is a 20-minute drive from Keukenhof and less than an hour by train. Hotel Steenhof is a good option in Leiden.
I suggest booking Keukenhof hotels well in advance if you want to stay close to Keukenhof as the best hotels book up quickly, often six months in advance.
When is the best time to visit Keukenhof Gardens?
Depending on when you visit you'll see different flowers in bloom. When I went in early April the tulips were just starting to flower in the outdoor flower beds and there were thousands indoors.
Best time to visit Keukenhof Gardens: From mid-April to early May, before 10am or after 4pm.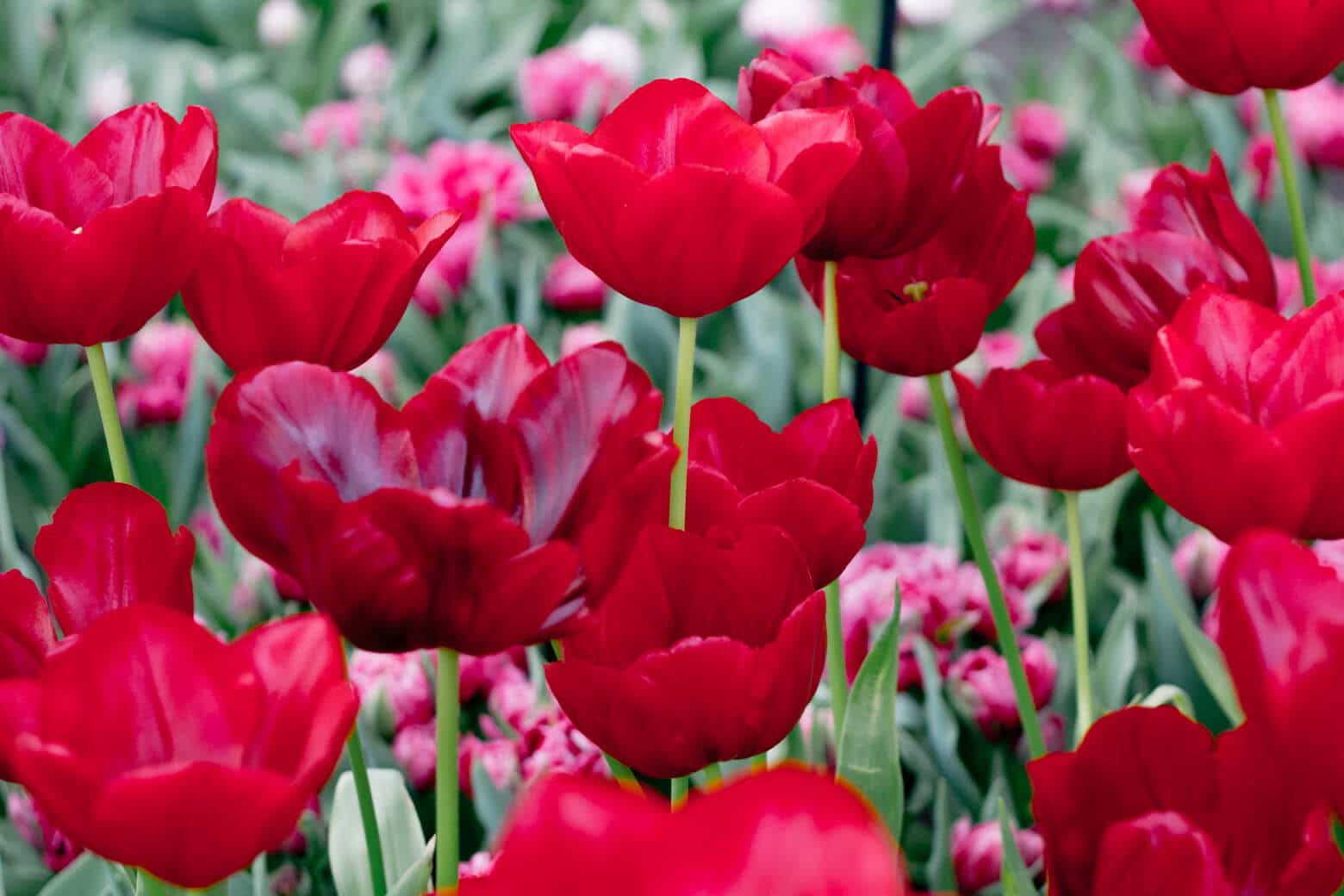 Some of the best and most interesting tulips are in the indoor pavilions. The pavilions are where you'll see just about every tulip colour and type imaginable and these are in flower for the entire festival. They're always experimenting with new colours and types of tulips. You'll find singles and doubles in the most amazing colours.
Amsterdam Tulip Festival
If you love tulips or flowers or gardening in general, you'll love the Amsterdam tulip festival at Keukenhof Gardens, especially in 2023 when the event is expected to be bigger than ever after a quiet couple of years.
To reiterate, the Amsterdam tulip festival (sometimes called the Dutch flower festival) and botanical gardens in Keukenhof is open from the 23rd March to 14th May 2023. The best time to visit Keukenhof to avoid the crowds is early April (and to see the hyacinths and daffodils). You'll have a better chance for nice weather in late April or early May and this is also the best time to see the outdoor tulip blooms and bulb fields.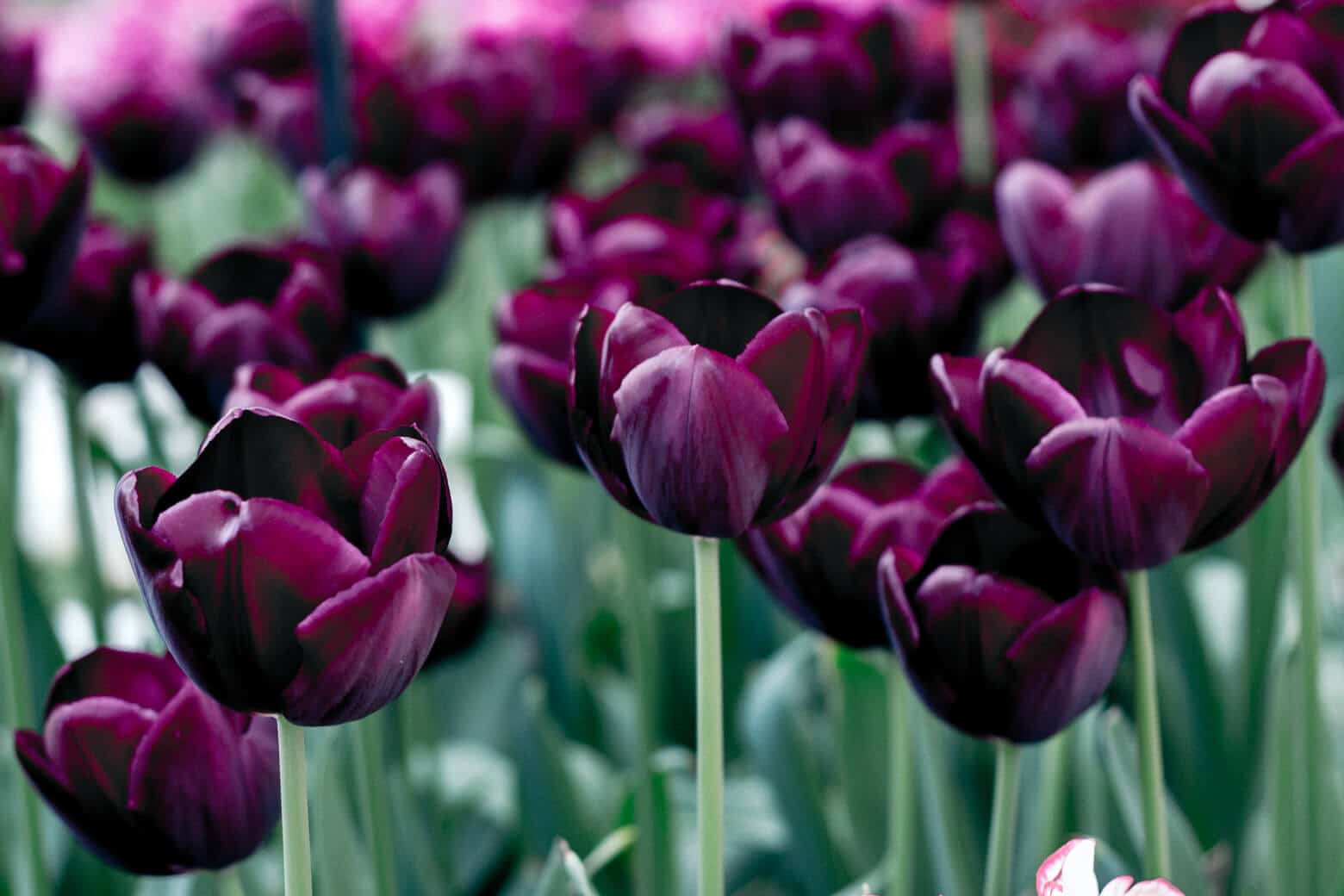 My favourite was probably this blue and pink fringed tulip. Such a special tulip. It's very cool to see something like that in person. The black (or near black) tulips are unique and unusual too.
Each year at the tulip festival in the Netherlands, new varieties of tulips are on display so you can visit in multiple years and see different tulips each time. I'm looking forward to my next visit to Keukenhof.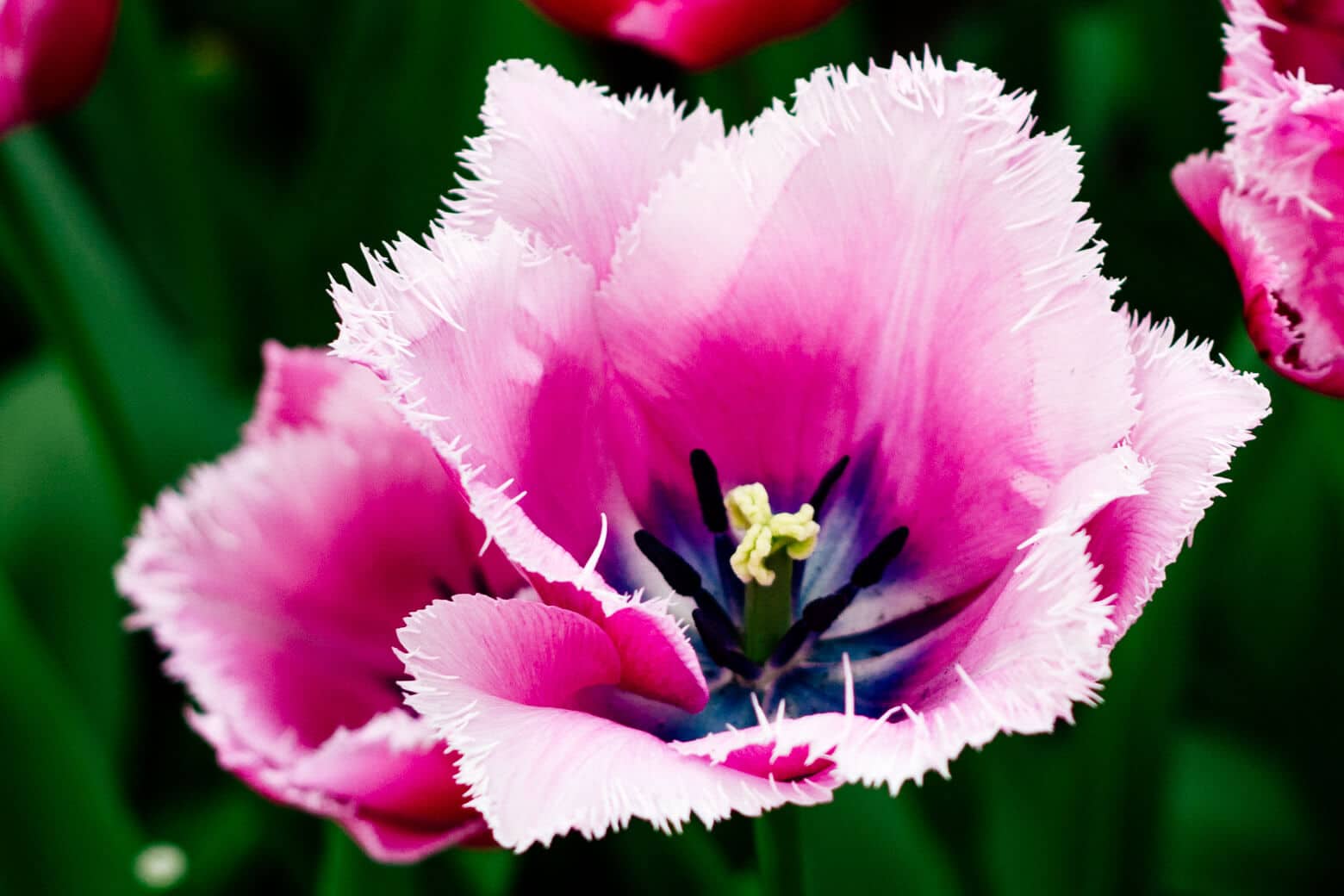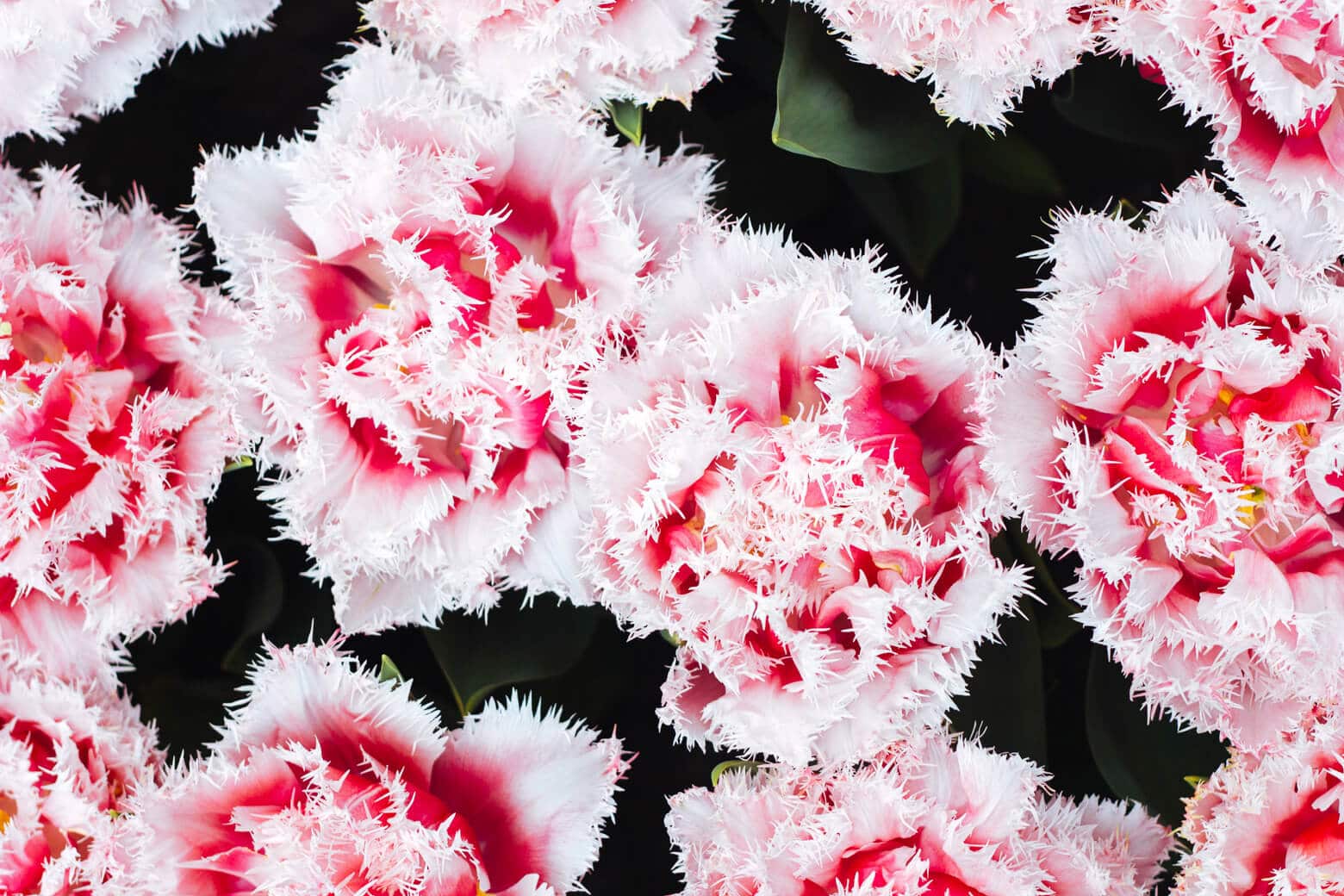 Keukenhof Tulip Gardens
If you visit Keukenhof tulip gardens in April, you'll also see many different colours of sweet-scented hyacinths, an underrated flowering bulb in my opinion. I love them, even the cute little grape hyacinths which I'd never seen close up before.
There are flower beds filled with pink, white, blue, yellow, and mauve hyacinths and there are different varieties in pots in the pavilion. This changes all the time so expect to see all kinds of different flowers, both new and heirloom varieties. These are good plants to buy at Keukenhof as they are so easy to grow in pots and are perfect for a desk or windowsill.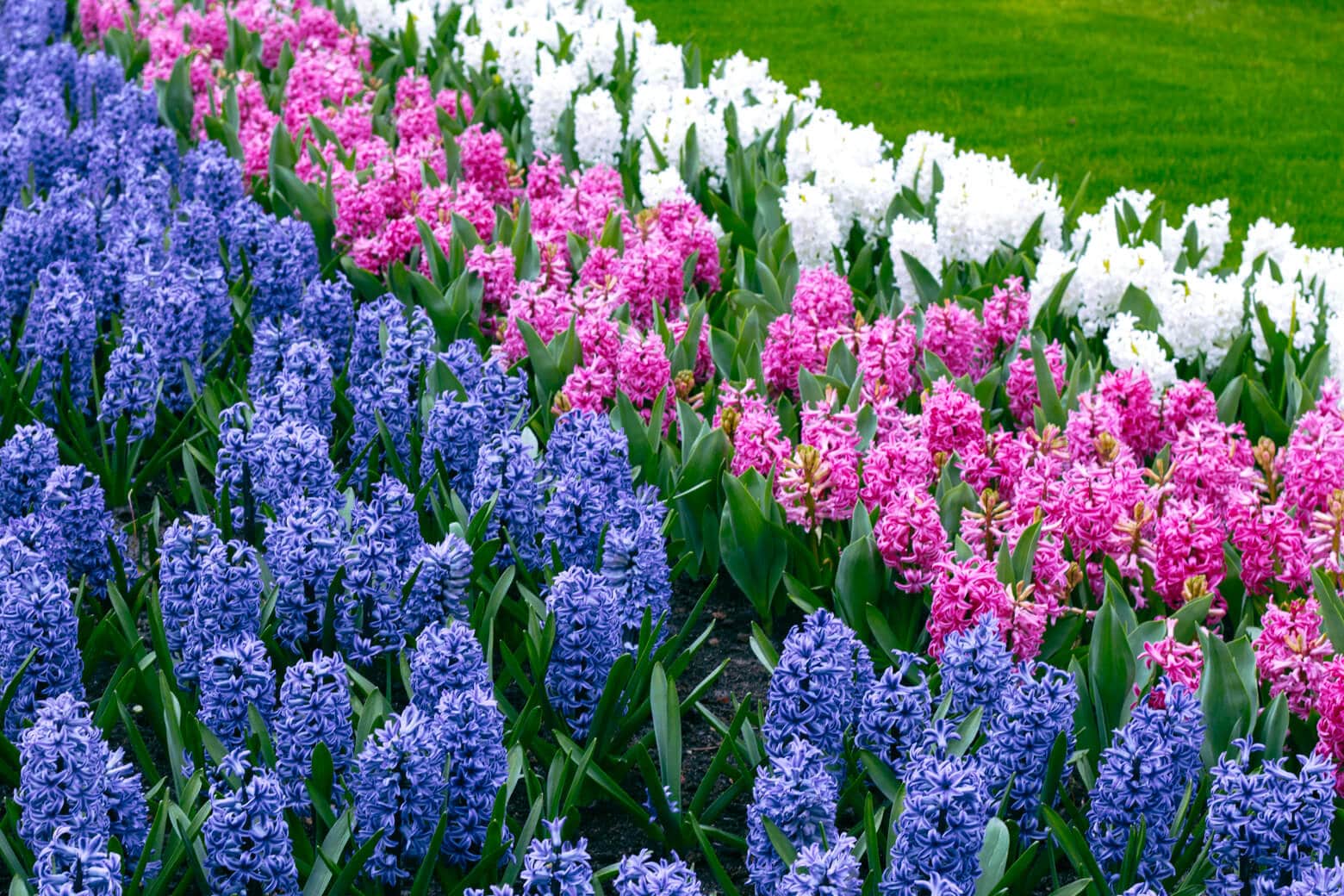 I was surprised to see there is also an indoor area for orchids, something I wasn't expecting before I went. I have never seen such a huge variety of orchids before. If only I could grow these myself, I did try once but after the initial bloom, they never flowered again. They are incredible and so delicate looking.
Don't miss this section of the flower festival, they are located in one of the larger pavilions separate from the indoor tulips.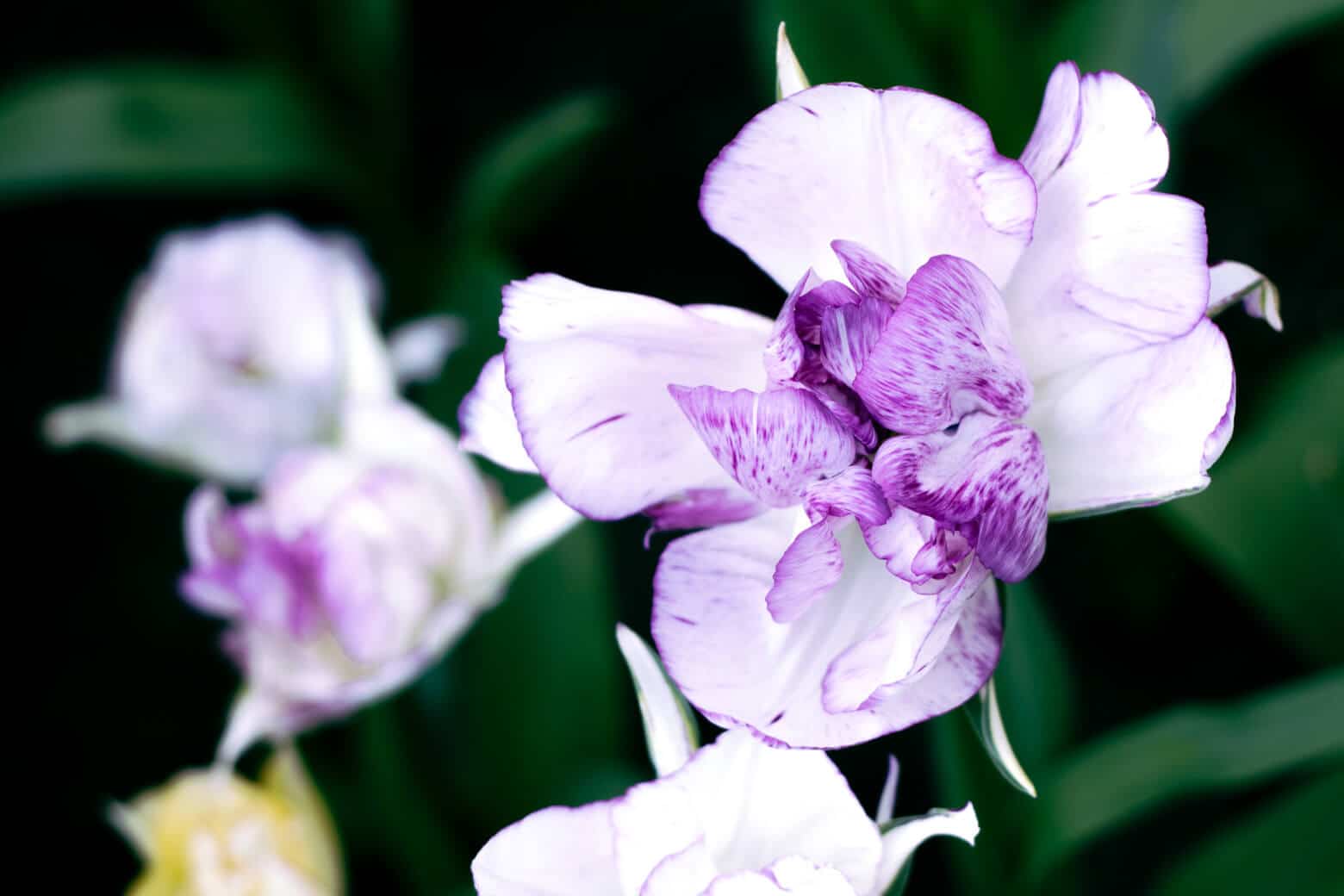 You can buy some tulip bulbs to try to grow at home if you like. You can get them directly at the Keukenhof garden in Lisse or at the floating garden centres on the canals in Amsterdam. Just make sure your country allows you to bring home plants.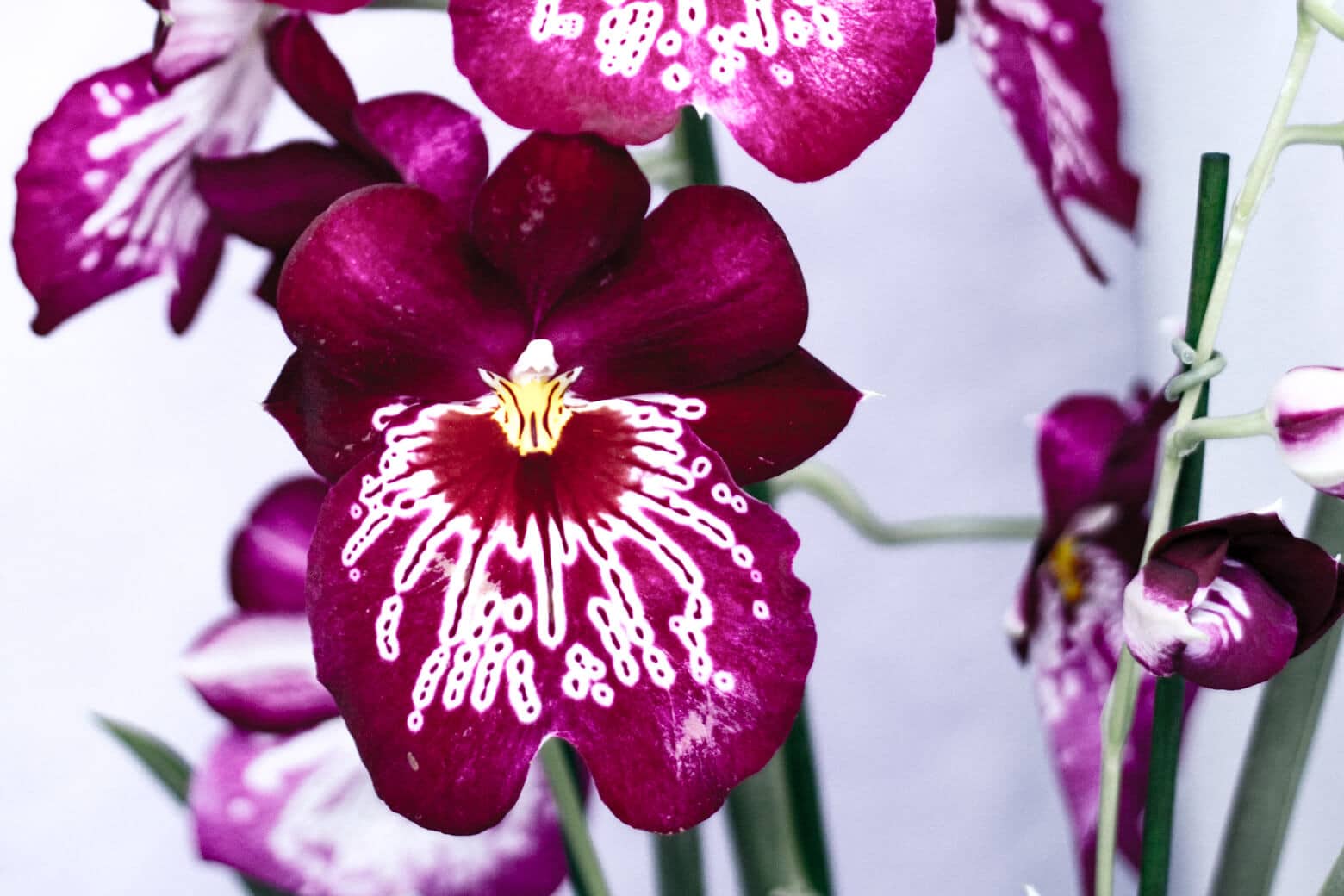 Tulip Fields
Don't forget that around Keukenhof's botanical garden there are massive fields of tulips. These are almost better than the festival itself and it's not unusual to see tourists stopped by the side of the road trying to get photos, often just for Instagram.
When booking your trip, reserve enough time to explore the area outside of the gardens to see the famous tulip fields. Definitely try to visit for sunrise or sunset if you want to get the best photos.
Sunrise and sunset times in Lisse in spring 2023.
I know it can be a pain to get up for sunrise but it's totally worth it. You'll need to allow plenty of time to scope out a location which is another reason to stay in Lisse, it'll give you plenty of time to take photos of the tulip fields. Staying in Leiden is also a good option for this reason.
Ride a Bike Around the Tulips
For a classic Dutch experience, you can cycle around the tulip fields in Lisse. This is a fun way to see the colourful tulips fields and take photos away from the crowds at Keukenhof.
Keukenhof bike tour: Book this 3-hour guided tour.
You can hire a bike from the bike rental station at Keukenhof or you can take a tour with a local guide. The guided tour is a nice way to go as you'll get to hear about the history and culture of tulips in the Netherlands and how Keukenhof came to be. Your guide will show you all the best spots and the most beautiful tulip fields in Keukenhof.
Drive an Electric Car Around the Tulip Fields
If you're not feeling up to riding a bike or mobility is an issue, a unique way to see the tulip fields is by driving yourself around in a mini electric vehicle.
Drive yourself tour: Book your electric buggy online before you go.
I'm not sure if you've seen them before but Renault came out with a little 2-person car called a 'Twizy'. It's actually more like a golf buggy than a car and you can hire one to drive yourself around the tulip fields in an environmentally friendly way.
Don't worry if you're normally not confident driving in a foreign country, this is a self-guided tour on a set trail. You follow the road through the Keukenhof forest and around the tulip fields. You can stop and take photos as often as you like. You are given a GPS but you can't get lost, they make it really straightforward.
The tour goes for 90 minutes and pick-up is in Lisse. Note that you need to have had your driver's license for 3 years to be able to drive these buggies.
This is a great way to explore the tulip fields as you can stop whenever you want and you have an audio guide with information and tips.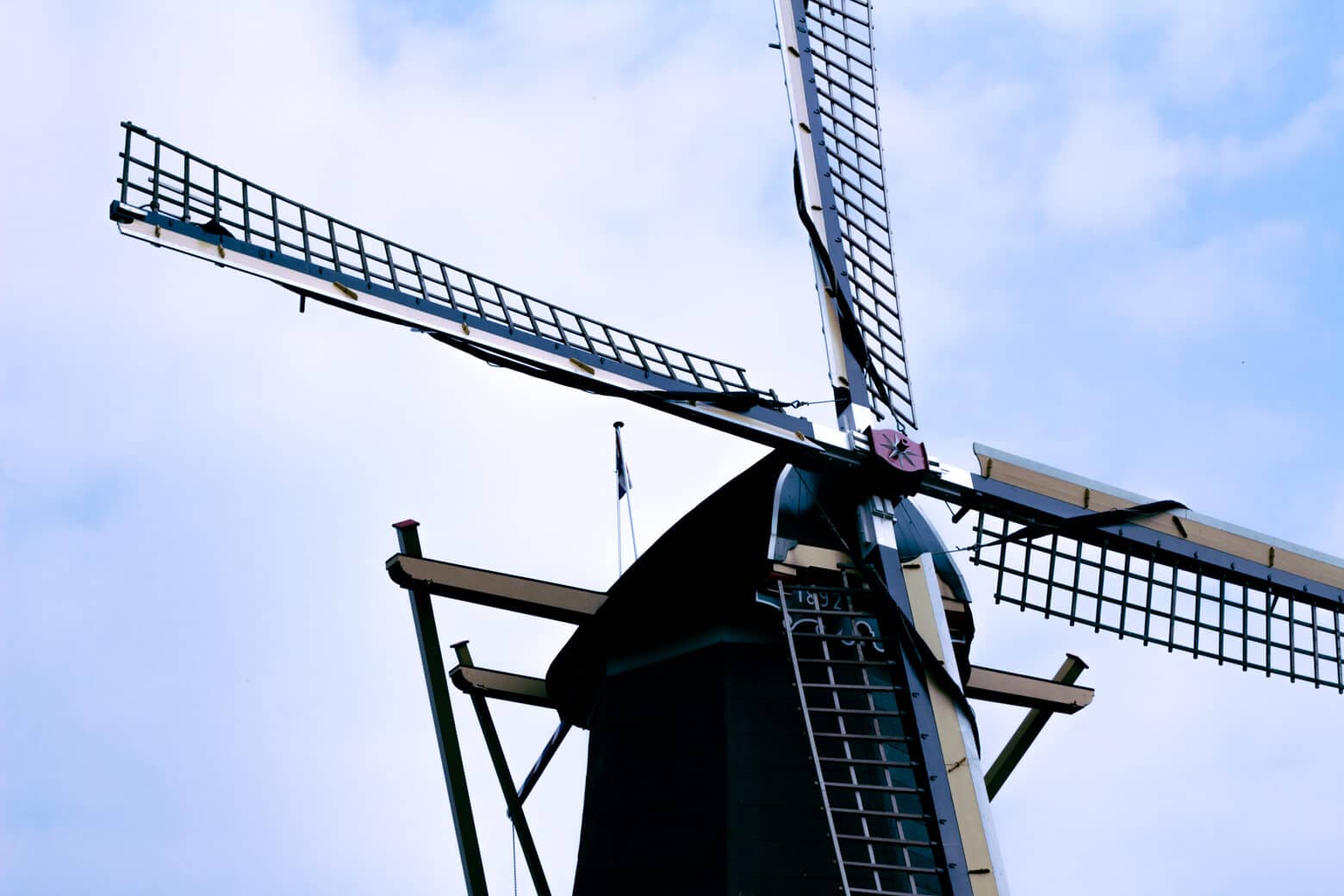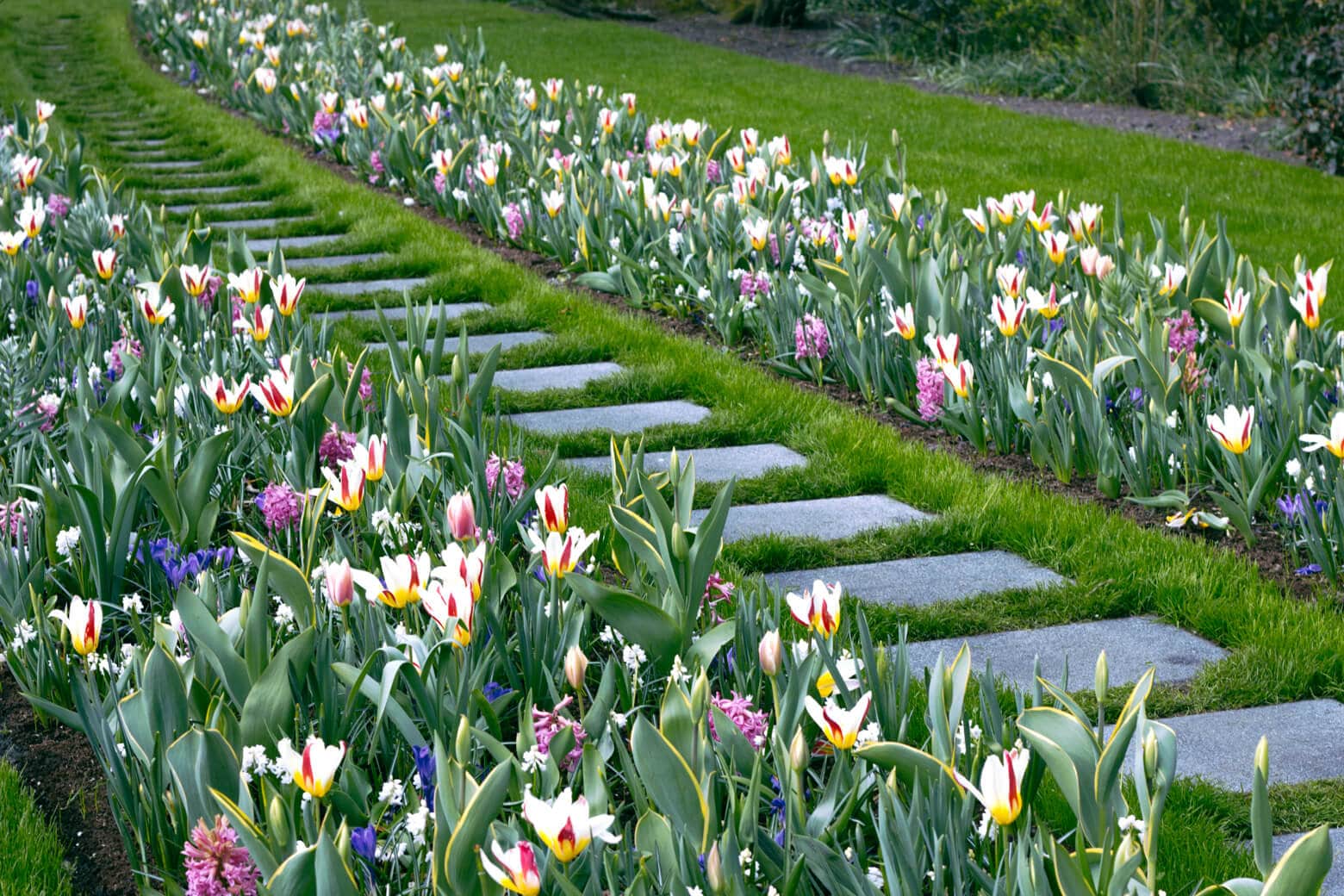 The tulip festival and fields is a fun day trip from the Amsterstam or you could include your visit as part of a longer Netherlands road trip.
More details can be found on Keukenhof's official site.
No matter when you visit there will always be 1000s of bulbs flowering throughout the gardens.
If you can't be in the Netherlands during the Keukenhof festival, National Tulip Day is held in Amsterdam each January. This is the start of Amsterdam's tulip season and there's a temporary tulip garden in Dam Square where you can pick a tulip for free.
If you're still not sure when to go, this post on the best time to visit the Netherlands might help you decide.
Summary
Keukenhof is open from 23rd March to 14th May 2023.
Yes, Keukenhof Gardens are open in 2023.
Mid-April to early May is the best time to visit (before 10am or after 4pm).
Tulips are in flower during the entire festival.
You can also see hyacinths, daffodils, crocus, orchids, and other spring flowers.
Stay in Lisse if you'd like to be within walking distance of the event.
Stay in Amsterdam if you'd prefer to do a day trip.
It's easy to reach the festival by car or public transport.
Skip the line and buy your ticket online.
Book a tour if you don't want to organise your own visit.
You can cycle around the tulip fields in Lisse.
Alternatively, you can take a self-driving tour.
—
Recommendations are independently chosen based on personal travel experiences and extensive research. This post contains affiliate links to hotels and tours in Lisse and Amsterdam in the Netherlands. This means we get a small commission from any bookings at no extra cost to you.