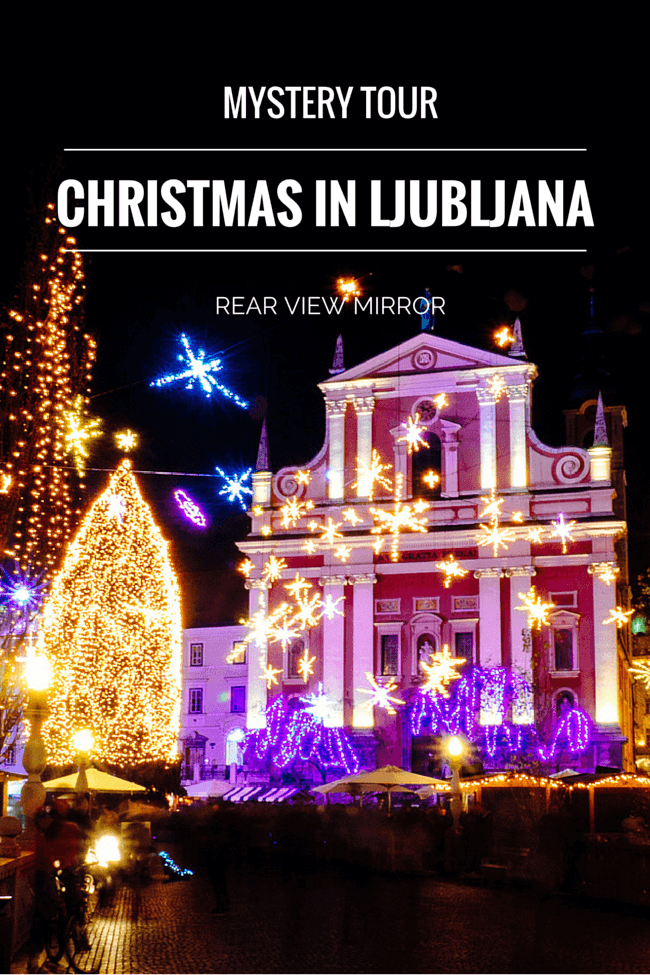 The first decision of the day; Slovenia or Hungary?
I really wanted to do both. Even though I'm living in Budapest I haven't been to the east of Hungary and from there it would be easy to catch the train to Romania or Serbia.
But Ljubljana is cute at Christmas and the Western Balkans is way warmer, an important factor at this time of the year.
After 30 minutes of back and forth Ljubljana finally won out. Two trains with time in between to visit Villach on the Austrian border. Easy.
Three trains and two buses later we step onto the platform in Ljubljana. Things are never easy.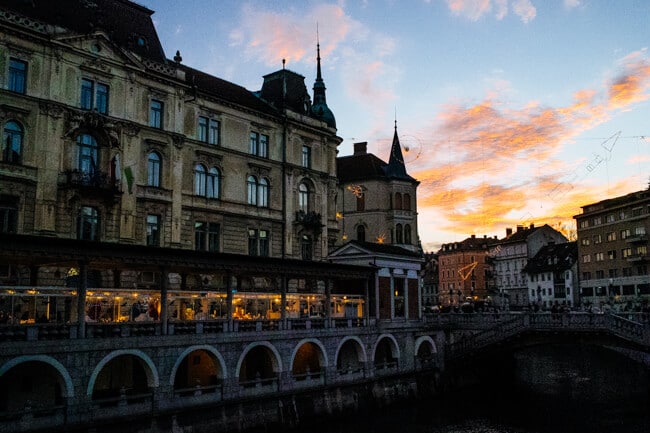 I immediately notice a few upgrades around the station and more renovated buildings as I walk into town. Ljubljana might be small but things are always changing.
We grab a hotel room near the station and head straight for Preseren Square. Almost a year ago I started my vlogging 'career' in Ljubljana. One of my first videos was filmed in front of the pink church in the square with the Triple Bridge in the background. It's a weird feeling being back filming the same places.
The square is bustling with Christmas market goers and the riverside pubs and restaurants are more packed than I have ever seen them. I often criticise Ljubljana for being boring but not this night. Everyone is out drinking and partying.
Still recovering from those Warsaw vodka shots, we keep a low profile, having a quick Chinese dinner and taking some night shots of the Christmas lights. Next time in Ljubljana I look forward to venturing into the old town for a quiet New Year's celebration.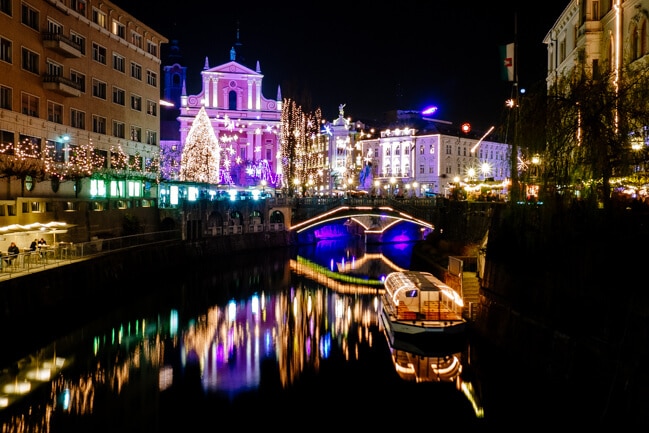 Spotting a wall of cheese we enter a small shop hoping to taste a few Slovenian cheeses. It turns out they stock cheese from all over the world except Slovenia. We try a few anyway, Dutch gouda, English cheddar and an unusual cheese from Norway which tastes like caramel.
We leave with far too much cheese.
It's a quick visit but I'm sure I'll be back again next year.
Watch the Video
Video coming soon!
Watch Last Year's Ljubljana Christmas Video
Food Highlights: Delicious Chinese food at Han. Cheese tasting at Kraljestvo Sirov (Kingdom of Cheese).
Where I Stayed: City Hotel, conveniently located a few blocks from the station. The hotel is nice and the staff friendly but I recommend the Cubo Hotel if you prefer something more upmarket.
Vienna to Ljubljana: 3 trains and 2 annoying replacement buses via Villach. Smart people would get up early and take the direct train from Vienna which takes 6 hours (when they aren't doing rail works).
Take a peek at the next stop on the Mystery Tour.
Previous destination: Rest Day in Vienna
Next destination: Zagreb Shrouded by Fog