They say the way to a man's heart is through his stomach. As it turns out, that's the way to my heart too and after eating my way around Prague I think this city has finally gotten under my skin.
I've always liked Prague but I'm not sure I've ever loved it. The city is gorgeous of course, some say the most beautiful in Europe (I don't), but once you've seen the Old Town, the massive castle on the hill and pushed your way through the hordes on Charles Bridge, what more is there to Prague?
One of the reasons Prague left me feeling a little disappointed in the past is the food. If you head a few streets away from a touristy area you can usually find a nicer restaurant with more reasonable prices but that's not necessarily the case in Prague. You have to really know where to go. You can head outside of Prague 1, the district with all the main sights but it can be a long way to go just for a quiet meal.
When I was invited by Eating Prague to review their food tour I figured this was a great opportunity to discover a different side of the city, to find some local haunts where people are passionate about the food they serve and the quality of the ingredients, not just taking advantage of Prague's position as a top travel destination.
Eating Prague's food tour takes you around Prague 1, the historic area around the Old Town Square, the Jewish Quarter and Wenceslas Square. We stopped at seven different spots chosen for their use of local and seasonal ingredients and of course the deliciousness factor.
Discovery number one was open faced sandwiches. You'll see open sandwiches in many cafes in Prague but not everywhere has the same quality, some even using the dreaded margarine on the bread! We headed to Sisters cafe where they focus on using top quality ingredients and unusual flavours like wasabi and pickled herring. Try the beetroot and goats cheese sandwich for a more classic flavour profile.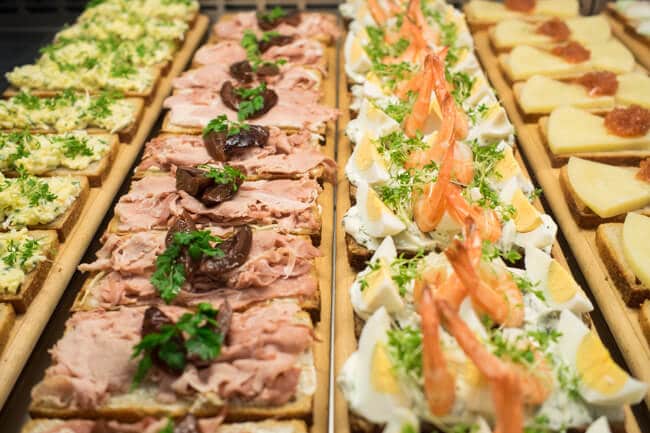 Right next door is a meat lovers paradise where you can get the butcher to cook up a steak as you wait or you can watch them skilfully butcher a side of beef as they prepare their popular beef tartare.
Voted as the most popular dish of the day was a Bohemian sauerkraut soup eaten at the top of one of Prague's towers. I had a vegetarian option instead, a tasty goats cheese entree.
Hungary isn't the only country famous for goulash, the Czech Republic does it well too. This is something you'll find on many Prague restaurant menus but our local guide took us to one of the best.
Another dish you might not associate with the Czech Republic is apple strudel. While it may have been Austria that made it famous, Prague has been preparing it for centuries. At Gallery Le Court you can eat your strudel in a beautiful hidden away courtyard.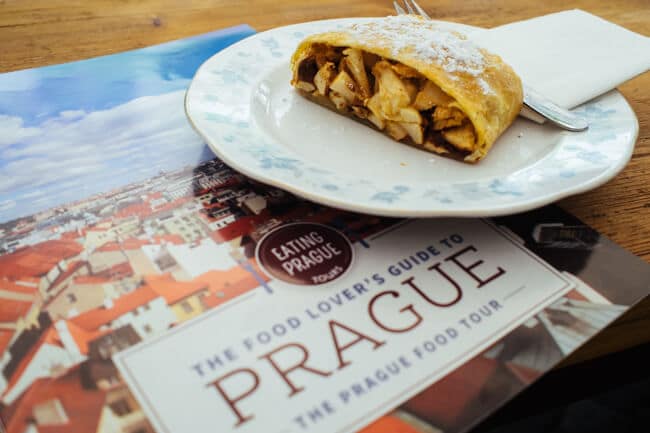 More dessert! This one is for the chocoholics. Thin rolled wafers stuffed with sweet cream which are dipped in thick hot chocolate. I was well past feeling full at this point!
Of course you can't get to know a country without sampling the local brew and the Czech Republic is famous for its beer. Watch the video below to see how I found it.
I've never taken a food tour before and am now regretting the missed opportunities as this is a fantastic way to discover a city and get an insight into the people and their culture. It was so sweet to see the owners talk to us with such enthusiasm and passion for what they do.
Many thanks to Eating Prague for hosting me on their tour. If you would like to book or get more information, visit their site or send them a tweet.
1