If you purchase through links on this site, I may earn a commission at no extra cost to you. As an Amazon Associate I earn from qualifying purchases.
As spring unfolds, we can finally get back outside and rediscover the world around us. April is a great month to embark on a new travel adventure, balancing the remaining chill of winter and the blossoming warmth of the season.
While it'll still be cold in some regions, flowers are starting to bloom elsewhere. Crowds are low, but events and activities are picking up. You can explore outside on milder days and spend relaxing hours at museums or cafes when it's not.
In this guide, I'll be sharing my top recommendations for where to go in Europe in April, ensuring a memorable spring escape in 2023.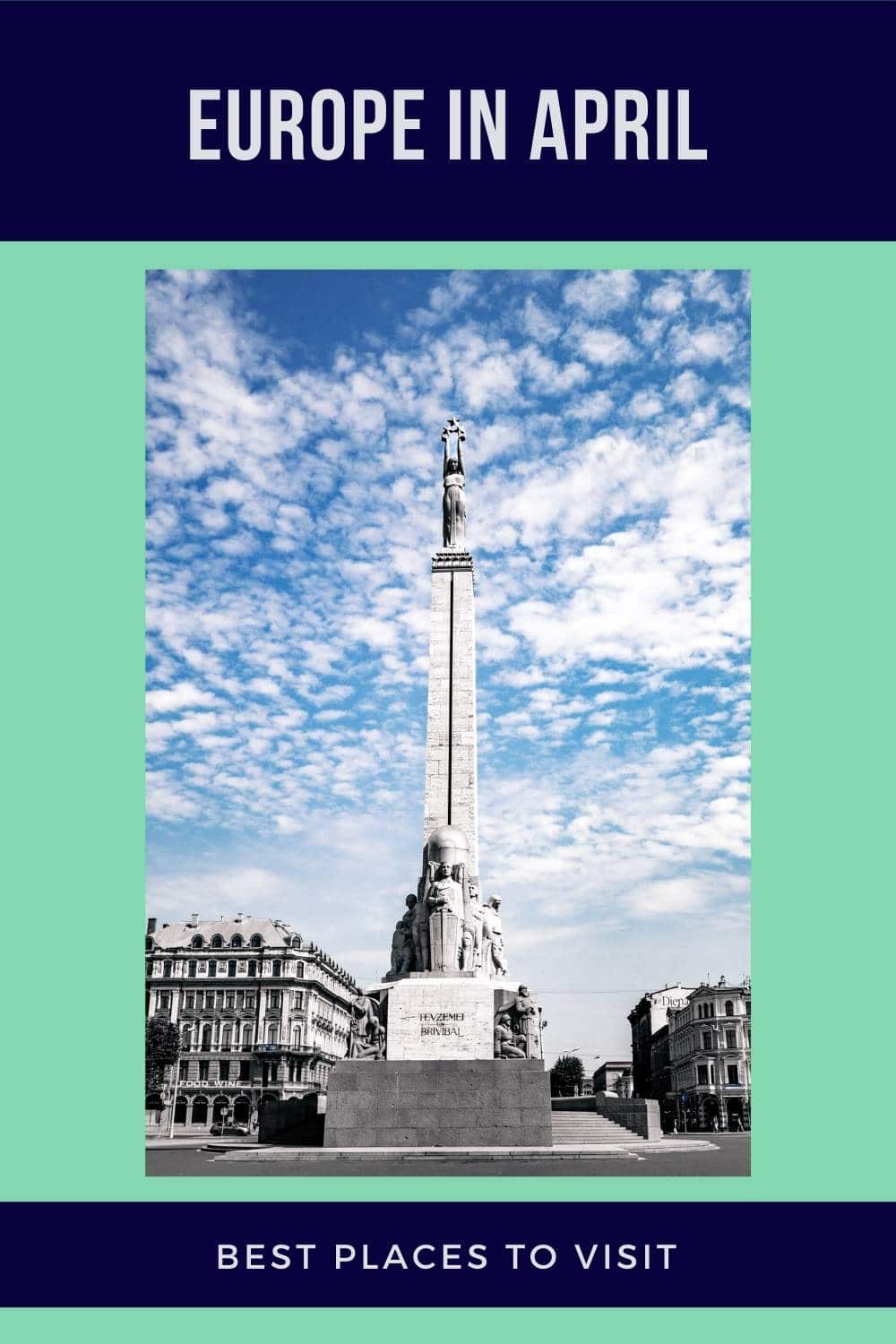 Where to Go in Europe in April
April is a fantastic time to explore Europe as the weather starts to warm up and the vibrant colours of spring begin to emerge.
While some might be tempted to head straight for the Mediterranean's sun-soaked shores, the chilly sea temperatures can be a bit of a drawback for those looking to enjoy the water.
Therefore, I recommend focusing on charming European cities where the blossoming flowers create a picturesque backdrop for your adventures.
So, which are the best European cities to visit in April? The options are endless, but here are my top recommendations for unforgettable city breaks this year.
1. Budapest, Hungary
Having once called Budapest home, I can personally attest to the city's enchanting charm during springtime. Gellert Hill comes alive with an array of blossoming trees, creating a picturesque setting for leisurely strolls or capturing the perfect photo.
The city's inviting cafe terraces begin to open their doors, offering delightful spots to unwind and soak in the vibrant atmosphere.
The crisp air of spring provides a pleasant contrast as you indulge in one of Budapest's renowned thermal baths, making the experience all the more invigorating.
To truly appreciate the city's beauty, I recommend waking up early and catching the mesmerising sunrise over Pest.
For the best vantage points, consider making your way to either Gellert Hill or the iconic Fisherman's Bastion, where you'll be rewarded with breathtaking views and a lasting memory of your time in this captivating city.
Read my full guide on what to do in Budapest for more April travel ideas.
2. Amsterdam, Netherlands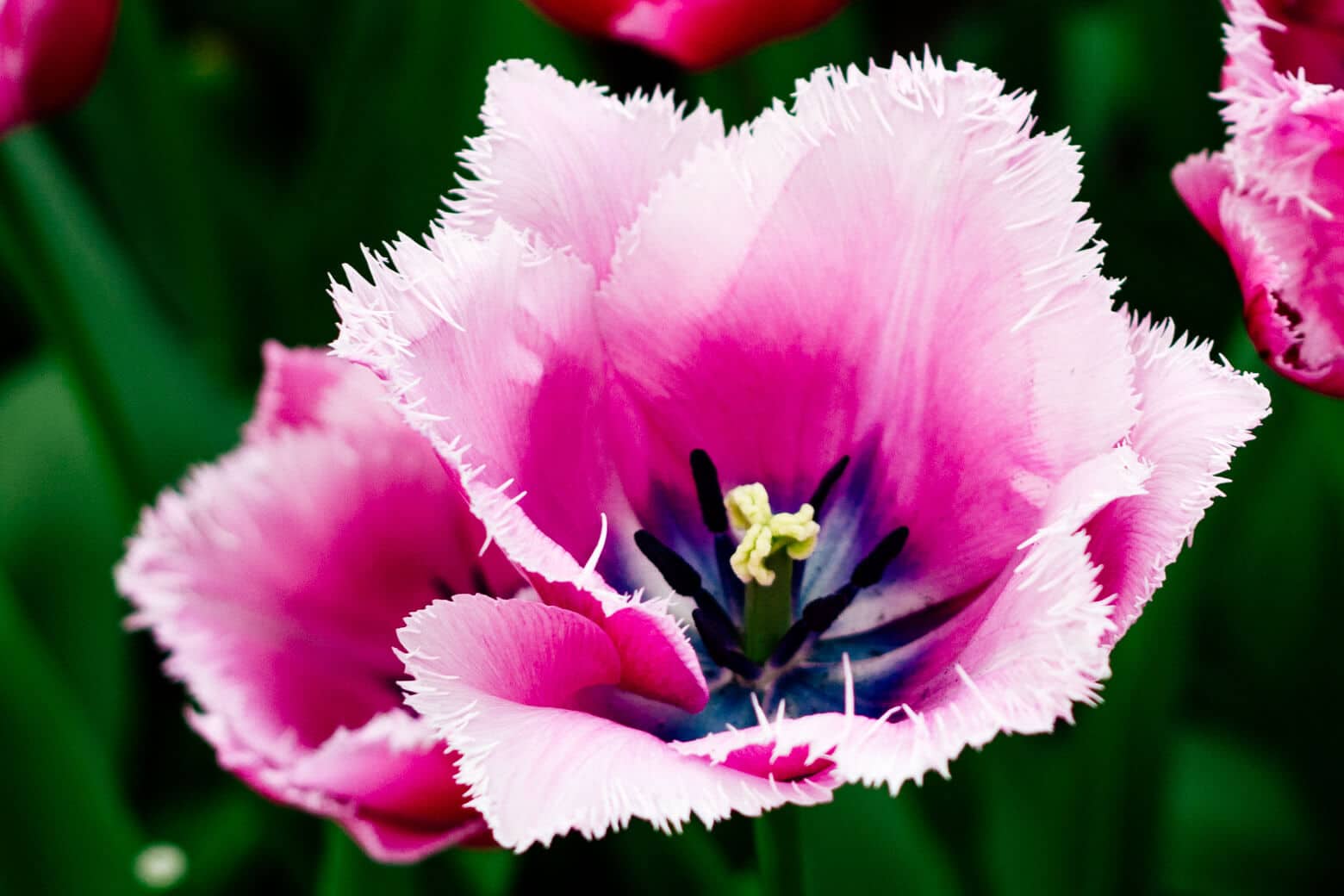 Amsterdam is a brilliant destination throughout the year, but visiting in April presents some unique opportunities that are not to be missed.
A day trip to Keukenhof tulip gardens is a must, as you'll be treated to a stunning display of vibrant colours that capture the essence of spring.
If you plan your visit towards the end of April, you can also take part in the exciting King's Day (previously known as Queen's Day) festivities. Scheduled for the 27th of April 2023, this massive celebration transforms the city into one enormous street party, brimming with lively energy and vibrant orange attire.
While it's true that the weather in Amsterdam during April can be somewhat unpredictable, don't let the occasional grey day dampen your spirits.
Use these moments to explore the city's world-class museums, such as the Van Gogh Museum and Rijksmuseum, or opt for a more offbeat experience at the Houseboat Museum.
Regardless of the weather, Amsterdam promises a memorable adventure in April.
3. Riga, Latvia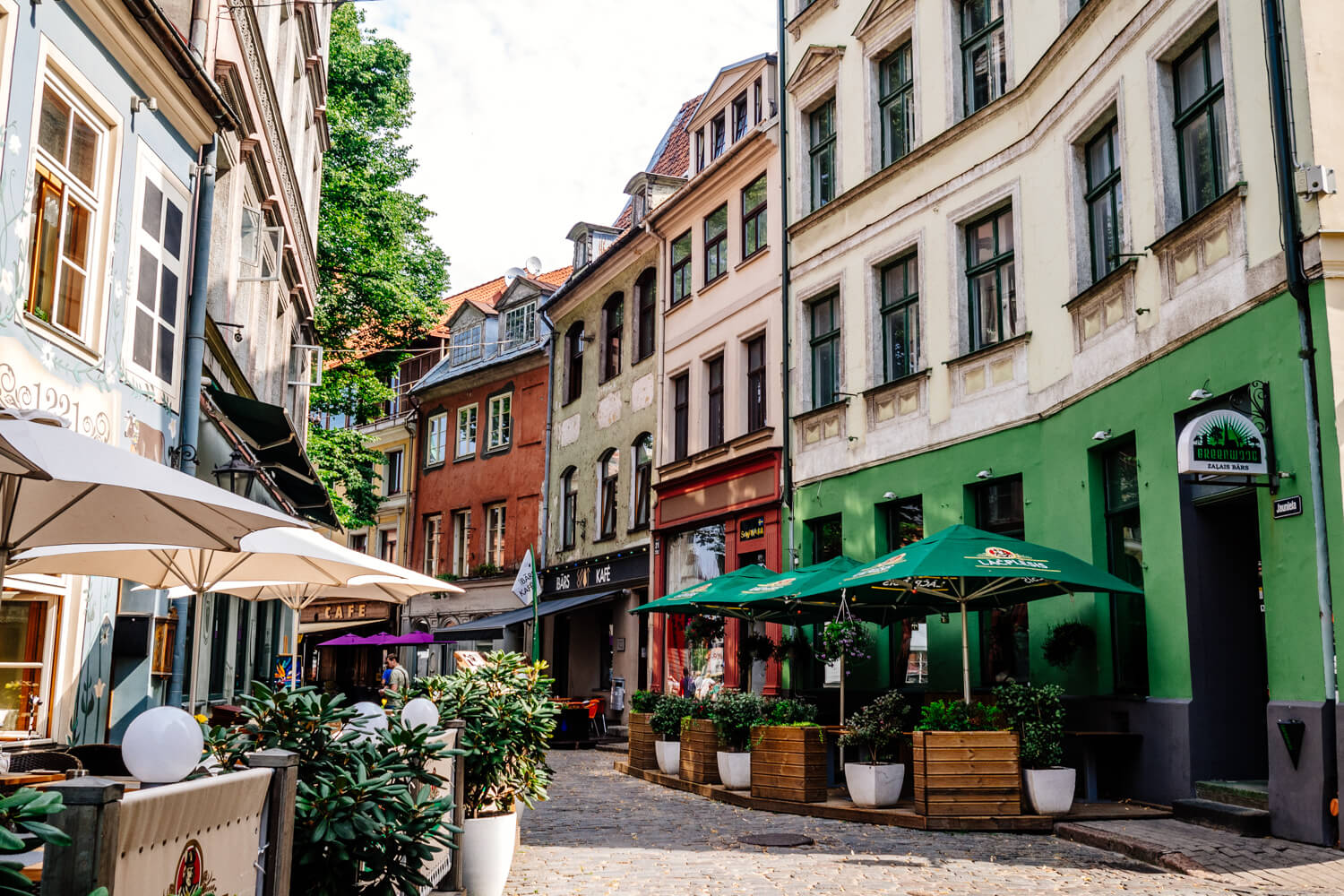 For anyone drawn to the allure of Eastern Europe, the Baltic States provide a fascinating travel experience that might surpass your expectations.
Riga is the charming capital of Latvia and is home to one of the world's largest concentrations of Art Nouveau architecture, making it a truly unique destination to explore.
Though Riga may be relatively small in size, its historic old town provides an abundance of interesting activities to fill your itinerary. Meander through the cobblestone streets, hopping from one cosy cafe to another during the day and immerse yourself in the city's lively bar scene as night falls.
While Riga might not be my personal favourite among the Baltic capitals, its appeal is undeniable and makes for an excellent budget-friendly weekend getaway.
If you have time for a more in-depth Baltic adventure, consider taking a road trip that includes stops in both Tallinn and Vilnius.
For more insights on visiting Riga, I recommend checking out the blog Ferreting Out The Fun. The author is a former Riga resident who shares her wealth of knowledge and insider tips on how to make the most of your time in this cool city.
4. Paris, France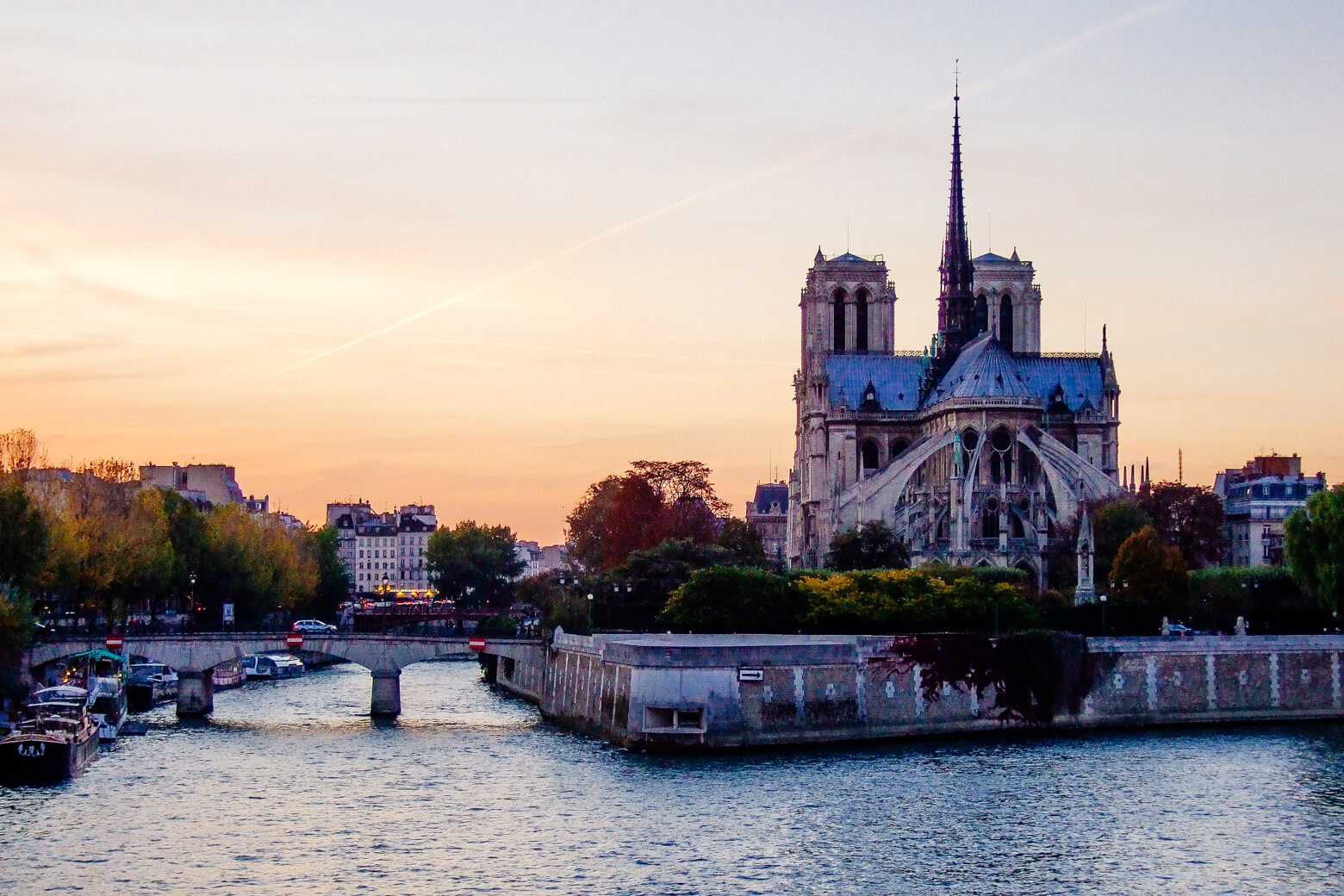 Paris is famous for a lot of things, but one of the most unforgettable experiences is picnicking in its gorgeous parks in spring. I'm sure I'm not alone in that being a highlight of a trip to Paris.
Begin by visiting a local bakery to pick up a mouthwatering baguette sandwich and maybe a warm pain au chocolat. Then, make your way to the incredible Jardin du Luxembourg or the Tuileries Garden, where you can settle into one of the iconic green metal chairs and savour your meal while indulging in some prime people-watching.
Paris devotes significant resources to its gardens each year, and it's evident in the breathtaking tulip displays at Luxembourg Gardens and Parc Monceau, as well as the more intimate, meticulously sculpted gardens of the Palais Royal and Jardin des Tuileries.
For a unique experience, explore the enchanting Parc de Bagatelle or Bois de Boulogne. Alternatively, you can take a 20-minute train ride to witness the beautiful cherry blossoms at Parc de Sceaux.
Paris is hands down my favourite spring destination. For more inspiration, be sure to read my post on day trips from Paris, where you'll find a huge number of suggestions for places to visit just beyond the city's borders.
5. Naples, Italy
Naples might have a reputation for being somewhat rough around the edges, but it's precisely this authenticity that makes it an interesting destination.
Visiting Naples gives a unique glimpse into Italian life beyond the affluent northern regions, revealing the country's distinct and fascinating side.
When in Naples, be sure to indulge in its delicious local cuisine, such as the classic pizza Margherita, creamy buffalo mozzarella, pasta e fagioli (pasta with beans), pasta e piselli (pasta with peas), sartu di riso and the ever-popular parmigiana di melanzane (eggplant pie).
If your schedule allows, consider taking day trips to nearby gems like Sorrento, Capri and the historical wonder of Pompeii.
April is an ideal time to visit Naples, as the sweltering summer heat is still at bay, while winter can be a tad too quiet.
For an extended adventure, you might even contemplate a road trip from Naples to the picturesque region of Tuscany while exploring Europe in April.
6. Barcelona, Spain
For travellers looking for milder temperatures or even a few hot days, southern Spain has a good chance of sun in April, with regions like Andalusia having the warmest weather.
Barcelona and Madrid also tend to enjoy warmer climates during this time. In my opinion, Barcelona is especially lovely in April, providing a more serene atmosphere compared to the bustling summer months.
Take advantage of the tranquil ambience to leisurely explore the city's historic streets, stroll along the sun-kissed beaches, and maybe indulge in a glass or two of cava at a charming streetside bar.
April is an excellent month for sightseeing and visiting museums, as you'll be able to bypass the lengthy queues that often form during the high season.
If you're visiting Barcelona over on a short trip, I recommend purchasing a Barcelona transport card. The metro system serves as an efficient and convenient means of transportation, especially during April when the weather can occasionally be unpredictable.

You can easily purchase the card online prior to your visit and then validate it upon arrival, ensuring seamless navigation throughout the city.
7. Athens, Greece
While my experience with Athens is limited to a single visit during the spring, I found April to be an excellent time for exploring the city.
Although occasional showers might occur, the overall climate is typically ideal for sightseeing. The milder temperatures make visiting iconic landmarks, such as the Parthenon, much more enjoyable, as the trek up the hill can prove quite challenging in the summer heat.
Another advantage of travelling to Athens in April is the smaller crowds in restaurants, allowing for a more relaxed dining experience, especially in the chaotic Plaka district.
Additionally, April often coincides with Greek Easter, a significant Orthodox celebration featuring various delicious feasts. In 2023, Greek Easter falls on the 16th of April, offering a unique opportunity to immerse yourself in this cherished cultural tradition.
The Best Places to Visit in April
What are some of the other best places to visit in April? The possibilities are virtually endless, but I personally adore exploring bustling cities during April and the spring, especially those that tend to become overcrowded in warmer months.
If you're interested in eco-friendly travel, consider choosing a destination close to home. Focus on locations within a two to four hour train ride and prioritise places you've yet to explore. Whenever possible, opt for train travel over flying, particularly for shorter journeys.
For instance, if you live in London, the train ride to Amsterdam is just slightly over four hours. London to Bruges takes a mere three hours.
Meanwhile, Cardiff, Bath and York are all easily accessible in under two hours by train. By choosing nearby destinations, you'll not only minimise your travel emissions but also discover the hidden gems that lie right in your own backyard.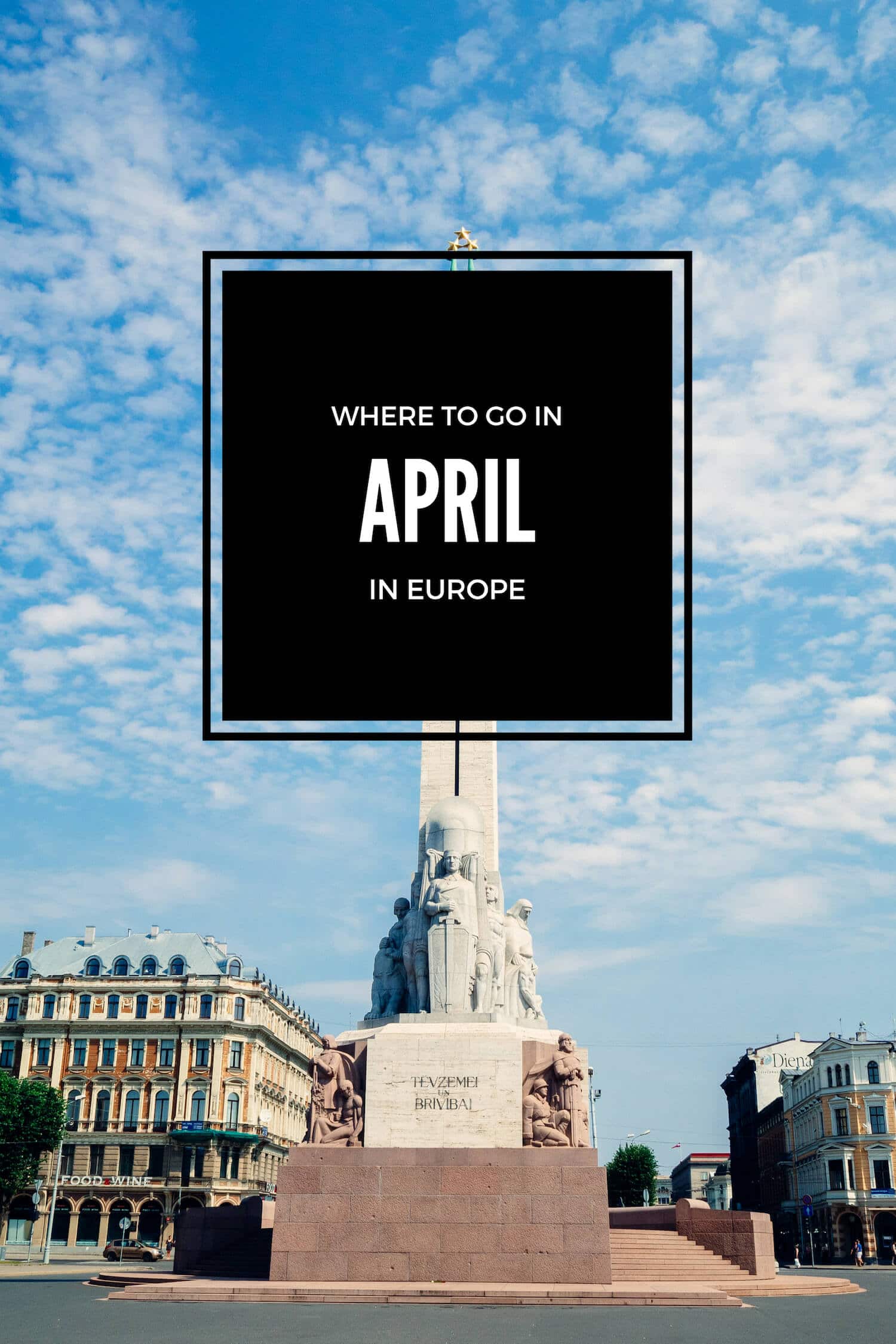 More European Travel Destination Ideas
If you're still looking for inspiration for travel in Europe, read this post on what I believe are the best places to visit in Europe, any time of the year.
In conclusion, April is a great time to head out on a European adventure, with milder weather and fewer crowds providing the perfect backdrop for exploration.
Choose from the charming streets of Budapest to the vibrant energy of Barcelona; there's a wealth of unique experiences awaiting discovery.
It doesn't matter if you're seeking the warmth of southern Spain, the rich history of Athens, or the tranquil beauty of Paris; each destination offers its own distinct charm in April.
By considering sustainability in your travel plans, you can also contribute to preserving the beauty of these European destinations for future generations.
Recommendations are independently chosen based on personal travel experiences and extensive research. This post contains affiliate links to hotels and tours. This means I get a small commission from any bookings at no extra cost to you.