Quirky neighbourhoods, a modern harbour district, top of the range shopping and hamburgers (of course!). I loved Hamburg. It's a big city but a great walking city and each district has its own unique character and atmosphere. If temperatures had made their way above freezing I would have explored a lot more but Hamburg was beautiful under snow nonetheless.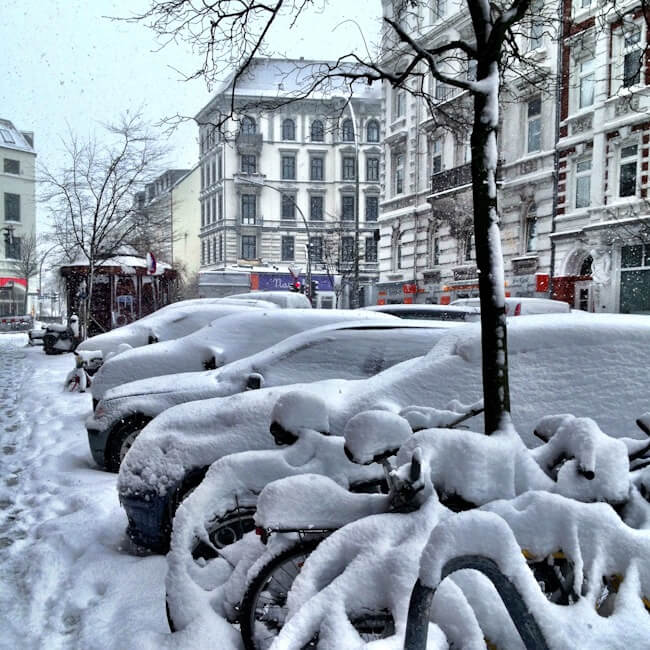 Schanzenviertel
The bitterly cold weather precipitated an awful lot of cafe hopping and Schanzenviertel is the right district for that. We went from cafe to cafe alternating between freshly brewed mint tea and hot chocolate. It turned out to be a fun afternoon but we didn't stick around to hang out at the bars which don't get going until late.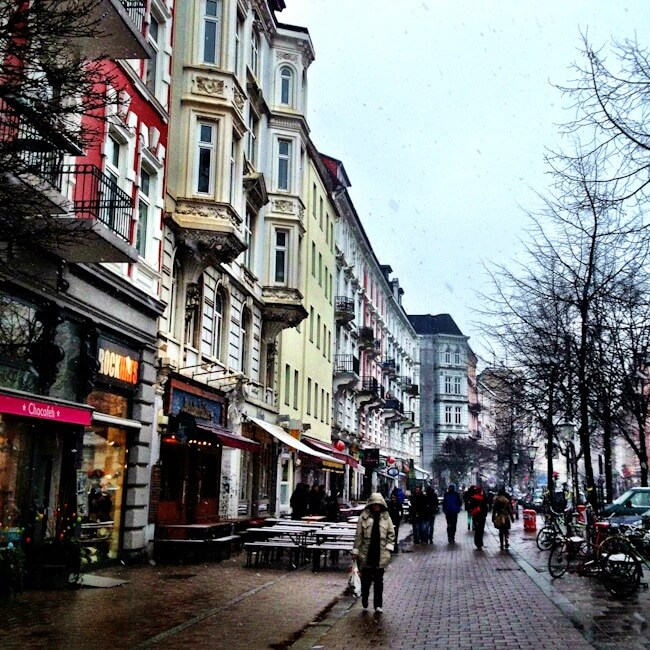 You might hear Portuguese being spoken as you walk around as there is a large Portuguese community in Schanzenviertel. This is not particularly important except for the fact that if your timing is right you can get fresh out of the oven, delicious pasteis de nata from a number of Portuguese cafes in the neighbourhood.
Karolinenviertel
While Schanzenviertel is the place to go for cafe hopping and eating out, neighbouring Karolinenviertel is where you'll find unique boutique shopping. Cool homeware stores, local fashion designers and quirky bookstores are prominent.
There's some interesting street art around Karolinenviertel too.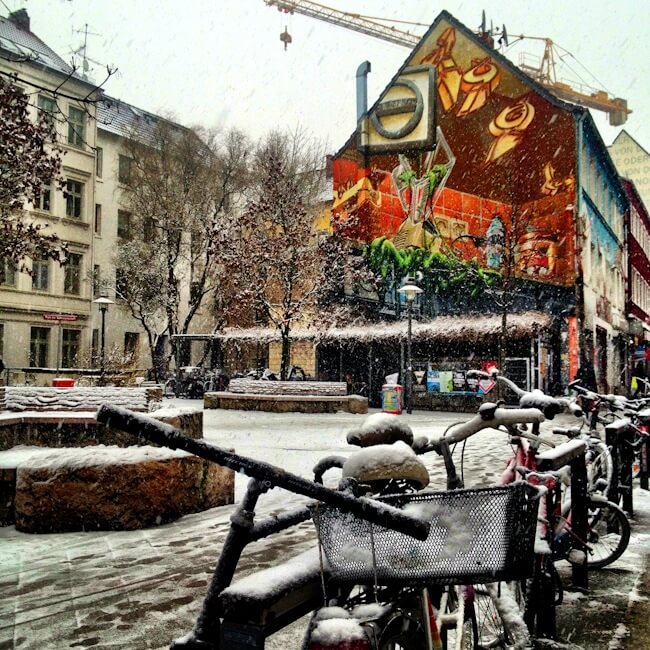 Watch where you're walking as scattered around the city are 'trip stones', slightly elevated stones which serve as a reminder of the former Jewish residents who were deported to death camps during the war.
HafenCity
Hamburg's harbour area has undergone (and is continuing to undergo) rapid new development with the new HafenCity district. As with most things new and young it's lacking a little in character but I'm sure that will come in time.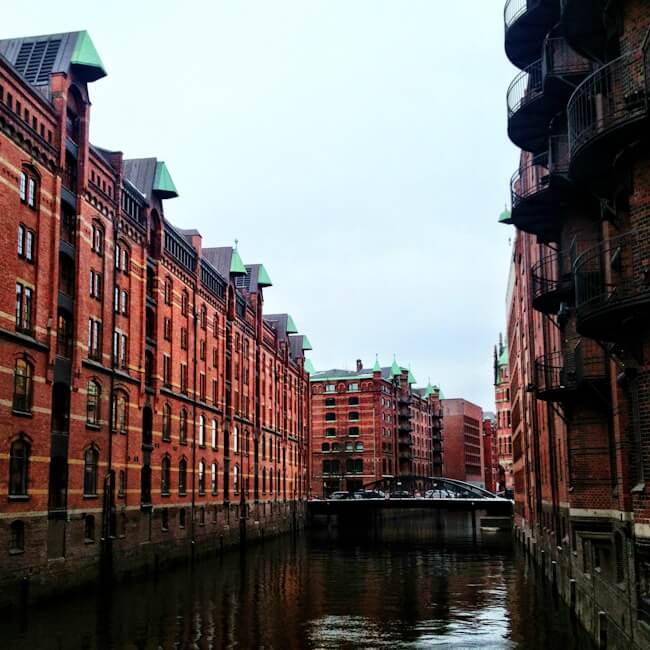 Fischmarkt
The Fischmarkt is located on the edge of St Pauli and is where you'll find Hamburg's famous fischbrötchen (fish sandwich).
City Centre
Hamburg's city centre is the place to go for shopping. Jungfernstieg, Mönckebergstrasse, Neuer Wall and the Alsterarkaden are full of international and local stores. All are within walking distance of the beautiful Town Hall.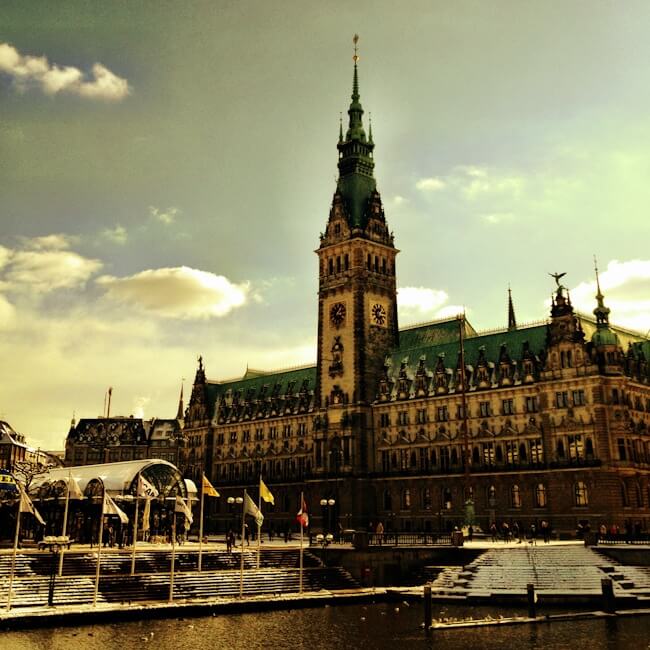 Hamburg has some fantastic local produce which we tried whenever we could. The locally brewed Astra beer is very popular and I loved the different flavours of Fritz-Kola.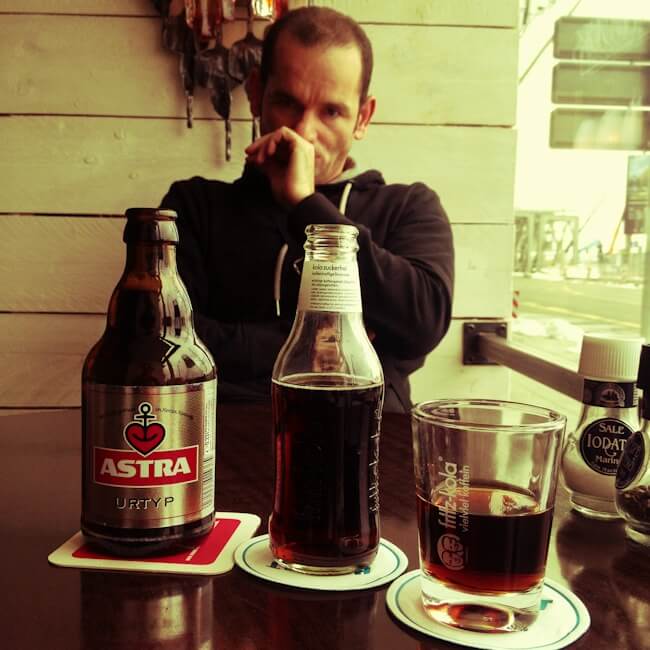 We even tried local hamburger joint Jim Block on Jungfernstieg.
Where to Stay
During our city break to Hamburg we stayed at Superbude St Pauli courtesy of Hamburg Tourism. Superbude is a cool boutique hotel/hostel in Schanzenviertel. It's more of a hotel than a hostel but they have a couple of dorm rooms available and the common area definitely has a hostel vibe to it. I'd recommend Superbude if you want to enjoy Schanzenviertel's cafe culture and the boutique shopping in Karolinenviertel. More importantly, stay at Superbude for the yummy breakfast waffles!
For more iPhoneography from around Europe, follow destinationeu on Instagram.