If you purchase through links on this site, I may earn a commission at no extra cost to you. As an Amazon Associate I earn from qualifying purchases.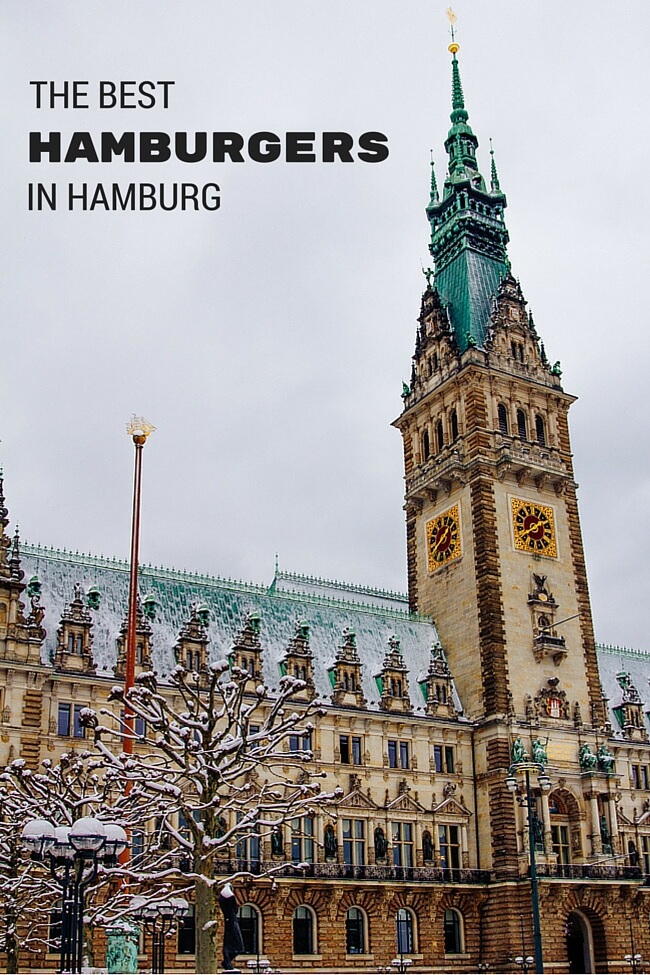 When in Hamburg, eat hamburgers. That's what I was told. Back in the 19th century, a hamburger was really just steak tartare; raw minced meat. Nowadays it's evolved into so much more but Germany's second-largest city still gets the credit as the creator of the humble burger.
Hamburgers in Hamburg
Disclaimer: Not being much of a meat-eater, I left the hamburger taste testing to my accomplice so any complaints should be directed at him. At Jim Block I had a chicken burger, which didn't rate at all compared to the delicious burgers I had in Berlin and at Heimat Küche & Bar I had fish and chips which I'd definitely recommend if burgers aren't your thing.
Updated: April 2022 with accurate prices.
Bullerei
Arriving in Hamburg cold and hungry, we headed straight to the nearest restaurant. Restaurant Bullerei is a very popular restaurant in Hamburg (which you need to reserve in advance) but we were there for the burger which you'll find in their informal cafe. There is only one burger on the menu and just from a presentation perspective it didn't look inviting at all. Even though it looked dry and was prepared sloppily it got the thumbs up taste-wise which is all that matters really. Offering a burger without sides seems a little stingy but the place has a really nice atmosphere and the staff were friendly.
Price: Cheeseburger with fries – €17.50.
Jim Block
Jim Block is like an upmarket version of Mcdonald's. It's a fast-food restaurant local to Hamburg and very popular for a quick bite to eat. It's definitely better than your average fast-food hamburger restaurant but if you're only in Hamburg for a city break I wouldn't waste a meal by eating at Jim Block. They do have a wide range of burgers including chicken and veggie burgers so it's not too bad for a snack on the run.
Price: Basic burger – €6.20, vegan burger from €6.30.
Heimat Küche & Bar
I don't often eat at hotel restaurants but the burger at Heimat recently made it onto a list of the best hamburgers in Hamburg so we decided to check it out. This was by far the best of the 3 hamburgers tried. It was juicy, flavourful and prepared with care. The chips were the best we had too. The beef used at the 25hours Hotel's restaurant is sourced from local farms in northern Germany and butchered by a family-run butcher in Hamburg which adds to its appeal. Is it worth the hefty price tag? Apparently yes.
Price: I'm not sure this is still on the menu but expect to pay around €20 for a burger and side dish.
Hamburger Restaurants
If we'd had more time we would have done a little more personal research into the best hamburgers in Hamburg but I've heard good things about the following restaurants.
The Bird in Hamburg – This hamburger joint in St Pauli gets consistently great reviews as does their sister restaurant in Berlin. The napalm chicken wings look like a goer too. I regret not making a visit to The Bird a priority but I won't make the same mistake next time. Price: Da Birdhouse – €13.50.
Meatery – For a more upmarket experience, this fancy steakhouse has an excellent reputation and central location near Hamburg's Town Hall. Meatery has a dedicated burger menu with 7 burger options to choose from including a vegetarian and fish burger. Price: Classic burger including fries and wasabi mayonnaise – €15.
Old Macdonald – This American diner and sports bar is a little out of the city centre but the reviews are excellent.
Kleine Pause – A well-known burger joint in St Pauli. Worth trying if you're staying in the area. Price: Basic hamburger – €3.70, schnitzel burger – €7.60.
Where to Stay in Hamburg
In Hamburg, I was hosted by Superbude Hotel St Pauli and recommend it as a place to stay. Superbude is within walking distance to Bullerei, Kleine Pause and The Bird hamburger joint so it's ideally located if you want to enjoy a hamburger or two in Hamburg.
For more details on travelling in Germany, read our post: Road Trip Northern Germany, which provides an itinerary for places to go near Hamburg and elsewhere in the north of the country.
—
Recommendations are independently chosen based on personal travel experiences and extensive research. This post contains affiliate links to hotels in Hamburg, Germany. This means we get a small commission from any bookings at no extra cost to you.