If you purchase through links on this site, I may earn a commission at no extra cost to you. As an Amazon Associate I earn from qualifying purchases.
Choosing the next destination was easy. Venice. Who doesn't want to visit one of the most unique and fascinating cities in the world? Apparently me, as I've been absent from the city for more than 20 years, even though I've lived in Europe for the last 15.
24 Hours in Venice
Huge mistake.
Venice is mind-blowingly amazing.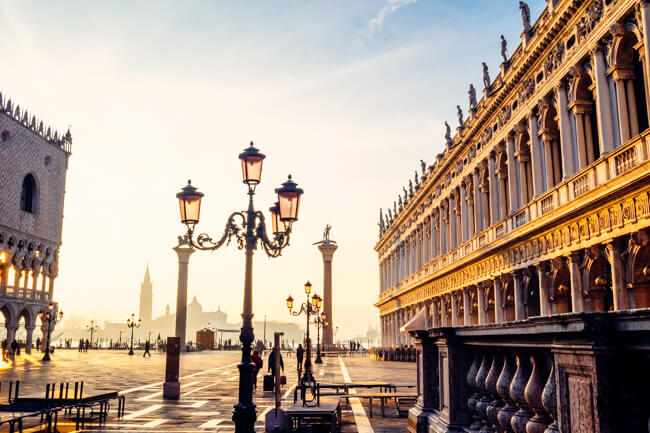 I'm not going to write too much about Venice as I was there for a little over a day, nowhere near enough time to even scratch the surface. But I wanted to share some photos.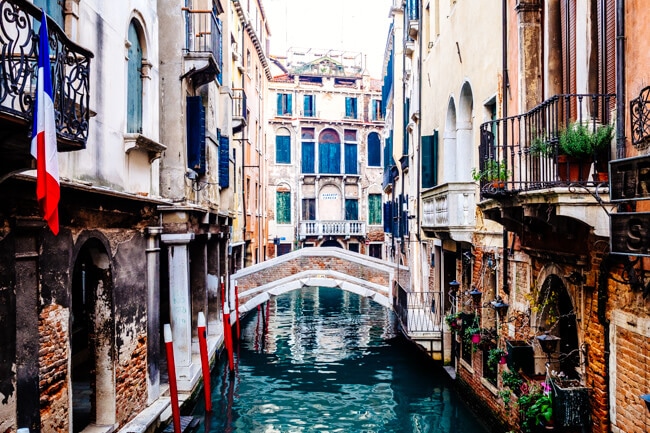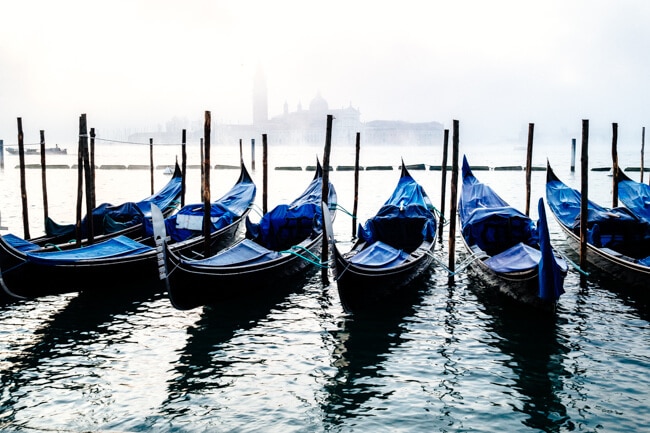 These are my first impressions and tips for what you can do with 24 hours in Venice based on my itinerary and the little time I had.
Get up before sunrise.
Purchase a day ticket for the vaporetto (€20).
Take the vaporetto along the Grand Canal to Vallaresso San Marco.
Watch the sunrise over St Mark's Square (Piazza San Marco) and the waterfront.
Admire the Basilica di San Marco and the pink Verona marble and Istrian limestone on the Doge's Palace (Palazzo Ducal).
Don't miss the Bridge of Sighs (Ponte dei Sospiri), the enclosed bridge behind the Doge's Palace.
If it's open and there's no fog, take the lift up the Campanile for amazing views over Venice.
Walk 10 minutes to the famous Rialto Bridge (Ponte di Rialto).
Cross the bridge and wander around the Rialto Market food and fish markets.
Take the traghetto gondola (a kind of gondola ferry that takes you across the canal) for €2 to the Cannaregio district.
Find a small bar and stop for a cappuccino or do as the locals do and have wine (yes, even before noon).
Make your way around the district, stopping to snack on cicchetti (Venetian tapas).
If you're still hungry (unlikely) dine at Osteria Ai Promessi Sposi or try a simple 'bacari' lunch spot like Bacareto da Lele (back over near the train station).
Walk off all that food by wandering for hours, getting lost in the narrow streets and canals and over countless bridges.
Take an ice cream break at Gelateria Nico near the Accademia.
Hop on another vaporetto, this time in the other direction on the outskirts of the city just for fun.
Watch the sunset back at St Mark's Square or Basilica La Salute.
Find a bar, back at Cannaregio if you're on a budget, and enjoy a Venetian spritz (an Aperol spritz) with more cicchetti.
Return to your hotel happy and full.
Summary of This Stop
Food Highlights: Everything. But mostly snacking on cicchetti while sipping a Venetian spritz. Wandering around the famous Rialto markets.
Where I Stayed: Hotel Boscolo Bellini. Great location next to the train station but I'd probably find somewhere else next time. I recommend staying near the station as you do not want to be carrying your bags over bridges and along the canals. Unless you're happy to pay for a water taxi to your hotel.
Trieste to Venice: 1 hour 50 minutes. No reservation is required.
Previous destination: Trieste Revisited
Next destination: Eating All the Food in Bologna