If you purchase through links on this site, I may earn a commission at no extra cost to you. As an Amazon Associate I earn from qualifying purchases.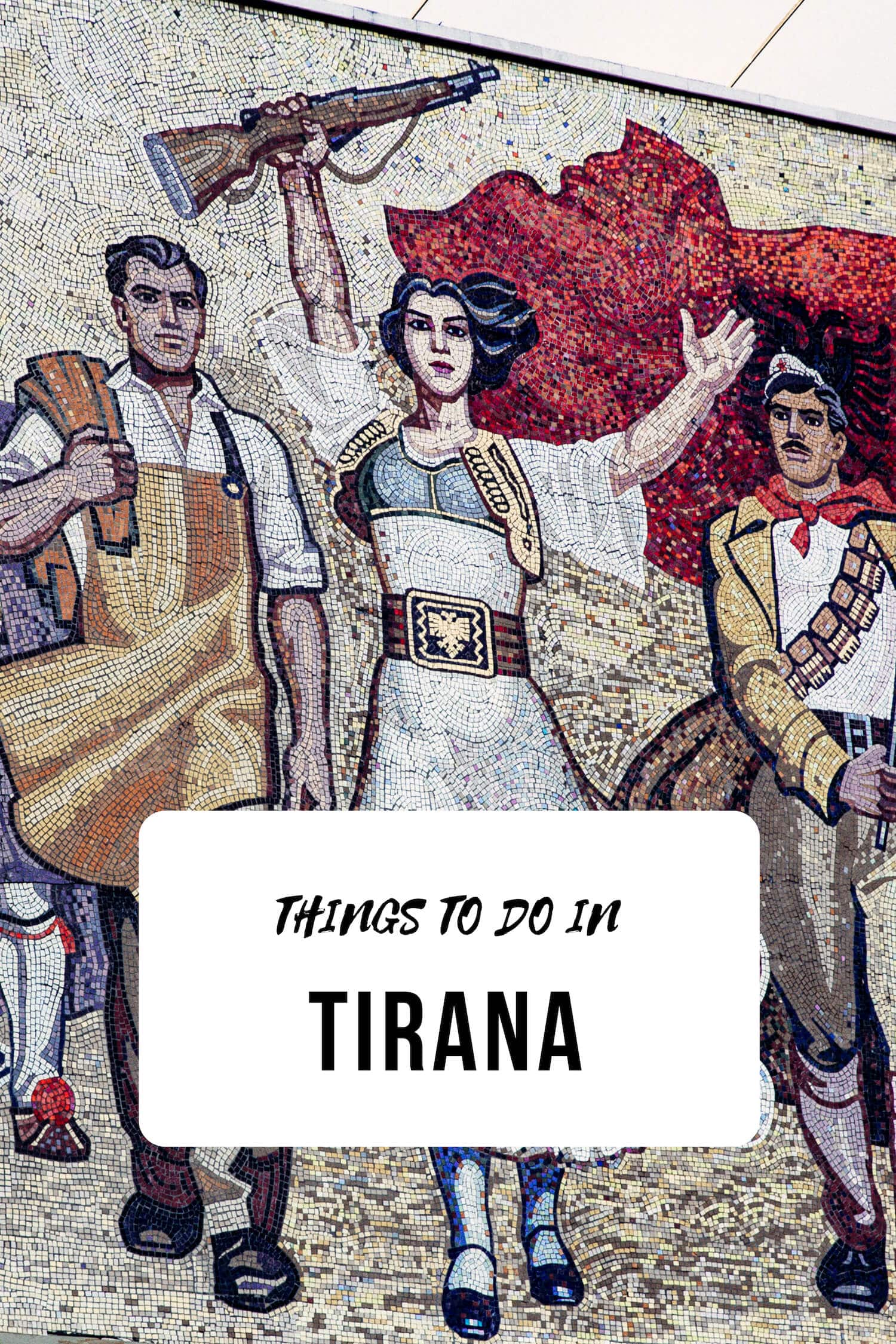 Albania experiences a rapid drop in visitors once the August holidays come to a close. It's a shame as September and October are probably the best months to visit Albania and it's still possible to swim in the sea as late as November.
Read my guide to things to do in Albania to get an idea of the travel possibilities.
Things to Do in Tirana in 2022
But later than that, there's not much to do on the Riviera and most visitors over winter choose to spend their time in the capital Tirana. Much of the time I've spent in Tirana has been during winter and honestly, the city never shuts down, it's still a great time to visit.
Albania might not cross your mind as a weekend break destination but with many expat Albanians returning home for New Year's, events and things to do pick up substantially in December and January.
If you're not visiting in winter, my top things to do in Tirana are further down below, otherwise here are a few tips for the winter months.
Tirana Christmas Markets and Light Displays
Skanderbeg Square is turned into a winter village in December for the annual Christmas Market. I was quite surprised the first time I saw a huge Christmas tree in the centre of Tirana, but the locals seem to have welcomed a number of Christmas Markets and traditions in recent years.
In December, the square is lined with Christmas lights and market stalls that surround the central Christmas tree and carousel. You can also find a smaller Christmas Market on Toptani Street, a busy pedestrian street with seasonal food and handmade Albanian gifts for sale.
The Best Way to Welcome the New Year in Tirana
New Year's Eve is one of the most important holidays and events in Albania. I suggest seeing in the New Year with dinner in Blloku, drinks at the Sky Tower and then the fireworks and party at Skanderbeg Square.
Tirana is one of the most dynamic cities I've ever visited. It's constantly changing and there's always something new going on. Even if you've been before it's worth going back to see what's new. I first visited in 2001 and it's crazy how much it has changed.
Walk Everywhere in Tirana
Tirana is a great walking city, for sightseeing of course but more so for people watching and getting an idea of local life. Be prepared to see some strange things in Albania. In Tirana, watch out for unusually colourful buildings, quirky street art, stray dogs, the odd bunker, a piece of the Berlin Wall, modern buildings, crumbling communist-era buildings, low hanging electrical wiring, unfinished roads, and still the occasional pothole!
Classic Sights
Skanderbeg Square is the huge central square in Tirana. You can't miss it as it's the location of many of the city's major events. You'll know you're at the right place when you see the monument of Albania's national hero Skanderbeg on his horse. You can also visit the Et'hem Bey Mosque and climb the Clock Tower on the square.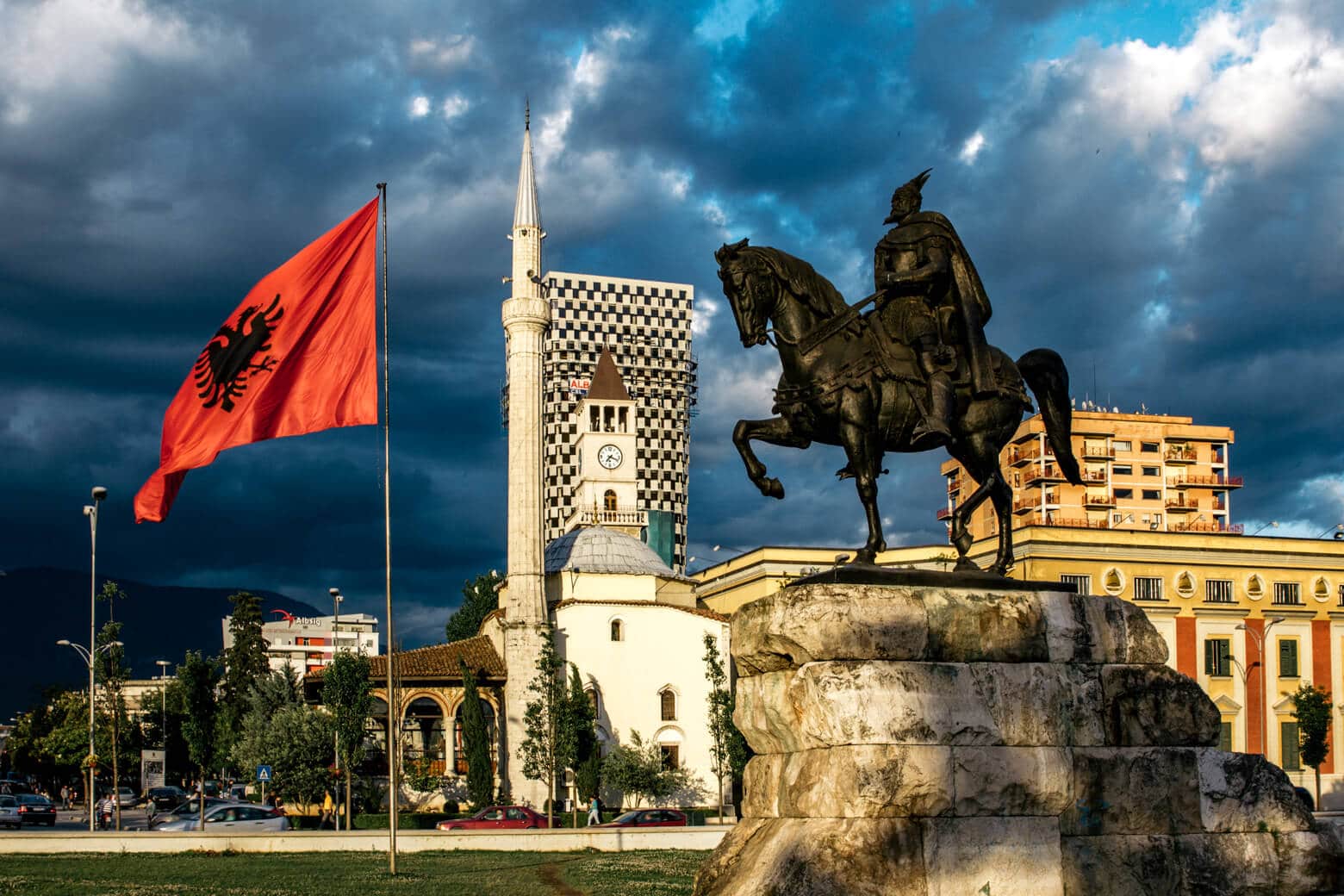 The surrounding red and yellow Italian built offices are home to the government and lead to Bulevardi Deshmoret e Kombit, the Boulevard of Martyrs. On this boulevard, you'll find the abandoned Hotel Dajti and the Pyramid of Tirana. I remember the Hotel Dajti very well as on my first trip to Albania this was the only place in Albania where you could withdraw cash with a foreign bank card. The hotel was infamous for being bugged so the government could listen in on visiting diplomats.
New Bazaar
I attracted the wrong kind of attention when I drove my little Fiat 500 through Tirana's bustling fruit and veggie market. Every single person stopped and stared. It sounds bizarre but it was actually possible to drive through back then and I was guided to do so by a local resident. But those days are long gone and that muddy market with the huge potholes has been replaced with a fancy new market called the New Bazaar and is now a place for tourists as well as locals.
Blloku & People Watching
See and be seen. I'm pretty sure that's the Albanian motto. They love their cafes and it's not unheard of for people to linger all day over one coffee. As you walk around you'll soon see which are the most popular cafes (I've mentioned a few below). You might feel like you're underdressed compared to the locals, or maybe that's just me, but feel free to take a seat anywhere and enjoy the people watching.
Albanian Street Food
Albanians sure do love their pizza but byrek would have to be a close second when it comes to cheap street food. Byrek is basically a heavy version of spinach and ricotta pie. I always think one slice of byrek per year is more than enough but do give it a try, it's cheap and filling. Other street foods you might see around the city include the ever-popular kokoshka (popcorn), grilled corn on the cob and sweet desserts like baklava.
BunkArt
Not only did former dictator Enver Hoxha oversee the construction of more than 700,000 concrete bunkers across Albania, but he also built an underground bunker for himself (of course) to escape nuclear war or foreign invasion. There are two bunkers that are now museums, the larger BunkArt museum is located outside of the city but BunkArt2 is not far from Skanderbeg Square.
Checkpoint and the Spy Museum
Love a bit of Cold War action? Head to Checkpoint, opposite the Rogner Hotel, where you'll find a piece of the Berlin Wall, a classic Albanian bunker, and part of the infamous Spac Political Prison. To get a feel for the secret surveillance and spying techniques used at the time, visit the House of Leaves museum.
National History Museum Mosaic
On the north side of Skanderbeg Square is a classic Albanian monument that dominates the facade of the National History Museum. The communist era mosaic mural depicts Albanian history and it's worth taking a photo as there have been discussions in the past about pulling it down. The museum itself has some interesting displays taking you back through history until the end of communist rule. When I was there they had to turn on the lights specifically for me, I think they were quite surprised to get a visitor!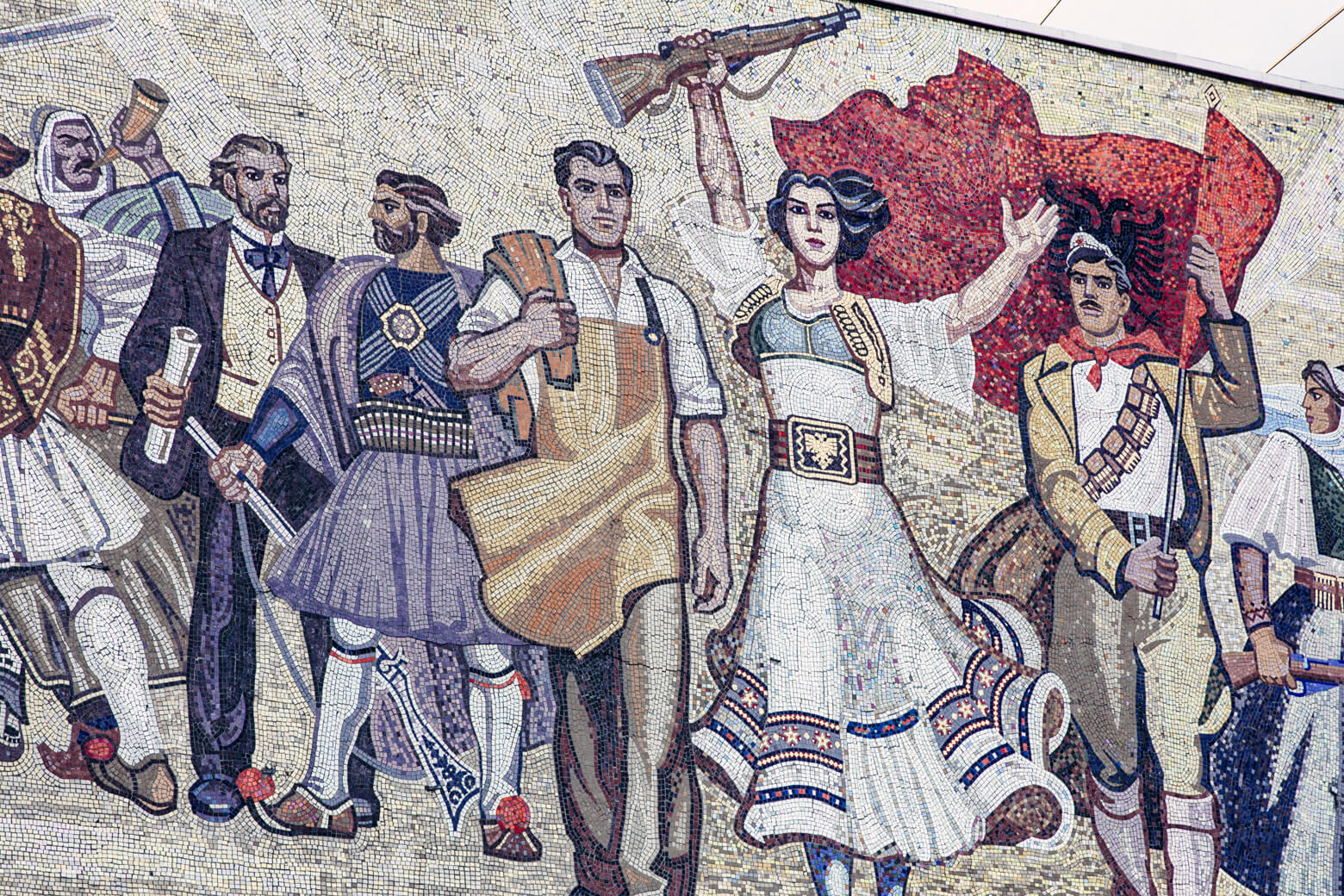 Sky Tower Rotating Bar and Restaurant
Rotating restaurants are a bit kitsch but Tirana's Sky Tower is a fun place for a drink and well worth it for the views of Tirana. Try to make it in time for the sunset and before the crowds arrive.
Mount Dajti
Take the cable car to the top of Dajti for views over Tirana and out to Durres and the Adriatic. There's a restaurant near the summit with average food but fantastic views. As you go up in the cable car, look out for bunkers built into the side of the mountain. This area was the location of many executions of political prisoners during communism. If you're lucky there will be snow at the top of Dajti but I have never seen snow on any of my trips to Albania. If you have the right shoes and the weather isn't too bad, you can hike further up the mountain. There are paths but it might be best to go with a guide.
Durres
If you have time, take a day trip to the Adriatic coastal city of Durres. Albania's best beaches are in the south once you get past the Llogara Pass, but Durres has other sights worth seeing. Visit the amphitheatre, walk along the esplanade, eat a local seafood lunch, and watch the sunset from the Fly Bar. Durres is also home to the start of the Via Egnatia, an old Roman road that takes you 1,000 km all the way to Istanbul in Turkey. Maybe save that one for another time!
Kruja and Petrela Castles
For more touristy action, you could take a half-day trip to Kruja and maybe see Petrela Castle on the same trip. Kruja has a touristy old Ottoman bazaar and great views on a clear day. Not far from Kruja is the 6th-century Petrela Castle. Kruja and Petrela used to communicate by fire but now Petrela only has a lookout and restaurant in the wooden tower.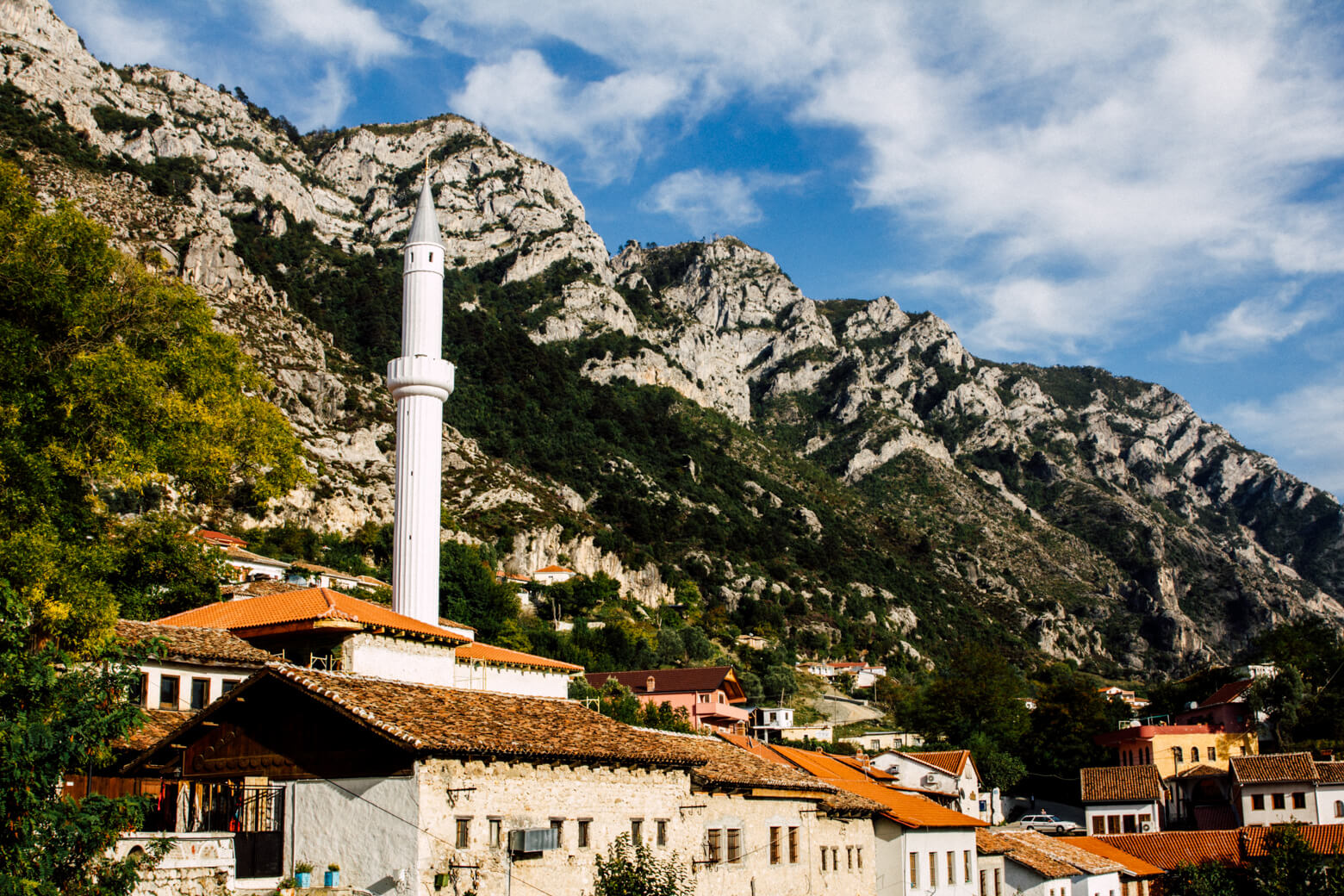 Cultural Events to Add to Your Calendar
Tirana has a growing list of events taking place throughout the year, particularly in November and December. Some of the most popular winter events include Albania's Independence Day, White Night, Tirana Marathon and the Christmas Market.
Events in November
Tirana International Film Festival – 2-9 November 2019
Tirana Liberation Day – 17 November 2019
Albania Independence Day – 28 November 2019
The National Liberation Day – 29 November 2019
White Night Tirana – 29 November 2019
The National Liberation Day is not supported by the entire community as some Albanians believe this date was set by the communists and is not the true date of liberation. Instead, liberation should be celebrated on the 28th of November on Independence Day. But this is a controversial statement and it is still debated in Albania.
Events in December
Christmas Artisan Market – 8 December 2019
Skanderbeg Square Christmas Market
Rruga Murat Toptani Christmas Market
New Year's Eve Concert and Fireworks – 31 December 2019
Take a (Possibly) Solo Guided Tour
One of the great things about visiting a less touristy city like Tirana, especially in the off season, is that if you take a tour there's a good chance you'll be the only one on it. If you read a few tour reviews you'll repeatedly see comments about getting a one-on-one tour as no one else has booked. These tours are great options for seeing the most popular things in Tirana if you'd prefer to have a guide or don't want to travel alone.
Experience the Best of Albanian Cuisine
On my trip to Tirana last year, I was surprised at just how many new cafes and restaurants have popped up. A few of my favourites include Libraria Tirana Times for Albanian style coffee and free wifi, Noor Coffee for slightly better coffee, E Jona for a great lunch menu, Cioccolatitaliani for hot chocolate, dessert and celebrity spotting, Radio Bar Tirana for drinks (although I personally don't drink anymore), Panevino for high quality, modern Italian/Albanian fusion, and Mullixhiu for traditional Albanian food.
Where to Stay: How to Pick the Best Neighbourhood
With average temperatures ranging from 1-13 degrees over the coldest winter months, you probably wouldn't want to spend too much time walking outside. For that reason, I'd recommend staying as central as possible, close to Skanderbeg Square or the Blloku entertainment district.
Read my full Tirana hotels guide to find the best neighbourhoods and to help plan your visit to Tirana or pick one of the hotels below.
Close to Skanderbeg Square
The Plaza Tirana – Albania's best luxury hotel is reasonably priced by European standards. Located just off Skanderbeg Square, it's walking distance of the city's best restaurants, shops and museums, including the famous Bunkart2. A visit to the pristine spa area is a relaxing way to end the day and the view from the gym is one of the best in the city. The Plaza is worth the splurge for a luxury treat.
Prime Hotel – If you prefer to stay in a small family-run, budget hotel, the Prime Hotel is perfect and the location on Skanderbeg Square is hard to beat. Great value starting at €38.
Stay in Blloku
Blloku is Tirana's famous entertainment district. It's a great choice if you want to be close to restaurants and nightlife but be aware that it can get a little noisy in the evenings, especially in smaller hotels with rooms on the street.
Xheko Imperial Luxury Boutique Hotel – This hotel's decor is a little over the top but it's located in a quieter part of Blloku and there are mountain views from the rooftop terrace. If you're looking for a luxury hotel that is more affordable than The Plaza, this might be a good choice.
Rogner Hotel Tirana – The Rogner is one of Tirana's oldest and most well-known hotels. Located in the diplomatic quarter on Tirana's main boulevard, you have the city's main sights on your doorstep.
How to Get There: Airlines Flying to Albania in Winter
While Tirana can be an affordable destination once you arrive, it's not always the cheapest place to get to. Wizz Air is the only low-cost airline flying to Tirana in winter and like other airlines, they bump the price up at the end of the year. There are some cheaper flights in December, for example, €125 return from London. Prices drop considerably in January when you can find return flights from London starting at €40. You can also fly Wizz Air to Tirana from Budapest or Dortmund.
British Airways is another good option from the UK with direct flights from Gatwick. Return prices start at €128 but are more than double that in mid-December before dropping again in mid-January.
Lufthansa, Austrian, and Alitalia also have reasonably priced direct flights from their respective home countries.
Tirana isn't the other city worth visiting in winter, read our guide to the best winter city breaks for more ideas.
Note this post contains affiliate links to my recommended hotels and tours.
Pin to Your Travel or Albania Board