All I knew about Nuremberg before heading there was that they have one of the most visited Christmas markets in Europe, Nuremberg Christmas Market, an interesting World War II history and a world-renowned sausage. That's probably enough to justify a visit but there are many more things to do than that.
Things to do in Nuremberg
I usually travel with my husband but while he was off spending time with his family I decided to make a quick city break to Nuremberg. This was my first solo trip for quite some time so to get started I took a walking tour of the Old Town and set about visiting all the cultural sights.
Imperial Castle
The most popular attraction in Nuremberg is the Imperial Castle and this is the perfect place to start a visit to the city as you get a great overview of the city from high up on the hill.
You can visit the castle grounds during the day for free and visit the museum to see the medieval armour and weapons. I would only recommend visiting the castle museum if you are interested in weaponry as that is the focus of the museum. There are guided tours of the castle but they are only available in German.
Albrecht Durer's House
From the castle, you can head down to Albrecht Durer's House. Albrecht Durer was well known around Europe during his lifetime and remains Nuremberg's most famous artist. His works are on display in many Old Masters galleries around the world.
You can visit Durer's half-timbered house if you're curious to see how Durer and the upper classes lived in the 16th century. You won't see any of his famous artwork there though. I enjoyed seeing the interior of the beautiful houses as I had never been inside one before.
Weissgerbergasse
Continuing downhill along Albrecht Durer Street you'll eventually reach Weissgerbergasse where you'll find adorable narrow timber-framed houses.
This was my favourite part of Nuremberg but I feel a bit sorry for the residents who had to deal with the constant stream of tourists photographing their pretty houses.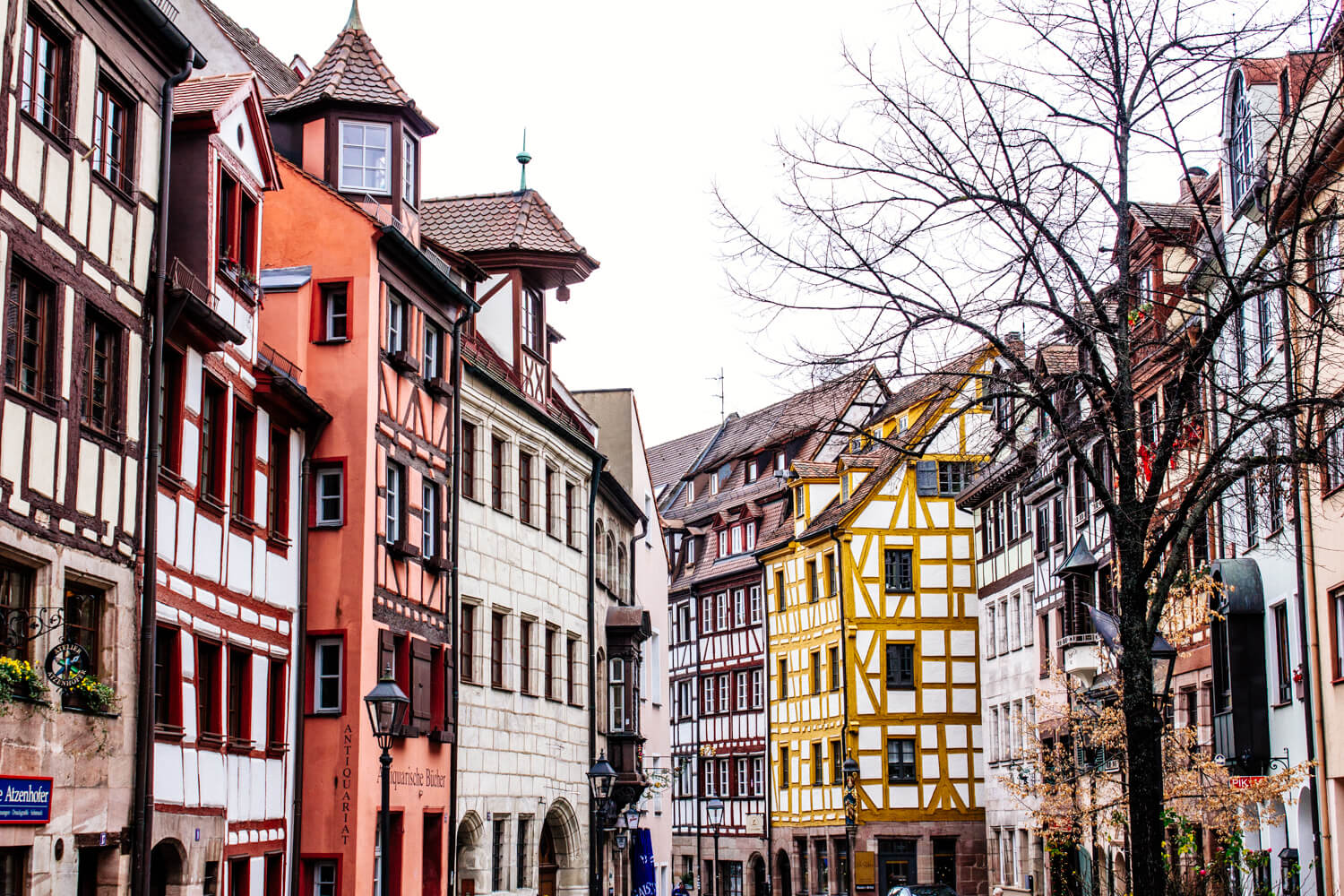 15th century Wine Store
Crossing over the historic chain bridge (which looks remarkably new) you'll spot the 15th century Wine Store which is now a student residence. I wonder how they feel to be living in one of the city's most historic buildings.
The Beautiful Fountain
I was half-timber housed out at that point so headed back to the main square (Hauptmarkt) to hang out at the Christmas market. It was there I saw the most impressive sight for me in Nuremberg, the very unusual Beautiful Fountain.
I can't say I've ever seen a fountain quite like it. It was quite creepy looking.
Nazi Party Rally Grounds
I was hoping to visit the new Nuremberg Trials Memorium and the Nazi Party Rally Grounds but with only one full day in Nuremberg, I just didn't have time. I think this is the most significant historic attraction in Nuremberg so I do suggest visiting if you can.
National Museum
I did, however, manage a quick visit to the Germanisches Nationalmuseum to see some of Albrecht Durer's paintings. His artwork was completely new to me and this visit really opened my eyes to this style of work and German historical paintings.
Where to Eat in Nuremberg
I must admit I'm not very good at the solo eating thing. I don't mind going to cafes alone, I actually quite enjoy that and I go to the movies alone all the time but there is something about eating solo in restaurants that make me feel uncomfortable.
I was lucky that I visited Nuremberg while the Christmas markets were on so for the most part I snacked on street food from the markets and picked up sushi takeaway. This was only a short solo trip so that wasn't much of a problem but if I was travelling for longer periods I would probably have to get up the courage to eat in a restaurant alone.
Nuremberg has great traditional Bavarian cuisine that goes way further than their famous sausages so I do regret not sampling what was available.
Where to Stay in Nuremberg
On this city break, I stayed at the NH Nuremberg City Hotel. This hotel is located across from the train station and is a short walk to the Old Town, perfect for visiting the city's main sights and the Christmas market. Although this is a fairly standard 4-star hotel, it's worth staying here for the breakfast alone which is one of the best I've had anywhere in Europe.
If you're visiting Nuremberg in November or December, I suggest staying in one of these hotels that are located near the main square, Hauptmarkt. That is if you want to be in the heart of Nuremberg during the festivities.
Travelling Alone
Even though I was a little nervous about travelling alone, the people in Nuremberg were particularly warm and friendly and I met a number of people as I wandered around the city.
There are many events and festivals during the year but I think December is a great time to visit as they have one of the most unique and traditional Christmas markets in Europe.
This post is part of my series on recommend stops on a fun Bavarian road trip itinerary. Here you'll find an itinerary for visiting Bavaria and Southern Germany that includes Nuremberg.