With snow descending on many of Europe's Christmas markets this week you might think you'd be better off getting cosy indoors rather than heading out to socialise. But snow just adds to the atmosphere and Christmassy experience and the cold weather is the perfect excuse to warm up with a classic mulled wine or a mug of hot toddy.
9 Alternative Christmas Markets
No matter the weather, the most popular Christmas markets will be teaming with visitors. I've previously written about the best Christmas markets in Central Europe and these are the most popular.
But if you're like me and prefer to avoid the crowds or want something a little different, I recommend choosing a market off the beaten Christmas path.
You might also look into creating a Christmas market tour by combining a few stops or following this Christmas road trip itinerary.
Gdansk, Poland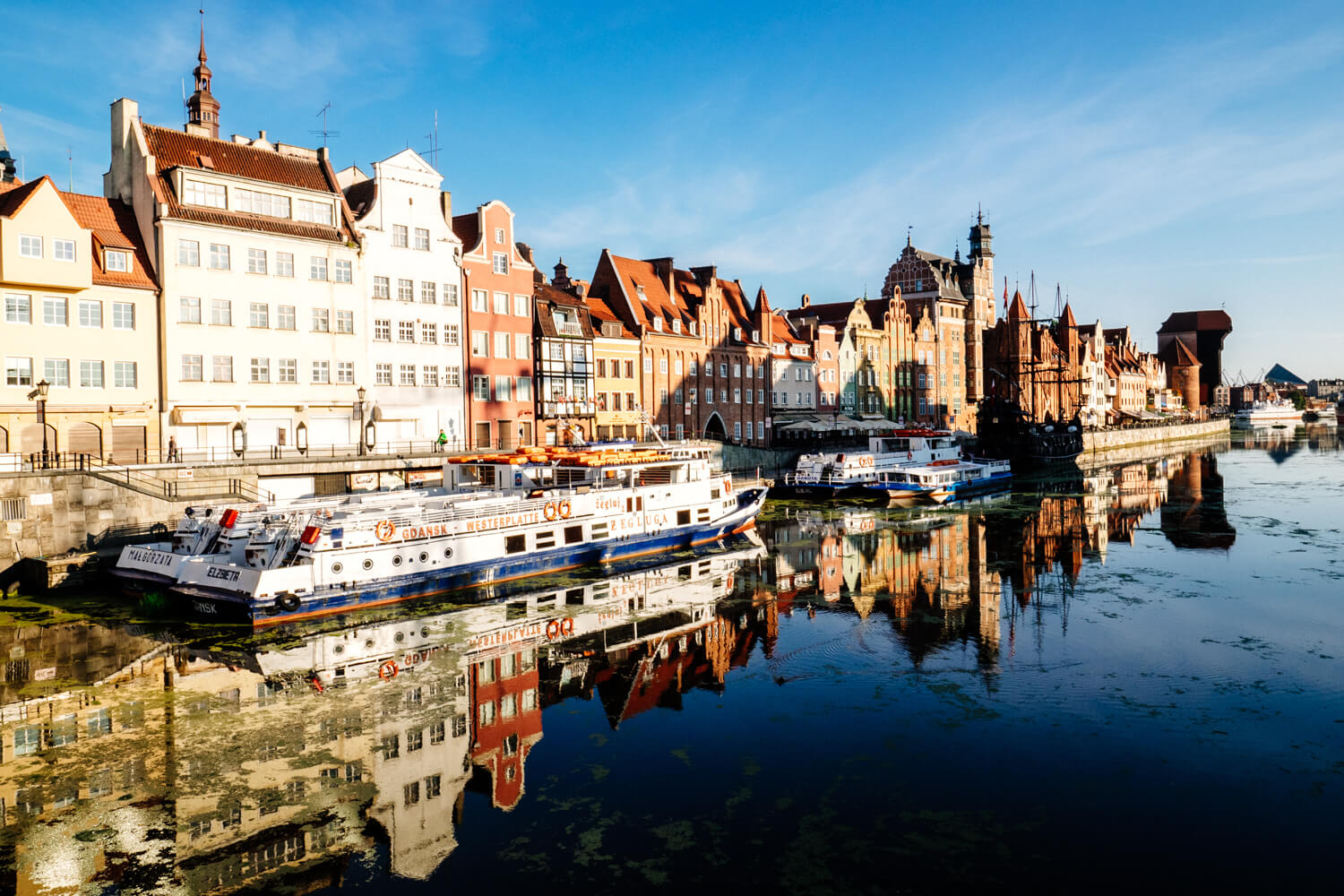 Poland isn't known for their Christmas markets but they have grown in recent years. If you're thinking of visiting Poland at Christmas, Krakow, Warsaw and Wroclaw each have popular markets but I recommend Gdansk instead.
As Poland's major port, and the largest city in the north, Gdansk is one of Poland's most underrated cities. The city has vibrant laneways, many artisan stores, and a beautiful waterfront precinct.
There are two Christmas markets, one at Coal Market, with handicraft and regional delicacies, and the Christmas Art Fair at the Grand Armoury. Gdansk is easy to get to, affordable and fun for a weekend away.
Read more: A Weekend Break in Gdansk
Gdansk Christmas Market Dates: 1st December – 23rd December 2022 (the Food Court is open until the 13th January 2023)
Where to Stay: There are many great hotel options in Gdansk that are clean and modern. Read my guide to where to stay in Gdansk for details.
Minsk, Belarus
Minsk might be off the Christmas radar for most travellers but now that Belarus has implemented a 30-day visa-free stay (for members of 80 countries), now is an exciting time to go (not anymore obviously).
With Orthodox being the predominant religion, Christmas celebrations generally begin in late December with the biggest event taking place on New Year's Eve with a huge fireworks display.
All the main squares, parks and skating rinks are lit up with Christmas lights leading to Minsk's main Christmas tree in Octyabrskaya Square.
The 25th of December is a public holiday for Catholic Christmas and Orthodox Christmas is celebrated on the 7th of January 2023. If you're in Minsk on the 22nd of December you can take part in the Winter Solstice celebration called Kalyady.
Tip: Minsk has fantastic specialty coffee.
Minsk Celebration Dates: 22nd December – into the New Year
Where to Stay: I stayed at Hampton by Hilton which was fine. It's clean, comfortable and close to the main train stations.
Sibiu, Romania
Most cities in Southeastern Europe have fairly low-key Christmas events but like elsewhere, these destinations are taking advantage of the growing interest in festive markets and creating their own.
In Romania, you'll find the best Christmas markets in Transylvania or Bucharest. Sibiu is located in the heart of Romania and is one of the most beautiful cities in the country. The market is located in the Grand Square (Piata Mare), a huge UNESCO-listed square in the historic Upper Town.
Read more: The Ultimate Romanian Road Trip
Sibiu Christmas Market Dates: 16th November – 3rd January 2022
Where to Stay: Goldsmith is fairly priced, has exceptional reviews and is located in a unique 17th-century building.
Rostock, Germany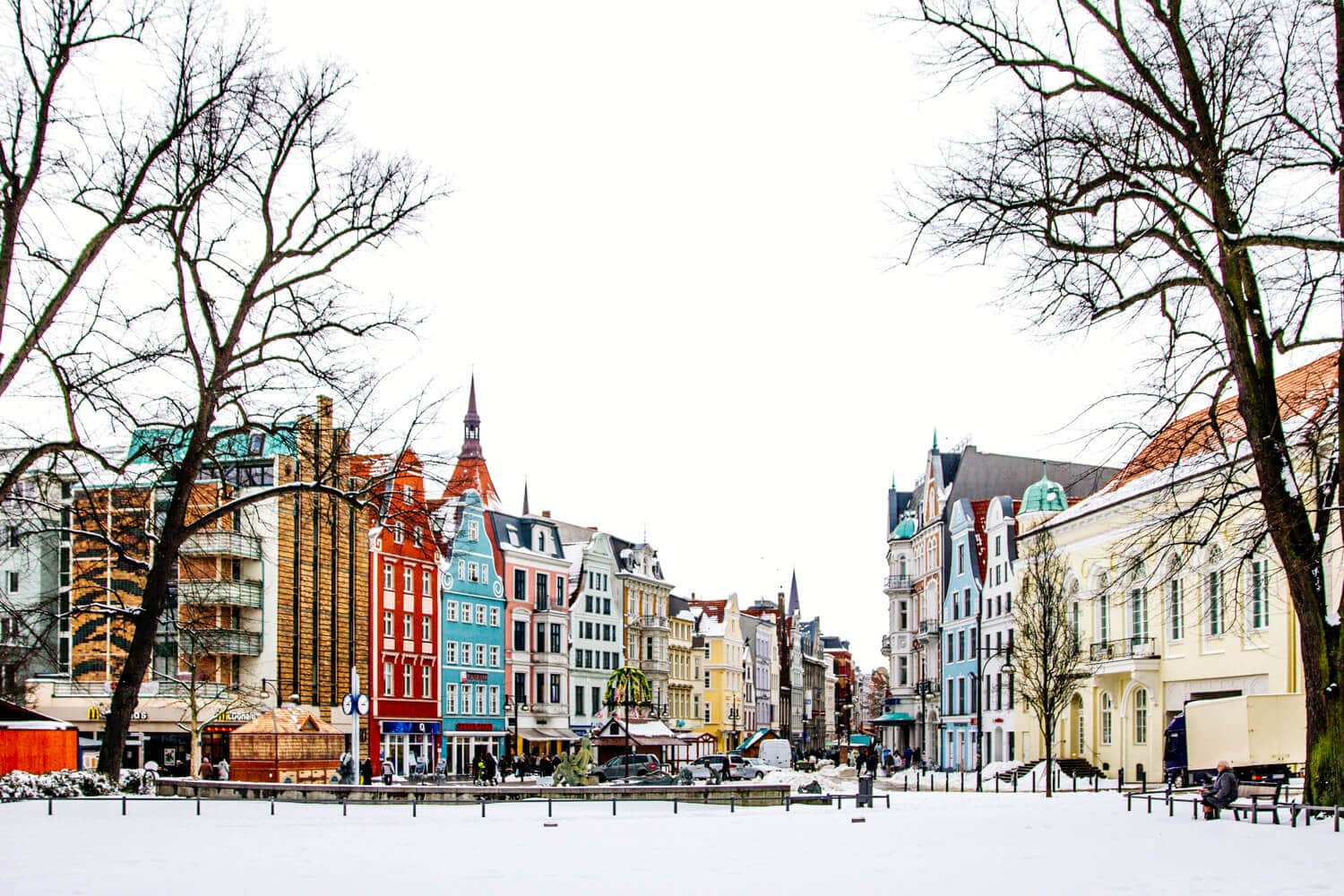 In far north Germany, just inland from the Baltic Sea, is the former Hanseatic League town Rostock. The Christmas Market is held at Neuer Markt, the main square lined with colourful gabled houses.
Rostock's Christmas Market is more of a fair with 30 fairground rides as well as the Gourmet Mile, Historical Christmas Market and Artisan Market.
Don't forget to hop on the train to Warnemuende, a pretty seaside town where you might get to see snow on the sandy beach.
Read more: Rostock Day Trip
Rostock Christmas Market Dates: 26th November – 22nd December 2022
How to Get There: Rostock is 2 hours by train from Hamburg or 3 hours from Berlin.
Where to Stay: I stayed at the Pentahotel Rostock which is located in the very centre of Rostock.
Bologna, Italy
Bologna's Fiera di Natale is one of the oldest Christmas markets in Italy and one of the best foodie destinations in Europe.
If you don't know much about Bologna, the capital of the Emilia-Romagna region, here's a quick summary of the outstanding cuisine which originates from there: balsamic vinegar from Modena, prosciutto di Parma, mortadella from Bologna, grana padano from Piacenza, tagliatelle a ragu (known as pasta bolognaise to us non-Italians), parmigiano-reggiano, tortellini, zuppa inglese, lambrusco sparkling wine and much, much more.
If you love Italian food, all your wishes can come true in Bologna.
Read more: Eating All the Food in Bologna
Bologna Christmas Market Dates: 22nd November – 6th January 2022
Where to Stay: Bologna is seriously lacking in decent hotels. Locanda Fourghetti is a good option but it's quite far from the centre.
Szeged, Hungary
I love to recommend Hungary as a winter destination. You often have blue skies and crisp, clear air, my favourite kind of winter weather and when it snows, cities like Budapest and Szeged are magical.
Budapest has one of the longest-running Christmas markets in Europe but Szeged is a great alternative.
Szeged has three markets in what they call the Christmas Festive Weeks. Events include a gingerbread making competition, the Szeged Winter Games, Advent chocolate making and the Ice Sculpture Show.
Szeged is also home to some of the best Art Nouveau architecture in Hungary.
Read more: Szeged: From Blue Skies to Snow
Szeged Christmas Market Dates: 24th November – 24th December 2022
How to Get There: Szeged is 2 hours 25 minutes from Budapest Nyugati Train Station.
Where to Stay: I loved my stay at Tiszavirág Hotel in Szeged. It's a lovely boutique hotel located close to all the main sights.
Zadar, Croatia
Zadar's Christmas and Advent market is very new and relatively small but it's a sweet addition to one of Croatia's most charming seaside towns.
Zadar is known for its beautiful sunsets, friendly atmosphere and unusual Sea Organ.
Zadar has one of the least crowded Christmas markets, perfect if your priority is relaxing while chatting with friends and locals.
Read more: Zadar: Food and Sunsets
Zadar Christmas Market Dates: 24th November – 1st January 2022 (check the official site before booking).
How to Get There: Unfortunately Zadar is not the easiest or cheapest place to get to. It might be a better option if you're planning a longer holiday in Croatia and have access to a car. The bus from Zagreb takes 3 1/2 hours. There is no train service.
Where to Stay: I stayed at Luka Residence Apartments and highly recommend it. It's spotlessly clean, very central and the host was lovely.
Cesky Krumlov, Czechia
Prague is well known for its stunning Christmas markets and popular winter events. It's well worth going but a side-trip to Czechia's fairytale-like town, Cesky Krumlov is my recommended alternative Christmas market destination.
The market is small but Krumlov castle, the moat and the historic old town are beautiful winter destinations. Cesky Krumlov is admittedly touristy but with good reason.
Read more: A Touch of Cesky Krumlov and Prague Food Tour
Cesky Krumlov Christmas Market Dates: 30th November – 6th January 2022 (subject to change).
How to Get There: Cesky Krumlov is a three-hour train ride from Prague Main Railway Station.
Where to Stay: Largo is an excellently located hotel or choose one of the great value pensions.
Riga, Latvia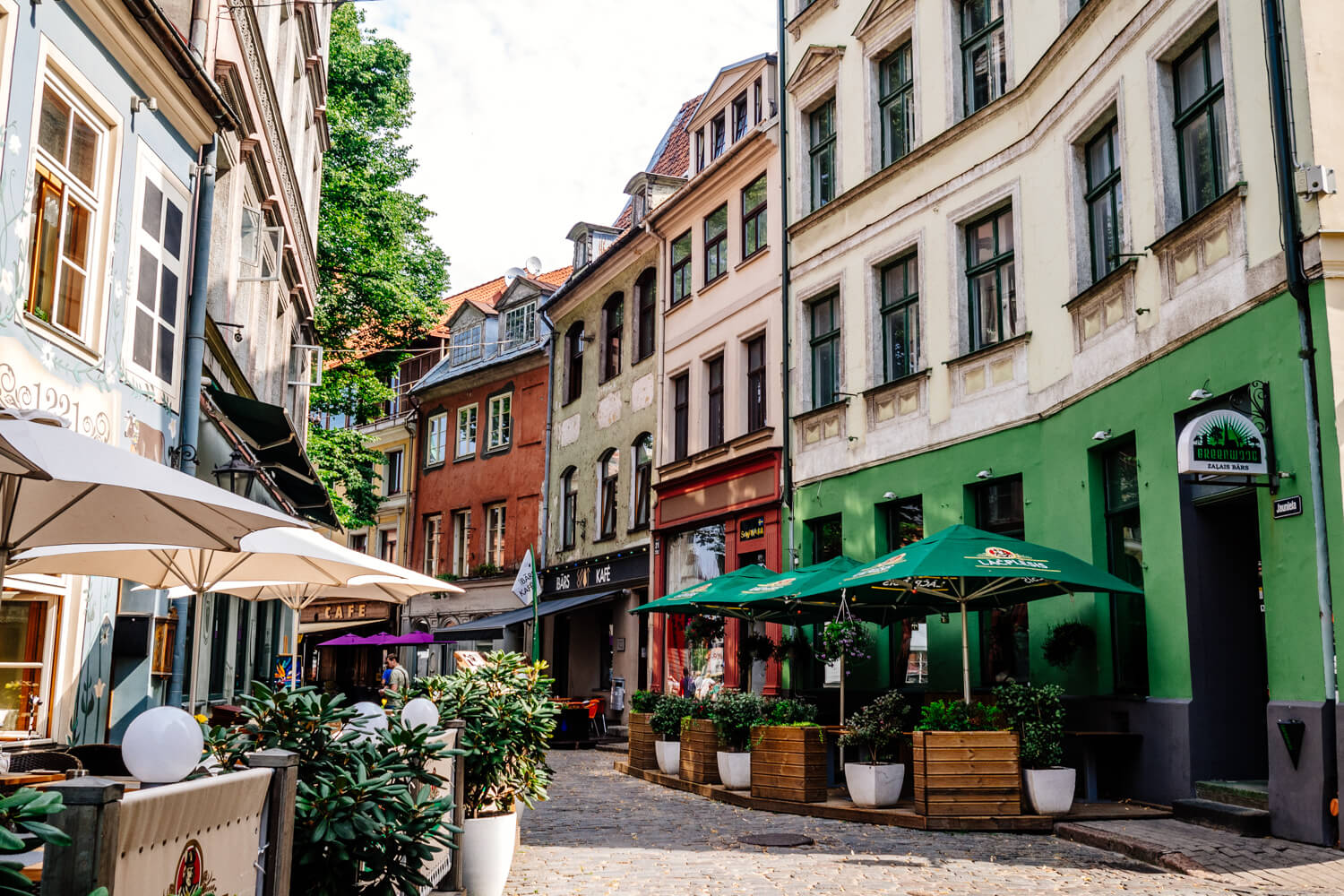 As with Szeged, Riga is home to incredible Art Nouveau architecture, worth a visit at any time of the year.
At Christmas, Riga puts on one of the best markets, specialising in local Latvian produce and eco-friendly wooden toys. Riga claims to be the first city to ever put up a Christmas tree, in 1510, although this is no doubt debatable!
Riga is one of the most affordable cities for a weekend break, with cheap flights and cheap accommodation, even over the popular Christmas and New Year period.
Read more: Not Everyone Loves Riga
Riga Christmas Market Dates: 1st December – 6th January 2022
Where to Stay: Neiburgs Hotel is a beautiful boutique hotel that is near the Christmas Market.
Read our guide to winter city breaks for more ideas or find inspiration with this list of the 50 best places to visit in Europe.
Get in touch if you have any questions about visiting the Christmas markets in 2022.
—
Recommendations are independently chosen based on personal travel experiences and extensive research. This post contains affiliate links to hotels in Europe. This means I get a small commission from any bookings at no extra cost to you.