If you purchase through links on this site, I may earn a commission at no extra cost to you. As an Amazon Associate I earn from qualifying purchases.
With snow set to fall on many of Europe's Christmas markets, you might think you'd be better off getting cosy indoors rather than heading out to socialise.
But snow just adds to the atmosphere and festive mood. Don't forget that the cold gives you a perfect excuse to warm up with a classic mulled wine or hot toddy. It's a win-win.
No matter the weather, the most popular winter markets will be teaming with visitors. I've previously written about the best European Christmas markets, which are generally the most popular.
You might also look into creating a Christmas market tour by combining a few stops or following this Christmas road trip itinerary.
Alternative Christmas Markets 2023
Beyond the usual Christmas cities and towns, markets in less-visited European cities are also worth attention. They provide a unique experience, fewer crowds and often lower prices.
So, if you're starting your planning and are looking to spend Christmas where there is snow in December or just want to visit somewhere different this winter break, consider one of these destinations.
1. Gdansk, Poland
Poland isn't known for their Christmas markets, but they have grown in recent years. If you're thinking of visiting one of the Polish Christmas Markets, Krakow, Warsaw and Wroclaw each have popular markets, but I recommend Gdansk as an alternative.
As Poland's major port and the largest city in the north, Gdansk is one of Poland's most underrated cities. The city has vibrant laneways, many artisan stores, and a beautiful waterfront precinct.
There are several markets in the Old Town, one at Coal Market, with handicraft and regional delicacies, and the Christmas Art Fair at the Grand Armoury. Gdansk is easy to get to, relatively budget-friendly and fun for a weekend away.
Read more: Weekend Break in Gdansk.
Gdansk Christmas Market Dates: 17th November to 23rd December 2023.
Where to Stay: Read my guide to where to stay in Gdansk for ideas for all budgets.
2. Ljubljana, Slovenia
You don't get much more beautiful than Ljubljana at Christmas. The city is home to Europe's most sustainable Christmas market, although the events have been scaled down in recent years.
This year, the city is focused on its light show and trees and decorations in the city centre around Preseren Square.
Head over to Lake Bled or Piran if you have time for some of the best scenery in the country.
Read more: Lake Bled Day Trip.
Ljubljana Christmas Market Dates: Likely dates: 1st December 2023 to 2nd January 2024.
Where to Stay: Stay in one of these boutique hotels in Ljubljana.
3. Sibiu, Romania
Most cities in Southeastern Europe have relatively low-key Christmas events, but like elsewhere, these destinations are taking advantage of the growing interest in festive markets and creating their own.
In Romania, you'll find the best Christmas markets in Transylvania and of course in the capital Bucharest.
Sibiu is located in the heart of Romania and is one of the most beautiful cities in the country. The market is in the Grand Square (Piata Mare), a huge UNESCO-listed square in the historic Upper Town.
Read more: The Ultimate Romanian Road Trip.
Sibiu Christmas Market Dates: 17th November 2023 to 2nd January 2024.
Where to Stay: Goldsmith is fairly priced, has exceptional reviews and is located in a unique 17th-century building.
4. Rostock, Germany
In far north Germany, just inland from the Baltic Sea, is the former Hanseatic League city Rostock. The market is at Neuer Markt, the main square lined with colourful gabled houses.
The Christmas Fair has 30 fairground rides and the Gourmet Mile, a Historical Christmas Market and Artisan Market.
Don't forget to hop on the train to Warnemuende, a pretty seaside fishing town where you might get to see snow on the sandy Baltic beach.
Read more: Rostock Day Trip.
Rostock Christmas Market Dates: 27th November to 22nd December 2023.
How to Get There: Rostock is 2 hours by train from Hamburg or 3 hours from Berlin.
Where to Stay: I stayed at the Pentahotel Rostock, which is located in the very centre of Rostock.
5. Bologna, Italy
Bologna's Fiera di Santa Lucia is one of the oldest Christmas markets in Italy and Bologna is one of the best foodie destinations in Europe.
If you don't know much about Bologna, the capital of the Emilia-Romagna region, here's a quick summary of the outstanding cuisine which originates from there:
balsamic vinegar from Modena
prosciutto di Parma
mortadella from Bologna
grana padano from Piacenza
tagliatelle a ragu (known as pasta bolognaise to us non-Italians)
parmigiano-reggiano
tortellini en brodo
zuppa inglese
lambrusco sparkling wine and much, much more.
If you love Italian food, all your wishes can come true in Bologna.
Read more: Eating All the Food in Bologna.
Bologna Christmas Market Dates: 10th November to 26th December 2023.
Christmas Fair: 23rd November 2023 to 7th January 2024.
Where to Stay: Bologna is seriously lacking in decent hotels. Locanda Fourghetti is a good value option, but it's quite far from the centre.
Read my guide to boutique hotels in Bologna for more ideas.
6. Szeged, Hungary
I love to recommend Hungary as a winter destination. You often have blue skies and crisp, clear air, my favourite kind of winter weather and when it snows, cities like Budapest and Szeged are magical.
Budapest has one of the longest-running Christmas markets in Europe, but Szeged, near the border with Serbia, is a great alternative.
Szeged has three markets in what they call the Christmas Festive Weeks. Events include a gingerbread-making competition, the Szeged Winter Games, Advent chocolate making and the Ice Sculpture Show.
Szeged is also home to some of the best Art Nouveau architecture in Hungary.
Read more: Szeged in Winter – From Blue Skies to Snow.
Szeged Christmas Market Dates: Likely dates: 27th November to 24th December 2023.
How to Get There: Szeged is 2 hours and 25 minutes from Budapest Nyugati Train Station.
Where to Stay: Noir Hotel is a lovely boutique hotel located close to all the main sights.
7. Zadar, Croatia
Zadar's and Advent market is relatively new and quite small, but it's a nice addition to one of Croatia's most charming seaside towns. The town is known for its beautiful sunsets, friendly atmosphere and unusual Sea Organs.
Zadar has one of the least crowded markets in Europe, perfect if your priority is relaxing while chatting with friends and locals.
Read more: Zadar: Food and Sunsets.
Zadar Christmas Market Dates: Likely dates: 24th November 2023 to 7th January 2024.
How to Get There: Unfortunately, Zadar is not the easiest or cheapest place to get to. It might be a better option if you're planning a longer holiday in Croatia and have access to a car. The bus from Zagreb takes 3 1/2 hours. There is no train service.
Where to Stay: I stayed at Luka Residence Apartments and can't recommend it enough. It's spotlessly clean, very central, and the host was lovely.
8. Cesky Krumlov, Czechia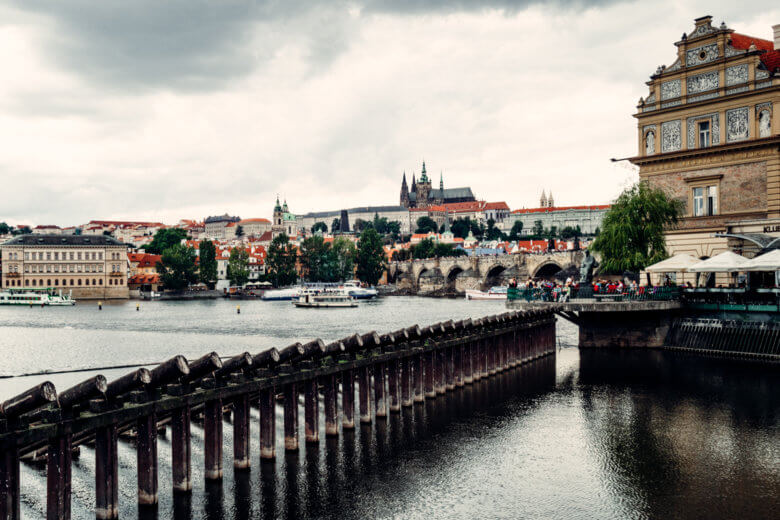 Prague is well known for its stunning Christmas markets and popular winter events. It's well worth going, but a side-trip to Czechia's fairytale-like town, Cesky Krumlov, is my recommended alternative destination.
The market is small, but Krumlov Castle, the moat and the historic Old Town are beautiful winter attractions. Cesky Krumlov is admittedly touristy, but with good reason. Stay overnight to avoid some of the crowds.
Read more: A Touch of Cesky Krumlov and Prague Food Tour.
Cesky Krumlov Christmas Market Dates: 1st December 2023 to 1st January 2024.
How to Get There: Cesky Krumlov is a three-hour train ride from Prague Central Station.
Where to Stay: Largo is an excellently located hotel, or choose one of the great value Czech pensions.
9. Riga, Latvia
As with Szeged, Riga is home to incredible Art Nouveau architecture and worth visiting any time of the year.
Christmas in Riga one of the most unique, specialising in local Latvian produce and eco-friendly wooden toys.
Riga claims to be the first city to ever put up a Christmas tree, in 1510, although this is no doubt debatable!
Riga is one of the most affordable cities for a weekend break even over the popular holilday and New Year period.
Read more: Not Everyone Loves Riga.
Riga Christmas Market Dates: 3rd December 2023 to 8th January 2024.
Where to Stay: Neiburgs Hotel is a beautiful boutique hotel near the Christmas Market.
Read my guide to winter city breaks for more ideas on travelling Europe this winter.
Or if you still need inspiration, you might like this list of the best places to visit in Europe.
Sustainable Travel Tips
Here are some practical ways to be more sustainable while exploring Europe.
Stay in Eco-Friendly Hotels: In cities like Gdansk, Riga and elsewhere, look for hotels that run on renewable energy. These places often have a certificate indicating their sustainable practices. This choice helps reduce your carbon footprint.
Minimise Food Waste: In places like Bologna, known for its cuisine, order portions you can finish. Some restaurants even provide containers for you to take leftovers.
Ethical Consumption: A the markets, buy only what you need. Christmas stalls are tempting, but excess purchases can contribute to wasting resources.
Sustainable Diets: Try local markets for fresh produce rather than large supermarkets. This not only supports local farmers but also cuts down on packaging. Switch some meals to lower-impact plant-based meals.
Choose Sustainable Transport: Make use of the public transport systems, walk or cycle if the weather is good.
Opt for Train Travel or Electric Vehicles: Though this article mentions driving holidays, you can easily adapt your trip for train travel, which is often more sustainable.
—
Recommendations are independently chosen based on personal travel experiences and extensive research. This post contains affiliate links to hotels in Europe. This means I get a small commission from any bookings at no extra cost to you.