If you purchase through links on this site, I may earn a commission at no extra cost to you. As an Amazon Associate I earn from qualifying purchases.
If Berlin wasn't one of the coldest capitals in Europe I would have already given up my nomadic life to go live there. But until I can find a way to beat the cold I will enjoy short bursts of Berlin life along with discovering the day trip opportunities it presents.
One of those opportunities is Rostock and Warnemuende on Germany's Baltic coast. Twin cities that were popular holiday destinations for East German's during the Cold War. It's still popular with locals and it an interesting spot if you want to get away for a day or two.
Rostock Day Trip
Rostock is around two hours from Berlin, either by car or train, so it's doable as a quick day trip. If time is limited I'd say go for it and just see what you can, otherwise take your time and make it into a relaxing weekend getaway. Here are a few things to do in Rostock.
Explore Rostock's Old Town
From the very pretty Universitätsplatz to the main square at Neuer Markt, the city's streets and squares are lined with colourful gabled houses typical of northern Germany. I love this kind of architecture and even though it was bitterly cold when I visited the cityscapes took my breath away and made the suffering all worthwhile.
If you have the chance to visit during the Christmas or Easter markets there will be lots to keep you busy and plenty of mulled wine to keep you warm.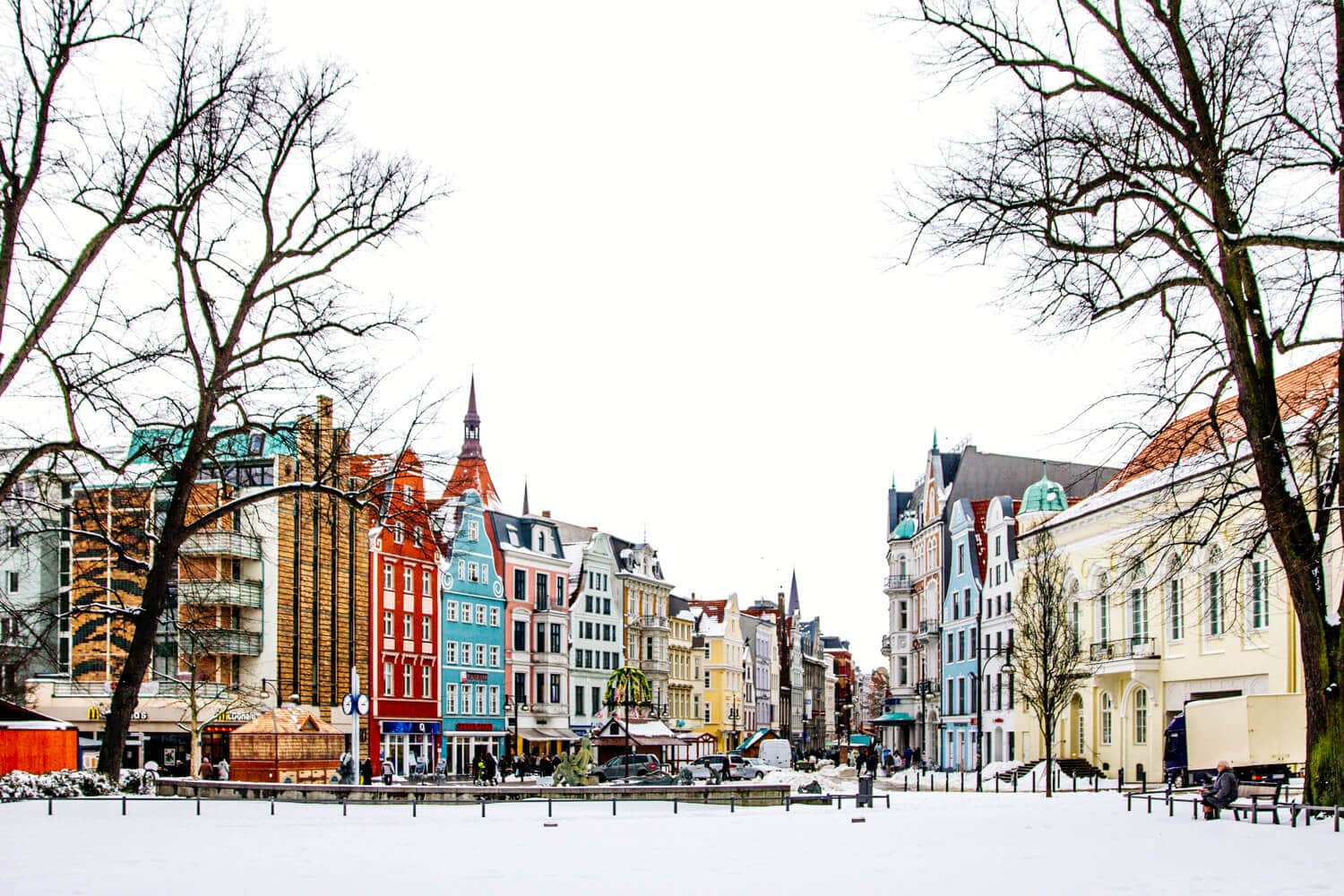 See the Gorillas at Rostock Zoo
The heat and humidity immediately hit me as I walked into the Darwineum at Rostock Zoo. I was hoping to get a glimpse of a gorilla or two but actually saw five or six very active gorillas. They were playing and feeding and seemed to be enjoying their steamy man-made habitat. You can also visit the Great Ape Kindergarten to view the new babies.
The Darwineum exhibition shows a journey through evolutionary time. It houses a number of other primates along with gorillas including orangutans, plus this cute girl.
The zoo contributes to nature conservation through its protection programs for endangered species and acts as a sanctuary for injured wildlife. You can read more about the zoo's work here.
Seaside Warnemünde
You can't visit Rostock without making a side trip to the Baltic Sea. Warnemünde is a charming coastal fishing village and popular beach town, even if temperatures don't get far above 25C in the summer.
I absolutely adored Warnemünde when I visited in March, no matter how cold it was, and I plan to go back in the warmer summer months.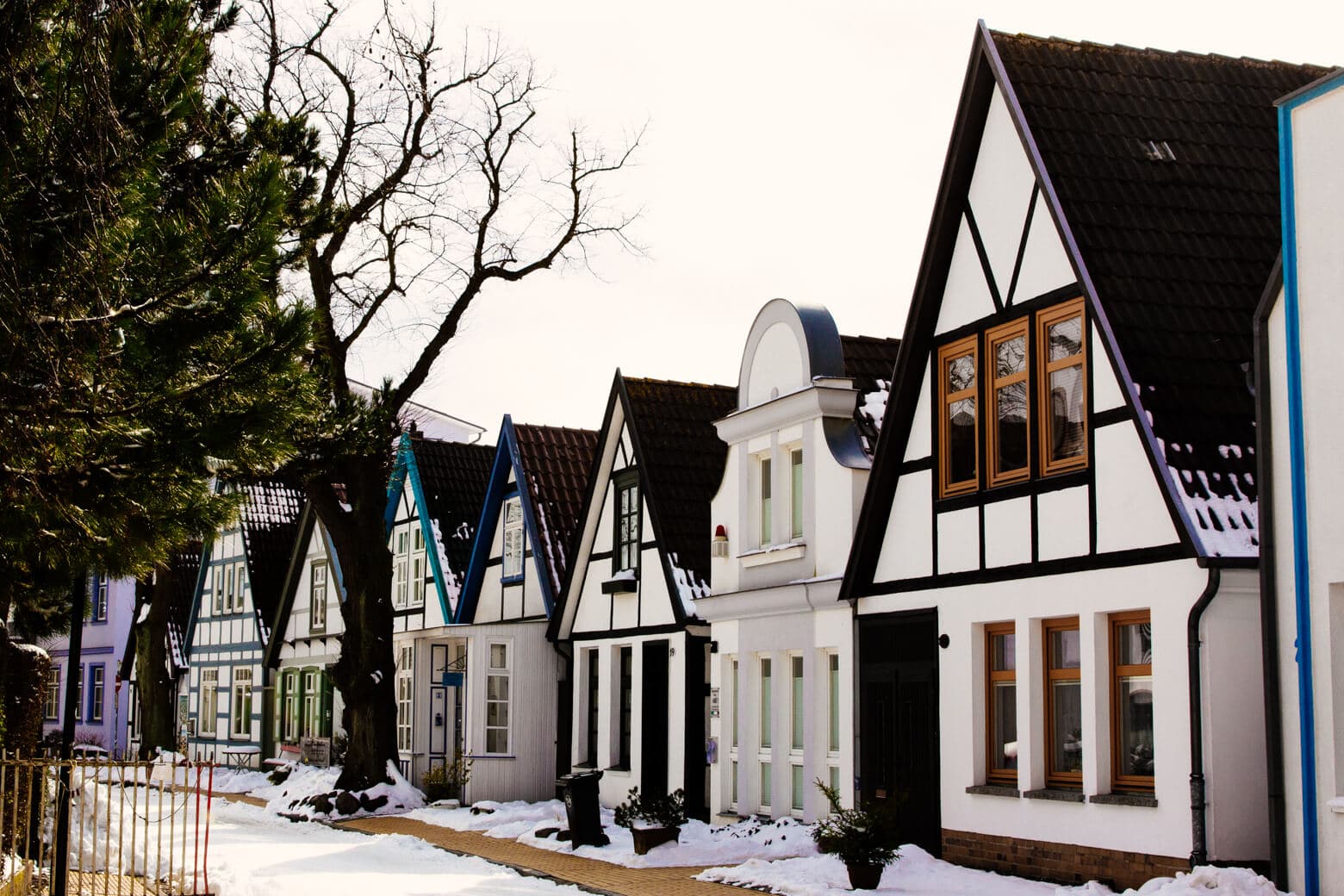 Get Up Close and Personal with Edvard Munch
Norway's most famous painter Edvard Munch lived in Warnemünde for a while, often painting naked on the beach, as one does. You can visit his former residence and the locations he painted as well as admire his self-portrait photos from that time.
Swim in the Baltic Sea
Air temperatures were around -10C and the water close to zero so no, I didn't swim in the Baltic Sea. But I didn't travel all the way to the Baltic to not at least take a quick dip so a few of my fingers made it into the icy cold water. Now I can honestly say I've been in the waters of the Baltic Sea.
Travel often introduces you to sights and experiences you never would have come across before and finding snow on the beach was quite an experience. I've never seen that before. It was surprisingly beautiful and it's another reason to visit during the winter months.
The beach at Warnemünde used to be a popular spot for nude bathing but since reunification with West Germany, beachgoers have become a little more conservative. These days you'll need to head quite a way down the coast if you want to swim in your birthday suit.
Warm Up with Some Grog
After almost losing a couple of fingers to frostbite, it was time to combat the cold with a local remedy. Grog, a strong alcholic drink made with rum, sugar and hot water. I'm not going to lie, at first, it tastes like medicine but once you get halfway through it works its magic.
You can get grog (known as hot rum toddy in other parts of the world) from a street stall for around €2 or for a little more from one of the seaside bars.
Getting to Warnemünde
Take the S-Bahn (S1 or S2) from Rostock's main train station and get off at the last stop in Warnemünde. The train runs every 15 minutes or so and the fare is included with the Rostock Card. If you choose to drive, Warnemünde is only 20 minutes away from Rostock.
How to Get to Rostock
The train from Berlin to Rostock take around 2 hours and leaves from Berlin Hauptbahnhof (the main train station).
The Deutsche Bahn Intercity-Express (ICE) is the fastest and most expensive option but at 2 hours, this will leave you with the most time to spend in Rostock.
The regional train is cheaper but take 2 hours 40 minutes.
Alternatively, you can take the Austrian railway train, ÖBB Intercity which is 2 hours and cheaper than the ICE but it only operates once per day.
Rostock to Copenhagen Ferry
If you want to extend your time in the Baltic region, you can take the ferry over to neighbouring Denmark. For €23 and two hours of your time, you can find yourself on the Danish coast and from there Copenhagen is only a couple of hours away by train. Pick up the combined bus/ferry ticket to Denmark from the main train station in Rostock.
Rostock Road Trip
If you're feeling adventurous and have the time, you could hire a car and make Rostock part of a longer North Germany road trip or if you're travelling during the colder months, you might like to follow one of these winter road trip itineraries.
Where to Stay in Rostock
In Rostock, I stayed at the Pentahotel Rostock courtesy of Rostock Tourism and Historic Germany. The hotel is located a few steps away from pretty Universitätsplatz and the shopping district. It's ideal for a city break in Rostock or as a stopover on the way to Copenhagen.
Alternatively, if you're staying in Berlin but visiting Rostock on a day trip, I'd recommend one of Berlin's affordable design hotels such as the Casa Camper Berlin in Mitte.
—
Recommendations are independently chosen based on personal travel experiences and extensive research. This post contains affiliate links to hotels and tours in Germany. This means I get a small commission from any bookings at no extra cost to you.