If you purchase through links on this site, I may earn a commission at no extra cost to you. As an Amazon Associate I earn from qualifying purchases.
Bologna, Emilia-Romagna. The food capital of Italy. A red-bricked medieval city with leaning twin towers and porticoed ancient streets. Home of the Fountain of Neptune, the sprawling Piazza Maggiore and the oldest university in the world.
Eating Around Bologna
But honestly… it's all about the food.
Balsamic vinegar from Modena, prosciutto di Parma, mortadella from Bologna, grana padano from Piacenza, tagliatelle a ragu (known as pasta bolognaise to most of us), parmigiano-reggiano, tortellini, zuppa inglese, lambrusco sparkling wine. All from Emilia-Romagna and that's just what I can think of off the top of my head.
Bologna is the last stop on my European Mystery Tour. Three weeks of travelling Central Europe, the Balkans and now Western Europe by rail.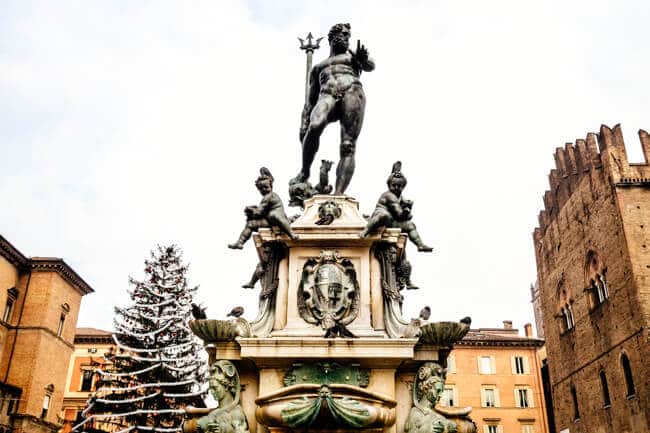 To celebrate the end of the trip we ate all the food in Bologna.
This is where we dined and local recommendations for next time:
La Sorbetteria Castiglione – May as well start with the most important. The best gelato in Bologna.
Via Castiglione, 44
Osteria dell'Orsa – Affordable lunch specials but be prepared to queue on the weekends.
Via Mentana 1
Trattoria da Leonida – Also hugely popular on the weekends.
Vitolo Allemagne, 2
Trattoria Anna Maria – Apparently the best zuppa inglese in the world but also great for local specialities.
Via delle Belle Arti, 17
Drogheda della Rosa – High end specials of the day.
Via Cartoleria, 10
Berbere – Top quality gourmet pizza with organic ingredients.
Via Giuseppe Petroni, 9
Alce Nero – Sister restaurant to Berbere, all seasonal, local and organic.
Via Giuseppe Petroni, 9
Le Stanze – The most beautiful location for an aperitivo.
Borgo di San Pietro, 1
Cafe Zamboni – Incredible hot chocolate fondant.
Via Zamboni, 6
Camera a Sud – Quirky cafe popular with students.
Via Valdonica, 5
Eataly – Gourmet food, cookware and cookbooks.
Via degli Orefici, 19
Mercato delle Erbe – Fruit and veggie market.
Via Ugo Bassi, 25
Food market and shops behind Piazza Maggiore
Via Pescheria Vecchie
Summary of This Stop
Where to Stay: Book one of these boutique hotels in Bologna.
Food Highlights: Set menu lunch at Osteria dell'Orsa. Gelato at La Sorbetteria Castiglione. Cheese tasting at Eataly.
Venice to Bologna: 1 hour 45-minute leisurely journey. No reservation is required.
Previous destination: 24 Hours in Venice
Next destination: One final stop: Innsbruck