Lake Bled is probably the most famous destination in Slovenia, even more so than the capital Ljubljana. Photos of the mysterious-looking Bled Island in the centre of the lake always come up when mentioning Slovenia and even though I didn't initially think so, it is worthy of the attention.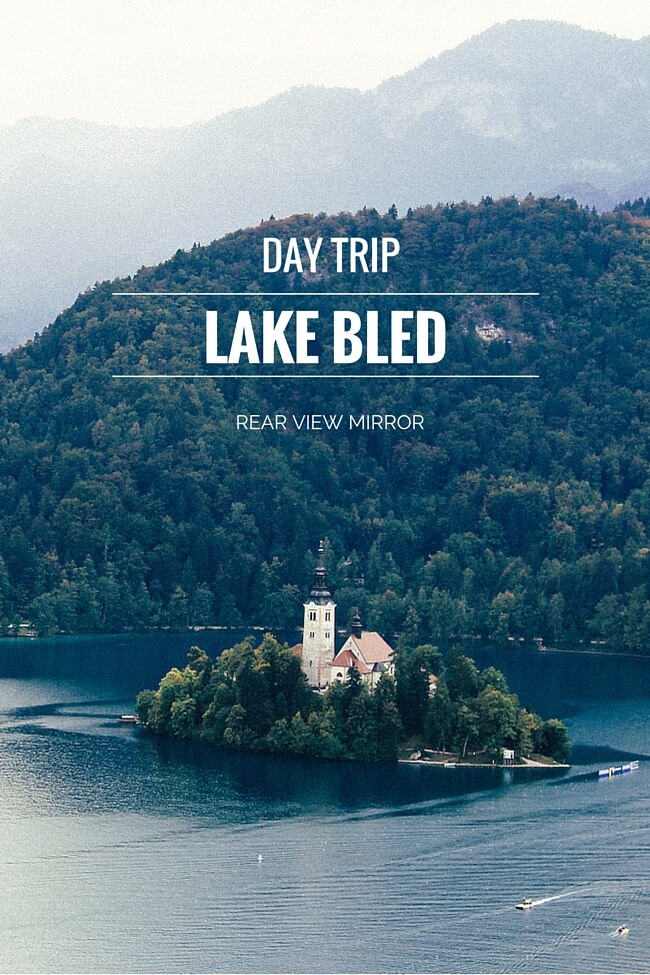 Day Trip to Lake Bled
Bled was one of those places I had always dreamt of visiting, a place I had built up in my mind as the most beautiful place in Central Europe. But my first impression of the town was not a good one. The town itself is very modern, as in post-war communist era concrete architecture modern.
Of course, no one goes to Bled to visit the modern town, only the castle, lake and Bled Island. So as long as you keep your back to the unattractive town and only look to the right when looking over the lake from the castle, then you'll be rewarded with one of the most stunning views in Europe.
If you're visiting Lake Bled on a day trip from Ljubljana then try to get there as early as possible to avoid the crowds and to see the lake in the best light. It's a very pretty sight first thing in the morning with the tranquil lake only disturbed by the occasional swimmer.
It takes about an hour to walk around Lake Bled or much longer if you take time to stop for a picnic or to take photos, of which there are many opportunities. It's hard to resist snapping Bled Island from every angle or Bled Castle which is perched upon a rock cliff 130 metres above the lake.
The walk up to Bled Castle is a steep one but essential for any visit to Bled. This is where you get the best view of the lake with the mountains in the distance. This is what makes a trip to Lake Bled worth travelling long distances for.
You can tour Bled Castle if you're interested in its history but I preferred to just walk around the castle grounds and take in the views.
The other main attraction in Bled is Bled Island. You can get there by taking one of the cute little boats known as a pletna from the town side of the lake. Upon arriving at Bled Island you're faced with 99 steep steps which take you up to the baroque Church of the Assumption.
The church doesn't have a wishing well but a wishing bell. Make a wish before heading back to your pletna.
Before finishing up your day trip, I suggest stopping for a slice of Bled's famous cream cake known as Kremna Rezina. It's a bit like a vanilla slice but bigger and tastier.
The original cream cake can be found at the Hotel Park and from there you can indulge while taking in the stunning view of the lake and castle.
When to Visit
Lake Bled is beautiful all year round, even in winter when it's covered in snow but visiting from May to July would give you the best chance of nice weather. I'd avoid visiting in August when tourists descend upon the town making a peaceful visit unlikely.
Things to See Nearby
If the hordes of tourists become too much I'd suggest heading over to nearby Lake Bohinj. It's an incredibly beautiful, peaceful location and I possibly prefer it over Lake Bled. Vintgar Gorge is also a stunning place to visit and an easy hike but you probably couldn't visit all three destinations in one day.
Where to Stay
In Ljubljana, I'd recommend the Vander Urbani which is a small hotel situated right in the city centre. I did stay at Lake Bled but I found the accommodation was a bit basic but new places continue to open up and the town becomes more popular.
Driving in Slovenia
Driving from Ljubljana to Lake Bled will take you less than an hour. Parking is a bit of a hassle in the crowded summer months so you might have to park a little away from the lake and walk.
Don't forget that when driving on the motorways in Slovenia you need a vignette (sticker) for your car which can be purchased at petrol stations or at the border.