If you purchase through links on this site, I may earn a commission at no extra cost to you. As an Amazon Associate I earn from qualifying purchases.
Getting lost while walking through the suburbs might have been an odd way to start my trip to Cesky Krumlov but as the sun broke through the clouds, lighting up the old town, I knew I'd lucked out.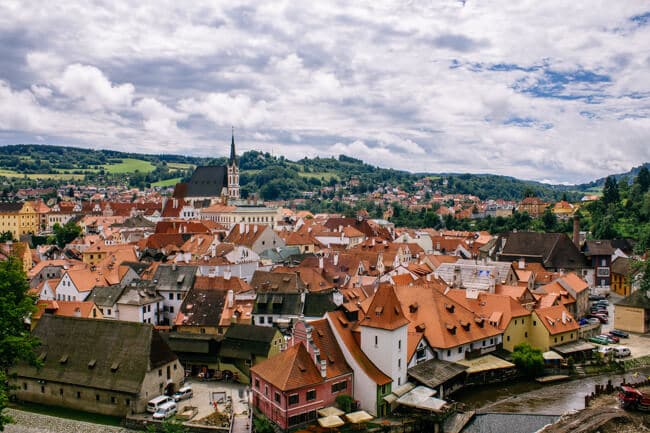 Most visitors arrive in Cesky Krumlov on a day trip from Prague, opting to take the bus over the inconvenient train. As always I'd recommend driving instead as it's only two hours by car and there are some pretty spots to stop along the way.
As an aside, if you have some time in Prague and are into food, I recommend this Eating Prague food tour.
If you do arrive by bus, it's a short walk across a cobblestone bridge, through one of the old city gates and straight into a narrow lane of the old town. Try to resist the smell of freshly baked bread as you walk by the first of many delicious bakeries.
But as I'd parked on the hill just outside of the old town, I stumbled onto the best view of the city, overlooking Cesky Krumlov Castle and the baroque houses which line the Vltava River.
As you make your way down into the town, you'll encounter modern cafes, traditional restaurants and plenty of pubs pushing the Czechia's renowned beers. There's no point in trying to get off the beaten path for food and drinks as there's no such thing in Cesky Krumlov's historic old town. Just enjoy the atmosphere with your fellow tourists.
Allow an hour or two to explore the castle and its gardens and the same again for the rest of the town. If you can stay overnight, you can wander the streets in relative peace once the day trippers have gone and take in the quiet sunset from above the town.
Cesky Krumlov can get extremely busy all year round. The closest time you'll come to an off-season is in the dead of winter but even then you'll see a few day trippers around. I think it would make a fantastic, relatively quiet New Year's Eve destination in Central Europe, but I will visit again anytime I'm back in Czechia.