If you purchase through links on this site, I may earn a commission at no extra cost to you. As an Amazon Associate I earn from qualifying purchases.
Back in September, I declared I wasn't going to be travel blogging quite so much then proceeded to daily blog a 3-week Eurail trip. Thirteen cities in 21 days covering Hungary, Slovakia, Poland, Austria, Slovenia, Croatia and Italy. It was quite the European itinerary.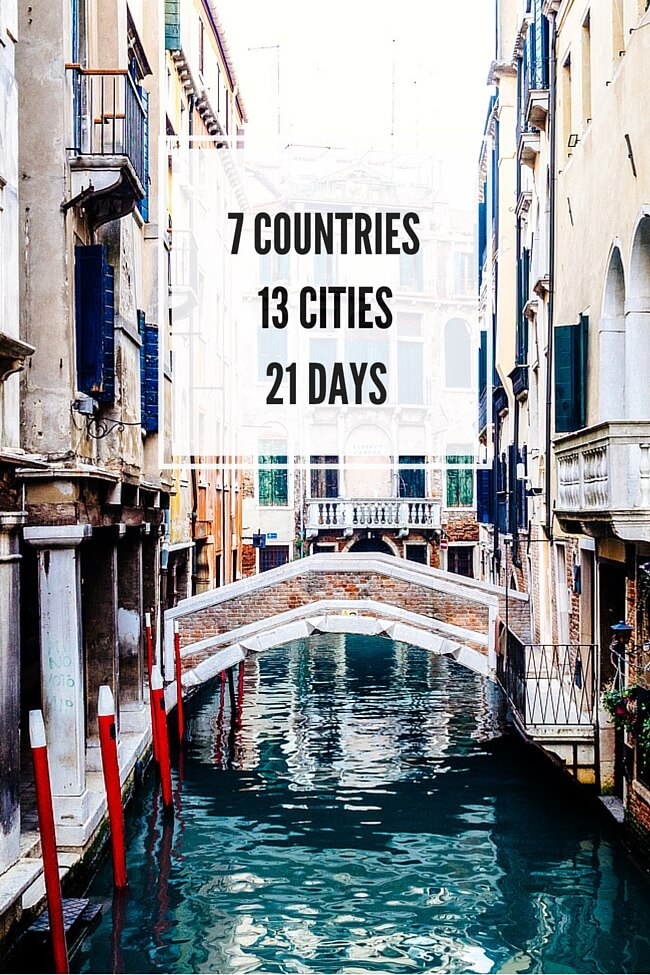 That might sound like a ridiculous number of stops in such a short time frame, and maybe it is, but it can also be a hugely fun way to travel.
I recommend a whirlwind tour like this for two groups of travellers. For those that have never been to Europe before and want to get an overall feel for a bunch of places. It'll help you figure out where you might want to return to in the future for a longer, more in-depth stay.
Secondly, it's great for those who travel often and want to return to experience a certain aspect of their favourite destinations. For example, to go on seven country gourmet tour (that's me!).
21-Day Europe Itinerary
The so-called Mystery Tour involved turning up at the train station and deciding where to travel to at that moment. No plans, no prior research and nothing booked in advance. It was a great idea but it didn't end up working too well in practice.
On longer journeys, there is often only one or two trains per day so if you're not at the station by 7am you will have missed your only chance. Add the stress of having to buy a last-minute reservation and you'll be wishing you did at least some advance planning.
I'd say that was mostly due to travelling long distances in Central Europe and the Balkans. If you stick to short trips in countries with busier and more reliable train systems you wouldn't have this problem. Even so, travelling with little idea of where I'd be the next day was a brilliant way to travel.
For me, the Mystery Tour turned out to be a delicious foodie tour more than anything else. Schnitzel in Vienna, risotto by the sea in Zadar, cheese tasting in Ljubljana, cicchetti (kind of like Italian tapas) in the back streets of Venice, Christmas market snacks in Innsbruck, and absolutely everything in Bologna.
Eurail Rail Pass
I was given a 21-day consecutive rail pass by Eurail. This pass is ideal for this kind of trip as you can hop on almost any train at any time on any day.
If you don't like where you end up you can pick another train and go somewhere else. You have complete flexibility.
To get the most out of the pass you have to do a lot of travelling. It can be exhausting. The key is to find a balance between time spent on the train and exploring each stop.
To be fair, having visited most of these cities before might have made it easier for me. I didn't feel compelled to run around and visit all the 'must-see' sights. I picked out a couple of things only and enjoyed those things.
I suggest you do the same.
It's brilliant to be able to go on a multi-country trip, you can see so much in three weeks but you don't have to see *everything*. In my daily posts, I mention the highlights of each destination.
Take those suggestions and find your own to make the ideal trip for you or read my list of the best places to visit in Europe for more ideas.
Starting Destination: Budapest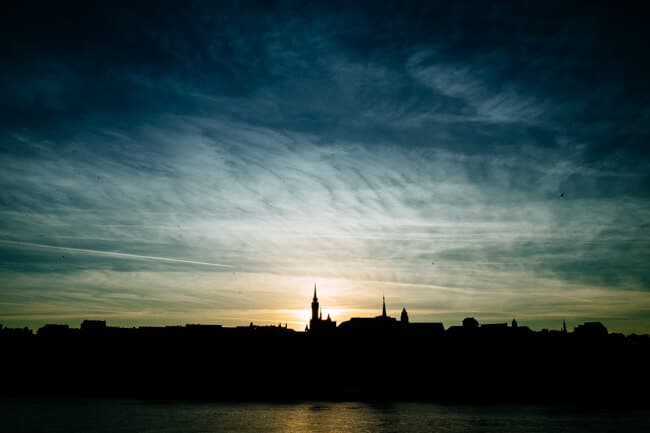 My Eurail trip started in Budapest, one of the most beautiful and exciting cities in Europe and my current home town. If you've never been to Budapest, below is a quick summary of the main sights but if you have time there are countless things to do and events to keep you entertained.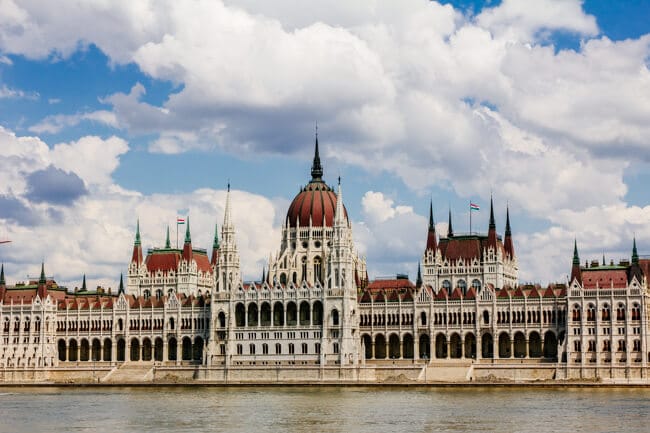 For a more detailed explanation, my list of where to go in Budapest should help you out.
Hungarian Parliament
Buda Castle
Fisherman's Bastion
The Great Synagogue
Views from the top of St Stephen's Basilica or one of the rooftop bars.
Cross the Danube over the Chain Bridge and return via the Liberty Bridge.
Pick up picnic supplies and souvenir paprika at the Great Market Hall (near the Liberty Bridge).
Visit Heroes Square and Vajdahunyad Castle in the City Park.
Have a long, hot soak in one of Budapest's thermal baths. Szechenyi (Baroque) and Gellert (Art Nouveau) are the most popular but there are many others.
Save money with a set menu lunch. Three-course meals start at 890Ft (€3).
Stop for a traditional coffee and cake at the incredible New York Cafe or the more affordable Bookcafe's Lotz Hall.
Go on a ruin bar crawl. Szimpla is the most famous (and touristy), Ankert and Csendes are my favourites.
Budapest to Bratislava – 2h 45 m, direct, reservation compulsory.
Poor little Bratislava is often overlooked by travellers with all the attention going to nearby Vienna, Prague and Budapest. It's a shame as it has a cute old town and lovely hilltop castle.
Bratislava used to have a bit of an unfortunate reputation thanks to its status as a bucks and hens night destination. But now that the major low-cost airlines are no longer flying into the city it has a much more enjoyable atmosphere.
These days it's all about hipster cafes and fusion Asian restaurants. Which is a great thing. Here are some ideas for how to spend a day in Bratislava.
Bratislava to Krakow – 7 h (it's far!), 1 or 2 changes, reservation compulsory.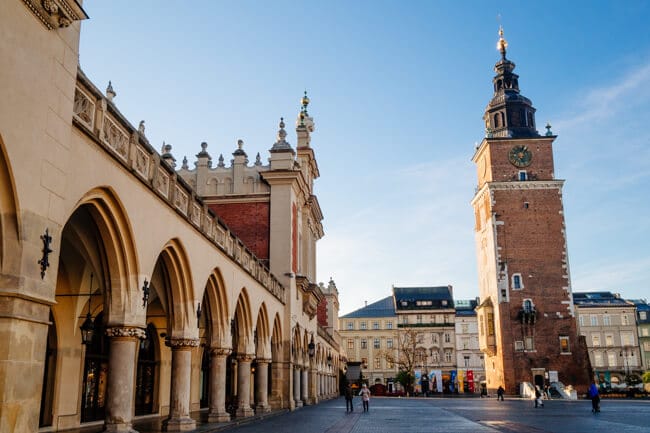 Seven hours might be too long to spend on a train but there aren't a lot of options if you want to go to Poland.
You could stop in the Czech city Brno (which is lovely) but you'd still have a seven-hour journey to Krakow the next day.
Either way, it's worth the extra time to get yourself to one of the most gorgeous cities in Central Europe.
This is what I saw on my quick trip to Krakow.
Krakow to Warsaw – 2 h 30 m, direct, no reservation required.
You may as well take advantage of the fast trains between Krakow and Warsaw and spend some time in Poland's capital. Not only is the city full of WWII and Cold War history, but there's also a thriving foodie scene and terribly addictive 50c fruity vodka shots.
Warsaw to Lublin Day Trip – 2 h 15 m (each way), direct, no reservation required.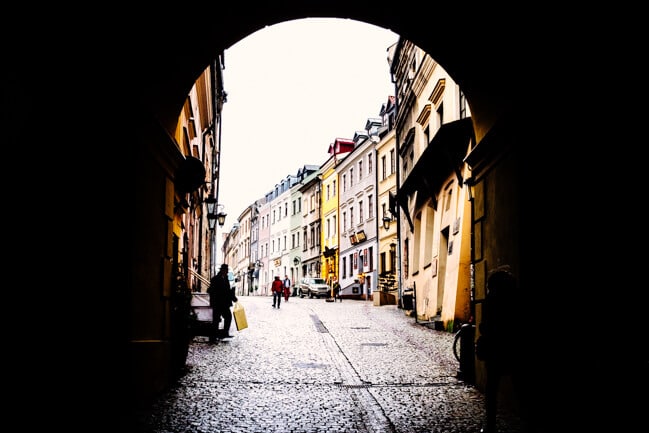 Imagine a smaller Krakow, before they prettied it up (well before), and you have Lublin.
Don't miss a day trip to Lublin, an adorable town, while it's still off the main tourist path and you can have it almost to yourself.
Warsaw to Vienna – 7 h, direct, reservation compulsory.
Take the early train and arrive in Vienna in time for a late schnitzel lunch or afternoon tea at one of Vienna's famous coffee houses or chose specialty coffee in Vienna.
Vienna is all kinds of amazing so you might want an extended stay to see the sights and visit a couple of museums.
Stay in Mariahilf or hipster Neubau to be within walking distance to the museum quarter, designer shops and loads of cafes.
Foodie tip: Take advantage of the local cafe rivalry where they are fighting it out for the best brunch in Vienna.
Vienna to Ljubljana – 6 h, direct, no reservation required.
Ljubljana easily takes the cutest capital in Europe award. It's a great stop on a trip like this as you can see everything in a day and you don't have to limit yourself to only seeing a few sights.
Highlights include walking along the cafe-lined river, crossing the Triple Bridge followed by the Dragon Bridge and taking the funicular up to Ljubljana Castle for the sunset.
Ljubljana at Christmas is magical.
Ljubljana to Zagreb – 2 h 20 m, direct, no reservation required.
As much as I love Croatia, this is the sector of the trip I'd cut out if I had to do it again. Zagreb is a fun city but with few famous sights.
It's nice but your time would be better spent elsewhere, say in Italy or Austria or even maybe a quick stop in Germany.
Unless of course, you're planning to head to Serbia or further into the Balkans but I suggest doing that when you have more time, not when you're using a consecutive rail pass.
Zagreb to Zadar – 3 h 30 m by bus (not included in the Eurail Pass).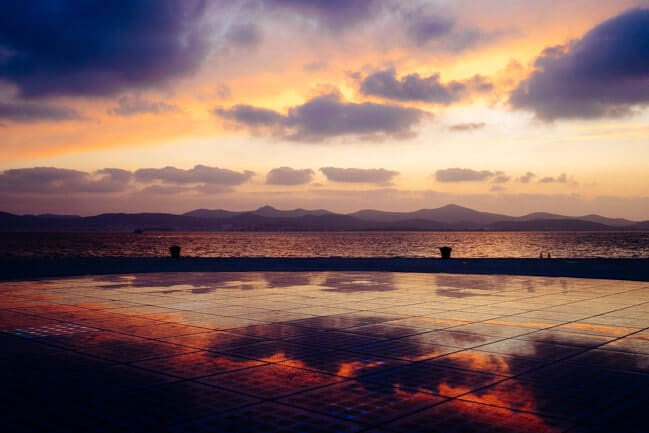 Zadar lost its train station to a McDonalds restaurant so you'll have to take a bus if you plan on visiting the coastal town.
Zadar is deservedly known for its incredible sunsets but the food was the real highlight for me, the best I've had in Croatia. Definitely visit Zadar but maybe when you have more time.
Zagreb to Trieste – 7-8 h (overnight stay in Villach, Austria), at least 2 changes, no reservation required.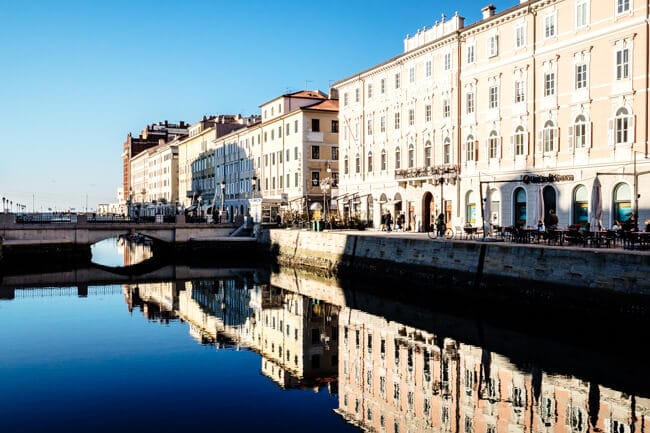 Trieste is a great stopover city. Wonderful weather, fantastic sunsets, a fairytale castle and a major aperitivo scene. Here's what I recommend doing on a day trip to Trieste.
Trieste to Venice – 1 h 50 m, direct, no reservation required.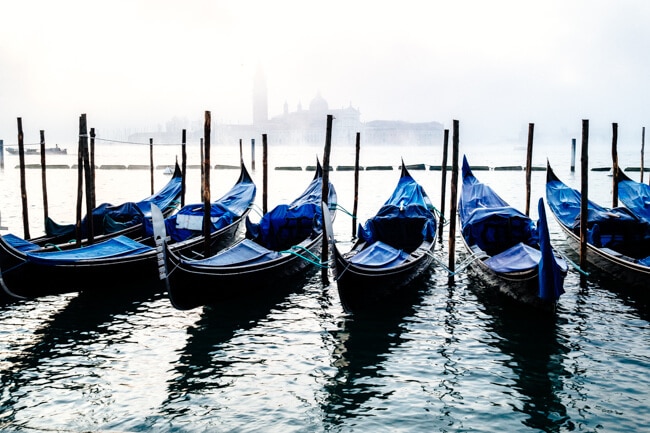 From sunny Trieste to foggy Venice, expected winter weather in northern Italy.
Fog might not sound ideal but when the eerie fog engulfs Venice, seeping into the canals and over the gondolas, Venice has a magical feel more than ever.
I don't think anyone can doubt the beauty and uniqueness of this city and its wonderful slow food scene.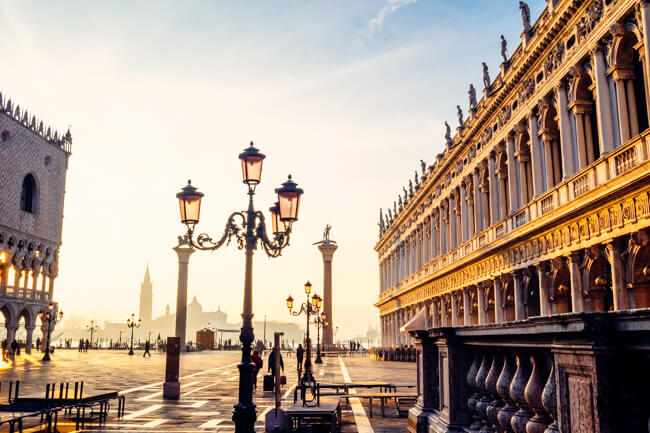 Don't be put off by the crowds in Venice, it's a destination like no other in the world and a must-see at least once in a lifetime. If the crowds are an issue for you, I can tell you I was the only soul in Piazza San Marco, the most touristy square in Europe, on the December morning when I visited. It was spectacular.
Here's how I managed the short time I had: 24 hours in Venice.
Venice to Bologna – 1 h 45 m, direct, no reservation required.
I've said it before but I'll say it again, Bologna is all about the food. Seriously, the entire Emilia-Romagna region is the best foodie region in Italy, hands down. Go there if you like to eat.
Bologna to Innsbruck – 4 h 40 m, direct, reservation compulsory.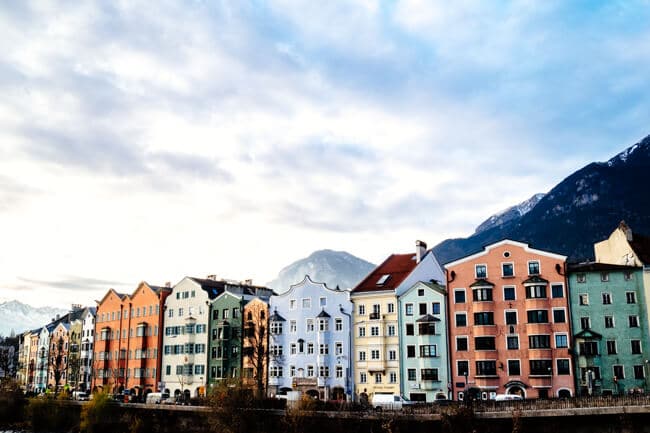 There are a few options where to stop between Bologna and Innsbruck with Verona and Bolzano at the top of that list. I was running out of days on my pass at this point so instead took the 5-hour train straight to Innsbruck.
Visiting a new city would have been great but Innsbruck's mountain landscape is so beautiful, especially if you're fortunate to arrive to see clear blue skies and snow-capped mountains. I have no regrets.
3 Week Train Itinerary
This is just an example 3 week itinerary in Europe. There are endless possibilities.
If I had to do it again I'd skip the Balkans. Trains don't run often there, they are slow and don't go everywhere. It's exhausting rail tripping around the Balkans via beat up trains and replacement buses.
Other than that, this was one of the best trips I've been on. As much as I love in-depth slow travel, when done right, fast travel can be the way to go.