If you purchase through links on this site, I may earn a commission at no extra cost to you. As an Amazon Associate I earn from qualifying purchases.
At the end of a long tunnel, the completely white, snowy landscape turns into the barren hills and sharp blue sky I'm used to seeing in Croatia. The rugged coastline comes into view and a wave of contentment comes over me, just like the first time I visited Croatia.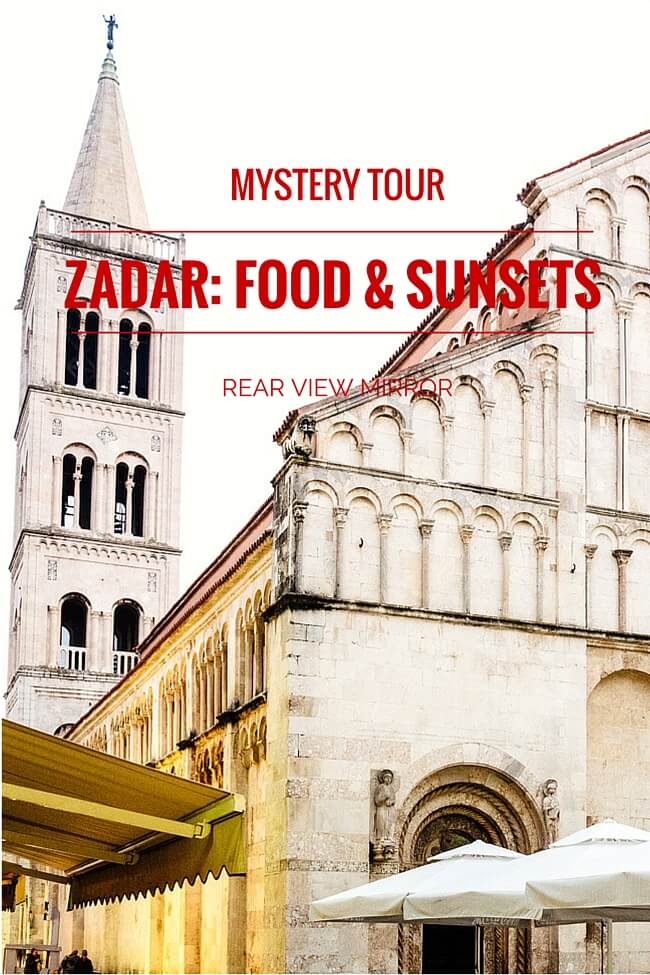 Zadar: Food and Sunsets
Walking through the city gate it's hard to miss the bullet-riddled apartment walls. Our host Ivan, a former professional soldier, tells us there was little damage to Zadar's old town during the war but the rest of the city didn't fare so well.
But the war is long over and Zadar is reaping the benefits of tourism, at least for those working in the industry. Ivan proudly shows us through his sparkling clean apartment, a recent renovation where they split a larger apartment in two. Surely a good investment for the future.
Ivan showers us with gifts. Typical Croatian hospitality. Local wine, biscotti, candied almonds and homegrown lavender. Most importantly he shares his favourite restaurants specialising in local, seasonal and organic produce from Zadar.
Stepping out of the apartment brings us to Široka Street, the shiny, marble-paved road which spans the length of the Zadar peninsular. In one direction is the Christmas market, the first to take place in Zadar. In the other direction, past the Venetian and Roman ruins is the Sea Organ, an unusual musical treat created by the crashing Adriatic waves.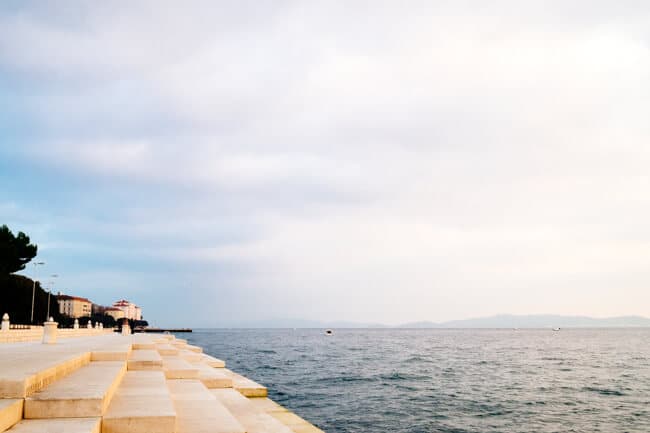 Zadar is probably most famous for its sunsets, though I'm sure each coastal town claims the best. With the sound of the sea organ in the background, the final rays of the sun reflect in the solar panels embedded in the walkway, the source of power for the automated light show which takes place each night.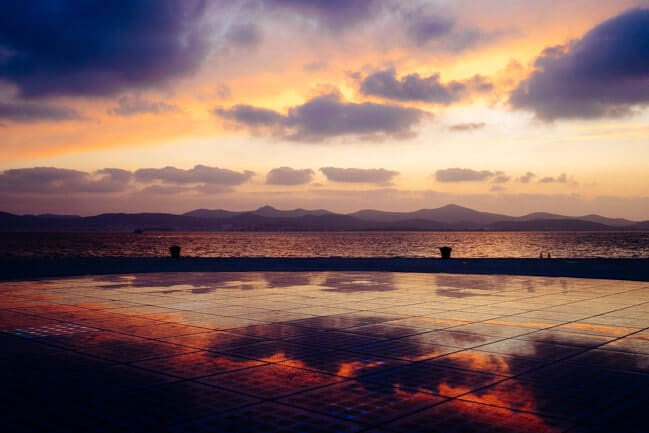 Summary of the Stop
Food Highlights: Delicious orzotto (kind of like risotto but made with barley) with seasonal mushrooms at Pet Bunara, one of the most delicious meals I've had in Croatia (they apparently have the best homemade cakes in Zadar too). Fresh from the sea that morning fish with Swiss chard at Konoba Na Po Ure, a typical family-style restaurant with no menu, only daily specials. I didn't have time to try but for future reference Restaurant Foša is supposedly the best seafood restaurant in Zadar.
Where I Stayed: Luka Residence Apartments. A one-bedroom, high-quality, beautifully renovated apartment in the best possible location in Zadar. Easily the nicest apartment I've ever stayed in Croatia.
Zagreb to Zadar: 3 hours 30 mins on a bus as the train station at Zadar is now a McDonald's restaurant.
Previous destination: Shrouded by Fog in Zagreb
Next destination: Trieste Revisited