If you purchase through links on this site, I may earn a commission at no extra cost to you. As an Amazon Associate I earn from qualifying purchases.
After entering a food coma in Bologna, I was ready to head home to Budapest. Three weeks is more than enough for an intense trip where spending only one or two nights per destination is the norm.
But I still had another day on my rail pass so why not break up the journey with a mid-way stop in Innsbruck?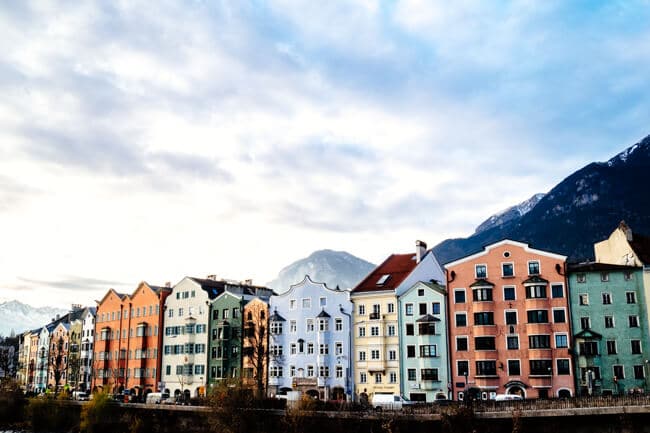 Final Stop: Innsbruck, Austria
I wouldn't have stopped if I hadn't found a hotel directly opposite the train station. My bags, now full of specialties from each stop, are far heavier than when I started this trip.
A giant chocolate-coated wafer from Poland, a mini Sacher torte from Vienna (giving it another try), sea salt from Ljubljana, organic wine from Zadar, bomba Calabrese from Trieste (not originally obviously), Christmas panettone from Venice and balsamic vinegar from Bologna.
This trip turned out to be a gourmet food tour.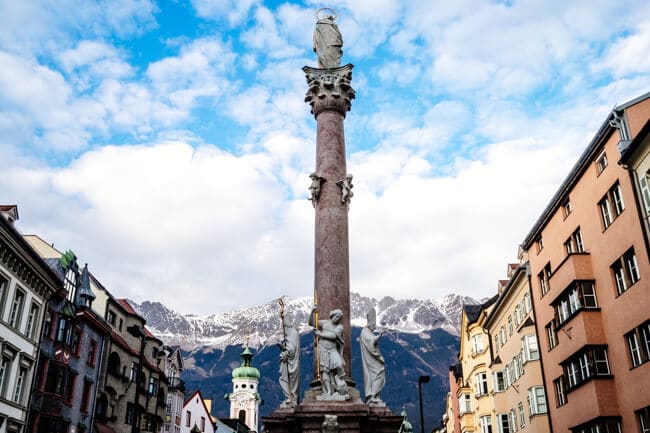 Innsbruck's beauty is in its valley location, squeezed in between the mountains, settled along the emerald green River Inn.
City residents are known to ski the slopes before work but not yet this winter. It's mid-December and no sign of snow.
I've written about Innsbruck before. It's a charming destination in central Austria, a region known for its skiing and spa resorts. But for me it's a great city break destination, often unfairly overlooked in favour of Vienna and Salzburg.
For a more complete view, read my previous post on things to do in Innsbruck.
Where to Stay: The hotel where I stayed is no longer available. Instead, I recommend Altstadthotel Weißes Kreuz, a very nice hotel in the centre of the Old Town.
Bologna to Innsbruck: 5 hours 20 minutes via Verona in Italy. €11 reservation required for the Verona to Innsbruck section of the trip. The ride through the alps is easily the most scenic train trip of the entire tour.
This has turned out to be a really great trip. I've been so focused on travelling slowly these last few years that I'd forgotten what it's like to travel in a more conventional way. It is tiring but it's so fun being in a different place every other day.
I still wouldn't recommend this for someone's first trip to Europe. It's far too much crammed in, especially when you're still figuring out the European trains and accommodation and all the little details that can be difficult for new travellers.
This is the last stop before heading home to Budapest where I'll do a final review.
Previous destination: Eating All The Food in Bologna
Final destination: Budapest