The Germans often complain of their cold, snowy winters but I love a bit of chill in the air and I love Germany in winter. Indulging at the Christmas markets with a hot cider (or mulled wine) is a daily event when there, as is enjoying the country's most famous sights surrounded by few tourists. Most of all I simply love the snowy landscapes.
My recent travels around the Balkans have given me a new found appreciation for German roads. When driving in Germany I don't have to concern myself with potholed roads, cars driving the wrong way down the highway and wild dogs getting in my way. I miss the relaxing days cruising down the autobahn at 180km per hour. Thankfully this 1000km road trip from Cologne to Berlin is an easy, stress free drive and it takes in a mix of big and small cities along the way.
If you're open to other destination ideas, I've shared my favourite winter road trip itineraries here and the best winter city breaks in Europe or read my guide to winter holidays in the sun.
Road Trip: Cologne to Berlin
Cologne – Dusseldorf – Muenster – Osnabrueck – Bremen – Hamburg – Rostock – Potsdam – Berlin
Love & Chocolates in Cologne
Cologne is not particularly quick to reveal its charm but with a bit of persistence and a few drinks at one of the riverside beer gardens the city's sweet spots become more obvious. A visit to the Chocolate Museum and hours spent wandering the prestigious Christmas markets are amongst my favourite things to do as is walking the love lock covered Hohenzollern Bridge.
Where to stay in Cologne: Neo-Gothic hotel in the old town.
Eating out: Top restaurants in Cologne.
Sightseeing and city tours: Rhine river cruise.
Shopping in Dusseldorf
Dusseldorf; modern and business-like. It's a bit like Frankfurt in that respect. Locals flock to the shopping thoroughfares in the evenings and weekends with Königsallee and the surrounding streets being the place to go. If shopping is on your Germany itinerary this would be a good place to start (or in Hamburg or Berlin).
Cologne to Dusseldorf: 45 mins (40 km)
Where to stay in Dusseldorf: 5 star hotel on the Rhine.
Eating out: Top restaurants in Dusseldorf.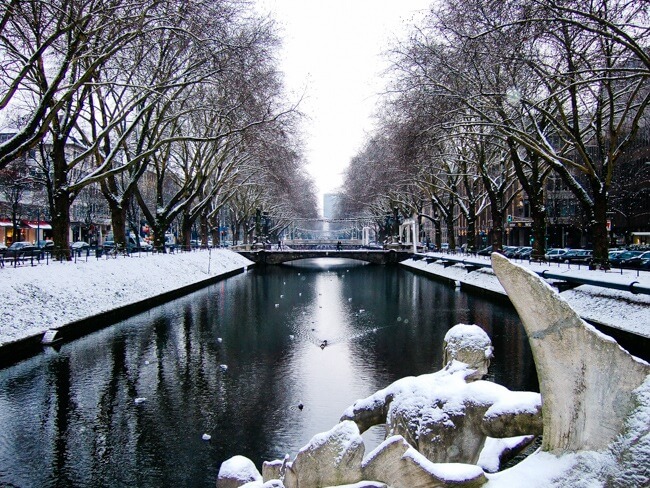 Muenster: Coffee, Cake & Dead Guys in a Cage
Muenster is perfect for slow travellers. Locals prefer to get around by bike and take their time shopping in farmers' markets. Regular stops are made for coffee and cake or a beer or two at their own organic city brewery. Then there's the issue of dead guys in cages…
Dusseldorf to Muenster: 90 mins (130 km)
Where to stay in Muenster: Stay in a former brewery.
Eating out: Top restaurants in Muenster.
Quick Stop in Osnabrueck
Osnabrueck is rarely discussed as a tourist destination but I like it for the colourful merchant houses and the compelling Felix Nussbaum Haus which depicts the struggles of the artist during WWII and his violent death.
Muenster to Osnabrueck: 50 mins (60 km)
Where to stay in Osnabrueck: Affordable design hotel.
Eating out: Top restaurants including a Michelin star restaurant in Osnabrueck.
Historic Bremen
Bremen is the only destination on this road trip I have yet to visit but I've included it here as I've heard it has one of the most important historic old towns in all of Germany. It's also right on the way from Osnabrueck to Hamburg so it's hard to miss.
Osnabrueck to Bremen: 70 mins (120 km)
Where to stay in Bremen: Design hotel with a pool.
Eating out: Top restaurants in Bremen.
---
RELATED: Bremen's UNESCO Site and Weird Statues
---
Hamburg: Germany's Coolest City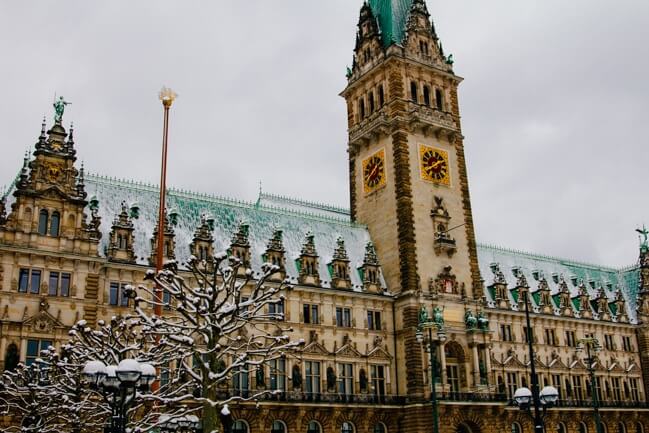 As Germany's second largest city, Hamburg has all the great things you typically find in a big city. Each distinct neighbourhood has something special to offer. St Pauli is the young, trendy neighbourhood with Reeperbahn's crazy nightlife. Fisherman's Wharf is not surprisingly the place to go for seafood including the famous fischbrötchen street food. Then there are the hamburgers which can be found throughout the city, from cheap local chains to high end restaurants.
The white walled arcade near the Town Hall was the first of many shopping streets in Hamburg. This main shopping area has now spread in every direction of the city centre with the most interesting boutique shops being in the Karolinenviertel and Schanzenviertel districts around St Pauli.
Bremen to Hamburg: 70 mins (130 km)
Where to stay in Hamburg: Boutique hotel in St Pauli.
Eating out: Top restaurants in Hamburg.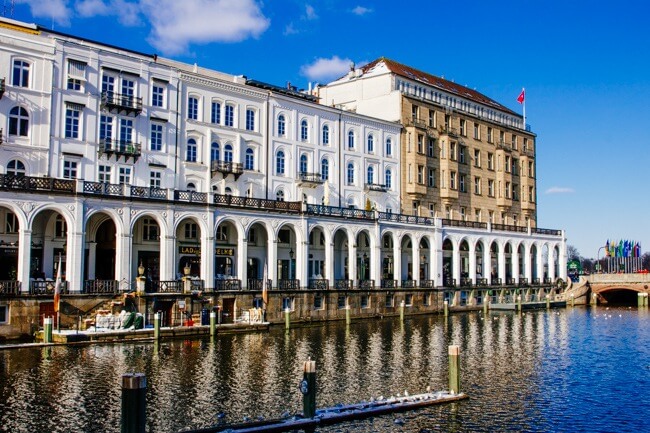 Hanseatic City: Rostock
Colourful merchant houses replaced the originals bombed during WWII. Rebuilt in a simpler style, Rostock has managed to retain much of its Hanseatic character and history, no doubt due to its prominence during the GDR period. The population decline since the end of the Cold War hasn't impacted the atmosphere of the city and the main squares are bustling with shoppers, workers and university students.
Once the humidity hits you, you know you have entered the world of the gorilla. Curious, playful and surprisingly fast-moving, Rostock's family of gorillas and orang-utans seem to live a carefree existence at Rostock Zoo.
Hamburg to Rostock: 100 mins (190 km)
Where to stay in Rostock: Central hotel perfect for sightseeing.
Eating out: Top restaurants in Rostock and Warnemunde.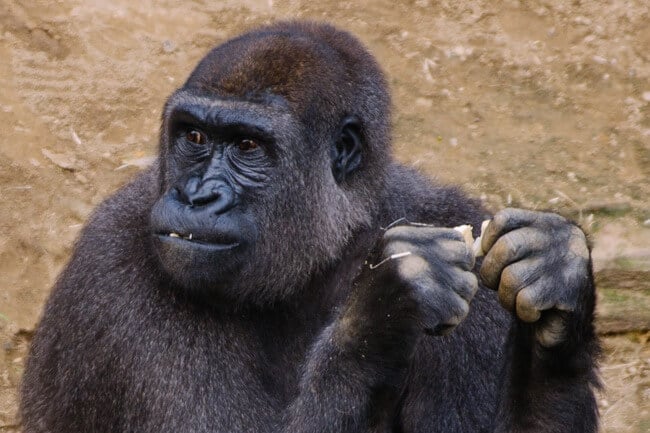 The Fishing Village of Warnemuende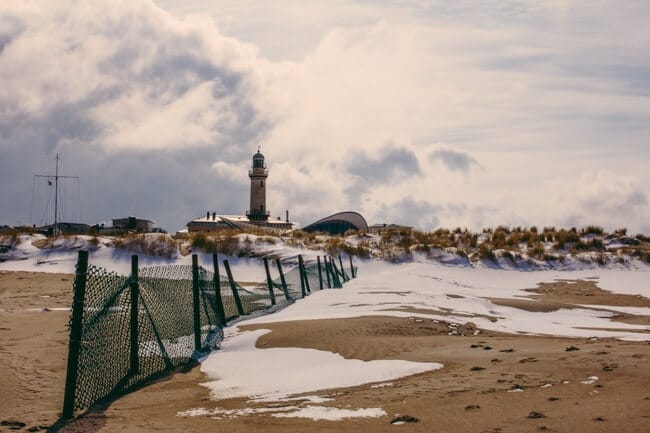 Icy water, snow covered beaches, gulls struggling against the ferocious wind. The Baltic Sea is a tough environment in winter. Some fishermen are still around while many others have been replaced by restauranteurs and buskers. Warnemuende's old village homes have been renovated to reveal perfect rows of perfect houses. At least the fishermen's drink of choice has remained. Potent rum Grog will burn as it goes down but the sweetness makes the journey smoother.
Prussian Potsdam
Before finishing up the road trip in Berlin, a quick stop in Potsdam will take you back to Prussian times. The Sanssouci Palace, literally translated as the 'no worries' palace is aptly named for a king who used it to get away from the stresses of royal life.
Dynamic Berlin
Berlin evokes different feelings on each visit. It's forever changing, always presenting something new and innovative. It never ceases to amaze. You have your pick of things to do in this city. Museums, river cruises, exploring by bike, walking tours, eating, drinking and some of the best nightlife in Europe. Whatever you want, Berlin has it. My tip is to explore the neighbourhoods, finding cool bars and great restaurants. Mitte, Prenzlauer Berg, Friedrichshain and Kreuzberg should be plenty to get you started.
Rostock to Berlin: 130 mins (230 km)
Where to stay in Berlin: Design hotel with a great location and rooftop bar.
Eating out: Top restaurants in Berlin.
Sightseeing and city tours: Pick one of these or try Context Travel.
---
READ NEXT: The Best of Germany's Awesome Big Cities
---
---
READ MORE: Germany Guide Book #ad
---
This post includes affiliate links to tours, restaurants and accommodation. As an Amazon Associate I earn from qualifying purchases.