If you purchase through links on this site, I may earn a commission at no extra cost to you. As an Amazon Associate I earn from qualifying purchases.
The Germans often complain of their cold, dark winters but I love a bit of chill in the air, the fresh cover of snow and I personally love Germany in winter. It's a great time of the year to enjoy Germany's traditional warming cuisine or experience the Christmas Markets. In this Northern Germany road trip itinerary, I share my experience driving from Cologne to Berlin during winter but of course, you can recreate this drive for yourself at any time of the year.
Road Trip Northern Germany
My recent travels around the Balkans have given me a newfound appreciation for German roads. When driving in Germany I don't have to concern myself with potholed roads, cars driving the wrong way down the highway and wild dogs getting in my way. I'm not complaining though, that was an experience in itself and one that I will never forget.
Driving from Cologne to Berlin
Thankfully this 1000 km road trip from Cologne to Berlin is an easy, stress-free drive and it takes in a mix of big and small cities along the way while stopping to visit museums, palaces, castles and even a Baltic beach. From the map you can see that this is a one-way road trip. If you want to do a loop and return to your starting point, I would recommend stopping in Erfurt, Frankfurt and Wiesbaden on your way back.
Cologne to Berlin Itinerary
Driving from Cologne to Berlin is more or less a 2 week itinerary but obviously this is completely variable. If you're short on time, you could skip Muenster and Osnabrueck and potentially Rostock and Warnemuende which are twin cities on the Baltic Sea coast in far Northern Germany. That would shorten the itinerary to a 10-day road trip plus however long you spend in Berlin.
Cologne – 3 days.
Dusseldorf – 2 days.
Muenster – 1 day.
Osnabrueck – quick stop.
Bremen – 2 days.
Hamburg – 3 days.
Rostock and Warnemuende – 2 days.
Potsdam – quick stop.
Berlin – as long as you can stay.
Cologne: Lovelocks & Chocolates
Cologne is not particularly quick to reveal its charm but with a bit of persistence and a few drinks at one of the lovely riverside beer gardens (even in winter), the city's sweet spots become more obvious. A visit to the Chocolate Museum and hours spent wandering the prestigious Christmas markets are amongst my favourite things to do in Cologne as is walking across the the lovelock covered Hohenzollern Bridge at sunset.
Dusseldorf: High-End Shopping
Dusseldorf is modern and somewhat business-like. It's a bit like Frankfurt in that respect. Locals flock to the shopping thoroughfares in the evenings and weekends with Königsallee and the surrounding streets being the place to go. If shopping is on your German itinerary this would be a good place to start (or in Hamburg or Berlin of course).
Muenster: Coffee, Cake & Dead Guys in a Cage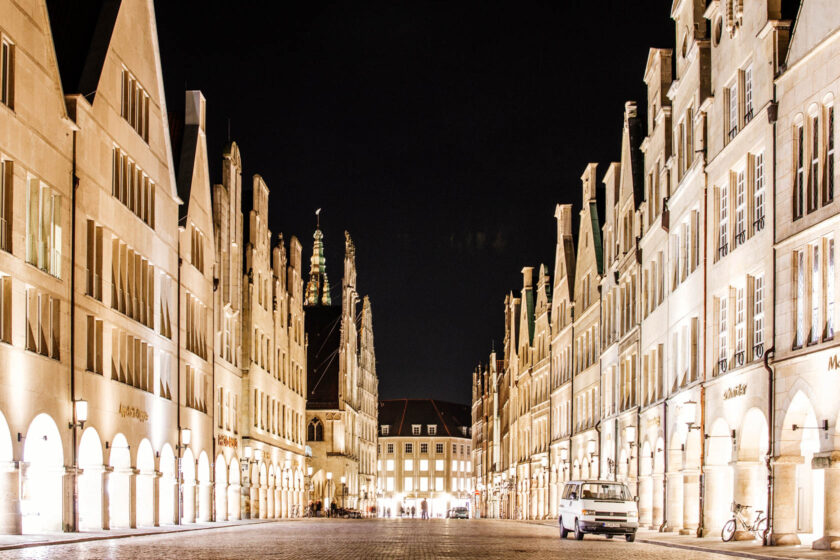 Muenster is perfect for travellers who are looking for a relaxing place to visit for a day or two. It's a compact city with pretty open spaces, excellent cycling infrastructure, interesting museums, traditional architecture and great shopping at the farmers markets. You'll find calm cafes where you enjoy coffee and cake and the city's organic brewery is a popular place for a drink.
Stay overnight in Muenster so you'll have time to enjoy a pub meal and walk around the beautiful arcade streets when they are beautifully lit up at night.
Osnabrueck: Quick Stop
Osnabrueck is rarely discussed as a tourist destination but I like it for the colourful merchant houses. But more importantly, it's worth a quick stop to visit the compelling Felix Nussbaum Haus, a museum that depicts the struggles of the artist during WWII and his violent death.
7 things to do in Osnabrueck before driving towards Bremen.
Bremen: Historic UNESCO Old Town
Bremen is home to one of the most important historic old towns in all of Germany. It's also right on the way from Osnabrueck to Hamburg so it's hard to miss and is worth at least a quick stop and maybe a couple of days if you're travelling slowly.
The Roland Statue is one of Bremen's most interesting sights. Roland was a warrior and hero under Charlemagne and is the protector of the city. According to legend, Bremen will remain free as long as Roland watches over the city. You can watch over Roland from one of the cafes on the main square.
Discover the best things to do in Bremen in this brief guide that includes an interesting connection to the Brothers Grimm.
Hamburg: Germany's Coolest City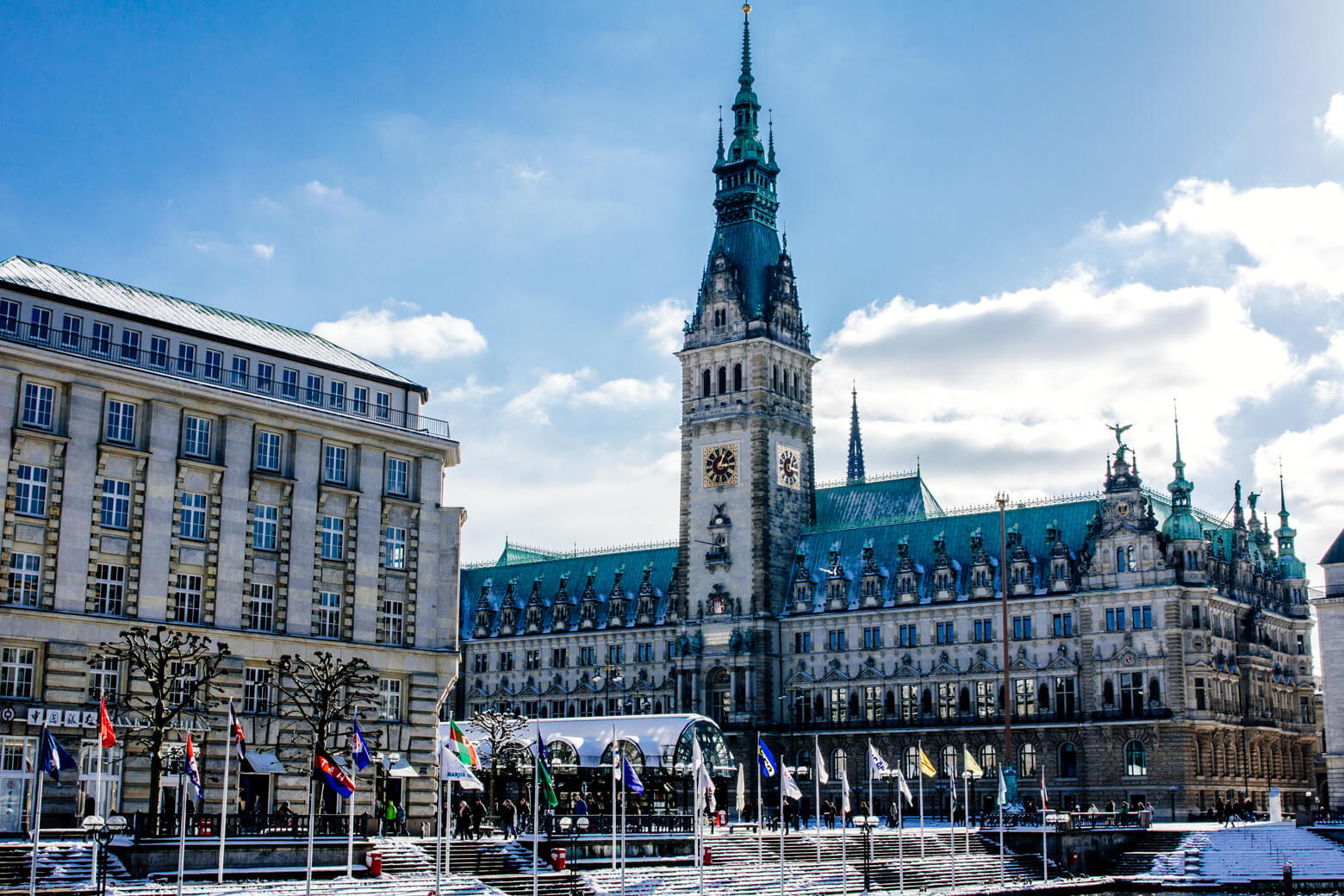 As Germany's second-largest city, Hamburg has all the great things you typically find in a big city. Each distinct neighbourhood has something special to offer. St Pauli is the young, trendy neighbourhood with Reeperbahn's crazy nightlife. Fisherman's Wharf is not surprisingly the place to go for seafood including the famous fischbrötchen street food. Then there are the hamburgers which can be found throughout the city, from cheap local chains to high-end restaurants.
While in Hamburg, be sure to try the Hamburg hamburger as this is where they originated from and the burgers are amazing in this city.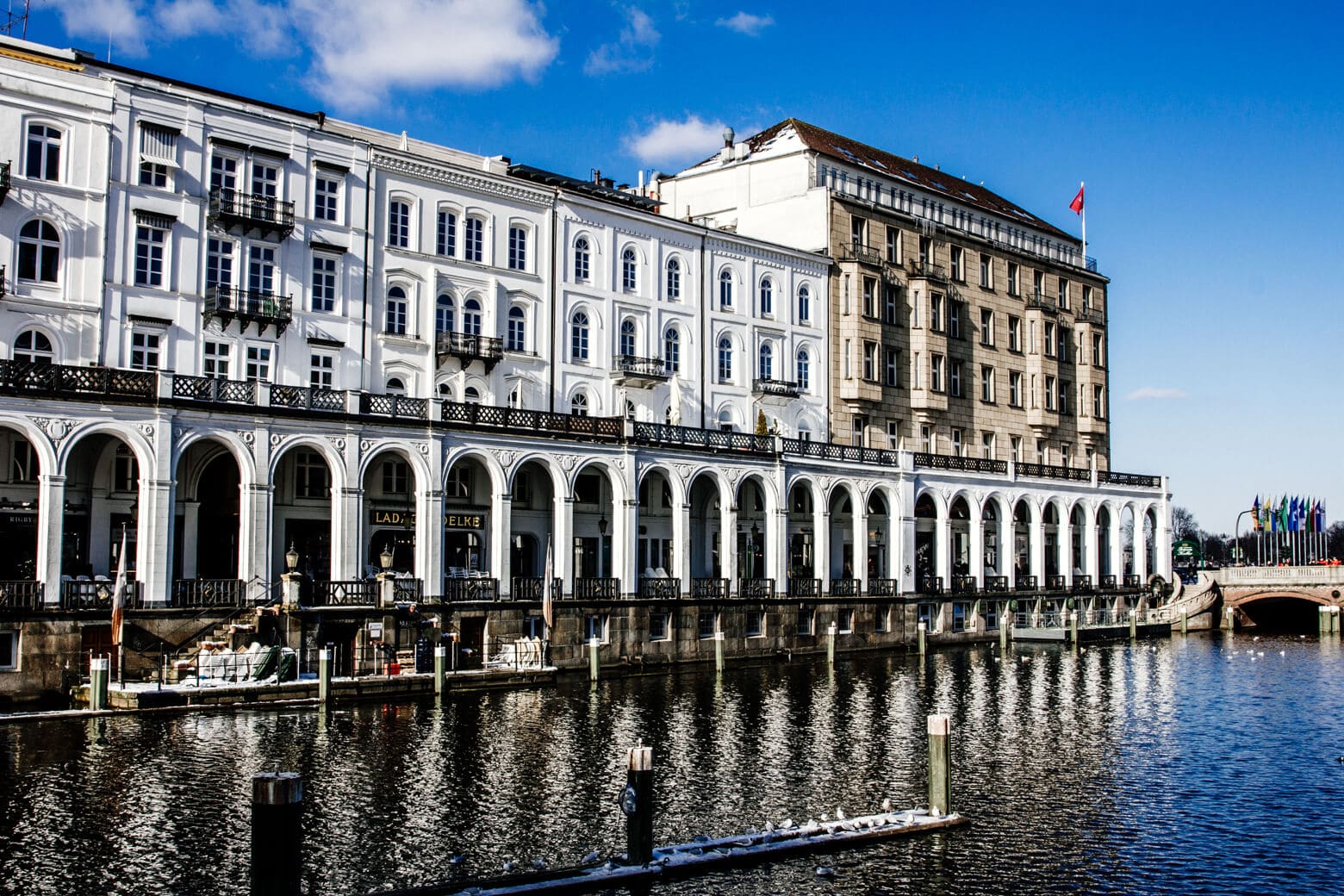 The white-walled arcade near the Town Hall was the first of many shopping streets in Hamburg. This main shopping area has now spread in every direction of the city centre with the most interesting boutique shops being in the Karolinenviertel and Schanzenviertel districts around St Pauli.
Hamburg is a fun city to visit. There's a lot going on, the scenery is stunning and it has a young and eclectic vibe.
Rostock: Hanseatic City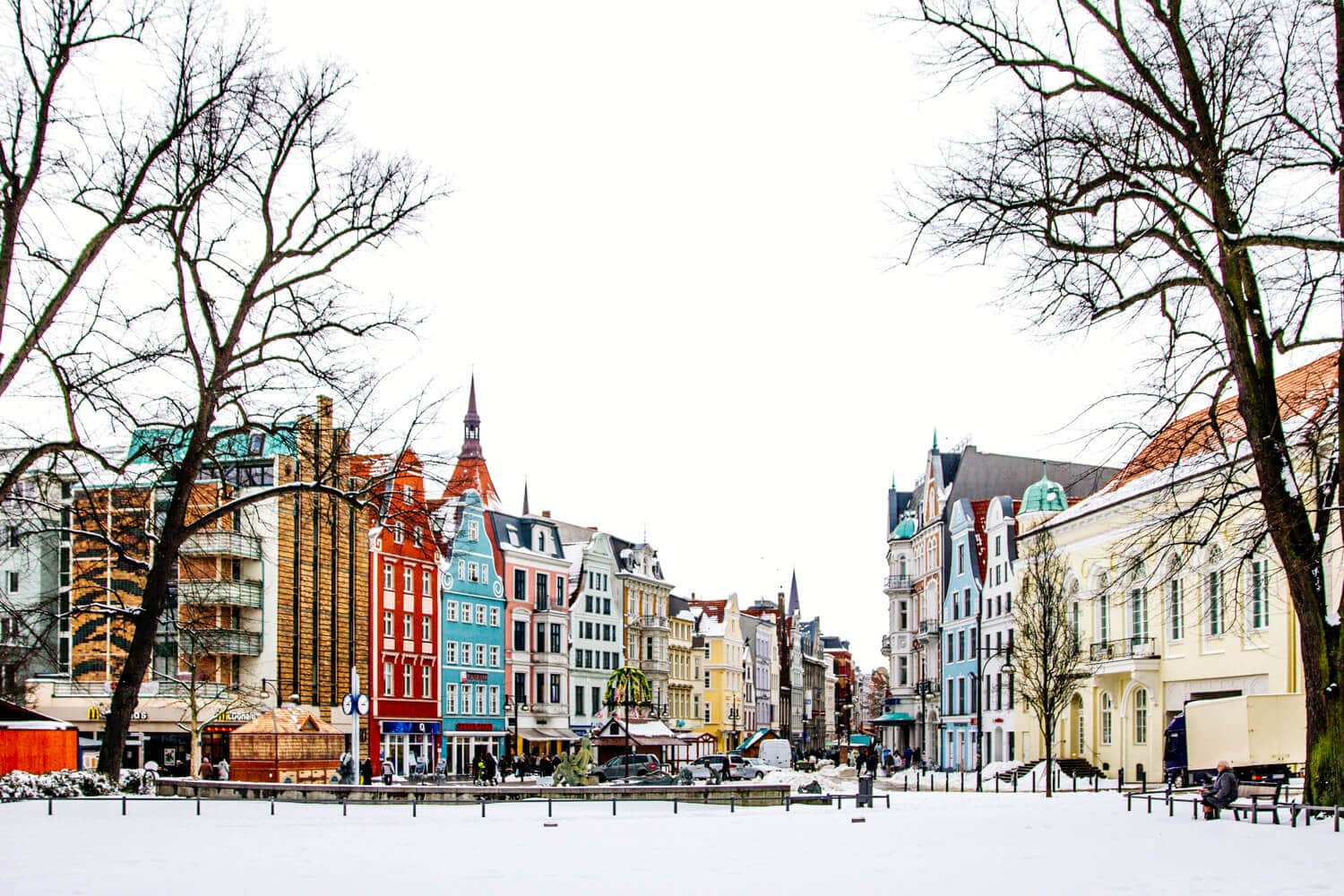 Colourful merchant houses replaced the originals bombed during WWII. Rebuilt in a simpler style, Rostock has managed to retain much of its Hanseatic character and history, no doubt due to its prominence during the GDR period. The population decline since the end of the Cold War hasn't impacted the atmosphere of the city and the main squares are bustling with shoppers, workers and university students.
Rostock is a great addition to this road trip as it's a little off the beaten path for most visitors to Germany. However, if you're short on time, you might consider taking a day trip to Rostock from Berlin, instead of staying overnight there.
Warnemuende: Baltic Sea Fishing Village
Icy water, snow-covered beaches, gulls struggling against the ferocious wind. The Baltic Sea is a tough environment in winter. Some fishermen are still around while many others have been replaced by restauranteurs and buskers.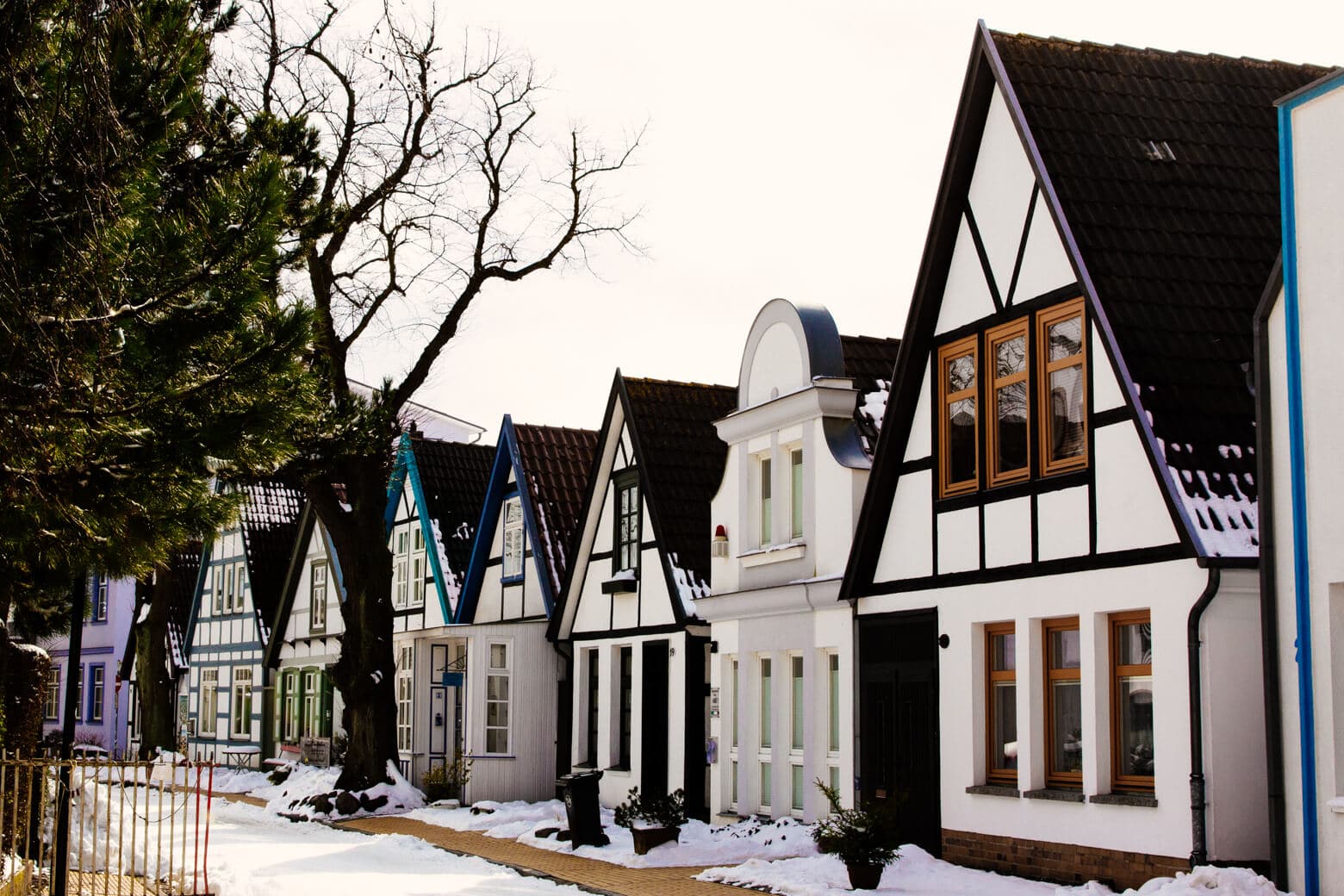 Warnemuende's old village homes have been renovated to reveal perfect rows of perfect houses. At least the fishermen's drink of choice has remained. Potent rum grog will burn as it goes down but the sweetness makes the journey smoother. You can try it an any of the seaside bars and many cafes.
Potsdam: Prussian Palace
Before finishing up the road trip in Berlin, a quick stop in Potsdam will take you back to Prussian times. The Sans Souci Palace, literally translated as the 'no worries' palace is aptly named for a king who used it to get away from the stresses of royal life. You can visit inside the palace but the gardens are the real highlight.
Berlin: The Dynamic Capital
Berlin evokes different feelings on each visit. It's forever changing, always presenting something new and innovative. It never ceases to amaze. You have your pick of things to do in this city. Museums, river cruises, exploring by bike, walking tours, eating, drinking and some of the best nightlife in Europe. Whatever you want, Berlin has it. My tip is to explore the neighbourhoods, finding cool bars and great restaurants. Mitte, Prenzlauer Berg, Friedrichshain and Kreuzberg should be plenty to get you started.
Read my Kreuzberg neighbourhood guide for an introduction to hipster Berlin and Crossing the Berlin Wall to learn a little about the incredible Cold War history in Berlin.
If you're interesting in adding other destinations to your itinerary, read my recommendations for the best cities to visit in Germany.
—
Recommendations are independently chosen based on personal travel experiences and extensive research. This post contains affiliate links to hotels and tours in Northern Germany. This means we get a small commission from any bookings at no extra cost to you.