If you purchase through links on this site, I may earn a commission at no extra cost to you. As an Amazon Associate I earn from qualifying purchases.
Osnabrueck was not on my travel radar before Historic Germany put together my recent tour of Germany. All I knew before going was that it was a Hanseatic city, meaning it was once a wealthy merchant town involved in trade around Europe. It's a fairly quiet city these days but there are a few things worth checking out if you happen to be in the area or as part of a road trip to Northern Germany.
Things to Do in Osnabrueck
If you're passing through Osnabrueck, I would think you could see most of the main sights in an afternoon, unless you're set on visiting a number of museums or breweries for example. Given that Osnabrueck has a number of well-known restaurants, wine bars and breweries, it might be a good idea to spend one night here, to give you the time to enjoy your stay without rushing.
In this guide, I share some of the highlights of the Old Town and my recommendations for things to do in Osnabrueck.
Explore the Old Town
The main Market Square is where you can imagine what life would have been like when the Hanseatic League was at its peak during the Middle Ages. The pretty merchant houses are typical of the region and this was my favourite spot in Osnabrueck.
Many of the old merchant houses have been converted in cafes, restaurants and shops so allow a bit of time to see what happening in this area.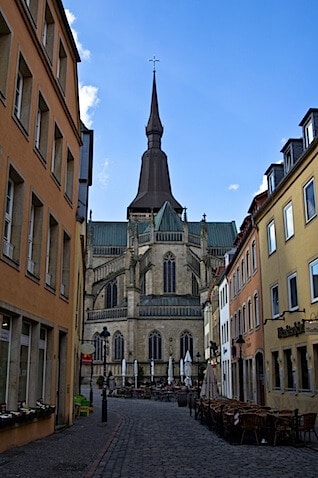 Eat Cake at The Original Leysieffer
One of my favourite things to do in Germany is enjoying coffee and cake in a traditional coffee house. I like to visit the most famous cafes in each German city I visit as well as contemporary places. Osnabrueck is no exception and I indulged at Leysieffer, one of the most famous chocolate shops in Germany. Leysieffer is most well known for their chocolate truffles but while in Osnabrueck I had coffee and cake in the quiet cafe at the rear of their shop.
You can find Leyseiffer shops and cafes all around Germany but the location in Osnabrück is the original. The company was started by a young couple in 1909 and became successful but the cafe was damaged during WWII. The shop was rebuilt after the war by the couple's son and has been a family business ever since. You can read more about the Leysieffer's history here and if you can buy their chocolates and confectionary online if you can't visit the shop.
Visit the Fascinating Felix Nussbaum Haus
Felix Nussbaum Haus is interesting to visit for two reasons. Firstly, for the architecture. The modern building was designed by renowned architect Daniel Libeskind who also designed the new Jewish Museum in Berlin and the Military History Museum in my favourite Germany city Dresden.
Secondly, the museum chronicles the fascinating life of painter Felix Nussbaum whose paintings show the progression of his life from when he was a naive artist struggling to find his own style, to being discriminated against during the war and finally depicting his time and own death in a concentration camp. His work become progressively dark and as an expression of this terrible time in history.
Go Wine Tasting
Osnabrueck is more of a beer town than a wine town but that doesn't mean you can't do a little wine tasting. There are a number of excellent wine bars in the Old Town. I spent the evening tasting various German wines at Das Wein Cabinet. There are many Rieslings from the local region but you can find international as well as German wines of course. My favourite was the sparkling 2008 Riesling from Weingut Kirsten. Dangerously easy to drink!
Das Wein Cabinet's website is only in German but our enthusiastic host spoke perfect English so don't hesitate to stop by their shop which is located in the rear courtyard at 7 Bierstraße, not far from the Steigenberger Hotel.
Eat at a 3 Michelin Star Restaurant
We didn't get to eat at La Vie as you usually need to reserve ahead to get a table but I can't write about things to do in Osnabrueck without mentioning their famous restaurant. The food is self-described as a Baroque cuisine:
We aim to offer our guests a taste of Baroque cuisine at its finest and to that end we ensure that all of our dishes are prepared daily using the freshest ingredients, many of which are home grown, and only the finest extra virgin olive oil.
Drink Beer at the Local Brewery
Osnabruck has its own brewery right in the centre of town not far from from St Peter's Cathedral. Provided you don't walk by it three times without paying attention it shouldn't be too hard to find. At the back of the pub you can see the Rampendahl brewery in action.
I don't drink beer but my accomplice loved it, as is the case with pretty much all German beer. I'm not sure I would recommend the food though. When I was there the food was served in an old school buffet style. That not for me but it was a while ago now so it might have changed since then.
View Osnabrueck from Above
If you don't mind walking up a steep and narrow staircase, head to the top of the Marienkirche for the best views over Osnabrueck. It's a very peaceful spot where you can look down on the Town Hall, the vault houses on the Market Square and over to the medieval St Peter's Cathedral.
Ask at the Tourist Office on Bierstraße regarding prices and opening times as access is limited. But if you can get it, it's well worth it and this was one of my favourite things to do in Osnabrueck.
Where to Stay in Osnabrueck
In Osnabrueck I stayed at the Vienna House Remarque thanks to my hosts Osnabrück Tourism and Historic Germany. The hotel is a short walk to Osnabruck's Old Town, Das Wein Cabinet for wine tasting and Felix Nussbaum Haus. It's a traditionally styled hotel that has an excellent sustainability rating. Tip: Have the delicious omelette for breakfast which is made to order by the chef.
—
Recommendations are independently chosen based on personal travel experiences and extensive research. This post contains affiliate links to hotels in Osnabrück, Northern Germany. This means we get a small commission from any bookings at no extra cost to you.