Osnabrueck was not on my travel radar before Historic Germany put together my recent tour of Germany. All I knew before going was that it's a Hanseatic city, meaning it was once a wealthy merchant town involved in trade around Europe. It's a fairly quiet city these days but there are a few things worth checking out if you happen to be in the area or maybe as a day trip from nearby Muenster.
Explore the Old Town
The main Market Square is where you can imagine what life would have been like when the Hanseatic League was at its peak during the Middle Ages. The pretty merchant houses are typical of the region and this was my favourite spot in Osnabrueck.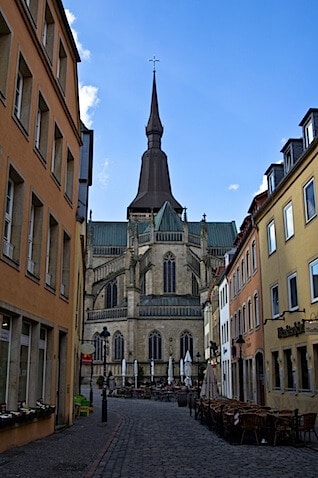 Have Coffee & Cake at World Renowned Leysieffer
Of course one of my favourite pastimes in Germany is eating coffee and cake in a traditional coffee house. Osnabrueck is no exception and we indulged at Leysieffer, one of the most famous chocolate shops in Germany. Leysieffer is most well known for their chocolate truffles but we had cake in the cafe at the back of their shop.
Visit the Fascinating Felix Nussbaum Haus
Felix Nussbaum Haus is interesting to visit for two reasons. Firstly, for the architecture. The modern building was designed by renowned architect Daniel Libeskind who also designed the new Jewish Museum in Berlin and the Military History Museum in my favourite Germany city Dresden. Secondly, the museum chronicles the fascinating life of painter Felix Nussbaum whose paintings show the progression of his life from when he was a naive artist struggling to find his own style, to being discriminated against during the war and finally depicting his time and own death in a concentration camp.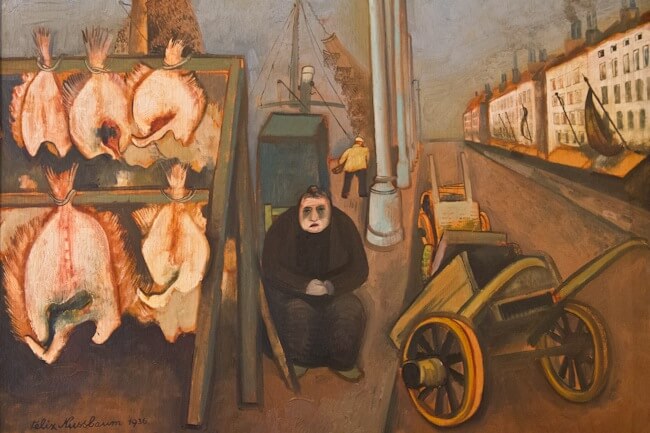 Go Wine Tasting
Osnabrueck is more of a beer town than a wine town but that doesn't mean you can't do a little wine tasting. We spent the evening tasting various German wines at Das Wein Cabinet. My favourite was the sparkling 2008 Riesling from Weingut Kirsten. Dangerously easy to drink!
Das Wein Cabinet's website is only in German but our enthusiastic host spoke perfect English so don't hesitate to stop by their shop which is located in the rear courtyard at 7 Bierstraße, not far from the Steigenberger Hotel.
Eat at a 3 Michelin Star Restaurant
We didn't get to eat at La Vie as you usually need to reserve ahead to get a table but I can't write about things to do in Osnabrueck without mentioning their famous restaurant. Maybe next time…
Drink Beer at the Local Brewery
Osnabrueck has its own brewery right in the centre of town not far from from St Peter's Cathedral. Provided you don't walk by it three times without paying attention it shouldn't be too hard to find. At the back of the pub you can see the Rampendahl brewery in action.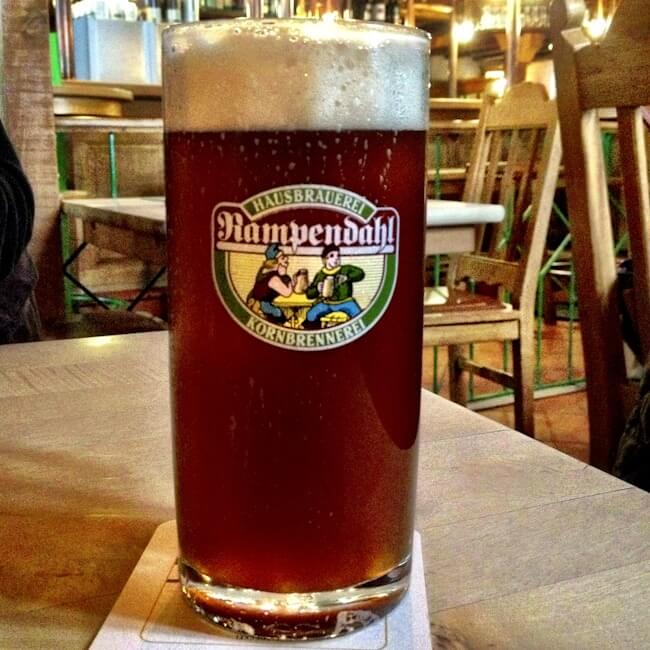 I don't drink beer but my accomplice loved it, as is the case with pretty much all German beer. I would definitely skip the food though, no matter how hungry you are.
View Osnabrueck from Above
If you don't mind walking up a steep and narrow staircase, head to the top of the Marienkirche for the best views over Osnabrueck. It's a very peaceful spot where you can look down on the Town Hall, the vault houses on the Market Square and over to the medieval St Peter's Cathedral.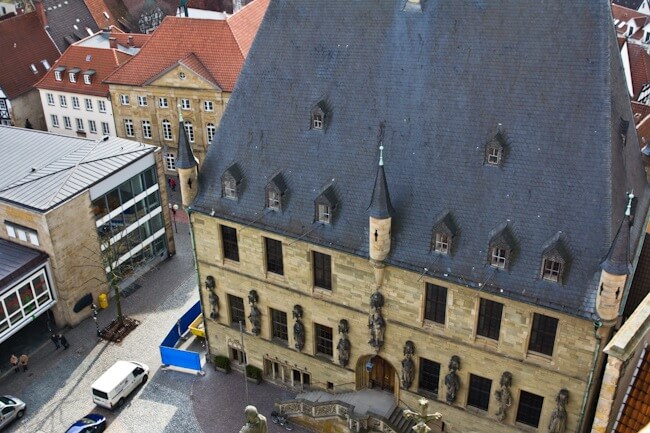 Ask at the Tourist Office on Bierstraße regarding prices and opening times as access is limited.
Where to Stay in Osnabrueck
In Osnabrueck we stayed at the Steigenberger Hotel Remarque thanks to our hosts Osnabrueck Tourism and Historic Germany. The hotel is a short walk to Osnabruck's Old Town, Das Wein Cabinet for wine tasting and Felix Nussbaum Haus. Prices start at around €100 per night for a double room. Tip: Have the delicious omelette for breakfast which is made to order by the chef.