If you purchase through links on this site, I may earn a commission at no extra cost to you. As an Amazon Associate I earn from qualifying purchases.
The view from the top of St Lambert's Church took my breath away. Partially from the amazing view of streets lit up below, partially from the steep climb up the dizzying spiral staircase and partially from the biting cold. Muenster is gorgeous after dark, even if we were the only ones to appreciate it on that freezing winter's night.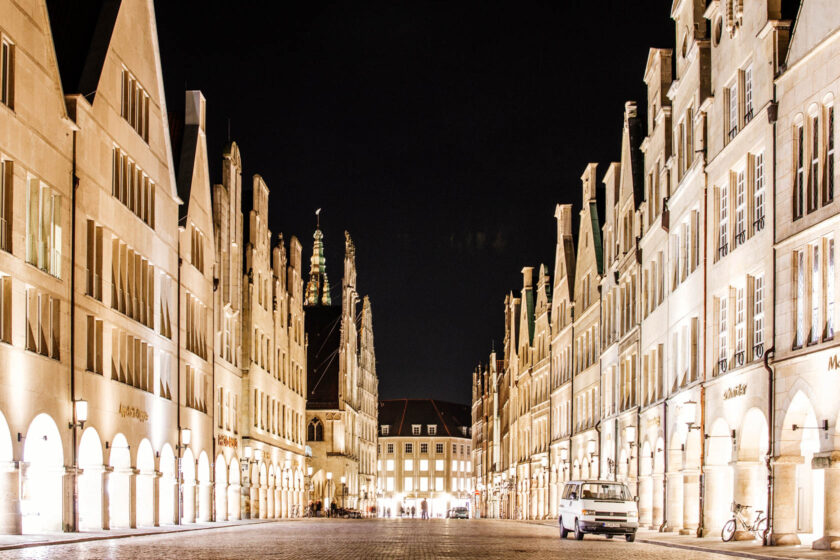 Things to do in Munster
Muenster may not be on the tourist trail in Germany but sometimes it's nice to get a little off the beaten path. Not too far off mind you. Muenster has a nice mix of old and new to keep you interested during a short trip to the city. Rain, hail or shine here are my top things to do in Munster, Germany on a weekend break or a stop on a North Germany road trip.
Prinzipalmarkt
The Prinzipalmarkt is Muenster's main thoroughfare. It's where you'll find all the high street shops, great cafes and small boutique stores. It's where the locals head on the weekends for a touch of retail therapy and to meet up with friends. The buildings may not be original, they were rebuilt after the war, but the style is typical of the city and the arcades are a great place for window shopping.
Pinkus Mueller Brewery
After a hard day of sightseeing and exploring, you might want to relax with a locally brewed organic beer and the Pinkus Mueller Brewery is that place for that. Along with certified organic beer, you can try some beer cheese and other local specialities. Pinkus has been around since 1816. This is the place to go for traditional German food in a family-owned brewery. You could start your meal with traditional rye bread and local cheese and then pick one of the heavy mains. Traditional specialties such as Töttchen, pannekoken with pillworms are on the menu.
If German cuisine isn't your thing, the entire street is filled with cafes, bars and restaurants which might take your fancy. In fact, the entire Buddenturm is busy with places to go for a drink or eating out.
Coffee and Cake
It's no secret that I love my afternoon coffee and cake when in Germany. Muenster has a mix of traditional coffeehouses, classic bakeries and more modern places like Pain & Gateau. For specialty coffee, try Roestbar in the Altstadt.
When to Sun Comes Out
While a visit to Muenster's Palace and the farmers market are definitely worthwhile, you might want to think twice about it if the rain is tumbling down. These top attractions are best seen on a clear, sunny day, at least if you plan on walking to Muenster Castle.
Munster Castle
A lengthy cobblestone path leads to Muenster Castle (Schloss Münster). It's one of the more elaborate buildings in the city which was rebuilt after WWII and is now part of the local university. Behind the castle is Muenster's botanical gardens that include an Australian plant section.
Wochenmarkt Münster
As is the case in most European cities, Muenster's central open air market is the place to go for the freshest local produce or in my case a little people watching. Wochenmarkt Münster is open on Wednesday and Saturday mornings.
When it Rains
Muenster has a bit of a reputation as a rainy city but it's not because it rains a lot but because it rains a little, often. I don't always visit museums when I travel but when it's raining I often seek cover in a museum, gallery or sometimes the cinema if English or French language movies are showing.
Pablo Picasso Museum
Picasso's quirky paintings are more fascinating the more I see them but the Pablo Picasso museum in Muenster only displays his prints, not paintings. It's a huge collection of works that includes photography of Picasso and they have some cool temporary exhibitions like the current Willy Ronis retrospective that was on when I visited and the Andy Warhol exhibition.
Museum of Lacquer Ware
When I first heard of the Lacquer Ware museum it took me a while to figure out what they were talking about but I discovered the museum consists of artwork including furniture, paintings and other decorative items which have been lacquered in ridiculously intricate designs. I imagined it would be quite boring but it was just the opposite, the Lacquer Ware museum was one of my favourites on my Historic Germany trip. No photos are allowed unfortunately.
This museum is close to a couple of interesting places to eat out including Krawummel, a vegetarian restaurant in Munster, and Herr Sonnenschein, a stylish place where you'll find excellent coffee, baked goods and a popular brunch menu.
Where to Stay in Munster
On this trip I stayed in the centre of Munster at a lovely hotel that has unfortunately now closed. Having a look now I would stay at Mauritzhof Hotel Münster on a future visit. It's a highly-rated boutique hotel that is located on the Promenade, a lovely open green space that wraps around the old town. It's near the City Museum (Stadtmuseum Münster) and is within walking distance to all the sights of the old town and the main train station.
Visit Historic Highlights of Germany for more information on visiting this city and other lesser-known destinations in Germany.