While living in Hungary, I was always looking for weekend getaways from my home in Budapest. I mostly visited the region's big cities like Vienna and Bratislava but I also made an effort to explore Hungary's smaller cities. In this guide, I share my experience visiting the western Hungarian city of Gyor.
Szeged and Pecs are some my favourite cities in Hungary with their impressive architecture, history and food.
But I also loved off the beaten path destinations like Debrecen in eastern Hungary, Esztergom on the Slovakian border.
Gyor is in the west of the country and it's surely one of the most underrated destinations that deserves more attention.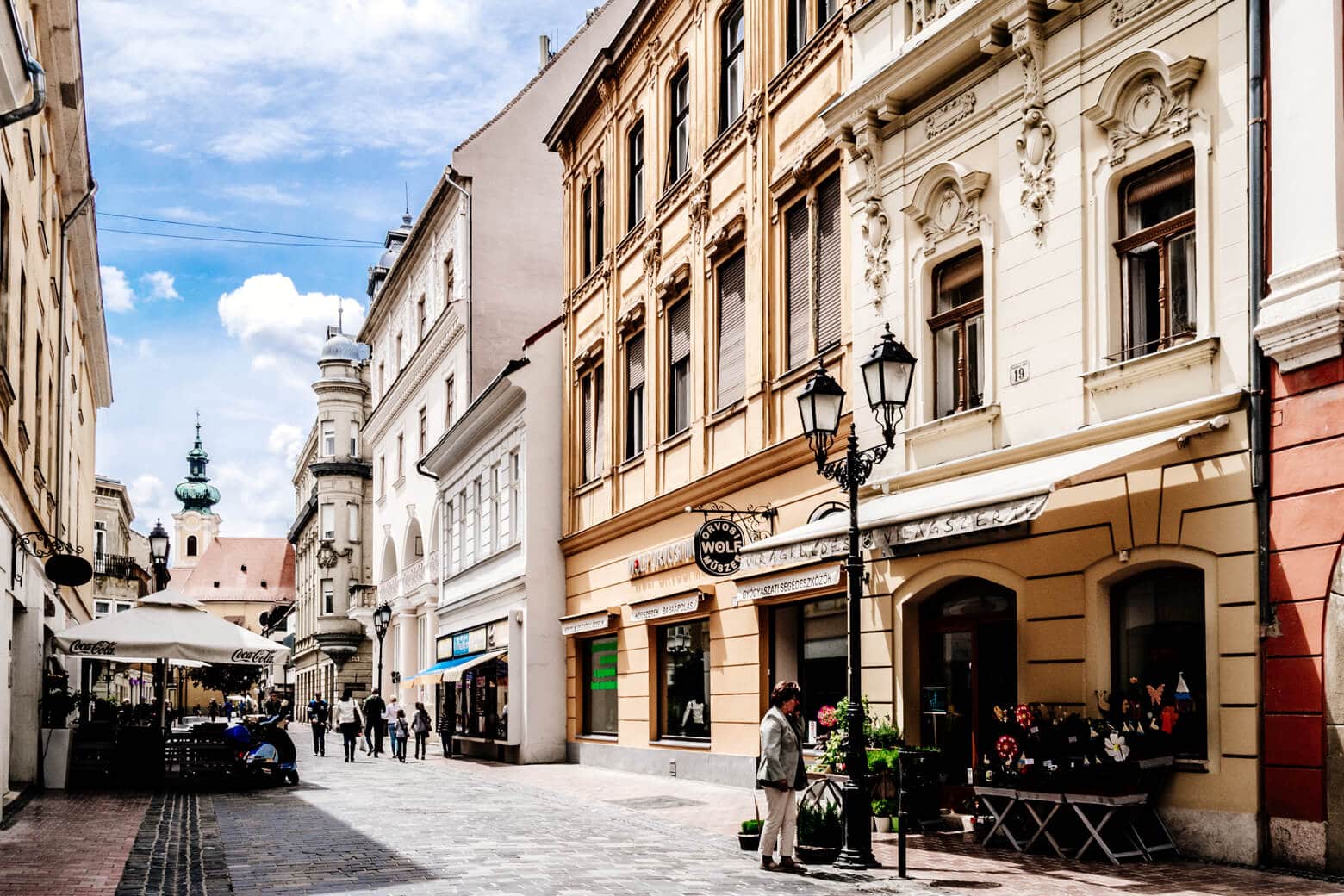 Gyor first crossed my radar while passing by on the train from Budapest to Vienna. I asked my Hungarian friend about the city and even though her husband was from there, she didn't have much to say about it.
But it looked intriguing from the train so I decided to make the one-hour drive from Budapest for a weekend in Gyor.
Things to Do in Gyor Hungary
As a city of 120,000, there are plenty of things to see and do in Gyor. The city centre continues to be renovated, bringing the colourful baroque buildings back to life while enticing you to explore the cobblestone side streets.
Gyor's old town is compact and walkable. The historic streets open onto wide squares and grassy parks and the redeveloped riverside district is the place to go for events and people-watching.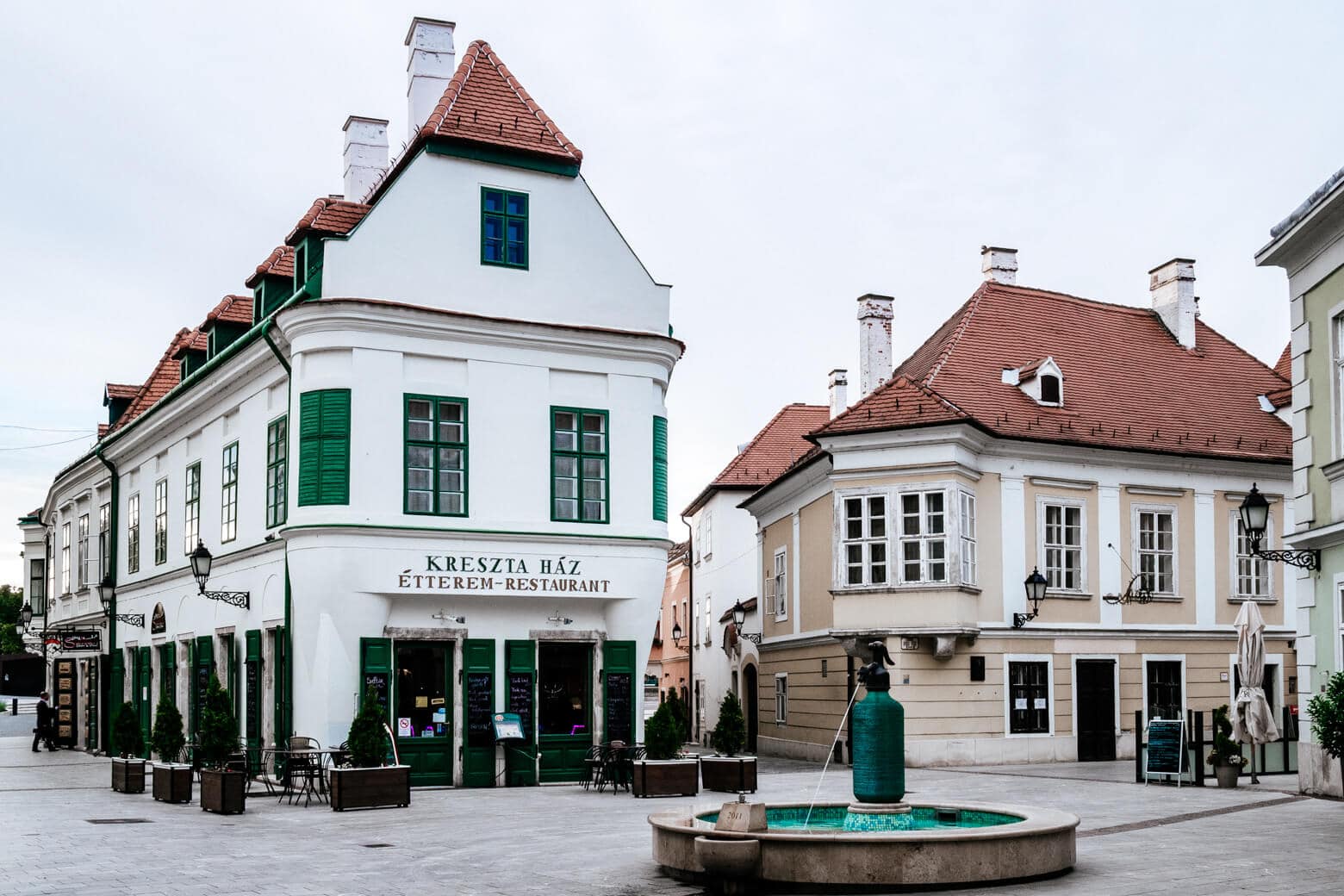 The highlight of a visit to Gyor is exploring the old town, especially Szechenyi Square, Dunakapu Square and Vienna Gate Square. I also loved Jedlik Fountain, a soda bottle-shaped fountain built to honour the Hungarian inventor of soda water.
Szechenyi Square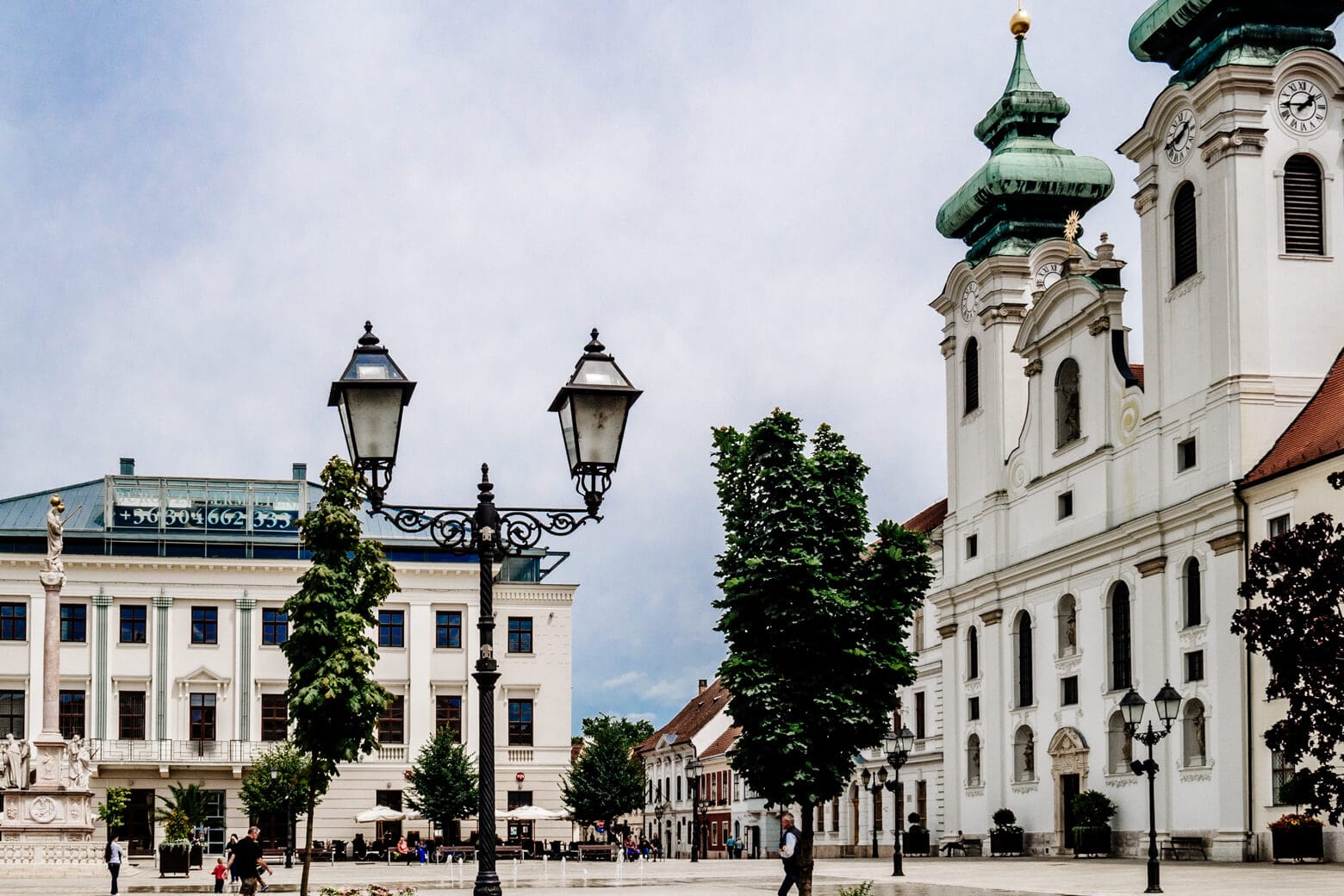 Almost every city in Hungary has a square named Szechenyi Square, named after the "Greatest Hungarian", 19th-century politician and writer Istvan Szechenyi. Gyor is no different and this baroque square is where you'll find a number of the city's main sights, restaurants and bars. It's a good place to start your tour of Gyor.
Gyor Town Hall
In front of Gyor train station is the neo-baroque Town Hall. This is probably the most beautiful building in Gyor and it's occasionally open to visitors. Entrance to the building is restricted to certain days and times so you will need to check with Gyor Tourist Office (21 Baross utca) for details and how to book.
Jedlik Fountain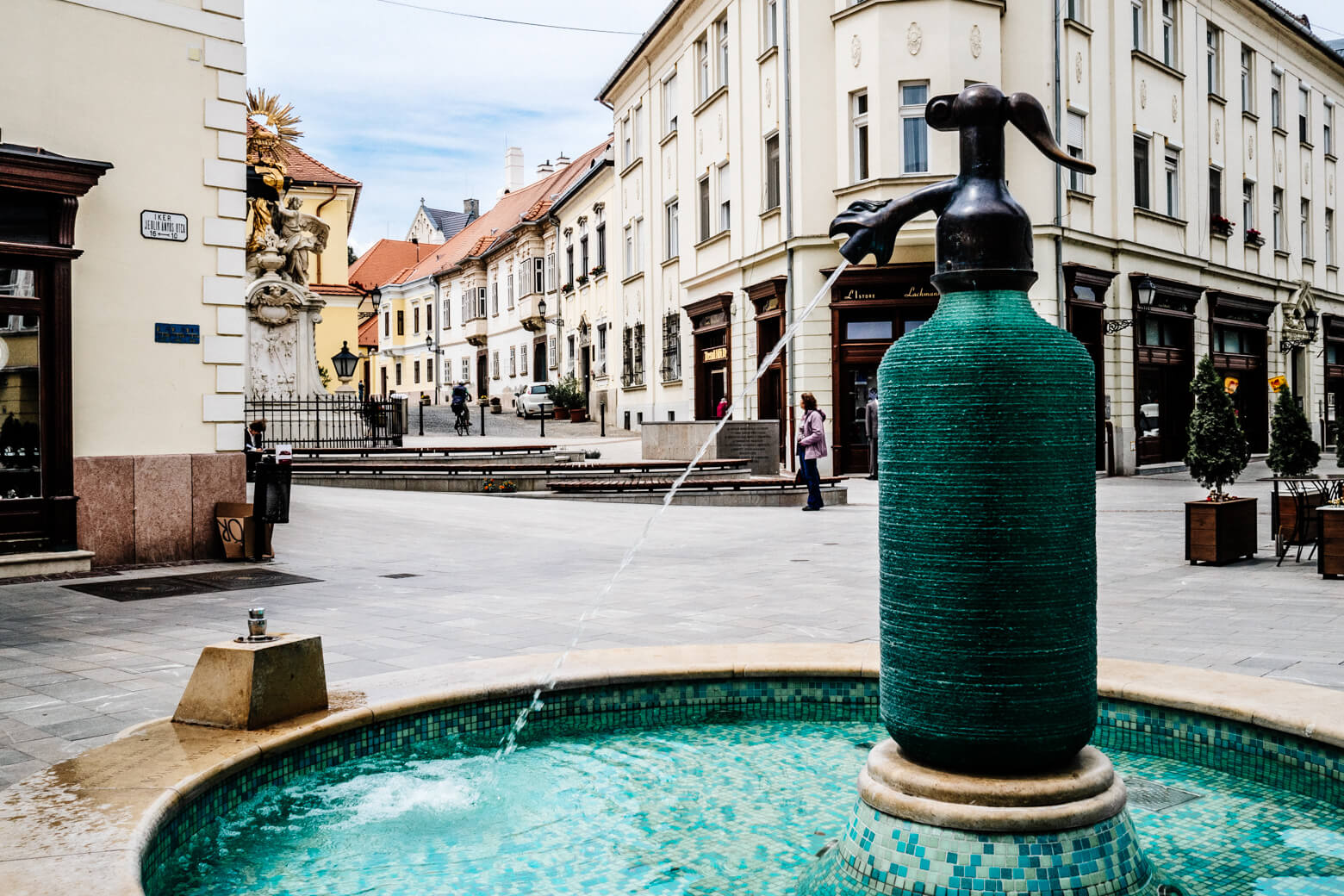 Anyos Jedlik was a Hungarian/Slovak inventor and scientist who helped develop electric motors. He also happened to invent and commercialise the original soda water bottle, something you'll find in most Hungarian restaurants and homes.
Soda water isn't only popular on its own but Hungarians add it to white wine to make froccs, their version of the classic white wine spritzer.
Definitely try at least one of the 20 versions of froccs while you're in Hungary.
Benedictine Monastery
The large white baroque building on Szechenyi Square is part of the Benedictine Monastery and Grammar School. The Pharmacy Museum and Memorial Room are part of this complex and open for visits.
Column of St Mary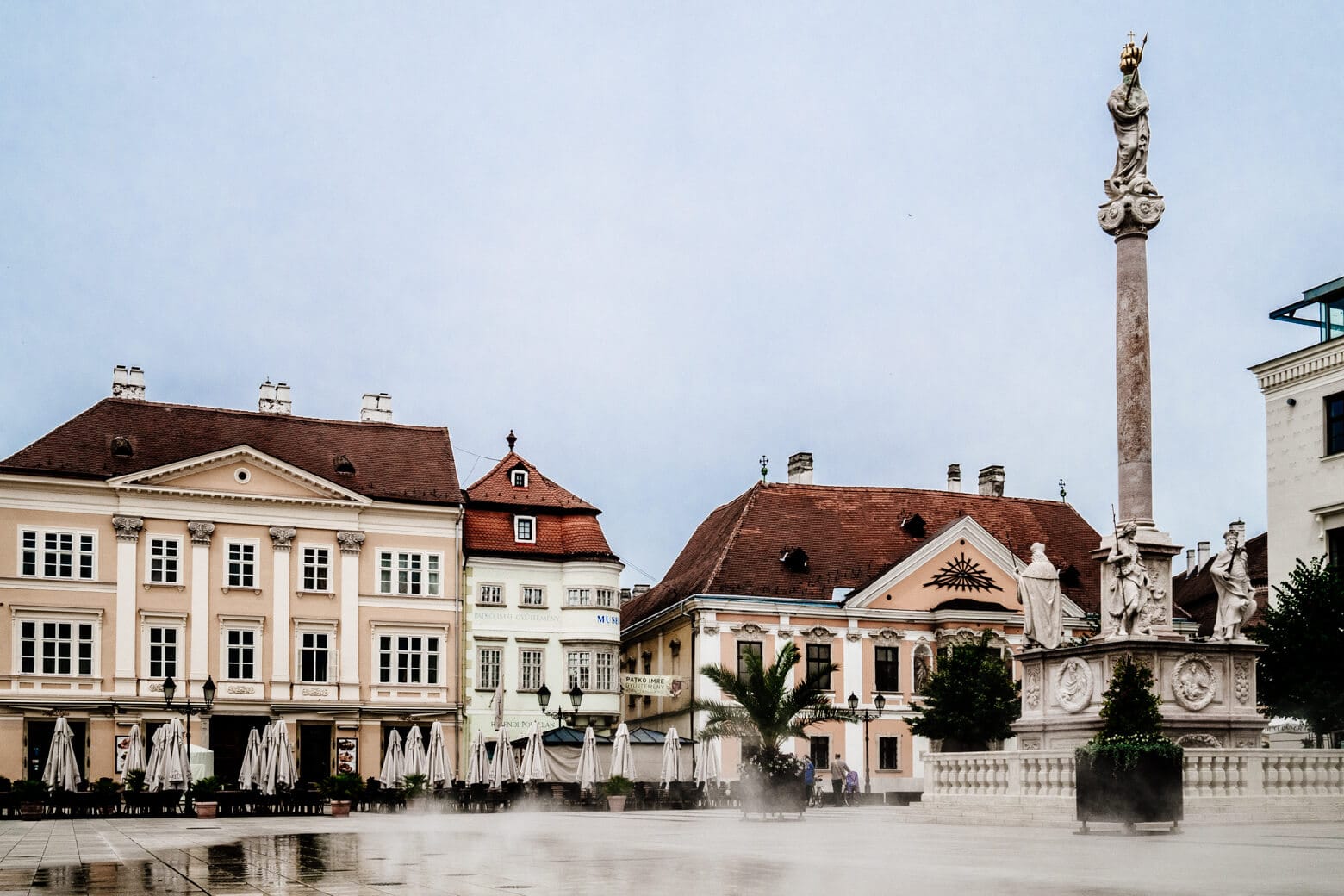 In the middle of Szechenyi Square is the Column of St Mary. Built in 1686 (although you wouldn't know it). This was built to commemorate the recapture of Buda from the Turks (later united with Pest to form Budapest).
Dunakapu Square
This pretty riverside square is one of Gyor's most recent redevelopment projects. The whole square was completely renovated and it's now used for events or as somewhere to sit and people watch.
From here you can walk across Kossuth Bridge to Kaloczy Square where you can explore the university district.
Vienna Gate Square
Vienna Gate Square (Becsi Kapu Ter) is one of the prettiest baroque squares in Gyor with a little garden, a couple of restaurants, classic cobblestone streets and the Carmelite Church.
Bishops Lookout Tower
Next to the Basilica of Gyor is Puspokvar-Toronykilato, a historic castle and tower. For a small fee, you can visit the lookout tower.
It's not until you get above the city that you realise just how green and pretty it is. Of course, you can see plenty of communist-era apartment blocks from the tower but that also forms an important part of Gyor's history and culture.
Parks and Gardens
For a little greenery in central Gyor, you'll need to get slightly out of the historic old town. Bisinger Park next to the Town Hall is a nice spot as is the larger Batthyany Square. Halfway across Raba Bridge (over the Raba River) is a very quiet island park worth a visit if the weather is nice or if you have time, take Kossuth Bridge to Kaloczy Park near the University.
Museums in Gyor
Abbots House on Szechenyi Square is home to Gyor's History Museum. I didn't visit but this is the most popular museum in Gyoer. The city seems to have loads of museums so if that's your thing, I'm sure you could find one to interest you. Check with the tourist office for more details and opening hours.
Abbey of Pannonhalma
I came across the Abbey of Pannonhalma not long after my weekend in Gyor. It's a huge religious complex located on an elevated section of woods about an hour from the centre of Gyor. The mixed architecture of the Benedictine monastery, grand library, refectory and church make it an interesting half-day trip or a stop on your way to Budapest.
If you don't have a car there are public buses from Gyor but it might be best to ask at the tourist office or Hungary Tourism to see if they can suggest a better way to get there.
For more things to do in Gyor, try the Gyor tourism site.
Hungarian Restaurants, Bakeries and Markets
Gyor is one of the least touristy cities in Hungary so you don't have to worry about getting ripped off at a 'tourist restaurant'. Gyor is actually one of the few places where you could get away with eating in the main square.
La Mareda Bistro – Classic and modern Hungarian dishes like mangalica (pork) goulash plus a number of vegetarian options. Excellent reviews and location in the centre of Gyor. They are aware and careful with allergies if that's a concern.
Palffy Etterem – I ate at this Restaurant on Szechenyi Square. The food is classic Hungarian so plenty of goulash and chicken paprika-type dishes are on the menu plus you get to enjoy views and activities on the baroque main square.
Elelem Etterem – Great choice of soups, salads, burgers and cakes. All vegan and gluten-free options are available.
Vital Cafe & Bistro – Interesting, healthy, vegetarian and vegan dishes. Try the chestnut porridge if you're going for breakfast. They have cakes, smoothies and coffee too.
Brioche Bakery – Modern bakery in the historic old town. Great for a quick coffee and pastry for breakfast.
Harnyas Pekmuhely Bakery – Traditional and affordable bakery with delicious bread and pastries but it's out of the centre of Gyor.
Vasarcsarnok – Local market (piac in Hungarian) with fresh fruit and veggies and a bakery. This is an interesting place if you want to see the regional and seasonal produce available in western Hungary.
Where to Stay in Gyor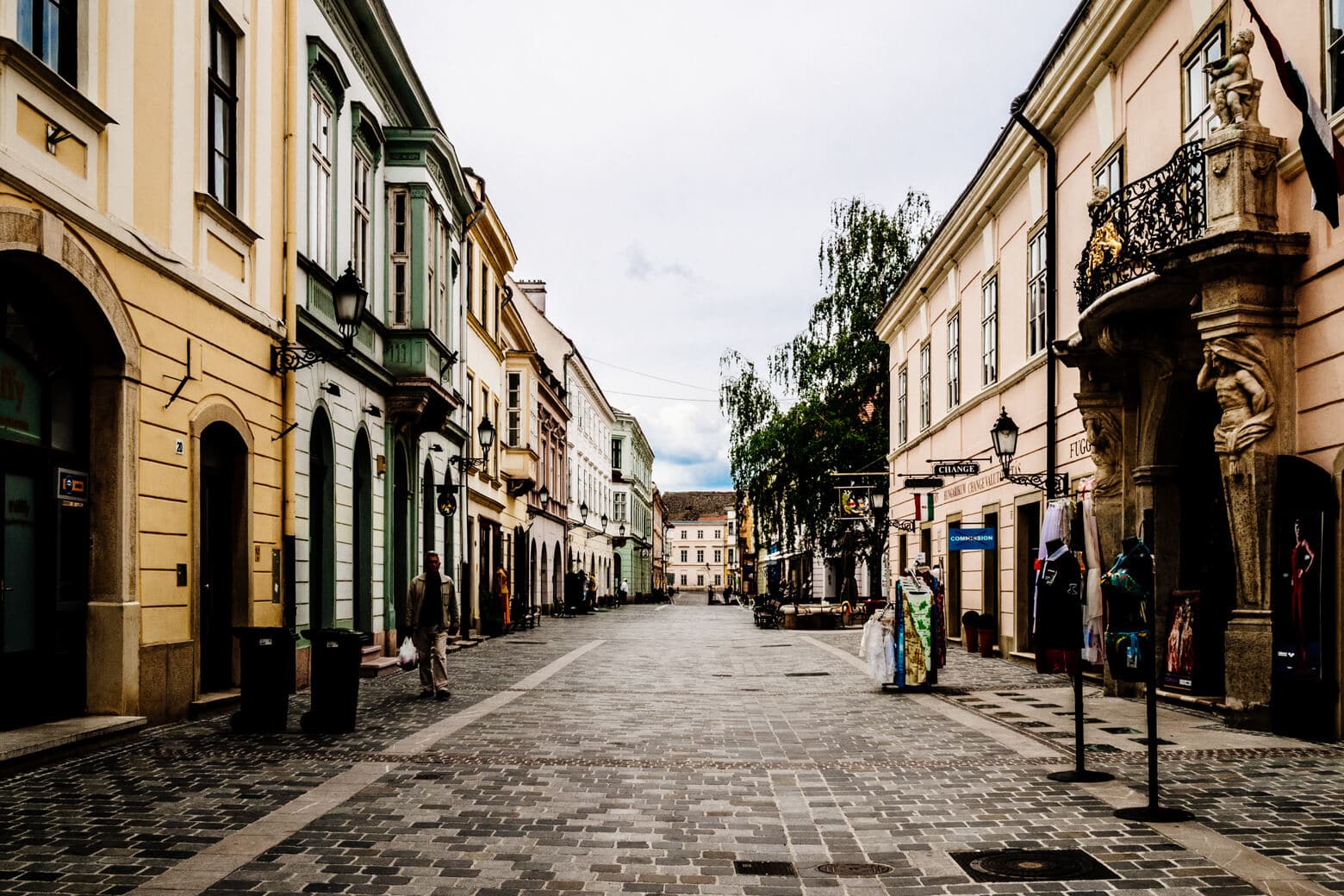 At the time of my visit to Gyor, I stayed in a basic hotel just outside of the old town. It was ok but there are better hotels in Gyor. I recommend staying in a central apartment instead.
Apartments in Hungary are almost always great value for money, modern and extremely clean. A friendly host will give you tips about things to do in Gyor and personal recommendations for eating out.
Fotor Rezidencia – Based on my experience in Gyor, this apartment hotel is in the best location between the main square and the river. The apartment is located in a beautiful historic building that is typical of Hungary. The rooms have everything you need if you want to cook and more space than a hotel room. Ask the host about Hungarian wine from the Gyoer region and where to try some.
Gyor to Budapest (or Vienna or Bratislava)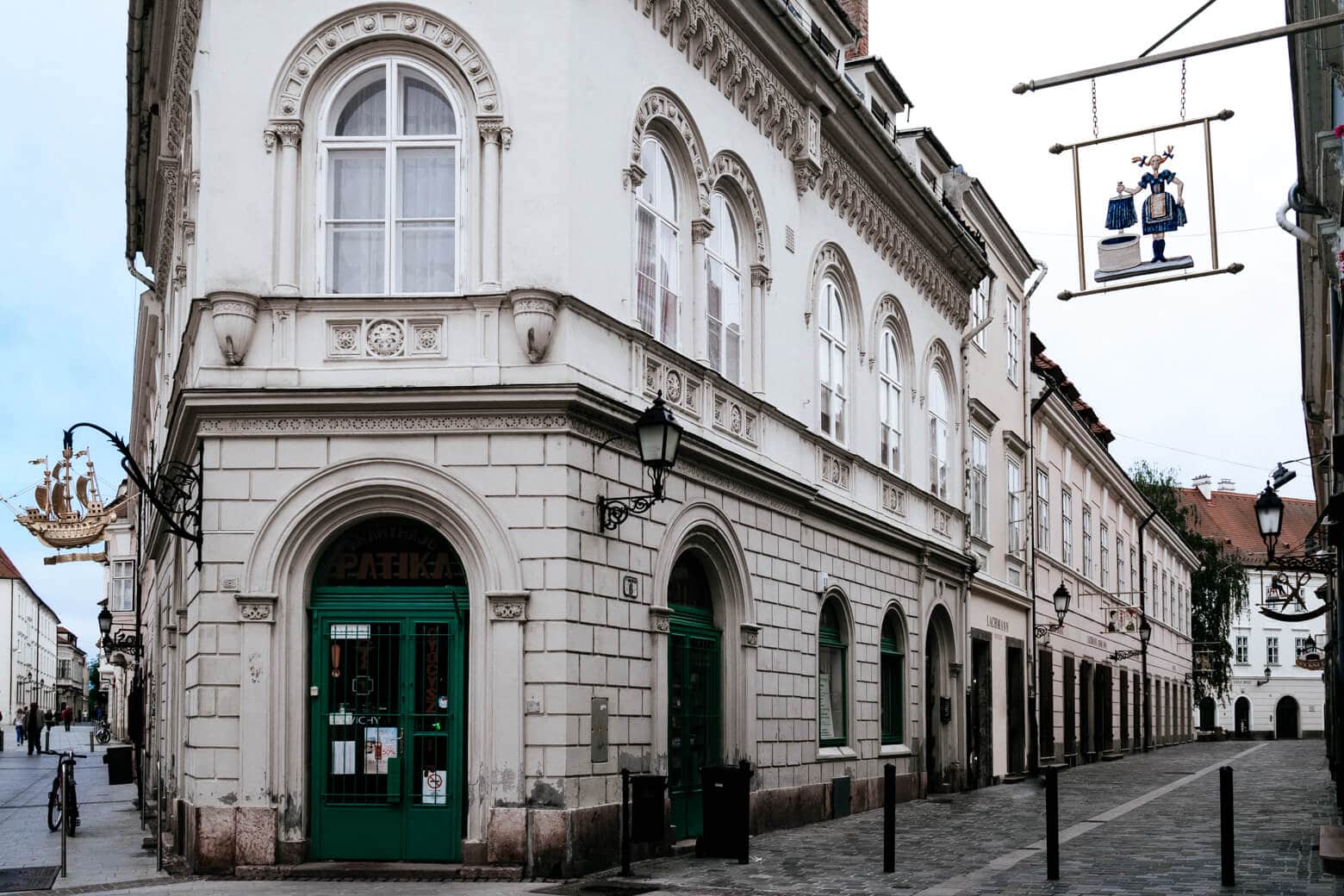 Where is Gyor in Hungary? Gyor is in the west of Hungary, halfway between Vienna (and Bratislava) and Budapest. Most trains between these cities stop in Gyor and that's probably the easiest way for you to get there.
Trains leave every 30 minutes from Budapest-Keleti or from Hauptbahnhof in Vienna and take around 1 hour 30 minutes. Once in Gyor, you can take the free city bus to anywhere in the downtown area.
Thanks to the short distance and easy-to-navigate city, you can easily visit Gyor on a day trip from any of the nearby cities. I do think it's nice to spend a day or two there for a more relaxed and in-depth visit but you won't miss out on much by sticking to a short one day itinerary for Gyor.
To promote sustainable tourism in Hungary, I suggest staying overnight to support local tourism providers, and food and retail outlets. This helps the local economy and encourages positive development in the city.
I drove from Budapest to Gyor and it takes around the same time as the train. If you're driving from Budapest or Vienna and plan on taking the motorway, don't forget to buy a vignette for your car.
Taking public transport is the more sustainable option but if you must drive, consider an electric car.
If you are visiting Budapest on this trip, be sure to read my Budapest travel guide, this list of free things to do in Budapest and of course, where to stay in Budapest.
Gyor Hungary Map
Save this map or add it to your Google Maps for a quick reference for all the places of interest and things to see in Gyor.
Please note this post includes affiliate links to recommended hotels.
If you found this Gyor travel guide helpful, Pin this image for later or share it on your favourite social media platforms.