The plan was to take the train a few hours east of Budapest, spend the night in Debrecen, and then continue on to explore more of northern Romania. A good plan I think.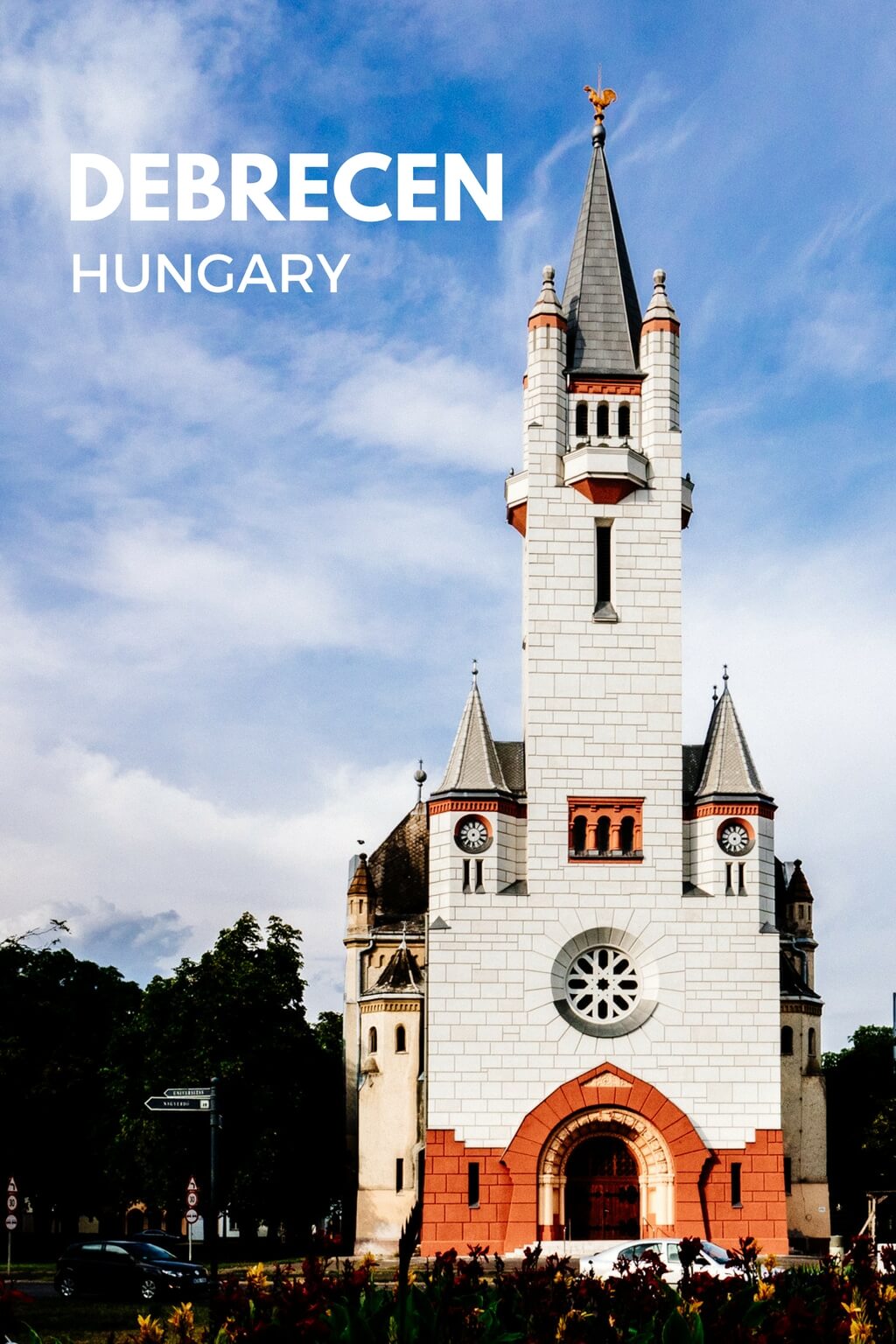 These days I'm mostly interested in travelling slowly and visiting quieter cities like Debrecen and Gyor in Hungary.
On travel days, I prefer to be on the road for four hours max, leaving plenty of time to settle in at the new destination. I find this slow way of travel leaves you open to unexpected discoveries and interesting places you might not have come across otherwise.
In many ways, it's a privilege to travel like this but if you're going to visit popular cities like Prague and Budapest, you can often take the time to do things a little differently.
So this is how my trip to Debrecen went. I arrived one beautiful evening, spent hours walking around the various neighbourhoods, chatting with locals here and there.
Visiting Debrecen
The city is surprisingly charming and notably quiet for Hungary's second-largest city. But quiet in a good way. Calm, laid back, relaxing and clearly benefitting from recent restoration funds.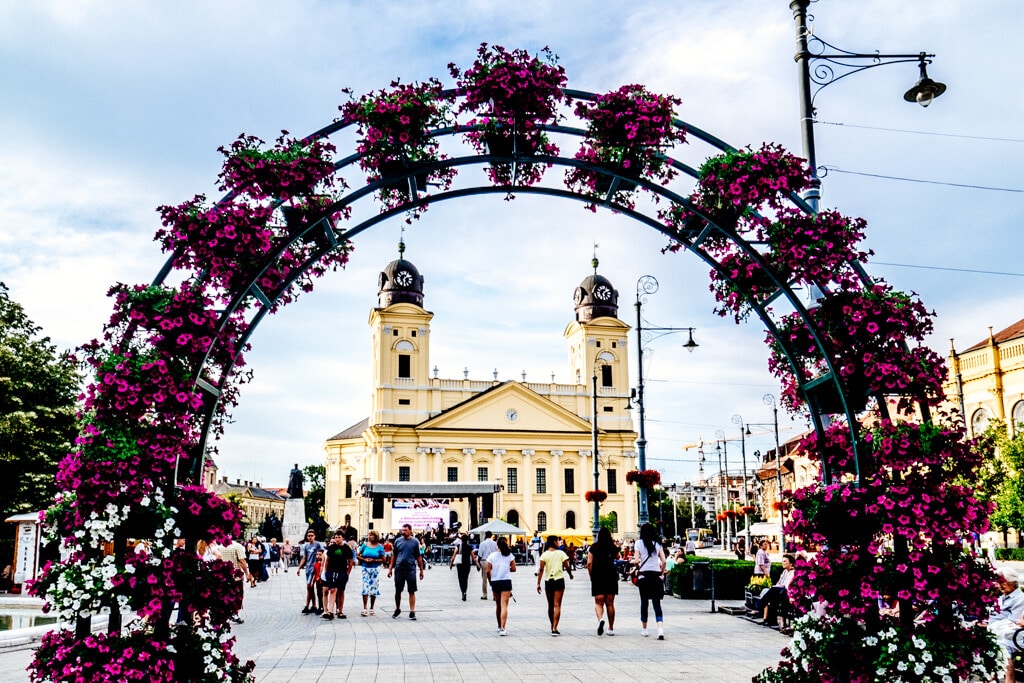 As in most Hungarian towns, Debrecen's historic centre is dotted with colourful Art Nouveau and Habsburg-era buildings. Not to the extent as in Szeged or Budapest but enough to keep things interesting for a few hours.
But walk a few blocks away from the centre and you're taken back to the communist era. Seventy per cent of buildings in Debrecen were badly damaged or completely destroyed during the war, paving way for blocks of concrete high rises and rows of niche shops.
It was a quick and easy way to house large numbers of residents and it did the job well.
It wasn't only the city centre that was restored and tidy. Everywhere I visited was clean, well-maintained and often brightened by swathes of pretty flower beds.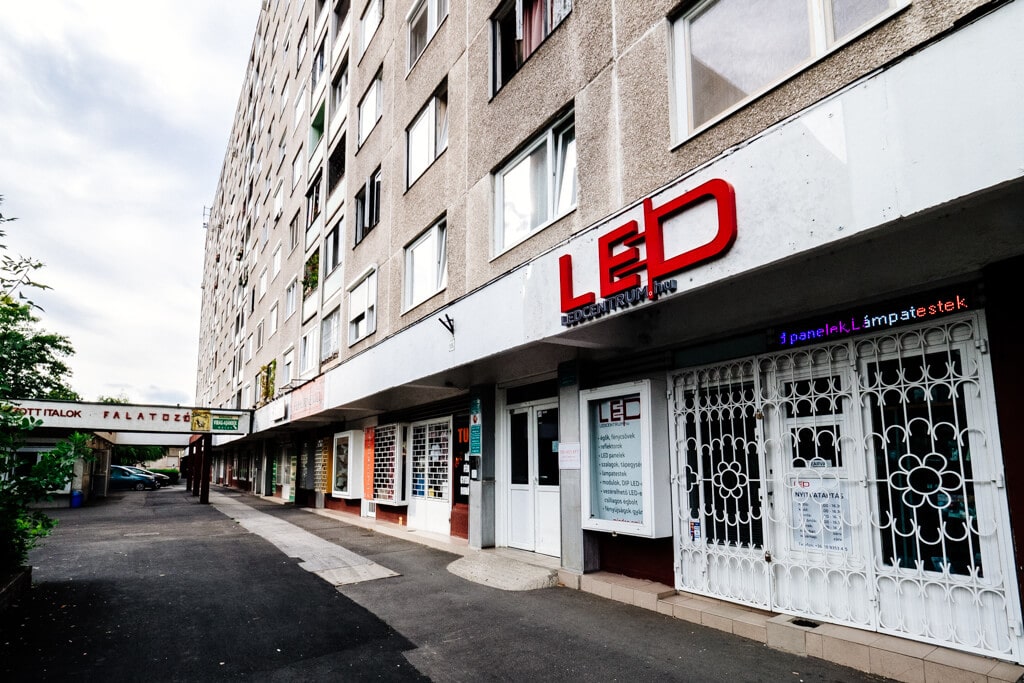 Other things to do in Debrecen include tracking down the many pretty parks and gardens as well as the occasional cool looking church. This is the Reformed Church on Arpad Square. It's a short walk from the centre in a less touristy part of town.
What else is there to do in Debrecen? Honestly, not much. It's a relaxing stopover city, somewhere different, peaceful, family-oriented.
You can climb the tower of the Reformed Great Church for a panorama of the city and maybe spend some time in City Park.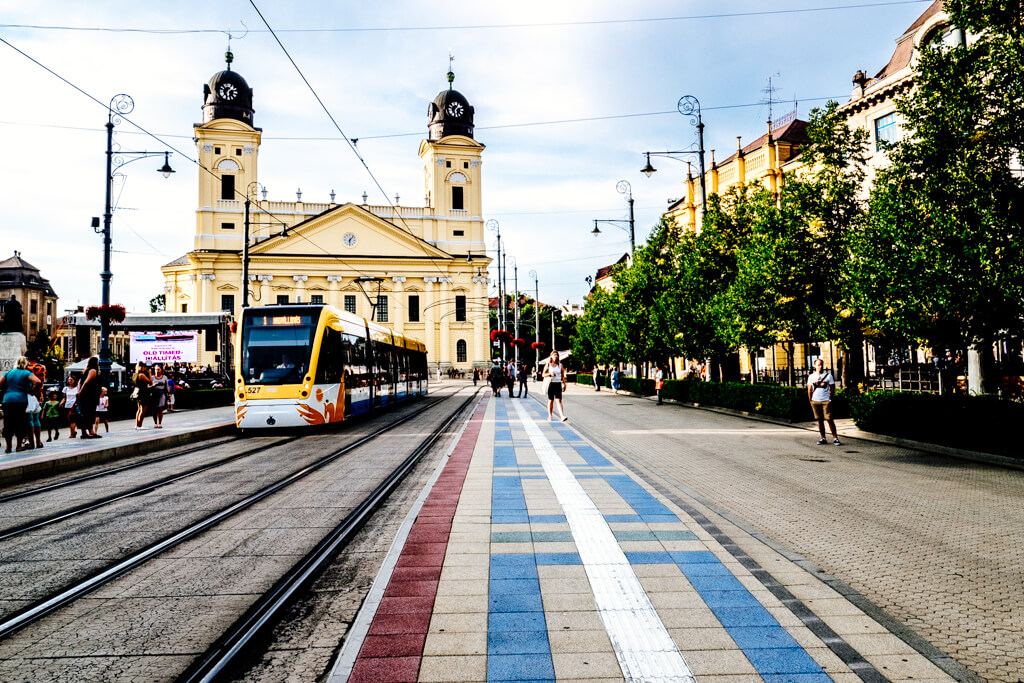 You can tell I don't have much to say about Debrecen. I wanted to share a few photos more than anything else. So few people visit and honestly I wasn't there long enough to get to the real heart of the city. I guess I'm still travelling a little to fast.
Things to do in Debrecen
A few tips and things to do on a quick visit to Debrecen:
Debrecen is one of the cheapest cities in Europe along with other Hungarian towns like Gyor and Pecs.
Driving from Budapest will take a little over 2 hours. Don't forget to buy a vignette for driving on the motorways.
Trains from Budapest-Nyugati to Debrecen take around 2 1/2 hours and cost approximately €14 one-way.
Climb the tower of the Reformed Great Church for great views over the city.
Walk through Nagyerdei Park and back to the centre via Arpad Square.
Take a day trip from Debrecen to Hortobagy National Park.
Enjoy Debrecen's thermal spas in the town of Hajduszoboszlo.
Try Ikon for a modern Hungarian lunch and Volt for coffee and cake or homemade lemonade.
Stay at the Boutique Hotel Kristaly which is clean, comfortable and affordable.
—
Recommendations are independently chosen based on personal travel experiences and extensive research. This post contains affiliate links to hotels Debrecen, Hungary. This means I get a small commission from any bookings at no extra cost to you.