At this stage, it looks fairly certain I'll be making Budapest my European home base which means I'll be taking many more road trips from Budapest and around Central Europe. That suits me just fine as it's one of my favourite parts of Europe and I can't think of a city better situated to use as a base for exploring.
Update: I did move to Budapest!
Budapest to Krakow Road Trip
This quick and easy road trip covering three countries takes you from Budapest, Hungary to Krakow, Poland via Kosice, Slovakia. Budapest and Krakow are two of the most popular cities in Central Europe and Kosice gives you a bit of a break from the crowds and a look at a part of Slovakia where few tourists venture.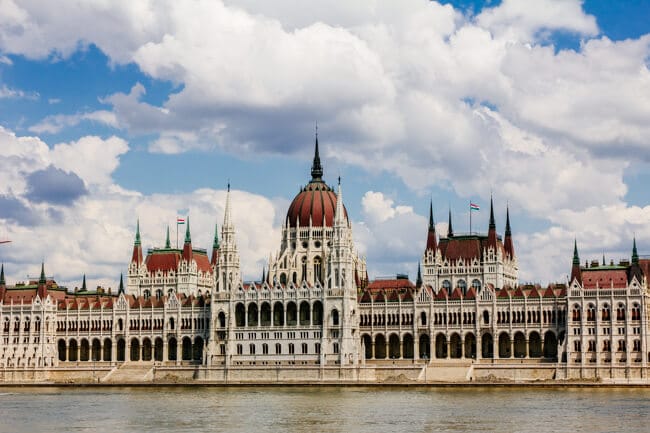 Budapest
It's hard to say which is the most striking feature of Budapest. The Parliament is surely one of the most beautiful in the world but Buda Castle and Fisherman's Bastion are impressive too. Then you have the Chain Bridge which is guarded by lions and unites the two cities of Buda and Pest as it passes over the Danube.
Read my full guide to Budapest here, updated in 2019, and my list of where to stay in Budapest in the best neighbourhood. If you're travelling on a budget, these free things to do in Budapest might help you.
The Jewish quarter is one of the more interesting districts. The Great Synagogue is hard to miss and there are many smaller synagogues around too. But it's the Jewish bakeries, bistros and felafel joints that attract me the most. Not to mention the little cafes which seem to pop up on every corner. The original Szimpla ruin bar is also in the Jewish quarter but I visit mostly for the Sunday farmers' market.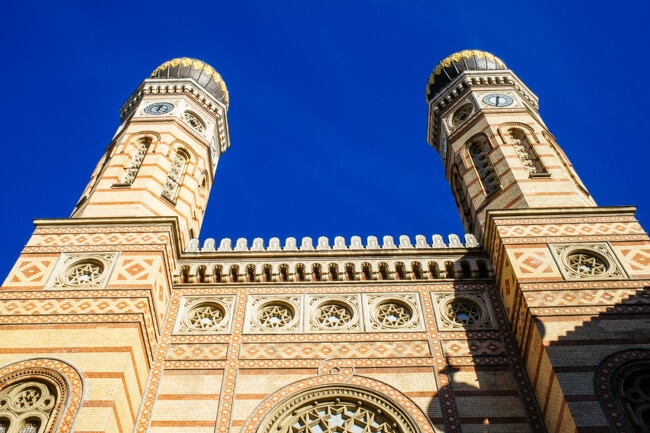 I might have a one-track mind but more food-related attractions include having coffee and cake in the incredible Lotz Hall in the old Paris Department Store or the equally impressive New York Cafe.
Even on a short visit to Budapest, I'd suggest spending half a day at one of the city's famous thermal baths. Szechenyi is probably the most famous and in my opinion the most beautiful but you could also try Gellert or the recently renovated Rudas.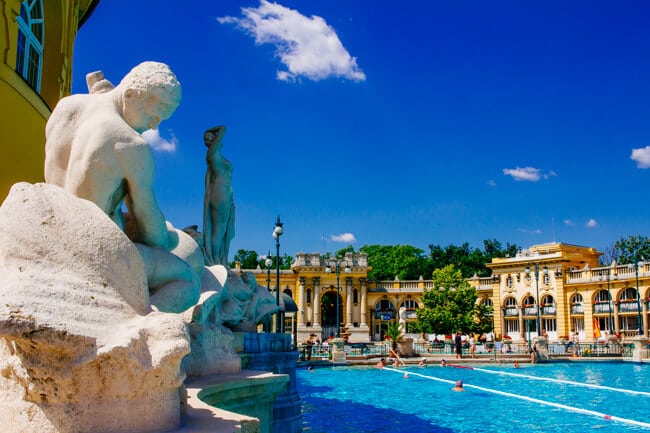 Side Trips
Close to Budapest:
Szentendre – A small historic city only half an hour from Budapest.
Visegrad – Home to a castle perched high above the Danube River.
Esztergom – You can't miss the huge basilica on the hill and the pretty baroque architecture.
On the way to Kosice:
Eger – Known for its castle, thermal baths and the best Hungarian red wine.
Miskolc – Stop to experience an unusual thermal cave bath.
Tokaj – Hungary's most famous wine region.
Debrecen – Make a detour to Hungary's most eastern city.
Kosice
While you could easily head to Krakow via Bratislava (Slovakia) and Brno (Czechia), a more interesting, off the beaten path alternative is via Kosice in eastern Slovakia.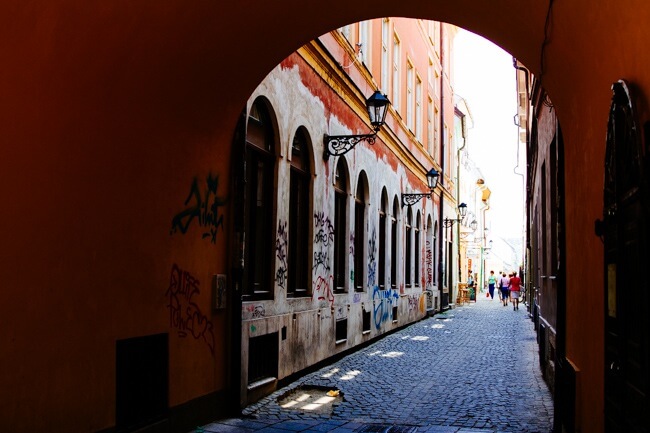 I planned to spend three days in Kosice but ended up staying more than 10. It's hard to say why but it's just one of those cities where I instantly felt at home.
Walking down the main street I found myself stopping every few metres trying to figure out the period of the architecture. Each building seems to be from a different era and some styles I'd never even heard of before. It definitely challenged my knowledge of European architecture.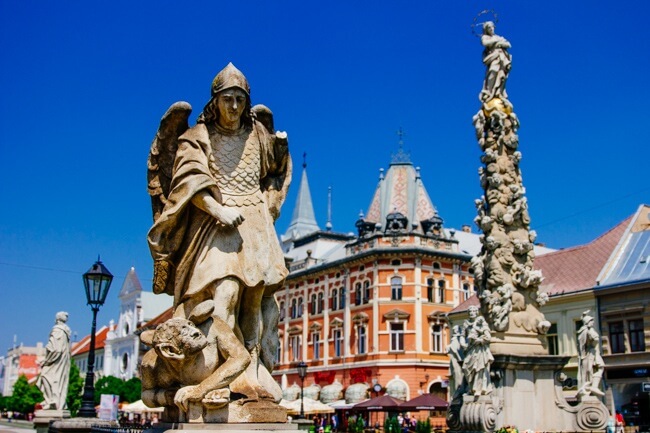 The city does have a bit of an odd feeling to it. After a couple of days, I realised it was most likely because Kosice doesn't have a river. It's not really something you'd think about until you notice it's missing. Not that it matters. There are plenty of cheap watering holes around town and at €0.27 a beer who needs water?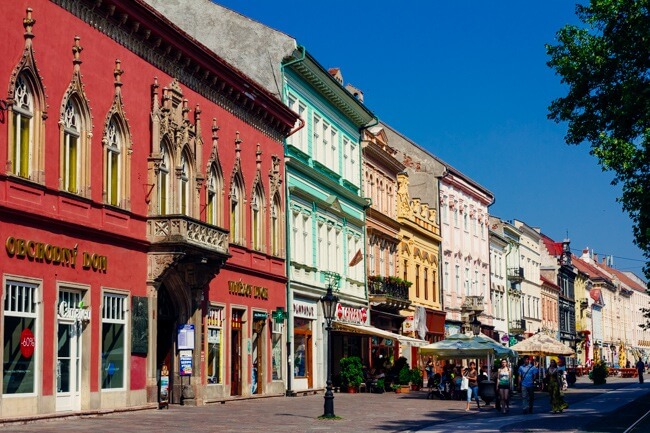 You can get a better idea of things to do in Kosice here and find a full neighbourhood guide and a list of where to stay in Kosice.
Side Trips
Tokaji Wine Region – Tokaj wine is produced in both Hungary and Slovakia.
High Tatra Mountains – Take the Stary Smokovec to Hrebienok funicular.
Spiš Castle – 12th-century castle. One of the largest in Central Europe.
Prešov – Baroque, rococo and gothic architecture line the historic main streets.
Bardejov – Well preserved fortified medieval town.
Krakow
Five years might not sound like a long time but I'm sure much has changed in Krakow since I was there last. But even back then you could see all the new, cute cafes opening up and you could go on quirky communism tours or try some dodgy vodka bar hopping.
Much of the fun takes place in the Kazimierz district but it's still the historic sights that draw in the crowds. As with most European cities, you have a beautiful castle on a hill overlooking the city. In this case, it's Wawel Castle with its elegant Crown Treasury and State Rooms.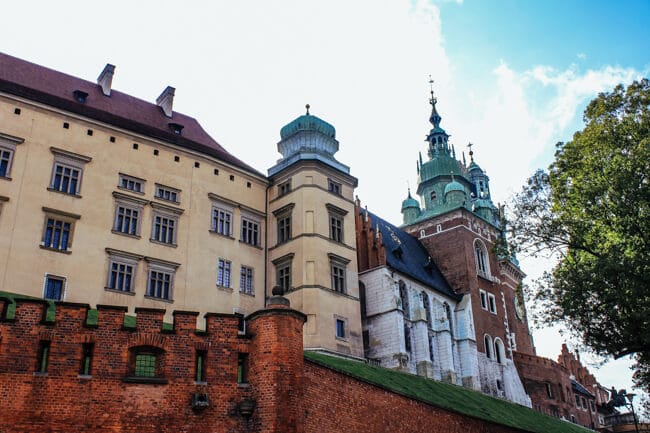 I don't think there can be any doubt about the power of the Catholic church in Poland as you pass by church after church after church. I can't think of any city which has more churches per capita. But you don't have to be religious to appreciate them. It definitely makes for a pretty walk through the old town.
Then there's the medieval Cloth Hall which dominates Krakow's massive main square which will be crowded no matter when you visit. It's worth paying tourist prices to position yourself at one of the local bars or cafes for the ultimate people-watching in Poland.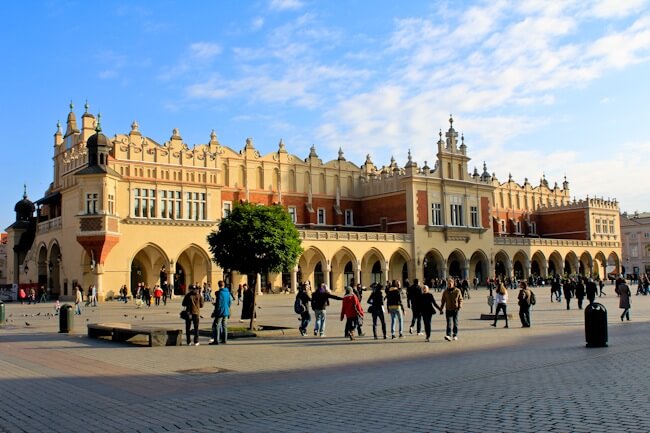 Before ending your road trip in Krakow, take a few days to visit the nearby sights. A trip to Auschwitz Birkenau is definitely worthwhile to help give you an understanding of Europe's dark history.
Side Trips
Wieliczka Salt Mine – A little boring as you have to do a tour but the salt cathedral is impressive.
Auschwitz – One of the most important and moving historic sights in Europe.
Zakopane – Winter and summer resort in the Tatra Mountains.
If your trip is in late November or December, Poland's Christmas markets are worth checking out, especially the one in Krakow.