If you purchase through links on this site, I may earn a commission at no extra cost to you. As an Amazon Associate I earn from qualifying purchases.
Berlin is such a dull city.
Just kidding, I'll never tire of Berlin but it is nice to hop over to Poland for a quick day trip and change of scenery, and Szczecin is the closest Polish town.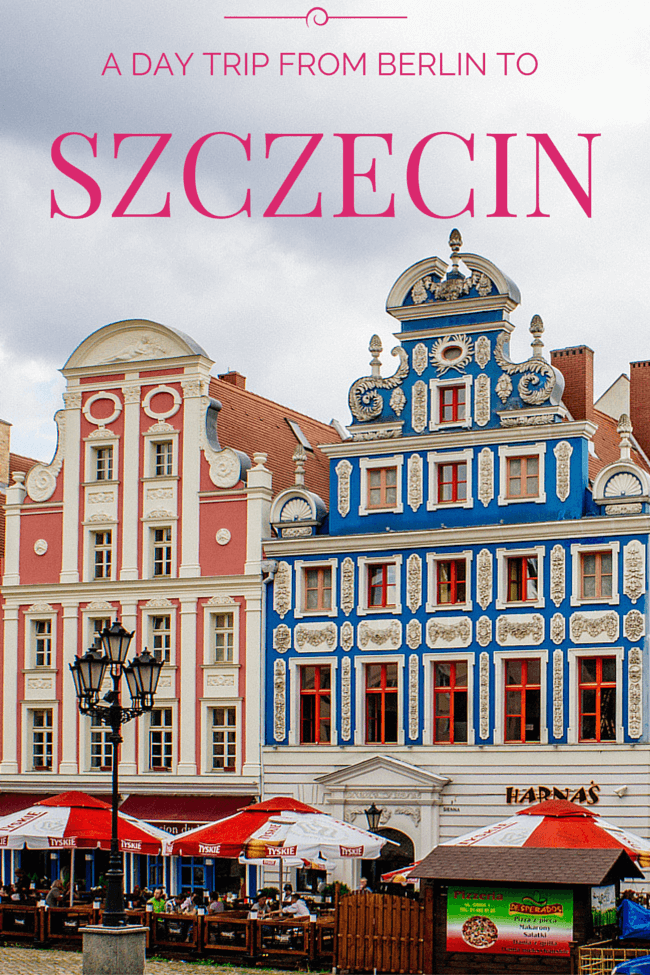 The first time I went day-tripping in Szczecin I did my usual trick of not doing any research beforehand. This always seems like a good idea on paper. I can wander on my own and figure out things when I get there, maybe asking the locals what the best things are to see and be surprised as I discover what appear to be the important sights.
Of course, this rarely works well in practice. It takes ages to figure out which way to head and then I'll see things that look interesting but have no idea of their significance or their history or anything.
Even worse is when I inevitably end up completely missing out on something important that I would have loved to have seen.
So I've kind of given up on that way of travelling and I'm making a point of researching at least the basics before I go. Not that I think it's a good idea to plan everything in advance or stick to a strict schedule but it does help to have some idea of what's going on around me.
Looking for where to eat in Szczecin? Read my new, updated guide for the latest info.
The second time I went day-tripping in Szczecin I was more prepared but I got pulled over by the German police just before the border. I'm not sure why but I've been pulled over seven or eight times in the last year, all around Europe, for no reason whatsoever. I've never done anything wrong or been issued a ticket. I think it's the little Fiat that draws too much attention.
So I got pulled over and three German policemen peered into my window and asked to see our passports. I accidentally left them in Berlin. Oops.
After a thorough scalding, they let us go with strict instructions not to cross the border without our passports. Fair enough I suppose. Although I didn't mention I've crossed the French/Belgium border half a dozen times without my passport and nothing terrible happened.
So I drove back to Berlin. Picked up our passports. And drove all the way back to Poland.
Anyway… Szczecin (or the much easier to pronounce German name, Stettin) what is there to do there in a day?
Day Trip to Szczecin
Seeing the sights in Szczecin is as easy as following the red line which winds around the city. This handy marked tourist path supposedly takes you to more than 40 sights and attractions, but I'm surprised Szczecin even has that many things to see.
Once you spot blue and pink pastel-coloured buildings you've reached the Old Town and heart of Szczecin. It's a nice spot to stop for a Polish beer or a drop of vodka but you could also head down to the waterfront promenade for pierogies and a great view.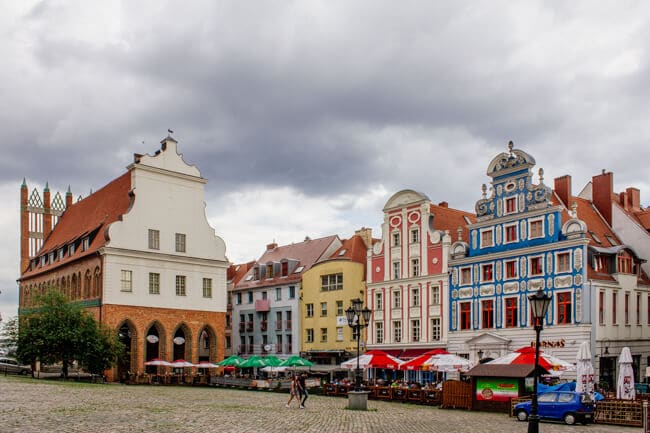 Backing onto the main square is the 15th-century brick gothic Old Town Hall, one of a few old town buildings to survive the war.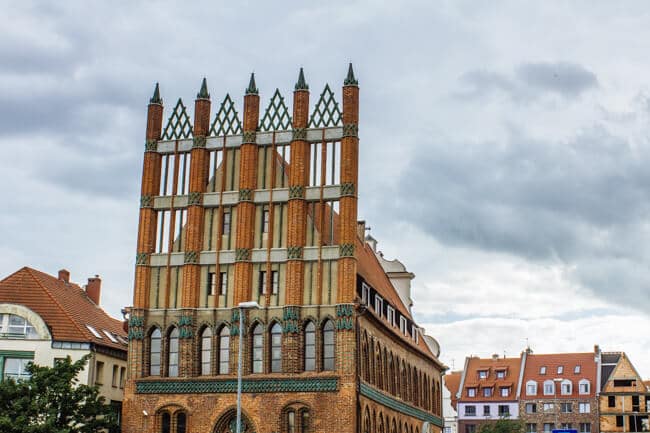 From a distance, you can see what looks a bit like a wedding cake and is actually the Dukes of Pomerania Castle, a gorgeous white castle in the striking mannerist style of architecture often seen in Poland. You can walk around the castle courtyard for free or pay to go up the bell tower for a look over the city.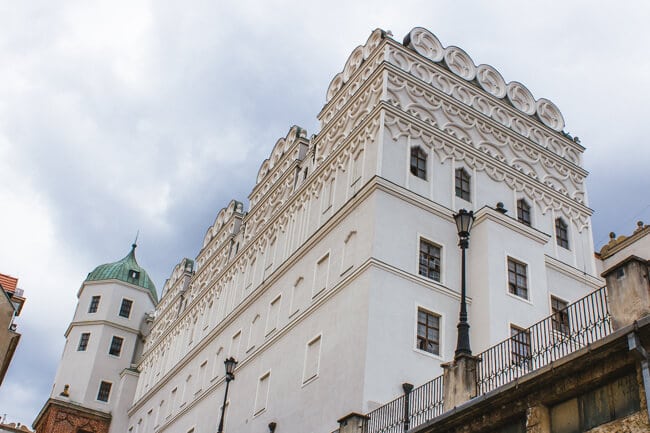 Not on the tourist path are the unusual tall blue water pumps scattered around the Szczecin which you can see in this handy article and Art Nouveau lovers should track down all these incredible works of art/buildings.
Szczecin is less than two hours on the motorway from Berlin or on the train (with one change, €29 return). A great time to visit is on the weekend in July and August when the weather is warm and you can take the vintage tourist tram around town.