If you purchase through links on this site, I may earn a commission at no extra cost to you. As an Amazon Associate I earn from qualifying purchases.
Rapid applause, fans screaming, horns blowing. My first trip to Lake Bled wasn't the peaceful lake I'd dreamt about. The world rowing championships were on in full force with a packed stadium and non-stop racing. I don't like my holidays to include crowds and noise. I vowed to never return. Tip: Never say never.
Lake Bled – Take 2
I'd heard so many wonderful things about Bled both before my first trip and after. The serene glacial lake, a clifftop castle, and an island accessible via pletna.
So I gave it another chance. To be sure to avoid the crowds I arrived before sunrise. It was beautiful seeing the morning light streak across the island and brighten the entire town but I was still not smitten.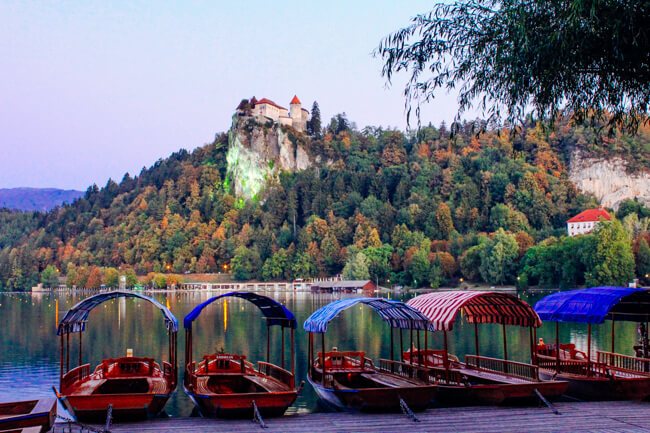 Lake Bled – Take 3
Once again I found myself in Slovenia but this time with a friend on her first visit. I couldn't let her visit Slovenia without seeing its crown jewel so it was back to Bled. This time the evening sun was setting behind the castle, and the town lights starting to twinkle in the twilight. Almost smitten.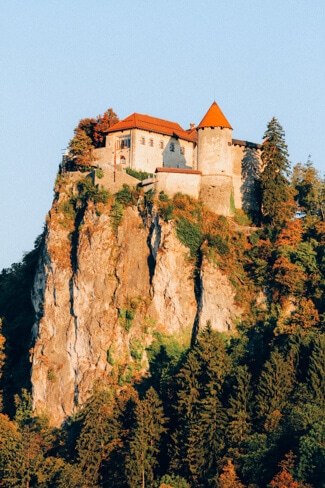 All Roads Lead to Bled
Road tripping around Slovenia in June, the plan was to visit all those places I'd missed before. Predjama Castle, the emerald river in the Soca Valley, and Triglav National Park. But Bled was right there, close to everything, calling me again. 4th time lucky?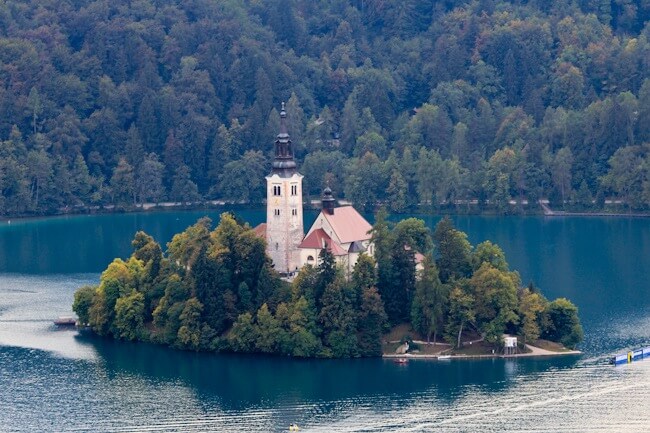 Walking the circumference of Lake Bled takes an hour at the most.
If you don't get distracted.
Halfway around I spotted a sign with the promise of cake and a view.
A guaranteed distraction.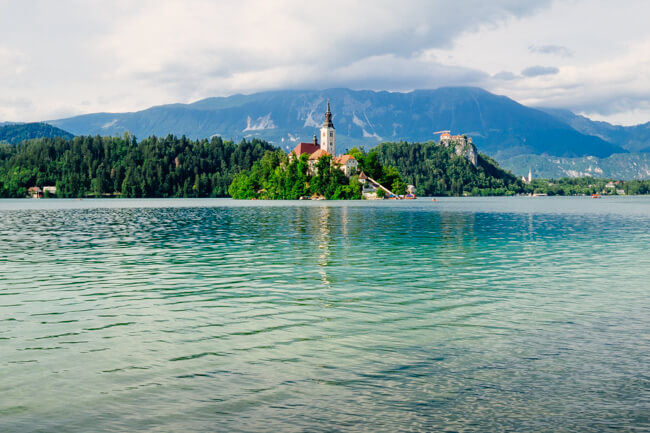 An overgrown path leads to a steep climb then a fork in the road. There was no sign of life and I was out of breath. But… cake. Must. Continue.
Walking through the 3-metre high doorway into an unmistakably communist-era stone and marble building, no one was around. Family photos line the hallway. I thought maybe we were on private property.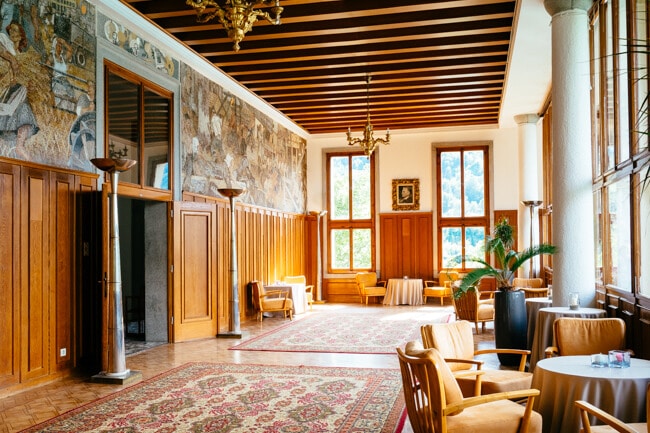 Closer inspection revealed the 'family photos' to be former leaders from Western Europe, the Middle East and Asia. A propaganda mosaic of the people, workers and comrades, covered one wall. I spotted Marshall Tito looking down on us. Then the view.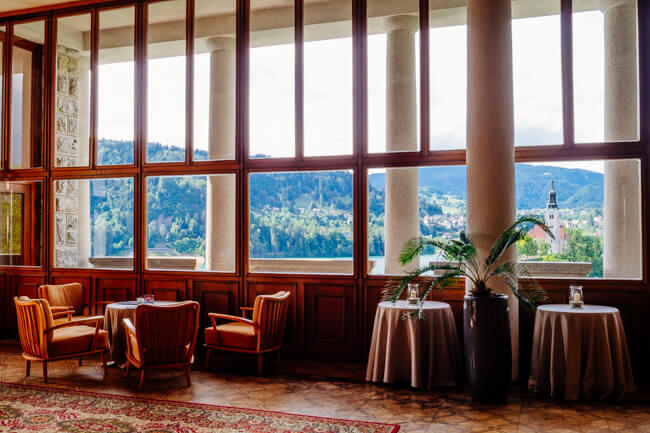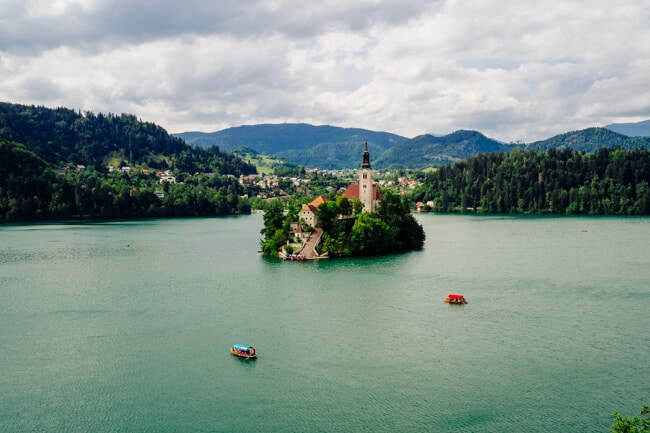 The sole waitress joined us on the balcony offering a slice of Bled's famous creme cake. Who am I to say no.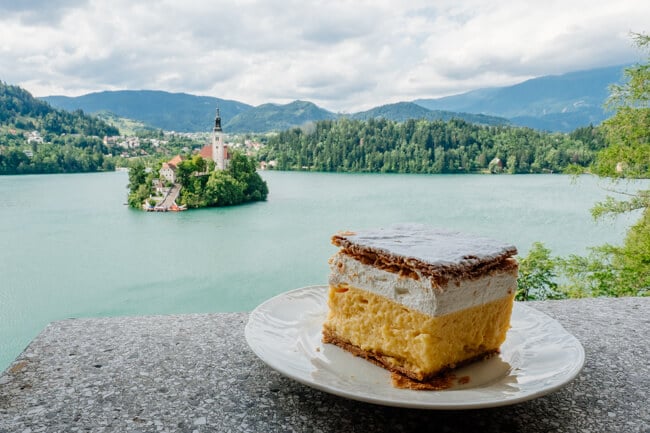 While not as extravagant as the villas in Tito's Playground, the former Yugoslav leader's summer residence retains its 50s charm and character in a leafy park on the shores of Lake Bled.
Now a government-run luxury hotel, you can stay in Tito's top floor, 100 square metre presidential suite with its two bedrooms, two bathrooms, and unobstructed views of the lake.
Regular rooms are surprisingly affordable for a former presidential residence. A double starts at €175 per night or a lake view suite for €220. Could be worse I suppose.
If that's not in your budget, do as I did and stick to the cafe located in a separate building designed for entertaining Tito's guests. International movie stars, American presidents, kings and queens socialised with Tito and enjoyed this very view.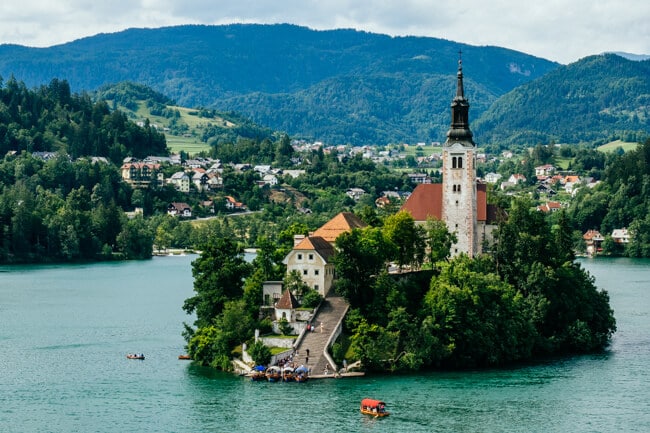 After an hour of eating cake alone on Tito's balcony, with the most incredible view in Slovenia, we strolled back down the hill and continued the walk around the lake. Smitten.
---