If you purchase through links on this site, I may earn a commission at no extra cost to you. As an Amazon Associate I earn from qualifying purchases.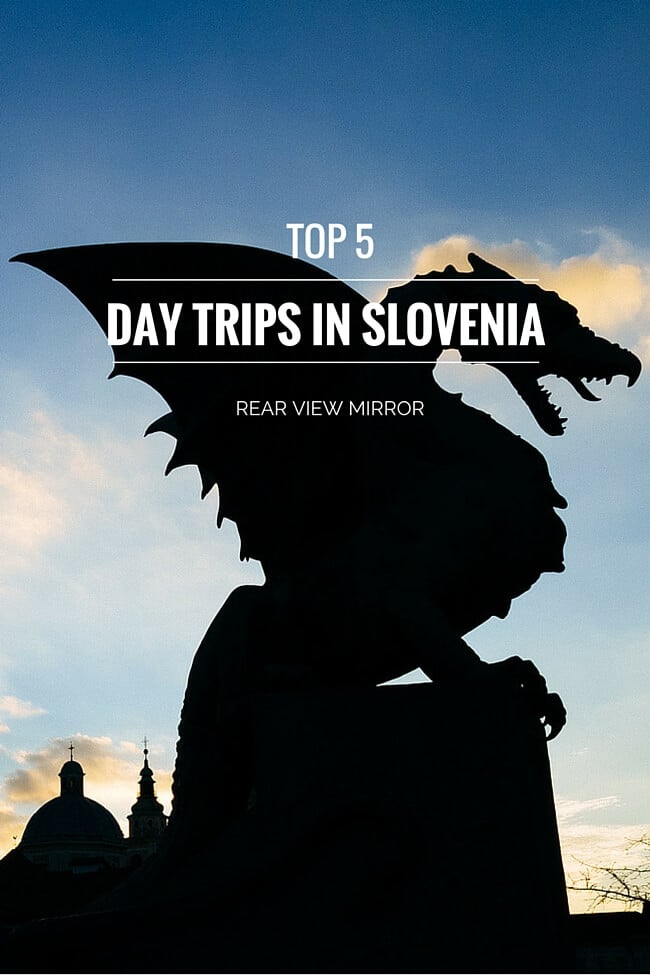 Day Trips in Slovenia
Each year I hear Slovenia described as the next big tourist destination in Europe. An untouched region on the Mediterranean. A must see country before it becomes overrun by tourists. But each year nothing really changes. I still meet people who have never heard of Slovenia or know little about it. I'm sure visitor numbers are increasing but not to the extent where you feel overwhelmed with people around. It's not like Croatia.
I understand many visitors to Europe want to visit the most popular cities like London, Paris and Rome. I've spent time in those cities so I get. They are amazing places to visit. But once you've been there then what? I suggest places like Prague and Budapest but after that why not Ljubljana and the rest of Slovenia? It's beautiful in so many ways. It's easy to get around, relatively cheap and most people speak English. There's no reason not to go.
Once you make the decision to visit Slovenia the next question is where to go exactly. The capital Ljubljana is quaint with its pedestrian streets along the river, the cafe culture and the castle on the hill. But the real reason to visit Slovenia is outside of the capital. The Julian Alps, the Venetian coastal towns, stunning gorges and the glacial lakes are all incredible.
I find Ljubljana to be a little quiet for a capital city but I adore the rest of the country. I suggest basing yourself in Ljubljana for a week or so to give you time to enjoy the cafe and restaurant scene but to take day trips to see the sights in the rest of the country. Slovenia is relatively small and easy to get around and taking day trips is the most practical way to see the country.
For me the top 5 day trips in Slovenia are to Lake Bled, Piran, Lake Bohinj, Vintgar Gorge and Maribor in the east (in that order). If you have time you might also want to head to Trieste in Italy which is just across the border. Trieste is worth visiting for some seafood, artisan gelato and to visit Castello di Miramare.
Lake Bled
Lake Bled is Slovenia's crown jewel. It's by far the most popular day trip in Slovenia and rightly so. It's an emerald coloured glacial lake with a pretty island in the centre and a castle hanging off the cliff. With the Julian Alps as a backdrop it's quite spectacular. This is one place in Slovenia you don't want to miss. Yes, it's the most touristy place but it's gorgeous, peaceful (usually) and they have a famous dessert.
Piran
I'm a huge, huge fan of Piran. It's Slovenia's main coastal resort town and the Venetian architecture is incredible. It's like a mini version of Venice but without the canals (unfortunately) and without the crowds (thankfully). It's off limits to cars so you can walk around the ancient, cobblestone streets and lunch on just caught seafood in peace. If you can only take one day trip in Slovenia, Lake Bled is for nature lovers and Piran is for city people.
For a little more Venetian architecture you could make a quick stop by Koper which is on the way to Piran (and not far from Trieste) but there are fewer buildings of note and most are currently in need of restoration.
Lake Bohinj
Lake Bohinj has the beauty of Lake Bled but without the castle and crowds. If you want a peaceful day by the lake Bohinj is definitely the place to choose. There's a bit of rivalry between Lake Bled and Lake Bohinj and it's hard to say which is more beautiful so try to visit both if you can to see for yourself. I visited both lakes on the same day trip but I'd only recommend doing so if you're pressed for time. Both lakes deserve a day on their own. I spent my time in Bohinj hanging out on the foreshore and around the bridge area but you can hire a kayak or go swimming if it's not too cold.
Vintgar Gorge
Vintgar Gorge isn't just for nature lovers. I'm totally a city girl but loved the 3km round trip walk. I wouldn't even describe it as a hike as it's such a comfortable walk along well maintained paths that are mostly flat. Anyone with a basic level of fitness could do this walk and it's totally worth it. Gorges are always beautiful places to visit and at Vintgar there are plenty of rapids, waterfalls and calm pools to keep you happy.
Savica Waterfall is a similar walk which you could do on the same trip or you could combine it with a day trip to Lake Bohinj.
Maribor
Not many visitors take the time to visit the eastern part of Slovenia but if you do Maribor is a cute town with Habsburg-era architecture and the oldest grapevine in the world. I'd suggest taking the other day trips before heading to Maribor but if you have time there's plenty to see and you can stop in Ptuj on the same trip. You could also stop in Maribor on the way to Budapest or Pecs in Hungary or to Romania.
Other day trips worth considering:
Postojna Cave
Predjama Castle
Škocjan Cave
The wine region in the east.
Hiking in the Julian Alps
Zagreb in Croatia