If you purchase through links on this site, I may earn a commission at no extra cost to you. As an Amazon Associate I earn from qualifying purchases.
Speeding along the autobahn, I was trying to make it to Munich by nightfall. I can't remember who had the idea to drive from Strasbourg to Munich in one day, but as it turns out, it was a bad one.
Gauging by Google Maps, this should be a leisurely four-hour drive at the most. But my parents were visiting from Australia and I wanted to take them on a Bavaria road trip to show them some of my favourite cities in Germany.
A side trip to adorable Tuebingen led to a visit to neighbouring Stuttgart's Mercedes Benz museum. This was followed by a first-time visit to Augsburg thanks to a friend's recommendation and an essential stop for afternoon coffee and cake.
It was a bit of a journey but finally, 10 hours on the road later, we arrived in Munich, in time for a classic Bavarian biergarten meal with an obligatory litre of beer.
Tip: As a side note, Augustiner-Keller, Munich's most famous beer garden, has a very allergy-friendly menu, particularly if you have coeliac disease (as I do, unfortunately). No gluten-free beer by the looks of it though.
Not exactly the kind of slow travel day I like to promote but after a few days of visiting Munich, we were ready to get started on a more relaxed Bavaria road trip that would take us across Southern Germany.
Bavaria Road Trip
As you will most likely start your Bavaria road trip in Munich, I suggest heading south and taking a clockwise loop around the region.
Munich
Of course, where you start doesn't matter; you can join the itinerary from anywhere and break it up as needed. But Munich is a convenient start and finish point when visiting Bavaria.
I have a list of things to do in Munich, particularly if you're visiting in winter.
Once you've decided to add Munich to your itinerary, here are my recommended boutique hotels in Munich.
Garmisch-Partenkirchen & Zugspitze
The one-hour drive south to Garmisch-Partenkirchen is uneventful but it's worth taking the autobahn to arrive early in the day. Garmisch-Partenkirchen was introduced to me by a Munich-based friend and I'm so glad she did.
You have a few options when you get there. You can go for a classic German hike on one of a multitude of hiking trails which you can finish with a meal in a Bavarian mountain hut type restaurant. The views are incredible so if you feel like hiking up a mountain, you can't go wrong here.
This is what I did and it was a great experience.
If you're feeling less energetic, you can take the cable car up the mountain. There are a number of cable cars and trains here but the best option is the classic old train which takes you up to Germany's highest peak, Zugspitze.
Otherwise, a bit further along is the Alpspitzbahn which takes you up to the Alpspix observation deck and the alpine lookout which hangs over the cliffside. Scary but highly recommended.
Alternatively, drive to the Eibsee cable car station for the quickest path up to Zugspitze. On a clear day, you can see Germany, Austria, Italy and Switzerland from the mountain peak. Also highly recommended.
Neuschwanstein Castle
Only an hour from Garmisch-Partenkirchen is the most famous castle in Germany, Neuschwanstein Castle. Be aware that the quickest route to Neuschwanstein may be via Austria.
Motorways in Austria are toll roads that require you to purchase a vignette that you stick on your windscreen or you can purchase a digital vignette for €9.50. Don't forget to do this otherwise you risk a €120 fine. Don't ask me how I know this!
You can reach Neuschwanstein via Germany too of course, but depending on road conditions, this might be the longer route.
Head to the town of Füssen into the former kingdom of Ludwig II, the king behind the fairytale castle. You can't miss Neuschwanstein Castle as you approach with its elevated position and the tourist buses crowding its base.
Once you manage to find parking (this is a challenge), walk the steep road up to the castle entrance or pay for the horse and carriage to travel up in style.
Although I've been twice to Neuschwanstein Castle, I never actually went inside. The queues were a bit intimidating for me but I suspect I didn't miss much. I could be wrong. I think it's worth visiting for the exterior only and I'd probably go again as it's so pretty.
For the best views of the castle, go to Marienbrücke (Bridge of Our Lady) but be prepared for crowds. This article gives an excellent rundown of alternative views.
Augsburg
You could conceivably go from Munich to Garmisch-Partenkirchen to Neuschwanstein Castle and then on to Augsburg in one day.
You would have to leave Munich very early in the morning to do this and actually, I suggest doing that anyway so you can arrive in Zugspitze as early as possible. But if you go hiking or spend some time inside Neuschwanstein Castle then you'd really be pushing it.
Instead, I would recommend spending the night in Füssen or preferably in Kempten. But depending on how your day goes, you might choose to continue on to Augsburg and spend the night in a bigger city with more to do.
Augsburg is famous for the history and architecture of its old town, its museums, palaces and fountains. It's a nice, small walking city and worth spending at least one night.
Rothenburg ob der Tauber
A two-hour drive will take you from a Renaissance city to a Medieval town. Rothenburg ob der Tauber is one of those incredibly picturesque locations you see all over Instagram.
I was almost going to say ruined by Instagram as it has definitely been made more popular by the barrage of heavily edited selfies, but the fact is, this adorable town with half-timbered houses has always been a massive tourist destination.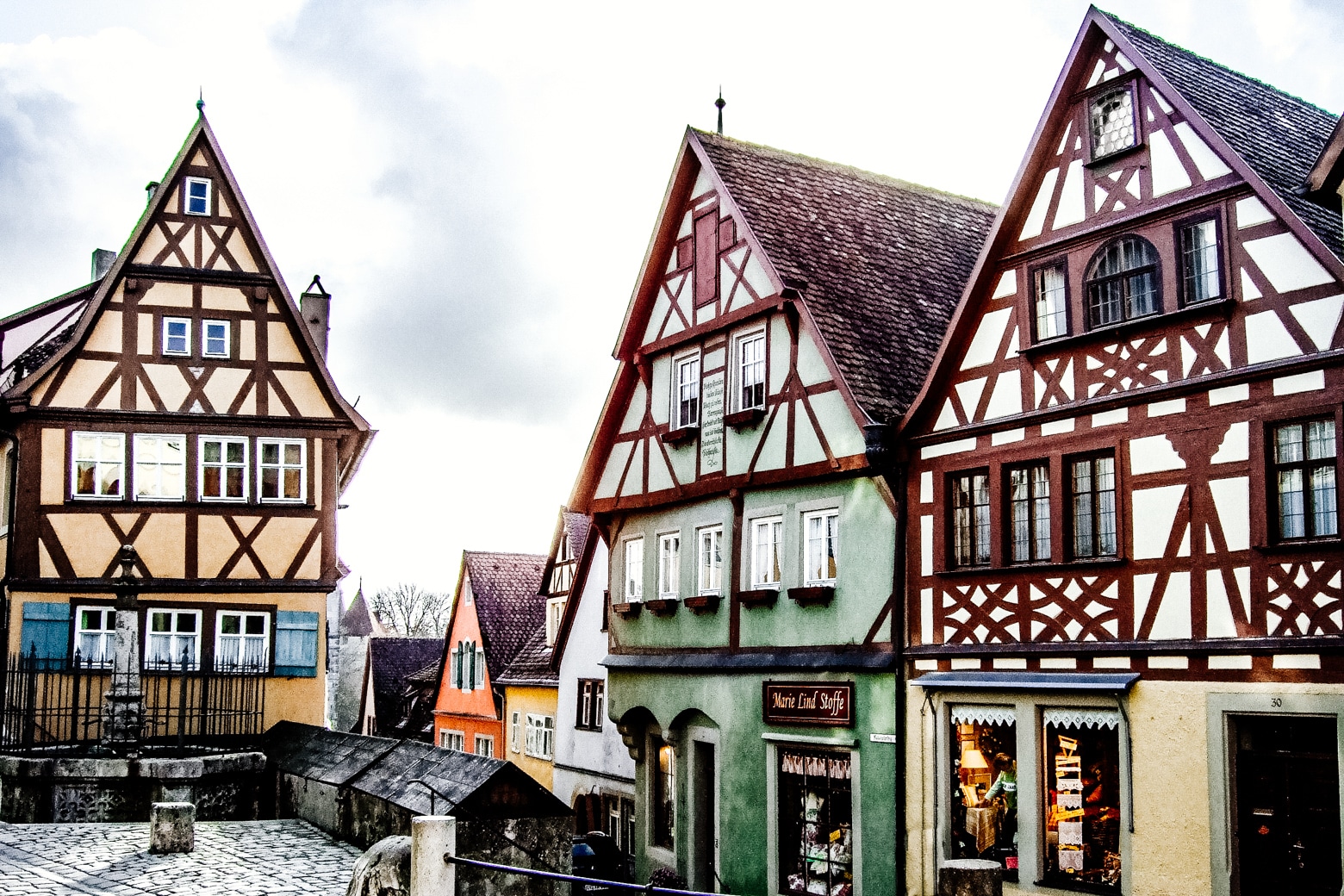 Given that Rothenburg can get very crowded, I suggest planning your visit carefully. As with most popular tourist towns, you'll want to arrive as early as possible to beat the crowds.
Staying overnight is a good option too as you can get out early and stick around after the day-trippers have gone.
But honestly, you can see most of the sights in an afternoon, unless you are set on visiting a number of museums.
Tip: Park your car outside the city walls and walk into the old town for a less stressful visit, even if staying overnight.
Würzburg
I have only ever passed through Würzburg so my recommendation to stop here is based on the views of my fellow travel bloggers and German friends. But from what I've seen, I know I have missed out and it's high on my list of places to visit next time I'm in Germany.
I do know it's most famous for its historic architecture and the Residence Palace with its elaborate staircase. Würzburg is in the heart of Franconia, the northern part of Bavaria known for its wine. There's so much to do in this Heritage Listed city and I recommend Historic Germany for a thorough list of sights, activities and help planning your stay.
Bamberg
The only reason I didn't spend time in Würzburg is that everywhere was fully booked when I arrived. Instead, I quickly headed to Bamberg where I managed to get one of the last remaining rooms. This part of Germany is very popular!
That's why I suggest booking your accommodation in advance if you're travelling in summer or during the Christmas period.
Like Würzburg, Bamberg is also a UNESCO World Heritage Site and a popular day trip from Nuremberg.
You might recognise Bamberg from its Old Town Hall which sits atop a purpose-built island on the Regnitz River. As Bamberg's most iconic attraction, you'll want to visit for its frescoed exterior and little cherub popping out from the side of the building.
This area of Bamberg is known as Little Venice and the Island District. It's at the heart of a visit to Bamberg and from here you can walk to all of the city's other sights like Bamberg Cathedral, the Imperial Palace and the Baroque Residence Palace. I
f you plan to stay longer, consider hiking one of the seven hills of Bamberg and exploring further from the historic centre.
Bamberg is perfect for an afternoon visit before moving on to Nuremberg, the second-largest city in Bavaria after Munich.
Nuremberg
How long to spend in Nuremberg comes down to how many days you can spare but I don't recommend rushing it. While it's only a third of the size of Munich, it's one of the most interesting historical cities in Bavaria.
The main sights go far beyond the half-timbered houses and I'd suggest spending at least 3 nights here to give yourself time to explore.
This guide to things to do in Nuremberg is a great starting point for visiting this Bavarian city.
Along with the Imperial Castle, the Nazi Party Rally Ground and the Nuremberg Trials Memorium, Nuremberg has a number of significant museums and collections.
Be sure to also visit the 'Beautiful Fountain' located in Hauptmarkt (the main market square). This is one of the most unique fountains you'll ever see and it's a personal favourite of mine.
I can't write about Nuremberg without mentioning Nuremberg Christmas Market, Germany's largest and most traditional.
If you're visiting Nuremberg at Christmas, I suggest staying in one of these hotels near Nuremberg Christmas Market. You'll not only be able to easily visit the market but there's a great atmosphere in this central area too.
If you're travelling in November or December, these Christmas road trip itineraries might be of interest and give you further ideas of where you can go.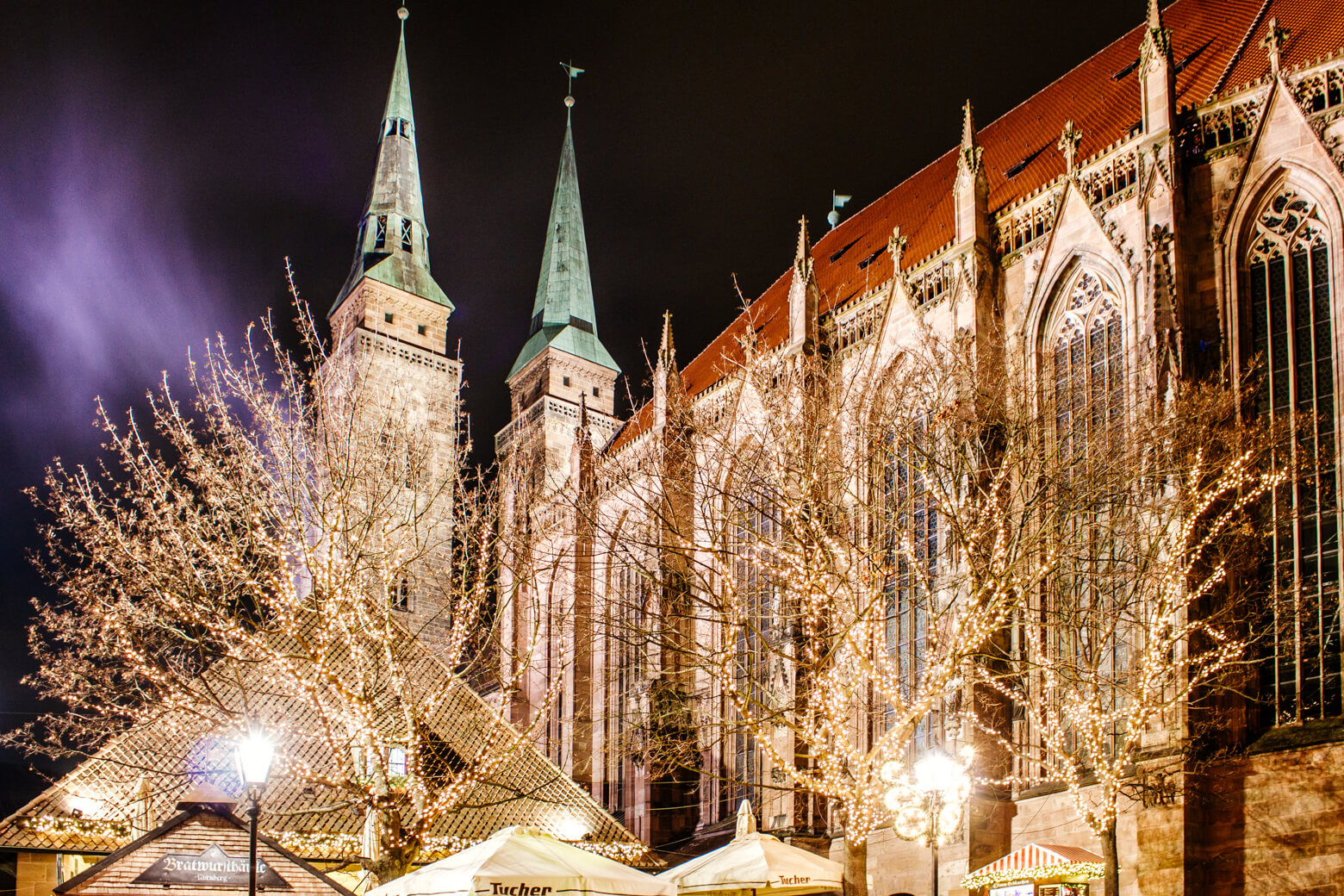 Salzburg, Austria
Before you finish up your Europe road trip (or maybe include this at the beginning), I suggest making a quick trip over the border to Salzburg in Austria. Salzburg is only a two-hour drive from Munich so it would be a shame to miss out on visiting one of the most beautiful and culturally interesting cities in the area.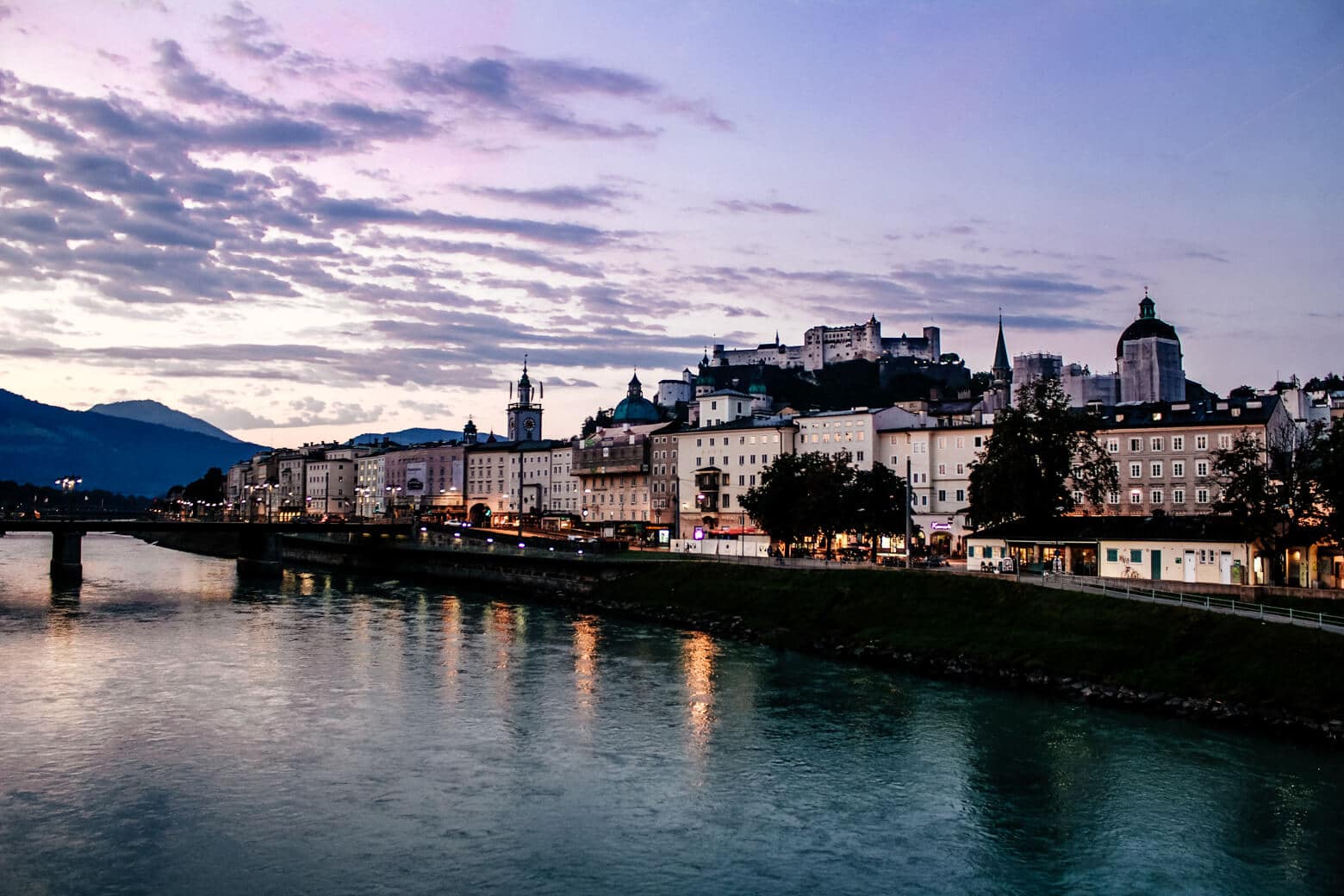 Not only is Salzburg home to an impressive hilltop castle, stunning manicured gardens, palaces and museums, but you'll also find famous Salzburger desserts like Sacher torte and my personal favourite, Salzburg Nockerl. I strongly suggest making time to include Salzburg in your Southern Germany itinerary.
Here's a quick guide to things to do in Salzburg, Austria.
Southern Germany Itinerary
If you're trying to plan your Bavaria or Southern Germany itinerary, I would think this 900 km road trip would take you at least 10 days. However, this is providing you're willing to quickly pass through some places plus I would include additional days in Munich as there is so much to see.
If you're looking for a 7-day itinerary, then I would suggest sticking to southern Bavaria or maybe doing Munich, Rothenburg and Nuremberg. Alternatively, if you are starting your road trip in Nuremberg, then visiting Rothenburg, Wurzburg and Bamberg would make a great 7 day round trip.
I know it's tempting to visit as many places as possible, especially when you have the convenience of a car, but I always suggest visiting fewer places and exploring those places in a more in-depth way. But to each their own, think about your preferences regarding visiting big cities, villages, castles and outdoor experiences and plan your tour of Bavaria accordingly.
If you would like an in-depth Bavaria travel guide, I recommend this book which goes into a great deal of detail including information on Germany's alpine road and the famous Romantic Road.
Recommendations are independently chosen based on personal travel experiences and extensive research. This post contains affiliate links. This means we get a small commission from any purchases at no extra cost to you.