If you purchase through links on this site, I may earn a commission at no extra cost to you. As an Amazon Associate I earn from qualifying purchases.
Attention! There may be nude people in the area!
It would have been nice to have seen that sign before I came face to face with a rotund Estonian in his birthday suit. Or before he pivoted and wobbled off into the sunset.
Some sights cannot be unseen.
It was my first day in Estonia and a quick sunset beach stop in Parnu, Estonia's famous beach town. Stepping away from the crowds at the main beach, I found myself watching the sunset from the much quieter nudist beach with a few locals who appreciate the 'clothing optional' lifestyle.
I wasn't too bothered though, I was just happy to be on my way to Tallinn for the start of a 14-day road trip around Estonia.
Estonia Road Trip
Driving up through the low and barren East European Plain is not the most eventful drive in Europe. You can visit the occasional castle or an Art Nouveau masterpiece but most of the time is spent driving through identical landscapes.
It makes more sense to fly into Tallinn and hire a car, rather than taking the slow drive through Poland and the Baltic States but it depends on where you're starting from and how attached you are to your own car.
Either way, you'll want to leave plenty of time for exploring Tallinn with all its interesting history to take in.
The following road trip passes through the best places to visit in Estonia but there is so much more to see if you have the time.
Tallinn – 4 Days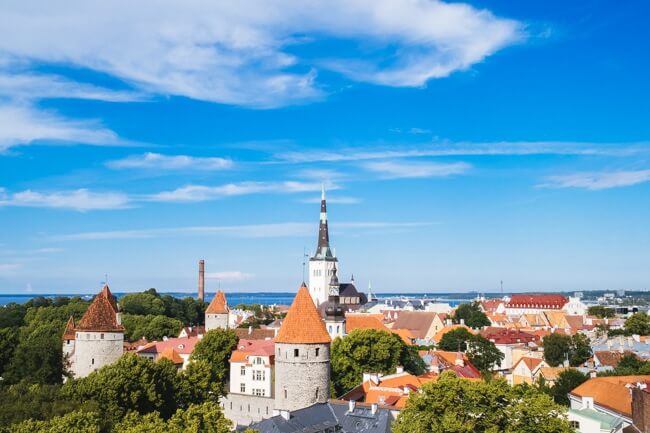 Try your best not to trip up on the cobblestones while admiring the city's Medieval towers and church spires. I mostly succeeded but it's more rewarding to climb the city's high points than to look up to them, especially when you get a view of the Alexsander Nevski Cathedral.
Tallinn has been occupied by the Danes, Swedes, and Russians and has strong German influences. It shows in their food. You can dine in the main square on a heavy Medieval feast or try modern Estonian/Russian fusion dishes. Look for one of the quiet courtyard cafes to beat the crowds and eat in peace while seeing your euro go further.
Stepping out through the city gates, there's a mix of old, new and Soviet-era relics.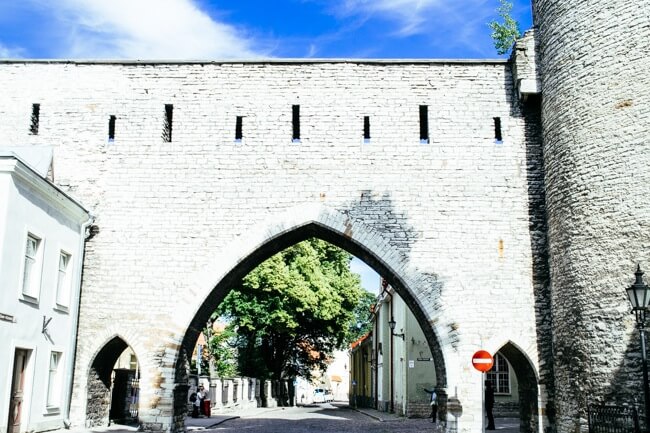 Walk over to the waterfront and check the view from the concrete disaster built for the Moscow Olympics or prepare to be shocked at the abandoned political prison.
For a pretty excursion get the tram to Kadriorg Palace and make fun of the over-the-top Russian weddings taking place in the palace gardens.
A few days of sightseeing and eating in Tallinn should be enough before the drive east to experience a completely different side of Estonia.
Where to Stay in Tallinn: Hotel Telegraaf
Tallinn to Narva – 210km
I never feel comfortable turning my little Fiat down a muddy dirt track but pulling up alongside the wide open waterfall at least I knew I'd made it to the right place. For a while, we were fortunate to have Jagala Waterfall to ourselves. But eventually, a few cars turned up on the other side of the falls on what looked to be a proper road and car park. Next time I'll use the front entrance.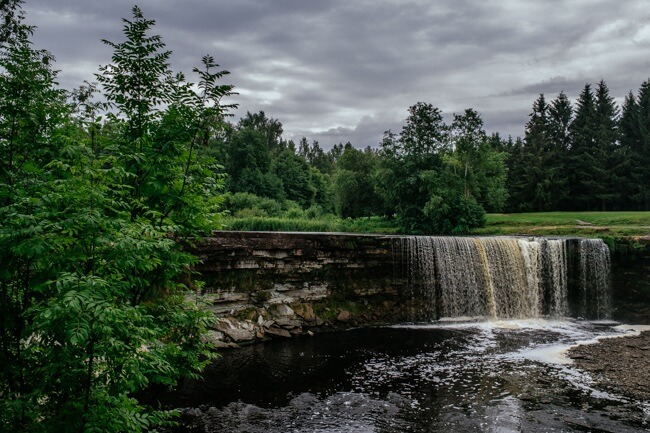 Following the Baltic coastline, the atmosphere becomes decidedly more Russian. Sillamae is an old Stalinist city that was once a nuclear weapons facility and is now an interesting look back on the past.
Travel tip: You might be tempted to stop at Valaste Waterfall but it's poorly maintained (this might have changed now) and unless you're there in spring you won't see much water.
Narva – 1 Day
Continuing as far east as possible, you'll be forced to stop at the Narva River border unless you have a Russian visa. Narva is home to most of Estonia's Russian population and the place to admire the opposing fortresses, Hermann Castle in Estonia and Ivangorod Fortress in Russia.
Sorry Estonia but Russia wins in the fortress face-off.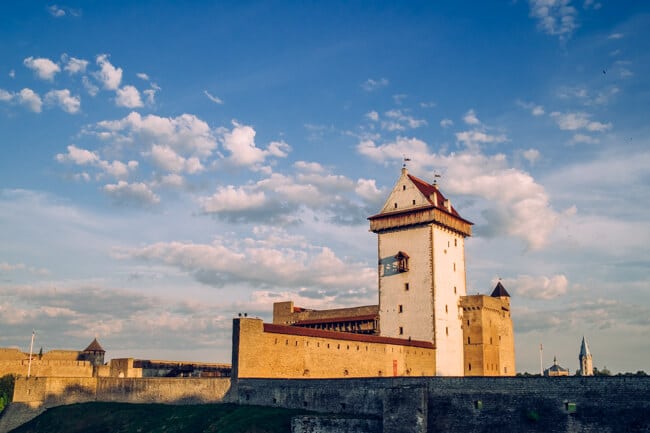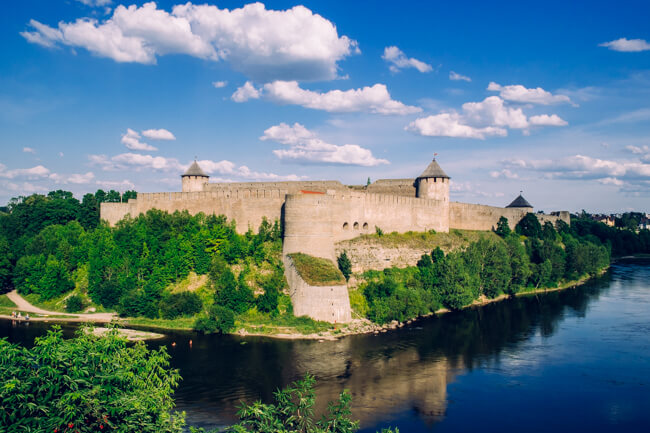 Where to Stay in Narva: There are no nice hotels in Narva. Try Noorus Spa Hotel on the coast.
Narva to Tartu – 178km
High on my Estonia bucket list was Puhtitsa Convent. I love elaborate Orthodox architecture and couldn't wait to see it up close. But in the excitement of hoping to see the 'Old Believers', I somehow forgot about the convent and missed the turnoff. Road trip fail.
Finally, we drove into the mysterious land of the Russian Old Believers on the shores of Lake Peipus. At first, I thought this story might have been a legend but upon seeing the little wooden huts lining the streets I knew it was true. The Old Believers are a group of people who fled Russia in the 17th century to avoid religious persecution and have passed on their traditions over generations. You can see them in the villages around Tiheda and snack on their freshly cooked lake fish sold in the little huts.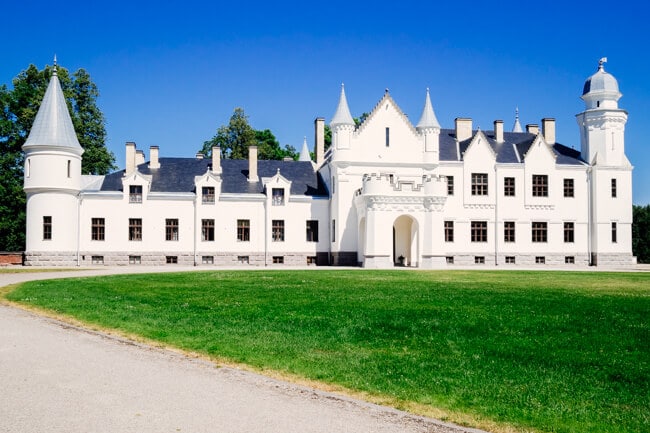 Not forgotten was Alatskivi Castle, a pristine white-washed castle modelled after Scotland's Balmoral Castle. It's possibly a little too perfect after its restoration but I did love relaxing in the French gardens.
Tartu – 2 Days
Tartu is a pretty university town filled with historic buildings, relaxing parks and some quirky sites too. Some people recommend a few days in Tartu but for me, one or two is enough to see the main attractions. Visiting during the August holiday season meant the city was quiet. I'm sure it would be considerably livelier at other times. I'd like to go back in spring or maybe for Christmas to see how different it is.
If you have the energy you could drive over to the Setomaa region for an introduction to the Seto community and another completely different culture within Estonia. You could even take a quick visa-free drive through Russia.
Travel tip: Watch out for the blood-sucking flies in the Setomaa area which can give a nasty bite and had me crying in pain! I don't know how the locals manage. I was thinking maybe the Russians planted those bugs to annoy the Estonians!
Where to Stay in Tartu: Hotel Antonius
Tartu to Parnu – 170km
The Tartu to Parnu drive is mostly uneventful. I'd leave Tartu early in the morning, leaving plenty of time for lunch and sightseeing in Parnu's old town.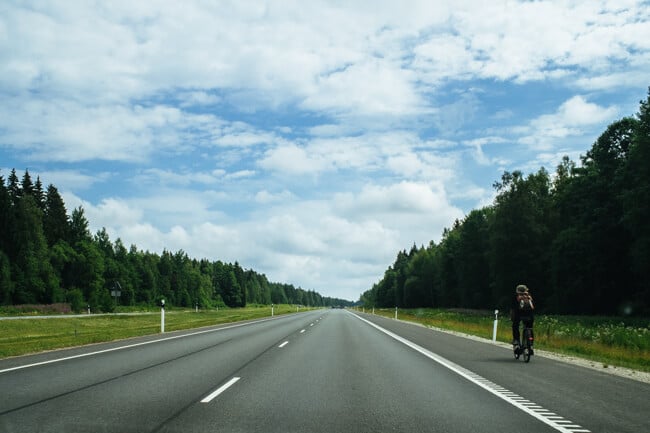 Parnu – 2 days
Parnu is Estonia's famous beach resort and the top summer destination for Estonians holidaying in Estonia. While Parnu definitely has the best beach in Estonia, don't expect too much, it's the Baltics after all. I personally (as an Australian beach snob) wouldn't set foot in that water.
Where to Stay in Parnu: Frost Boutique Hotel
Parnu to Muhu Island – 90km and a Short Ferry Ride
North-west of Parnu you can jump on the car ferry over to Muhu Island. It's a peaceful journey with not much to see along the way but fast wifi will keep you connected.
Muhu Island – 3 Days
Muhu and the connected Saaremaa Island are where you'll find some of the more unusual and very 'Estonian' sights.
If you can afford it or want to splurge, base yourself at Padaste Manor. Estonia is famous for its manor houses and Padaste is the best out of around 200. Even if it's out of your budget, at least stop by to have a look.
There's no such thing as typical village life in Estonia as it varies so much from region to region and especially on the islands. Wandering around the unique thatched-roof village houses in Koguva is odd, even by Estonian standards.
At first glance, it appears like one of those faux tourist villages you see in some parts of the world, a bit like a film set, but people actually live there and have done so since Swedish rule. Don't forget to take half an hour to walk down to the pretty harbour.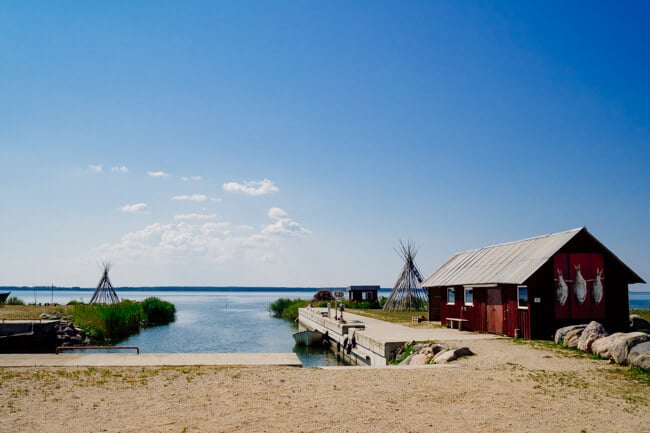 Over on Saaremaa…
From a distance, it's a strange sight but even more so when you get close up. The Angla Windmills are a handful of timber windmills poking out of the cornfields. They seem so out of place in the middle of nowhere. When I first read about Estonia's windmills I had expected to see them dotted around the countryside, much like you see in the Netherlands, but this small group serve only as a museum.
In a country rife with curious tourist attractions, I wasn't surprised to come across the bizarre Kaali meteorite craters. These are various-sized indentations in the ground that have turned into mini lakes or rolling hills. There is one main site and a bunch of smaller ones, created around 7,000 years ago when a meteor crashed into the ground at 20km per second. I'm not sure it's worth a special trip to see a few holes in the ground but if you've ever wanted to see the damage a meteor can do then this is your chance.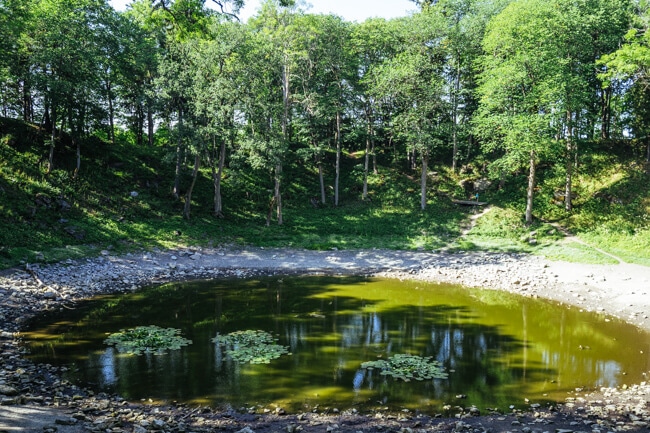 Where to Stay on the Islands: Padaste Manor
Return to Tallinn – 150km
From Muhu Island, it's a quick ferry ride back to the mainland and then an easy drive up to Tallinn. You might be tempted to take a side trip to the sleepy coastal town of Haapsalu.
Of course, there's more to see in Estonia, like the bogs and national parks, but this 10-day or 2 week itinerary covers the best and quirkiest the country has to offer.
Recommendations are independently chosen based on personal travel experiences and extensive research. This post contains affiliate links to hotels and tours in Estonia. This means we get a small commission from any bookings at no extra cost to you.