If you purchase through links on this site, I may earn a commission at no extra cost to you. As an Amazon Associate I earn from qualifying purchases.
Sardinia was full of surprises, both good and bad. It has the stunning Sardinia beaches everyone expects but some very average ones too. Watching Sardinian horses and pink flamingos with a mountainous backdrop is etched in my mind but so are the truckloads of rubbish that line the highways.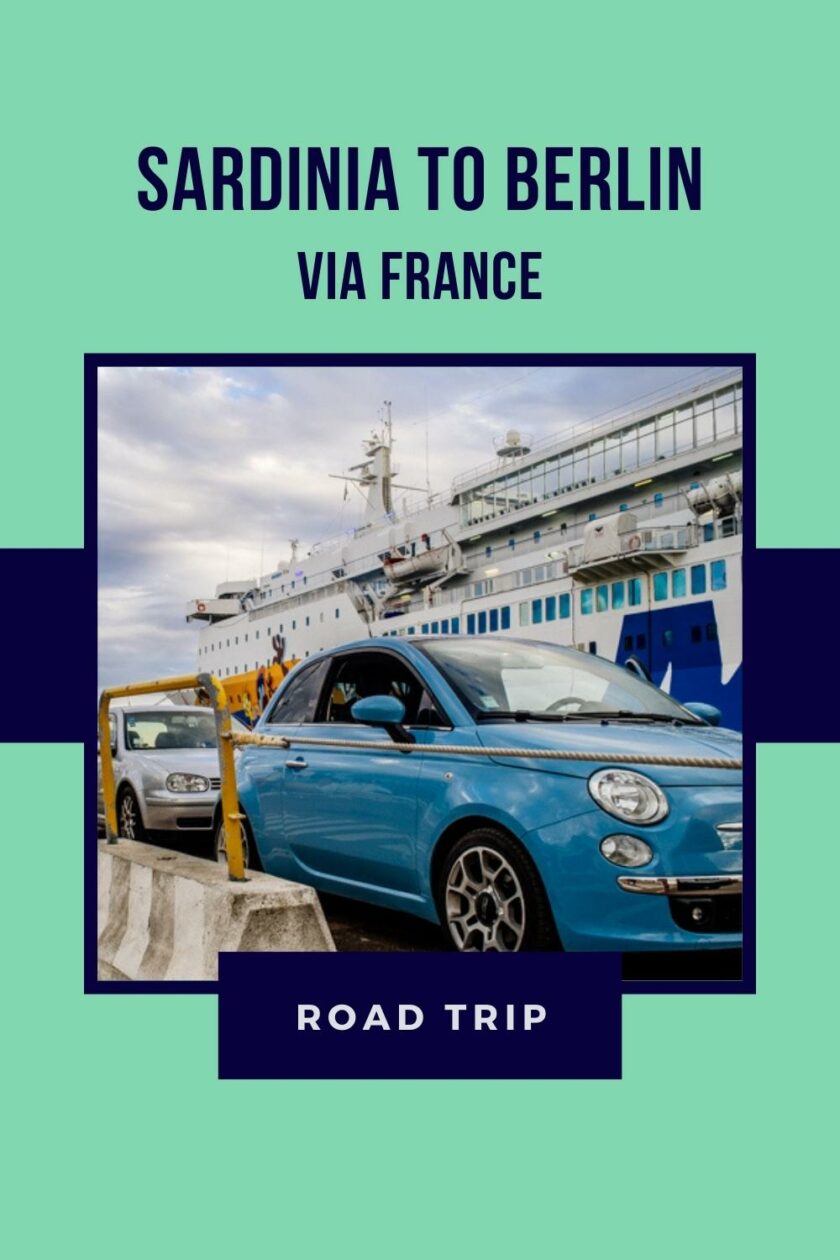 Sardinia definitely sits in the amazing destination category but I'm not sure I'll ever get the chance to return.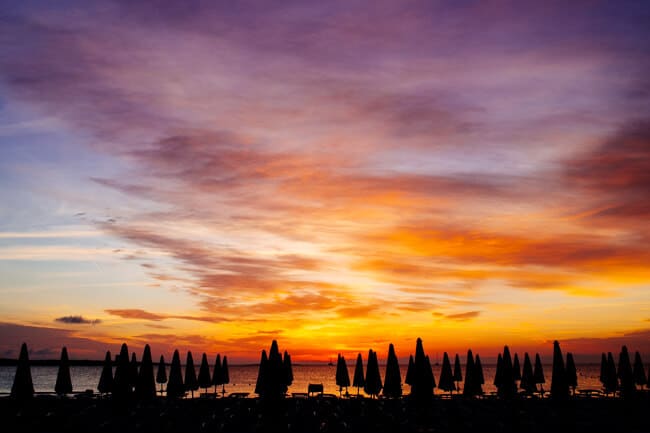 In the end, after three weeks in Sardinia, I was itching to get back to mainland Europe and city life. With the help of my lovely followers, who voted for each day's destination, I got to visit some incredible cities on a road trip from Sardinia, through France and finally to Berlin, Germany.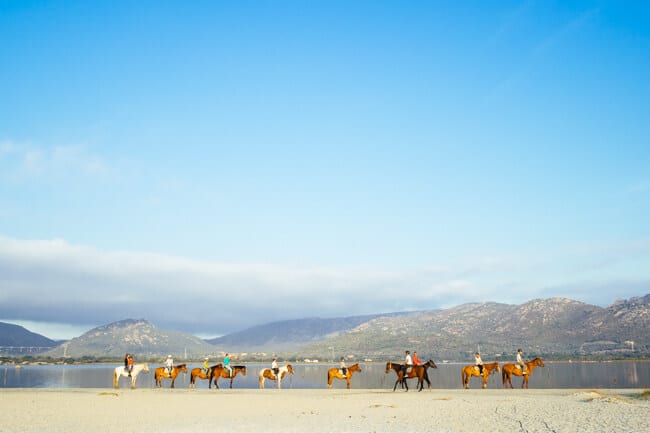 After a leisurely swim at La Pelosa and a short drive through a very industrial part of Sardinia we arrived well in advance for the ferry. Seventeen hours from Porto Torres to Marseille in France sounded painful but I was looking forward to lunch in Le Panier, Marseille's oldest district.
Sardinia to Berlin Road Trip
It was a few hours before the ticketing office opened which was followed by a mad scramble to buy tickets. I rolled my eyes at the Frenchies who still don't know how to or refuse to queue and waited for my turn.
I was informed with a smile that there was only one place left on the entire ferry. That's not what you want to hear when there are two of you.
Plan B
Returning to the beach was tempting but instead, I drove 90 minutes to the other side of the island, waited 7 hours then got on the ferry to Genoa.
Travel tip: Buy your Sardinia ferry tickets in advance, even in the off season.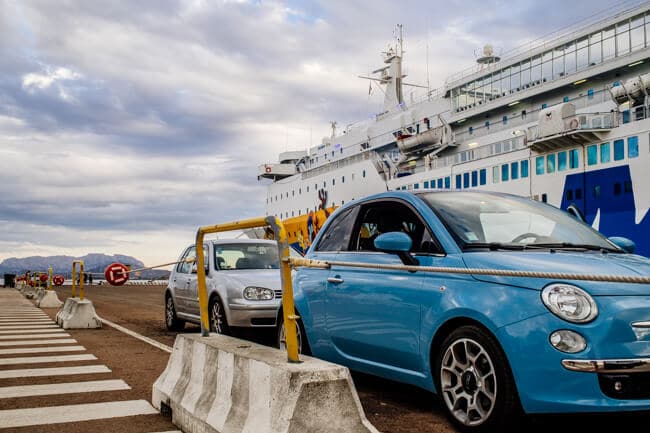 Lyon vs Annecy
Lyon won out in the Facebook vote and instead of having a quick drive from Marseille, it was a much longer drive through the Italian Alps.
I lost count of how many tunnels I drove through but in good weather, this would be a stunning drive.
Travel fail number two hit as I approached Lyon. Booking.com told me the city was 97% booked. While I do advocate winging it while travelling, it's not the first time a lack of planning has come back to haunt me and it's incredibly annoying.
I found an awful budget hotel outside of Lyon and spent the evening planning my meals for the next day. The thought of fresh out of the oven pain au chocolate with a chocolat viennois is what got me through the night.
The next morning Annecy (not Lyon) fulfilled my dreams and after a delicious breakfast and a slice of nutty praluline it was on to Colmar.
Colmar vs Freiburg
Window displays brimming with crunchy handmade bread was the first hint of what was to come. I could smell the pungent sausage and cheese as I approached.
Then I was lured in by the promise of free wine.
A few sips of Pinot gris, Muscat, sparkling Crémant d'Alsace and I can't remember what else.
I do remember leaving with half a dozen bottles of Alsatian goodness, a round of the local Munster cheese and a couple of warm, salty pretzels.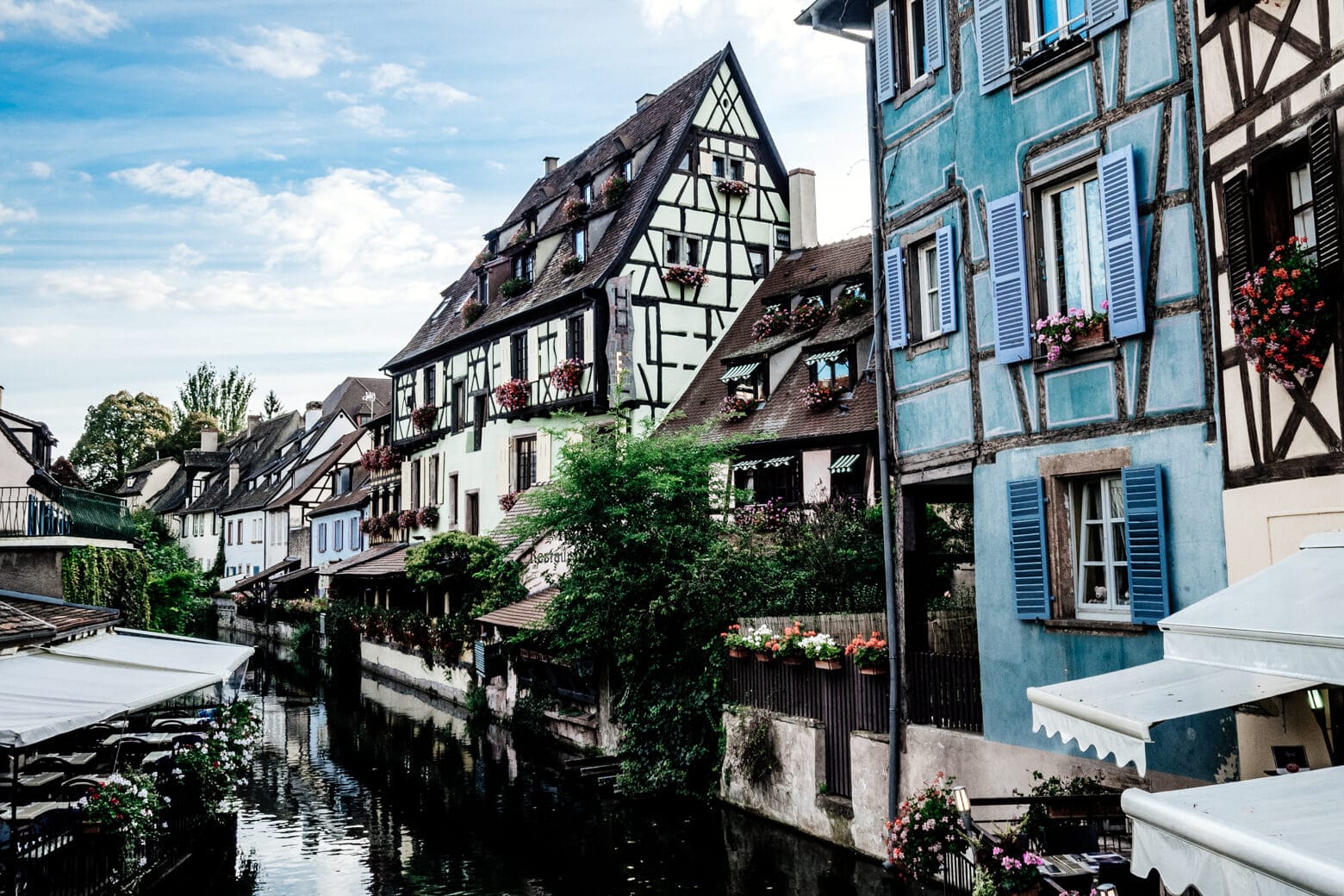 Every tourist wandering around Colmar had a massive smile on their face and I was one of them.
The rows of timber-framed houses built right on the flower-lined canals are reminiscent of neighbouring Strasbourg as well as Bruges in Belgium.
But Colmar is more compact and more enchanting.
It's easily one of the most beautiful and perfectly preserved medieval towns in France.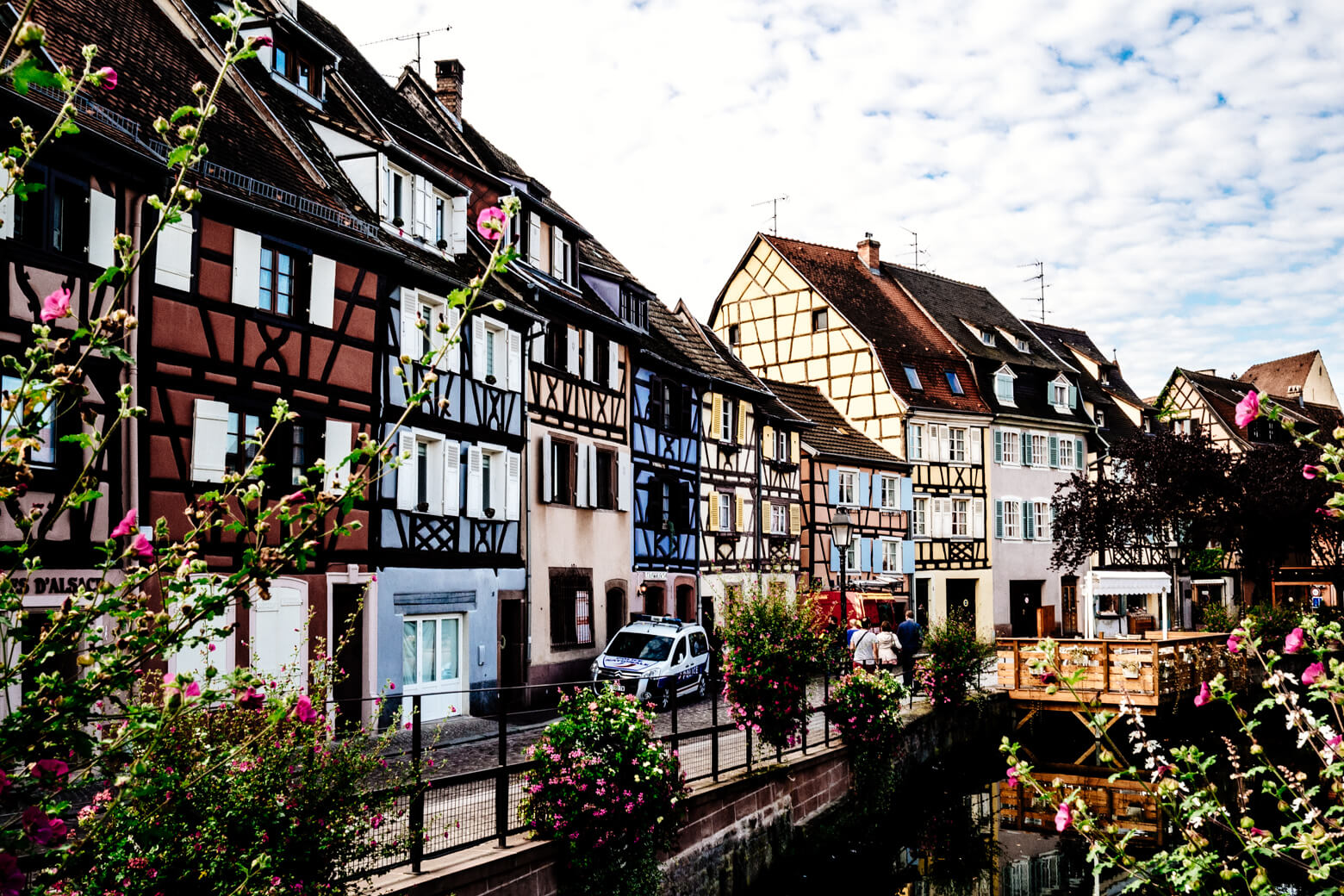 After listening to a Frenchman of German and Italian origin tell me France is too lenient with its immigration policy, it was time to head out for lunch.
Walking down the street I was stopped by a couple of Frenchies admiring my camera. They had both just returned from separate trips to Australia. One had spent time in my hometown of Perth while the other was involved in the hippy communities in Byron Bay and Tasmania.
In 20 minutes we managed to chat about photography, travel, the deliciousness of French bread, cheese and what matters in life (bread and cheese). It's always great to randomly cross paths will fellow travellers and like-minded people. Travelling without a plan sometimes pays off.
Strasbourg vs Luxembourg
Luxembourg was never going to win against Strasbourg. Poor Luxembourg failed to receive any votes and even got an 'it's boring' comment. I don't think it's that bad. Built on top of a gorge, the scenery is unique and it has cool looking guards protecting the palace. I wouldn't call it boring.
After staying in so many slightly terrifying budget hotels since Sardinia, it was time to recover with a stay at the Sofitel in Strasbourg. They have the most amazing hotel beds that you sink into and never want to leave. Plus they do an awesome omelette.
Strasbourg is a gorgeous city, I wasn't there just to relax in five-star luxury. I did go out for a little shopping and a walk around the romantic Petite France canal district.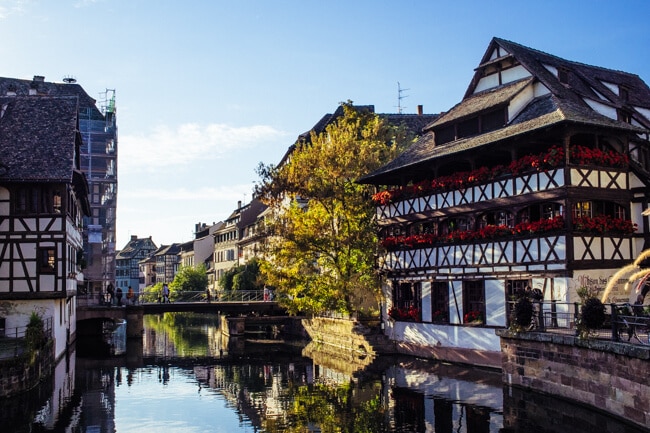 I was getting a little tired at this point so skipped a bunch of German towns and headed for Dresden, a city I adore and happily visit every year.
If you don't want to bypass all the great German towns along the way, follow this Northern Germany road trip or you could stop in Tuebingen, Bamburg or Nuremberg.
I feel so much history when walking around this city. Dresden was completely and unnecessarily bombed by the Allies at the end of WWII. The Old Town has since been rebuilt but many of the historic buildings were piles of rubble until the fall of the Wall. The beautiful Frauenkirche was only completed in 2005.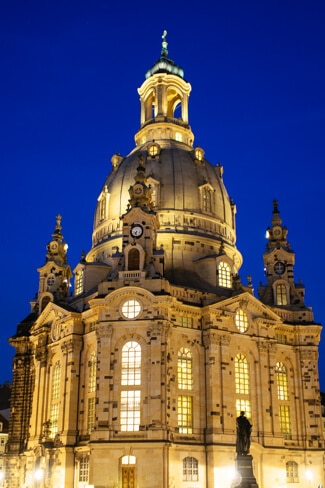 For an edgier side of Dresden, head across the river to the Neustadt where there are some cool cafes and restaurants and some interesting street art. It's also where you'll find the Molkerei dairy if you want to pick up some picnic supplies.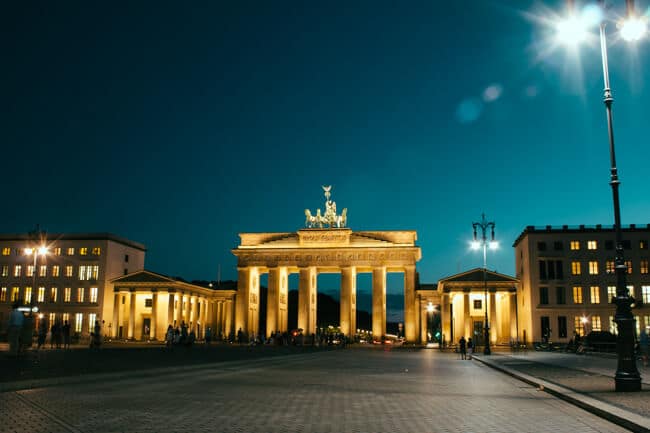 A couple of hours drive north and I made it to Berlin, the end of this road trip and my home for the next month or so. I've always loved it here and miss being in a big city with so much going on. I've already been to a Korean food festival and the Street Food Thursday event. I've found a gym I love and this week I'll be searching for some art house cinemas and a co-working place. If all goes to plan the house hunting will begin and I'll have a new home.
For more driving itinerary ideas, read our post on Europe road trips that covers a number of great itineraries across Europe.