If you purchase through links on this site, I may earn a commission at no extra cost to you. As an Amazon Associate I earn from qualifying purchases.
Against my night owl instincts, I awoke shortly after sunrise to fresh air and the murmur of small boats coming and going. The occasional splash of early morning swimmers, the smell of freshly brewed Turkish coffee, and the most idyllic view in the Balkans.
Ohrid's old town is lively but chilled. Narrow streets take you past original Ottoman period architecture as well as new builds constructed in the same style.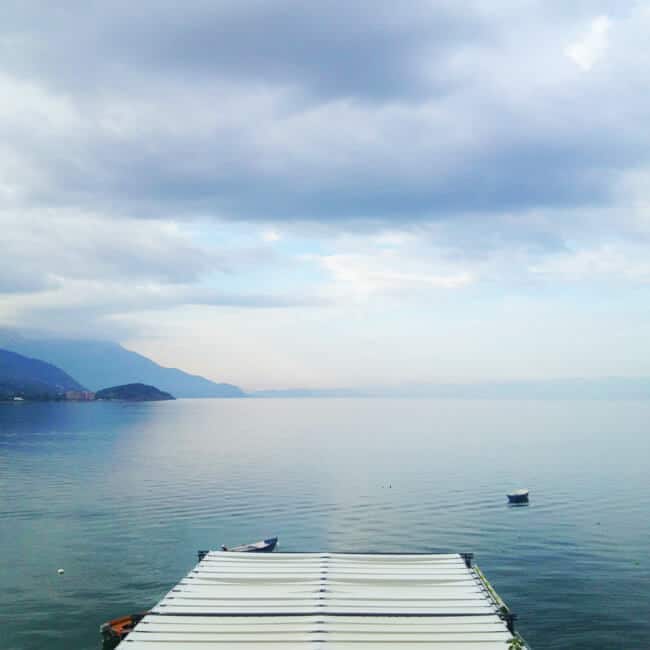 Away from the lake you can take a seat in an ancient Greek amphitheatre and make your way up to a 10th-century fortress. It's a pretty town with friendly people and typical Balkan cuisine which meat lovers will adore.
The town is nice but the lake is incredible. Walking back to the water, a well-beaten path takes you to the famous Church of St John at Kaneo. If you've seen photos of North Macedonia before, they'll most likely include a shot of this church with the lake and possibly a beautiful sunset in the backdrop. Everyone who's been to Ohrid has an almost identical shot but who cares, it's beautiful.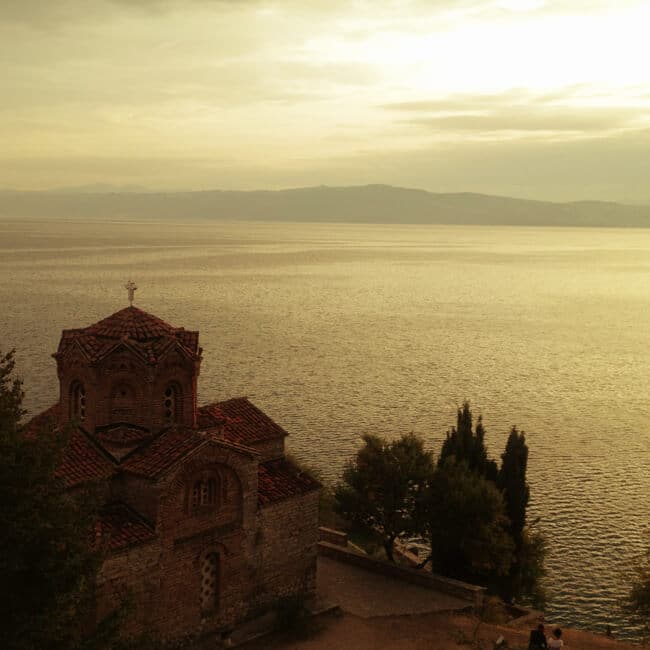 It's been a while since I've been to North Macedonia but while re-organising my photos I came across these from Ohrid, some of which I'd completely forgotten about. These are from back when I was shooting mostly with my iPhone 4S. It seems like a lifetime ago. I'd love to go back to North Macedonia, to Ohrid in particular, as well as exploring the Albanian side of the lake. But on this trip we drove south, stopping at the unique sights along the North Macedonian side of Lake Ohrid.
The Bay of the Bones is a kind of faux prehistoric village. It reminds a little of the faux villages I was taken to when touring Morocco, a bizarre, contrived look back in time. But this is a legit archeological and prehistoric site, a reconstruction from the Bronze age of what was once an 8,500 sqm settlement. The history is interesting but I wouldn't miss stopping here for the perfectly clear water in jade and emerald hues.
Continuing past the Bay of the Bones, a massive graffiti-covered bunker will eventually come into view on your right. It's a fun stop for a photo op, both of the quirky bunker and the lake in the distance. With one person pulling me and another pushing from below I tried my best to climb onto the domed top but to no avail. Hopefully, no embarrassing photos of that attempt will ever surface.
Thirty kilometres from Ohrid and directly on the North Macedonian/Albanian border is the lakeside Bulgarian Empire era St Naum monastery. The monastery is one of the most popular sights in North Macedonia which is why you'll find more tourists here than elsewhere on the lake. Even so, that still equates to few tourists in the off-season and serene views over the water.
If you're planning a trip to Ohrid and are ready to book a stay, our guide to the best hotels in Ohrid can help you find a peaceful spot by the lake.
I mentioned the experience of walking over the border or driving to the Albanian side of Lake Ohrid on my North Macedonia road trip post. You can read the details of the border crossing and what to see on the other side.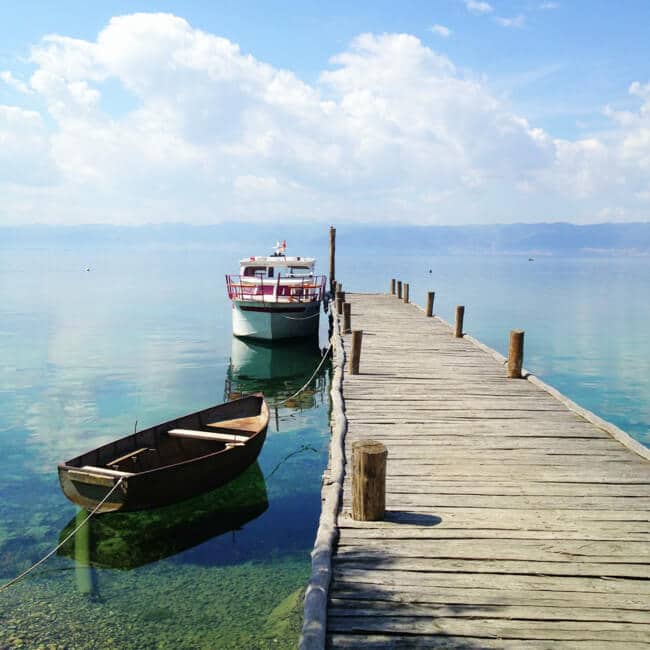 I was once asked how Lake Ohrid compares to somewhere more popular like Lake Como in Italy. Both lakes are equally beautiful but Ohrid outshines Como in every other way. Ohrid has relatively few tourists, is significantly less developed, a quarter the price, and unlike Lake Como, there is virtually no air pollution. It's rare to come across such a tranquil destination in the Balkans.