London to Brighton is an easy day trip, just hop on the motorway and you'll be at the beach in an hour and a half or even less time if you take the train. There aren't many sunny days in that part of the world but if you get lucky the sun will shine and you can walk along Bright Pier and eat fish and chips by the beach.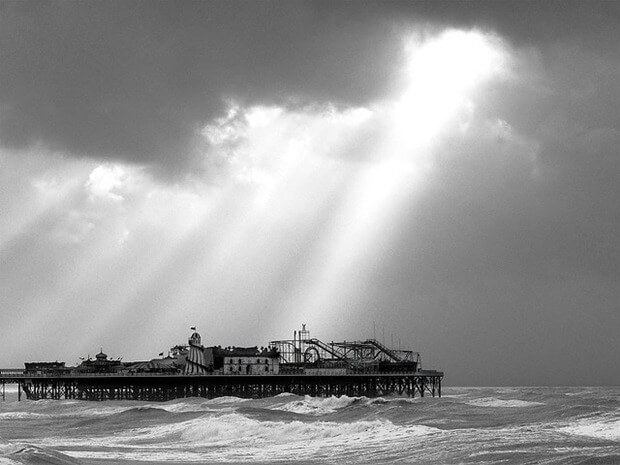 Photo credit: -RobW-
Here are my tips for things to do on a day trip to Brighton.
Visit the Royal Pavilion
I always thought the Royal Pavilion was a weird building to have by the seaside. It doesn't seem to belong there but it's the most photographed building in Brighton and one of the most interesting to visit. It's £10.00 to go in and see the royal works of art and furniture or you can admire it from the outside for free! The best thing about a visit here is stopping by the Royal Pavilion Tearoom for a very English afternoon tea. Either go savoury and order the cucumber sandwiches or if you prefer the sweets I'd recommend the Victorian sponge cake.
Go Shopping in North Laine
North Laine is the bohemian quarter in Brighton and this is the place to find fun and quirky fashion and homewares. I love the little boutique stores you find here. You can find original designs which you won't find elsewhere, not even in London. North Laine is also a great place to stop for coffee and a little people watching but if you're looking to have a drink or two then you might prefer to head to one of these locations.
Eat Fish and Chips on Brighton Pier
Sure, there are plenty of cool restaurants around the city but why not go for the kitschy fish and chips on the pier. If you're only there for one day you may as well take it easy and indulge in a classic English meal. The Palm Court Restaurant is Brighton Pier's most famous fish and chip shop where you can eat-in or order takeaway and eat on the beach. You might also want to pick up some whelks from the Shell Fish Kiosk which is another local specialty.
Brighton in Winter
The ideal time to visit Brighton Beach is in spring or summer but there is plenty to do in winter also. Simon has a great post on the charm of Brighton in winter which I suggest reading before any day trip to Brighton.
There are plenty of other things to do in Brighton but this is enough to get you started. What would you recommend doing on a day trip from London to Brighton?
0