Stepping off Margaret Bridge, away from traffic and beaten up yellow trams, you approach the serenity of Margaret Island (Magritsziget).
I knew the island as a runners' paradise with its well trodden running track which circles the island. What I didn't know is that Margaret Island is huge. There's more to it than green fields and soaring trees.
There are medieval ruins, an open air theatre, sports facilities, a beach, swimming pools, hot springs, a Japanese garden, musical fountain, and apparently a number of popular nightclubs. I had no idea.
On a weekday morning there'll most likely only be you and a few dog walkers. It's easy to find solitude and quiet, something that's missing across the Danube in Pest.
In November, the colourful autumn leaves are piling up. In a few more weeks the trees will be completely bare, ready for Budapest's cold winter.
Walking through the centre of the island, you'll cross our medieval past in the ruins of a Franciscan priory and Dominican nunnery. You're free to walk amongst the ruins where Princess Margaret is buried, the islands namesake and daughter of 13th century King Bela IV.
Below the early 20th century water tower is an open air theatre and occasional cinema. There's not much going on in the off-season but it's popular with locals on summer weekends.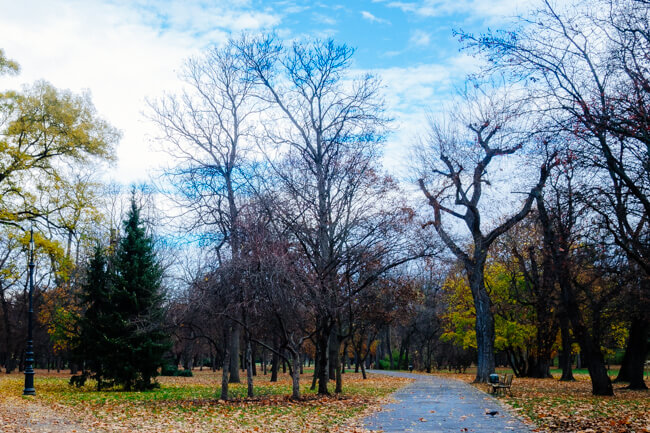 Like much of Budapest, hot springs run under the island. You can take advantage of the thermal water with a stay at one of the island's spa hotels. One is a turn of the century spa built for the aristocracy, the other built during the communist era. One guess which spa this photo belongs to.
Under the Japanese maple trees, is a koi filled pond and Japanese style garden. It's one of the more popular spots on Margaret Island. You can watch squirrels climbing trees and the koi swimming with a family of friendly turtles.
It's an unexpected end to a walk which takes in the length of the island and finishes at Arpad Bridge.
A visit to Margaret Island is one of my favourite free things to do in Budapest. To find out more, read my detailed city guide, painstakingly researched when I was living in Budapest. If you're planning a short trip or longer stay, find out where to stay in Budapest and the best neighbourhoods.
Pin this Post to Your Favourite Travel Board