If you purchase through links on this site, I may earn a commission at no extra cost to you. As an Amazon Associate I earn from qualifying purchases.
Don't cut off your nose to spite your face. I've never really liked that saying, it seems so old fashioned (as many sayings are I suppose) but it does apply in the case of Dubrovnik.
To go to Croatia and skip Dubrovnik doesn't make sense to me. But I've heard of visitors avoiding the city due to overcrowding. I have a terrible aversion to crowds and massively touristy destinations but that would never stop me from visiting, places are popular for a reason after all.
Dubrovnik's popularity stems from its sheer natural beauty. Perched overlooking the Adriatic Sea in southern Croatia, it has the crystal clear water Croatia is famous for, almost year round cloudless skies, peaceful nearby islands and of course the beautiful stone walled city.
But then there are the crowds.
Not only does Dubrovnik draw crowds as Croatia's most famous tourist destination, the bigger problem comes from the cruise ship day trippers. A typical summer day sees a traffic jam of huge cruise ship liners and smaller vessels blocking the sea around the port and out towards Lokrum Island.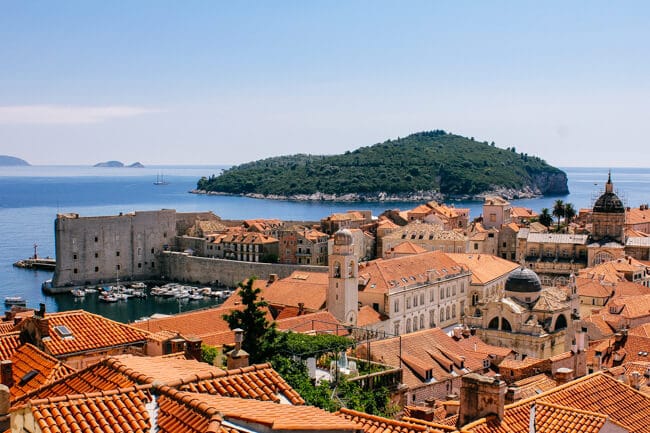 But then there's those stunning city walls.
The 2km walk around the city walls is what Dubrovnik's all about. It's the chance to admire the architecture, the mountains, the sea and the islands in the distance. To not walk the city walls would be a huge regret for me.
But then there's the wall of people everywhere you go.
I hate people as much as the next person but what are you going to do? They aren't going away.
But then there's the churches, monasteries, synagogues and museums.
Dubrovnik has a long and fascinating history spanning at least 1300 years. Some of the more interesting periods are back when it was Venice's main rival, followed by the Habsburg era, Yugoslav rule and then the siege of Dubrovnik in 1991.
But then there's the crowded churches, monasteries, synagogues and museums.
Queuing up to visit attractions is annoying.
But then there's the delicious food.
Seafood is the star throughout Croatia or go for the tasty grilled meats and Italian influenced dishes.
But then there's the overpriced food.
Well, yeah. The service can be a challenge too.
Anyway, you get the idea. Yes, Dubrovnik is crowded and often overpriced but it's countered by the outright amazingness of the city.
At least there are easy solutions to the crowds.
Visit in the off season. I know that's not always possible and the weather might not be as warm but visiting in May, June or September will make your experience so much more enjoyable.
Stay overnight in Dubrovnik to avoid the day trippers. Visiting the old town in the early morning or late evening is like visiting a different city.
Avoid eating in the old town unless you have a trusted local's recommendation. Try the restaurants in Cavtat instead, just south of Dubrovnik.
Ditch the midday crowds by visiting one of the nearby islands. Lokrum, Mljet, Korcula and the Elaphiti Islands are all gorgeous, although they can get busy too.
Even better, escape Croatia with day trips to Mostar in Bosnia and Herzegovina or Kotor, Perast or Budva (also super touristy) in Montenegro.
So is it worth fighting the crowds to visit Dubrovnik? Of course I'm going to say yes. I love Dubrovnik and plan to make my third visit later this year (in the off season). Update: You can see the photos from all my trips to Dubrovnik over the years. I still love and hate it but these days I'm swaying more towards loving it. Next time I'm going to visit Dubrovnik for New Year's Eve and their winter festival.