If you purchase through links on this site, I may earn a commission at no extra cost to you. As an Amazon Associate I earn from qualifying purchases.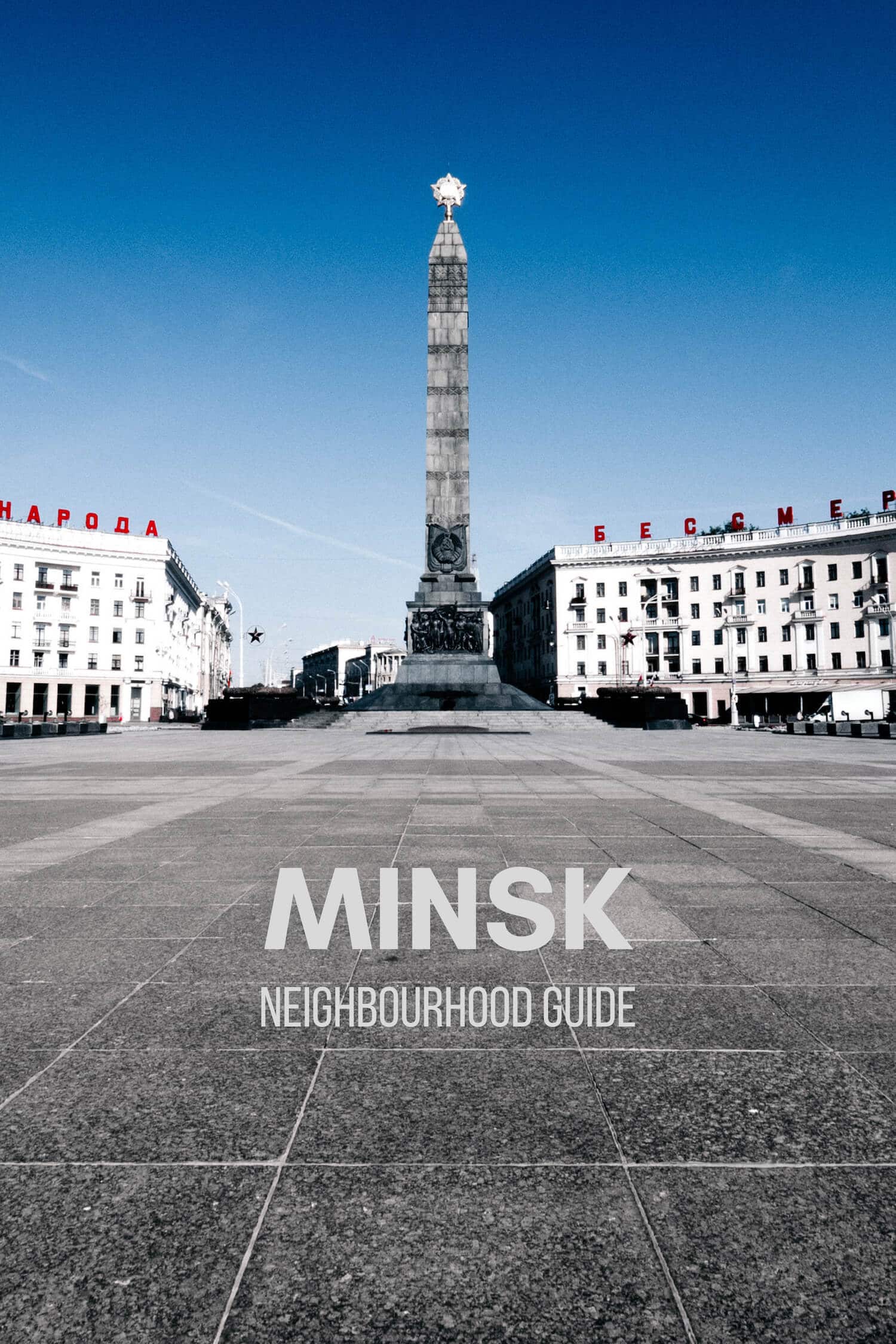 Minsk is a huge city. The population is around two million but by huge I mean spread out. Even though many of the city's sights are along the main street, Independence Avenue, there are many more sights scattered around the city.
Minsk is not a walking city, you'll need to take the metro or an Uber to get around and having an understanding of Minsk's neighbourhoods will help you plan your trip and decide where to stay.
Much of Minsk was destroyed during the war and rebuilt in typical Soviet era Stalinist style. Post war city planning lead to a city with a mixture of grand government buildings, impressive theatres and halls, low-rise apartment blocks, open green spaces and the occasional Lenin statue.
I'm sure you'll want to see all these things but you might want to stay in a neighbourhood that resonates with your lifestyle and travel style.
In short, you'll probably want to stay in one of these neighbourhoods:
Central Minsk – Tsentralny District
Upper Town – Vierchni Horad
Trinity Hill District
Minsk Railway Station – Oktyabrsky District
Hipster Neighbourhood – Leninsky District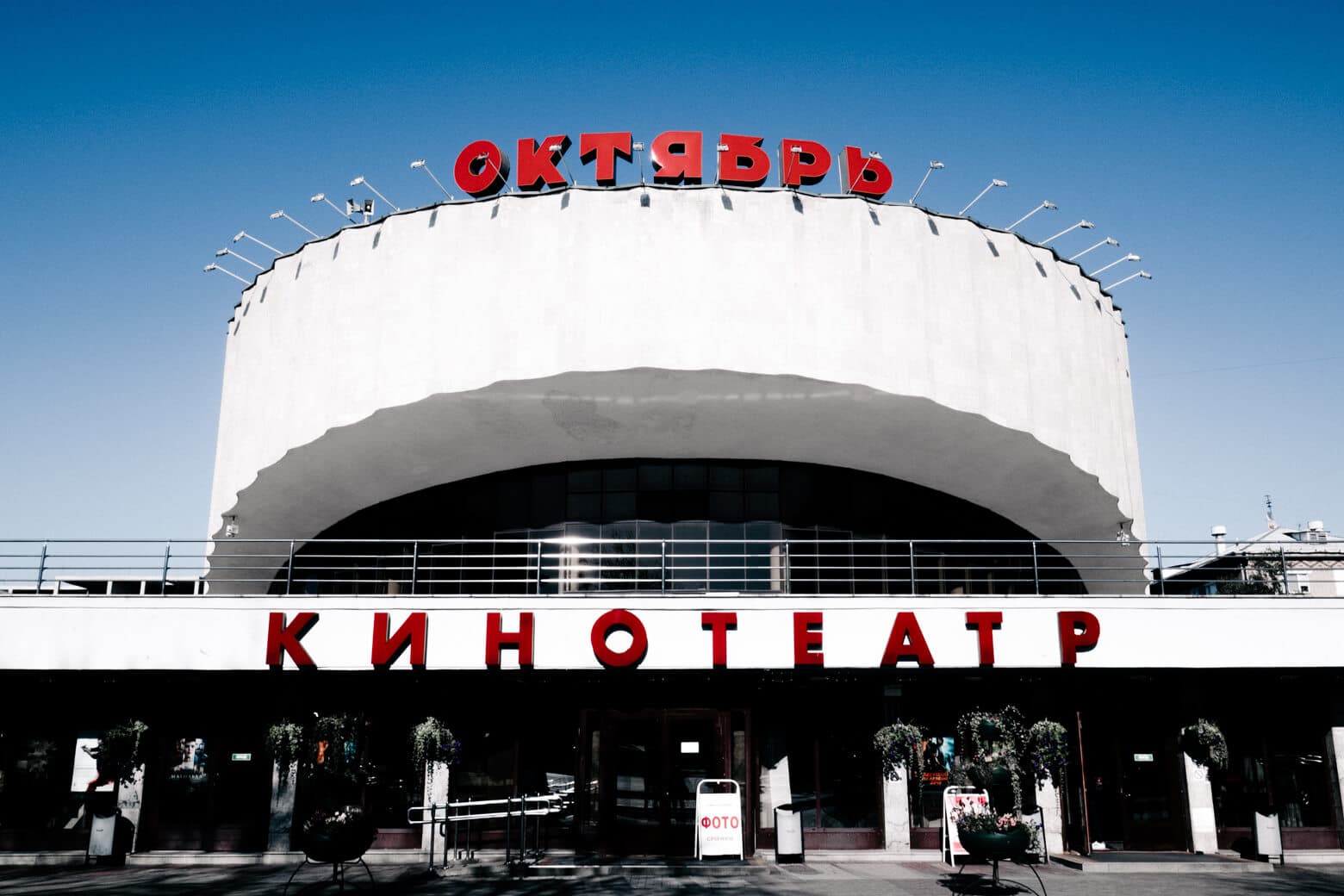 I booked a last-minute trip to Minsk, back when the visa-free stay was limited to five days. I didn't have a lot of time to plan, otherwise, I probably would have gone with an apartment. I was also a bit concerned about staying in an apartment as I read you needed to show your hotel booking to immigration at the airport. I thought staying in a hotel would be quicker and easier but when I arrived, no one asked me about accommodation.
The Belarusian government is now relaxing their visa situation even more, allowing visitors via Minsk 30-days visa-free and visitors via certain other borders, 10-days without a visa. Booking a hotel in advance isn't even a requirement now, although I strongly suggest you do. Read the visa requirements here as they change all the time.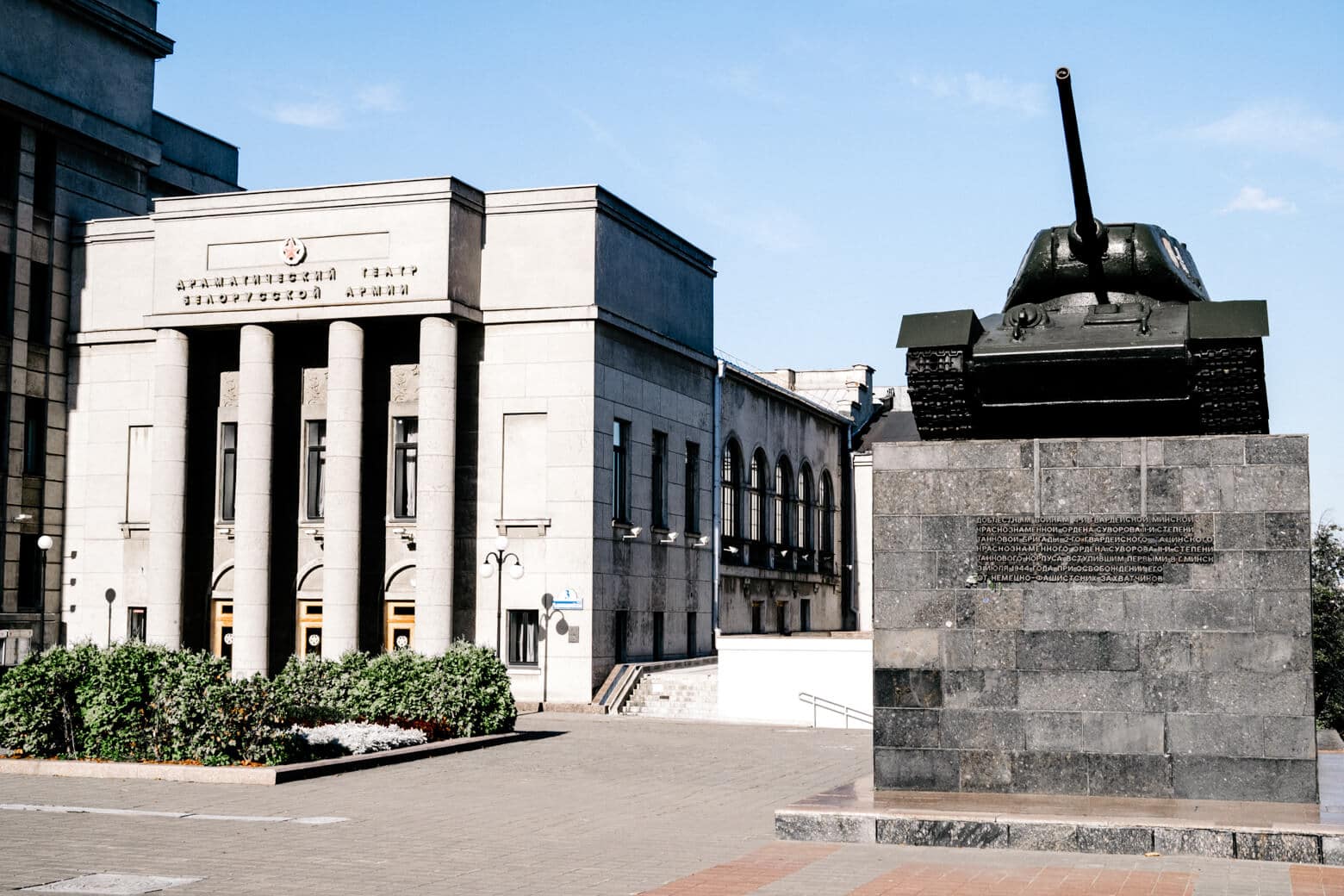 Where to Stay in Minsk
If you aren't too concerned about neighbourhoods and simply want to book a hotel without thinking too much about it, here is a summary of where to stay in Minsk. If you want to get an idea of what to expect in the different neighbourhoods before booking, then keep reading.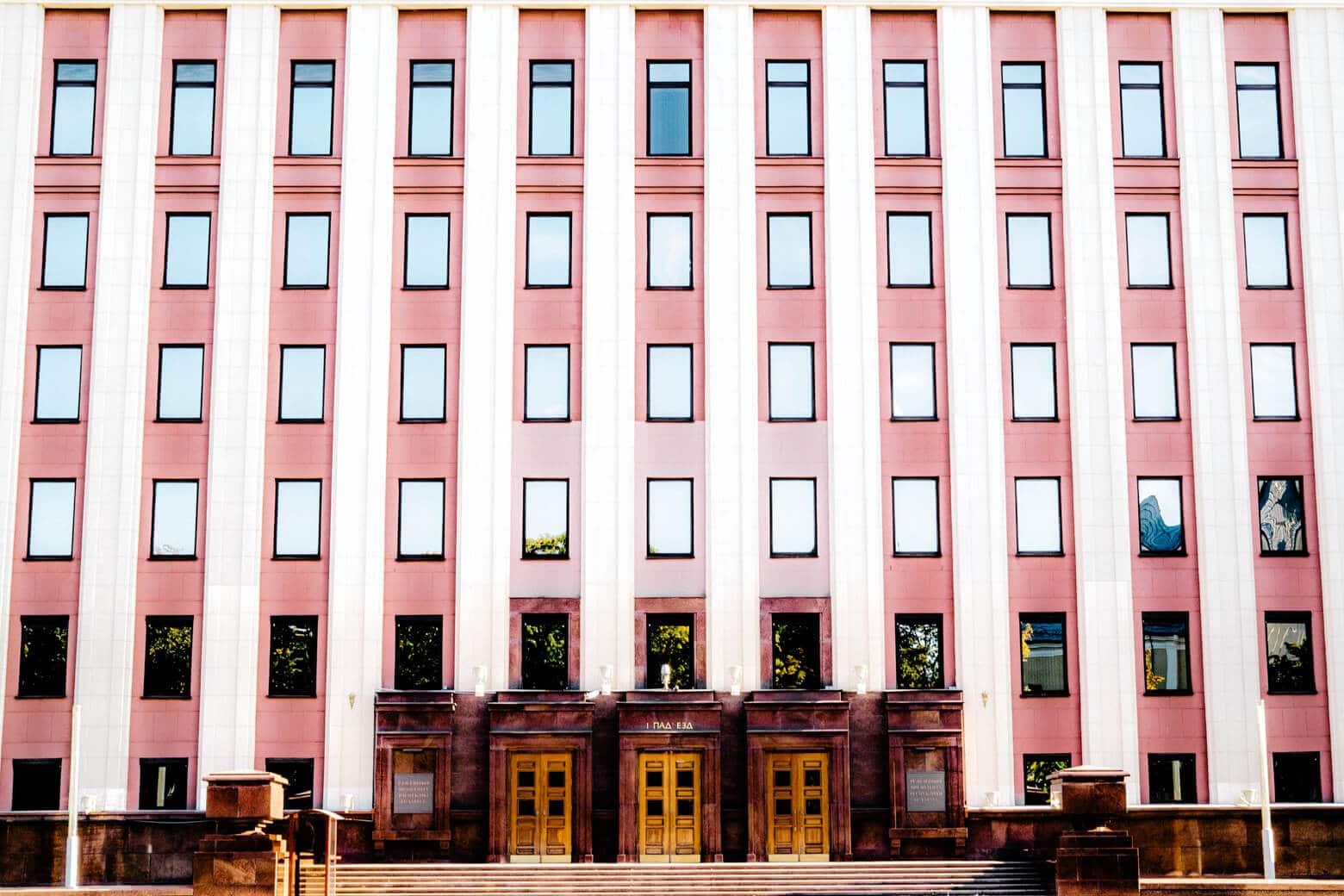 Minsk Districts and Neighbourhoods
I've only included the inner city sections of Minsk's districts in this guide. It's unlikely you'll spend much time past the first two ring roads with the exception of the National Library and a couple of other sights along Independence Avenue.
Central Minsk – Tsentralny District
The heart of Minsk and many of its sights span Independence Avenue, the main thoroughfare from the train station all the way to the National Library. The city centre includes the streets towards Trinity Hill and in the other direction towards Gorky Park. You can spend hours walking the long avenue with its Stalinist architecture, grand squares and the Lenin Monument.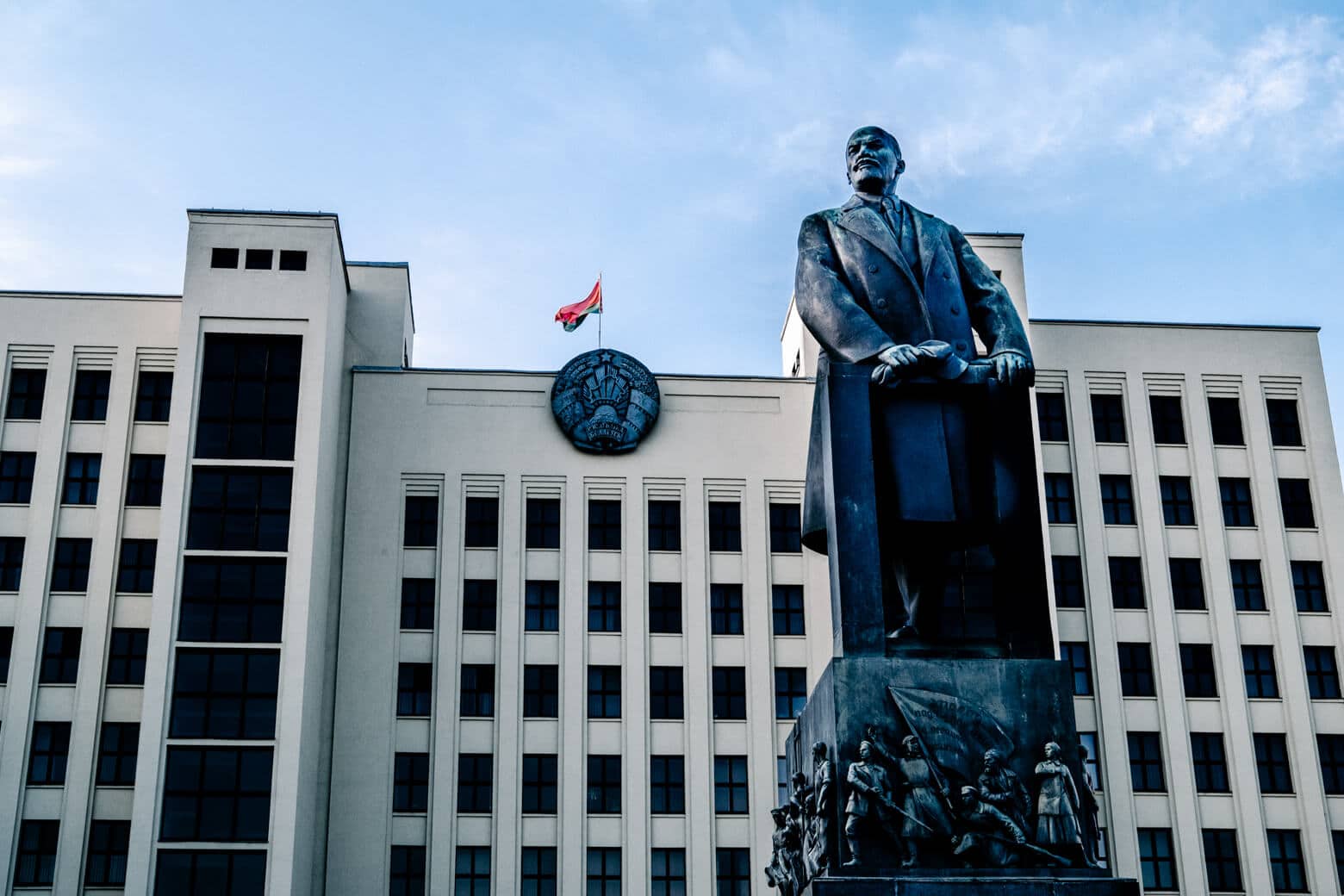 Closer to the train station you have Lenin Square and the red brick St Simon and St Helena Church. Further along are theatres and museums or take a step back in time with a visit to the Gum department store. On the way to Gorky Park, stop by the Tank Monument then continue to the Victory Monument at the massive square. Even Lee Harvey Oswald used to live in this neighbourhood, you can see his old apartment on vulica Kamunistycnaja (Communist Street). The BBC has an interesting article about Oswald's time in Minsk.
There is so much to keep you busy central Minsk so of course it's a great neighbourhood to stay in. The area is packed with hotels and apartments and two busy metro stations to take you elsewhere in Minsk; Oktyabr'skaya and Lenin Square.
Accommodation in Central Minsk:
Remarka Apartment – you really can't beat the location, style and value for money with this apartment. This is my pick for when I return to Minsk.
DoubleTree by Hilton – Minsk's best hotel, a relatively inexpensive 5-star hotel, perfect if you want the standard and comfort of Western Europe.
Upper Town – Vierchni Horad
Within central Minsk is the Upper Town (Vierchni Horad). This is another area I'd recommend staying in as you have so many great cafes, restaurants and bars at your door as well as many museums and monuments. Right on the border of this district, near metro station Nemiga, is the famous Soviet workers' monument above the KFC fast-food chain, an interesting juxtaposition between East and West.
If you're looking for somewhere for a morning coffee and croissant, Stories is a cute little friendly cafe with specialty coffee and a huge variety of croissants. For a classic Belarusian cafe, don't miss the Grand Cafe, it's a beautiful, historic cafe and restaurant with five-star service. Go for afternoon cake and cocktails if you can, it's a fantastic old school experience, like being in a classic cafe in the centre of Paris.
Hotels in the Upper Town:
Garni Hotel – The Garni is the budget choice in the Upper Town neighbourhood. The location is unbeatable if you don't mind the 'interesting' decor.
Europe Hotel – If you prefer something a little fancier in this area, the Europe Hotel is a good option but not at the same level as the DoubleTree.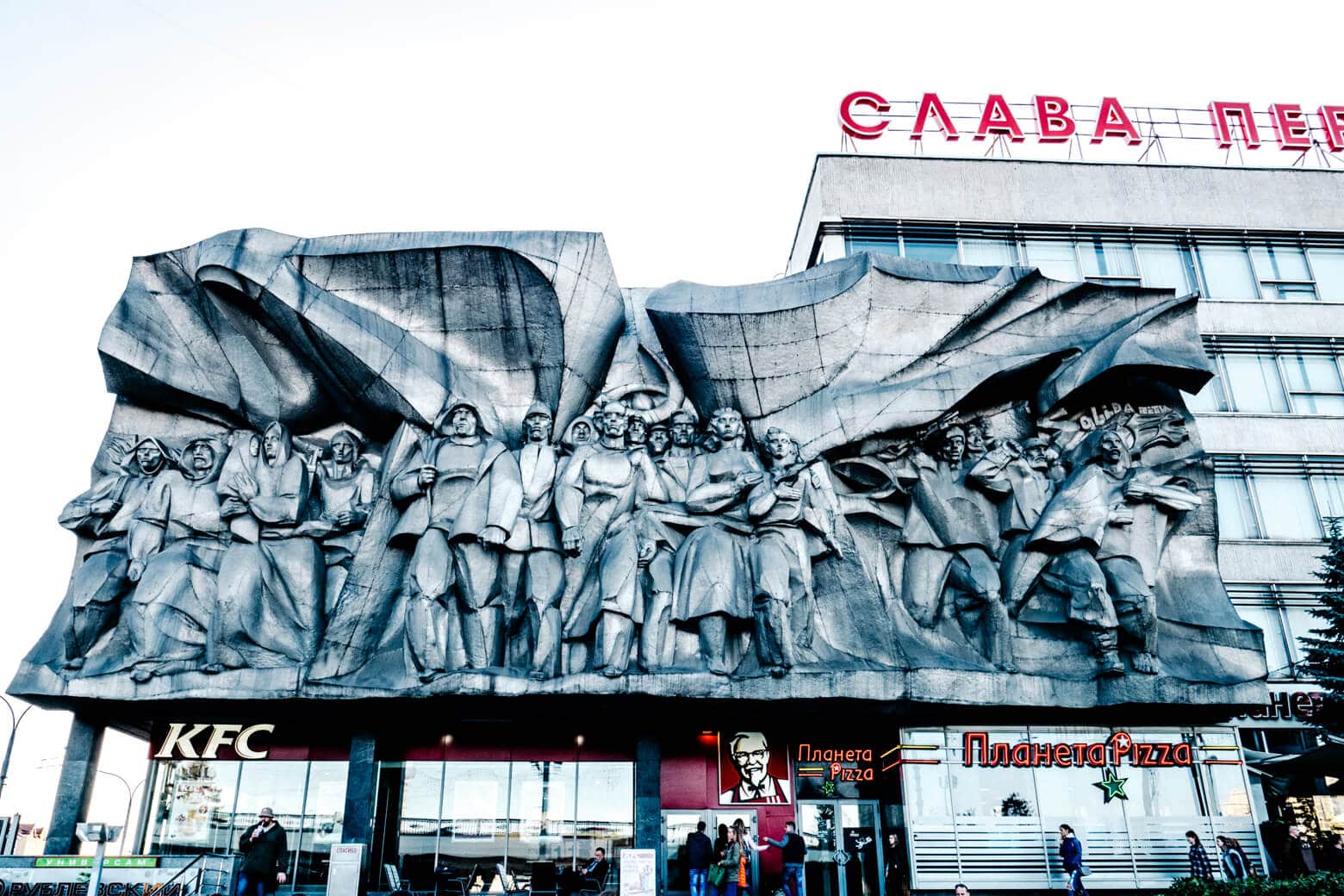 Trinity Hill District
Not all of Minsk was destroyed during the war. Trinity Hill is the oldest surviving district and an area with pretty, historic pre-war architecture, museums and monuments. The Island of Tears memorial is here too, on a little isle that juts out into the Svislach River. The modern building that looks like a tiered wedding cake is the National Bolshoi Opera. It's worth seeing an opera or ballet where the cheap seats start at €2.
The two best hotels in this area:
Belarus Hotel – The Belarus Hotel is a great budget hotel near Trinity Hill. It's a high-rise, very Soviet looking hotel with great views over all of Minsk.
DoubleTree – If you prefer something more high-end and modern, the Doubletree is just across the river from Trinity Hill and the Isle of Tears.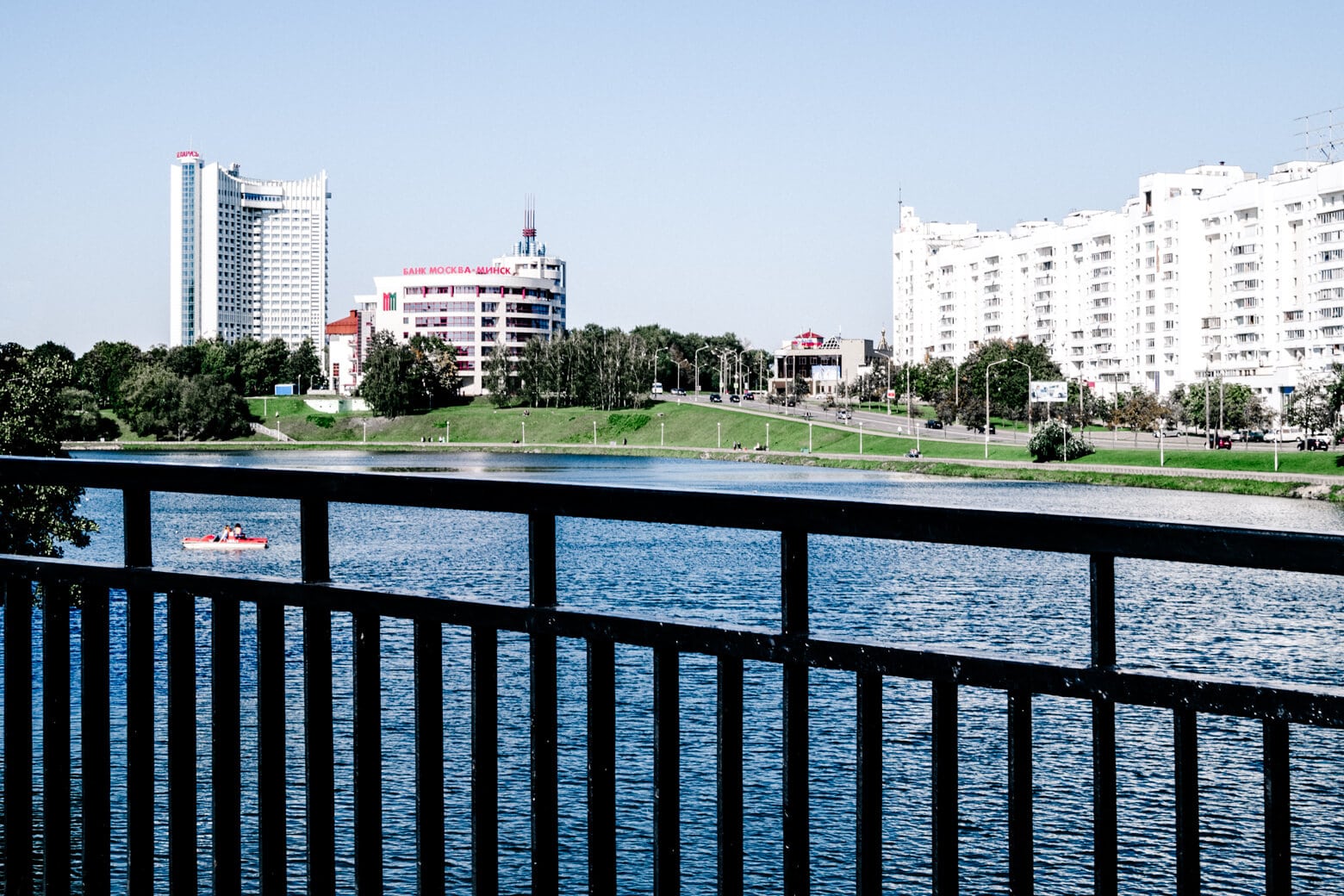 Minsk Railway Station – Oktyabrsky District
One of the most convenient yet least interesting neighbourhoods in Minsk is around the central train station. This is kind of at the 'end' of the city as far as tourism goes, with most of the sights 1-2 km north of here along Independence Avenue (Prospekt Nezavisimosti).
This is where I stayed in Minsk. I didn't mind being at this end of town but I would probably choose an apartment on my next visit. Seeing as you will probably be taking the metro on most days, it's a convenient location with the station at your door. It's a busy area with a lot going on, perfect for people watching and the station itself is photogenic in a very Soviet way.
If you plan on taking a day trip from Minsk, a city tour or the train to another part of Belarus, you will do so from this station. You can get tourist information, change currency and there's a large supermarket for picking up groceries and unusual Belarusian snacks.
The most interesting architecture in the neighbourhood is the Gates of Minsk and there's decent specialty coffee down the road at Cafe 26 and the even better Why Knot which is 800m away.
Read my coffee guide if you're looking for the best coffee in Minsk and breakfast places.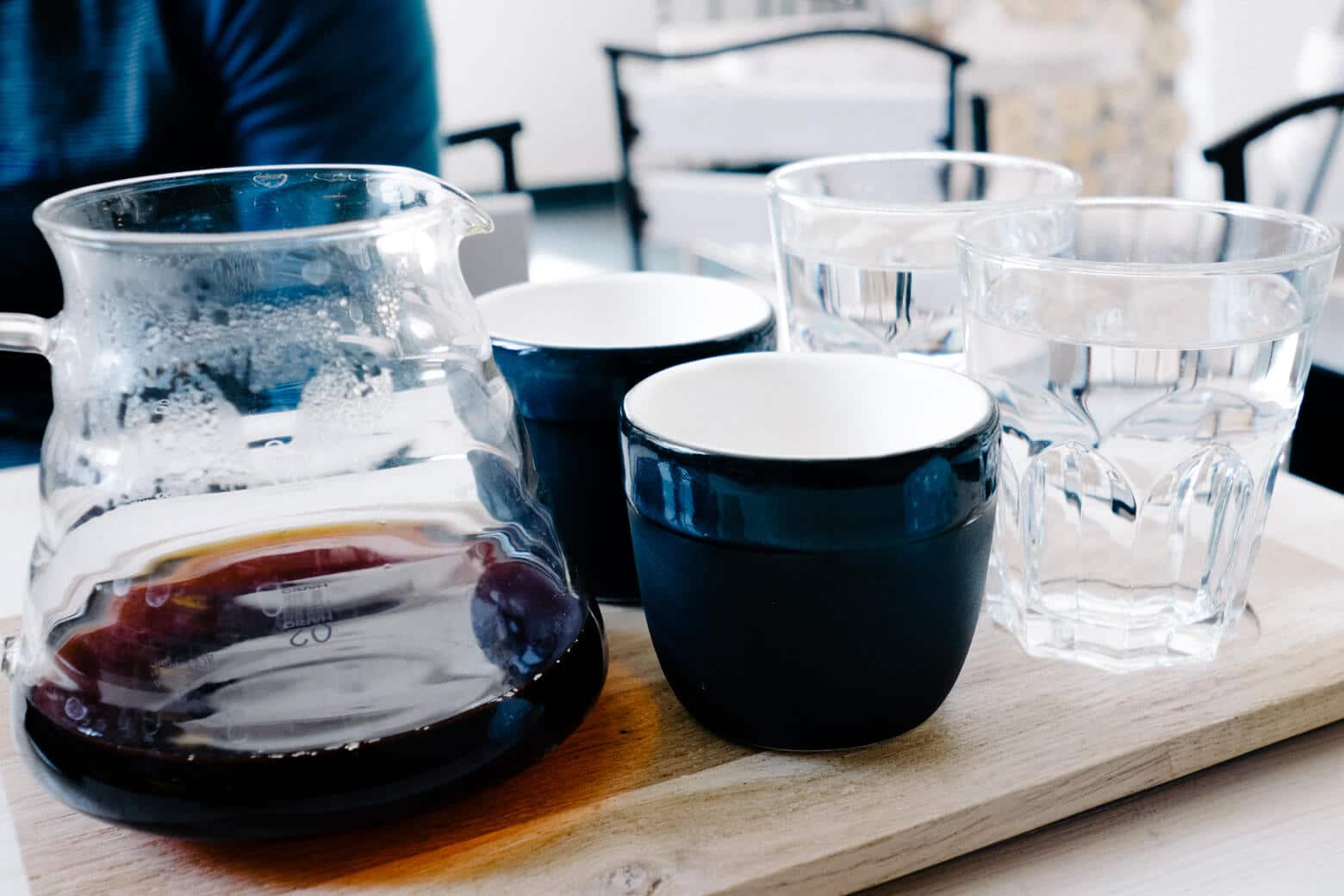 If you want a hotel near the train station, I stayed at the Hampton by Hilton. It's just behind the station in a quiet residential area. It's actually nice to walk around here to get a feel of what it's like to live in Minsk away from the hustle of the main thoroughfare. There are many other budget hotels in this area too.
Where I stayed: Hampton by Hilton.
The Hampton is a friendly hotel with large, clean and quiet rooms. It's what you might describe as a 'business hotel' so there isn't much character but it's budget friendly and a good reliable option. Breakfast is usually included and even though there was a huge buffet, it was some of the blandest food I've ever tasted in my life. I didn't eat there after the first day even though it was free. I had some delicious food in Minsk. This wasn't it.
Having said that, the standard is excellent for the price and way better than your typical budget hotel in Minsk. I recommend it if you want somewhere nice to come back to after a long day of sightseeing or want the convenience of the metro and shops.
Book the Hampton by Hilton Hotel.
If you're concerned about safety staying by the train station, don't worry about that at all. In most cities, I would think twice about staying near the station but Minsk is one of the safest capitals I've ever visited. There is low-crime, no visible homelessness and very little begging on the street. Even as a woman travelling solo, you don't need to be overly concerned about safety in Minsk.
Hipster Neighbourhood – Leninsky District
I found the small section of the Leninsky District surrounding vulica Kastrycnickaja to have the most hipster vibe in Minsk. It's an old industrial precinct that is being repurposed and redeveloped. Street art is everywhere here, including some huge murals covering the old factories and distillery. You'll find cultural event spaces, art galleries, interesting exhibitions and a seemingly out of place Lenin bust in the street. I went to a great burger joint here (with English speaking staff and vegetarian options) and you'll also find specialty coffee shops, bars and non-traditional restaurants.
Where to stay: If you want to stay where everything is going on in the Leninsky District, the Willing Hotel is your only option. It gets great reviews but the style doesn't fit the hipster neighbourhood. Otherwise, there are a few apartments in this area.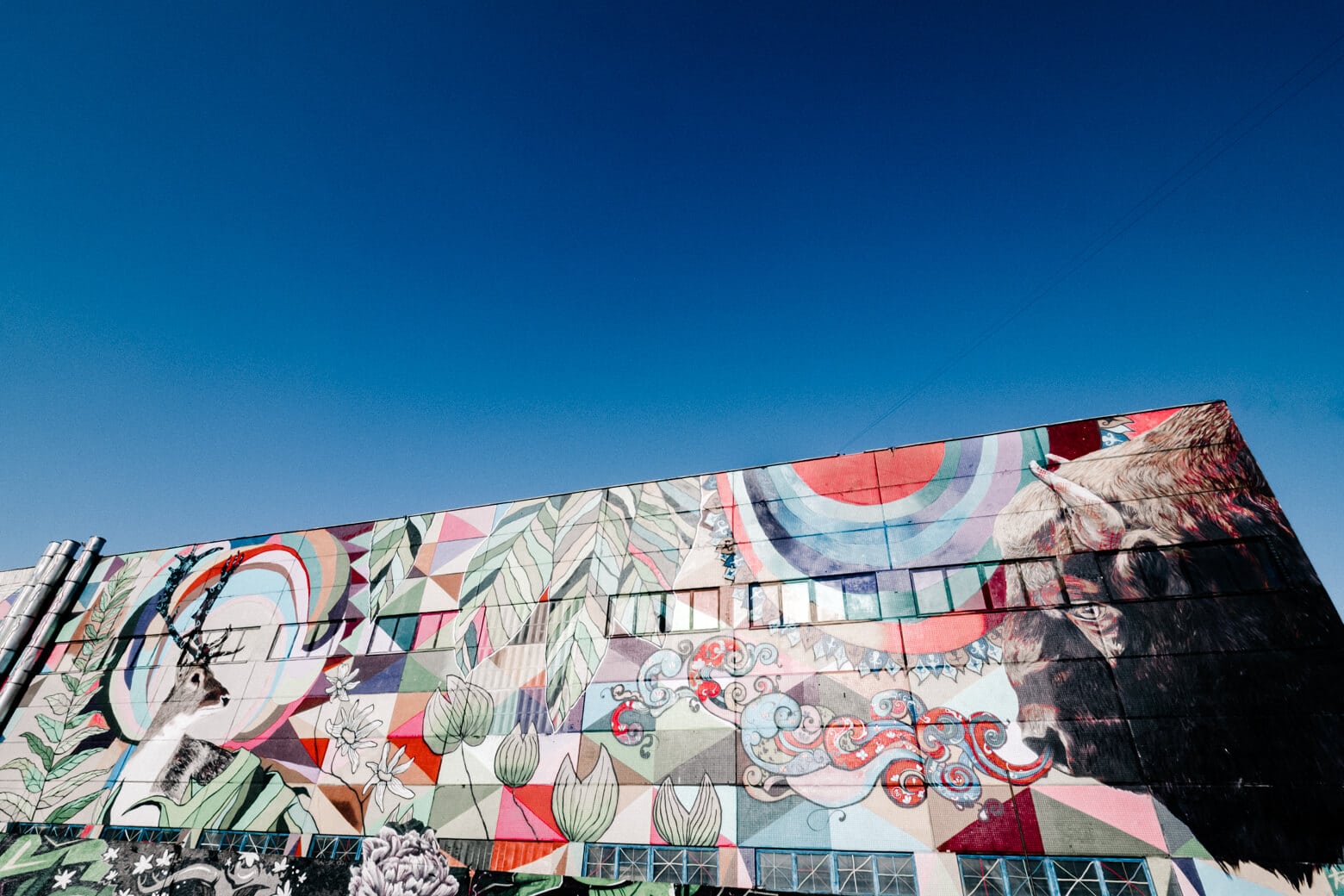 Apartments in Minsk
My biggest regret from my trip to Minsk was not meeting many locals. I found the language barrier extremely difficult to overcome and I felt like even those who spoke English were shy about doing so. That's fair enough of course, I'm sure most Belarusians have limited experience dealing with foreign, English speaking tourists. As the country continues to open up, I'm sure that will change but for now, staying in an apartment gives you at least one local contact. Most apartment hosts are very open and happy to talk. You can ask about things to do, where to eat and about life in Belarus.
Apartments in Minsk are unbelievably affordable, starting at €20 per night for really nice, highly rated, modern apartments. This is why Minsk made my list of the cheapest countries to visit in Europe.
Enjoy Minsk
Minsk is an incredible destination. I loved it more than anywhere on my last trip to Europe. I'd love to go back and spend a full 30 days in Belarus. I'm curious about the countryside and Belarus's smaller cities but more than anything, I want to spend more time in Minsk and meet some people. I want to hear from the locals about the political and economic situation. I want to know how they feel about their relationship with Russia and how things might change with the west. I want people to explain how a big capital city can remain so clean and what they think about the treatment of animals at their famous circus.
I have many questions and so much to learn.
Map of Hotels in Minsk, Belarus
I hope this neighbourhood guide proves useful, either to help you find where to stay in Minsk or to convince you to go in the first place. Leave a comment if you plan on visiting and what you think once you've been.
This post contains affiliate links to Booking.