If you purchase through links on this site, I may earn a commission at no extra cost to you. As an Amazon Associate I earn from qualifying purchases.
While Lille is close enough to London, Paris and Brussels to visit on a day trip, it really wouldn't do the city justice. Along with being foodie heaven, Lille has a pretty old town, great markets and a number of world-class museums.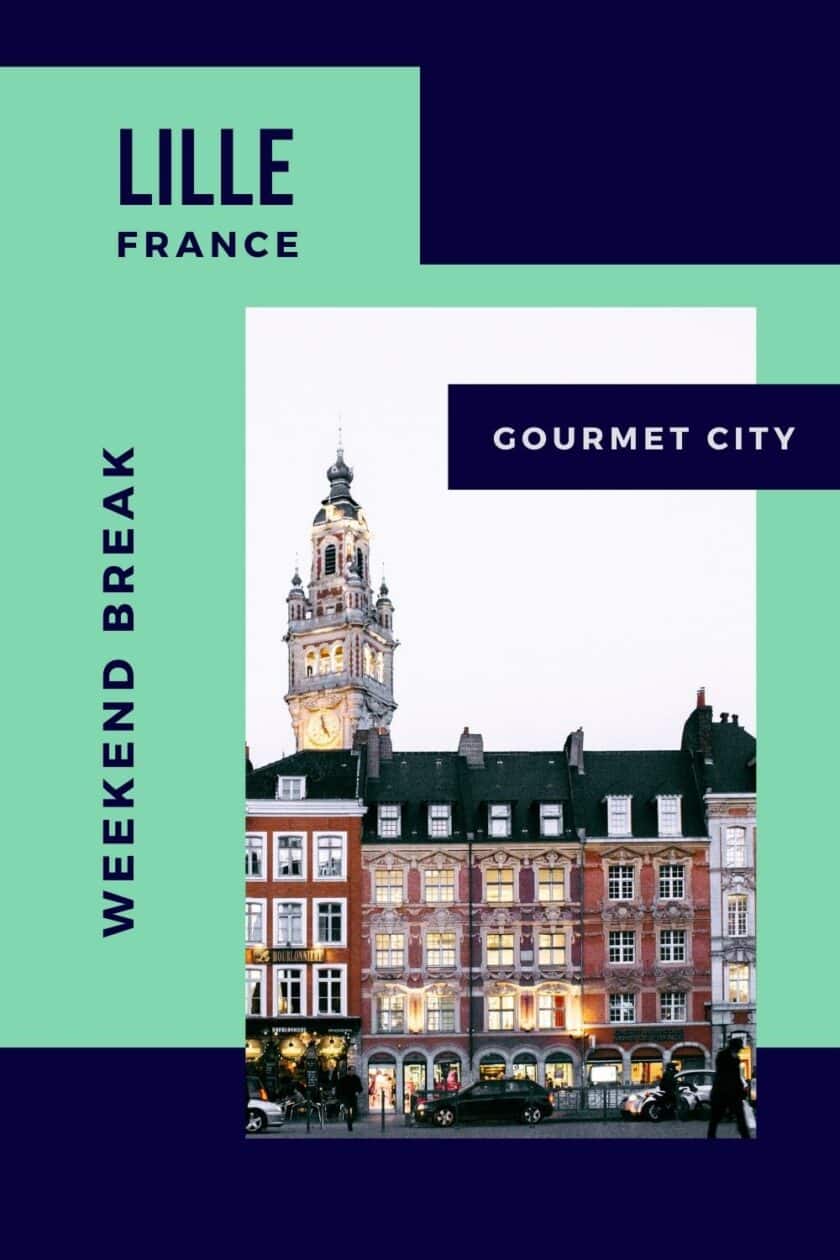 The city also puts on a great display at Christmas with a huge Christmas tree and Ferris wheel in the main square and a small Christmas market with international stalls.
Lille Weekend Break
People often ask me if I moved to France because of the food and while I do like French cuisine, I never really enjoyed eating out that much in Paris. But outside of Paris, eating out and savouring the local specialities is always so much more relaxed and the service attentive.
This is definitely the case in Lille and the local specialties are some of the best in all of France. While Lille is worth visiting for the museums, history and culture, the city is without a doubt worth visiting for the food alone.
Le Merveilleux de Fred
This shop is pure heaven. They bake a few different products but everyone visits for the famous Merveilleux dessert. It consists of layers of soft meringue, interspersed with chocolate cream and then surrounded by another layer of cream and rolled in chocolate shavings.
Chocolate is the classic flavour but it also comes in a speculoos biscuit and white chocolate shavings version or with crystallised coffee meringue.
The queues which snake down the main street in their Vieux Ville location are indicative of their popularity. The Merveilleux is quite simply the best dessert in the world in my view.
Meert
Meert isn't just for those with a sweet tooth but also for those who want to experience a bit of old-world style and 18th-century luxury, all for the price of coffee and cake.
Although the cakes at Meert are gorgeous, the number one attraction is the famous vanilla stuffed waffle. It's not like a Belgian waffle but more like soft waffle biscuits filled with sweet vanilla cream.
The waffles are a little pricey but worth it for the decadent experience and the chance to be served by waiters who weirdly sport identical pencil moustaches. I never did find out what that was about.
Next door to the cafe is the Meert sweet shop where you'll find some of the most amazing salted butter caramels you'll find anywhere and very fruity pâtes de fruit. These are artisanal sweets at their best.
Traditional Estaminet
You can't get more traditional than an Estaminet. An Estaminet is a Flemish micro-brewery that serves pub food.
They typically serve very heavy meals with rich beer-based sauces and a variety of dishes made with the local stinky maroilles cheese.
Carbonnades Flammandes, Welsh au maroilles and coq à la bière are all local specialities that you will find at an Estaminet.
There are quite a few Estaminets around Rue de Gand but I went to Au Vieux de la Vieille in Vieux Lille. Many of these places are no longer working breweries as the tradition has died in recent times but I still recommend visiting if you can.
Note that you might only find one or two vegetarian meal options at an Estaminet, most likely a tarte au fromage (cheese pie) with Flemish cheese.
Belgian Beer and Chocolates
Sure, Lille is in France but it's right on the Belgian border and the strong Belgian influence can be seen in the Flemish architecture, boutique beers and wonderful chocolate shops. Look out for shops where the chocolate is handmade in Lille. There are several scattered around the old town.
There are a few boutique breweries in Lille and plenty of beer from Belgium. Kriek beer (with sour cherries) has a quite unusual flavour as did the beer with orange peel which I tried.
More to my liking was the cider which you can get just about everywhere and it comes in sweet, semi-sweet and dry versions.
If you want something a little stronger go for the local genievre (genever or jenever) spirit, derived from juniper berries. It'll keep you warm on the wet, wintery days they often have in the north of France. The region is also well known for speculoos, a type of spiced biscuit, and you can even get speculoos liqueur.
Wazemmes Sunday Food Market
The Wazemmes market is where the locals like to shop for their fruit and veggies. If you're visiting Lille for a weekend then it's worth stopping by to pick up picnic supplies or to snack at the international food stalls. It's one of the largest outdoor markets I've ever visited and it's worth visiting for the atmosphere as well as the high quality food.
Vieux Ville
Most of the main sights in Lille are located in the Vieux Ville which is the old historic quarter and around Place Charles de Gaulle, the city's main square with its Flemish architecture.
Art Nouveau
If you're interested in architecture or the Art Nouveau period head over to 14 rue de Fleurus to see one of Hector Guimard's finest works, Maison Coilliot. You can't visit inside but the exterior is fascinating and completely unique.
Lille Belfry
Not far from Maison Coilliot is the UNESCO World Heritage-listed Belfry which you can climb for the best views of the city and over to Belgium. I wasn't sure about visiting the Belfry but I'm glad I did in the end as it's an important piece of Lille's history.
Across from te Belfry is the Porte de Paris which celebrates the victories of Louis XIV. You can look down on it from the top of the Belfry and you can walk around it when back on ground level. It's a round about now so be careful when crossing the street.
Museums in Lille
LaM
I was fortunate to have time to visit three of Lille's museums. In particular, I'd recommend visiting the LaM modern art museum. They have an online collection if you can't get there in person.
I haven't always liked modern art but am definitely starting to appreciate it more. They have some great permanent exhibitions with works by Picasso, Modigliani, and Miro as well as interesting temporary exhibitions.
Palais des Beaux-Arts
The Palais des Beaux-Arts is Lille's most lauded museum and the second largest in France after the Louvre. I'd suggest spending a few hours here to get a good appreciation for what is displayed.
In this painting below, I love the expression on this woman's face (they called her Jeanne the crazy one) as she is waiting for her dead husband to be resurrected.
La Piscine
La Piscine is Lille's other premier museum. It's located in the suburb of Roubaix and is easily reached by metro. The museum is set in a former indoor swimming pool, hence the name.
Lille City Pass
If you plan on visiting several museums and monuments, I'd recommend getting the Lille City Pass.
This gives you access to the museums as well as a 1-hour city bus tour, a guided walking tour of the old town and all public transport.
This is what I used when I visited the Lille on a weekend. It's available for 24, 48 or 72 hours and you can get it online or from the tourist office in central Lille.
Village of Fromelles
If you have more than a few days in Lille and happen to be there on the second Sunday of the month, I'd suggest a day trip (or an afternoon trip) to the nearby village of Fromelles.
Fromelles is the site of one of Australia's deadliest battles with 5,533 Australian soldiers being killed or wounded in the World War I battle.
You can visit the battlefields and the new military cemetery as well as the museum at the town hall. Ask at the tourist office on Place Rihour for information on how to get there.
Nearby
While you're in the region, a trip across the border isn't too far and visiting Flemish towns Ghent or Bruges would make a great day trip from Lille.
If you have more time, head to Brussels for a few days where you can do this Brussels food tour or find other ways to explore the city.
Where to Stay in Lille
On my weekend trip to Lille, I stayed at the simple and modern Hotel Kanai. I recommend this hotel for its location, just down from Place Charles de Gaulle (also known as the Grand Place) and not far from Vieux Lille (this historic part of the city). If you're arriving by train, it's only a 5-minute walk or so from the main train station. Hotel Kanai also has a good sustainability rating as they don't use single-use plastics and they invest back into community projects.
I've been lucky enough to visit Lille a few times now. It really is one of the most beautiful cities in France and a personal favourite. There is plenty to see on a weekend trip but a longer trip would give more time to try some of the great restaurants, bakeries and markets as well as the excellent museums.
—
Recommendations are independently chosen based on personal travel experiences and extensive research. This post contains affiliate links to hotels and tours in Lille, France. This means I get a small commission from any bookings at no extra cost to you.